13 Best Video Conferencing Software of 2023 (Ranked)
Choosing the right video conferencing software is crucial if you want to improve team collaboration and boost productivity. From crystal clear HD video and screen sharing to efficient call management, the best video conferencing software can help you meet your goals. In this guide, I ranked and reviewed the 13 best video conferencing software, along with my top 5 choices, so that you can pick the best one for you.
---
We're reader-supported. When you buy through links on our site, we may earn an affiliate commission.
Want my top picks right now? The best video conferencing software are GoToMeeting and RingCentral.
According to Global Workplace Analytics, 25-30% of the workforce will be working remote multiple days per week by the end of 2021.
And video conferencing software is what allows this to happen.
Choosing the right video conferencing software will allow you to:
Schedule conference calls.
Run face-to-face online meetings.
Host and run webinars with hundreds of participants.
Collaborate and screen share with coworkers in real-time.
Listen while you read: After our real and honest testing, here's a video with our top video conferencing tools and a preview of their dashboards:
What is the Best Video Conferencing Software?
Here are my picks for the best video conferencing software.
Best for delivering presentations and hosting webinars ($3/host/mo).

Adam's Take
Zoho Meeting is the best tool to consider if you are serious about your video conferencing. With a user friendly interface and total control over how you run your meetings, this platform gets my #1 recommendation.
Zoho Meeting is a web conferencing platform that helps you conduct online conferences from anywhere with real-time audio, video, remote control, and screen sharing.
You can record your meetings in the cloud storage or even download it on your storage. Not only this, it lets you share the meeting with all the employees who missed the meeting.
Plus, it lets you share your screen with your colleagues with remote control access options. This feature helps you control other participant's screens, which might come in handy to troubleshoot technical issues.
You can also send emails to invite your employees or colleagues with all the information like the topic of the meeting, time, agenda, joining link, access code, etc.
Zoho Meeting also takes care of all internationally accepted security and privacy standards. They also encrypt audio, screen sharing, and video to keep your data secure.
Additionally, host webinars on your website with the help of the Zoho Meeting. You can even share your screen, audio, and application window to support your presentation.
Key Features:
Phone audio – Join meetings through your phone in case you are facing poor internet connections. Use 55+ toll-free numbers to join from any different country and use 100+ local numbers.
Private Meetings – Lock confidential meetings to invite only the participants you want. You also get notifications when someone wants to enter your conference.
In Session Chat – Use the chat tab available in all meeting sessions to send important messages or links.
User Experience:
The ability to see the presenters' enlarged webcam preview is one of the best features of Zoho Meeting.
This is in addition to the other participants' video tiles which are of a good size too.
The layout is clean and organized, and it's easy to move around between various features.
Moreover, with a clear recording button, it is easy to start and stop recordings, as well as download them for later use. The file-sharing options are also straightforward and work quickly.
Pricing:
They provide two plans for the meetings.
Free Edition: $0/mo
Meeting Edition: $3/host/mo
Webinar Edition: $16/host/mo
The free version lets you host up to 5 participants with limited features. On the other hand, the premium plan enables you to host up to 100 participants and store ten recordings.
What I Like/Dislike About Zoho Meeting:
Like:
You can host up to 100 participants with 24 active video feeds displayed at a time.
There's no need to download anything – you can start and join meetings directly.
It also provides a Google Chrome extension.
iOS and Android apps available.
RSVP scheduling.
They also provide chat support.
Integration with Zoho calendar, CRM, Projects, etc.
Dislike:
Occasional disconnections and slowdowns happen but they're not frequent.
Screen sharing can be a hassle because you have to go back and forth between the app and your browser window.
Product Updates:
Create departments to keep teams organized
Share PDF files directly in the app for a quick and easy way to collaborate.
Get started with Zoho Meeting.
Best overall video conferencing software ($12 per month).

Adam's Take
With up to 3000 participants that are able to attend an online meeting, GoToMeeting is another great video conference solution to consider. The ability to have a collaborative workspace makes this ideal for those that value teamwork as one of their core business values.
GoToMeeting is an online meeting software that helps you host face-to-face video conferences for up to up to 3000 participants and share your desktop screen in real-time. Besides, it also lets you conduct webinars for $49 only.
Team collaboration tools provide you with a real-life meeting experience. For instance, the turnkey room equipment transforms a standard meeting room into a collaborative workspace. This feature also helps you accommodate your remote teams.
You can also book any meetings in advance and start the session directly from your smartphone. There's no need to take notes during a meeting either since cloud recording helps you record and store all the sessions. Additionally, you can access these cloud meetings from your smartphone as well.
Some of its most prominent video conferencing software features include:
Meeting recording and transcription
Join any meeting in an instant by asking Siri
Mobile conferencing
Live screen sharing
Automatic bandwidth adjustment
Cloud-based access
Both Poly and Dolby Voice equipment
Plus, H.323 enabled video conferencing helps you and your employees join any video conferencing by just entering a number.
You don't have to worry about your privacy and security either owing to security features like the SAML SSO login.
You can also integrate it with the Office 365 plugin to schedule, manage, and join upcoming online meetings directly from your calendar.
Key Features:
One-Click Meeting – Schedule, join, and manage all your upcoming meetings directly from your Google or Microsoft calendar in just a click.
Mobile Application – With their app, you can join or host meetings on the go. Their mobile app is available for both Android and iOS platforms.
Collaborate seamlessly – Business messaging, one-click meetings, and the ability to share automatic transcripts of recorded meetings come in handy for collaboration.
Cloud Recording – Record and store your meeting in the cloud.
User Experience:
A large right-hand side panel makes it easy to choose the options you want without taking up too much space on your screen.
The webcam preview is also a good size, and the overall interface is clean and user-friendly.
The ability to see who's online and who's dialing in is also very helpful.
You can easily copy the meeting link and share it with participants.
Pricing:
GoToMeeting provides three paid plans based on the number of participants you want to host.
Professional: $12 per month (150 Participants)
Business: $16 per month (250 Participants)
Enterprise: Quote-Based (Up to 3000 Participants)
All the plans include HD video, screen-sharing, dial-in conference line, unlimited meetings, etc.
What I Like/Dislike About GoToMeeting:
Like:
It provides a real-time screen-sharing option and unlimited meetings without any time limit.
Unlimited cloud-recording.
Drawing Tool helps you draw right on the screen and share it with your employees.
Free SSL-encryption.
24/7 customer support via phone, live chat, group chat, and mail.
Integration with third-party tools like Slack, Office 365, SalesForce, etc.
You can also host webinars.
14-day free trial.
Dislike:
Lack of a function to send attachments can be frustrating if you're trying to share documents or images with participants.
Consuming more network bandwidth can also be an issue, particularly if you have a lot of people on the call.
Product Updates:
With Zoho Meeting, you can live stream your session to a virtual audience. This is a great way to engage with participants who are unable to attend the event in person.
Manually Approve Registrants is another new feature that allows you to screen attendees before they join your meeting. This is especially useful if you're hosting a sensitive or confidential meeting.
Get started with a 14-day free trial of GoToMeeting.
Best for team-management and collaboration ($19.99/user/mo).

Adam's Take
With multiple video sharing options and team collaboration, Ringcentral is another of my top picks when running online video conferencing. Furthermore, various add-ons give you even more functionality to run your meetings just the way you want.
RingCentral is a cloud-based communications solution that lets you chat, conduct video meetings, and place phone calls in one place. Making it way more powerful than a regular video conferencing software platform.
It helps you conduct HD video conferences with up to 100 participants worldwide at a time. Plus, you can conduct meetings either on mobile devices or desktops and share your screen with colleagues in just one click.
Along with video conferencing, it also lets you run audio conferencing with up to 1,000 people globally.
RingCentral's drag-and-drop features let you share your work, pin essential documents, and share files directly from tools like Google Drive.
On the project management side, its built-in team-management tools help you assign tasks, update stakeholders, and move your projects forward.
Detailed analytics is another helpful feature. It measures metrics like quality of service report, meeting dashboard, number of missed calls, number of refused calls, and the average speed of answer.
Some of your wifi router settings can affect your meeting experience. For this, RingCentral offers a tool to check your internet connection and configure your QoS (Quality of Service) settings.
Additionally, RingCentral integrates with hundreds of tools like Google Drive, Box, and calendar tools like GSuite and Office 365.
Key Features:
Collaborate with Global Teams – RingCentral lets you connect with a global team remotely with one-click meetings. You can also start a video meeting right from a messaging thread.
Meeting add-ons – It also lets you host webinars and provides meeting add-ons like large meeting rooms, RingCentral Rooms, and RingCentral Room Connector.
Extensive Video-sharing options – Share files in local storage or directly from Dropbox and Google Drive.
User Experience:
Crystal clear audio and video quality is one thing that stands out the most with RingCentral.
The interface is also very sleek and user-friendly.
The dedicated buttons are a good size and are easy to press.
Pricing:
RingCentral offers one free plan and two paid plans:
Essentials: $19.99/user/mo
Standard: $27.99/user/mo
Premium: $34.99/user/mo
Ultimate: $49.99/user/mo
All plans let you host unlimited 1:1 meetings for up to 100 participants. Other standard features include desktop and application sharing, whiteboarding, annotation, private and group in-meeting chat, and more.
What I Like/Dislike About RingCentral:
Like:
It provides mobile apps for both Android and iOS.
Get unlimited calls in the US and Canada.
It automatically converts voicemail to the text format.
Diverse document sharing and team messaging options.
24/7 customer support via video chat and more.
Call from any phone or their desktop app in just one click.
You can get access to real-time analytics.
RingCentral also lets you record your meetings and calls.
Dislike:
A way to bulk important contacts would be helpful in terms of organizing your meeting participants.
It would be nice if there was also an indicator for which calls were successfully recorded as sometimes the recording process can fail without any notice.
Product Updates:
Email rules allow you to automatically move, tag, or delete messages based on certain criteria. This is a great way to keep your inbox organized and tidy.
Smart Conversation Close is a new feature that allows you to quickly end a conversation.
Get started with RingCentral.
Best for sending customized invitations ($25 per month billed annually).

Adam's Take
Have you ever wanted to send customized invitations at scale? I like ClickMeeting as it allows me to send personalized invitations to those attending video conferences. This leaves a great impact and gets my message across in a much better way than sending generic invitations ever does.
ClickMeeting is a video conferencing solution and web conferencing software that enables you to simultaneously connect with up to 20,000 participants. You can conduct large virtual events with your own custom brandings like colors, logs, and other user-facing elements.
You can also allow other users to log in to ClickMeeting with separate credentials to avoid any confusion. It also enables you to create highly customized invitations to leave a bigger impact on your customers or clients. And in case your audience joins in early to the meeting, they can wait in the waiting room and go through the agenda of the meeting.
Key Features:
Stream on Social Media – It allows you to stream your feed simultaneously on Facebook and YouTube to expand your reach.
Presentation Tool – Blend the content of the presentation with your voice for more impact.
Polls and Surveys – Gather opinions, feedback, and insights from the audience to make data-driven decisions.
Pros:
You can also talk in private with other presenters during the meeting.
Drag and drop files to store in the cloud. You can also import and export files from your Dropbox account.
You can also moderate questions and answers.
Translate chat in real-time in 52 languages.
Whiteboard offers drawing tools, shapes, text boxes, erasers, and more.
Urge your audience to take action by adding CTA buttons in your conference videos.
30-day free trial.
Pricing:
ClickMeeting provides three pricing plans:
Live: $25 per month billed annually
Automated: $40 per month billed annually
Enterprise: Quote-based plan
All the plans let you host an unlimited number of video conferences and provide features like screen sharing, real-time chat translation, etc.
User Experience:
With various stats pertaining to the meeting such as who joined late or left early, ClickMeeting makes it easy to stay on top of things.
With a sizable webcam preview window that is easy to reposition, it is also simple to keep an eye on participants.
The overall interface is straightforward and uncluttered.
What I Like/Dislike About ClickMeeting:
Like:
You can also talk in private with other presenters during the meeting.
Drag and drop files to store in the cloud. You can also import and export files from your Dropbox account.
You can also moderate questions and answers.
Translate chat in real-time in 52 languages.
Whiteboard offers drawing tools, shapes, text boxes, erasers, and more.
Urge your audience to take action by adding CTA buttons in your conference videos.
30-day free trial.
Dislike:
API may require some improvement to make it more user-friendly.
Meetings were limited to 25 people which can be limiting for large organizations.
Product Updates:
Microphone off indication : This is a great way to let participants know if their microphone is off or muted. This can be helpful to avoid any awkward situations.
ClickMeeting plug-in for MS Outlook: With this new plugin, you can easily schedule and start ClickMeeting sessions directly from your Outlook calendar.
Best for building meeting highlights and transcription ($9.99 per host per month).

Adam's Take
Running video conferences from your web browser is always useful. With no need to download any software programs, I like BlueJeans as it offers a very user-friendly interface that anyone can use. There are also one-touch access options to get onto various meetings.
BlueJeans video conferencing software lets you conduct meetings from any device, laptop, or meeting room. They offer real-time intelligence with transcripts and highlights for better productivity.
The browser-based experience is also user-friendly. This means you don't need to download any software to use BlueJeans.
You can also simplify the management with analytics, automated alerts, and live meeting controls. Additionally, they offer multi-device interoperability that also provides one-touch access to meetings on any platform and device.
Integration with several third-party apps and calendar tools like Slack helps with better collaboration, content sharing, whiteboarding, meeting transcription, and call recording.
Moreover, they claim to offer a rich multimedia experience with Dolby audio and HD video. The cloud-based platform also comes with firewall/NAT traversal and encryption for secure video conferencing.
Key Features:
Command Center – Keep track of your BlueJeans environment through network conditions, real-time insights, and user-focused ROI.
Content Sharing – Conduct interactive conferences by sharing any content or link while hosting or attending the conference. You can also use annotation to highlight the critical details of your presentation.
User analytics – BlueJeans dashboard provides insights into meeting performance, network conditions, and user-focused ROI.
User Experience:
I like the upcoming events panel on the left-hand side of the screen which keeps you organized and aware of what's coming up.
It's easy to ensure that your microphone and webcam are working properly before joining a meeting.
Pricing:
BlueJeans provides three subscription plans, including:
BlueJeans Standard: $9.99 per host per month (up to 50 participants)
BlueJeans Pro: $13.99 per host per month (up to 75 participants)
BlueJeans Enterprise: Quote-based (up to 150 participants)
You can save up to 20% if you opt for an annual subscription.
What I Like/Dislike About BlueJeans:
Like:
Digital whiteboard to brainstorm and collaborate.
In-depth event insights for better management.
Assign actions and tag important moments from the meeting.
ROI analysis to understand how much you saved.
Share the data either in a CSV file or use APIs to analyze it further.
Stream to Facebook Live or Workplace
BlueJeans Rooms interoperates with other services, including Cisco, Poly, and Lifesize.
Dislike:
Lacks common webinar features that would be beneficial, such as the ability to embed a registration form on your website.
The interface is not exactly intuitive and could be improved.
Product Updates:
Support for meeting transcription means that you can now get a transcript of your meeting, which can be helpful for reference or follow-up.
The Meeting Highlights feature allows you to quickly see key points from the meeting, which can be helpful for quickly recalling what was discussed.
Best for small businesses looking for a free tool with standard features (Freemium plan).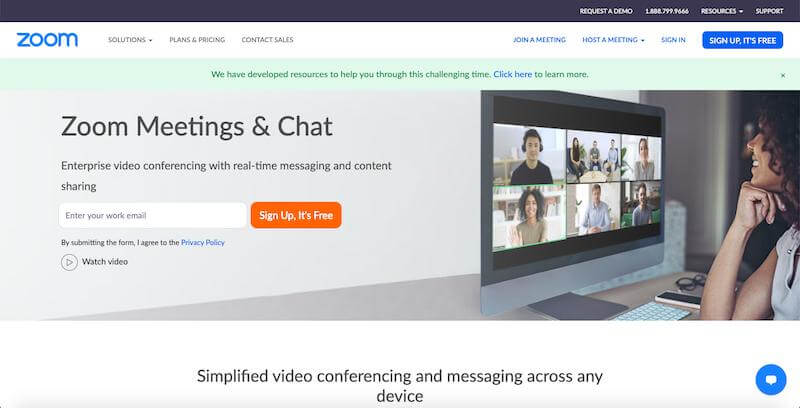 Zoom is a video conferencing software service that provides plenty of options like conference rooms, video webinars, phone systems, etc.
While scheduling a Zoom meeting, the software lets you host up to 1000 participants and display 49 videos on the screen – one of the highest in the industry.
You can conduct Webinars as well for up to 50000 attendees.
If you want to engage your audience while hosting the conference, you can use filters, reactions, polls, video sharing, etc. There's also an option to either record your meetings in the cloud or locally, with searchable transcripts (read more about the best transcription software).
Integration with some of the calendar apps like Outlook, Gmail, and iCal, helps you sync your schedule and join meetings directly.
Now you don't need a professional setup for your video conference – Zoom allows you to blur your background (or use a virtual one with images of your choice).
This feature is also compatible with mobile phones (all iPhone 8 and above models).
Additional video conferencing features include:
Zoom automatically takes notes during a conference or a meeting.
Share and play any video or audio without uploading it.
Share your screen and use the annotation features to communicate better.
Connect with external users while keeping private information safe.
Additionally, communicate and share files with your colleagues through Zoom Chat. Not only this, but Zoom chat also helps you start a meeting or phone call instantly.
Key Features:
Language Interpretations – This feature allows you to designate interpreters in your meetings, conferences, and webinars. Attendees can choose any audio channel in the language which they understand.
Social Media Streaming – Stream your conferences on social media platforms with their Facebook Live and Youtube live integration.
Breakout Rooms – This feature helps you split your meeting into as many as 50 separate sessions.
Pros:
You can host unlimited one-on-one meetings.
Share screen with multiple participants and co-annotate for better engagement.
You can provide remote keyboard and mouse control to different participants.
Group and private chat option.
Unlimited cloud storage.
You can select the video quality for up to 720p.
Freemium plan for up to 100 participants.
Pricing:
Zoom offers four pricing plans:
Free: $0/mo (100 Participants)
Pro: $149.90/mo (100 Participants)
Business: $199.90/mo (300 Participants)
Enterprise: $199.90/mo (1000 Participants)
All plans come with features like unlimited 1-1 meetings, 720p video quality, virtual background option, etc.
Further reading: Check out my guide on how to use Zoom as a beginner and my list of the best Zoom alternatives.
I also have a detailed comparison of Zoom vs. GoToMeeting vs. Webex vs. WebinarJam.
Best for individuals and small businesses (Free).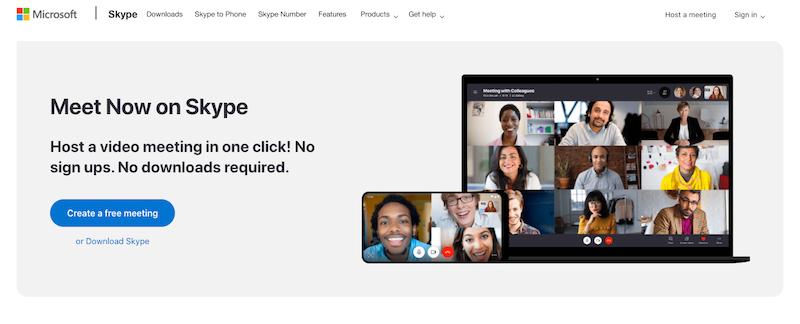 Skype is an online telecommunication service owned by Microsoft Corporation that helps you conduct video conferences through computers, mobile phones, tablets, Xbox, and even smartwatches.
It is considered the original video conferencing solution predating every single platform that exists today. It may be hard to believe, but there was a day when Skype was the only game in town.
The good thing is that Skype helps you create one-click meetings. This means that your participants can join your conference using a link without signing up or downloading Skype. You can also answer calls from computers, tablets, or smartphones and send text messages directly from skype.
Plus, Skype lets you host conferences and meetings with up to 50 members with HD video and audio quality experience. During the conference, you can present Powerpoint presentations and video recordings to the entire team.
Other than this, you can simply use drag-and-drop to share videos, photos, audio, etc., into your conversation window. The files you send can be up to 300 MB.
You can also turn on the background effect to blur your background if you want. Or you can completely change the background with any image of your choice.
Additionally, get a local phone number in 26 countries and other regions globally.
Key Features:
Skype Translation – Get real-time translation for voice calls, video calls, and instant messages.
Live Subtitles – Get subtitles in real-time during video and audio calls.
International Calling – Call international numbers and conduct conferences globally at low calling rates.
Pros:
Keep your sensitive information private with end-to-end encryption.
Set up a voicemail.
Voice to text translation.
Bots support helps you automate some of your tasks.
Checks spellings and automates error correction.
Hotkeys or keyboard shortcuts help you carry out various commands and actions.
Pricing:
Skype is free to use unless you want to make calls and get a phone number.
Best for extracting attendees' personal profiles ($13.50 per host per month).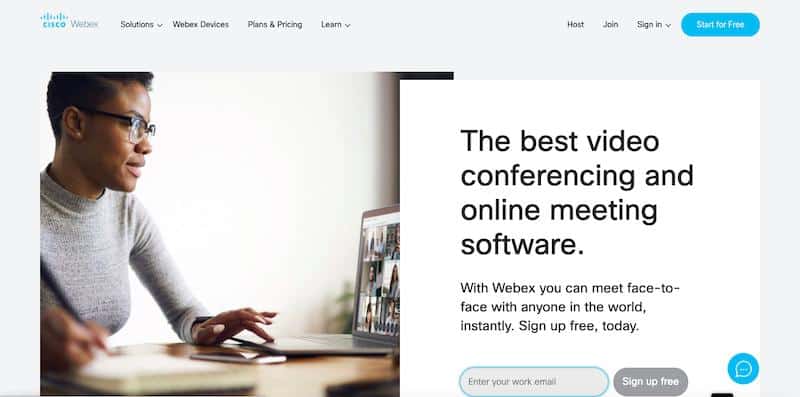 Cisco Webex is an online video conferencing solution and system that lets you join meetings across the web, desktop, mobile, or video systems. It enables you to conduct an HD-quality video conference with up to 1000 attendees.
Plus, it provides you the flexibility of connecting the audio through VoIP or dial-in number. However, you might face some difficulty while connecting via a web browser since the software prompts you to install the extension.
Apart from sharing your screen, you can also share a whiteboard to brainstorm and collaborate virtually. To ensure absolute data privacy, it offers encryption, TLS 1.2 support, meeting locking, and more. Cisco Webex also lets you record your meetings and provides automatically generated transcripts for each session.
Integration with Outlook, Office 365, and Google calendars also help you host, join, and schedule meetings accordingly. Other third-party integrations include Microsoft Teams, Slack, Moodle, Apple CarPlay, Ford AppLink, etc.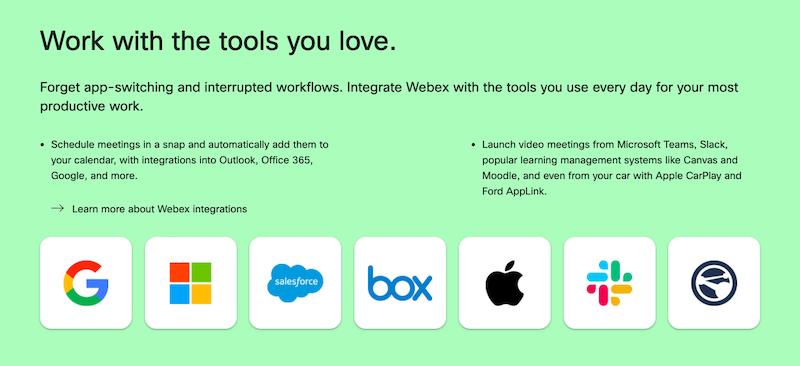 Key Features:
AI-based Meeting Assistant – The voice-activated digital assistant takes notes of all the highlights during the conference. It also captures all the details in real-time and creates post-meeting recap emails to keep work on track.
Multiple Backgrounds – Keep blurred, virtual, or customized backgrounds to ensure that the focus is always on you.
Video Layouts – It provides customized video layouts to help you optimize your video conference screen.
Pros:
Host or join a meeting from a smartphone, laptop, tablet, or any other video device.
It offers up to 10 GB of cloud storage.
Create your own customized meeting URL.
Customize your conference screen to align with your branding needs.
You can send emojis and GIFs in chat messages while participating in the conference.
Pricing:
Cisco Webex offers five pricing plans:
Free: $0 per host, per month (1 host maximum)
Starter: $13.50 per host, per month (1-9 hosts)
Plus: $17.95 per host, per month (1-50 hosts)
Business: $26.95 per host, per month (5-10 hosts)
Enterprise: Quote-based
All plans provide desktop and mobile screen-sharing, fullscreen video with four layout options, breakout sessions, and more.
Best for small businesses who are familiar with Skype ($5 per month).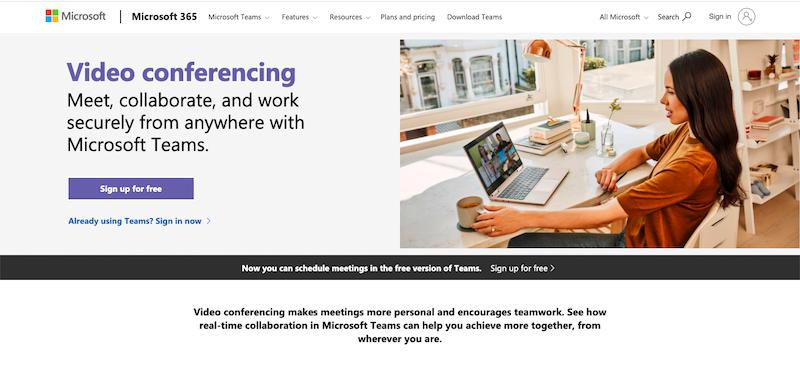 Microsoft Teams is a proprietary business communication platform that lets you host video conferences for up to 10,000 participants. They enable you to record meetings virtually and share with your team members through a simple link.
It also allows you to chat with participants even after the meeting is over. Plus, you can customize your background or upload your own personalized background to create an impact on your client.
Other features include digital whiteboarding, the ability to mute, remove uninvited attendees, make participants wait in the virtual lobby, etc.
The "raise your hand" is another handy feature. It lets you interrupt politely when you need to say something in the middle of a meeting. Microsoft Teams also allows you to download the participant list so you can follow up with your colleagues.
Key Features:
Together Mode – Make your team sit in the same shared background virtually to make it feel like everyone is sitting in the same room.
File-Sharing – It helps you co-author files with your colleagues in real-time. You can also access, share, store, and collaborate from any location.
Integrate With Third-party Apps – Select from more than 600 apps, including standup, whiteboard, employee recognition, and survey apps for teams to stay connected, productive, and engaged while working remotely.
Pros:
Available in 53 languages and 181 markets globally.
It provides advanced security with multi-factor authentication, encryption, and device management.
Share and collaborate through Office 365 apps, including Excel, Word, and PowerPoint.
Host video conference with up to 10,000 users.
Receive or make calls through Microsoft Teams Calling, Calling Plan1, Phone System, or Direct Routing.
Pricing:
Microsoft Teams offers four pricing plans:
Microsoft Teams (free): $0 per month
Business Basic: $5 per month
Business Standard: $12.50 per month
Office 365 E3: $20 per month
All plans include chat and collaboration options like guest access to teams, file attachments in chat, file sharing within groups, etc.
Best for quick screen-sharing ($10 per month).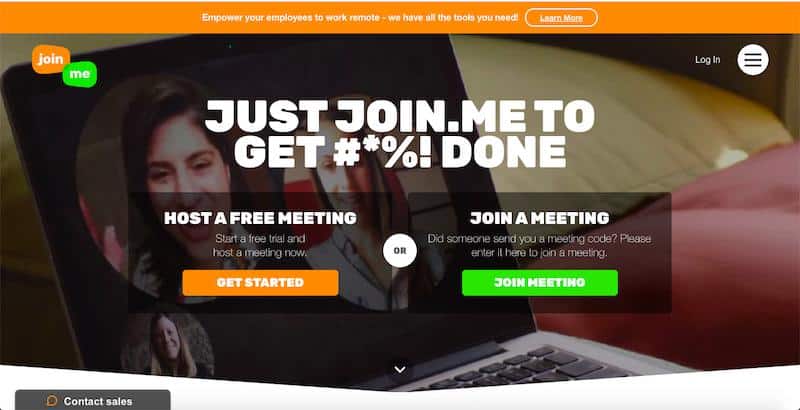 Join.me is a web conferencing software that enables screen-sharing and one-on-one virtual meetings. It lets you create and share customized video conferencing links according to the subject or your branding needs.
You can also personalize your background through customized pictures or your organization's logo. If you want to share your screen – simply select the "broadcast" button to start sharing the screen.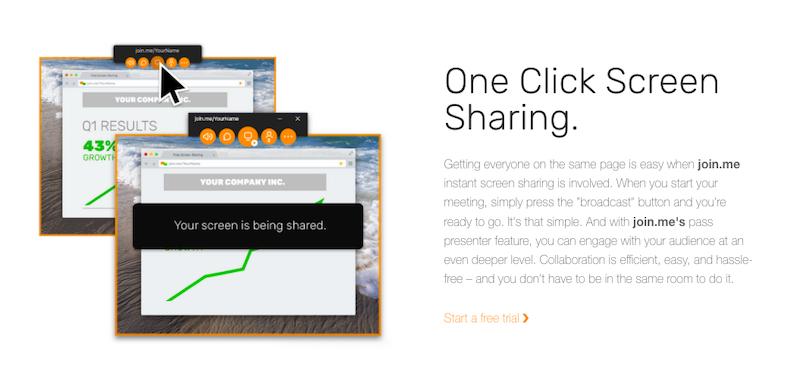 You can also attend conferences or meetings on the go with its iOS and Android apps. Its mobile whiteboard for iPhone and iPad even enables you to collaborate from anywhere.
Join.me also offers its own scheduler. However, you can also leverage Outlook or Google Calendar to start, manage, and schedule meetings with a single click.
Key Features:
Presenter Swap – This feature helps you conduct tag-team presentations. You can hand over the presenter role and rights to share the screen to any person present in the video conference.
Annotate – Enable your entire team to highlight, mark up, and leverage laser pointers to highlight the contents of the meeting.
Interactive Whiteboard – Collaborate through natural drawing, icons, infinite canvas, lines, shapes, display modes, and more.
Pros:
Whiteboard is available for free on the iOS app.
It allows you to give a toll-free number to your customers or clients so that they can call you for free.
Start your conference call without installing the software.
Leverage its Admin Console to manage your team's Join.me accounts from a centralized place.
It provides 256-bit TLS and leverages bank-grade encryption for data security.
Join.me provides a free trial and demo.
Pricing:
Join.me comes with three pricing plans:
Lite: $10 per month (5 participants per meeting)
Pro: $20 per month (250 participants per meeting)
Business: $30 per month (250 participants per meeting)
Best for small or mid-sized businesses ($6 per user per month).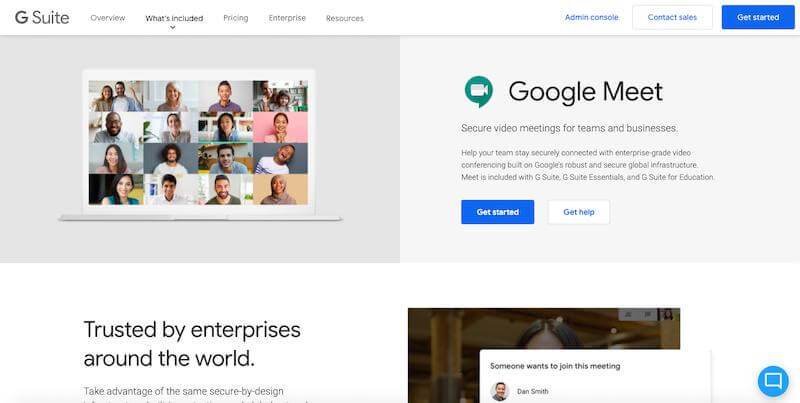 Google Meet (formerly Google Hangouts Meet) is a video-communication service that comes as a part of Google's G Suite. Encryption, built-in protection, and an array of default-on anti-abuse measures help you host secure conferences.
Plus, it's best suited for small businesses since it supports a maximum of only 250 participants in a single meeting. However, you can join the conference with Google Meet right from your browser.
Apart from this, you can join events from a Calendar event, an email invite, or directly from Gmail. You can also invite users by creating and sharing a unique URL, phone number, and unique pin of the meeting.
For G Suite users, meetings, calendars, and other app information are synced with Google Meet for access in one place.
Key Features:
Real-Time Captions – Google Meet allows any participant to turn on the real-time caption for greater accessibility.
Multiple-Screen Layout – It offers multiple screen layouts, including spotlight, sidebar, and tiled. In its tiled layout, you can watch up to 16 participants simultaneously.
Noise Cancelling – It filters out background noise or any other unwanted sound to produce crystal clear audio.
Pros:
It offers a free version with limited features.
You can share specific parts of your screen for privacy reasons.
It provides enterprise-grade encryption for better security.
Google Meet also provides 24/4 customer support in 14 languages.
A 14-day free trial is available with all its features.
Pricing:
Google Meet comes with three pricing plans:
Basic: $6 USD / user / month
Business: $12 USD / user / month
Enterprise: $25 USD / user / month
All these plans include other Google apps like Gmail Business email, Chat team messaging, Google calendars, etc.
Best for hosting meetings from your mobile phone ($12.50 per month).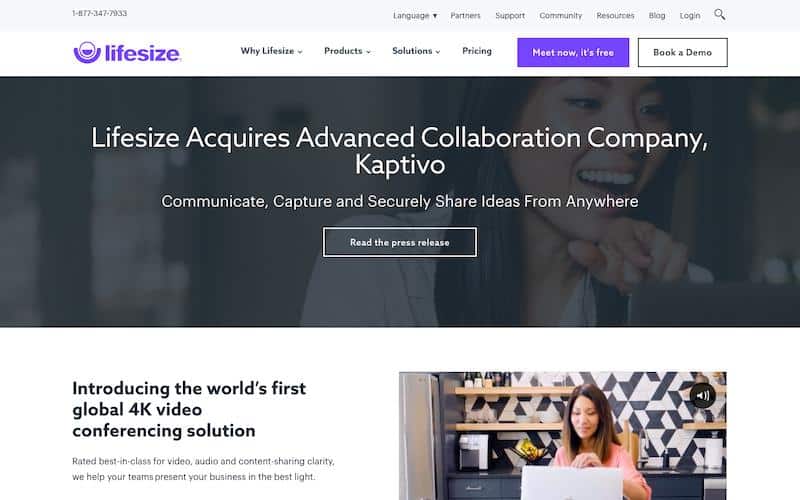 Lifesize provides numerous collaboration solutions, including 4K video conferencing, cloud conferencing, digital whiteboard, etc. It lets you host conferences on a large scale with 500 participants and share content over the cloud with 4K resolution.
Besides, you can also broadcast your events with up to 10,000 users at the same time. Additionally, you can use it as a plug and play solution that works with Microsoft Teams, Outlook, Cisco, Polycom, etc.
Apart from video conferencing, it also offers unlimited audio calling in 60 countries for both guests and users.
Key Features:
4K Screen Sharing – You can also share your screen in the 4K resolution with all the users.
Web-Based Admin Console – Manage your account data, users, room systems, and meetings from a centralized and web-based dashboard.
Encrypted By Default – All the video conference calls and recordings are encrypted by default to ensure secure communication.
Pros:
You can send an unlimited number of guest invites.
The mobile app is available for Mac, Windows, Android, and iOS.
You can restrict real-time conference recording or screen recording.
Gain direct access to detailed data through extensive reporting.
It offers a click-to-call team directory for easy contact.
Pricing:
Lifesize offers four plans:
Free: $0 per month (for individuals)
Standard: $12.50 per month (for small teams)
Plus: $14.95 per month (for small and midsize companies)
Enterprise: Quote-based plan (for large companies)
Best for small teams who want to collaborate seamlessly ($15 per organizer per month).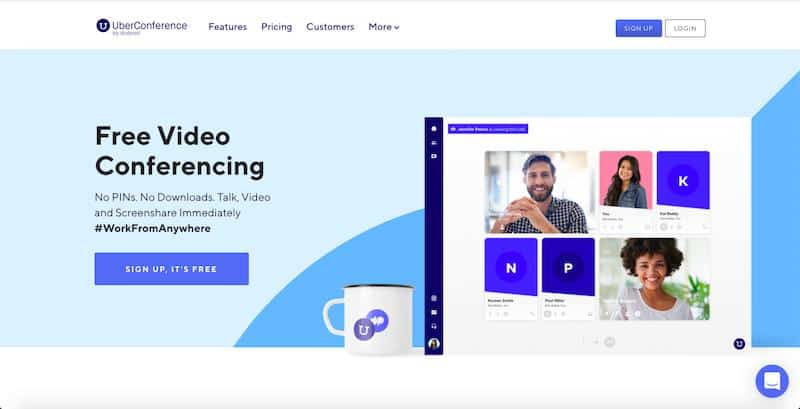 UberConference is a cloud-based video conferencing tool that lets you conduct virtual meetings and share your screen with a remote team. It also offers local dial-in numbers for the USA and Canada with any area code.
Besides, UberConference also transcribes meetings automatically and renders videos in HD quality. However, it supports video resolution of up to 720p only.
With Salesforce integrated right inside the UberConference, you can gain access to customer insights as well. For easy storage, it allows you to save video conferences as MP3 files with small file sizes.
Key Features:
Custom Music on Hold – You can upload or select your own hold music to deliver a unique video conferencing experience.
Analytics – It enables you to track details like the number of conferences, screen shares, conference minutes, participants, average conference duration, etc.
Voice Intelligence – It enhances Dialpad Voice Intelligence over time as you continue to use. With time, it increases the accuracy of call transcripts and compiles a list of items you might want to revisit later.
Pros:
It distinguishes the voice of different users for better transcripts.
It can automatically call you and other users at the scheduled time.
Use the Chrome extension to use UberConference on your browser.
Manage multiple accounts for your whole team.
Dial in to start video conference calls instantly.
Pricing:
UberConference provides two plans:
Free: $0 /organizer/mo (Up to 10 Participants)
Business: $15 /organizer/mo (Up to 100 Participants)
What is Video Conferencing Software?
Video conferencing software facilitates video meetings and seminars with hosts of features like screen sharing, live chat, and video recording. The purpose of video calling is to enable international or long-distance meetings, enhance collaboration efficiency, and reduce the need to travel for meetings.
You can use video conferencing platforms to attend or host virtual meetings with different stakeholders, including employees, customers, partners, and more.
They eliminate the need for your physical presence, enabling important meetings and quick sessions on a short deadline. They also ensure efficient, consistent, and open communication between different stakeholders via face-to-face meetings.
Advanced video conferencing solutions now also offer integration with CRM and marketing automation to sync business-critical data with relevant meetings. It helps in ensuring streamlined updates and follow-up communications for better efficiency.
What Should You Look For in Video Conferencing Software?
Different video conferencing options come with their own set of unique selling points (USPs). However, there are a few standard features that you should look for before making your final selection.
For example, a tool like Adobe Connect has an advanced suite of features, including a complete eLearning and online course solution. Alternatively, a tool like Skype is easier to use if you're just looking to chat with family members. It just depends on what you need.
Check out some of these essential features that your tool should have:
Screen Sharing – Screen sharing is essential to facilitate interactive conferences and webinars. Thus, look for software that allows you to share your entire screen or a specific application on the desktop. It helps participants to follow the presentation smoothly.
Voice over Internet Protocol (VoIP) – With VoIP, users can easily connect to the meeting through phone or chat since it ensures seamless video conferencing. You can also switch instantly from voice to video calls or a group conference by clicking on a button. You don't have to make a new connection or pause your video conference to add users or change channels.
Chat Features – The chat feature comes in handy if you want to interact with other users without interrupting the video or speaker. You can use the chat feature to enhance the efficiency of your meetings, webinars, and conferences. Thus, choose a tool that offers the ability to chat through text and emojis during a live session. Modern video conferencing systems and tools also let you share files and links via chat.
Unlimited Recording – Most video conferencing software offer video recording of meetings. However, it would be great to have an unlimited recording feature and cloud storage. It will help you archive all your sessions in a secure environment. Moreover, make sure that the software allows you to share the recording easily.
HD Video – HD video can enhance the overall experience of your virtual meeting. A high-quality video will enable users to see the speakers clearly and feel a greater connection. However, to ensure smooth virtual meetings with HD video quality, ensure that all the users have high-speed internet for appropriate bandwidth.
Branding Features – For webinars or eLearning purposes where you need to interact with your customers, it's better to go with a video conferencing tool that offers branding capabilities. Look for a software that allows you to add a logo, custom font, and color theme to the user interface.
Dynamic Presentation Features – These features will allow you to upload and share multiple file types like PPTs, MP4 videos, PDFs, etc. You can use this feature to conduct media-rich presentations to garner more attention. Also, look for note sharing features to send a specific part of the presentation to participants in real-time.
Analytics – Detailed reports will help you evaluate your presentation's performance in terms of viewers and engagement.
How Do You Use Video Conferencing Software?
Here I am demonstrating how to use Microsoft Teams to help you understand how basic features of a video conferencing solution work.
Step #1 Make an Account.
Go to Microsoft Teams' official site and click on the profile icon located at the top right corner. You can also click on the "Download Teams" link present at the top to download the application.
Click on the "create one" option to sign up.
Step #2 Open the Video Conferencing Solution.
Open the Microsoft Teams application and click on the Team/Channel you want to start the meeting with. You will see a tiny camera icon under the text box. Click on it to start the video conference.
Click on the "Meet Now" button to add a subject line to your meeting.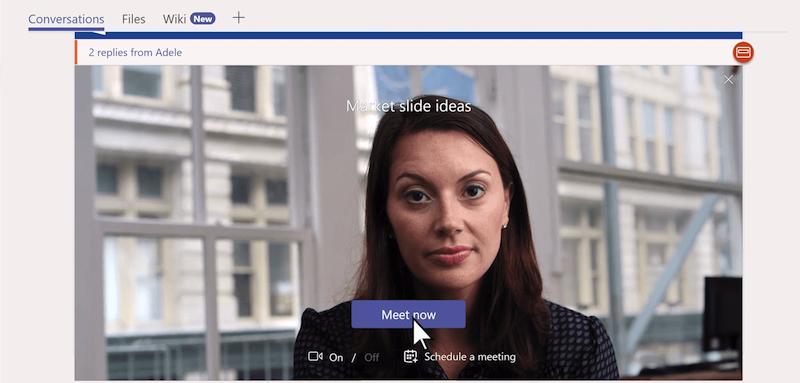 Now, a video call screen will appear with a toolbar at the bottom. You can use the toolbar to turn your mic and camera on/off or share your desktop screen.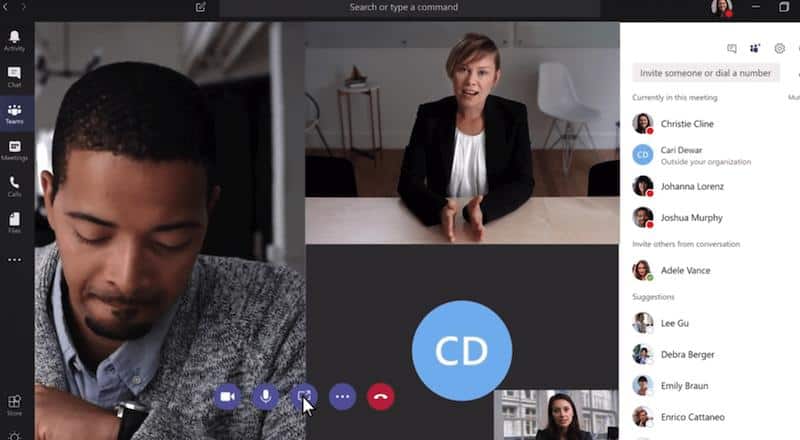 You can also chat with users present in the meeting through instant messaging by clicking the chat icon on the toolbar. The red icon with a phone receiver is meant to end the session at any point in time.
I hope this short tutorial helped you understand the basic functionality of using video conferencing solutions.
What is best video conferencing software?
The best video conferencing software is GoToMeeting. Sure, there are a lot of other free options but if you want the most reliable platform that you can count on time and time again I recommend GoToMeeting.
What is the best video conference software free?
The best free video conferencing software is hands down Google Meet. I have used Google Meet a ton over the past 12 months and I am in love with the platform for being free. It isn't quite as good as GoToMeeting but for a quick impromptu meeting for free, it's tough to beat.
Is Zoom the best video conference?
Honestly, no it's not. Zoom is by far the most popular web conferencing software on the market but from spending countless hours using video conferencing apps, Zoom is not as good as GoToMeeting, RingCentral, or Google Meet.
Executive Summary.
That's it for my top picks for video conferencing tools to try this year.
These video conferencing platforms help you meet and work remotely with increased flexibility, HD video, and great collaboration tools.
If you're looking for a free video-conferencing tool with fewer features, I'd suggest Skype for Business. However, if you want to host many participants and need an all-in-one web communication platform, GoToMeeting is an excellent option. For extensive integration with other Google Suite tools, you can opt for Google Meet.
My top pick is GoToMeeting due to features like:
Ability to host up to 3000 participants.
One-click meetings.
Mobile conferencing.
Meeting recording and transcription.
Live screen sharing.
Free call recording.
Automatic bandwidth adjustment.
And more.
Which of these video conferencing platforms are you planning to use, and why? Let me know in the comments below.
Editorial Process:
Our reviews are made by a team of experts before being written and come from real-world experience. Read our editorial process here.
Some of the links in this article may be affiliate links, which can provide compensation to us at no cost to you if you decide to purchase a paid plan. These are products we've personally used and stand behind. This site is not intended to provide financial advice. You can read our affiliate disclosure in our privacy policy.