7 Best AI Art Generator Options in 2023
Choosing the right AI art generator is crucial if you want to create high-quality artwork. From generating images in the style of a famous artist to creating an original piece of art, the best AI art generators can help you meet your goals. In this guide, I ranked and reviewed the 7 best AI art generators, so that you can pick the best one for you.
---
We're reader-supported. When you buy through links on our site, we may earn an affiliate commission.
Have you ever wanted to be able to draw like a master artist but didn't know where to start?
Maybe you started taking expensive art classes or even attempted to learn how to use graphic design software.
But still, it felt like your artwork didn't quite measure up.
If you're struggling to find your style or perfect your craft, or simply want to start a blog that features an AI-generated logo, you may want to consider using an AI art generator.
This online tool creates images based on data inputted by the user.
The great news is that you can use AI Art to create one-of-a-kind pieces representing your exact input.
In this article, I'll go over the best AI art generators and how you can use them to create fantastic artwork for your blog, website, or social media accounts.
Let's get started.
What Are The Best AI Art Generators?
The following are the best AI art generators currently available.
Best Overall For AI Art.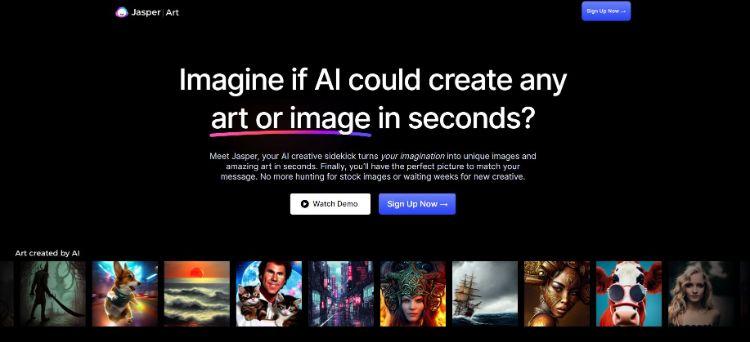 Jasper Art turns your imagination into reality by allowing you to input your ideas and images to create digital artwork.
You can also explore different styles of art with the help of this tool and experiment with other techniques to find what works best for you.
Jasper Art is perfect for beginner and experienced artists, as it features both a basic and an advanced input option.
With the advanced input option, you can add as much detail as you want to your artwork, making it completely custom and one-of-a-kind.
Jasper Art is definitely an AI art generator to consider if you're tired of stock images and want to create something unique.
Read my full Jasper Art review for more information.
Key Features:
Create art & images with AI to ensure your work is entirely original.
It works in 26 languages, so you can combine text and images to create content in any language.
Fast chat support is available if you need help with using the tool.
Jasper AI also offers 50+ AI copywriting templates to help you get started with your artwork.
Pricing:
Plans start from $49/mo.
There are also enterprise custom plans for those who need more features and support.
Get started with Jasper.
Best For Using Images As AI Input.
Photosonic paints your thoughts on a canvas of reality by allowing you to input your ideas, images, and emotions to create digital artwork.
It also offers a wide variety of art styles to choose from so you can find the perfect one for your project.
Going for either authentic or artistic images?
Photosonic has got you covered either way.
The ability to control the outputted images' quality, diversity, and style is beneficial and makes the tool very versatile.
From animals, characters, landscapes, scenes, or various other topics, you can also input any image and have it turned into a painting.
Key Features:
Going as complex or as simple as you want, the choice is yours with this AI art generator.
You have the full right to use any images you create, making them perfect for personal and commercial projects.
Pricing:
There is no fixed price, as you can top up with credits as needed.
As of the time of writing, 100 credits cost $10.
Get started with Photosonic.
3. DALL-E 2.
Best For Creative Image Generation.
Following the popularity of GPT-3 AI to create text, OpenAI's DALL-E 2 was one of the first tools to do the same but with images.
Whether creating expansive new compositions or generating images from scratch, DALL-E 2 is perfect for those who want to explore the potential of artificial intelligence in art.
Using natural language captioning, DALL-E 2 can interpret the inputted text and generate an image based on that interpretation.
This results in some creative and unique images you can use for your project.
Shadows, textures and reflections can be considered while making adjustments to an original image.
Key Features:
A process called "diffusion" uses random dots to alter the image to be more organic.
Get more connection between visuals and texts, further enhancing the user experience.
Editing and retouching tools help to make your artwork look more polished and professional.
The ability to produce multiple iterations of an image is beneficial for finding the perfect one.
Pricing:
DALL-E 2 offers three pricing plans:
Free: $0
Starter: $9
Small Team: $18
4. Fotor.
Best For Creating AI NFTs.
Fotor allows anyone to become an NFT creator with an easy-to-use platform that doesn't require design experience.
This AI art generator is perfect for those who want to create digital artwork quickly and easily without worrying about the design's technical aspects.
Creating NFT artworks in minutes means you can focus on your project's creative aspects while monetizing this latest trend.
With over 10,000 templates to help you get started, you're sure to find the perfect one for your project.
After you apply your artistic vision (or let Fotor come up with something from scratch), you can easily export your newly created NFT and start selling it online.
Key Features:
1-Tap enhancement ensures the output image is of the highest quality.
AI photo effects allow you to add various filters to your image.
Background remover is perfect for those who want to create a transparent background for their NFT artwork.
The blur effect can help focus the viewer's attention on a specific image area.
Color splash allows you to highlight the exact colors in your image.
Pricing:
Fotor offers three pricing plans:
Fotor Basic: $0 /month
Fotor Pro: $8.99 /month
Fotor Pro+: $19.99 /month
5. Deep Dream Generator.
Best For Creating Surrealist Art.
Deep Dream Generator provides tools that allow you to create your AI-generated art.
Exploring various AI algorithms and seeing how they affect your image is helpful for anyone who wants to understand more about how artificial intelligence works.
You can also merge image styles to create something truly unique.
With a focus on using a deep neural network to generate images, Deep Dream Generator is perfect for those who want to create abstract or surrealist art.
Using AI's knowledge to interpret a painting style and generate its own version of it is also fascinating to see.
While AI cannot create advanced transformations (yet), it can still provide very valid results you can work with.
Key Features:
Turn your vision into an AI-generated image with ease.
Various AI algorithms to choose from.
Ability to merge different image styles.
Deep neural networks allow for the creation of abstract and surrealist art.
Pricing:
With a free account, you can create plenty of stunning pieces of art.
However, for those wanting more advanced features, these are the pricing plans:
Advanced: $19/month
Professional: $39/month
Ultra: $99/month
6. Wombo.art.
Best For Free AI Art Generation.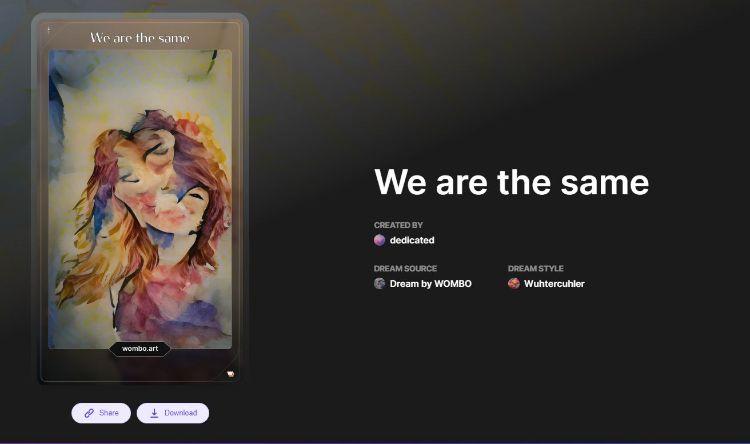 Wombo.art is a fast and easy-to-use AI art generator that allows you to create stunning digital artwork in just a few clicks.
Enter your input image, choose a style, and Wombo.art will do the rest.
Whether you want to create artwork in the style of a famous artist or want to experiment with different styles, Wombo.art is a great tool.
With this tool, creating high-quality artwork quickly and efficiently is now possible for anyone who wants to monetize their art or create digital products.
Key Features:
You can get billions of potential ideas for your project by typing in a few words or varying your input.
Get images created in seconds with this art generator.
Choose from various styles to get the perfect output for your project.
Pricing:
Wombo.art is free to use.
7. NightCafe.
Best For Use On Mobile Devices.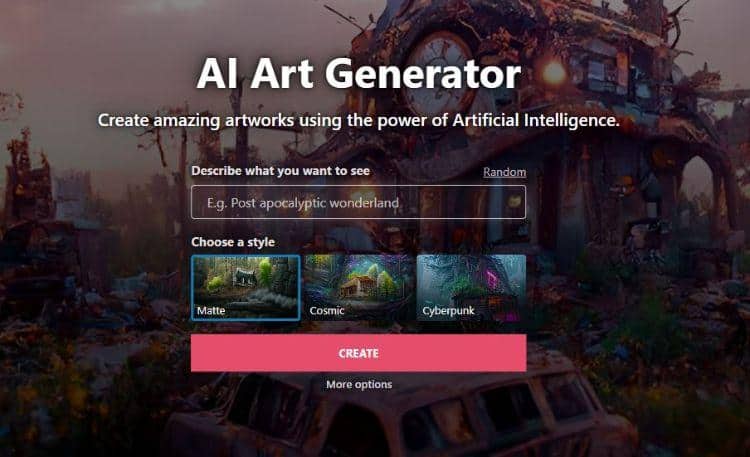 NightCafe is an open-source platform that uses neural style transfer to generate images that feature select specific colors, patterns, and shapes.
This is truly helpful for anyone who wants to create something unique.
Also, if you use an image as an input and have permission from the original image owner, Night Cafe gives you the ownership of the copyright for your new artwork.
This means that you can sell your artwork without worrying about legal issues.
This platform is also available on Android and iOS, so you can create artwork on the go.
Key Features:
Web and mobile use allow for creating artwork on the go.
Free to use, so you're not tied to a monthly fee.
Unique creation tools will enable you to create something truly original.
Tools for power users give them more control over the final product.
Pricing:
This platform is free to use.
Other AI art generators not mentioned in this article include ArtBreeder, MidJourney AI, and even Google's Imagen tool.
What Is An AI Art Generator?
An AI art generator app uses artificial intelligence to create new art pieces.
With various artistic styles and mediums available, AI art generation is the next big thing in the artificial intelligence world.
From using the style of famous artists to create art that reflects their work to using a text-to-image AI to create entirely new art, this technology has tons of possibilities.
With the ability to create portraits, landscapes, and abstract art, AI image generators are changing how we think about the art creation process.
In a nutshell, through machine learning, the art community (and anyone remotely interested in image generation) can now take art creation to the next level.
How Does An AI Art Generator Work?
Different generators will have their own way of working.
However, many will allow you to choose the style of image you want to have generated.
From oil painting to watercolors, and 3D images to anime, the possibilities are endless.
With the ability to provide text prompts and then bulk download the creations generated, an AI image generator can help you create as many new images as needed.
You can even use ChatGPT to create the right prompts for you.
Some tools also allow users to input images and have images created based on such input.
This means that whether you want to generate violent portraits or calm landscapes (or anything in between), an AI art generator can help you create new artwork.
Photoshop And Other Image-Altering Tools
While modifying the aspect ratio of an image, altering the colors, or even the background of an image is nothing new when it comes to photo editing software, it has been made much easier with the help of AI.
Image altering tools have gotten much better at guessing what the user wants and making suggestions accordingly.
Not to mention, they've also gotten a lot faster.
When a tool combines the ability to create AI artwork using deep fakes (which refers to the process of using AI to generate fake images or videos) and altering it as needed to create a final product that's hard to distinguish from an actual image, you get what's called a "photorealistic Deepfake."
In other words, it's an image that's been so accurately altered by an AI that it looks like it's the real thing.
These days, such images are becoming more and more common.
Moreover, AI artists with a programmatic background can also use programming languages like Python to quickly create, iterate, and improve upon their art.
And with the ability to use mobile devices (such as any Apple iPhone or an Android) to generate images on the go, it's never been easier to create AI art.
There's not even the need to have expensive GPUs (graphics processing units) to do so.
AI Image Generation In The Future
As of now, it's possible to generate high-quality images using VQGAN (Vector Quantized Generative Adversarial Network).
This is a huge step forward in AI image generation as it allows for more realistic and lifelike images to be created.
It also opens up the possibility of creating better 3D images and animations with the help of AI – both now and in the future.
New images based on data that has never been seen before can be generated, which will help develop new products down the line.
All in all, with the help of machine learning, the art community can now take art creation to the next level.
Also, this will only get better over time.
Wrap Up.
Artificial intelligence is changing the way we create and consume art.
The AI art community is growing, and the tools and techniques for creating AI art are becoming more sophisticated.
As AI art generators become more common, choosing one that's right for your business is essential.
When deciding, consider each tool's pricing, features, ease of use, and output quality.
To summarize, the top AI art generator options right now are:
Have you used any of the above AI art generators?
If so, which one is your favorite?
Let me know in the comments below.
Further reading on AdamEnfroy.com: AI art is great to look at, and it's even better when monetized.
Here are various options for how you can make money with AI art.
Artificial intelligence is taking over many aspects of our lives, and in business, it's already being used to write articles, generate sales leads as part of AI sales software, create newer and better AI design, and can even manage conversational intelligence to close deals.
The latest AI statistics can bring to light just how big of a role AI plays in business today and will continue to do so in the future.
Editorial Process:
Our reviews are made by a team of experts before being written and come from real-world experience. Read our editorial process here.
Some of the links in this article may be affiliate links, which can provide compensation to us at no cost to you if you decide to purchase a paid plan. These are products we've personally used and stand behind. This site is not intended to provide financial advice. You can read our affiliate disclosure in our privacy policy.