Jasper Art Review: Can It Really Create Art You Can Use?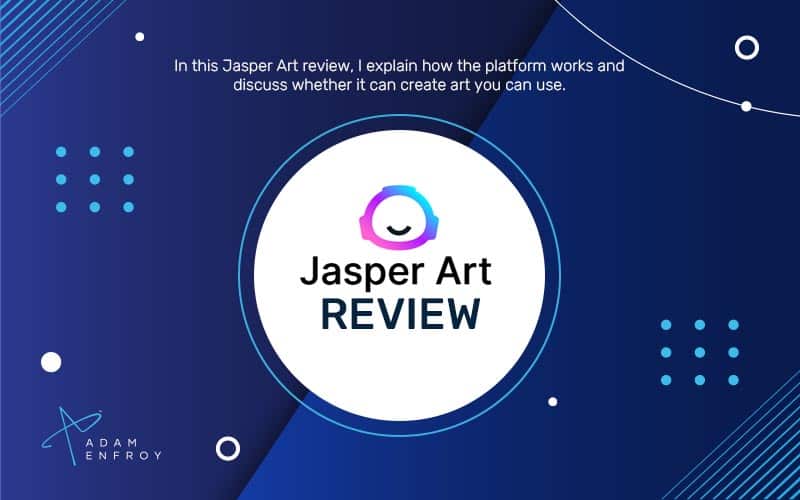 Ever dreamed of becoming an artist?
Can technology make you into one?
Jasper Art promises to make the whole process effortless – all you have to do is describe what kind of image you would like to create, and voila!
But does it live up to its promises?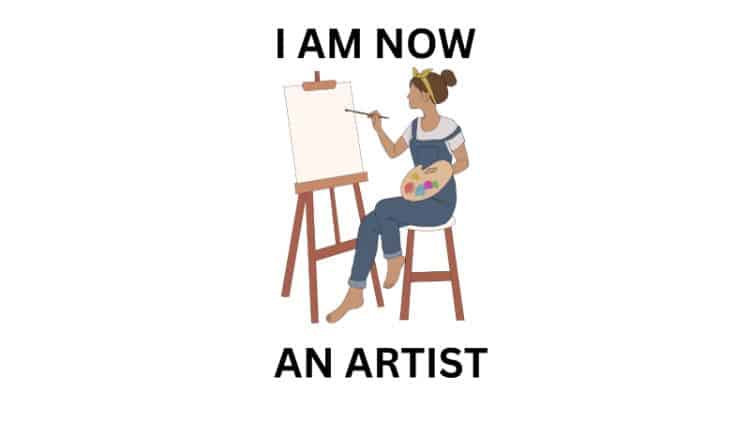 In this article, I'll review Jasper Art, explain how it works and discuss whether it can create art you can use.
How Does Jasper Art Work?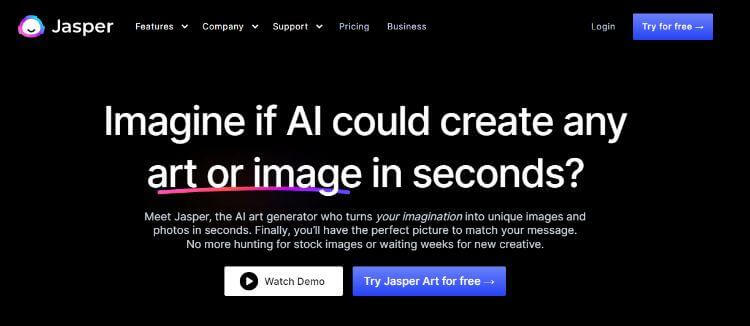 Jasper Art is a digital marketing tool that produces high-quality images.
Those wanting to create unique images by Jasper Art can use an algorithm combining several elements in a given image.
The AI tool also allows unlimited image generation – whether it's graphic designers or beginners using it, they can generate countless variations on the same image.
As Jasper Art is an interactive approach to making art empowered by unlimited images, it is great for creating customized visuals quickly and easily.
This process allows you to create truly amazing images tailored to your needs.
Jasper Art simplifies the process of creating custom visuals for marketing and blogging purposes by making it easy and fast.
With detailed customization options included, you can create stunning visuals without spending countless hours on design or having technical know-how.
Jasper Art's Revolutionary AI Engine
Jasper Art is a revolutionary, AI-driven art platform enabling anyone to create stunning AI-generated images quickly.
With Dall-E 2 in the background, Jasper Art has pushed the boundaries further by introducing an advanced algorithm that allows for greater image flexibility.
With remarkable accuracy, the engine can understand complex concepts and generate images based on these concepts.
This innovation means that users can create highly detailed and realistic Jasper Art images with just a few clicks of their mouse.
The tool also specializes in reinventing close-up shots and creating dynamic visuals for marketing materials.
Whether you want to create pixel art, anime, acrylic drawings, or other styles, chances are you can do it with this platform.
As a result, the platform is revolutionizing marketing materials by providing users with a vast library of high-quality images they can use in various promotional campaigns.
What Is DALL-E 2?
DALL-E 2 is an advanced artificial intelligence system developed by OpenAI.
It uses a neural network model that learns to create stunning images by understanding detailed descriptions written by the user.
This approach implies that users can provide a detailed image description of what they want to create and then receive a generated image from artificial intelligence in just a few seconds.
Jasper artwork has become a well-known name for its ability to generate exquisite images quickly and efficiently.
Using the content from a simple social media post or blog, get the main gist and turn it into a stunning visual.
Whether it's a thumbnail for your new YouTube video or a unique image to accompany your latest blog post, Jasper Art has you covered.
The Power Of Keywords
When you type in any keyword on Jasper Art's main page, you can generate unique images within seconds.
This process makes it incredibly easy to customize any artwork to suit the context of your work or promotion.
The keyword selection feature also allows users to narrow their search by using specific phrases or terms that relate directly to their desired image.
As a result, users have access to a wide variety of content they can use for creative projects or design tasks.
For example, if you want a classic oil painting, you can type in 'oil painting,' and a range of unique images will appear from which you can choose.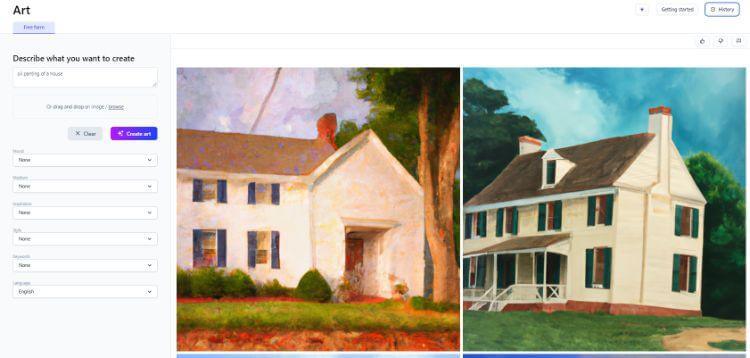 You can also create a modern oil painting by entering keywords such as 'abstract oil painting' or 'modern oil painting.'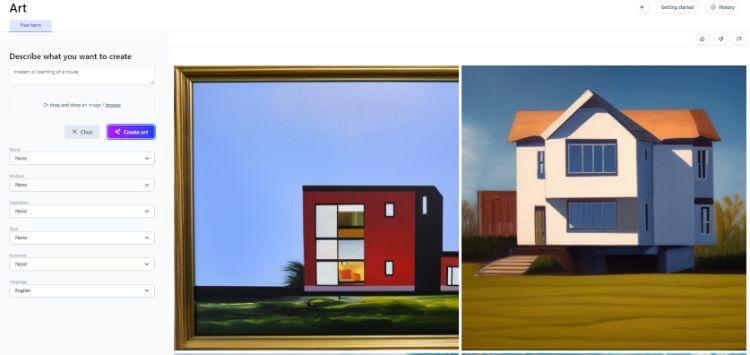 Jasper Art makes it even easier for artists to set up text prompts.
The platform offers a text-to-image template that allows users to generate realistic, comma-separated image descriptions without prior design knowledge.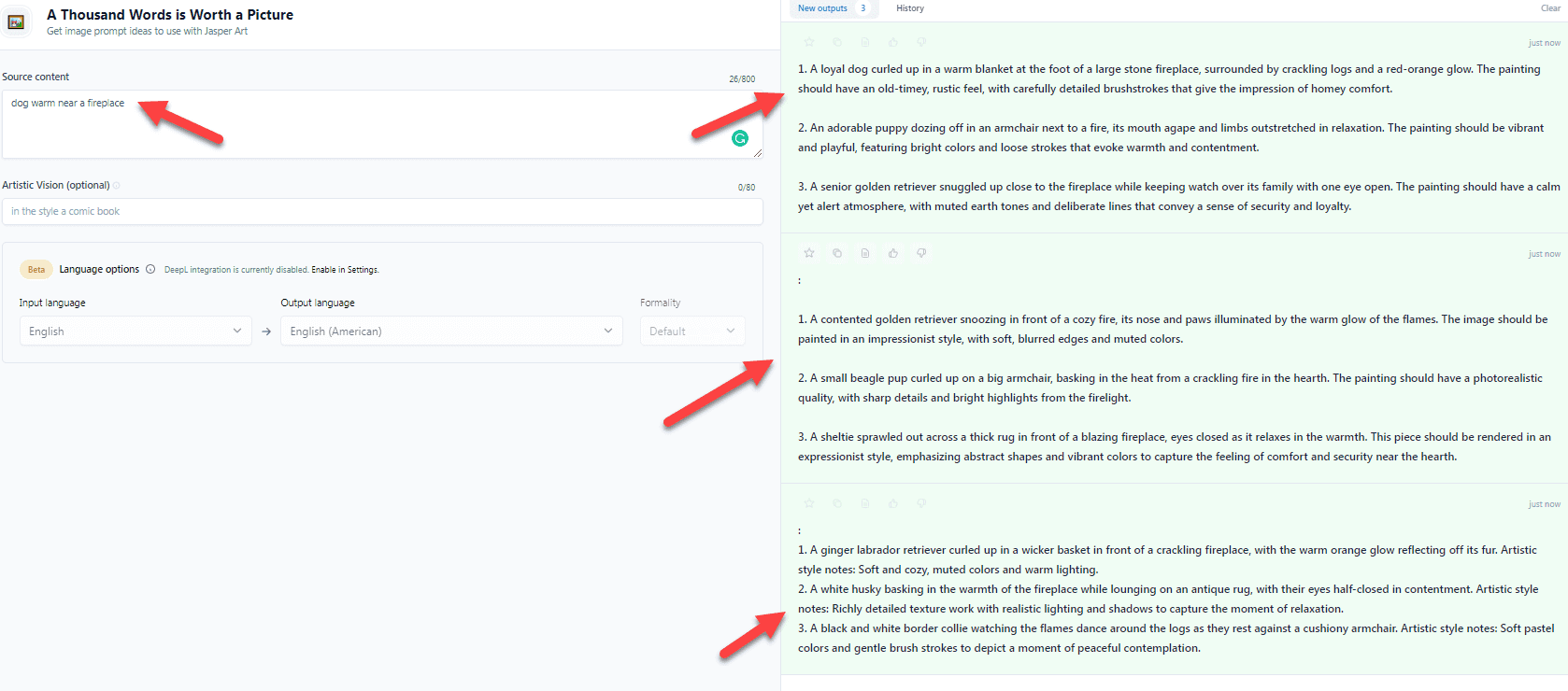 This feature is handy for creating visuals on the fly; you don't have to spend hours thinking about the words when designing each image.
Get started with Jasper Art.
Various Mood Options At Your Fingertips
Jasper Art offers mood dropdown options for users who want more control over their searches.
Whether romantic, exciting, calm, or sad, these mood options make it easier for users to find the actual image they need.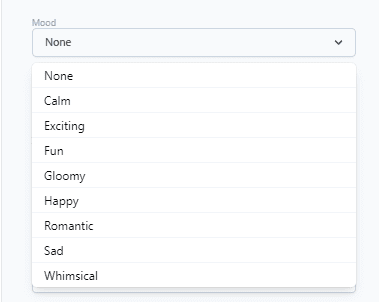 This results in the ability to generate high-quality images perfect for advertising campaigns, web designs, or any other type of creative project.
Jasper Art also brings the classic pencil sketch into the modern world by offering photorealistic illustrations in just a few clicks.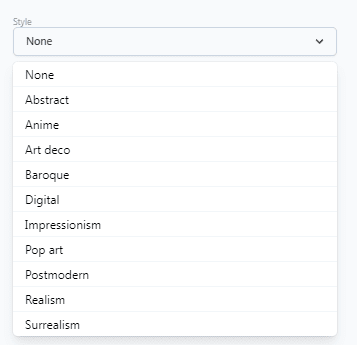 This procedure means users can quickly create realistic-looking sketches without spending countless hours drawing each line by hand.
Jasper Art also provides options that allow users to creatively embody famous artists such as Van Gogh and Picasso within their artwork.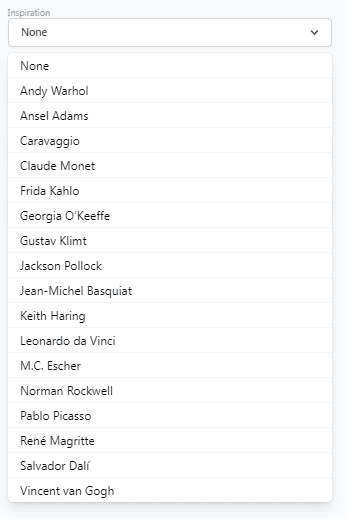 The Benefits, Drawbacks, And Risks Of Using Jasper Art
Here are some critical benefits, drawbacks, and risks to consider when using Jasper Art.
The Benefits
In addition to being easy and fun, Jasper Art also has many practical benefits.
This platform allows you to create high-quality visuals without prior design experience.
It also removes all the guesswork by providing real-time feedback (through the generated images) on what works best for each photo or video project.
You also don't have to worry about expensive software licensing fees.
Since everything runs in the cloud, your Jaspert Art subscription includes all update-related costs.
Jasper can also scale its outputs to high-resolution images.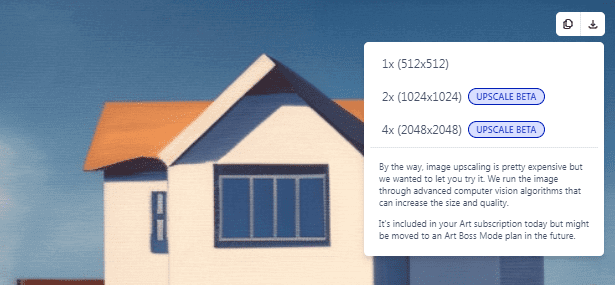 Users can use these images for various digital projects, including presentations, websites, and social media posts.
Finally, using Jasper AI, users can create art pieces with meaningful modifiers that convey an emotion or represent an idea.
Drawbacks
Of course, like all tools, Jasper Art has some drawbacks.
For example, its accuracy is not always 100%.
When it comes to hands and legs, its accuracy can leave users wishing it could be better.
While Jasper Art is a unique AI art generator, its styles come in limited forms meaning that users may not find the exact artwork they need.
Additionally, some images need more artistic elements or details than traditional art pieces.
However, the drawbacks are fewer than the benefits offered by this tool.
With its ability to quickly generate visuals based on user data points and its user experience optimization, the tool is one to try out.
The Risks
Jasper Art is a fantastic platform that offers a vast array of photos and images to choose from when looking for something special to add to your project.
However, it's important to remember that AI art is still a gray area when generating specific types of images.
Generating celebrity photos is one of these.
While you might think you have generated the perfect picture, another artist may have already done similar work, which is where things get murky.
When dealing with celebrity images, it's important to remember that copyright law applies just as much as any other image.
If you're working with an image of a well-known person (or even brand), ensure that the entity has permitted you to use it in whatever way you plan.
That could include anything that uses a photograph or drawing in an advertisement, web page, or magazine article.
Many people need to pay more attention to this simple step; neglect could result in copyright violations and attract hefty fines.
That said, online users can take these AI-generated images and modify them as they see fit.
As such, even if you generate an incredible photograph in Jasper Art, chances are high that someone else might take it and use it.
Since each output is a free image, others can use it however they wish, including remixing and creating derivative works.
Finally, make sure that whatever artwork you generate is respectful and inoffensive.
Giving Jasper Art Too Many Inputs
While this might seem like a great way to generate different results, it can lead to confusing results that don't do justice to this tool's potential.
For example, if you input the phrase "cow on a plane" with three styles selected – cartoonish, abstract, and realistic – the result may be nothing like any of the styles combined.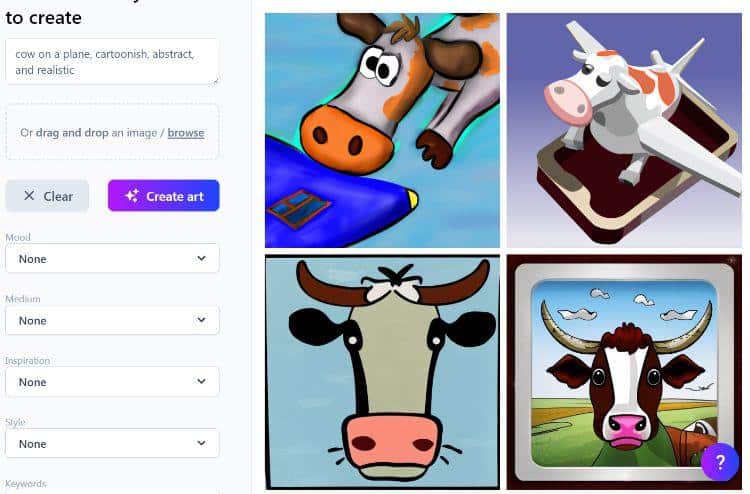 That is because the algorithm may not accurately process all of these inputs; instead, it could pick up on some aspects of each selection and create something completely unexpected.
It All Comes Down to Detail
The main issue with Jasper Art's attempts to capture iconic figures is the need for more detail.
While the tool does a great job with many of its paintings, the outputs that do not capture the essence of their subject often need to be more concise and pay more attention to detail.
The colors used in the painting could be too bright compared to what one would expect from an image featuring such a controversial figure.
Combining Different Elements
Another challenge Jasper Art faces when attempting to portray iconic figures accurately is combining different elements into one cohesive piece.
For example, if a painting of a famous actor is requested, their features and expressions need to be accurately captured.
The algorithm must combine facial structure and skin tone information with clothing style and background details.
The more elements you add to a painting, the harder it is for the algorithm to process them correctly.
Joining The Jasper Official Community
With over 70,000 members and counting, this online hub has become an invaluable resource for gaining insights from the team, networking with like-minded people, and accessing exclusive content.
The Jasper Official Community provides an ideal platform for networking with other creatives in the same field as you.
It gives you a chance to exchange ideas and insights, collaborate on projects together, or even get feedback on a project you've been working on.
Through meaningful connections made through the community, it can be easier to find resources or partners that help your work flourish.
The Jasper Official Community also offers exclusive resources and insights from the team.
These resources can range from tutorials and advice to sample files and templates that can help speed up your workflow or answer any questions about using their software or services.
Being a part of this vibrant community allows you to stay up-to-date on all the latest news and changes within the company.
You can also check out the Jasper Art Gallery for more inspiration regarding creating realistic images with Jasper Art.
Jasper AI Writing Assistant
While Jasper Artwork is a unique form of digital art bloggers can use to create eye-catching visuals for their content, Jasper AI is a revolutionary AI writing tool.
The platform revolutionizes how creative teams and marketers approach copywriting.
From its various templates to its unique "Boss Mode" that creates content on demand, Jasper AI provides the tools needed to craft compelling and engaging content quickly and efficiently.
Its primary focus is on Search Engine Optimization (SEO) and providing comprehensive analytics so that users can measure their success easily.
Considered one of the top AI writing software on the market, Jasper AI's innovative technology has made it a go-to source for content creation and management.
Jasper Art Cost
A Jasper Art subscription costs $20 per user per month.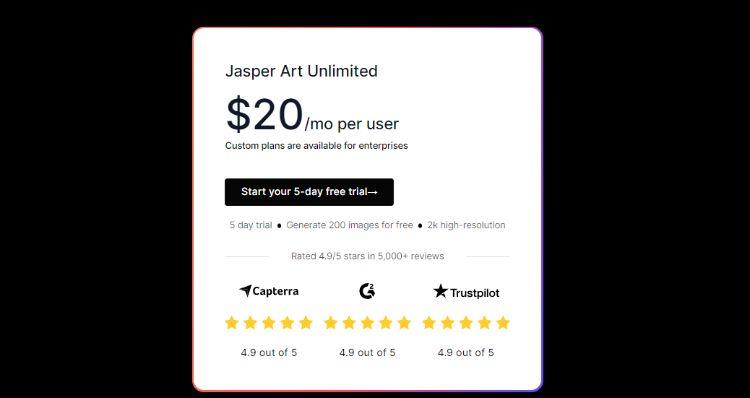 The platform comes with a five-day trial.
Moreover, Jasper Art pricing is separate from other Jasper subscriptions you might already have.
Jasper Art Review – FAQs
What Is Jasper AI Art?
Jasper Art is an AI image generator.
It uses artificial intelligence to create eye-catching images from scratch.
Can Jasper Create AI Content?
The main Jasper AI platform can create text content based on user input.
What Are Jasper Art Alternatives?
There are a few other AI art tools available on the market.
These include DeepArt, AICAN, GANBreeder and Artbreeder.
Each of these tools uses different algorithms to create unique images.
Here's a complete list of AI art generator options.
How Do AI Image Generators Work?
AI image generators use artificial intelligence algorithms to produce realistic-looking images from scratch.
Such algorithms include generative adversarial networks (GANs) or variational autoencoders (VAEs).
The algorithm takes input data such as photographs, sketches, or text and then uses algorithms that create images with distinctive features based on that data.
Wrap Up.
Jasper Art is an AI image-generation tool that helps users create eye-catching visuals for their content quickly and efficiently.
Overall, Jasper Art is an excellent tool for bloggers working to create compelling visuals for their content and for marketers and creative teams looking to optimize their copywriting.
It can also help users save time and money by automating art production by uploading a similar art style and using AI to create unique images.
Get started with Jasper Art.
Further reading on AdamEnfroy.com: Want to get in on the AI art trend?
Here are some of the best ways to use AI art to make money.
You can also check out this list of AI design software tools to help you take your created visuals to the next level.
Editorial Process:
Our reviews are made by a team of experts before being written and come from real-world experience. Read our editorial process here.
Some of the links in this article may be affiliate links, which can provide compensation to us at no cost to you if you decide to purchase a paid plan. These are products we've personally used and stand behind. This site is not intended to provide financial advice. You can read our affiliate disclosure in our privacy policy.
---
Last Updated on August 29, 2023 by Adam Enfroy