How to Use Jasper AI Boss Mode: Is It Really That Powerful?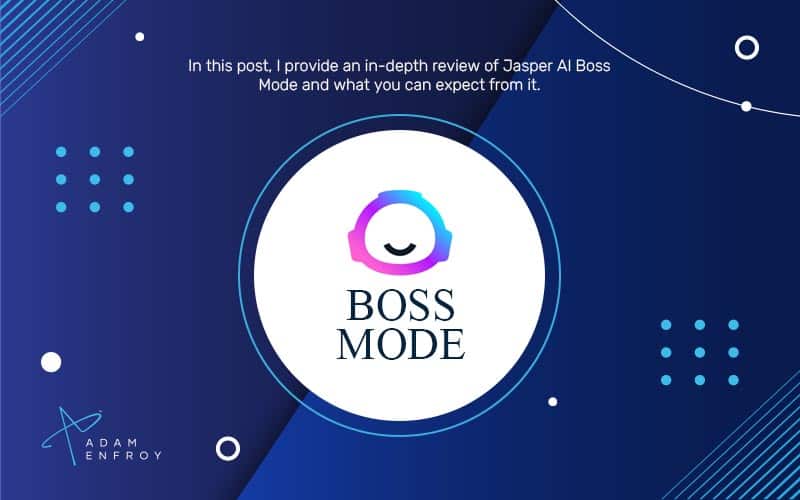 Are you ready to take complete control of your content creation process?
While many AI writing tools promise excellent results, few are as comprehensive as Jasper AI's Boss Mode.
The question then becomes, "how do you fully use Jasper AI Boss Mode?"
In this post, I'll provide an in-depth review of Jasper AI Boss Mode and what you can expect from it.
What is Boss Mode?
Boss Mode is one of Jasper's (formerly Jarvis ai) pricing plans.
This tool helps content marketers write more effectively, faster, and with fewer errors.
The platform provides various templates allowing you to generate high-quality content based on your project's needs quickly.
With Boss Mode, you can unlock new levels of customizability that transform Jasper into a powerful content and copywriting assistant tailored to your needs.
With its lightning-fast Jasper Boss Mode commands feature, creating and editing content has never been easier.
All you do is enter commands in natural language and get results in mere seconds.
You can define the output length with small, medium, or extensive options for each output generation.
Best of all, using Boss Mode does not require specialized coding knowledge.
It is as easy as talking to a friend.
In addition to saving you time on the content creation process, using Boss Mode has plenty of other benefits.
It allows you to customize your output by adding formatting commands like bold and italic without switching between templates or copying and pasting text from one template to another.
It also lets you control the style and tone of your content so that it matches your brand's unique voice.
What Are Jasper Commands?
Boss Mode Jasper commands are language inputs that help Jasper perform specific tasks.
Imagine speaking to a friend and wanting them to do something for you.
You'd use natural language to ask them, and that's what the Jasper commands are like – just specific requests for Jasper to follow.
Plus, since the developers trained the AI using natural language processing algorithms, the end product will be just as good – if not better – than if a human had written it.
Using a Jasper command is a great way to boost productivity and ensure that your projects reach their full potential.
Creating Better Content Outlines
Writing content for your website can be time-consuming and challenging.
However, you solve this issue by creating a solid content brief to help you navigate the creation process.
And what's the best way to generate this brief?
You guessed it!
Asking Jasper to do it for you.
Jasper uses AI technology to quickly generate comprehensive guiding structures based on the title (or keywords) you provide.
It can even suggest titles that may work better than your original idea.
By providing you with an easy-to-follow structure, Jasper makes writing content much faster and easier than ever.
Jasper's Power Mode
Jasper's Power Mode is one of the modes within Boss Mode that lets you quickly and accurately create content.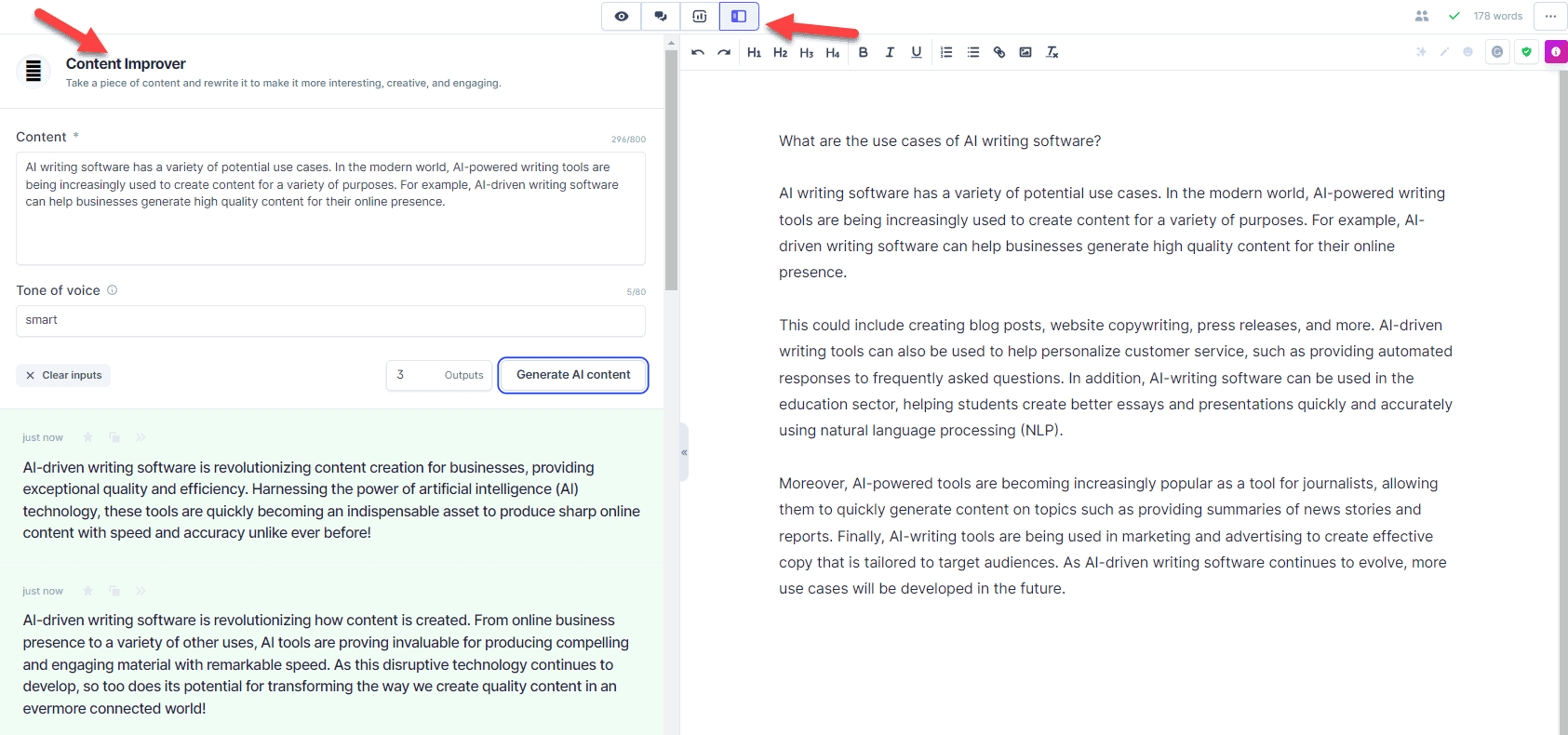 Whether you need additional document titles, a blog post intro, a conclusion, an AIDA, or a PAS framework, this mode allows users to use the proper templates at the right time.
Choose the template you want to use, and it's ready for you to use within the same window.
No need to switch to other tabs and risk losing focus.
Jasper Recipes
Jasper Recipes is a powerful module (forming part of Boss Mode) for quickly generating content with unparalleled quality.
Jasper's recipes meet the needs of any content creator, from writers needing inspiration to developers looking for code snippets.

With just one click on any recipe, you will get instant access to all the materials necessary to start your project.
A versatile selection includes customizable templates for blog posts, articles, press releases, newsletters, web pages, and more.
By using Jasper Recipes and Boss Mode together, content creators everywhere can build frameworks that unlock the potential of their creativity and turn tedious tasks into speedy processes.
Boss Mode Keyboard Shortcuts
Users can take advantage of various helpful keyboard shortcuts within the Jasper document editor.
Shortcuts allow you to quickly perform specific actions without taking your hands off the keyboard.
For example, you can utilize the Command+/ to re-execute the previous command.
You can also use Command+Z to undo the last output generated.
The well-known Command + J key combination is a shortcut for the compose button, helping you get more output while staying focused.
Using the shortcut CMD + Enter allows you to execute a command, letting Jasper know it's go time.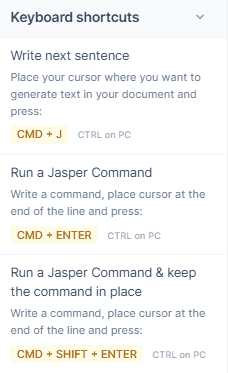 You can always use the Control key on Windows to get the same results.
For example, CTRL + Enter is the key to execute a command.
There are shortcuts for formatting your text, adding images, and more.
Simply place the cursor in the right spot each time and hit the desired shortcut to execute the command.
These keyboard shortcuts make using Boss Mode even more efficient and productive, so it pays to get to know them.
Transition Words For A Better Content Writing Flow
Transition words are phrases used between two sentences or paragraphs that indicate a connection between them, such as "however," "in addition," and "on the other hand."
They provide more information about how the ideas in each sentence or paragraph relate to each other and create cohesion between them.
When writers use transitions correctly, they make writing easier to follow and understand.
The same applies when getting the most out of Boss Mode.
Helping the artificial intelligence to understand how the elements of your content are connected, you can use transition words to bridge ideas.
Adding the correct transition word between commands ensures that each sentence flows seamlessly into the next.
Types Of Documents Boss Mode Can Create
While plenty of AI writing tools exist that can do bits and pieces of the below, Boss Mode brings it all together in one interface.
Here are some documents types that one can create using Jasper Boss Mode.
Long Form Content
Creating a long-form document that takes the reader on a journey used to require plenty of time and effort.
With Jasper Boss Mode, users can easily create content such as blog posts, whitepapers, or research papers.
When writing blog posts, the 3000 character lookback helps ensure the context of your document doesn't get lost.
Whether you want to write blog posts that follow SEO-optimized processes or a step-by-step guide explaining how to accomplish an action, Jasper Boss Mode will help you get it done quickly and efficiently.
Video Script Outline
Selling through video is increasingly important in today's competitive digital marketing environment.
You can use Jasper Boss Mode with simple commands to create an effective script outline for your next video production project.
You can start a YouTube channel and use Jasper to help you create great videos for your channel.
Product Description
Jasper Boss Mode is an excellent tool for creating product descriptions that follow SEO recommendations and match user intent.
You can quickly create high-quality product copies optimized to capture attention and generate more sales.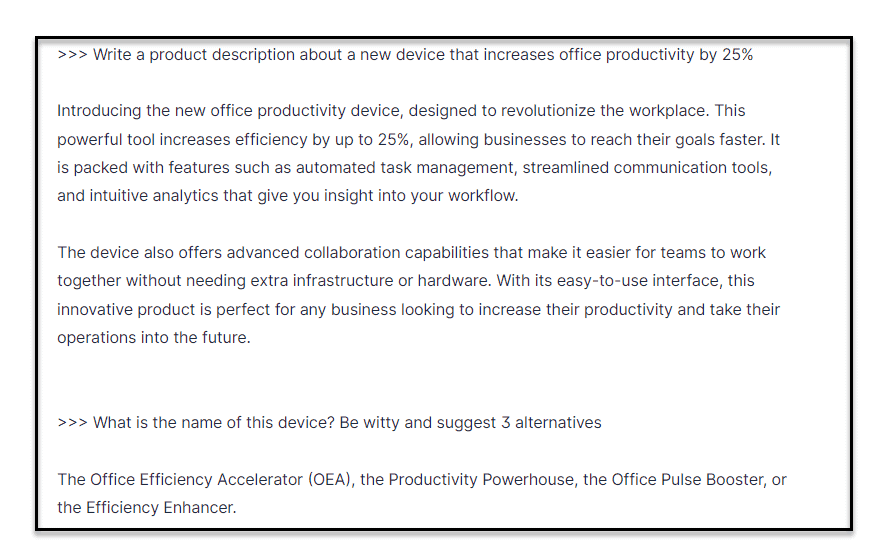 Intro Paragraph And Blog Post Conclusion Paragraph
Sometimes, finding the perfect hook or creating an article summary is challenging.
Jasper Boss Mode helps you get it done quickly with features such as Intro Paragraphs and Conclusion Paragraphs.
These two templates allow you to quickly generate the essential elements of a blog post, ensuring that your content is strong, engaging, and tightly structured.
Social Media Posts
While you can use Jasper templates to create specific content types, Boss Mode allows you to combine them and develop creative social media posts in a fraction of the time it used to take.
Blog Post Outline
When you write long-form content, knowing what to include and how to organize your ideas can be challenging.
A blog post outline allows content bloggers to produce higher-quality long-form content that resonates with readers.
AIDA
Entrepreneurs can also see Boss Mode's functionality to generate an AIDA (Attention, Interest, Desire, and Action) copywriting template framework.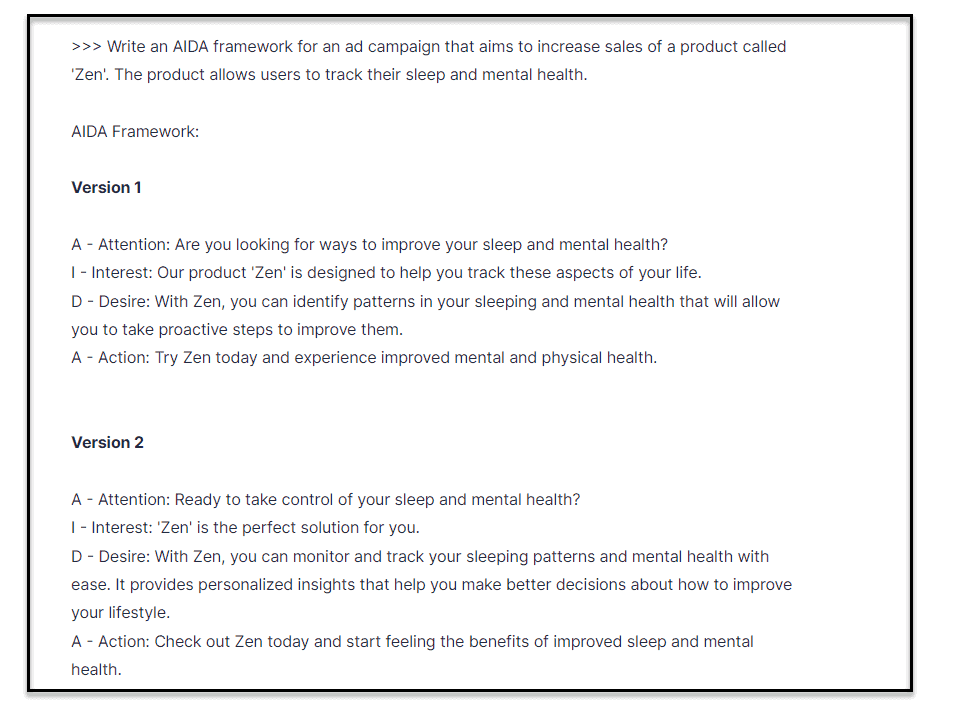 Being one of the most commonly used copywriting templates, this guides the person reading your content through the steps of your sales funnel.
With Jasper Boss Mode's ability to interpret commands that follow a sequence, users can leverage this framework to create compelling content that engages readers and encourages them to take action.
Get started with Jasper.
Using Workflows Within Jasper Boss Mode
One of the more recent boss mode features is the ability to have workflows that simplify and streamline content creation processes.
For example, the blog post workflow takes users through all stages, from research to outlining a structure to writing compelling paragraphs – all powered by AI-driven recommendations.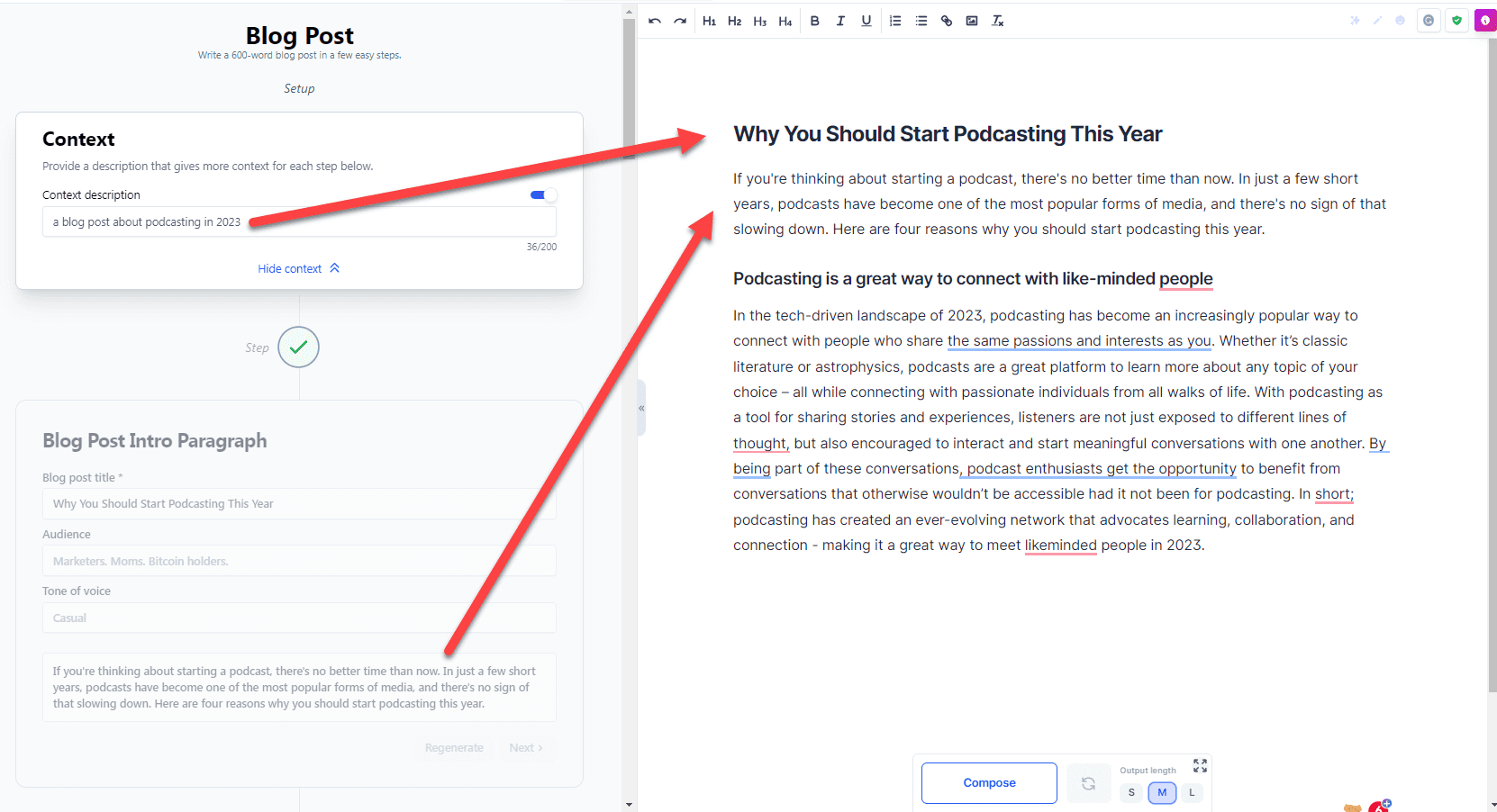 Choose the 'blog post workflow option' when writing long form content, and you'll be ready to start.
Jasper Boss Mode Integrations
Jasper Boss Mode features integrations with popular tools such as Copyscape and Grammarly, allowing writers to produce higher-quality content quickly.
Copyscape is a plagiarism checker that ensures 100% original content.
With a plagiarism-free content piece, you can protect your reputation and brand.
Grammarly is another powerful tool that helps content writers produce error-free, engaging, and professional pieces.
If you're after top-notch content that follows both grammatical and SEO best practices, Grammarly is a great choice.
Surfer SEO is yet another tool that many SEO experts use to optimize content for search engine success.
With its SEO mode available within Boss Mode, users can analyze their content and quickly adjust it based on Surfer's recommendations.
Jasper Training
There are plenty of Jasper Boss Mode tutorial options for those new to the platform.
With its Bootcamp training, Jasper provides an interactive step-by-step guide on how to make the most out of their content creation tools.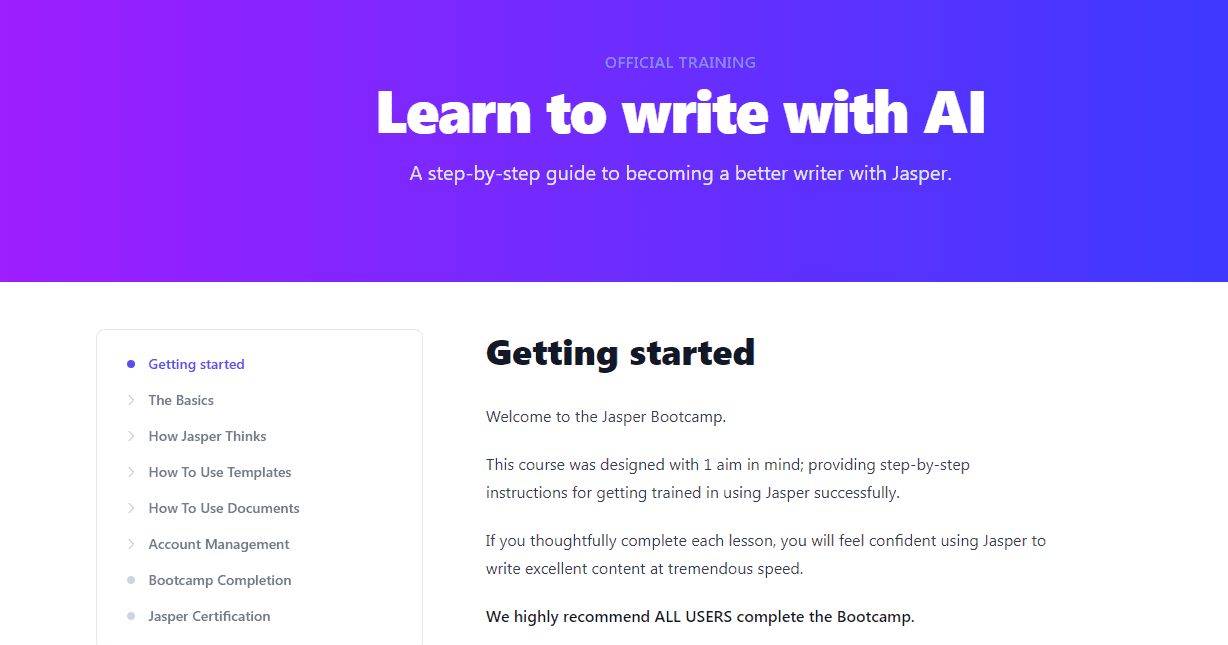 Apart from that, Jasper's Facebook group is a wealth of knowledge and helpful tips from experienced users.
Jasper Chat
Forget struggling through mundane tasks like generating new topic ideas – let this intelligent writing assistant take care of it.
With a conversational interaction, your creative needs are taken care of in no time.
Let's say you want to create an ad copy for your business.
Just ask Jasper for help, and it will provide you with a step-by-step guide on writing compelling ad copy.

You can create FAQs using this chat feature, along with getting tips to help you optimize your writing for SEO.
Furthermore, by utilizing natural language processing (NLP), Jasper Chat can understand complex queries and provide comprehensive answers quickly and efficiently.
All of this is available when you use Jasper Boss mode.
The Benefits of Using Artificial Intelligence To Make Money Online
First, let's understand what AI is and how it works.
AI is a form of technology that enables machines to learn from experience and perform tasks that previously required human intelligence.
One can use it for various applications such as language recognition, image processing, decision-making, virtual agents, robotics, etc.
AI has become increasingly important in our daily lives as it helps us to make faster decisions and process data more efficiently.
Now more than ever, people are looking for ways to make money online.
With the help of AI technology such as Jasper Boss Mode, one can quickly generate fantastic blog post titles on any topic one wishes to write about.
So how can you make money with AI?
You can use it to start a blog and create content that attracts visitors to your blog/website.
This way, you can make money through affiliate marketing or advertisement revenue.
You can also use AI technology as conversational intelligence software to respond quickly to customer queries and process orders.
You can speed up the customer service process, making it easier for customers to place orders and get answers quickly.
Combined with customer experience software, you build customer loyalty and encourage repeat purchases.
Additionally, you can use AI copywriting software to create sales copy and email campaigns to promote products and services.
Overall, AI provides a potent tool for online businesses hoping to increase their sales and revenue.
By utilizing the power of AI technology like Jasper AI, you can take your online money-making game to the next level.
Jasper AI Pricing Plans
Here are the Jasper AI pricing plans currently on offer:
The Jasper Starter Plan – $29 per month
The Starter plan offers a wide range of features at a very reasonable price.
This plan includes unlimited document creation, unlimited users, and up to 10K words per month.
Jasper Boss Mode – $59 per month
Next up, there's the Jasper Boss Mode plan for those needing more robust features.
Jasper Boss Mode pricing starts from $59 per month and offers up to 50K words per month.
Note that the starter and boss mode plans have a 5-day money-back guarantee.
There's also 17% off if you choose yearly billing to save some cash.
You can read more about Jasper AI pricing for more information.
Enterprise
For bigger businesses and enterprises, this is a great option.
With custom pricing based on one's needs, this plan offers access to all of Jasper AI's features and tools.
Plus, you get dedicated customer support for your business.
Wrap Up.
Using Jasper's Boss Mode plan is an excellent way for businesses to get a leg up in the digital age.
Its easy-to-use interface and helpful features can help you create content quickly and effectively while optimizing your website visibility in SERPs and helping you generate more leads.
Try out Jasper today, and let me know how it helps you make the most of your content creation and marketing efforts.
Get started with Jasper.
Further reading on AdamEnfroy.com: With new AI content platform options coming out every day, knowing which one is right for you can take time and effort.
Whether you're after an AI text generator that can create new content in a flash or an AI copywriting software that can generate SEO-friendly content with keywords, the right AI blogging tools are the way to go.
You can also check out the latest AI art tools to help you create stunning visual content in minutes.
Editorial Process:
Our reviews are made by a team of experts before being written and come from real-world experience. Read our editorial process here.
Some of the links in this article may be affiliate links, which can provide compensation to us at no cost to you if you decide to purchase a paid plan. These are products we've personally used and stand behind. This site is not intended to provide financial advice. You can read our affiliate disclosure in our privacy policy.
---
Last Updated on September 4, 2023 by Adam Enfroy