Jasper AI Review (formerly Jarvis): Is it the Best AI Writing Tool?
Have you ever wondered if a time will come when you write your blog posts, product reviews, social media posts, emails, and projects, and ideas flow freely?
Jasper AI is an AI writing tool that takes in various inputs and produces unique content outputs.
It is a game-changing AI writing tool that's making waves in the world of content creation.
The software helps you improve your writing, brainstorm ideas, create new content, and even help you fix grammar mistakes.
Jasper AI has much to offer users, considering it's one of the best AI writing software.
If you have previously struggled with content marketing and coming up with blog post topic ideas or even failed to produce quality content, Jasper AI might be the answer you've been looking for.
In this article, I'll take an in-depth look at the features of Jasper AI and see if it is the best AI writing tool on the market.
Jasper AI Review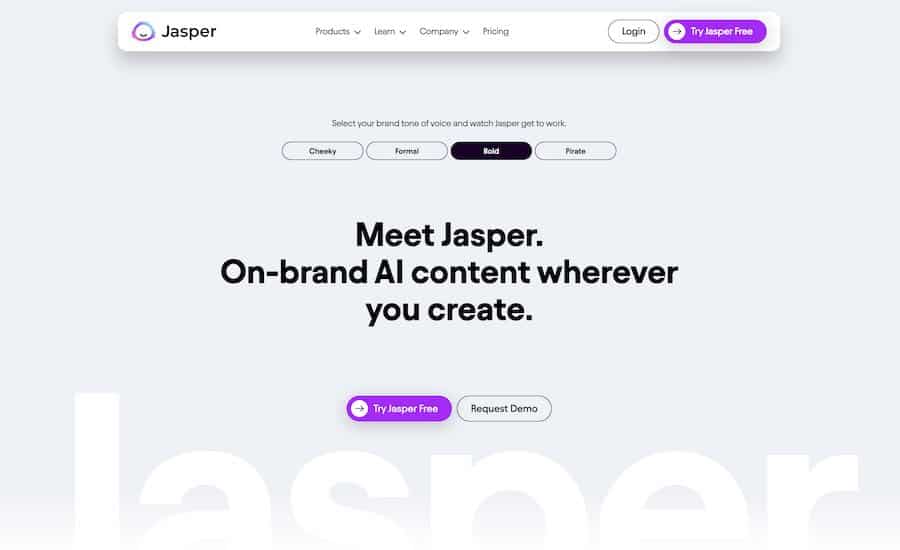 Before starting this Jasper AI review and going through a quick overview of what this software is all about, note that this AI platform has recently raised $125M in Series A funding at a $1.5B valuation.
Numerous tech publications mentioned this incredible feat, including TechCrunch, with Jasper promising to invest this funding back to help expand its market reach and build its technology stack.
At a foundational level, Jasper AI is a tool that uses artificial intelligence to help you create new content from scratch and improve your writing.
The app's simple interface makes it easy to start with AI content creation.
Having read around 10% of the internet until a few years ago, Jarvis is one of the top AI marketing tools that can help you market your business better.
The app has a lot to offer users with various components that make up the Jasper AI software.
The Jasper AI Team
Based in Austin, Texas, the Jasper AI team offers those who sign up for the service an AI-powered content generation tool designed to help with various aspects of content marketing.
Formerly Jarvis AI and Conversion.ai, this software has undergone several brand redos because of various rebranding strategies.
With a 4.8 rating on Trustpilot at the time of writing this article, it is evident that the company behind this software has maintained a good customer relationship throughout its various changes.
The Jasper AI team constantly improves its software, often releasing new features and integrations.
Jasper AI Templates
The first valuable feature is the ability to create content from templates.
The Jasper AI software comes with a wide range of templates for you to choose from, each designed to help with different content types while still focusing on ease of use.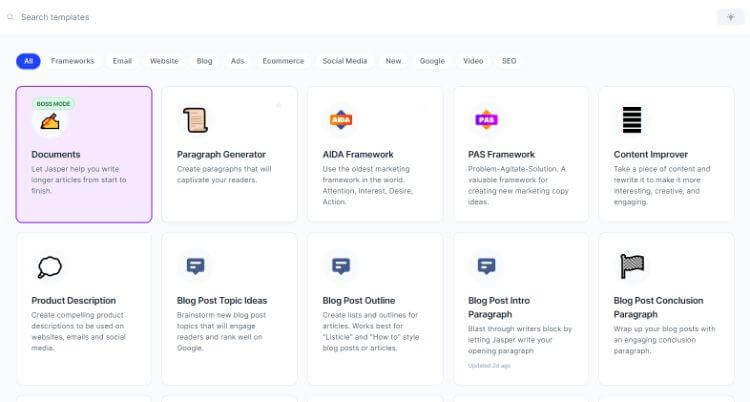 While the long-form content editor (which I'll review shortly) is one of the most utilized features, the team at Jasper AI still has not forgotten about those looking to create other types of content that might be shorter.
Let's review some templates and what they can do for your business.
AIDA Framework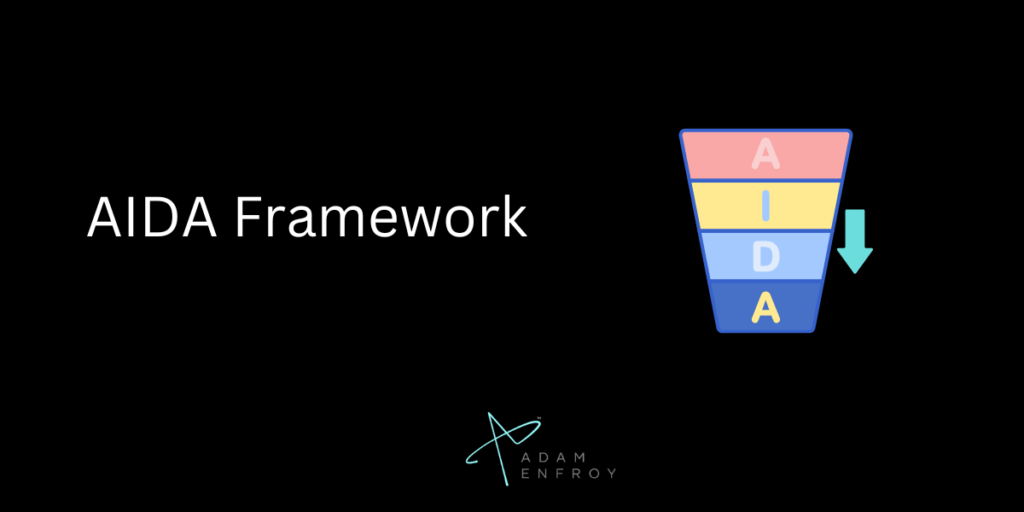 The AIDA Framework is a template designed to help those looking to create content for awareness, interest, desire, and action.
The type of content one can use this template for includes writing blog posts, social media posts, or even email marketing campaigns.
If you have ever struggled with getting your readers to take action after reading your content, then the AIDA Framework might be what you need.
PAS Framework
The Problem, Agitate, Solve (PAS) Framework is a template designed to help those seeking to create content that addresses a problem their target audience might face.
One can use the PAS Framework for various content types similar to the AIDA Framework.
Content Improver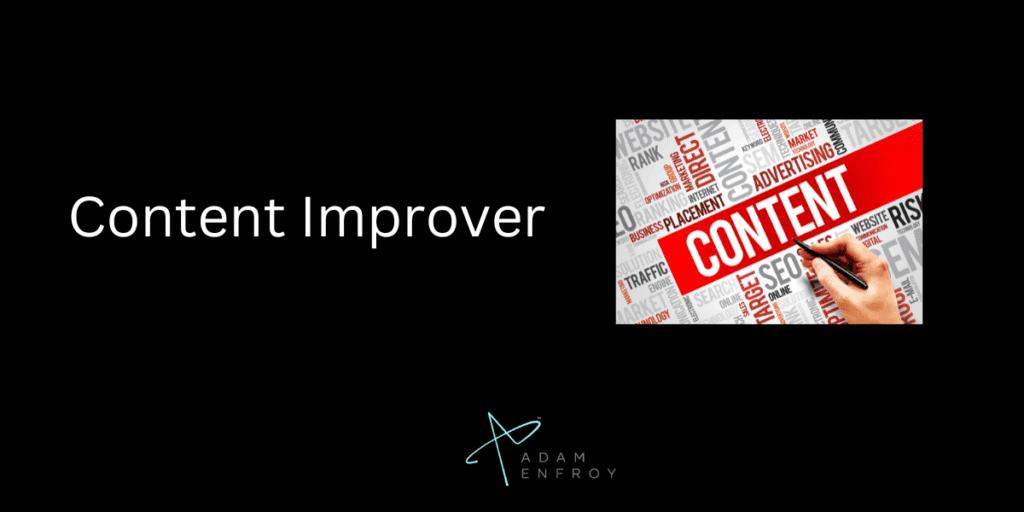 If you want to polish and optimize a previous piece of content you have written, then the Content Improver feature might be the template for you.
With this feature, you can upload an existing piece of content, and the software will give you a list of improvements you can make.
Content Improver is a great way to quickly improve sections of old blog posts or even website pages that might be ranking poorly in search engines.
Product Description
If you want to create a product description, then the Product Description template is what you need.
This template will help you write a compelling e-commerce description highlighting all your product features and benefits.
Blog Post Intro Paragraph
The "Blog Post Intro Paragraph" template helps those struggling to write an engaging opening paragraph when writing blog posts.
With this template, you can quickly create a paragraph that will grab your readers' attention and make them want to read more.
Creative Story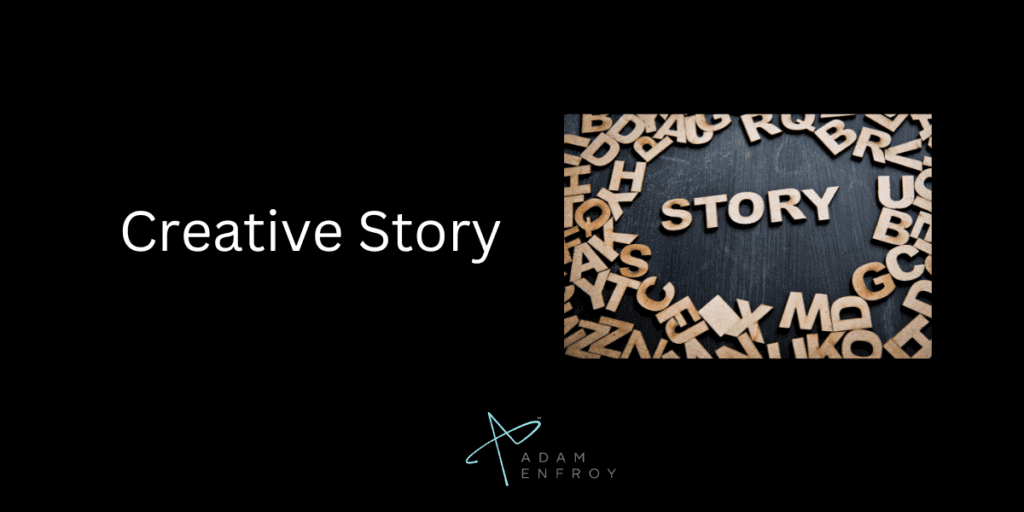 The Creative Story template is a great way to develop ideas for new stories.
While not necessarily related to the marketing copy, if you struggle with writer's block, this template will help you overcome that hurdle and develop new and exciting story ideas.
The ability to set the tone of voice you want will also influence the output you get in this short-form content template.
Sentence Expander
The Sentence Expander template is a great way to improve the quality of your writing quickly.
With this template, you can change a simple sentence into a more complex version without losing the original's meaning.
Persuasive Bullet Points
The Persuasive Bullet Points template helps those looking to create persuasive content.
With this template, you can quickly develop a list of bullet points that will help you persuade your readers to take action.
This template will be handy if you want to create a sales page or an email marketing campaign.
Video Script Hook and Introduction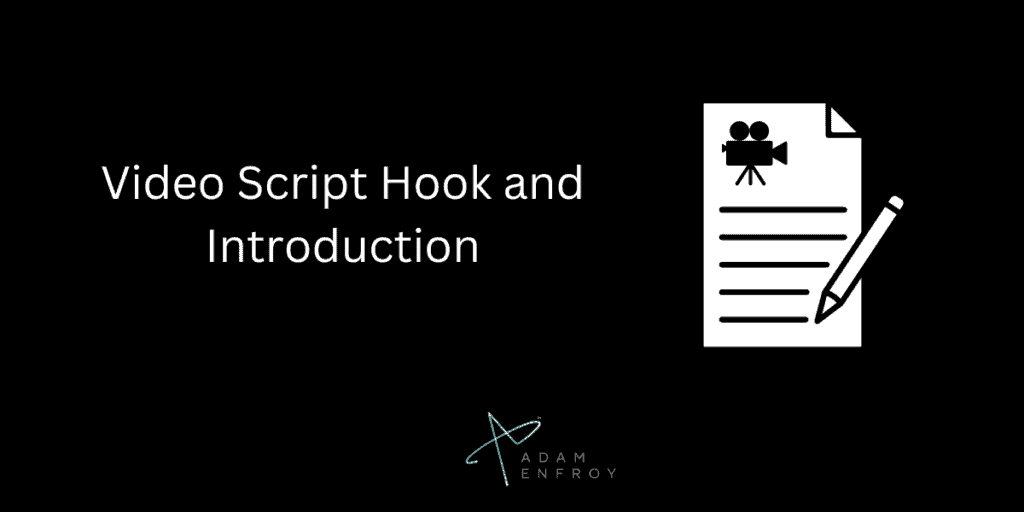 Creating YouTube videos that hook your viewers in the first few seconds is essential if you want them to watch your entire video.
With this template, you can quickly write a hook and introduction that will do just that.
The above are just some of the templates on offer with Jasper AI.
As you can see, there is a template for various types of content that you want to create.
If you are looking for a writing tool that will help you save time and improve the quality of your writing, then the templates section at Jasper AI is worth checking out.
Jasper AI Boss Mode / Long-Form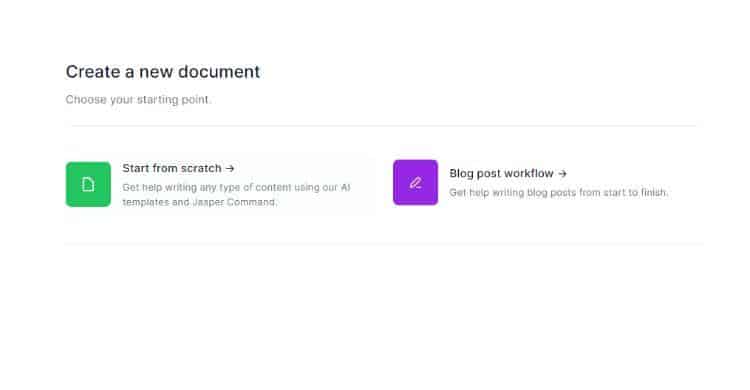 If you want to learn how to generate lengthier AI content than the templates offer, then the long-form editor at Jasper AI might be something to check out.
Utilizing the Boss Mode feature, you can quickly generate long-form content of high quality.
This feature is excellent for those who want to create blog articles over 1000 words in length.
With the ability to give commands as if speaking to a human person, you can generate generated content that fits your needs.
Get started with Jasper.
Who Uses Jasper.AI?
Various types of users can benefit from using Jasper.ai:
A digital marketing agency owner who wants to use AI copywriting tools to produce content for clients.
A small business owner who wants to create blog posts.
Those that work in SEO can also use artificial intelligence to help ensure they hit the right keywords in their content.
Bloggers that want to eliminate writer's block while making money blogging can also use this tool.
Amazon product content creators can compose product descriptions.
If you're aspiring to be a content writer and want to find freelance writing jobs, this tool can help you create a portfolio that will get you hired.
In short, many types of people can benefit from using Jasper AI.
With content marketing generation features available in multiple languages, this tool is popular among non-native English speakers who want to create content in their native language.
Jasper AI Integrations
Another great feature of Jasper AI is its ability to integrate various tools and software.
Surfer SEO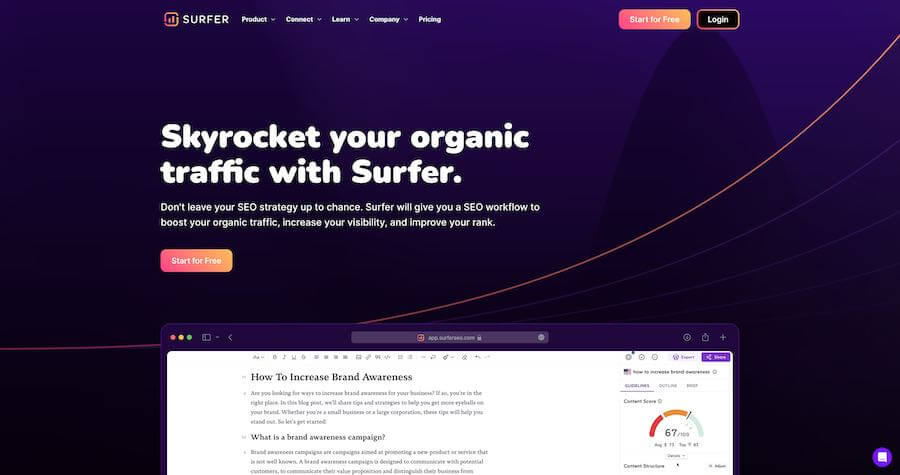 Surfer SEO is a popular tool among those in the SEO industry.
The ability to quickly check keyword density and other important SEO factors makes this tool a must-have for those that want to rank their content in the top positions on Google.
Jasper AI integrates with Surfer SEO so that you can quickly check your content's SEO score and ensure that it is up to par.
Grammarly
Considered one of the best grammar checkers on the internet with its ability to find and correct grammar mistakes, it is no wonder many people use this tool.
Jasper AI integrates with Grammarly so that you can quickly check your output's grammar and make sure it's error-free.
Copyscape Plagiarism Checker
It is essential to ensure that your marketing content is original.
Copyscape is a popular plagiarism checker that can help you do just that.
Jasper AI integrates with Copyscape so that you can quickly check your content's originality and ensure it is all plagiarism-free.
Jasper Recipes
If you want to write content in a fraction of the time, you need to check out the recipes feature at Jasper AI.
With the Recipe feature, you can quickly generate AI content by giving Jasper instructions – as if you were creating your favorite food recipe.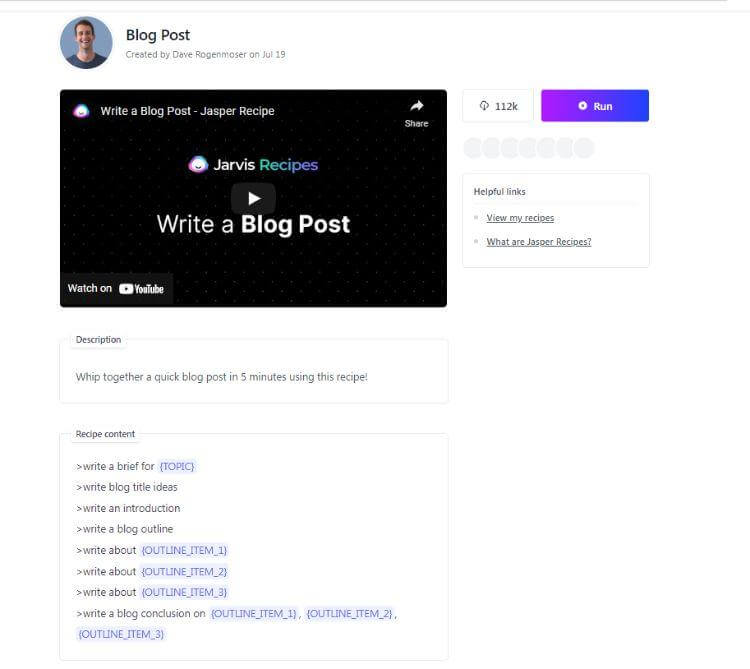 This feature can quickly create a workflow where your AI writing assistant does all the grunt work.
It's also helpful if you want to quickly generate content for your social media accounts using predefined instructions.
For example, if you wanted to create a tweet, you only needed to give Jasper AI instructions on what you wanted the tweet to say.
The same goes for Facebook posts and other types of content.
Jasper AI Use Cases
There are many different ways to use Jasper AI to generate content.
Writing Blog Posts
Taking the time to write blog posts for your site can be a time-consuming task.
If you create long-form content, you know it can take hours to write a single post.
With Jasper AI, you can quickly generate content for your blog in a fraction of the time.
Blog Post Outline Creation
If you struggle with writer's block, check out Jasper AI's blog outline creation feature.
With this feature, all you need to do is enter a few keywords, and Jasper AI will generate an outline for a blog post for you.
You can then take this outline and quickly write the blog post in a fraction of the time.
Creating Paid Ads
Whether it's high-quality content related to Facebook ads or Google ads, Jasper AI can help you quickly generate ad copy for your paid ads.
This tool can also create an ad headline that stops readers in their tracks and forces them to pay attention.
Generation Of FAQs For Blog Posts
The functionality to quickly generate FAQs for blog posts is an excellent feature of Jasper AI.
This feature is for you if you want to take over Quora and become an expert in your niche.
With this, you can also generate questions and answers for your blog post to help establish you as an expert.
Email Subject Lines
Jasper AI is the perfect tool for entrepreneurs who want to generate email subject lines.
You can quickly create email subject lines to get your emails opened and read – and then use the tool to keep writing the following email.
YouTube Video Titles And Script Hooks
As an AI copywriting tool, Jasper AI is also great for those that want to create video content.
You can quickly generate video titles and script hooks with this tool.
If you want to make money on YouTube, you need high-quality videos that engage your viewers – and Jasper can help you with that.
It can also create the proper video description for your videos.
Convert Bullet Points To A Paragraph
If you're in the process of landing page creation and have a list of bullet points you want to convert into a paragraph, then Jasper AI can help you with that.
You'll be able to formulate your thoughts more easily and structure your content in an easier way to read.
Jasper AI Bootcamp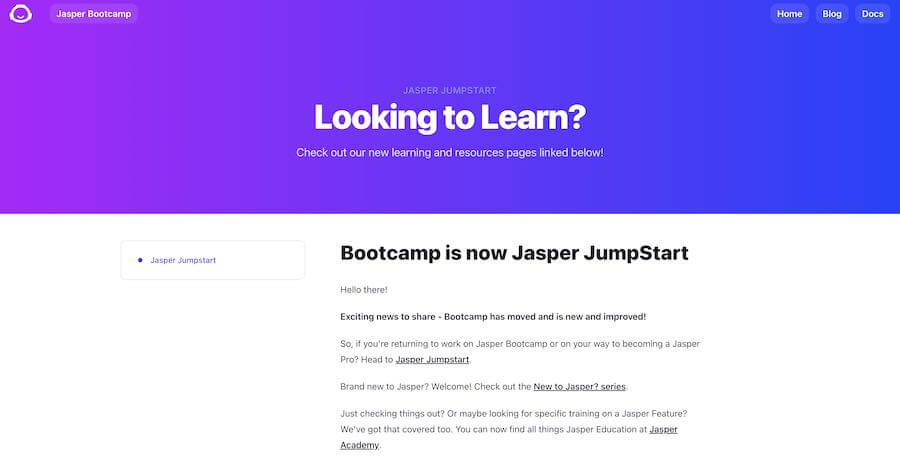 Jasper AI offers a Bootcamp to help you get the most out of the tool regarding training.
The team developed The Bootcamp to help you learn all the different features of Jasper AI to use them to generate high-quality content with just the proper tutorial for various use cases.
It's a great way to get up to speed using this tool, so if you want to get the most out of Jasper AI, I recommend signing up for this training.
The Jasper AI Facebook group is also an excellent resource for learning more about this tool.
Jasper Commands
When operating Jasper, a few commands allow you to fine-tune your experience.
For example, the three asterisks command (***) orders Jasper not to 'read' above the point where you enter this command.
While this might seem too simplistic to get high-quality output in the writing process, this is not usually true.
This simplistic approach is excellent as it lets you focus on your writing without worrying about remembering complicated ways of operating the tool.
Jasper AI Affiliate Program
You have to apply for the affiliate program, and if accepted, the Jasper team will provide you with a unique link to share.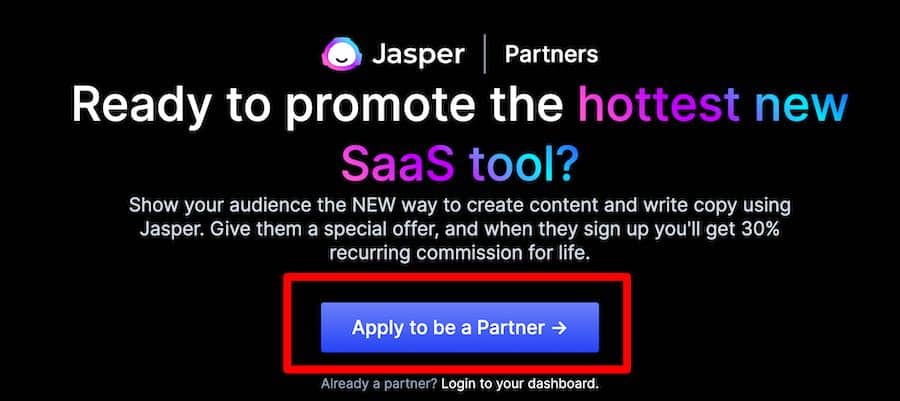 When someone clicks on your link and signs up for Jasper AI, you'll earn 30% of their subscription fee for life.
What Powers Jasper AI?
Using the power of GPT-3 in all areas of Jasper AI (both in the long-form assistant and the various copywriting templates that are available), this tool provides users with results that rival and often exceed those of the human copywriters.
Jasper AI Pricing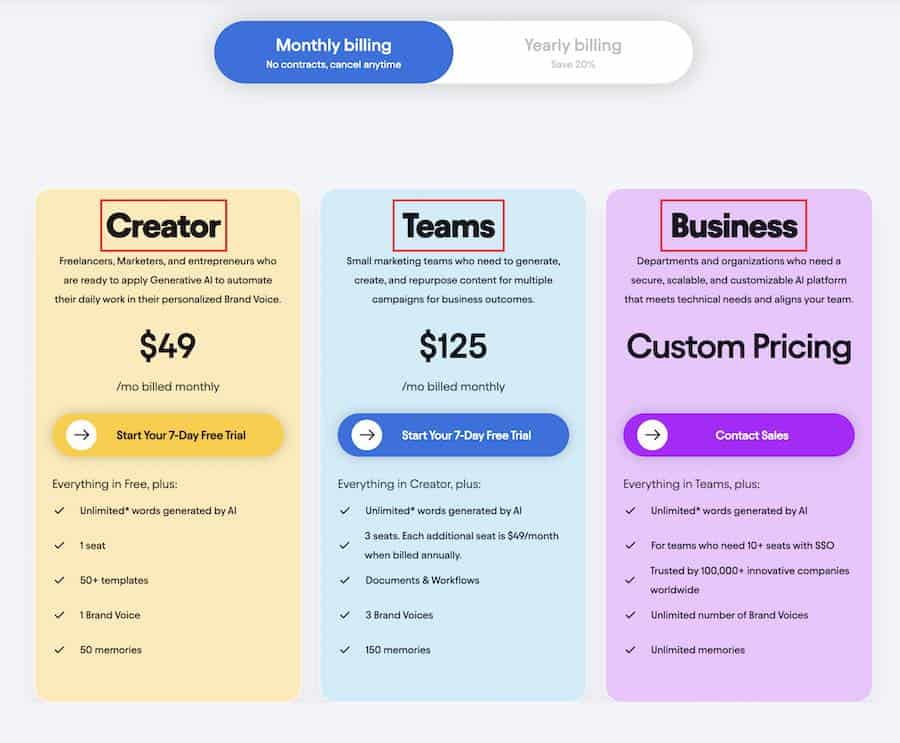 Jasper's pricing plans are as follows:
Creator Plan: Starting at $40/mo
Teams Plan: Starting at $82/mo
Business Plan: Contact Jasper.ai for more information
With a Creator plan, you get access to 1 user and unlimited words per month.
The Jasper Teams plan gives you access to a Google Docs-style editor to take advantage of Jasper AI's features.
With this plan, you also get access to unlimited words per month, with the ability to have 3 additional users. You can pay for additional users at $49/per month each.
Users can create unlimited projects with unique and original content to help their content writing efforts.
There is no reason not to try this AI writing tool with a 7-day money-back guarantee covering Jasper's plans.
You can also get 10000 free words to see if Jasper AI is the right software.
Check out this article on Jasper AI pricing for more information.
What's New In Jasper?
Here are some of the most recent updates to Jasper.
Jasper Workflows
Wouldn't having a tool that could automate your workflow would be great? Jasper AI aims to do just that.
With Jasper, you can set up specific automated workflows for content creation tasks.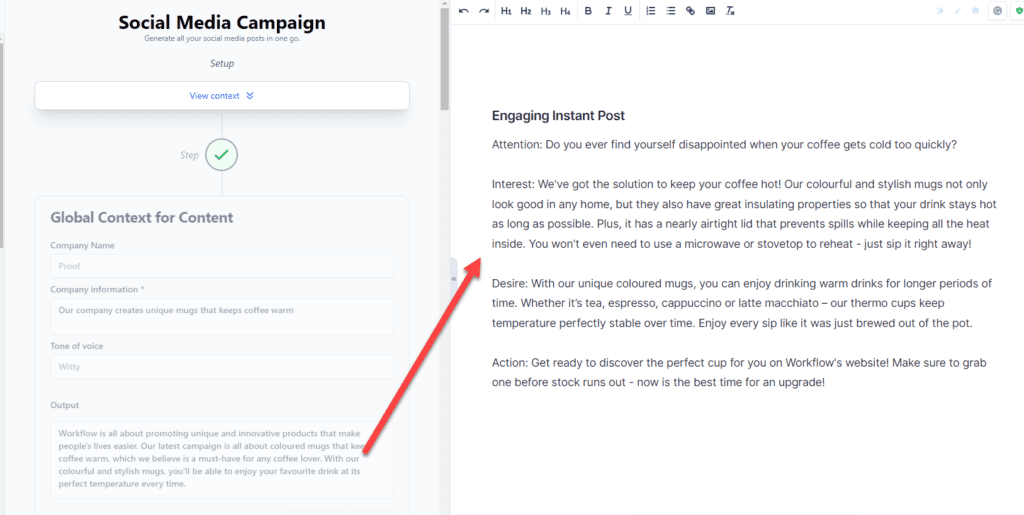 You can save time and energy by streamlining the entire process.
Jasper Art
You can now tell Jasper what you want it to draw, and the AI will create artwork for you.
This feature can quickly create visuals for your content, saving time and effort.
Templates
Here are some new templates recently added to Jasper:
A thousand words are worth a picture: What if you want to describe something other than the drawing you want in detail? This template lets you quickly create a visual based on your needed content.
Tone Detector: Paste some text, and Jasper will detect the tone of the content, giving you feedback and helping you adjust your writing accordingly.
TikTok Video Captions: Create captions for your TikTok videos quickly and easily with Jasper.
Chrome Extension: Recently, Jasper launched a Chrome Extension that one can use to create content as one browses the internet. You can be within the Jasper interface to use the AI's writing capabilities.
Mini-VSL Creator
This template deserves its section.
Let Jon Benson, the expert copywriter and creator of VSLs, help you craft a script for an attention-grabbing 60 to 90-second video that will spark interest in your offer.
This template, created with his years of experience as its foundation, allows you to assemble a Mini-VSL that will quickly get viewers hooked.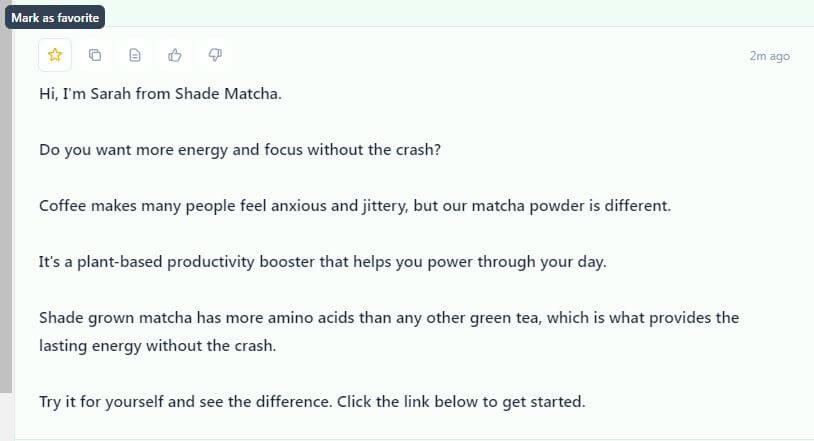 Whether selling a physical product, an online course, or a service, the Mini-VSL creator can help you craft a script to attract more customers.
JasperChat
Do you want to talk to AI for content help?
JasperChat allows you to do just that.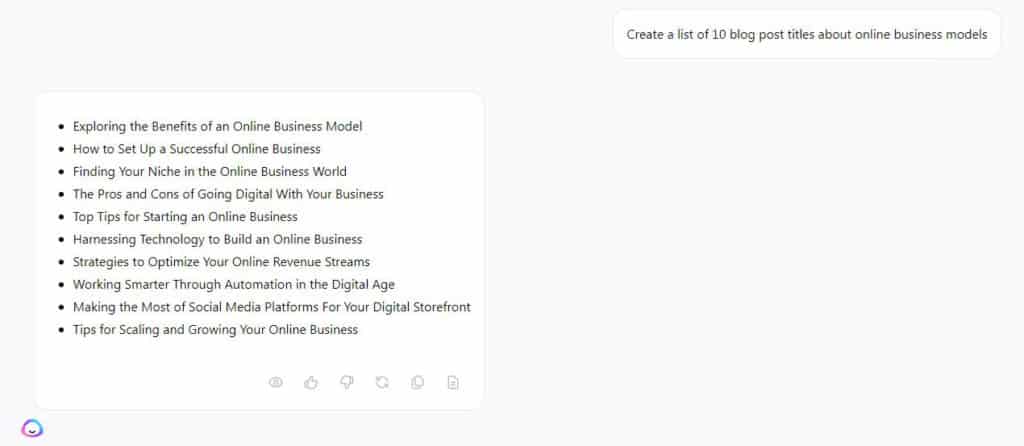 Ask questions as if you were talking to a natural person, and Jasper will provide helpful answers.
Pros and Cons of Jasper AI
Here are some of the pros and cons of Jasper AI.
Pros of Jasper AI
The main benefit of using Jasper AI is its efficiency.
With just one click, you can have a list of ideas for blog posts or a framework for longer articles making the content creation process faster and easier than ever before, saving time and money in the long run.
It also provides over 50 templates for users to draw inspiration from, which can help spark new ideas or structure existing ones.
Lastly, its ability to generate short and long copy means you don't have to spend hours researching topics or creating original content – it does all the hard work for you!
Cons of Jasper AI
One downside of Jasper AI is it lacks accuracy due to sourcing it from external sources.
You will need to proofread the final draft before utilizing any material produced.
Additionally, you must be cautious when creating long-form documents requiring a Boss Mode plan subscription plus an expensive word count per every generated word.
That said, JasperChat can now pull data from Google search results, allowing updated information to be easily accessed and incorporated into the content.
This feature is a massive plus for creating more up-to-date, accurate content.
This option is, till now, only available through Jasper Chat (and not in Boss Mode).
Jasper AI vs. ChatGPT
ChatGPT is a versatile, text-based conversational AI model that can answer any question that you may have.
Powered by GPT-4, you can interact with it using its command-line interface, similar to talking to a friend on a messaging app.
With ChatGPT, you can craft compelling stories, explore new ideas, or get your desired answers.
Unlike other conversational bots, ChatGPT can understand the intent behind your questions, which allows it to provide you with a more nuanced and accurate response.
Whether you are seeking casual conversation or an answer to a complex issue, ChatGPT's conversational capabilities will not disappoint.
On the other hand, Jasper is an AI-powered platform that provides specialized assistance to businesses.
If your business needs better customer experiences or increased sales and revenue, Jasper can help.
Jasper goes beyond the scope of ChatGPT and provides industry-specific solutions.
Jasper's conversational agents can be trained to deal with various sales process stages, from identifying customer needs to managing objections and closing deals.
Jasper also provides analytics and insights that help you better understand your customers' needs and preferences.
With Jasper, businesses can provide customers a personalized experience while increasing operational efficiency.
Commonalities
Both tools provide users rich and engaging conversational experiences based on the latest AI technology.
Accessibility
ChatGPT and Jasper are accessible and user-friendly and can be used by people of all skill levels, from novices to experts.
Additionally, since these chatbots use natural language processing (NLP) technology, they can understand and respond to colloquial expressions, dialects, and idioms, making communication more natural and easy-going.
It helps individuals communicate with AI more relaxed and organic manner.
Increasing Efficiency in Content Creation
One of the most significant advantages of using ChatGPT is its efficiency in content creation.
ChatGPT can generate high-quality conversational content much faster than the human brain.
This makes it an attractive tool for copywriters, journalists, and content marketers.
With ChatGPT, companies can create unique and compelling content in a fraction of the time it would take for a human writer.
ChatGPT and Jasper are two powerful AI tools that can enhance personal and business communication significantly.
Whether you need answers to questions, assistance with code writing, or specialized business solutions, these conversational bots can help.
Wrap Up.
Creating quality content is essential for any website or blog.
However, producing well-written and informative content can be time-consuming and challenging.
And that is where Jasper AI comes in.
While understanding how Jasper AI works might seem daunting at first, the good thing is that the Jasper support team is always available to help.
Once you're up and running, you can quickly and easily create quality content using Jasper's features.
Get started with Jasper.
Further reading on AdamEnfroy.com: Want to learn more about AI writing tools available now?
Check out this list of Jasper.ai alternatives for more information.
Here are some other AI tools that one can use in various business scenarios:
Disclosure: I may receive affiliate compensation for some of the links below at no cost to you if you decide to purchase a paid plan. You can read our affiliate disclosure in our privacy policy. This site is not intending to provide financial advice. This is for entertainment only.
---
Last Updated on May 19, 2023 by Adam Enfroy