13+ Best AI Chatbots of 2023 (Ranked and Reviewed)
Choosing the right AI chatbot is essential to your business. From increased client engagement to reduced customer support costs, the best AI chatbots can help you meet your goals. In this guide, I ranked and reviewed the 13+ best AI chatbots, along with my top 5 choices, so that you can pick the best one for you.
---
We're reader-supported. When you buy through links on our site, we may earn an affiliate commission.
AI chatbots are making businesses far more accessible than ever before.
With as much as 40% of internet users preferring to interact with AI compared to virtual agents, companies have been taking notes and creating GPT-3 chatbots.
As a business owner, you can use such chatbots for various purposes, such as providing customer support, answering FAQs and knowledge base questions, and even closing sales.
In this post, I rank and review some of the best AI chatbots, considering the following aspects:
Capabilities.
Ease of use.
Features.
Customer support.
Price.
And More.
What Are the Best AI Chatbots?
The following list of AI chatbots can help you automate various aspects of your business.
Best Overall AI Chatbot.

Tidio is a platform that can help you generate sales, build chatbots, and automate customer service.
Chatbots are programmed to engage with potential customers on your behalf and collect information such as contact information and purchasing preferences.
One can use this information to follow up with potential customers and convert them into paying customers.
Additionally, Tidio can also be used to explore new ways to capture leads.
Amongst its other abilities, you can use Tidio's lead capture forms to collect information from potential customers who visit your website without any input on your behalf.
If you are willing to invest some time in setting it up, you can have a powerful lead-capture system running on your website in no time.
Then, you can contact these leads with the right offers at the right time.
Key Features:
With its ability to send messages that include text and photos, you can create a more engaging and informative conversation with potential customers.
Your business can also collect customer information by asking questions.
Tidio also makes it easy to create a carousel of choices or a selection of buttons for your visitors to interact with.
You can also measure customer satisfaction by using Tidio's automatic reply feature for any missed conversations you might have had.
Tidio also has a range of tools available to help you analyze customer behavior and identify areas where your business could be improved.
Pricing:

Tidio offers these pricing plans:
Free: $0
Starter: $20
Communicator: $19
Chatbots: $19
Tidio+: $329
The above are listed every month.
Get started with Tidio.
2. Customers.ai
Best for integrating with all your marketing channels.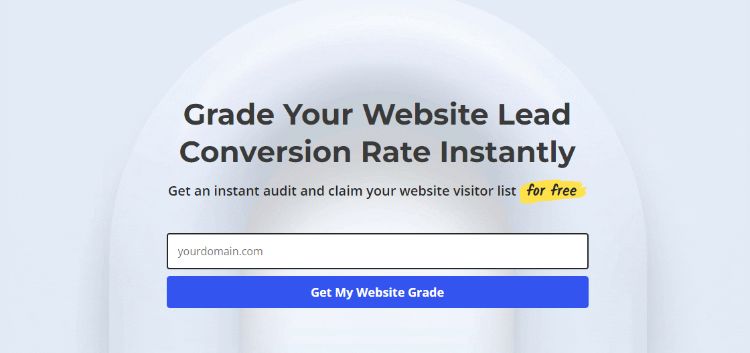 Customers.ai is one of the best chatbot platforms available on the market.
Integrate your SMS text Messaging, Instagram, and Facebook Messenger to enhance sales, nurture leads, increase customer satisfaction, and provide a better client experience.
Whenever someone visits your site, they can immediately be greeted by an AI chatbot that offers assistance with anything they need and leads them to your pre-designed marketing funnel(s).
You can also reach out to your most active leads by sending an SMS or InMail message.
Using Customers.ai, you can extend your reach by connecting to the most popular messenger apps, ensuring you reach people where they are the most active.
Key Features:
Go beyond webchat to send messages from Instagram, Facebook Messenger, and WhatsApp.
Build customer relationships using pre-defined chat flows, landing pages, and articles.
Low-cost chatbots can instantly respond to consumers, while live agents handle higher-priority conversations.
The Customers.ai Team plan allows agencies unlimited pages and team analytics reports.
Create personalized experiences for customers by sending them targeted messages.
Pricing:

There are four plans which are as follows:
Free
Starter: $249/month
Pro: $499/month
Enterprise: Contact Customers.ai and talk to a sales rep.
Best for those that want to provide top-notch customer support.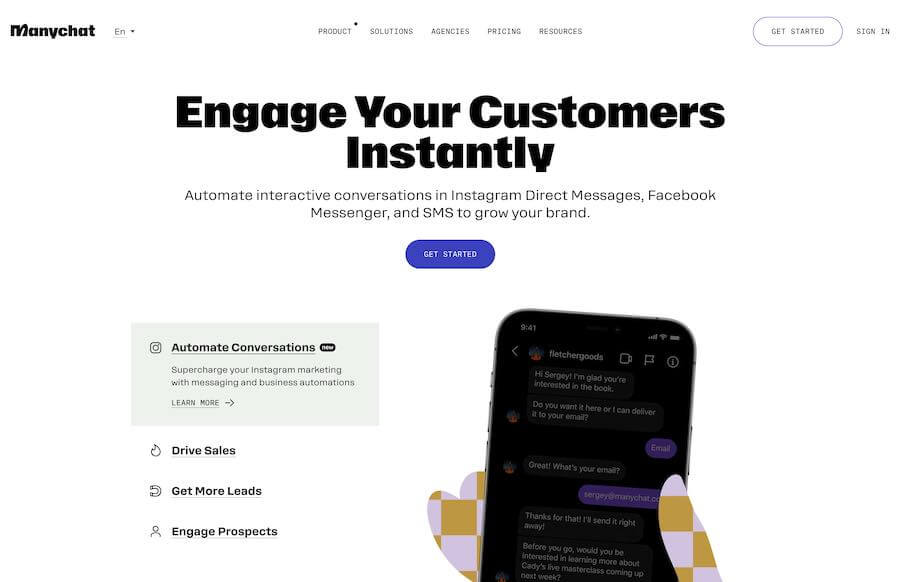 ManyChat allows you to engage your clients at the right moment.
Automate interactive conversations in Instagram Direct Messages, SMS, and Facebook Messenger to boost conversion rate and build your following.
Increase the effectiveness of your marketing by creating automated, personalized chatbots to provide on-demand customer service or send notifications about new products.
You can also enjoy a variety of customizations for your marketing and sales channels.
These allow you to provide better product sales service, develop customer interactions with qualified leads, and provide prompt support.
Create and automate engaging conversations that nurture relationships and increase conversions using their easy-to-use, drag-and-drop interface.
No coding experience is needed to use ManyChat.
To get started, you'll need to choose a pre-made template, duplicate it, and make the necessary changes for your business.
Key Features:
Combine two or more Messenger platforms (Instagram Direct Messages, Facebook Messenger, and more) into one chatbot.
Keep conversations going by asking follow-up questions and using conditional branching and routing.
Send and schedule unlimited messages for your various marketing channels.
Combine your communication with SMS marketing to activate leads outside traditional channels.
ManyChat connects to hundreds of applications you already use for your company, including Shopify, Google Sheets, MailChimp, Klaviyo, HubSpot, and Zapier.
Pricing: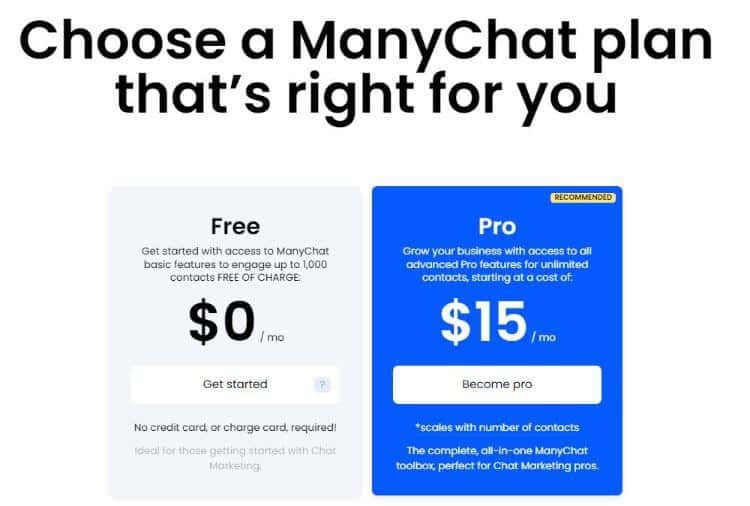 There are two pricing options available:
Free: With a free plan, you can connect ManyChat with up to 1,000 contacts.
Pro: You can access all Pro features (for unlimited contacts) at $15 per month.
Best for using programming knowledge to provide a custom experience.
Meya AI is great for improving customer experience through better customer support.
Add a responsive bot to your website or mobile app that works well with your human support staff and makes your customers ecstatic to get in touch.
Use programming platforms to manage all functions of your chat application by sending commands to Meya, parsing user messages, and profoundly understanding user intents.
Programming languages like Python, Typescript, and YAML are all supported, allowing you (or your developers) to write algorithms in familiar syntax and connect to your existing developer toolchain.
Also, with Meya's customer-facing applications, you can write specific conversational flows triggered by user input.
Use their AI-driven developer console to create unique experiences for your bot, allowing you to strategize, develop, and execute your AI virtual assistant from one console.
Key Features:
Meya provides white-labeled B2B and B2C solutions for Facebook Messenger, SMS, Telegram, WhatsApp, and webchat.
Grow your business by providing customized AI-powered live support to your website visitors.
Meya allows you to combine it with any website, software platform, or app design.
Offer assistance when customers require it, making them understand you care about their needs.
Connect with customers in the perfect channels at the right moments and build relationships that last.
Pricing:

With three different pricing options, Meya offers the necessary flexibility to integrate with companies of all sizes:
Dev: $99/month
Pro: $999/month
Partner: $3,000/month
5. Landbot.
Best for those that need an intuitive AI chatbot setup experience.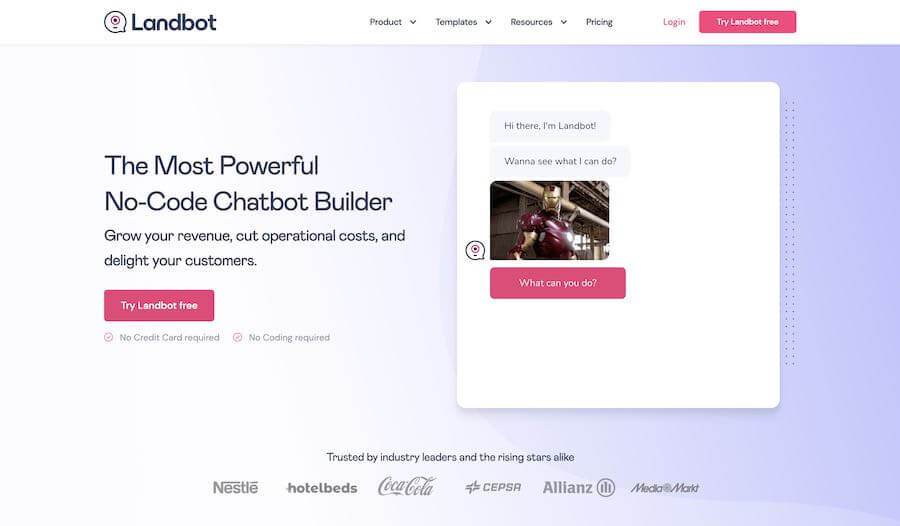 Landbot is one of the most intuitive platforms to get started with.
Before implementing a chatbot, create a landing page or an email capture form to test the waters.
You can set up drip campaigns in minutes and optimize your website traffic in real time.
Increase conversions by creating engaging, personalized messages with a visually appealing design.
Use their chatbot solution builder that requires no code or technical background to create a new bot or edit an existing one.
Landbot allows you to use natural conversations to engage your audience, capture their attention, develop closer connections, and achieve better conversion rates.
You can do all of this without any coding at all.
You can install chatbots on popular messaging platforms, website widgets, and landing pages or even embed them on your website with a single click.
Finally, linking to messaging apps (such as WhatsApp) works incredibly well.
Key Features:
Landbot provides conversation starters and powerful building blocks from a single location.
Make use of unique designs that reflect your brand image.
You can easily share customer data internally so your customer will never have to repeat themselves.
Connect with third-party apps for advanced functionality, including displaying external content within the chatbots.
Create high-quality bots without any experience, segmentation, or advanced coding skills.
Make it easy for customers to engage with you on the web, via WhatsApp or Facebook Messenger, or through an API-enabled channel.
Pricing:
With a free version allowing you to test out Landbot, there are then three different pricing plans available:
Free Forever
Starter: $39/month
Pro: $99/month
Business: $300/month, Custom prices are given based on your specific needs
6. Aivo.
Best for those looking for both B2B and B2C AI chatbots.
With Aivo, you may automate your customer service and provide an omnichannel solution directly to your customers.
Manage information quickly and flexibly, and upgrade your customer service simultaneously.
Capture leads, generate revenue, facilitate payments, and provide a better post-sales experience when customers come across your business.
Aivo's semantic engine is a potential answer for customers' needs today – it comes equipped with multiple languages, voice messages, emojis, and more.
With B2B and B2C use cases solutions, Aivo automates your customer support to achieve greater heights.
Create your customer service content on a 100% code-free platform with ease and simplicity, allowing you to take control of your operation and design the client experience just the way you want.
Key Features:
At each phase in the customer journey, an innovative approach is taken to balance efficiency and AI capabilities and provide the right experience.
Aivo offers an easy-to-use platform that anyone can operate with no coding knowledge.
Aivo's easy-to-use semantic search provides the correct answer and provides a solution to labor costs that are constantly rising.
Identify pain points your customers go through and solve them with advanced AI capabilities that create tailored interactions.
The ability to follow past conversation threads with customers makes it easy to provide a cohesive experience.
Pricing: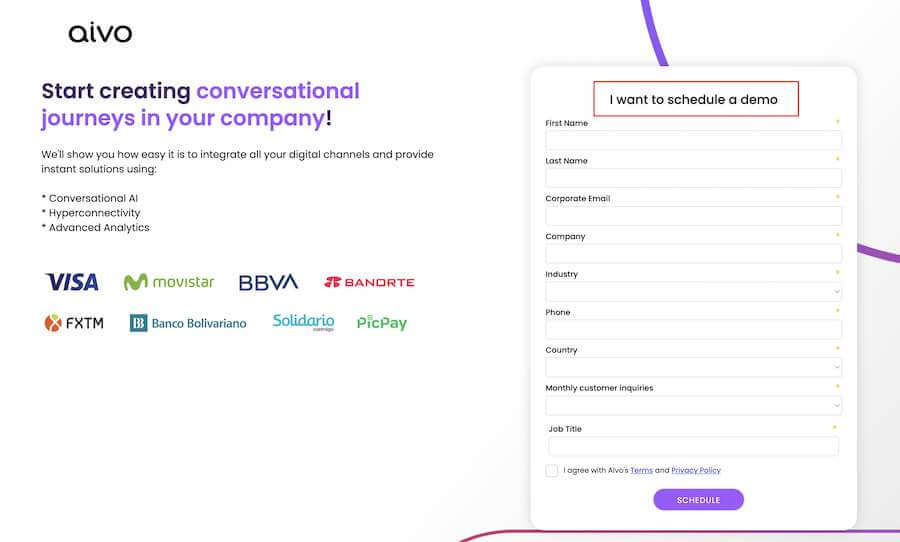 No pricing plans are listed on their website, so you'll have to book a demo.
7. HubSpot Chatbot Builder.
Best for those that want to import custom data into their chatbots.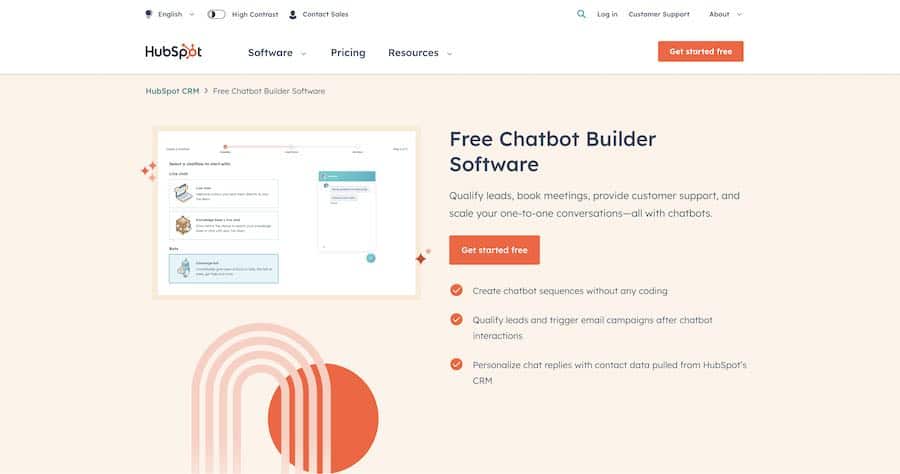 You can ease the burden on your team by using HubSpot Chatbot Builder to easily create, manage and evolve chatbots within the HubSpot software.
If you have no chatbot experience or coding knowledge, that's not an issue because the bot creator is code-free.
After building chatbots to interact with customer conversations, you can quickly inform users about new topics, offer support suggestions for related articles, share contact information and locations, etc.
Choose a template based on your bot's objective, and you're up and running.
Then use the visual editor to change the conversation based on feedback, making the bot reflect your company's voice and tone even more.
Your bot interactions don't have to feel robotic with HubSpot since you can personalize the experience using natural language.
Because your chatbot software is linked to HubSpot's contacts database, you can also import contact information automatically.
Key Features:
Contact & lead management lets you gain valuable insights from customer data, connect with everyone in real time, and close more deals.
Manage your clients' needs easily and make it easier to keep track of transactions.
With HubSpot, you can automate many aspects of selling and distribution so that you may focus on more value-adding activities.
Use collected data to develop targeted campaigns that result in closing more transactions.
Add offers to your CRM, assign activities to push deals forward, and keep track of development in your dashboards with a single click.
Send a perfectly timed follow-up based on when a lead opens an email, downloads an attachment, or clicks a link.
Pricing: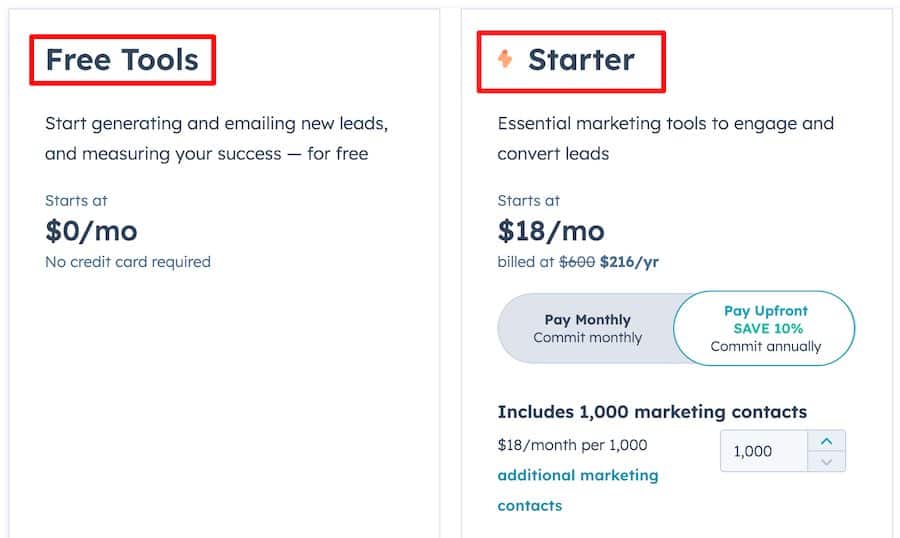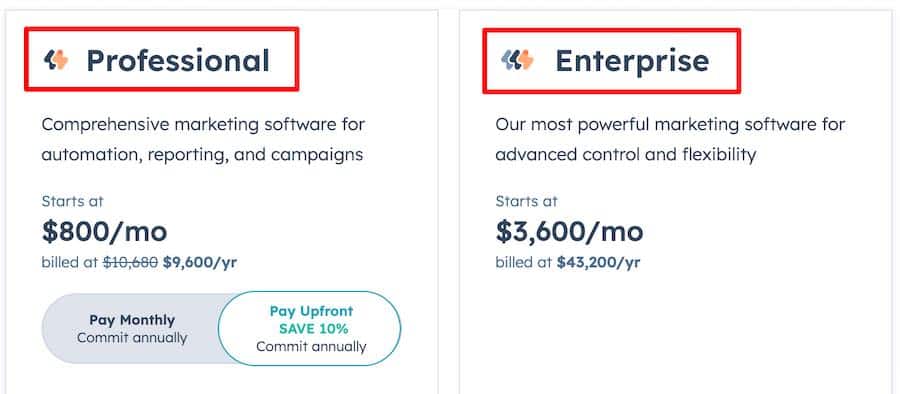 HubSpot's yearly pricing plans are as follows:
Free Tools
Starter: $18/month
Professional: $800/month
Enterprise: $3,600/month
8. Botsify.
Best for understanding what visitors want from your various marketing channels.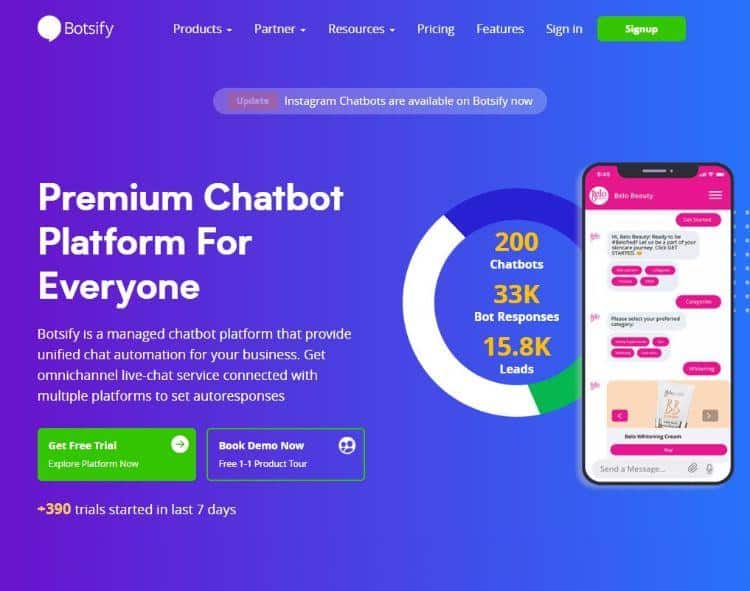 Botsify lets you combine different AI chatbot platforms for automated customer support.
For those wanting to create autoresponders, combine other apps' cloud services with the included live-chat service, and provide a better experience, Botsify lets you do just that.
You can monitor site visitors' activity with their online-user feature and interact with them accordingly.
Utilizing the page-messaging function to attract people to your site and convert them into potential leads is easy, as is creating a successful chatbot for your website and getting users to engage with it in minutes.
You may quickly optimize clients' journeys without coding, generate sales, and deliver real-time help.
The wonderful thing is that if human assistance is required, your human support team can come in at the moment they're needed.
Botsify offers hundreds of third-party integrations for your chatbot to communicate with other apps and take payments directly from your website.
Key Features:
Automate your chat and provide quick answers with a real-time assistant, attracting new consumers and clients to your products or services.
With Botsify, you can improve conversion rates and lower reaction time, thus increasing sales.
Create an irresistible course of action for customers and build a strong relationship with them in the long term.
Customizing the customer experience, you can fine-tune your chatbot and make it more interactive.
Send contextual forms to help your consumers generate qualified leads and nurture your relationship with them now and in the future.
Pricing: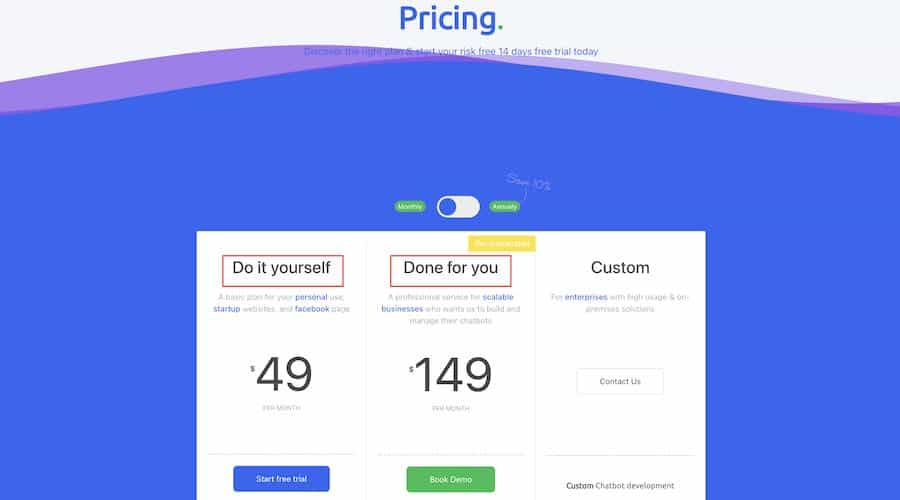 Their pricing plans are as follows:
Do it yourself: $49 per month
Done for you: $149 per month
Custom and white-label solutions are also available – speak to their sales team for a custom quote.
9. Intercom.
Best for handling automated customer support from one interface.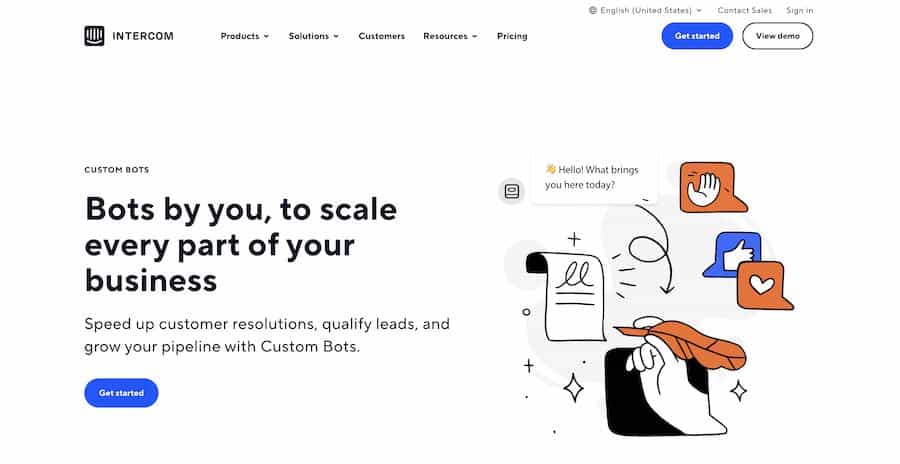 Every aspect of your company should be scalable, and Intercom has bots that can help with that.
Automate customer support through bots to reduce time spent on these tasks and focus your energy on branding, marketing, and creating new products.
Custom bots can help you speed up customer resolutions, qualify leads, and expand your pipeline.
Building your perfect chatbot using the available tools may improve your revenue by offering a superior client experience and making selling a pleasant procedure for everyone involved.
Intercom is a great way to improve your business processes by having automated chat agents available around the clock, including on weekends and holidays.
These agents will start conversations, ask questions, and provide answers to help customers.
Key Features:
Intercome's business messenger is a great way to chat with customers, send them automated messages, and provide general support.
In one location, you can handle all your client interactions so that you can relax, knowing that no customers are waiting for your response.
Intercom allows you to integrate and extend their service with 300+ providers, making it easy to get started with chatbots.
You can customize your chatbot's conversation flows and responses to fit your brand.
Intercom also allows you to segment and target customers using tags and groups to send the right message to the right people at the right time.
Pricing:

You'll have to contact them to get a demo of their product and a personalized quote.
10. Chatfuel.
Best for providing a great AI chatbot with no coding needs.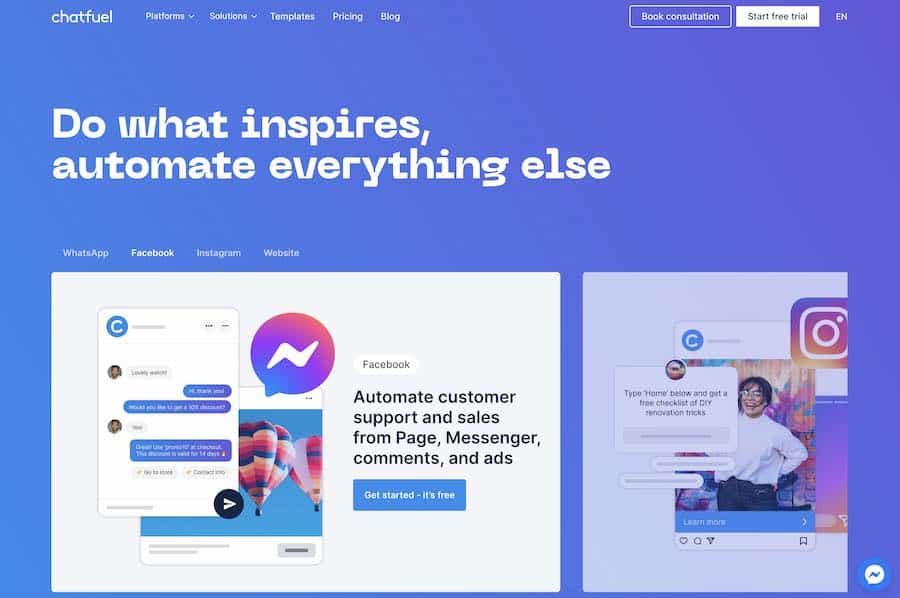 Chatfuel is one of the easiest ways to build a no-code chatbot for your business.
If you have no experience coding, building chatbots might seem impossible to you, but it doesn't have to be.
Using Chatfuel's easy-to-use platform, you can progressively build your chatbot without coding knowledge.
With their easy-to-use builder, you can create chatbots for Facebook Messenger, Telegram, and the Web with just a few clicks.
Instead of leading prospects to a static landing page, send them from your advertisements to a conversation page equipped with your bot.
This page can answer their questions and deliver information based on their needs.
Key Features:
Chatbots can help you grow your revenue by reaching out to new people who want to learn about your business and services.
Encourage user engagement with a personalized experience for each contact and chat with them in multiple messaging channels (such as Zendesk or Slack) through one integration.
Use the intuitive Flow Builder to create journeys with your chatbots.
Chatbots can help you grow your revenue by using NLP (neuro-linguistic programming) to reach prospective customers, providing the same level of natural interaction agents.
Access free, ready-made templates that you can customize to fit your business or use their builder to create journeys with your chatbots.
Automate all types of communication, including welcome messages, disclaimers, updates, notifications, and more.
Pricing:

They offer a trial for up to 50 conversations. After that, there are three pricing plans available, as follows:
Trial: Free
Entrepreneur: $14.99 and up to 500 conversations per month
Startup: $24.99 and up to 1,000 conversations per month
Small Business: $59.99 and up to 3,000 conversations per month
Growing Business: $119.99 and up to 10,000 conversations per month
11. Ada.
Best for getting detailed analytics through your AI chatbot.
Ada comes in with a proactive approach for measurable customer encounters, allowing you to ensure your clients are happy with the service they get.
If your clients' experience is suffering due to poor product interactions, Ada might be the solution for you.
Ada has developed an AI-driven chatbot that detects angry tones in your customers' messages at a glance, allowing them to help and deliver the right solution quickly.
Your human customer support team can then take over the interaction when needed, keeping your customers happy and costs down simultaneously.
Using advanced AI, Ada understands what clients want and links all systems together to provide the right solution across all digital channels.
Key Features:
The bot instantly recognizes angry messages and flags them to your customer support team, enabling them to provide faster resolutions.
You can give your bots the autonomy to make specific decisions and take various actions on your behalf, further shortening the time it takes for customers to get a solution.
Ada uses predefined and customizable rules and triggers to automate personalized interactions for each customer, consolidating multiple channels and touchpoints into a single solution.
You can also prioritize agents' workloads by shifting essential customer service responsibilities to Ada, allowing your agents to deal with higher-priority issues.
Better brand interactions lead to happier customers and higher customer satisfaction and retention.
Pricing:

You must request a demo and speak with a customer success manager to get the specific pricing.
12. Boost.ai.
Best for those that want real-time data to improve their business constantly.

Boost.ai can be integrated and automated into your online channels, including your website, messaging apps, and e-commerce sites, without any programming knowledge needed in the backend.
Connect your virtual agent with the solutions you use today so that they can get stuff done faster.
Gather real-time data from all your customer interactions across any channel, including chat, phone calls, email, social media posts, and more.
If you want to avoid risk and uncertainty, Boost.ai makes it possible to get better results while reducing your costs.
Key Features:
In any language, you may rely on market-leading natural language understanding with Boost.ai to maintain human-like provided solutions.
If required, Boost.ai is also scalable and fully programmable so that you can use it across all of your channels and for any customer service – no matter how simple or complex it ends up being.
The no-code conversation builder makes it easy for anybody to build and distribute automated experiences.
A one-of-a-kind multi-level intent hierarchy allows you to design sophisticated flows with context, filters, action triggers, and more.
Hundreds of out-of-the-box connectors provide prebuilt integrations to quickly connect to leading CRM systems, databases, webhooks, and more.
Pricing: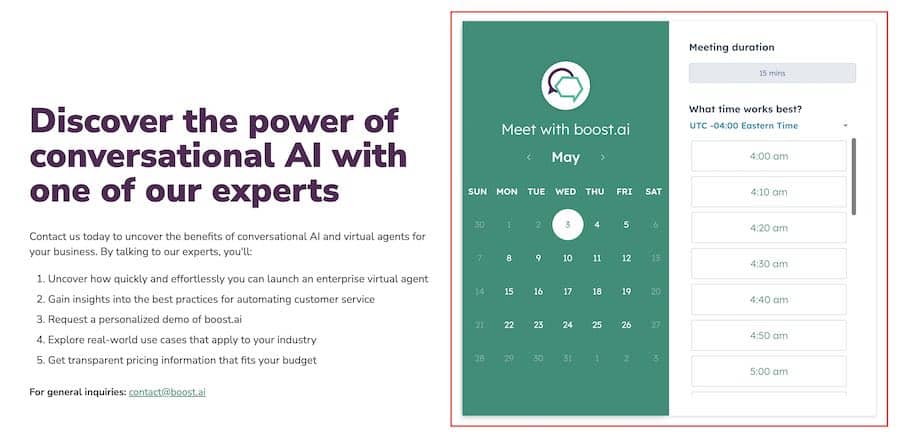 Contact Boost.ai directly to get their pricing and learn more about what they can do for your business.
13. SmartLoop.
Best for those that want to use AI to follow up with customers.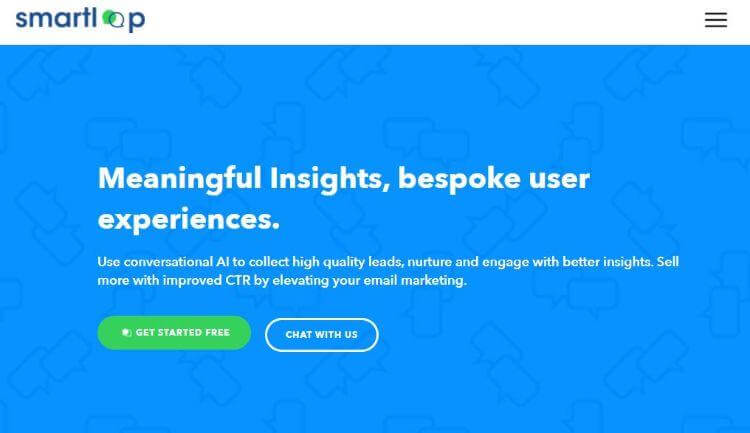 SmartLoop delivers personalized user experiences with a flexible and scalable conversational AI platform.
To create high-quality leads, use conversational AI to collect data and understand trends.
You'll be able to sell more with a higher CTR by improving your email marketing and other customer channels.
With this type of marketing, you can expect a higher click-through rate and a boost in conversions.
You don't need specialized skills or a development team to create chatbots to qualify leads or schedule appointments.
You can concentrate on your company, leaving the repetitive tasks to AI chatbots.
Key Features:
Automate sending emails to target and re-engage inactive leads or upsell current clients based on AI logic.
Discover what works best, analyze human interactions, and see which parts of the automated process improvement over time.
SmartLoop will engage with website visitors and address the most pressing inquiries as an AI conversational bot.
See your business metrics come to life, including the number of leads generated and closed, allowing you to improve as needed.
SmartLoop can automate any customer service or sales process – from text-based chatbots to voice support agents.
Pricing: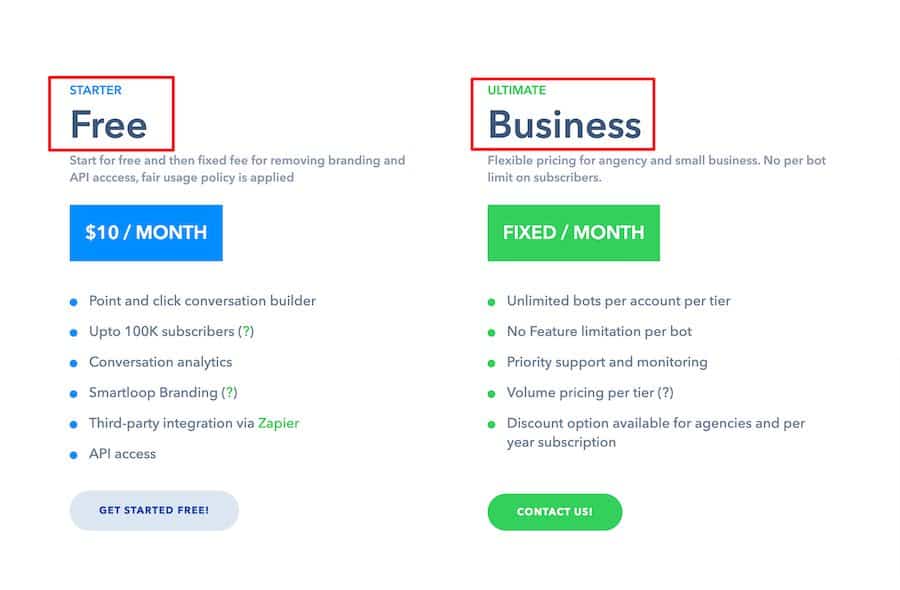 Smartloop offers two plans which are as follows:
Starter: $10/month
Ultimate: Contact Smartloop to book a demo.
14. SAP Conversational AI
Best for those looking for an enterprise AI chatbot solution.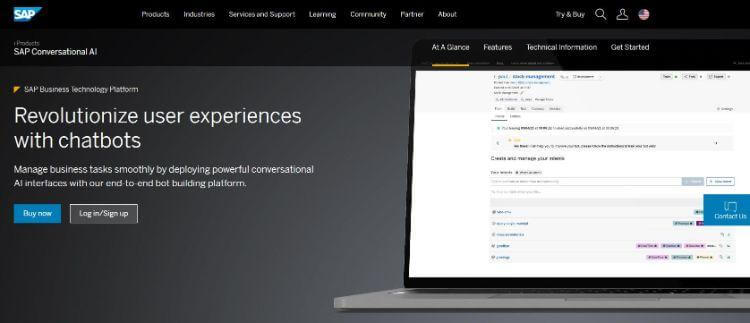 SAP Conversational AI allows you to change how you provide customers with their user experience.
Suppose you want to take your business tasks to the next level and ensure customers can easily transition between various stages. In that case, SAP Conversational AI can make all the difference.
With services involving natural language processes, SAP allows you to build and monitor all the necessary chatbots from one interface.
Being more than just a support system, you can build enterprise chatbots that integrate with your current system to deliver outstanding experiences that are personalized at scale.
Key Features:
Boost the productivity of your employees by creating workflows that work in getting everyone moving in the same direction.
Automate the tasks that take the most time so your staff can focus on what moves the needle in business.
Scale your systems while still providing one-to-one interaction that customers have gotten used to in business.
Integrate all the systems within one ecosystem, ensuring you control everything in business.
Offer collaboration tools to your team so they can work remotely and remain engaged.
Pricing:
At $355 per month, starting with blocks of 1000 chats, you can pay as you go.
Other AI chatbot solutions not mentioned in this post include IBM Watson, Pandorabots, Bold360, and Zendesk.
What Are AI Chatbots?
An AI chatbot is a computer program that imitates a conversation between two individuals.
Chatbots are often used in customer service or sales operations to automate tasks or gather user information for future use.
You can analyze this data and cross-reference it with existing customer profiles to provide material relevant to your business needs.
Your chatbot can answer common customer questions about your services no matter what type of business you run.
Such a tool aims to make life easier for both company employees and, more importantly, customers looking to get answers to their questions.
Benefits of Using AI Chatbots In Business
You can benefit from using the right chatbot in your business.
Increased Engagement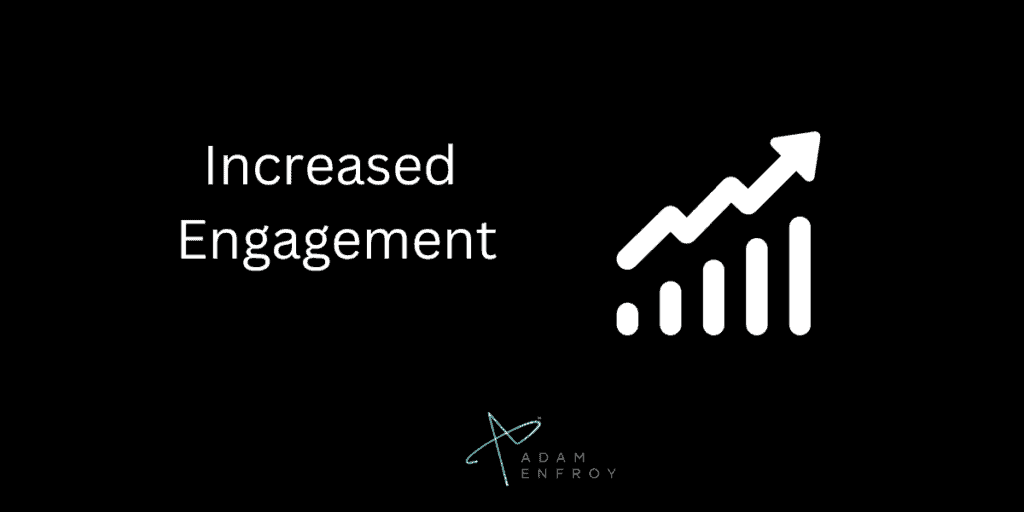 Companies that use chatbots can experience an increased engagement rate.
Since AI technologies build the bot, one can expect more accurate responses and better customer interactions.
For example, many airline operators use chatbots to make plane bookings.
Some industries, like retail, also use chatbots because they can help them provide instant assistance to their customers, who expect quick responses.
Conversational Experience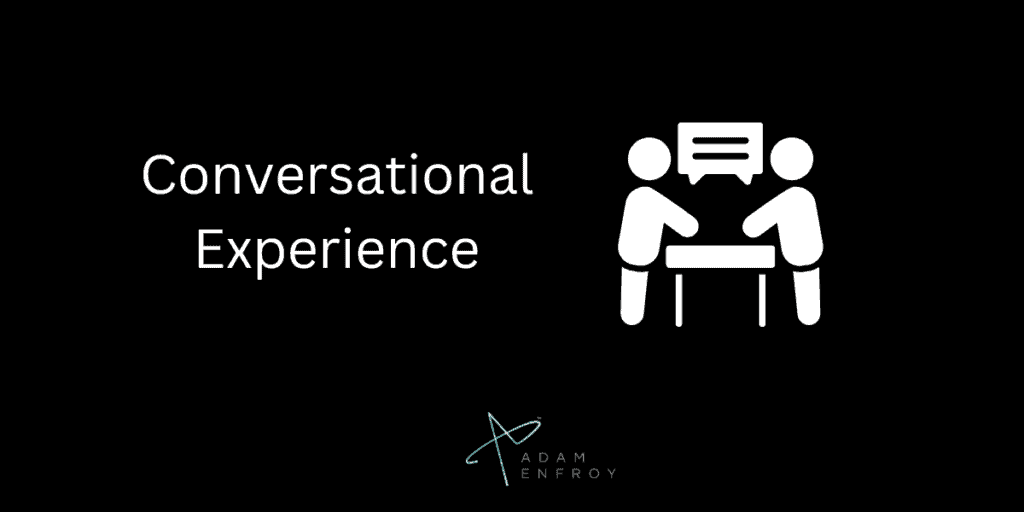 If you plan to use AI chatbots in your company, be prepared to provide your users with a conversational experience they will surely appreciate.
Users don't want to deal with robotic-like customer service agents anymore.
By allowing chatting and messaging experiences, you're satisfying what your users want – honest conversations that resemble those with others.
The right chatbot platform can provide a conversational interface between humans and machines, allowing customers to converse with chatbots while getting the right solutions.
Conversational Intelligence Software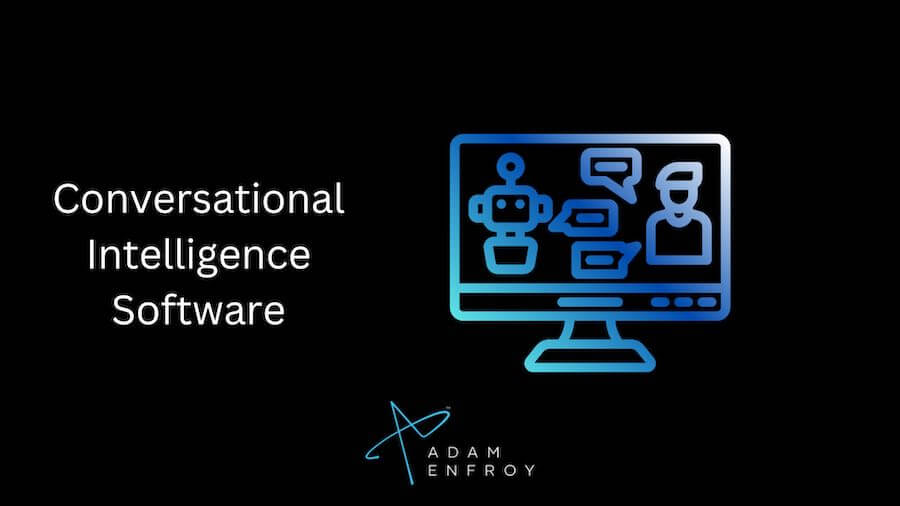 Another term you might come across when researching AI chatbots is conversational intelligence software.
You can use this technology to analyze customer sentiment and create better customer service experiences.
With the help of this software, you can understand how customers feel while chatting with your chatbot.
You can use this data to improve your future customer service strategy and ensure that your chatbot provides the best possible experience for your users.
Customer Data and Sales Lead Generation During Specific Events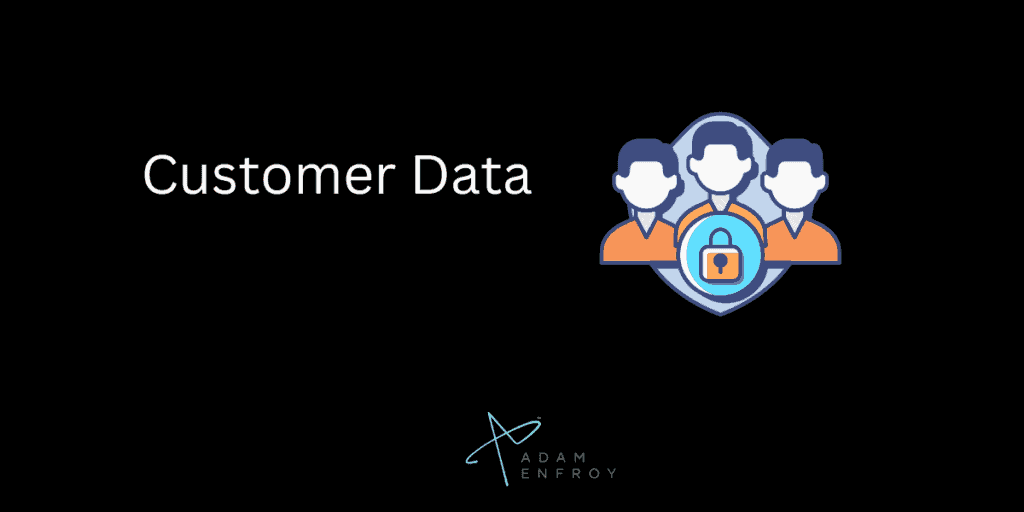 Using AI chatbots in your business can exponentially boost your company's sales.
Chatbots can be used in various sales closing strategies, such as when handling objections at the end of a webinar.
Webinars are ubiquitous for businesses who want to generate sales leads quickly; however, hosts must be live and on the call to provide the correct answers.
With pre-recorded webinars being a standard selling tool, chatbots can now provide a modern-day solution to the closing stages of such an event.
Intelligent chatbots use machine learning and deep learning to understand potential customers' questions before purchasing and then provide the correct answers to handle any sales objections.
Customer Loyalty and Retention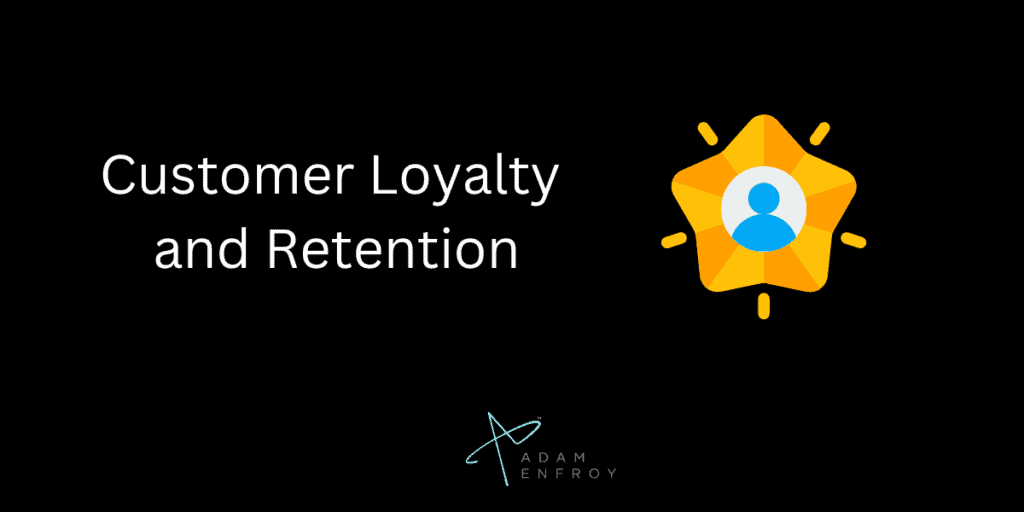 When your chatbot can offer solutions that boost customer loyalty, the quality of your customer service experience becomes excellent.
With this one-on-one approach, customers will feel you've addressed their problems individually, even if it's automated.
As a result, users are more likely to become loyal and long-term customers, so you don't need to spend extra money on marketing campaigns.
Instead, you can get referrals and word of mouth to work in your favor.
Scalability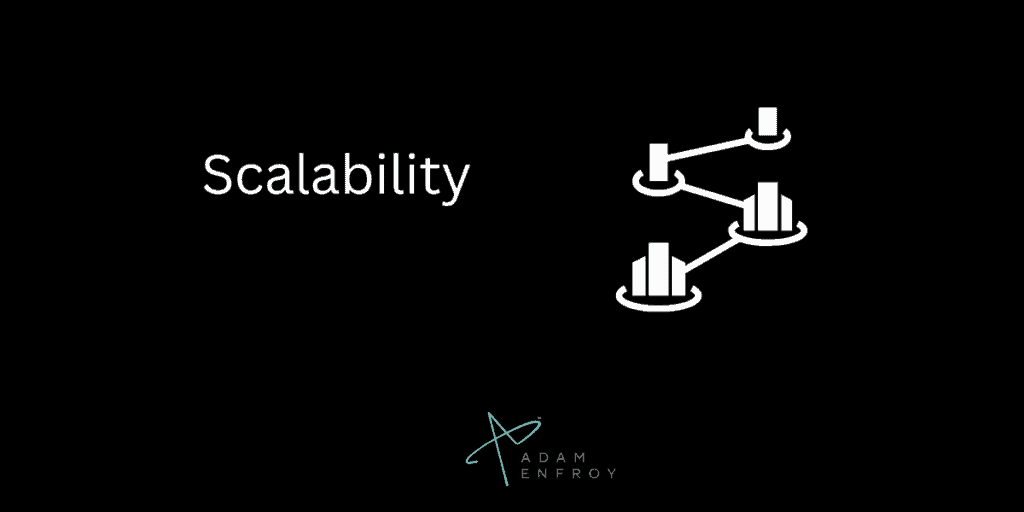 In the past, companies needed human agents to handle customer requests.
Scalability was difficult because it required human staffing to carry out the tasks.
However, scaling will become easy and cost-efficient if you use an AI chatbot platform.
The right chatbot platform can provide a scalable interface between humans and machines for real-time conversations 24/7.
Also, an intelligent chatbot can accommodate various communication forms like website chats, emails, and text messages.
Chatbots can help bridge the gap between humans and machines in business by enabling you to scale anytime.
With their ability to solve queries independently without human guidance, users will have a more positive experience, no matter what kind of problem they're going through.
Marketability
Many marketers seek new ways to improve their campaigns without spending so much money.
AI-powered chatbots can be a new marketing solution to help you acquire and retain new clients.
In marketing terms, an artificial intelligence chatbot can help you make the most out of your marketing campaigns by reaching a broader market besides the one you currently have.
With data gathered by such bots becoming more accurate as time passes, you can create better ads targeting new customers more accurately.
This access to real-time data can give stakeholders a better picture of what's going on with their users and provide them with insights to market to such people.
Reduction in the number of hires needed
Artificial intelligence chatbots using natural language processing in a chat widget on your site can provide automated conversations.
Therefore, you won't need more human agents to talk to customers and solve their issues.
Once you set up a chatbot on your website or landing page, the chat widget can answer real-time queries.
Users can receive instant replies to frequently asked questions (FAQs) built up in a central database as time passes.
Think of it as having an interactive FAQ section that allows users to get answers immediately without waiting for a human agent or searching through multiple documents.
Chatbots are here to stay. They're offering benefits that will surely change how companies do business in the future.
As time goes by, chatbots are also becoming more capable when it comes to the solutions they provide.
With the progression in AI technology, chatbots have become better at understanding user queries while providing appropriate solutions accordingly.
Main Features Of A Great AI Chatbot
Now that we've looked at the benefits of having an AI chatbot dealing with customer support, let's discuss the features to look out for when deciding on the AI chatbot to use in your business.
Personality Matters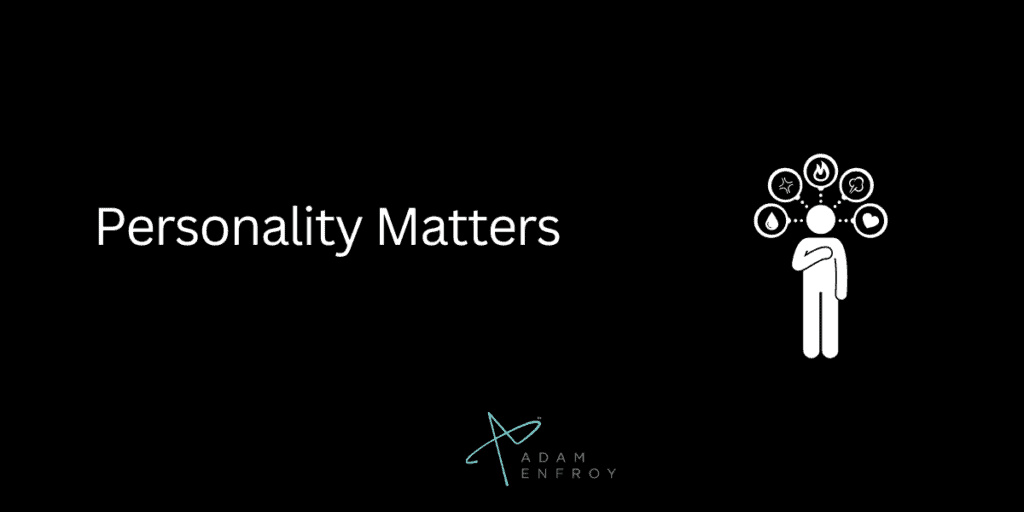 While plain text answers are appreciated, people love it even more if they can engage with your business using natural language mechanisms like slang or casual words.
By remembering that you're conversing with humans, having an interactive experience with them makes sense.
After all, if users can't communicate naturally, they'll likely lose interest in your AI chat widget and take their business elsewhere.
Personalization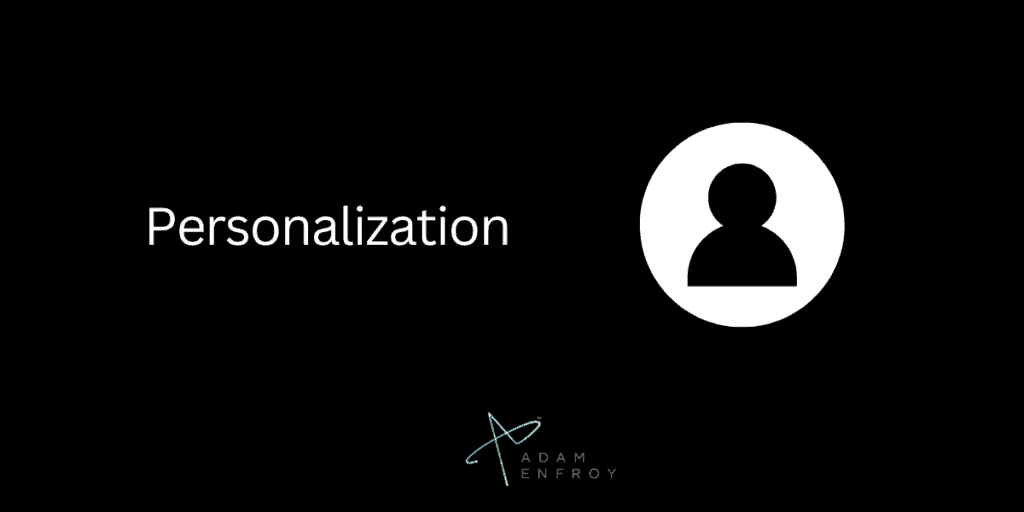 Unlike automated messages, intelligent conversation platforms come in with different forms of personalization abilities,
Users should feel welcomed every time they contact your business.
Advanced AI chatbots should be able to remember customers' names and greet them accordingly if they've messaged your business before.
Intelligent conversation platforms can meet and exceed customers expectations who want personalized experiences.
Transparency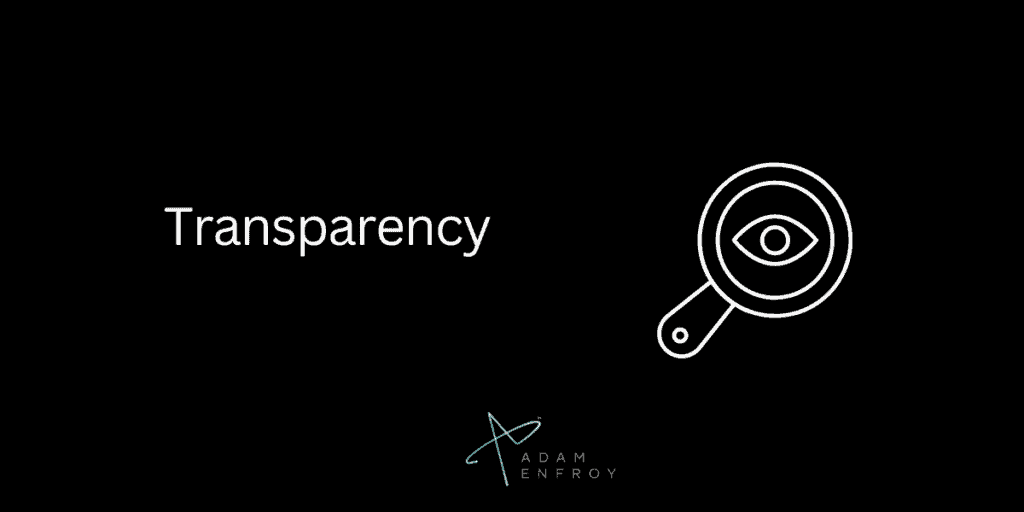 Having a dialogue with chatbots on your website or social media can help people feel uncomfortable if a business isn't transparent.
With this in mind, design your AI chatbot platform, so users know what information they'll share with your company.
Even though you can create intelligent chatbots that can have conversations in natural language, customers still need to see your company's terms and conditions.
For instance, if users talk to the bot on Messenger, you should place a notice in your site's "Message Us" section or include a note within your social media links.
Here, you can tell your customers that AI chatbots are being used and the benefits they'll get from this experience.
Ease Of Use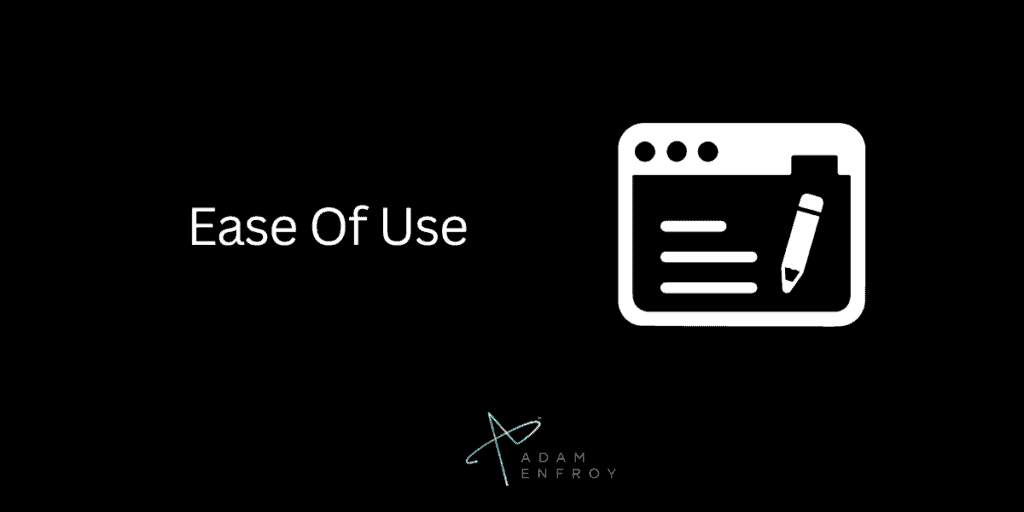 Customers will not use intelligent conversation platforms if they are complicated.
For this reason, ensure that your chatbot is simple enough and requires minimal input to deliver a solution.
Some AI chatbots will also use additional AI transcription software to convert any voice interactions customers have with them into text.
The bots can send this text to customers to provide future references about anything discussed.
It Doesn't Hurt To Make It Look Real.
Last but not least, consider adding an avatar to your AI chatbot.
You can even have your chatbot occasionally make appropriate jokes based on your customer interaction.
Hence, people will enjoy engaging with your business' brand rather than avoiding it due to not dealing with a 'real' person.
Growth Opportunities for AI Chatbots in the Future
AI chatbots will become one of the most influential and valuable tools for businesses shortly, as they provide a more seamless way for companies to communicate with customers.
AI chatbots can engage with customers 24/7, provide customer service more quickly and accurately than human customer service agents, facilitate transactions more efficiently, and even offer personalized recommendations.
AI chatbots will also help automate the customer journey and capture customer data.
This data can be used to analyze customer behavior and trends, create customized offers and promotions, and ultimately improve the user experience.
As AI capabilities continue to improve, businesses can use AI chatbots for various tasks, such as natural language processing (NLP), sentiment analysis, and predictive analytics.
For example, using NLP technology, an AI chatbot could identify keywords from conversations between customers and businesses to provide relevant suggestions or services.
Additionally, an AI chatbot could use sentiment analysis techniques to gauge how satisfied or unsatisfied customers are with their experience to address any underlying issues or take preemptive measures.
Predictive analytics could allow businesses to predict what products or services a particular segment of customers would be interested in based on past interactions with similar customers.
Overall, the potential for growth opportunities for AI chatbots is tremendous in the future as these technologies become increasingly advanced.
Businesses can leverage this technology to further optimize their customer experience by providing more targeted services while gathering valuable insights into user trends which can then be used to improve marketing efforts and better understand their target audiences.
AI Chatbots – FAQ
How Does Deep Learning Help AI Chatbots?
Deep learning is a branch of artificial intelligence that focuses on creating increasingly complex computer models inspired by the human brain's structure.
It allows machines to learn from their experiences and make decisions or predictions without being explicitly programmed.
This technology has allowed AI chatbots to become more sophisticated, accurate, and efficient in understanding natural language inputs and responding to user inquiries.
Deep learning helps AI chatbots recognize patterns from large amounts of data faster and more accurately than possible, resulting in improved customer experience.
Additionally, it enables chatbots to autonomously keep up-to-date with rapidly changing information such as stock prices or online reviews.
With deep learning, conversational AI can have an ongoing dialogue with customers and make personalized recommendations, helping to drive customer engagement.
What Are The Best AI Chatbots For Businesses?
The best AI chatbot for businesses depends on individual business needs and goals.
Each solution provides powerful features for developing custom AI chatbots that can effectively engage customers across multiple platforms and industries.
These solutions offer natural language processing capabilities to help chatbots better understand user queries and provide more accurate responses.
Businesses should also consider their budget when selecting an AI chatbot solution, as some services may require a higher upfront cost or ongoing subscription fees.
Wrap Up.
AI chatbot software is a powerful tool to add to your marketing arsenal.
In addition to the above, having a solid team backing up the platform is essential.
By doing so, there are no downtimes, and users don't have any difficulty getting in touch with your business.
An AI bot that can converse naturally with customers is a great way to keep them interested in your company. On the contrary, this platform will be less valuable if it lacks the right features or is hard to access or use.
To recap, the best AI chatbots right now are:
Tidio: Best overall AI chatbot.
MobileMonkey: Best for integrating with all your marketing channels.
ManyChat: Best for those that want to provide top-notch customer support.
Before choosing the right one for your company, research the most important features based on your needs.
What do you think?
Have you ever used an intelligent conversation platform in your business? What was the experience like?
Feel free to share your thoughts in the comments section below.
Further reading on AdamEnfroy.com: Many business intelligence tools use AI to make the right decisions.
Moreover, many customer data platforms are using the power of AI to gather specific customer information and consolidate it in one place.
If your business depends on accurate data, these are the tools to consider right now.
Editorial Process:
Our reviews are made by a team of experts before being written and come from real-world experience. Read our editorial process here.
Some of the links in this article may be affiliate links, which can provide compensation to us at no cost to you if you decide to purchase a paid plan. These are products we've personally used and stand behind. This site is not intended to provide financial advice. You can read our affiliate disclosure in our privacy policy.