Luxury Affiliate Programs To Start Living The Posh Lifestyle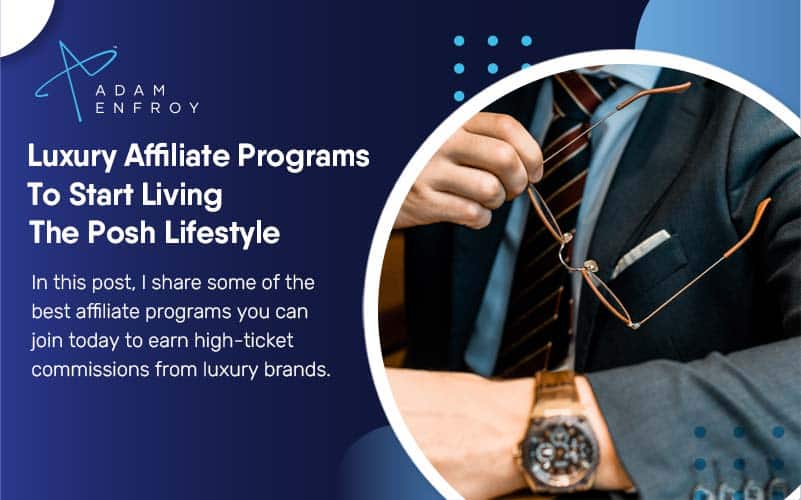 Are you a fashion enthusiast looking for an affiliate program that caters to high-end luxury brands?
Whether you are interested in promoting designer clothing or the latest tech gadgets, there are plenty of luxury affiliate programs that you can join.
In this post, I will share some of the best affiliate programs you can join today to earn high-ticket commissions from luxury brands.
The Best Luxury Affiliate Programs
Here are some top high-ticket, luxury affiliate programs you should consider joining.
1. Luisaviaroma.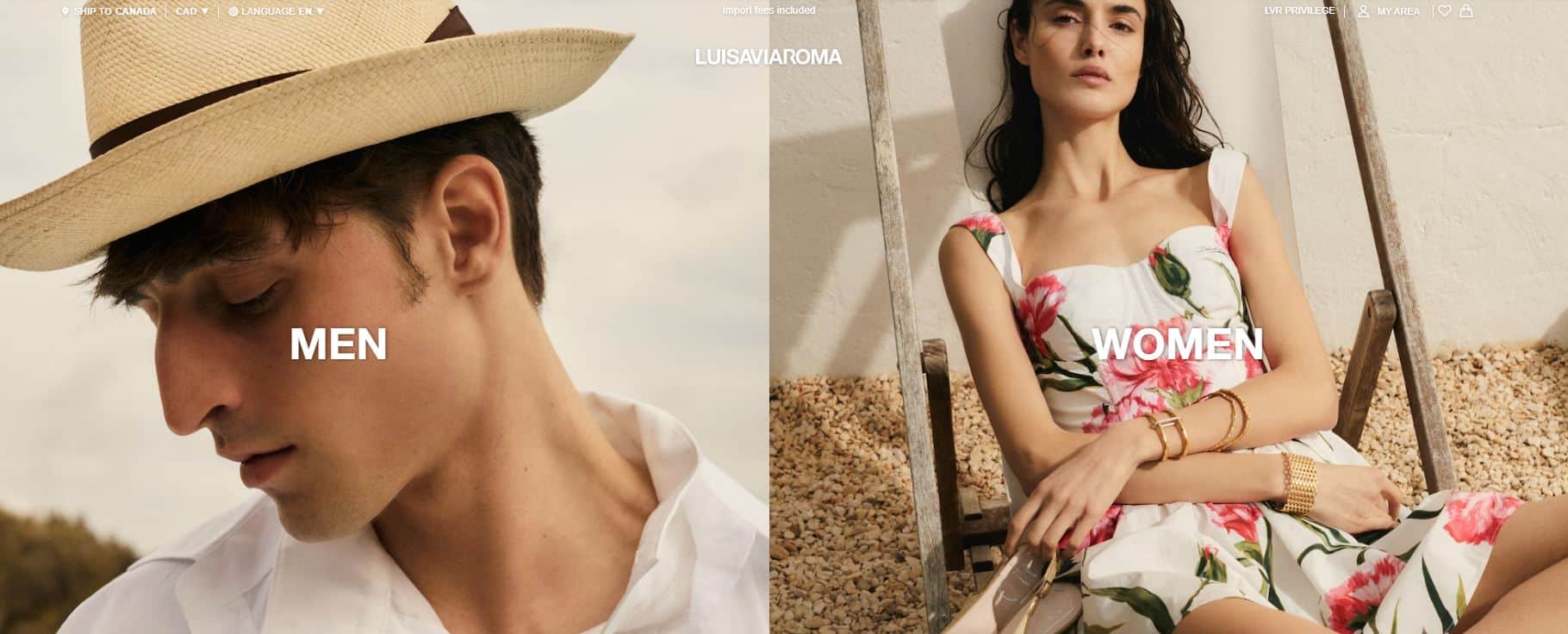 Luisaviaroma is an online luxury retailer based in Italy that offers high-end clothing and handbags from over 600 designers.
The company has pioneered luxury e-commerce, launching its website in 1999 and expanding its reach to over 150 countries.
Luisaviaroma offers a wide selection of fashion items, including runway pieces, Rolex watches, exclusive collaborations, and limited-edition luxury items.
Its handbag collection includes top brands like Gucci, Saint Laurent, and Prada, while its clothing range covers everything from casual wear to formal dressing.
Luisaviaroma is an excellent choice for fashion-savvy shoppers looking for the latest high-end styles and trends.
The Luisaviaroma Affiliate Program is a great way to promote some of the world's most prestigious luxury fashion brands, such as Gucci, Burberry, and Valentino, and earn an exclusive 8% commission.
Luisaviaroma Affiliate Program is integrated into Affilimate using CJ affiliate network software, which offers a 45-day cookie duration, ensuring they maximize your cookie window.
The program also offers access to global markets, so you can promote their products worldwide no matter where your audience is.
But Luisaviaroma's fashion affiliate program is not limited to luxury fashion brands.
You can combine these luxury brands with other popular products, such as home and interior design wares.
This way, you can cater to a broader audience while achieving your goals.
2. Vestiaire Collective.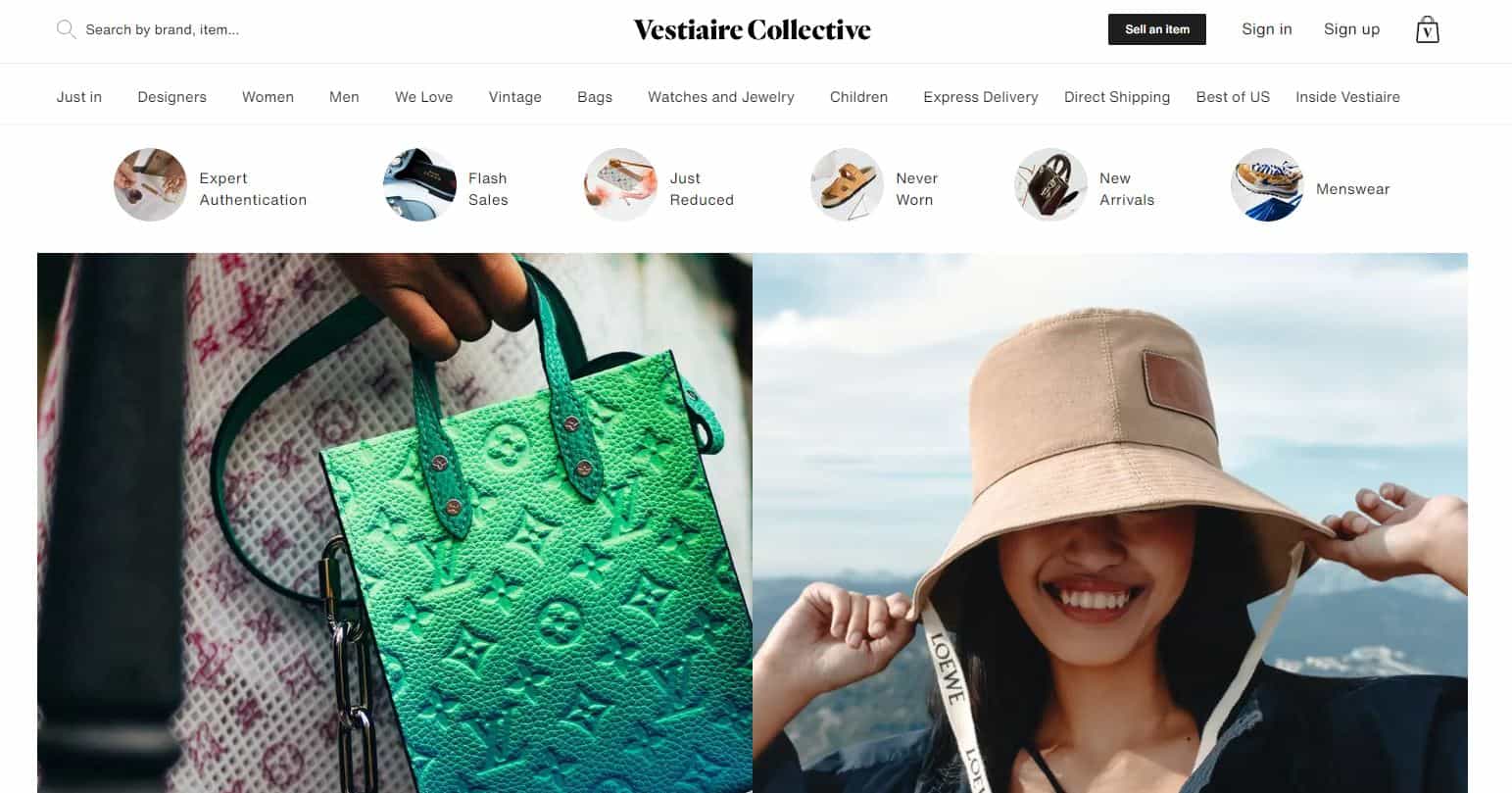 Vestiaire Collective is a global marketplace that celebrates pre-owned designer fashion, making it accessible to everyone.
As a luxury affiliate program, Vestiaire Collective provides a chance for people to indulge in their passion for fashion while earning money at the same time.
Whether you love Chanel, Balenciaga, or Louis Vuitton, Vestiaire Collective has something for every fashionista craving luxury fashion.
Boasting more than 1.5 million items of pre-owned designer pieces, Vestiaire Collective is undoubtedly the go-to place for fashion lovers.
Vestiaire Collective has partnered with global brands to source quality items, making it possible for you to stay relevant to the latest trends while keeping your style fresh.
Luxury fashion affiliate programs such as those offered by Vestiaire Collective play a crucial role in the growth of the luxury fashion industry, facilitating consumers' access to quality luxury fashion items, including luxury handbags, while providing a revenue stream for affiliates.
Vestiaire Collective is also dedicated to providing its customers with new and fresh styles, with over 30,000 products added weekly.
They ensure that there are always new and exciting items for customers to discover.
Another aspect of the Vestiaire Collective affiliate program is its accessibility.
You can quickly join the program, and it is open to everyone interested in fashion and affiliate marketing.
It is an excellent opportunity for fashion bloggers, influencers, and anyone passionate about luxury fashion.
You can share your Vestiaire Collective affiliate links on your blog or social media channels and earn commissions on each sale generated through your link.
Vestiaire Collective also provides detailed tutorials and resources to help you make the most of the program.
3. MR PORTER.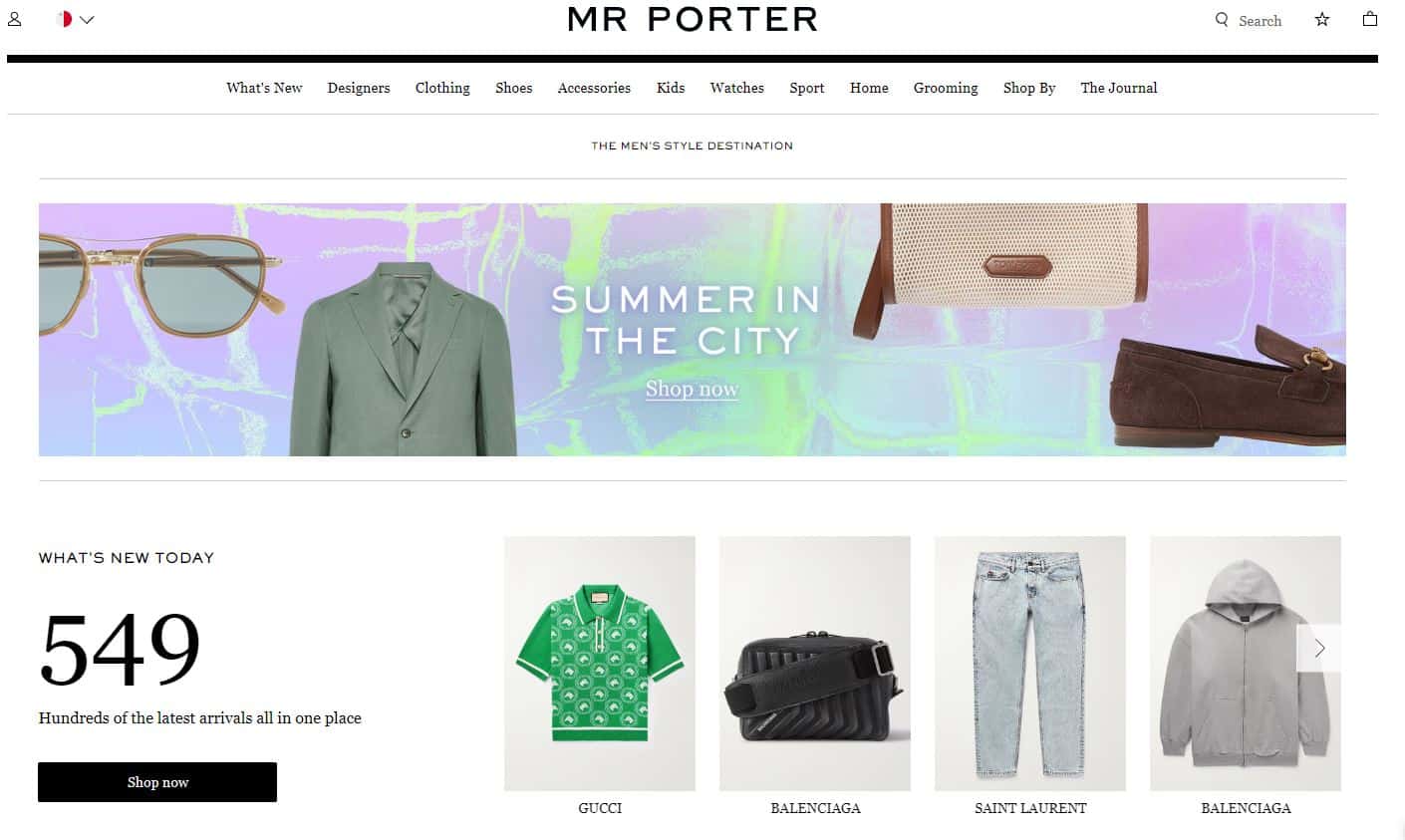 MR PORTER offers a high-end selection of luxury menswear, with over 450 designer brands featured on their website.
This online emporium offers an incomparable fashion, grooming, sportswear, and accessories lineup.
From fashion powerhouses like Balenciaga and YEEZY Gap Engineered by Balenciaga to classic favorites like Polo Ralph Lauren, MR PORTER has everything a discerning fashion lover could want.
But MR PORTER isn't just a place to shop.
Their affiliate program provides a 3-6% commission rate on selected items and exclusive offers for their partners.
Plus, with daily payments available if you meet the minimum monthly threshold, it's easy to see why many affiliates choose MR PORTER as their go-to luxury program.
So what makes MR PORTER such an excellent option for affiliate marketers?
Let's dive into the specifics:
A Wide Range of Brands: The sheer variety of brands represented on MR PORTER is nothing short of impressive. From high-end designers to independent labels, there's truly something for everyone. And with regular updates to their inventory, affiliates can rest assured that they're always offering their audience the latest and most outstanding products.
Dedicated Support Teams: MR PORTER understands that success as an affiliate relies on more than just a great selection of products. That's why they offer dedicated support teams in London, Hong Kong, and New York to help their affiliates maximize their sales potential. Whether seeking advice on marketing strategy or needing help with technical issues, the MR PORTER team is ready and willing to assist.
High Commission Rates: Another major selling point of MR PORTER's affiliate program is its high commission rates. With options ranging from 3-6%, affiliates have the potential to earn significant revenue with every purchase made through their platform. Plus, with daily payments available if you meet the minimum monthly threshold, there's no waiting around for your hard-earned cash.
Quality Products: None of these benefits would mean much if the products weren't up to par. But with MR PORTER, quality is always a top priority. From luxury fashion to grooming essentials and everything in between, their products are carefully curated to meet the highest standards of excellence.
User-Friendly Platform: Lastly, MR PORTER's affiliate platform is user-friendly. With intuitive navigation and precise tracking tools, affiliates can easily manage their account and track their earnings. And with regular updates and improvements to the platform, it's always getting better and easier to use.
4. SSENSE.

When it comes to fashion, it is all about the experience of feeling good about yourself.
Accessing luxurious and high-quality pieces has never been easier with SSENSE.
This leading Canadian fashion retailer offers luxury designer pieces and streetwear from over 500 top brands worldwide.
SSENSE offers local-language websites in French, English, Japanese, and Korean and delivers to 114 countries globally, making them global luxury leaders.
To complement their growth, SSENSE has developed an incredible affiliate program that rewards partners with commissions anywhere from 5 to 12%.
SSENSE's program gives you access to marketing material such as newsletters, banner ads, and much more, all while having the support of a dedicated management team that processes applications within 24 hours.
The SSENSE affiliate program is remarkable, as it caters to passionate fashion enthusiasts who want to earn money with your blog or website.
Becoming an SSENSE affiliate is simple; apply through their website.
Once you become a member, you will gain access to a wide range of exclusive material to help you drive traffic and increase sales.
SSENSE understands the importance of providing its affiliates with exclusive material that will help promote its brand appealingly.
They provide banners, text links, product catalogs, newsletters, and other promotional materials to ensure your audience knows the latest products they offer.
With a vast selection of products on their website, you will have plenty of options to showcase to your clients.
The affiliate program allows members to access their vast collection, allowing you to tailor your promotions based on the latest trends and styles.
It is an excellent opportunity for fashion bloggers, social media influencers, or anyone passionate about fashion to become part of the SSENSE family and boost your revenue.
5. The RealReal.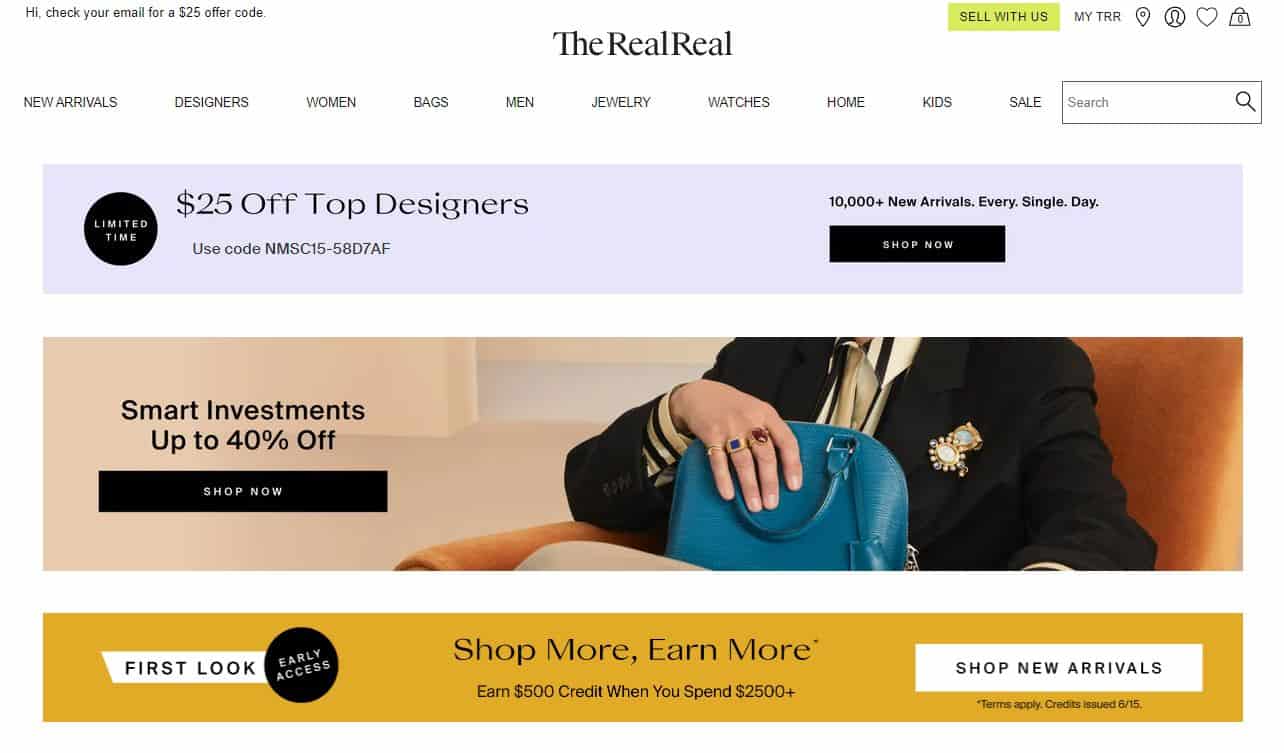 The RealReal might be just what you need for luxurious promotions.
This online marketplace offers pre-owned luxury goods from some of the world's most sought-after brands, such as Balenciaga, Chanel, Gucci, and Yeezy.
But did you know that they also have an affiliate program?
You can earn commissions at 7% for new customers and 5% for existing ones over 15 months.
The RealReal's affiliate program is a win-win situation for you and your followers.
Promoting RealReal's products can earn you a percentage of the sale while giving your followers access to high-end luxury goods at discounted prices.
But what about the products themselves?
Experts carefully curate and authenticate RealReal's pre-owned items, ensuring you get what you paid for.
The RealReal is dedicated to sustainable fashion and is an excellent option for those looking to invest in high-end brands without contributing to fast fashion and overconsumption.
6. Nordstrom.

Nordstrom provides everything from luxury clothing and shoes to accessories and beauty products each season.
The Nordstrom affiliate program offers one of the highest commission rates in the fashion industry.
The program offers reliable and quick payment methods that provide affiliates with regular income.
Nordstrom's team sends its affiliates a promotional newsletter with helpful tips and product recommendations to boost their sales.
This newsletter contains relevant information about the latest fashion trends, special discounts, and sales that your followers will appreciate.
Nordstrom is a well-known and established brand worldwide, and the trust it has developed among its customers can give your blog more legitimacy.
By becoming a Nordstrom affiliate, you can leverage the company's brand reputation to create content that resonates with your followers, bolstering traffic and sales through your affiliate link.
7. Saks Fifth Avenue.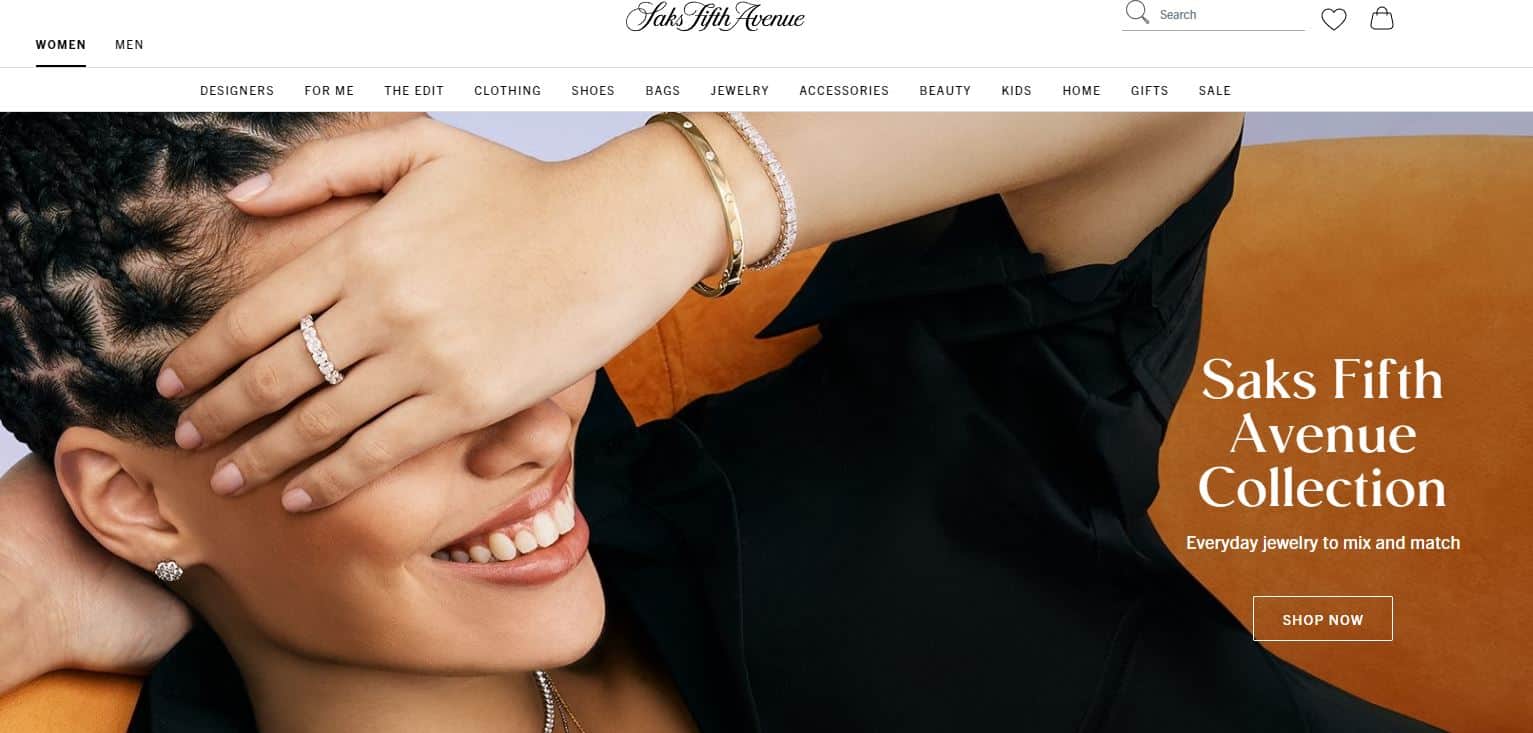 Luxury enthusiasts are always searching for the finest experiences and offerings, and Saks Fifth Avenue has undoubtedly become their ultimate haven.
With a vast range of high-end products that cater to various lifestyles and preferences, it's easy for individuals to feel overwhelmed and lost amidst all the choices.
Saks Fifth Avenue's luxury affiliate program offers customers a wide range of designer engagement rings.
You can also find fashion items from top designers in their catalog.
Luxury designer handbags are another popular category in the program, with options from brands such as Gucci and Saint Laurent.
Saks offers luxury products from renowned brands like La Mer and SK-II as part of their affiliate program for those interested in skincare.
At the forefront of Saks Fifth Avenue's affiliate program is its 2.4% commission rate for each sale- a powerful incentive to attract high-caliber luxury bloggers.
This commission rate is among the best in the affiliate industry, and affiliates who have joined the program recommend it.
Additionally, the fourteen-day cookie duration allows you to maximize your earning potential by tracking all the referrals made in this period- even if the customer makes a purchase 13 days after being referred to the Saks Fifth Avenue website.
The Saks Fifth Avenue affiliate program also offers a broad range of luxury products that affiliate marketers can promote to their audience.
Regarding payment options, the Saks Fifth Avenue affiliate program offers an array of convenient payment methods.
The platform makes payment available to you on a NET 60 basis, with payment options including bank transfers, cheque payments, PayPal, and wire transfers.
The program also has a minimum payout limit of $50.
This minimum payout limit requirement is manageable when you consistently make a few monthly sales and significant revenue.
Other Luxury Affiliate Programs To Consider
While the above are great starting points regarding luxury affiliate programs, they are not exhaustive.
Here are a few other programs to consider.
Jimmy Choo's and NET-A-PORTER's affiliate programs are great luxury programs to consider.
JR Dunn, Dior, and Farfetch are other luxury fashion brands with great commission rates and impressive average order values.
You can also check out the programs on Commission Junction, as these often have great terms for luxury brands.
There are also various programs on Sovrn's publisher-dependent programs to consider.
Finding Success In Luxury Affiliate Marketing
The luxury affiliate marketing industry is incredibly competitive, with established brands like GQ and Condé Nast constantly staying ahead.
It can be tough to stand out and achieve success, especially if you're just starting.
Here are some essential secrets and tips to boost your website's success.
Find The Right Niche And Products
One of the essential secrets to success in luxury affiliate marketing is finding the right niche and products to promote.
You must consider your target audience, what interests them, and what products they're likely searching for.
Look for products that offer high affiliate commissions but also ensure they are high-quality and ethical.
Build Your Authority Within Adjoining Niches
Establishing yourself as an authority within the luxury niche can lead to lucrative partnerships.
Combining this with the luxury travel niche will allow you to work with cruises, luxury hotels, online retailers, and women's luxury fashion brands who seek to align themselves with credible and reliable sources.
Building trust with your audience by creating valuable content showcasing the best luxury travel can attract high-end brands looking to tap into your engaged audience.
Working with luxury hotels that offer travel affiliate programs can generate high earning potential through affiliate partnerships for room bookings.
Partnering with online retailers and women's luxury fashion brands can lead to commission-based earnings on high-ticket items.
Additionally, attracting a diverse range of luxury brands to your platform can establish your credibility in the industry and further build your authority.
Optimize Your Keywords And SEO
Your website needs to rank well on search engines if you want to succeed in luxury affiliate marketing.
You must also research and optimize your keywords and use the best SEO practices.
Use keyword research tools like Google Ads, Ubersuggest, and Ahrefs to find high-ranking keywords for your target audience.
Engage Your Audience
Engagement is critical in any online marketing field, and luxury affiliate marketing is no exception.
You need to create content that engages your audience, encourages them to interact with your brand, and inspires them to share your content with others.
Use social media, email marketing, and other tactics to connect with your audience and build relationships.
Leverage The Right Technology
You must leverage the right technology to stay ahead in luxury affiliate marketing.
You can use automation tools like Hootsuite and Buffer to streamline your social media management.
Do Proper Research
Research properly before deciding on the luxury affiliate programs you want to partner with.
Take time to find products you would consider buying and have good reviews.
When you promote something you would use, you can efficiently market it with honesty and integrity.
Also, look for high-ticket items that offer high commissions and target a specific audience.
Conduct a competitive analysis to determine your competitors' actions and exploit their weaknesses.
Build A Strong Social Media Presence
Social media is an incredible platform to promote your affiliate links.
However, you must establish a solid social media presence to attract followers and build a loyal audience.
Create compelling content that captures your target audience's attention, be genuine and authentic, and engage with your audience regularly.
Building a solid social media presence lets you easily promote the products to your followers and watch your earnings grow.
Produce Quality Content
The luxury industry boasts high net sales due to the exclusivity of its products and services.
Despite its affluence, you still need quality content to create a loyal customer base beyond material possessions.
As a luxury affiliate marketer, creating quality content such as reviews and tutorials can help convince potential customers of the product's value.
Additionally, focus on producing content that caters to your target audience; this helps build trust and ensures that you offer content relevant to their needs.
Partner With Reliable Programs
Partnering with reliable luxury affiliate programs can help ensure long-term success in the industry.
Research and vet each program thoroughly before committing.
Seeking out programs with high commission rates and a strong brand reputation can increase profitability.
It's also essential to offer unique and valuable content that aligns with the target audience's interests and caters to their luxury needs.
Whether you work with networks like Skimlinks, Shareasale, or Rakuten or go directly to a brand, use reliable programs.
Wrap Up.
With plenty of luxury affiliate programs, knowing which is the right fit for you and your followers can be challenging.
However, the affiliate programs above are ideal if you want an affiliate program with a high commission rate and a reputable brand name.
The companies offer attractive benefits to their affiliates, including high commission rates, reliable payment options, a wide selection of products, and the opportunity to leverage their brand's reputation for content creation.
Further reading on AdamEnfroy.com: Want to start your own business?
Check out these low-cost business ideas that can give you a high profit.
If you have some money to invest, you can also check out this list of businesses you can start with $10,000.
Disclosure: I may receive affiliate compensation for some of the links below at no cost to you if you decide to purchase a paid plan. You can read our affiliate disclosure in our privacy policy. This site is not intending to provide financial advice. This is for entertainment only.