27 Best Fashion Affiliate Programs (Highest Payouts For 2023)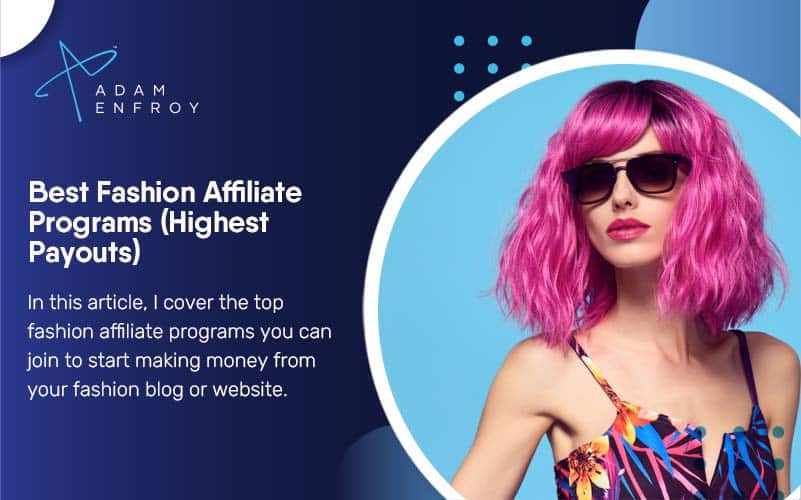 Understanding how fabric, color, and fit work together to create a unified look used to be the realm of professional fashion designers.
With the rise of trends on social media and streaming platforms, consumers have become increasingly interested in creating stylish looks for themselves.
Just how stylish one's wardrobe can be, is entirely subjective.
Everyone, from celebrities and athletes to everyday people, is now embracing the latest trends in fashion.
In this article, I'll cover the top fashion affiliate programs (with the highest payouts) you can join to start making money from your blog or website.
What Are The Best Fashion Affiliate Programs?
Here are the top fashion affiliate programs to join.
1. NET-A-PORTER.
NET-A-PORTER is the ultimate shopping destination for luxury fashion items from famous brands.
These brands do not have an independent affiliate program, so NET-A-PORTER provides the perfect opportunity to access their collections.
Moreover, you can earn up to 6% commission on each sale.
With a generous 30-day cookie duration, you can be well on your way to becoming a successful affiliate marketer with this platform.
2. Heiress Beverly Hills.
Heiress Beverly Hills was started by the 21-year-old entrepreneur Hailey Weiner when she began to make clothes for herself.
Nowadays, this company offers excellent fit and top-quality designs.
You can make money through referrals, too, as the affiliate program gives 10% of every purchase to whoever has made the connection.
The average purchase from Heiress Beverly Hills is a considerable $200, which could give you a great return on your marketing efforts.
3. Jonas Studios.
Not only has Jonas Studio been bringing classic and minimalistic fashion for men to the forefront since 1987.
The company also creates top-of-the-line handmade bracelets, necklaces, pins, tie bars, and wallet chains.
Each piece is affordable at an average value of $250, so you can make good money from this program.
4. Nordstrom.
If you're looking to make extra money while promoting some of the best fashion items, you can't do better than becoming an affiliate with Nordstrom.
As one of the largest retailers in the United States, they have something for everyone – shoes, jewelry, clothes, makeup, and dresses galore.
The commission structure is generous, too; when someone clicks on your link or banner and completes a purchase (up to 14 days from the initial click), they give you a commission of 2-20% per sale.
5. Revolve.
The Revolve affiliate program is one of the best fashion-based opportunities, offering a 5% commission on every sale.
The broad range of products in their catalog also puts them ahead of similar programs.
And if that wasn't enough, the exclusive deals and discounts available to affiliates help make this experience even better and could add an extra income stream from your end.
6. ASOS.
ASOS is a fantastic website for staying up-to-date on fashion style.
The wide selection of designer clothes, the latest sportswear, and more make it an excellent option for the younger generation.
ASOS pays a 5% commission per sale, and you can earn any money made during the generous cookie duration of 30 days.
7. Hugo Boss.
With over ninety-five years of experience creating high-quality clothing for both men and women, Hugo Boss remains timeless and on-trend.
Their commission program offers up to a 12% commission from each sale linked from your external site with just one click.
And the best part is that customers have up to 30 days to purchase after clicking the link, so you know the money will come in even after you've forgotten about it.
8. Newchic.
NewChic is a store that is making waves in the fashion industry.
Their unique clothes come in all shapes and sizes for everyone to enjoy.
The best part?
They offer an incredible 50% commission when you help them sell their items.
9. Cupshe.
With the fashion affiliate program from Cupshe, everyone benefits when a customer purchases a colorful and modern fashion piece from their website.
They give 8-10% of what people buy to the person who tells them about the brand, so you can support your favorite influencers while helping people shop for stylish pieces.
Not only is this excellent commission rate one of the best among fashion affiliate programs, but it has no time limit – allowing affiliates to reap long-term rewards!
10. AllSaints.
AllSaints is one of the best fashion affiliate programs in the market!
Not only do they offer a significant 7% commission per sale, but the cookie duration spans an entire month – giving you plenty of time to reach your affiliate goals.
At AllSaints, you get to promote clothing and accessories for both men and women, making sure you have plenty of options to pick from.
Even better, their creatives are incredibly impactful and can help drive more sales and increase your commission.
11. Daem Watches.
Daem Watches offers handmade watches crafted by the skillful hands of Swiss watchmakers.
The company offers an affiliate program that provides a great way to earn more income.
With each sale, you receive a 20% commission on the product price, ranging from $300 to a maximum of $1200!
With 45 days of cookie life, there's a high earning potential.
12. True Religion.
True Religion continues to be a leader in fashion for years, and now they offer a great affiliate program.
As a program partner, you can benefit from the 7-day cookie duration and the 7% commission.
On top of these impressive features, this exclusive program also offers a bonus for higher-ticket sales that makes it even more attractive.
With True Religion as your fashion affiliate partner, you can benefit from their commitment to providing quality products and excellent customer service.
13. TJMaxx.
TJ Maxx has been a go-to for shoppers looking to snag the best deals in fashion.
It offers brand-name clothing for up to 60% off retail prices by buying manufacturer's overstocks, closeouts, and seasonal clearances.
Shoppers never run out of options at TJ Maxx.
Its new stock arrives every week, so they can always find the proper fashion.
Furthermore, its affiliate program is one of the best in potential earnings.
It provides a 4% commission on all sales, excluding gift cards.
The program also offers detailed network performance metrics with a 30-day cookie length.
14. SHEIN.
SHEIN is a fashion brand that has gone international, with over 220 countries receiving high-quality products.
With an EPC (Earnings Per Click) of $35.23, it's no wonder Shein ranks among the best fashion affiliate programs worldwide.
With a 5% commission per sale, you can contribute to promoting a globally acclaimed brand and receive rewards for each successful transaction.
So if you're ready to join the team and become part of one of the most popular affiliates, look no further than SHEIN!
15. Browns Fashion.
Browns Fashion is one of the best fashion affiliate programs around.
With a generous 7% commission and a long, 30-day window, there's no better way to make money while promoting fashion brands that appeal to both boys and girls.
Whether you're an influencer or just looking to supplement your income, Browns Fashion has the clothes people want – and plenty of perks waiting for you as an affiliate.
16. Old Navy.
With exceptional prices on new fashions, Old Navy offers something for everyone, meaning you'll have plenty of items to promote to your site's visitors.
Once signed up for the affiliate program, you can look forward to earning a 4% commission on every sale.
17. Nike.
Nike is one of the world's most popular sports brands, and it's not hard to see why.
The brand pays some of the best-known athletes and sports stars to wear their clothes and use their products.
Many people want to show off their favorite sports teams with Nike apparel, so Nike has frequently been at the forefront of fashion trends worldwide.
Additionally, joining as one of their affiliates can be a great way to make some extra money.
For every sale you make from someone who clicks on a link from your website, you will get an 11% commission within 30 days after the purchase.
With such beautiful rewards and convenience, Nike is undoubtedly one of the best fashion affiliate programs.
18. ShopStyle Collective.
Shopstyle Collective is the perfect program for anyone wanting to get into the online fashion world and make a few extra bucks.
It is a program designed to help people earn money from fashion sales, so users don't have to worry about working too hard for it.
What makes Shopstyle Collective even better is its diverse community of content creators.
From bloggers to influencers and even everyday customers, Shopstyle Collective offers chances for everyone to make money from their unique styles and interests.
Moreover, it provides more opportunities than any other affiliate program, meaning that potential earnings are much greater with Shopstyle Collective.
19. Urban Outfitters.
The Urban Outfitters affiliate program is one of the best fashion affiliate programs.
Whether you're an experienced fashion blogger looking to expand your portfolio or a newcomer looking to get their start, Urban Outfitters has you covered.
Even better, the commission rates are competitive at 5%.
20. Goat Fashion.
Jane Lewis saw a gap in the market when she started Goat in 2001.
Wanting to give women clothing choices that were stylish and up-to-date with fashion trends, little did she know that her designs would catch on quickly.
If you want to make a bit of money by promoting Goat on your fashion blog or website, signing up for their affiliate program makes it easy to monetize your site.
21. RewardStyle.
RewardStyle is a platform that offers more than 5,000 retailers to fashion bloggers.
RewardStyle's comprehensive network extends beyond just fashion items, providing access to deals on technology and homewares as well.
But what truly sets RewardStyle apart is its excellent commission rate — up to 20% on sales generated through your website or blog!
As an extra layer of security, however, it's important to note that getting approved by RewardStyle could prove tricky if you don't have an existing audience on social media.
22. BooHoo.
The BooHoo affiliate program is one of the best fashion programs out there.
At 7% per sale, you get money every time someone buys from BooHoo through your affiliate link.
23. River Island.
River Island is a great place to start if you're looking for an exciting way to make money online and stay up-to-date on the latest fashion trends.
Their affiliate program allows you to earn 5% of all products you sell within 30 days.
That's just enough time for you to get your friends and family interested in the hottest looks that River Island has to offer.
With quality fabrics, statement pieces, and unique designs, River Island is one of the best fashion affiliate programs available today.
24. Pretty Little Thing.
Pretty Little Thing is quickly becoming one of the best fashion affiliate programs.
Starting small with just accessories in 2012, they have since gone global, selling their clothes in countries such as the US, Australia, and France.
As an affiliate for Pretty Little Thing, you can expect to earn a generous 8% commission per sale and a 5% commission when customers make sales through affiliates.
With one of the highest commissions, Pretty Little Thing is an affiliate program worth checking out.
25. ModCloth.
If you've been dreaming of cashing in on the latest fashion trends, ModCloth's Affiliate Program may be your ticket to success.
With a 5% commission per sale and a 30-day cookie duration, it's one of the best fashion affiliate programs.
After applying, you'll be approved within 48 hours and have access to marketing resources almost immediately.
Plus, ModCloth makes participating incredibly simple with its straightforward interface.
26. Zappos.
Zappos is one of the best fashion affiliate programs if you want to earn money through online sales.
They started selling shoes but have since expanded their inventory to include clothes, accessories, and more – both as menswear and womenswear.
Zappos pays a generous 7% commission for every sale and even gives its affiliates a two-week-long affiliate cookie.
27. Harrods.
Harrods is a luxury department store that offers a wide range of clothing, accessories, and other fashion products.
Becoming an affiliate is easy, fast, and accessible.
Once you join, you can compete in exclusive competitions and collaborate with other affiliates.
Aside from gaining access to newsletters and exclusive content, you get competitive commission rates of 5.99%.
Moreover, your earnings are secure for 30 days with their cookie duration window.
28. Lululemon.
Since Lululemon's launch in 1998, this Canadian yoga and athleisure company has come a long way.
Offering a wide range of technical athletic apparel, from running to dancing, Lululemon has built a strong reputation among fitness enthusiasts.
Their iconic Align yoga line quickly became a favorite, and the brand has since expanded into menswear, swimwear, jackets, accessories, and even a home workout system called MIRROR.
With over 500 stores worldwide, Lululemon has created spaces prioritizing community engagement, social impact, and environmental responsibility.
To ensure continuous growth and innovation, the company must focus on development costs.
Lululemon's mission goes beyond providing premium workout gear; they aim to elevate the world from mediocrity to greatness.
Through products, people, store experience, and personal empowerment in the workplace, Lululemon inspires its customers to live healthy and fulfilling lives.
What Are Fashion Affiliate Programs?
Fashion affiliate programs are marketing initiatives where companies in the fashion sector partner with affiliates to sell their products and services.
Fashion affiliate marketing also opens the door for affiliates to become fashion influencers.
Within the fashion niche, there are various sub-niches like activewear, fitness clothes, streetwear, bridal wear, footwear, handbags, and luxury fashion.
Plenty of high-commission offers to ensure that affiliates can make a decent income from their blog or website.
Key Features Of A Profitable Fashion Affiliate Program
With many affiliate programs available in the fashion industry, here are the main features to consider.
Product Variety
Various affiliate marketing programs offer a wide range of products in the fashion niche.
With clothing affiliate programs being such a competitive market, selecting one that offers a broad selection of products like men's and women's apparel, accessories, jewelry, and more is essential.
Whether you promote a luxury brand offering designer clothing or a more affordable fashion retailer, ensure the program offers something for all customers.
Being a fashionista also helps, as knowing the latest trends and fashions will help you make the most of your own affiliate program.
Generous Commissions
While clothing brands are a dime a dozen, not all pay generous commissions for sales.
Getting new customers in the door is easier when you have the financial incentive of higher commissions.
If paid ads are one of your brand's top marketing strategies, you must select an affiliate program that pays competitively.
Demographic Information
When choosing profitable fashion affiliate programs, look for one that offers detailed demographic information to help you target the right audience.
Whether you're promoting women's clothing or men's accessories, having a clear picture of your target customers is essential.
The right fashion retailer can share the correct data to aid in this process.
Comprehensive Tracking
Making more affiliate commissions often comes down to tracking, and many affiliate networks run advanced tracking systems.
However, as an e-commerce business dealing in affiliate marketing, there's nothing wrong with running your metric tracking.
Incentive Programs
Having the incentive to get higher conversion rates is a great way to increase sales and partnerships.
Whether vendors offer a commission bump or a cashback system, having these incentives helps increase motivation levels for affiliates.
One of the latest trends in fashion affiliate programs is offering tiered commissions based on performance.
Here, the more sales an affiliate generates, the higher its commission rate.
A slight increase in commissions can go a long way toward making more money in the fashion market.
Real-Time Updates
With fashion products often changing on a seasonal basis, affiliates must have access to real-time (and upcoming) updates on new products and promotions.
An affiliate program that ensures its affiliates stay in the loop about changes in product availability, pricing, and other factors stands a better chance of succeeding.
Whether it's information on affordable fashion, beauty products, or luxury items, ensure you receive the most up-to-date notifications.
Promotional Materials
Marketing a product is easy when you have plenty of promotional material.
From images about upcoming designer clothing to information regarding handbags, sweaters, and accessories, having access to the right content helps ensure that every promotion looks professionally done.
Excellent Customer Service
An online retailer that ensures affiliates are taken care of will be able to sustain its affiliate program for the long haul.
The right customer service team should be available to answer any questions and resolve any issues quickly.
An attentive customer service team helps create a good experience for affiliates, which leads to more successful campaigns.
The Most Popular Fashion Items To Promote
The fashion industry opens up numerous opportunities for affiliate marketers, who can promote anything from clothing to shoes and accessories.
Here are some of the most popular fashion items that affiliates can promote.
Clothing
Clothing is one of the most common fashion items for affiliate marketers.
Whether you're looking to become an affiliate for brands such as Gucci, Nike, or other independent labels, there's something out there for all budget levels and tastes.
Plenty of sites also allow users to create and upload their clothing designs.
Finding a niche and targeting customers looking for something unique can be a great way to make money as an affiliate.
You could also target a sub-market within clothing, such as the vintage or plus-size market, focusing on a customer base with different needs and wants.
Shoes
Whether becoming a Gucci affiliate or linking up with more local shoe brands, you can make money from selling shoes online.
You could focus on one type of shoe, such as sneakers, sandals, or high heels, or have a broader range that caters to all kinds of footwear styles.
Accessories
As far as affiliate marketers go, the choices for fashion accessories are almost endless.
From wallets and handbags to jewelry and watches, there's something that caters to all tastes.
Marketing Strategies To Promote Fashion Items
Your marketing channels are vital in promoting fashion items as an affiliate.
Here are some popular methods affiliates use to get the word out about their chosen products.
Creating High-Quality Content
For beginners wanting to get into affiliate marketing, creating content associated with your chosen product is an easy way to get started.
Writing blog posts, reviews, or tutorial videos can be a great way to showcase the product and its features in an engaging manner.
Many affiliate managers can help create compelling content that stands out from competitors.
Many companies also have in-house teams that create promotional materials for affiliates.
Building Relationships With Influencers And Bloggers In The Industry
Reaching out to influencers and bloggers in the fashion industry can be a great way to spread awareness about your chosen products.
These key figures have an audience already engaged and interested in style, trends and shopping, so they can help you reach potential customers quickly.
Developing A Targeted Email List
Email marketing is still one of the most successful methods for driving sales as an affiliate.
It would be best if you focused on building an email list by inviting visitors to subscribe after visiting your site or blog.
Utilizing Social Media Platforms To Promote Products
Social media marketing is one of the most powerful tools in an affiliate marketer's arsenal, allowing you to engage with customers quickly and easily.
It would be best if you focused on creating high-quality content that showcases your chosen product and appeals to your target audience.
Engaging Customers Through Contests, Giveaways, And Discounts
Offering discounted prices and running competitions or giveaways can be a great way to get people talking about your product and encourage them to purchase.
Engaging in relevant campaigns such as Black Friday or Cyber Monday can also help you reach a wider audience and boost sales.
Optimizing Search Engine Ranking With Targeted Keywords And Backlinks
For customers to find your chosen product, it must appear high in search rankings.
While there are tons of SEO blogging tips, optimizing your content by using relevant keywords and linking to other websites related to the product would be best.
Assessing Customer Feedback To Refine Marketing Campaigns For Better Results
If you can learn what customers aren't happy about regarding the product, you can use this knowledge to refine your marketing campaigns.
For example, looking at the reviews on platforms like Amazon, CJ Affiliate, J. McLaughlin, Zaful and other fashion affiliate programs can give you valuable insights into what customers are looking for regarding features and price points.
You can then use this information to create more effective campaigns that will help you reach more potential customers and generate more sales.
Wrap Up.
As an affiliate marketer for fashion products, staying up-to-date on current trends and market developments is essential.
It is also essential to take advantage of the various affiliate tools available to help you maximize your success.
With careful planning and execution, fashion affiliate marketing can be an excellent way for brands to increase their visibility and reach new audiences.
Further reading on AdamEnfroy.com: If fashion isn't your jam, but you are still interested in affiliate marketing, check out these guides:
Editorial Process:
Our reviews are made by a team of experts before being written and come from real-world experience. Read our editorial process here.
Some of the links in this article may be affiliate links, which can provide compensation to us at no cost to you if you decide to purchase a paid plan. These are products we've personally used and stand behind. This site is not intended to provide financial advice. You can read our affiliate disclosure in our privacy policy.
---
Last Updated on October 12, 2023 by Adam Enfroy