10 Ways to Still Profit as an Amazon Associates Affiliate (2023)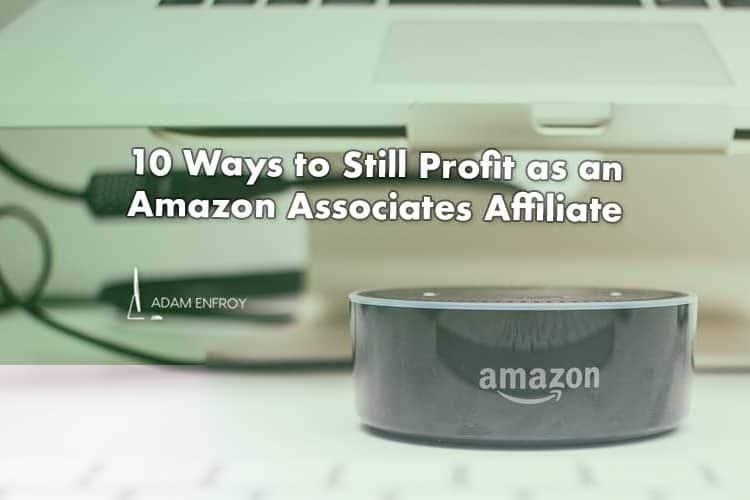 With the accelerating growth of the work from home economy, people are looking for creating new ways to earn an income outside of their full-time jobs.
Building a side business helps you earn passive income, without having to compromise your full-time job.
And starting a blog and joining affiliate programs is one of the best ways to do this.
This is where Amazon Associates comes into play.
Amazon is at the heart of the global ecommerce market and its affiliate program allows websites to promote Amazon products with affiliate links and earn a commission on every sale.
This guide covers everything you need to know about how to make money with Amazon Associates and if joining is right for you.
Let's get started.
What is Amazon Associates?
Launched in 1996, Amazon Associates is one of the first online affiliate programs. It's one of the largest and most successful affiliate marketing programs in history.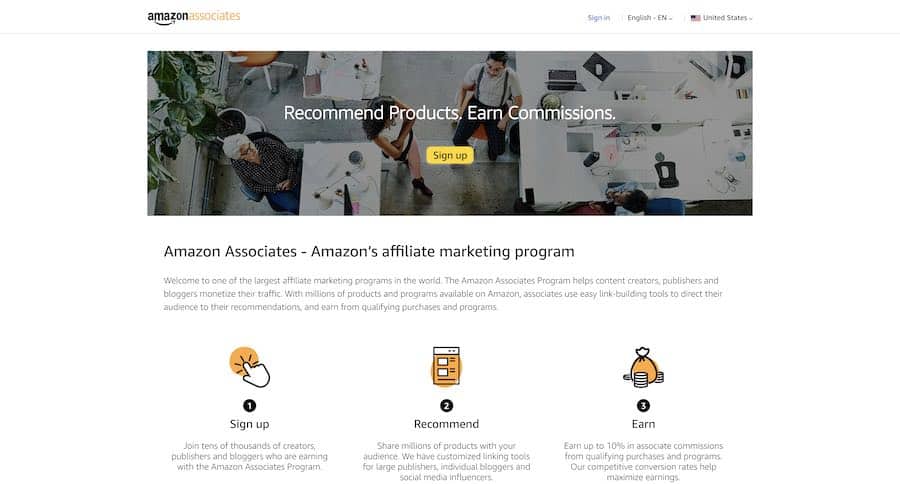 First, it's free and easy to join for anyone, including people focused on blogging and building an online audience with affiliate sites.
The process is straightforward, and you don't need any third-party advertiser approval either.
Here's a screenshot of the simple process to join: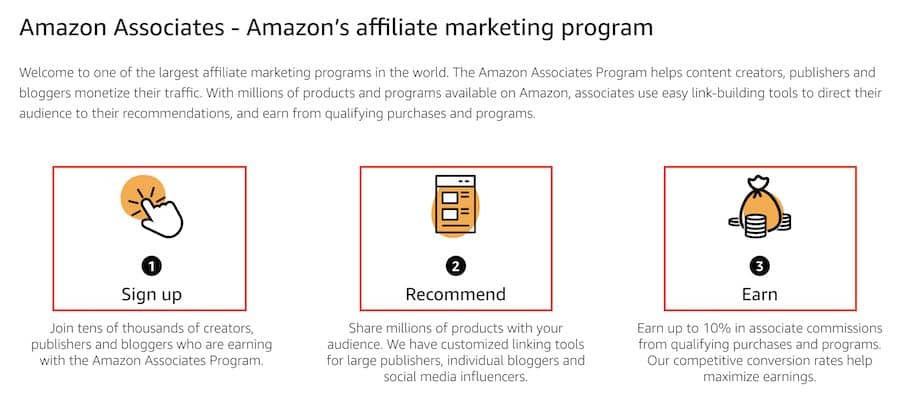 You can pick and choose the Amazon products that you want to link to. These products can be related to the blog posts and articles that you write about or have expertise in.
By providing thoughtful reviews and linking to Amazon products within your niche, you can earn money when people purchase products from your links.
When website visitors click on the link, they get redirected to the Amazon product page. If they make a purchase, the website owners earn a referral fee.
The fees can vary according to the type of product you advertise.
For example, the commission is 5% on videos and music affiliate products.
It's also 7% on Echo and Fire TV, fashion, shoes and jewelry, 8% for Kindle and Fire Tablet devices, furniture, home and garden categories, and 10% on premium beauty products.
Millions of products have similar classifications in their program.
Overall, this huge platform lets you choose any product you want and provides you with unique, trackable links for each.
How Can I Still Make Money with Amazon Associates After the Payout Cuts?
The following Amazon product categories saw payout cuts on April 21, 2020:
Furniture, home improvement, lawn and garden, home, pet products, pantry: 3% (was 8%)
Beauty, headphones, musical instruments, business, and industrial supplies: 3% (was 6%)
Outdoors, tools: 3% (was 5.5%)
Grocery: 1% (was 5%)
Sports: 3% (was 4.5%)
Baby products: 3% (was 4.5%)
Health and personal care: 1% (was 4.5%)
Amazon Fresh: 1% (was 3%)
If you are an affiliate recommending products and generating sales in one of these categories, you should look into joining the companies' affiliate programs directly.
For example, you can do a Google search like: "site:dickssportinggoods.com affiliate program" to see if Dick's Sporting Goods has an affiliate program that you can sign up for outside of Amazon.
If you can join the company's affiliate program outside of Amazon, you'll most likely have higher commission rates.
If you need ideas of other affiliate programs to join, check out my guide to the 105 best affiliate programs.
How Do You Make Money as an Amazon Affiliate?
Anyone can make money using Amazon Associates. However, affiliate marketing is a numbers game – you need a large following and a good amount of traffic in order to convert enough visitors into buyers.
Here are some tips to help you make money as an Amazon affiliate:
1. Select Your Niche.
Even with technical knowledge, one of the most important factors that'll decide how successful you are will be the selection of a niche.
The task becomes easier for you if you already run a website or a blog. Naturally, the Amazon products you link to should be related to things you talk about in your blog. If your site is already up and running, then you can skip this step since you might already have a set of dedicated readers.
However, if you're starting a new blog, then the task is more challenging.
First, you have to come up with a niche idea for your site.
So how to select a profitable and relevant niche?
Look For Specialized Products.
It's better to take advantage of highly specialized products.
Let's take the example of shower gels. While this market has intense competition with global leaders like Olay, Ouai, Sol De Janeiro, Dove, etc. – all vying for market share – the market for organic shower gels has a lot more potential than your regular shower gels.
The number of customers is small, and the demand is considerably lower. Thus, it would be a great topic for your website.
Audience Insights.
There are plenty of websites that provide relevant insights about what's popular in the market.

Take the Quantcast website, for instance:
To use Quantcast, log in to the website and choose the 'Top 100' option. The 100 most popular websites on the internet will pop up, irrespective of the domain.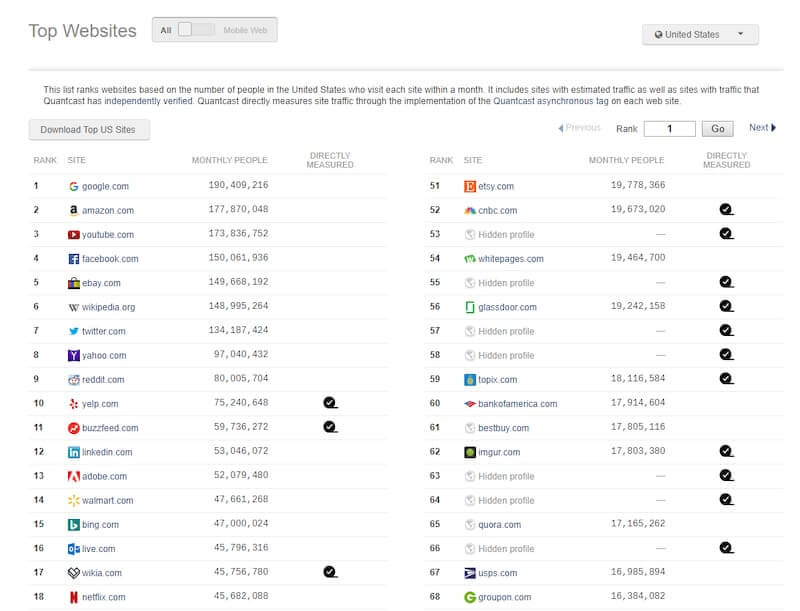 You can get an idea of where the wind is heading from the first page. But it's further down, on the 2nd or 3rd page, that you truly begin to uncover niches.
Here are some of the common niches that you might find:
Travel, clothing, and health are all pretty popular, as you can see.
But all of these are broad categories. For affiliate marketing, you should select a more specific 'niche.'
So, none of these 3 categories will work, unless you drill down into something smaller.
One of the ways to do that is by searching on platforms like Quora.
After a quick search on Quora with the keyword 'travel,' you'll find that 'travel hacks' is one of the most used terms there.
Voila! You now have a niche!
But that's only half the job done. The other half is up next: monetization.
Monetization Potential.
Ultimately, you aim to make money from affiliate marketing. If the topic you choose isn't great for monetization, it's never going to work for you in the long-term.
That's why it's essential to identify the monetization potential. One of the best ways to do that is by using Clickbank.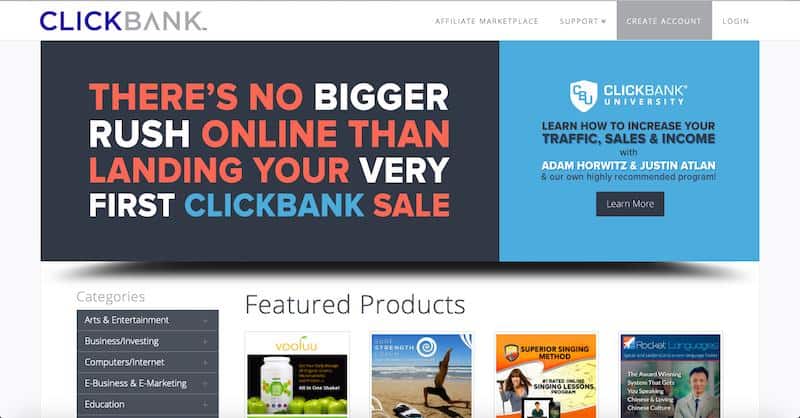 After logging in, click on the 'Affiliate marketplace' option.
You'll find a barrage of pre-existing options to choose from:

You can select from any of these categories. If you don't find your topic, you can type in the search bar and find it.
You'll find something like this: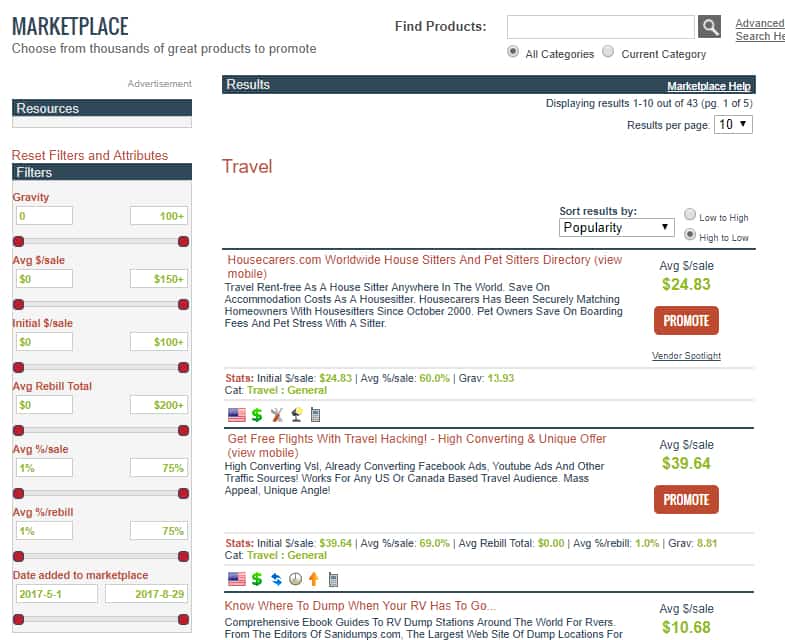 If you are new to Clickbank, then it might confuse you a bit.
To put it simply, each search here will give you the products that you can sell for your niche.
This website also gives you a great way to filter your search and arrive at the best results with the 'gravity' option.

When you use the keywords 'travel hacks' and perform the search, the results are quite astonishing!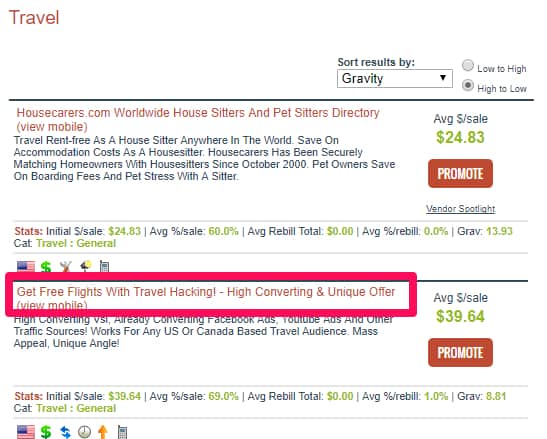 It's a failsafe way to identify items that people care about, are easy to monetize, and have potential.
It offers you a perspective and can help you reach the right niches, instead of browsing the internet aimlessly.
If you don't want to follow all these steps, you can also use tools like Moz that can help you identify the right niches based on keywords.
2. Write Product Reviews.
It won't be wrong to say that online reviews have the power to influence the decision of a buyer.
Indeed, 84% of customers trust peer product reviews as much as they trust personal recommendations.
Product reviews are a great way to boost sales and earn a commission in return.
Many affiliate marketers contact the makers and vendors and ask them directly for product specifications. With all the details in hand, they write in-depth product reviews, aiming to nudge potential customers successfully down the sales funnel.
The good news is that most buyers look around for product reviews for technological products before making a purchase.
Thus, it can help you do SEO optimization for your site and rank higher in search engines.
With the proper reviews in place, you can pick up a percentage of this traffic, which will boost visibility.
3. Create a Product Comparison Grid.
Product comparison grids can put you out into the limelight – something that's important in any affiliate marketing program. With such posts, you compare the different features of all the products in your niche.
The benefit is that it helps you get all your options on the table at the same time.
Here's an example of a product comparison grid: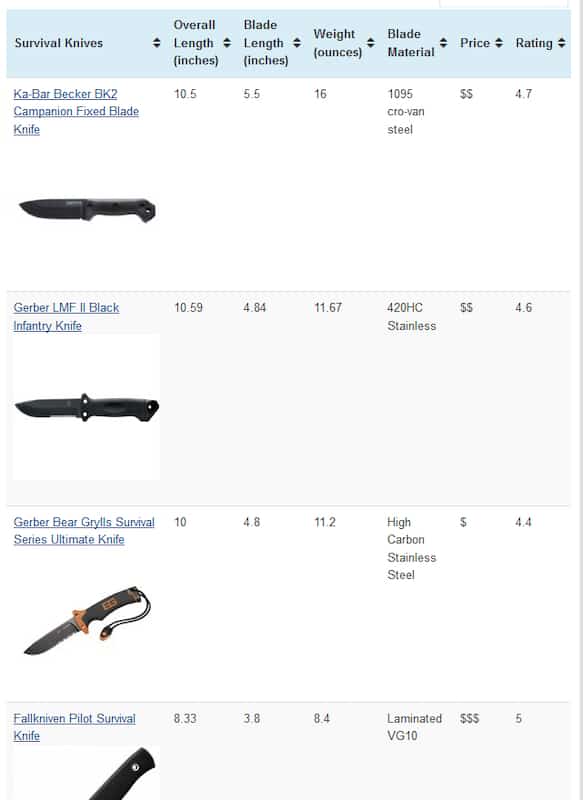 So, how do you make one?
Find The Best Products.
Finding the best products to compare is the first and one of the essential steps. You have to do market research and ensure you're choosing the best products in your niche for review. Here's a great guide to help you get an idea about how to select the best products via a simple keyword search.
It's not possible to use all of the products yourself before choosing the best ones, so rely on accurate and reliable sources to form an opinion. However, don't just rip off reviews entirely since it can lead to problems afterward.
Features To Compare.
A product can have dozens of features based on how you look at it. The question you need to ask yourself is – what are the relevant ones for you?
Let's say the topic is safety razors. What features would you consider?
Here's an example from this niche site for safety razors: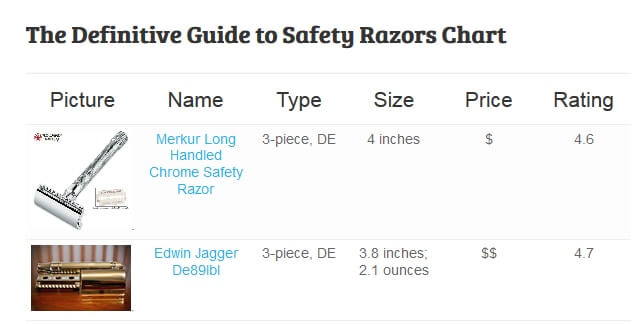 The reviewer here is mentioning the price, size, type, and rating of different types of razors.
However, when you're an Amazon associate, there are a couple of things for you to keep in mind. Under the agreement with Amazon, you can't display product prices or ratings sourced from the Amazon website. It might even get you ousted from the program.
Create The Grid.
Now that you know what products to choose and what features to use – it's finally time to create the product comparison grid.
There are plenty of plugins available to help you do it quickly.
Tablepress is one of them.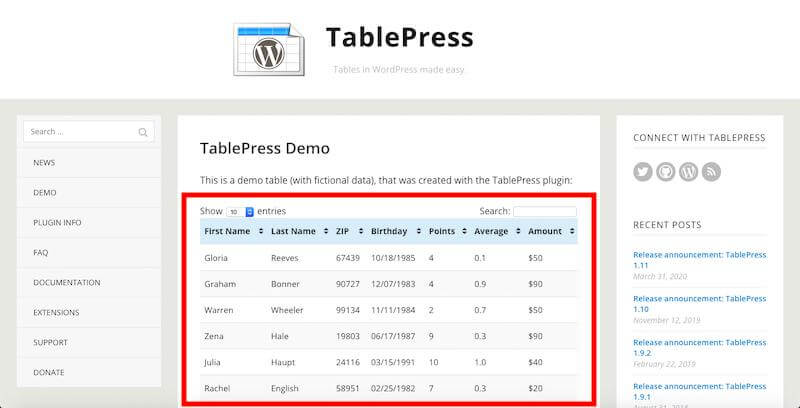 It's decidedly simple to use. Once you use it a few times, you'll get the hang of it.
First and foremost, gather all the data that you need (preferably from the Amazon website) and export them into a spreadsheet or Tablepress
Manually insert your links
If your account information is in a spreadsheet, export it in CSV format to Tablepress
Reorder the rows and columns as you need
Omit those columns and rows that Amazon doesn't allow, including price, ratings, size, etc.
Finally, optimize and customize the chart
And you'll get your product comparison grid.
It can help you boost traffic on your website substantially and positively influence the conversion rates too.
4. Read Amazon's Monthly Best-Seller List.
In case you didn't already know, Amazon routinely publishes content about the bestselling products on their platform.
You can check out Amazon's monthly best-seller list here: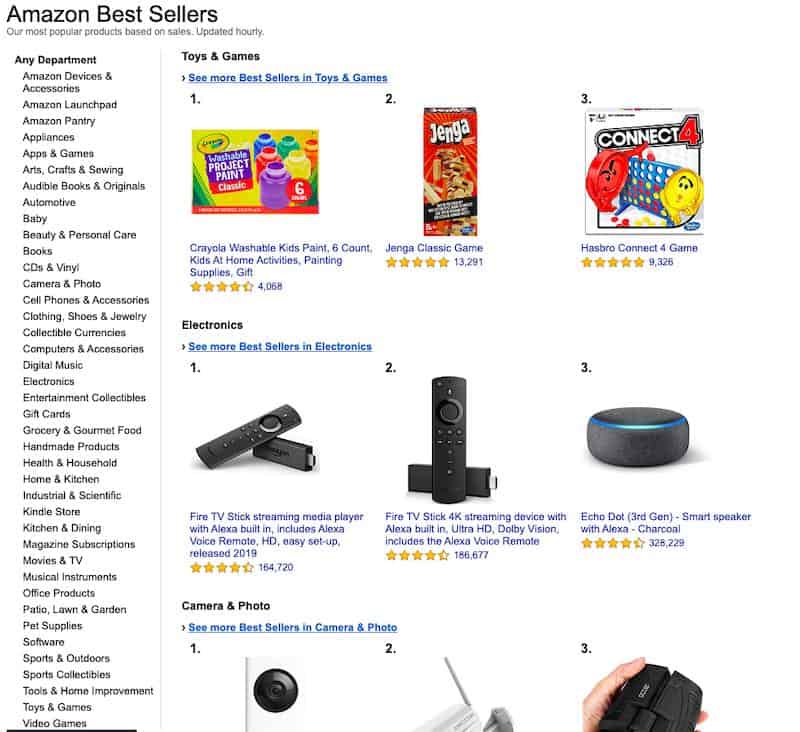 Why not take advantage of it? You don't violate any agreement by doing so.
Here's how you can make money using it:
Go to the 'amazon.com/Bestsellers' page
Look at the top 10 products in your niche
Be careful not to choose products from other niches since it might hamper your business prospects
Publish a monthly blog about the best-sellers
Make sure to update your website with the new best-sellers list
Visitors are likely to trust you more if you introduce them to the widely selling products in their categories. It can boost your business in the long run and help your affiliate marketing efforts.
5. Improve Your Website Layout.
It's hard to keep a reader glued for more than a few seconds. In this case, the visual appeal of websites becomes essential as well.
Here's how you can improve your website layout:
Optimize Your Landing Pages.
Always go for an attractive landing page, incorporating visuals and videos. Moreover, adding an appealing header and an interesting tagline can work wonders.
You can also incorporate CTAs and snippet previews of your blogs to pique the interests of visitors further. It also helps you boost your conversion rates.
Take Uber's landing page, for instance:
The landing page is uncluttered and has a clear CTA, which definitely helps Uber stand out.
Visually Appealing Review Pages.
We talked about product comparison grids. While they are beneficial, sometimes, you need to support them with the visual appeal of the pages.
Take the example of the popular review platforms like Capterra.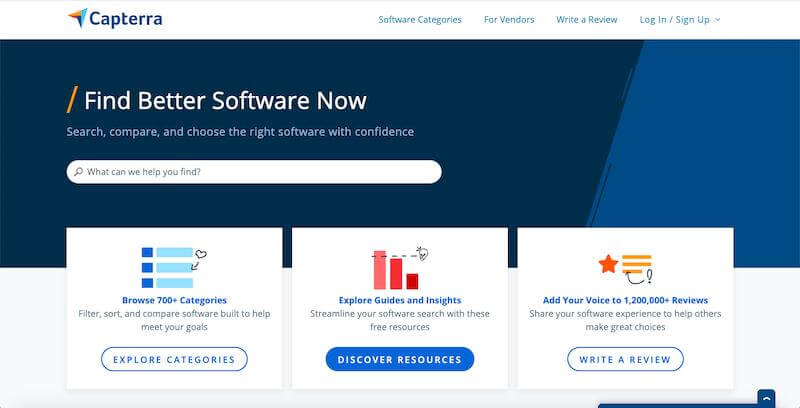 Capterra's cover page has appropriate fonts and colors, segregates and color code between different product categories, and more.
Take a look at this review on Capterra: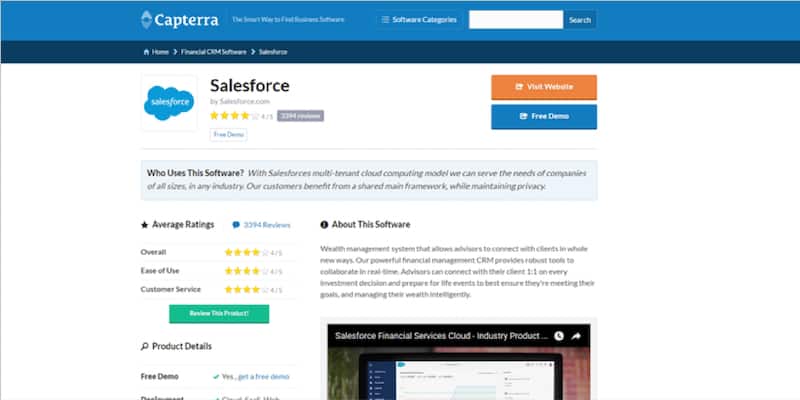 Here, the web page is well designed and shows all the relevant details properly. It also has appropriate whitespaces and different categories so that the users can go through the review easily.
The right kind of visual appeal can captivate customers and lead to higher conversion rates.
6. Link to Products Within Your Content.
Linking products within your website or blog content is a great way to bridge the gap between marketing and sales.
Failing to insert these links in between your content means you are ignoring a great opportunity to redirect them to the right place. Naturally, it can make you lose out on potential customers.
Here's an example of how you can link products within your content: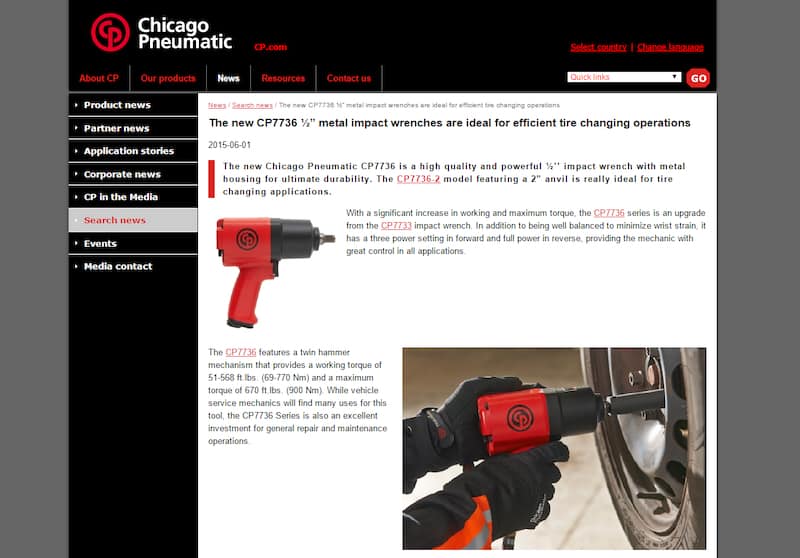 Notice how the author of the article has linked the product page in the first paragraph itself. Additionally, the product links are noticeable, which makes it even easier for your reader to jump to the product page.
Many prospective leads visit websites and blogs with the sole purpose of reading about something they're interested in and checking it out immediately via the link provided.
They don't always want to read the entire article. In these cases, unless they find what they're looking for within seconds, they'll probably leave.
A great indicator of how your website is doing is the bounce rate of your website. If it's very high, then you're in trouble.
That's why you need to give the viewers what they're looking for right away.
7. Use YouTube.
The good news is that the Amazon Associate program allows you to place your links in your YouTube channel. It helps you make money on YouTube using the Amazon affiliates program, even if you don't have a website.
And YouTube can help you reach a massive audience.
After all, statistics suggest that over 1.3 billion people watch almost 5 billion YouTube videos every day. Its reach can be just the exposure you need.
Follow these steps to use Amazon Associates and YouTube in unison:
Create a YouTube Account.
Signing up with YouTube is free and straightforward. You get access to the Creator Studio, where you can create and edit videos, provide descriptions, and more.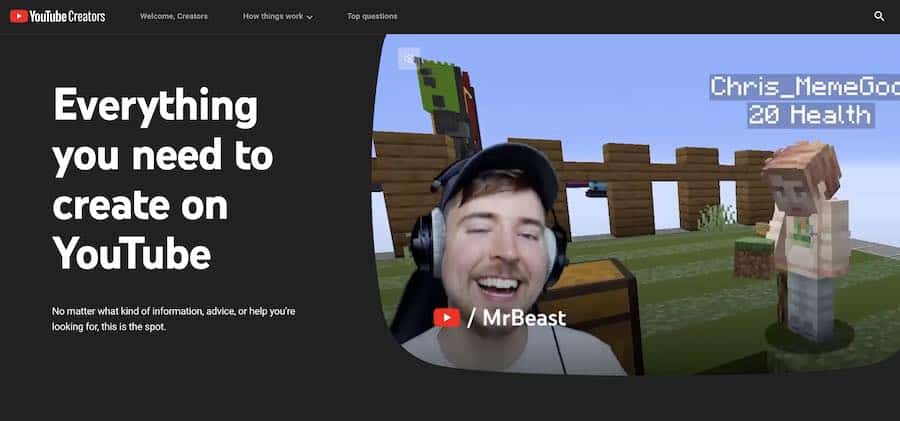 Video Editing Software.
You'll need to get one video editing software to create high-quality videos. The software you'll use should align with your expertise level. Some of the best are Adobe Premiere Pro CC, Final Cut Pro X, and more.

To select the best option, you can check out this list of some of the best video editing software. I reviewed these video editing tools based on various factors, including the ease of use, editing features, file transfer options, and more.
Create Relatable Videos.
The key is to keep it simple and make videos to which the audience can relate. Don't create long, overdrawn videos. Instead, get to the point quickly.
Even statistics suggest that short videos are most successful on YouTube. For instance, the average length of the top 10 YouTube videos is usually 3 minutes.
Insert the Amazon Associate Link.
Don't use the link in a way that gets in the face of the audience. Instead, be a little subtle. You can place the link in the description box or include them in the videos directly. The idea is to gently nudge them toward clicking the links without being too obvious.
However, make sure you always include an affiliate disclosure and follow FTC guidelines.
Here's an example of a YouTube video with two affiliate links: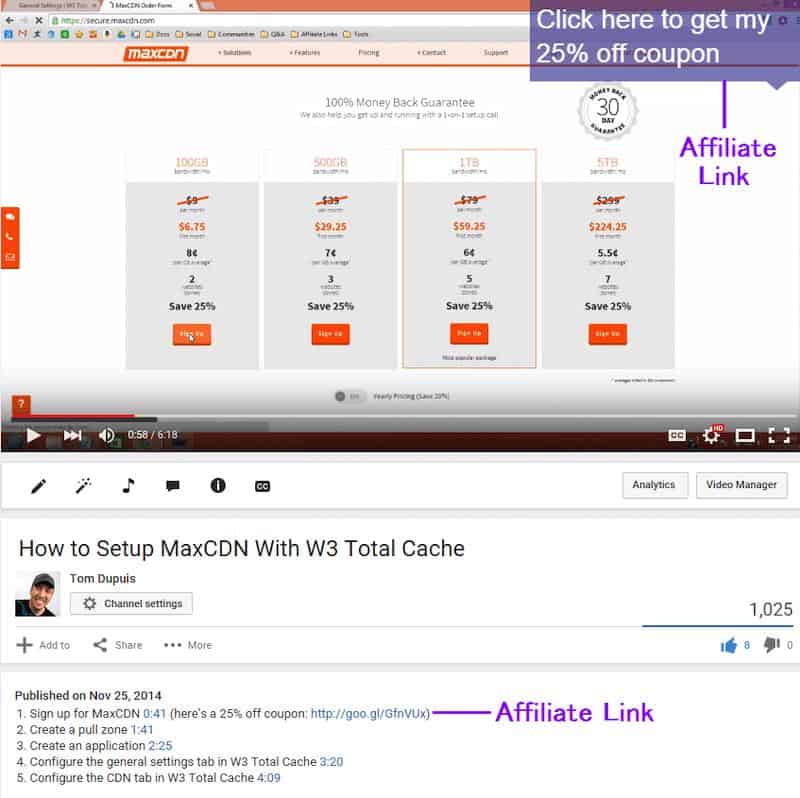 When you click on either of the links and make a purchase, you'll get directed to the main product page, and the content creator will get the stipulated commission.
8. Perform Email Marketing the Right Way.
When you sign up as an affiliate, you can't use email marketing directly to reach out to customers.
But you can run an email marketing campaign that directs the targets to your website, containing the affiliate links.
Here are some steps:
Build an Email List.
Try to convert as many visitors as you can to your website into subscribers. Statistically speaking, 80% of visitors will leave without signing up for your blogs/ newsletters.
So you have your work cut out for you.
Your goal is to get as many subscribers as possible and get them back to your website. That's because the affiliate links to the Amazon products are there.
Here are some of the ways to redirect them:
Boost engagement with your content and pique the interest of subscribers
Provide them with something that they'll value. This could be a product description, or comparison grid, or something else
Re-engage subscribers who are inactive and ensure they know what value you're offering
Perform segmentation and targeting studies and send more personalized emails
Types of Emails.
You can send three broad types of emails: promotional emails, relational emails, and transactional emails.
Since you can't directly promote the Amazon products in your newsletters, promotional emails won't work here.
You are also not promising the recipients stuff like freebies or gift vouchers. So relational emails aren't feasible either.
You're looking for a transactional email, where you offer the best value in return for your subscribers to visit your website.
Here's how to get started.
Write Catchy Subject Lines.
A catchy subject line is essential if you want to increase your email's open rate. For one, the optimal length of a subject line should be between 41 to 50 words. Anything more or less might not have the desired effect.
Essentially, you want the subscribers to open your emails.
Here's an example of an eye-catching subject line:

Apart from the optimal length, you've also got to ensure a catchy title that will pique their interest.
Personalize Your Emails.
Personalized emails deliver 6x higher transaction rates, but 70% of companies don't use them.
Moreover, personalization helps you enhance the open rates and click-through rates of emails drastically. That's why sending personalized emails makes sense. Plenty of email marketing tools can help you automate the entire process, including Mailchimp, Constant Contact, ConvertKit, and more.
Leverage Data Analytics.
Understanding how effective your email marketing campaign is, what you're doing right, and what is going wrong are important things to know for the future.
Moreover, details like CTR, open rates, mail forwarding, and unsubscribe rates provide essential insights that can help you improve your business.
You can use analytics tools like Google Analytics to generate actionable insights and improve traffic to your site.
Executing these steps well can help you divert more and more traffic to your website, which will eventually lead to more clicks on your Amazon Associate link.
9. Use Native Shopping Ads.
As an affiliate, you can use native ads to good use to increase your CTR and conversion rates.

Native Shopping Ads provide dynamic product recommendations with responsive ad units. You can place ads either within your content or at the end of your content to create better shopping opportunities.
Here's an example: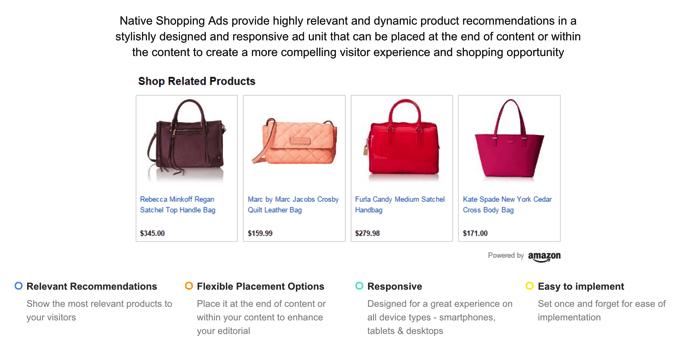 The process is pretty simple: Suppose you have a visitor called James. James visits your website and clicks on the native ad of soccer shoes at the end of the website, and he makes a purchase of a $200 shoe.
If the commission on the shoe is 5%, you make a cool $10 sitting at home. The good news is that even if James buys something else unrelated to soccer, you still earn the commission.
The concept is the same as your affiliate link.
So, how do you set it up?
Here's how:
Visit the Amazon page here and click on 'Create Ad Code.'

You'll find three types of ads to choose from:
Recommendation
Search
Custom
For this example, let's look at Recommendation ads
Now you have to select the category in which you wish to display the ads. If you already have a website, it makes sense to keep the ads on the same topic.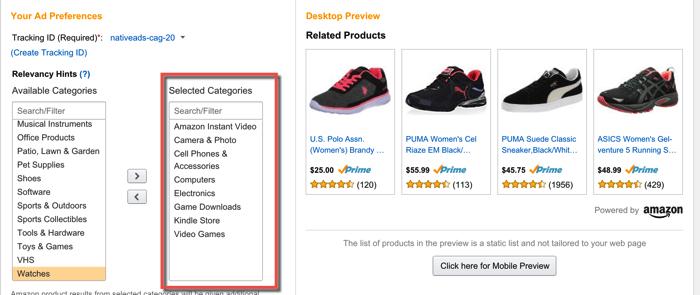 Scroll down after selecting the categories of ads.
Here, you'll find a lot of options to choose from: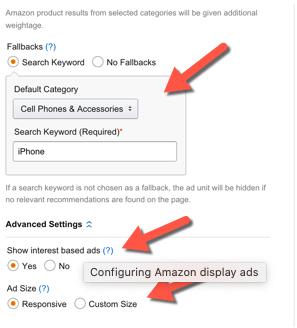 Now, all you have to do is to copy and paste the ad codes on your blog.
The task becomes a lot easier if you're using a plugin. If you're working on a WordPress website, then you can use Ad Inserter to incorporate the ads.
The ads will appear once you execute all the steps correctly.
You can check out this detailed step-by-step guide that can help you insert Amazon Native Shopping Ads.
10. Know Some Basic HTML.
Running a blog or a website doesn't mean you know how to code. However, if you want to optimize your website and reduce your operating costs, a little bit of technical knowledge doesn't hurt.
Learning basic HTML can help you with simple tasks like the creation of hyperlinks, inserting texts & images, and basic formatting.
A link or hyperlink helps connect two web resources seamlessly. The link can be text, an image, or a combination of both.
The basic syntax is:
<a href="url">Link text</a>
Here, the part between the <a> and </a> tags become part of the link. You can edit it as per your need and with the combination that you desire.
Here are some examples:

You don't need to be a pro – all you need is some working knowledge so that you don't need someone else to do these for you.
It can help you improve your user interface once in a while and make it more appealing visually, which can indeed help boost the CTR and conversion rates.
Amazon makes it easy by giving you the exact links to place within your content.
What Are the Pros and Cons of the Amazon Affiliate Program?
The Amazon affiliate marketing program is a unique one that stands out in the crowd because of its size and amount of products.
However, there are some cons to consider before joining their platform.
Here's a list of some of the pros and cons of Amazon Associates.
Pros of the Amazon Affiliate Program.
Here are some of the pros of the Amazon affiliate marketing program:
1. Trustworthy Brand.
Amazon is the world's largest online retailer. Trusted by millions across the globe, it has tremendous brand equity in the market. By associating yourself with Amazon, you give yourself a chance of high conversion rates, riding on the brand promise of Amazon.
2. Payment Security.
Amazon is famous for its unwavering, best-in-industry customer-centric brand image. The security provided in their program is top-notch. You can always rest assured about receiving your payment on time.
3. Universal Cookie.
Amazon leverages universal cookies.
For example, your website link may lead visitors to the latest soccer shoes. However, it's a universal cookie, which means that if the visitor clicks on the link and goes on to buy something different, like a TV set, you'll still get paid.
However, a major downside is that the purchase must happen within 24 hours of clicking on your link. While many affiliate programs offer cookie durations of 30, 60, or 90 days, this is strict and can lead to fewer sales.
4. Amazon Sells a Wide Range of Affiliate Products.
Even if you write about something rare, you can rest assured it sells on Amazon. In case you're unsure about what to sell, you can always visit the Amazon website and find a variety of products to promote.
Amazon sells more than 12 million products, and that's without counting items like books and wine. Clearly, there's something for everyone.
5. Scalability.
Amazon routinely conducts a thorough audit of all its products. It removes products that don't sell and restock their virtual shelves regularly. Therefore, if your product is on Amazon, the reason must be because it sells.
You just need to focus on attracting prospective leads to your website, reach out to the target audience, and get them on the Amazon website.
With its superb selling skills, Amazon takes care of the rest.
6. Leverage the Amazon Sales Potential.
The Amazon website is optimized to provide customers the best online purchasing experience possible. It offers features like the 'One-Click Buy' option, which makes it easy for customers to checkout.
Amazon also engages in customer follow-up and product promotion via emails, which helps them engage customers effectively. Association with Amazon means you can also take advantage of their upsells and related products.
7. Free Sign-up Process.
The sign-up process is straightforward and free. Since it doesn't require you to make an initial investment, joining the program to check out their offerings is a no-risk opportunity.
8. Holiday Season Advantage.
Ecommerce sales are strongest during retail holidays like Black Friday and Cyber Monday. Both Google searches for products and sales on Amazon are up substantially during this time.
So if you're at the right place and at the right time with Amazon, you can make more based on your product's promotional cycle and seasonality.
Cons of the Amazon Affiliate Program.
1. The 24-hour Cookie.
Amazon's universal cookie is valid only for 24 hours from when the customer clicks the link. Twenty-four hours isn't a lot of time, considering many other companies pay you for up to 90 days after first-click.
2. Low Payouts.
The commission that Amazon pays can vary from 2% to 10%. Although the market penetration of Amazon is unparalleled, their commission rates are paltry and it's hard to make money unless you're pumping out a huge sales volume.
Many self-hosted programs offer product commissions of up to 30%, strong recurring commissions, or high one-time payouts.
To make matters worse, on April 14, 2020, Amazon announced they are slashing affiliate payouts in major categories – some to as low as 1%. This is officially in effect as of April 21, 2020.
For example, home improvement and furniture products were cut from 8% to 3%. Groceries were slashed from 5% to 1%.
And if you were promoting headphones, beauty products, business supplies, or musical instruments, commissions dropped from 6% to 3%.
3. Payment Thresholds.
You only get monthly payments if your account maintains the minimum threshold balance. And you won't receive the payment unless you fill out your complete tax information.
4. No PayPal Integration.
Amazon doesn't pay commission on PayPal, which is one of the most popular modes of payment.
5. Long Payout Schedule.
Amazon pays advertising fees via checks, direct deposit, or Amazon gift certificates. However, payouts are made 60 days after the month you earned credit for your sale.
6. Their Affiliate Agreement Gets Updated Frequently.
The operating agreement between the affiliate marketers and Amazon can be a bit challenging to understand and they don't give notice when changes are made.
For example, Amazon did not notify their affiliates about the upcoming commission cuts mentioned above.
How Do Amazon Affiliates Get Paid?
You might not earn enough from the Amazon affiliate program to make it your single source of income, but you'll still get paid for sales.
It all starts when you create your affiliate link and put it on your website or blog, which then redirects visitors to a specific product page on Amazon. If a visitor completes a purchase on Amazon within 24-hours, you'll earn a payout.
It doesn't matter how many times visitors to your website click on the link you provided.
What matters is how many visitors made a final purchase after clicking on your link.
The amount you get paid depends on the product category's commission rate, and quantity of products your visitors purchase.
Amazon Associates Program Advertising Fee Schedule.
Here's a table outlining the fixed advertising rates for specific product categories (as of April 14, 2020):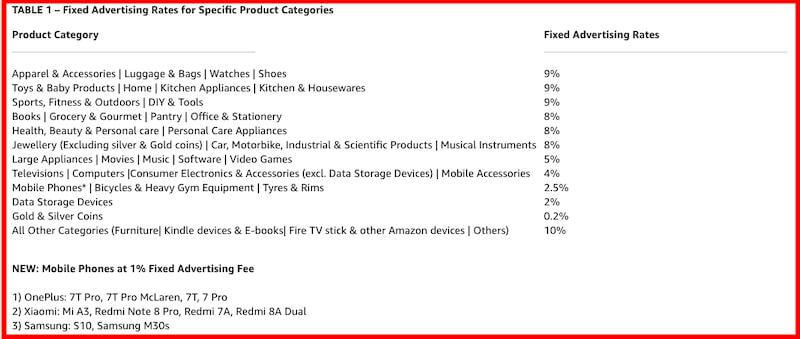 The amount of money you make depends on the category you're in and how well you can promote the products.
Additionally, the amount of money you earn is influenced by your website traffic and conversion rate.
Here's a small example:
Let's say you run an automotive blog.
First, you write a blog post about the best car electronics and link to Amazon products in your post with your trackable link.
Your blog post gets 5,000 visits/month; out of that total, 25% end up clicking on one of your links and going to Amazon. That leaves you with 1,250 Amazon visitors.
Of these 1,250 visitors, 3% end up making a purchase on Amazon with an average order value of $78 (the global ecommerce average).
That 3% comes out to 37 purchases at $78 each for a sales total of $2,886.
In the automotive category, Amazon provides a 4.5% payout rate.
Ultimately, you earn $129.87. Based on the 1,250 visitors that clicked your Amazon link, you're only earning 10 cents per click. Another way to look at it is that you're only make 2.5 cents for each of your 5,000 blog visitors.
It truly is a numbers game.
To succeed, you need to have both substantial traffic and rank for keywords in Amazon categories that pay well and high a high average order value (AOV).
Another note is that you can earn extra money if the visitor buys more than one or completely unrelated item. In this case, it doesn't matter whether you linked your website to that particular product or not.
Earning for US Citizens vs. International Residents.
Amazon allows you to join their program whether you are a US citizen or an international resident.
The most common methods of payment are bank transfer, gift cards, and checks. While the payment methods are quite simple for US citizens, it isn't the same for non-US citizens.
Let's break down into detail how Amazon pays its non-US affiliates.
Up until this point, international citizens with an offshore bank account weren't eligible to receive bank transfers. They could only receive payment via checks and Amazon gift cards. That used to become a problem for associates who needed money in the banks and didn't find any particular need for gift cards.
Checks for overseas banks would also take considerable processing time to dispense the cash.
However, associates from specific countries like the UK, Italy, France, and Spain can directly receive payments in their bank accounts. It eliminates the need to wait for delivery and clearance of checks.
If you're an international affiliate, you're likely to get the payments within 60 days from the end of the month when the commission is payable to you.
However, affiliates from different countries have to follow different rules.
Let's take a look at India, one of the biggest markets for Amazon:
Amazon doesn't process the payment until the amount owed is at least INR 1,000. Payments via checks aren't made until the amount payable is at least INR 2,500.
The denominations vary, but the modus operandi is the same for the mainland US as well. You can choose the payment method you prefer, and that can affect how fast or slow you receive your payments.
Opting for checks will be time-intensive while electing bank transfer can help the money get credited in your account much faster.
But that's something you'll have to choose.
To know more about how to receive your international affiliate earnings, check out this detailed set of instructions by Amazon.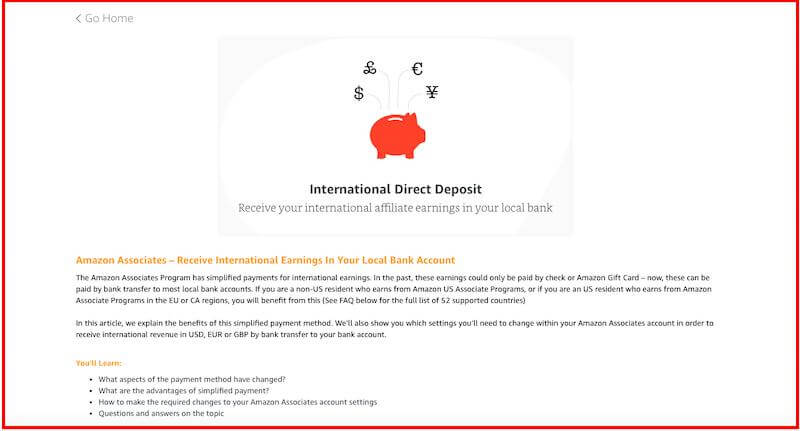 If you're a United States citizen, then here are methods you can choose:
1. Direct Bank Deposit.
To get the direct bank deposit, you just have to fill out your correct bank details, including the account number, bank name, branch, phone number, and more. However, you won't get paid until the amount receivable by you is a minimum of $10.
2. Checks.
In this case, all you need to provide Amazon is a valid mailing address. However, you'll only receive the check when the amount receivable by you is a minimum of $100 + $15 check processing fee.
3. Gift Cards.
Amazon sends the gift cards to your email address directly. However, you'll only receive the gift card when the amount receivable is a minimum of $10.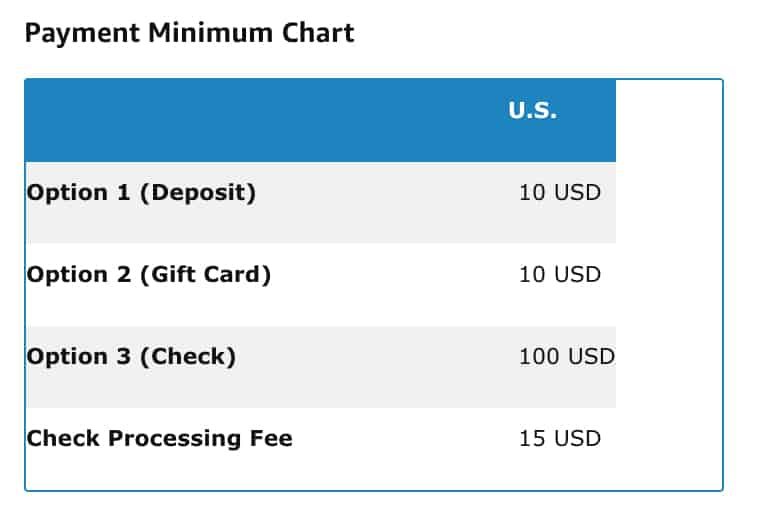 Earning $100 can take time, depending on various factors like the popularity of your website, seasonality, and the products you're highlighting.
Even after you receive the check, processing it takes time.
On the other hand, Amazon processes the bank transfer for a bill amount of $10 or more. Earning $10 won't take a lot of time, and bank transfers are swift. You don't even need processing time.
Obviously, the frequency of getting paid by bank transfers will be high.
While this is true for the US, you need to check the rules for your country.
How Do You Use an Amazon Affiliate Link?
Using Amazon's affiliate program and grabbing your links is easy.
Here are some essential steps to follow:
1. Create Your Amazon Associates Account.
The first thing is to create your own Amazon Associates account. The sign-up process is easy and completely free.
Just visit the Amazon Associates homepage and click on the "Join Now for Free" option.
2. Build Amazon Associate Links.
Go to Associates Central. Under the Product Linking tab, you can create a link to any specific page of Amazon products you desire. You can also insert the link into the text editor of your website.

There are two ways of creating the product link:
You can either enter a search term from the available items
You can also enter the 'Amazon Standard Identification Number,' also called the ASIN of the product in the search field
After that, click on the 'Go' option to arrive at a specific result. You can also click on 'Get Link' for more options.
There are ways to personalize the link as per your needs. Under the 'Text and image' option, the link displays a small product box with a product picture and a CTA button, displayed in your front end.
If you only want a text link, click on the 'Text only' option. However, if you want an image link, then click on the 'Only image' option.
3. Use SiteStripe.
If you don't want to go into the hassle of creating a link from scratch, you can use the SiteStripe feature. Amazon's SiteStripe feature allows you to create links directly from Amazon.com.
You will come across this toolbar as soon as you enter the Amazon shop page as a participant of the program. After that, you just need to create a simple HTML code and paste it onto your website.
You can also select specific codes if you require a text link, an image link, or a link with both text and image.
Basically, SiteStripe provides you a shortcut where you can create the links directly on the shop page. You can also send them to your social media pages for shares and tweets without visiting Associates Central.
Here are the processes to build all the types of likes with SiteStripe:
Text Links.

You can use this tool to create an automatically tagged link for a text link on any shop page. You can click the 'Text' icon to automatically integrate a Tracking ID into the link, which acts as your store ID.
In case you have multiple tracking IDs, make a selection using a drop-down menu. There's also the option of using the text-link overview to determine whether you want to use the complete-partner link or a short one.
The options for creating a text link vary, based on whether you're on an overview page, or a product page from Amazon. You must already be on the corresponding product page for a text link to a product. You can place the created link directly in the text editor of your website.
Image Links.

You can directly create an image link from the product page with a click on 'Image' and choose the right size. The toolbar will automatically integrate the last Tracking ID, or you can select another Tracking ID from the drop-down menu.
Text + Image Links.

You can easily create an HTML code for a link box with a product name, the corresponding product image, and the current price. You just have to simply click on the 'Text+Image' option.
The text and image link will also have the Amazon logo and a 'Buy' button. As in the previous cases, the last-used Tracking ID gets inserted automatically into the link. You can click on the drop-down menu to select another Tracking ID if you wish.
Can You Share Amazon Affiliate Links On Social Media?
You can either post directly or enhance it with a text message from your end.
However, the only social sharing options you have are Facebook and Twitter.
You can read more about Amazon marketing on Twitter if you'd like to use the latter as a platform to get more sales.
4. Use Widgets.

Widgets are an essential part of the visual appeal you wish to create. You can create and customize widgets as per your need in Associate Central by clicking on the 'Widgets' option.
You have the option to use 'your picks' to highlight your favorite products on your website. Moreover, you can use the 'Search' widget and enable visitors on your website to search for products on Amazon directly. Simply place the link in the text editor of your website to add this feature.
Mistakes That Can Get Your Amazon Associates Account Banned.
Amazon is a stickler for rules. Violation of any clause of the agreement between Amazon and participants of the Associate program can lead to severe consequences. They may even ban you from future participation in the program.
So here are some of the things to avoid:
1. Strict Email Marketing Rules.
You are prohibited from taking part in specific email marketing campaigns to promote Amazon products.
Simply put, Amazon doesn't allow you to send traffic directly via your email marketing campaigns. This means you can't directly link Amazon product pages in your campaigns.
However, you can still use email marketing to redirect users to your own websites, which contain the affiliate links.
2. No Link Shortening.
As per the agreement, you can't use link shorteners in your affiliate website or blog. To make sure that the users know when they are getting directed to Amazon – you must always use the full link.
It's a safety measure against miscreants who use the brand name of Amazon for their own benefit and end up compromising its customer goodwill.
3. No Affiliate Links in eBooks.
Amazon forbids you to add affiliate links in eBooks or PDF files that are available/downloadable from your website or blog.
4. You Can't Use Your Own Affiliate Link.
Quite the dream, isn't it? Using your own affiliate link to purchase items from Amazon, and earning some commission on the side while you're at it?
Well, Amazon doesn't allow you to use your affiliate link to purchase products from Amazon.
5. One Account Per Individual.
That's right – Amazon doesn't allow associates to have more than one account. Although approved for some exceptional cases, for highly specialized business, you need prior permission from Amazon. Otherwise, it'll just get you banned.
6. Using Amazon Reviews.
Under the service agreements, you cannot directly use/copy third-party user reviews on your own website or blog. You can read the reviews available, form your personal opinion, and then compile a review yourself.
Ripping off other's reviews will only get you banned.
7. Don't Use Amazon Prices Or Ratings.
Amazon Associates allow you to create product grids and comparison charts between products, highlighting different features. But you can't mention or display price or user ratings available on the Amazon website.
Amazon takes this very seriously and highlights in every agreement between the two parties.
8. Cannot Link from Sexually Aggressive/Violent Sites.
Under the rules of the agreement, Amazon clearly states that you can't add affiliate links to websites or blogs that contain sexually explicit, aggressive, or violent content. That should be a no-brainer.
9. No Rebates.
Amazon handles the terms and conditions of the trade from their website. Under the rules, associates cannot offer product discounts or rebates on their websites or blogs.
Those are only available at the discretion of Amazon. Any offers of rebates entirely from your side will surely get you banned.
10. Fail to Make a Sale Every 90 Days.
This one is easy to miss. According to the service agreements, you need to sell at least one product every 90 days. If you fail to do so, you'll no longer be an Amazon affiliate.
Can You Use Amazon to Work from Home?
Being an affiliate marketer allows you to work from home.
But affiliate marketing isn't the only way to make money with Amazon. There are a host of other routes you can take to make money from home.
Check these out:
1. Customer Service.
Available in many US states, it's a straightforward way to make some money. To be eligible, you need to have a high school diploma, one year of work experience in customer service, an internet connection in your home, and good command over speaking English.
Your job would be to address essential customer queries and solve simple problems. At $15 per hour, with total weekly work of about 30 hours, you can make a cool $450 every week.
2. Amazon FBA.
If you haven't heard of the Fulfillment by Amazon (FBA) business, then you're missing out.
Thousands and thousands of people use it worldwide to make money. You can sign up for $39.99 per month plus selling fees. In this business, all you need is a keen eye and knack for identifying products with high selling potential.
Here's how the entire Fulfillment by Amazon (FBA) process works:

You need to find products that can have high sales volume online, and refer it to Amazon. They'll package, store, ship, and make the final purchase – and you'll earn a decent commission. In some cases, you can take care of shipping the products yourself.
3. Amazon Mechanical Turk.
Amazon Mechanical Turk (MTurk) is a crowdsourcing marketplace that allows businesses and individuals to outsource jobs and processes to a distributed workforce to perform virtual tasks.
This can be anything from running simple codes to data mining, content moderation, and survey taking.
All you need to do is to create a worker account and start working on assignments. The payment amount depends on the person assigning the tasks.
While you won't be making a massive amount of money, it'll definitely come in handy as a side income.
This opportunity is also open to non-US residents.
4. Merch by Amazon.
If you have a keen eye for art and design and want passive income, then Merch by Amazon could be perfect for you.
All you need to do is upload your T-shirt artwork, choose the color and product type, and set a price for your work.
Amazon will handle the rest, including the printing of t-shirts with your design, packaging, shipping, and sales. You'll earn a commission every time a T-shirt gets sold.
5. Publish an eBook.
If you're passionate about writing and have the right skills, you should definitely check this out.
With Amazon, you can publish your own paperback books and e-books.
You can easily earn 60-65% royalty on your books, quote your price, and have exclusive publishing rights.
The specific advantage of e-books is that they're directly delivered to Amazon Kindle, helping you reach out to thousands of people worldwide. Not only are you earning money, but you're also building your image and identity.
6. Amazon Vine.
Amazon Vine provides you a way to get free gifts in exchange for unbiased reviews of Amazon products.
Amazon invites customers to become Vine Voices based on their reviewer rank. The rank is a reflection of the quality of the reviews and how helpful they are to the Amazon customers.
This means that you can't simply decide to sign up. But if you participate regularly and provide highly objective reviews, Amazon might pick you.
Executive Summary.
Amazon's affiliate program is still one of the most popular programs out there.
However, it has flaws – low payout rates and short cookie windows make it harder to earn compared to other programs on the market.
However, if you are a blogger or YouTuber with a large audience and recommend physical high-priced products that sell well on Amazon, you can make it work for you.
It's also a good avenue if you want to work online and make a small side income while working full-time.
Amazon Associate is open to both non-US citizens and non-US residents, making it a truly global platform.
Although there are a lot of restrictions on how an associate can market the affiliate links and drive conversion rates, you do get the brand recognition and security of the Amazon brand.
Another advantage is that Amazon ensures timely and reliable payments – they're certainly not running out of money any time soon. You can also pick an endless amount of products to promote since Amazon has a huge array of products to choose from.
What are your thoughts on Amazon Associates? What has worked (or not worked) for you when using their platform?
Let me know your feedback below in the comment section.
Editorial Process:
Our reviews are made by a team of experts before being written and come from real-world experience. Read our editorial process here.
Some of the links in this article may be affiliate links, which can provide compensation to us at no cost to you if you decide to purchase a paid plan. These are products we've personally used and stand behind. This site is not intended to provide financial advice. You can read our affiliate disclosure in our privacy policy.
---
Last Updated on September 13, 2023 by Adam Enfroy