21 Best Travel Affiliate Programs (Updated for 2023)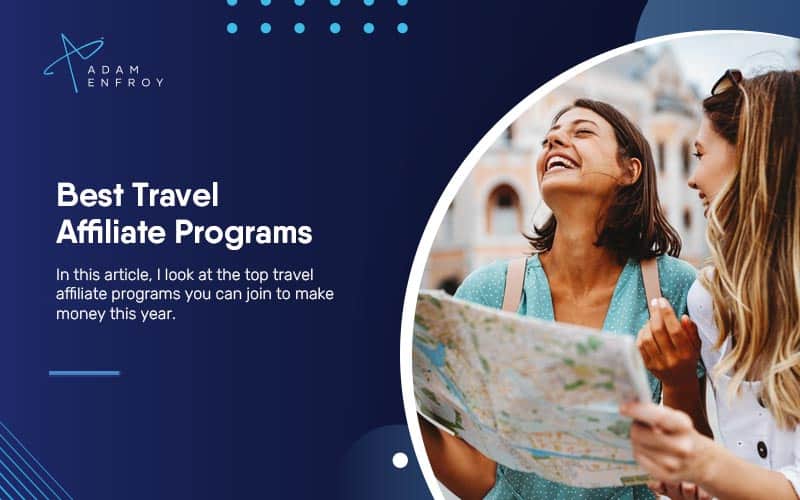 In a post-pandemic world, travel is a booming business.
With more people wanting to explore the world and book unique experiences, you can profit by joining affiliate programs for travel and helping sell people their dream vacations.
Whether you already have or even fancy starting a travel blog and promoting flights, hotels, car rental services, cruises, or even luxury experiences, there are plenty of options.
In this article, I look at the top travel affiliate programs you can join to make money this year.
What Are The Best Travel Affiliate Programs?
Here are the top travel affiliate programs to consider.
1. Agoda.
Agoda is quickly becoming the go-to destination for finding quality places to stay while you travel, boasting more than two million locations worldwide.
The Agoda affiliate program is open to anyone with a website, meaning there are plenty of opportunities to earn up to 7% commissions for every successful referral.
That's much more than other big booking portals offer, so it is worth considering if you're looking for extra income through tourism.
2. KAYAK.
Kayak is an excellent platform for travelers on a budget.
The platform makes it easy for people to find and book the best deals.
As an affiliate, it provides an additional opportunity to earn extra cash.
Their intuitive interface allows those looking to make money to join multiple travel affiliate programs with just one signup.
The platform offers an enticing commission rate of 50% and a lengthy cookie duration of 30 days.
3. Skyscanner.
Using Skyscanner to find the best flight, hotel, or car rental deals has never been easier.
With access to over 1,200 different providers and an easy-to-use website, it's no wonder many people turn to this platform when traveling.
Moreover, the affiliate program is an additional incentive for potential partners.
By recommending the website to others and generating sales, it can make money off commissions; the Skyscanner affiliate program offers around 20% commission on flights and hotel bookings.
4. TripAdvisor.
Joining the TripAdvisor affiliate program is a low-risk endeavor since it only pays people based on the number of clicks their links receive – not on any further action taken.
The commissions from successful referrals to the Tripadvisor affiliate program are small, ranging from $0.20 to $0.50 per click.
Their rules also require the original click to generate another click out to a hotel property before one earns any money.
This model works best for people in their earliest stages of trip planning (top of the funnel).
5. Omio.
Omio is an ideal platform for booking trains, buses, and flights in one place.
The website provides access to over 1000 different travel-based companies worldwide.
The Omio affiliate program usually ranges from 2-8% in commissions, depending on the customer's spending.
6. Interrail Pass.
If you're looking for a lucrative affiliate program to promote, the Interrail Pass affiliate program might be an ideal choice.
With a 3% commission on each sale and a 30-day cookie duration, it will provide maximum earning potential for every partner.
This program is available globally via Awin integration and is popular in most markets.
7. Ferryhopper.
Using the Ferryhopper affiliate program is a great way to make money.
Sharing your link allows people to conveniently book transportation between the Greek, Italian, Turkish and Spanish islands without an extra service charge.
Each time someone books through your link, you will receive 1% of their transaction.
Plus, once people have clicked on your link, you will still get paid for their booking if they return to the booking within 30 days.
8. Plum Guide.
Plum Guide has revolutionized the travel industry by offering customers an online platform offering only the best holiday homes worldwide.
They take immense pride in selecting the top 3% of homes in every location, providing guests with quality they can trust.
Indeed, as an affiliate, one can earn a healthy commission off every completed booking.
If you are a VIP partner affiliated with Plum Guide, your potential earnings rise as they offer multiple tiers of commissions.
9. RentalCars.com.
For ambitious travelers, rentalcars.com provides a simple and efficient solution to booking their vehicles.
This website removes the frustration of comparing and organizing car hires between various locations.
As a result, it's easy to find the perfect vehicle at a competitive rate.
Affiliates get 40% of whatever people spend on the site.
10. HostelWorld.
With its 18-22% commission rate and lengthy 30-day cookie duration, the HostelWorld affiliate program is another excellent affiliate option.
For those needing an even more global market presence, the program is integrated into Affiliate and Partnerize and is available in many countries worldwide.
11. Discover Cars.
The Discover Cars affiliate program offers some of the highest commission rates in the industry.
Affiliates can earn up to 70% of rental car profits and 30% on Full Coverage travel insurance revenue.
Plus, the cookie duration is long, giving affiliates plenty of time to convert leads into sales.
12. REI.
For anyone looking for quality outdoor gear, REI is the go-to source.
With their extensive range of camping and hiking equipment and gear for various other sports, their selection has something for everyone looking to explore nature.
To join REI's program of affiliates, you'll need a travel website to get started.
13. Klook.
From local to international, Klook is a one-stop shop for travelers looking for unique experiences and tours.
Travel bloggers can also offer their readers a whole range of Klook services.
From all around Asia, Europe, and North America, tours, train tickets, WiFi rentals, and Sim cards are some of the many services Klook provides.
What makes this program attractive is that the blogger earns a commission of up to 5% every time someone clicks a link from their post and purchases something from Klook.
14. Trusted Housesitters.
TrustedHousesitters is a service for pet owners who want to go away on holiday but worry about who will look after their furry friends.
With users in 130 countries, TrustedHousesitters has made pet owners feel safe and secure in knowing their animals will be well taken care of in their absence.
The affiliate program offers generous rewards for anyone who refers a new property owner or sitter to the site, with commissions being 20% or $100 with each successful referral.
15. CruiseDirect.
Are you looking to book cruises with no fees?
CruiseDirect is the place to go for fantastic cruise-based offers.
Joining the CruiseDirect affiliate program has many benefits; affiliates can instantly book vacations for themselves or their clients and earn money from it.
By recommending vacation packages from CruiseDirect, people receive three percent of the gross sale as commission as long as people complete the travel booking within 45 days.
Furthermore, CruiseDirect's affiliate program gives its participants access to frequent deals and promotions, along with tools to help them attract customers quickly.
16. Booking.com.
Booking.com is well-known for its unbeatable prices and friendly customer service regarding hotel bookings.
Through this program, affiliates can make up to 40% commission on bookings they refer while benefiting from promotional tools and support from a dedicated team.
17. Wise.
Wise, formerly TransferWise, makes it easier to send money internationally without breaking the bank.
The Wise product is well-suited for international travelers such as digital nomads, frequent flyers, and those conducting business.
Joining the Wise affiliate program can hugely benefit anyone who refers customers who sign up for an account.
As a member of the program, you will get £10 for each person you refer and £50 for each business that joins, regardless if it takes them a while to do it.
Therefore, affiliating with Wise can provide great returns without any long-term commitment or complex requirements.
18. Intrepid Travel.
Intrepid Travel is a popular choice for affiliates looking to promote tours to challenging and hard-to-reach destinations.
With an industry-leading 4% commission and $0.50 paid per lead, plus a generous 90-day cookie duration, the Intrepid Travel affiliate program is ideal for anyone looking to get a competitive edge in the travel niche.
With tours traversing South and Central America, Asia, Africa, and the Middle East, the global reach of Intrepid Travel makes for exciting opportunities for affiliates.
19. Go City.
Go City is an unbeatable deal for tourists looking to make the most of their vacation and thrifty travelers.
It's a website that empowers its users to get tickets to tourist places around the globe and even make money by recommending Go City.
For every person who buys a ticket from your recommendation, you'll receive 6% of its worth.
With an average order value of over $350, affiliates can easily make high commissions.
Furthermore, if someone clicks on your link but does not buy a ticket in the immediate future, you'll still get credit for 90 days.
20. World Nomads.
World Nomads is an attractive option for travel blogs looking to monetize their content and benefit from a global market.
With generous incentives such as a 10% commission on sales and a 60-day cookie duration, World Nomads can allow bloggers to reap the rewards of their hard work.
Travel bloggers can easily add insurance links to their content and make the most of the program's global reach by partnering with a company that fits perfectly into their niche.
21. Outdoorsy.
If you want to join the RV and camper revolution, now you can make money while doing it!
The Outdoorsy affiliate program gives you an excellent opportunity to get paid when someone rents an RV or camper through Outdoorsy.
You earn an incredible $60 per booking with a phenomenal 30-day cookie duration – so you get paid even if they complete their reservation later.
Best of all, the affiliate program is available in both the US and Canada.
What Are Travel Affiliate Programs?
A travel affiliate program is an excellent way for online businesses to monetize their travel sites.
It offers an excellent way for travel businesses to increase their reach and visibility and generate extra income.
With many people turning to the internet when searching for travel accommodations and activities, affiliate programs allow businesses to capitalize on this trend.
Here are a few alternate names to the above offering travel affiliate programs:
As you can see, there are various travel affiliate programs to choose from.
Key Features To Look For In A Travel Affiliate Program
Here are the main features to consider when choosing the right travel affiliate program for your website.
Multiple Commission Structures
As affiliate marketers, we want to have the opportunity to choose from multiple commission structures to maximize our earnings.
When it comes to the best affiliate programs, the sky's the limit to how much one can earn with each sale.
Multiple options also open the door to passive income, as you can diversify your portfolio and promote different affiliate products simultaneously.
Choosing the right referral program means having various commission structures that work in your favor.
Competitive Commissions
Apart from having multiple commission structures, those commissions must be competitive enough to make money while also providing customers with a good deal.
Vendors are more likely to attract multiple affiliate partners if they ensure the offered commissions are competitive.
Said differently, the highest-paying affiliate programs generally provide the best customer experience and value for money.
Variety Of Products Or Services
From cheap flights to sightseeing and vacation rentals, this industry offers many different products and services that one can promote with an affiliate program.
Influencers can promote travel-related content to earn extra income, such as package tours, attractions tickets, and hotel bookings.
With many referral programs allowing the affiliate to promote multiple products, there's a greater chance of making more money in the long run.
Automated Tracking And Reporting
There are many ways to do affiliate marketing, but being successful means tracking results and data accurately.
Accurate tracking is paramount to increasing one's conversion rate with each campaign or product.
The same logic applies in the online travel niche, as travel brands and companies rely highly on accurate data when measuring success.
High Conversion Rates
Conversions refer to when a customer completes a desired action, such as purchasing or signing up for a service after clicking on an affiliate link.
Choosing a host affiliate program with the stats to back up its promises means more money in your pocket.
Being the top affiliate is as much about conversions as it is about the commission.
After all, if no one wants a product you're promoting, then you won't make any money.
Robust Support Services
Making affiliate commissions is excellent, but there will be times when you'll need help with technical or customer support issues.
Beginners might have questions about the websites they must register with or the products they need to promote.
More advanced users might be trying to integrate their site with an API and run into some issues requiring assistance.
High-quality customer support makes a travel affiliate network much more attractive to potential affiliates and customers.
Accessible Creative Assets
Making affiliate income requires assets that help promote travel-related products and services.
Whether it's text links, creative images, or videos, the right assets help affiliates create content and ads that will attract customers and increase conversions.
Benefits Of Joining A Travel Affiliate Program
Now that I've covered the features of how an affiliate program works in the travel niche, let's look at the main benefits of joining such a program.
Generate Additional Revenue
With multiple affiliate networks to choose from, the potential for generating additional revenue as an affiliate is enormous.
Many programs pay affiliates directly and in convenient ways.
For example, direct payments into Paypal, Payoneer, or even direct deposit into bank accounts are standard among travel affiliates.
Whether a travel agency promoting travel-related affiliate programs or an entrepreneur promoting hotels and airline tickets, joining the right travel affiliate program can help you increase your income.
Reach More Customers
With targeted campaigns and promotions, the right guest affiliate program allows you to reach more people that eventually become paying customers.
From selling travel-based widgets or promoting services offered by a large hotel chain, a well-designed marketing campaign helps you get leads to an email list you can market to later.
Building a customer list of loyal followers is essential in any industry, and the same applies to travel-related businesses.
Gain Access To Exclusive Offers
The right affiliate network also opens up specific offers and promotions exclusive to those in the network.
Creativity is one-way vendors get (and keep) affiliates interested in promoting their services or products within the travel niche.
Methods such as limited-time offers, discounts, or cashback rewards spur affiliates to promote and increase their income simultaneously.
Increase Brand Visibility
As a business, sharing your affiliate link in a way that adds to the customer experience is vital to increase brand visibility.
Whether you're selling backpacks, recommending hostels in New York, or just giving advice on what tools and supplies one needs for a specific trip, all those activities can help create positive brand recognition among customers.
Awareness of your activity's long-term impact on building customer relationships is essential to increasing brand visibility.
Build Long-term Relationships
People that love traveling aren't in it for a one-time fix; they want to keep traveling in a way that works for them.
A travel site can remain relevant beyond the initial booking by offering unique value propositions such as loyalty programs, exclusive discounts, or additional services like tour guides.
For example, Airbnb has embraced building long-term customer relationships by creating an entire ecosystem that allows hosts and guests to benefit from referrals.
One can say the same thing about travel agencies that offer loyalty programs that reward regulars with access to special offers or discounts.
If you can build the same type of relationships with your customers, you can see actual returns regarding repeat business.
Stay Up-to-date on Industry Trends
Joining a travel affiliate program also helps you stay informed about industry trends.
Keeping up with current events in the travel world is essential for any business looking to remain competitive and attract new customers.
With regular updates from your chosen network, you'll know what's hot, who's offering the best deals, and other relevant news regarding the airline, hotel, and hospitality industry.
Marketing Strategies for Travel Affiliate Programs
Finally, consider how you can use various marketing strategies to increase your revenue through travel affiliate programs.
Utilize Social Media Platforms
Social media can be a powerful tool for any business, especially when dealing with travel-related products and services.
You can use these platforms to share targeted messages about new deals or offers from your chosen program, reach out to possible customers, or build relationships with fellow affiliates.
Create Compelling Content
With a dedicated affiliate support team that can also aid your content creation, you can create articles and blog posts that speak directly to the customer.
The concept of deep linking also allows you to link through specific product pages for a more practical approach.
To this extent, you can look at products you can market using Amazon Associates and build content modeled around what's working.
Develop Targeted Ads
You can leverage various digital advertising platforms, such as Google Ads or Bing Ads, to create targeted ads for your affiliate program.
Paid search campaigns are a great way to reach customers actively searching for travel-related products and services while retaining complete control over your budget.
Network with Other Affiliates
Networking with other affiliates can help you gain valuable insight into their strategies and tactics, allowing you to implement them yourself.
Networking events related to the travel industry are also a great way to meet potential partners interested in joining your program.
You can quickly take advantage of the travel industry's potential with various ways to share your affiliate links.
Leverage Email Campaigns
Email campaigns are a great way to reach customers and keep them informed of any new developments within your chosen program.
You can also use email marketing to build relationships with potential partners by providing helpful tips and advice on their products or services.
Optimize Your Website for SEO
With a WordPress site, you can get more traffic when people search for keywords related to your affiliate program.
If your website caters to specific content around a travel topic, you can appear on the search engine results pages (SERPs) for those queries.
You can then send people from your website onto that of the travel partner, usually through a specially-crafted affiliate link.
Whether it's an Expedia affiliate program that helps people book flights or a Viator affiliate program that offers sightseeing experiences – optimizing your website for SEO is vital.
With WordPress also allowing you to install the proper plugin (or multiple ones) that can aid your SEO blogging efforts, you can ensure you optimize your website for the best possible performance.
Wrap Up.
Travel affiliate programs can be a great way to increase revenue and open up new opportunities for any business.
From luxury travel affiliate programs to those that offer discounted rates, there's something for everyone.
By understanding how they work and leveraging different marketing strategies, you can set yourself up for success in the travel sector.
Staying in the know about current trends and developments in the travel industry can also help you identify opportunities to make your program choice more accessible.
Further reading on AdamEnfroy.com: Want to start an online business from scratch?
Here are the best online business ideas to get you started.
You can also check out these ways to make money online from home that could work for everyone.
Editorial Process:
Our reviews are made by a team of experts before being written and come from real-world experience. Read our editorial process here.
Some of the links in this article may be affiliate links, which can provide compensation to us at no cost to you if you decide to purchase a paid plan. These are products we've personally used and stand behind. This site is not intended to provide financial advice. You can read our affiliate disclosure in our privacy policy.
---
Last Updated on September 13, 2023 by Adam Enfroy