7+ Best HARO Link Building Services in 2023 (Ranked & Reviewed)
Choosing the right HARO link building service is vitally important to the success of your backlink-building campaign. From choosing the right sites to get a link on to ensuring that your links are high quality, the best HARO link building service can help you meet your goals. In this guide, I ranked and reviewed the 7+ best HARO link building services, so you can pick the best one for you.
---
We're reader-supported. When you buy through links on our site, we may earn an affiliate commission.
Getting a website to rank highly in the search engines depends on two significant factors.
One is on-page SEO, which refers to everything you can do on your website to make it more search engine friendly.
With various SEO tools available, it has become somewhat easier to identify action items related to the site itself.
On the other hand, there is the matter of off-page SEO.
This is the second factor determining how highly a website ranks in search engine rankings for specific keywords.
Link building is a considerable part of off-page SEO, which is why many business owners invest a lot of resources into this type of marketing.
A website with good link popularity (i.e., many backlinks pointing back to the site from other websites) will generally rank higher than a website with no links.
These links act as 'votes' in the eyes of search engines when determining how popular and relevant a website is.
While this is an overly simplistic explanation, it gives you an idea of the importance of having the right type of link building.
While there are many ways to build links to your site, HARO (Help A Reporter Out) is one method that can be very effective.
This is a platform where journalists, media outlets, bloggers, and other content creators post HARO queries for sources on various topics.
If you have something valuable to contribute, you can reply to these requests (which you get via HARO emails) and get your name and website out there, resulting in a win-win situation for everyone involved.
In this article, I will review the top HARO link-building services that can help you get high-quality links and improve your website's rankings.
Let's get right into it.
What Are The Best HARO Link Building Services?
These are the best HARO link-building services to consider.
Best Overall HARO Link Building
NicheWebsite.Builders can help you get the backlinks you need from high authority sites like CNB, Forbes, and Business Insider.
With an in-house team of expert writers that focus exclusively on your building HARO links, they can help get you the placements that you need to rank higher.
Built on genuine outreach that builds real relationships with journalists, this is a service that can get you the results that you need.
They also target only high-quality sites, with the minimum domain rating being that of 40.
You can rest assured of getting links that will actually improve your website's ranking and not end up harming it.
Key Features:
Persona creation ensures that any outreach comes through as if you were doing it yourself. In addition, communication will never go out from a faceless entity, which helps increase the likelihood of getting a response.
Integration with professional software helps automate the process and keep track of your progress.
About page optimization helps you build up your website's credibility, making it more likely to get featured in articles.
White-label reports make it easy to show the results of their efforts to your clients.
Pricing:
Nichewebsite.Builders offer three pricing plans:
Newshound: $1,999 per month
Contributor $1,225 per month
Correspondent: $2,150 one-time
Get started with Nichewebsite.Builders.
2. Incrementors.com.
Best For Boosting Brand Visibility.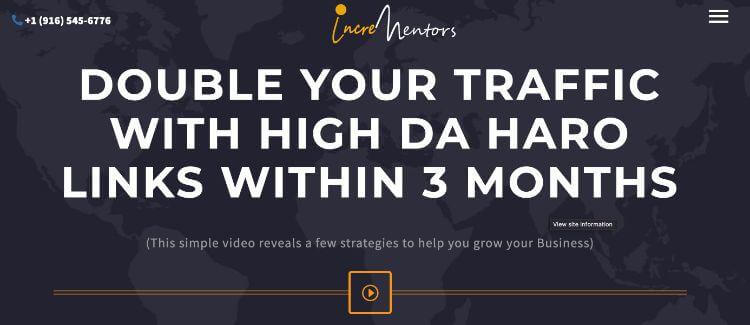 Incrementors helps your online business achieve its organic traffic goals through its proven link-building services.
With the ability to boost your brand visibility and increase your website ranking in the SERPs, this is one of the best SEO agencies to consider.
With high-quality backlinks and HARO placements, Incrementors gives a business the edge it needs to succeed online.
Having been in operation for over a decade, the agency has a wealth of experience and knows exactly what it takes to get your website ranking higher.
From personalizing elements to market strategies, Incrementors will also create a tailored link-building strategy for your business that is guaranteed to deliver results.
Their step-by-step approach can help take your business to the next level.
Key Features:
Building quality backlinks is done through a step-by-step methodology.
Increase your domain authority and visibility through their proven process.
Follow up on your efforts with reporting and analysis as part of the services offered.
Pricing: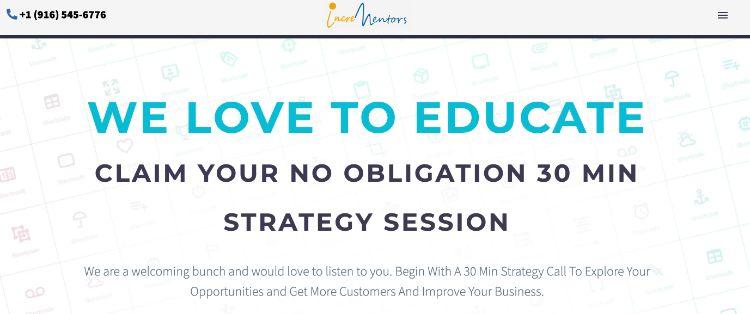 You can get started with a free 30-minute strategy session to see what they can do for you.
3. LinkBuilder.io.
Best For Building Safe Links.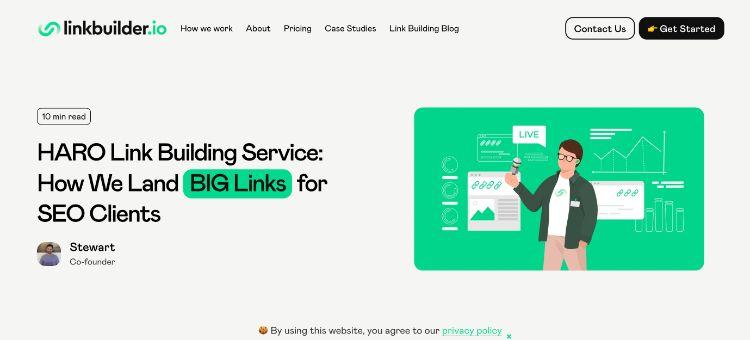 LinkBuilder focuses on building safe white hat links that will stand the test of time.
The agency understands that link building is an important ranking factor for any website and has a team of experts dedicated to getting you the best results.
With a wide range of services provided, LinkBuilder can help with anything from link prospecting to guest posting.
The team will work closely with you to ensure they deliver the desired results.
The entire process is transparent, so you will always know what is going on and how your campaign is progressing.
With the ability to build links to your choice of crucial target pages on your domain, LinkBuilder can help you boost the pages that matter the most.
Key Features:
The correct link prospecting ensures that only links that help with rankings are built.
Guest posting services help you get in front of new audiences that can significantly help with ranking.
Blogger outreach ensures you get links from high-quality bloggers in your industry.
Influencer outreach gets you in front of the right influencers with audiences that align with your products or services.
Help with marketing campaigns can ensure you focus on creating content that will rank well and attract the right traffic.
Pricing: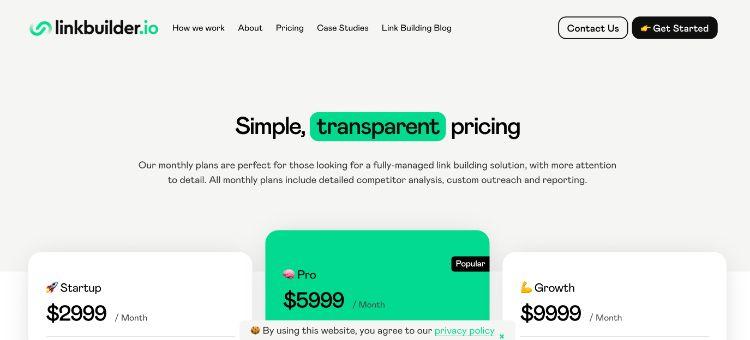 LinkBuilder.io offer these pricing plans:
Startup: $2999 / Month
Pro: $5999 / Month
Growth: $9999 / Month
4. DoFollow.io.
Best For Increasing Website Authority.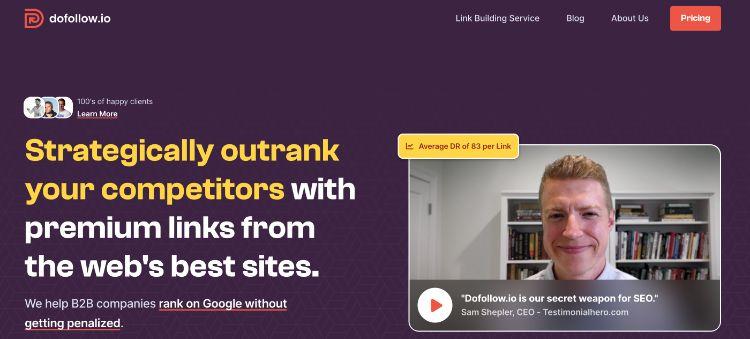 DoFollow helps B2B companies increase their organic traffic and get higher quality leads with its effective link-building services.
The agency can help increase your website's authority and improve your search engine rankings by building premium links.
The team will work with you to create a custom link-building strategy to get you the best results.
With quality, vetted Links, DoFollow.io can help increase your website's traffic and improve your conversion rate while ensuring no penalization ever hits your site.
With a dedicated project manager for each onboarded client, you will always be kept in the loop on the progress of your campaign.
Key Features:
A content and link strategy is created per client to ensure the best results.
Journalist outreach to get your brand in front of key influencers.
A dedicated project manager ensures you always have a point of contact
Real-time reporting allows you to see how your campaign is doing.
Pricing: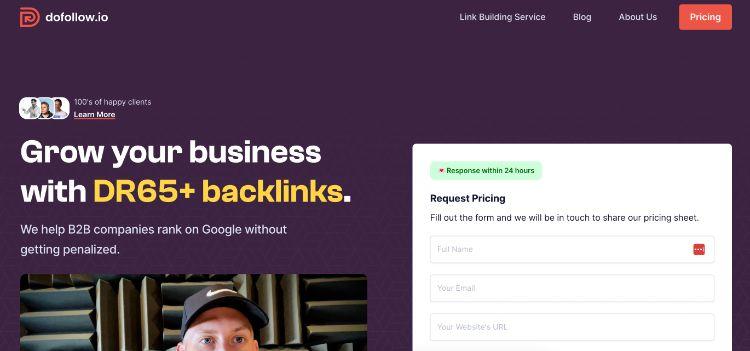 You can request pricing on their website, where you'll get a response within 24 hours.
5. HAROSEO.co.
Best For Building Links At A Reduced Cost.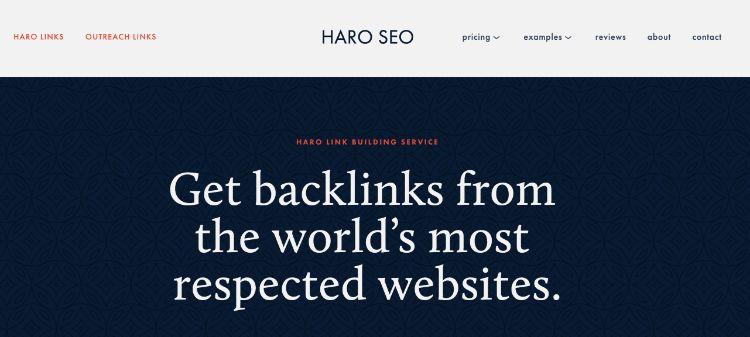 HAROSEO is a link-building agency specializing in getting HARO links for its clients.
With its range of clientele, including Cloudways, Wordstream, American Express, and Realtor.com, HAROSEO has the experience and expertise to get the results you need.
Prices start from just $150 a link, which is quite reasonable considering the results you can get as well as competitors' fees in the current market.
The team will work with you to understand your business and what you need from a link-building campaign before creating a custom strategy.
With the ability to order any number of links from 5-20 per month, you have the flexibility to get the results that you need without breaking the bank.
This also means various outreach link packages are available to get the most from your campaign.
Key Features:
White label services allow you to brand them as required.
A consultation is first done to ensure the best strategy is used for your business.
Customer satisfaction is a top priority
Regular communication keeps you updated on the progress of your campaign.
Professional writers create high-quality content to get you the most favorable HARO responses.
Pricing: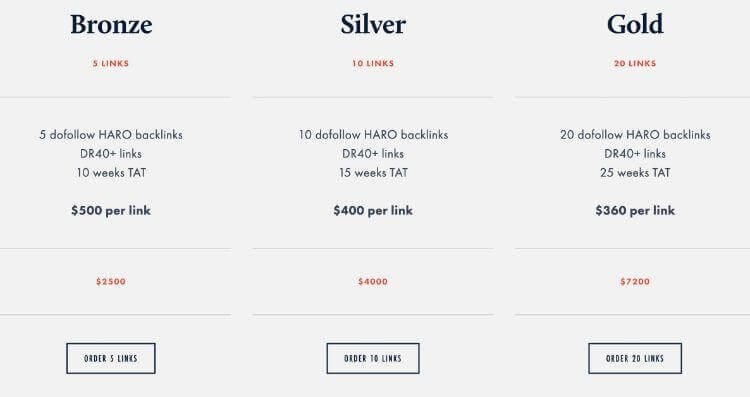 The pricing plans are as follows:
Bronze: $2500
Silver: $4000
Gold: $7200
6. Justreachout.io.
Best Outreach Software Tool.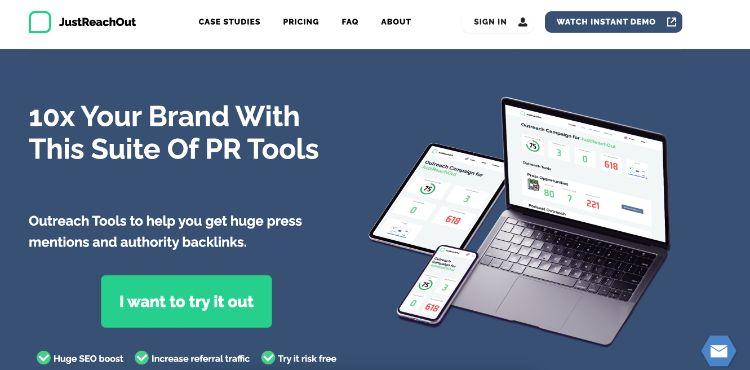 Justreachout is a software tool that helps you find journalists to pitch your story to, send the proper responses, and track your progress and results.
With its simple interface, Justreachout makes it easy to start your link-building campaign.
Link building using this software can come not only from press opportunities but also through broken link building, guest posts, and other creative content marketing ideas that their team can help with.
If you want to go all out with your link-building campaign and are happy to use software to get the ball rolling, Justreachout can help you get the most from your efforts.
Key Features:
Craft a personalized conversation starter for each journalist on your list.
Write an email pitch based on the information you gathered.
Send pitches and manage all of your outreach right inside the software.
Build a targeted list of journalists and bloggers in your niche.
Automatically find broken link-building opportunities.
Quickly find podcasts in your niche that accept guest submissions.
Get backlinks from high-authority websites as a result of your efforts.
Pricing: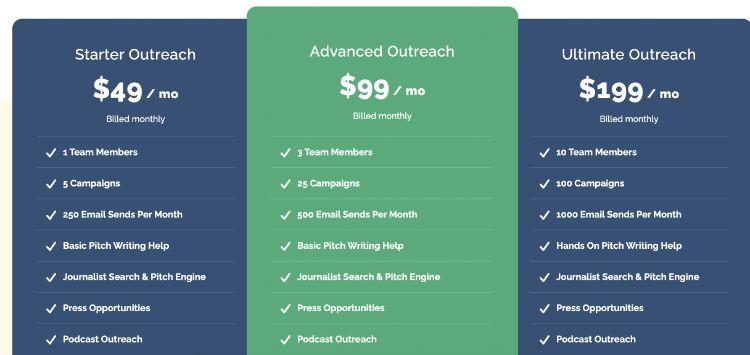 Here are the pricing plans on offer:
Starter Outreach: $49/ mo
Advanced Outreach: $99/ mo
Ultimate Outreach: $199/ mo
7. Loganix.com.
Best For Building High-Quality Links Every Month.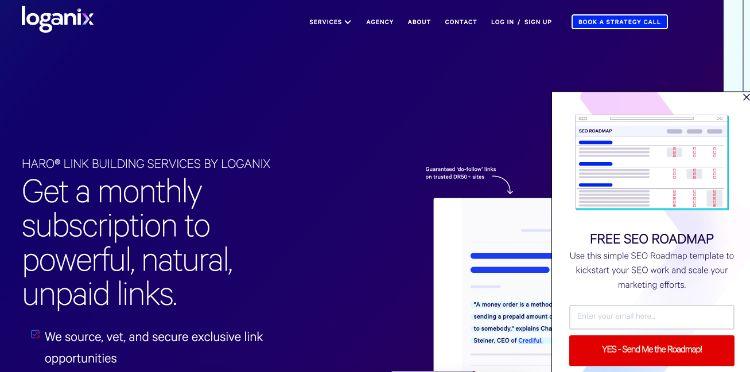 Loganix offers a monthly subscription for those that want to build natural, unpaid links rather than relying on other types of campaigns.
With the ability to become a cited source in high-authority publications, Loganix can help get your brand in front of a larger audience.
Using a predictable and hands-free stream of new inbound links each month, Loganix is an excellent choice for those who want to focus on other aspects of their business while ensuring that their link-building efforts produce the best possible ROI.
With guaranteed placement on DR 50+ sites, you can be sure that your link-building campaign is in good hands with this platform.
Key Features:
'Do-follow' links on DR50+ sites ensure you get the most out of your campaign.
Get placements in deep editorial pieces written by authority writers.
Battle-tested processes for generating the right type of links for your site.
Transparency and communication throughout all your campaigns.
Client-ready live reporting so you can track your progress at any time.
Pricing: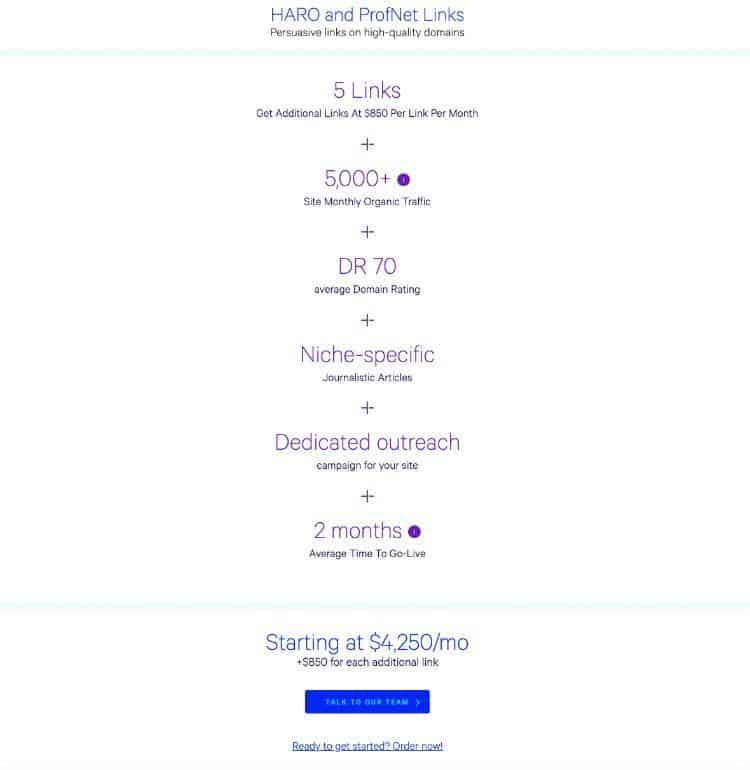 Loganix offers this plan:
5 Links
5,000+
DR 70
Niche-specific
Dedicated outreach
This package starts at $4,250/mo.
You can then pay an additional $850 for every required link after ordering the initial ones.
8. SEORTP.com.
Best For Sending Rapid HARO Responses.
SEORTP offers a team experienced in digital marketing and SEO to help with your link-building campaign.
With a rapid response process for link-building opportunities, and a focus on quality over quantity, SEORTP is an excellent choice for result-oriented business owners.
With HARO being a first come, first served platform, SEORTP's quick response team can ensure you get the most from this link-building opportunity.
In addition, their ghost writers come with many years of experience, so you can be sure that your link-building campaign is in good hands.
Offering a minimum of 5 backlinks per month from websites with a domain rating of 50 or more, you can be sure that your money is being well-spent on quality service.
Moreover, if you get links that end up being NoFollow, they will not charge you for those links.
Key Features:
Their DoFollow links can help build social proof for your website and provide high domain authority backlinks.
Builds brand recognition as well as provides direct traffic to your website.
Get high domain authority backlinks from websites with a DR of 50 or more.
Pricing:
You'll have to schedule a call with them to get pricing information.
What Are HARO Link Building Services?
A HARO link-building service is a company that will help get your website high-quality backlinks by sending out pitches to various publications through the Help a Reporter Out (HARO) platform.
Besides creating quality content on your site, getting high-quality links is one of the best ways to improve your website's ranking in search engines.
With link-building strategies involving HARO, you can get high-quality backlinks from authority websites without resorting to any black hat techniques.
In addition, building high authority backlinks through HARO is relatively simple.
All you need to do is sign up for a HARO account, wait for the emails to roll, and send out pitches to the appropriate journalists.
What Constitutes A High-Quality Backlink?
While the quality of backlinks depends mainly on who is linking to you, there are a few general characteristics that all high-quality backlinks share.
High-quality backlinks come from websites that are relevant to yours.
For example, if your website deals with cat supplies, then a high-quality backlink would come from a website whose topic revolves around pets or animals.
These links are more valuable than those found elsewhere, such as those made through random comments within forums.
High-quality backlinks typically have a higher click-through rate (CTR) than other links.
This means that people are more likely to click on the link and visit your website.
The right HARO link-building agency can optimize your link-building strategy by finding high-quality websites that follow the above criteria and sending out pitches that are more likely to be accepted.
What Makes Good HARO Pitches?
Various factors can contribute to a good HARO pitch, leading to the successful building of backlinks to your site.
First and foremost, your pitch should be relevant to the publication you're pitching to.
This means that you should take the time to read the publication's guidelines before sending a pitch.
In addition, your pitch should be clear and concise – avoid using jargon or marketing speak in your pitch.
Finally, you should make sure that your pitch is interesting and newsworthy.
This will increase the chances of your pitch being selected by the publication.
Domain Authority Vs. Domain Rating
Domain authority and domain rating are two terms thrown around a lot in the link-building world.
The term domain authority was coined by Moz, a company specializing in SEO tools and services.
Domain authority ranges from 1 to 100, with higher numbers indicating a more authoritative website.
In addition, there is the term domain rating, coined by Ahrefs, another company specializing in SEO software.
Domain rating is similar to domain authority in that it is also used to gauge the quality of a website.
However, domain rating ranges from 0 to 100, with higher numbers indicating a more authoritative website.
Higher quality HARO backlinks tend to come from websites with high domain authority or domain ratings.
That said, Google has its ways of determining the quality of a website, so these metrics should not be used as the sole criteria for judging the quality of a backlink.
Various Types Of Links
When it comes to link building, there are various types of links that you might encounter.
These are the most common types:
DoFollow links: Ideally, you want these high-quality backlinks to point back to your website. That said, Dofollow links are usually harder to get as part of a link-building strategy. Websites with high authority understand the value of such links and are more selective about who they link to.
NoFollow links: When you build links, some companies will add the 'NoFollow' tag to the link back to your website. This directive hints to Google that the link should not pass on any link juice from the website that created it to the destination website. This makes it less valuable from an SEO perspective. However, different SEOs have contrasting opinions about the effectiveness of such links. What's certain is that they are not as powerful as Do Follow links.
Sponsored links: These are paid links and are usually clearly marked. Similar to the above, they are not as powerful as Do Follow links.
UGC links: User-generated content, or UGC, is content created by users of a website or app. An example of this would be a comment on a blog post or a review on Amazon. Getting links from UGC can be difficult, but managing it can be valuable as part of a mixed link-building campaign.
Other Link-Building Strategies To Build Links
While HARO SEO link-building campaigns are usually considered some of the best types of links you can get, there are other ways of getting links.
These methods can be just as effective in building links as part of an overall strategy.
To earn quality backlinks, consider the following methods:
Creating great content: This is one of the methods you have the most control over. People will want to link to your website if you consistently create top-quality content over a long period of time.
Guest blogging: This involves writing blog posts for other websites in your industry. Guest blogging is a great way to get your name and work out there and can also be an excellent way to build relationships with other people in your industry.
Broken link building: This is a technique where you find websites with broken links and then contact the website owner to let them know about it. You can then offer a working link to your website (which has similar content) as a replacement.
Social media: Promoting your content on social media can help increase its reach and lead to people linking to it. While these types of links do not generally count for much from an SEO perspective, they can still be valuable in terms of traffic and building relationships with the right websites.
Should You Outsource Your Link Building?
While link-building strategies are critical to any good SEO strategy, they can be time-consuming and challenging to do well.
For that reason, many companies outsource their link building to an agency or freelancer.
From HARO requests to guest post outreach, this can save businesses a lot of time.
There are a few things to consider before you decide to outsource your link building.
First, consider your budget.
Link building can be expensive, especially if you are working with an agency.
Second, consider your skills and knowledge.
You may not need to outsource if you feel confident in your ability to build links.
However, outsourcing may be your best option if you feel like you need help.
Third, consider the time commitment.
Link building can be very time-consuming, so if you do not have the time to do it yourself, outsourcing this process can be something to consider.
With various tasks to potentially outsource as a blogger, it's generally a good idea to find the right people to build the best type of links for you and your blog.
By taking the time to understand what HARO can do, you can be sure to get the most out of your link-building strategy and improve your SEO – even if this process is done by someone else on your behalf.
HARO Link Building Services – FAQ
What Is The Importance Of The Anchor Text In A Link?
Anchor text is the portion of a hyperlink that displays visible text to users.
The anchor text is what users will click on to reach the linked page.
This visible text can be anything from a single word to a full sentence or phrase.
The anchor text is important because it gives users an idea of what the linked page is about.
It also helps search engines understand the context of the linked page.
When choosing anchor text, it is important to use keywords relevant to the target page to help improve the link's SEO value.
What Is Involved In The Typical HARO Process?
The typical HARO process involves responding to a query sent by a journalist to a specific question in which they are looking for an expert opinion.
Understanding how it works and the best ways to respond can take some time and effort, but it can be a great way to get your name and website in front of a large audience.
Getting a homepage link from a high authority site will aid your backlink profile when it comes to SEO.
What Are SaaS Services In Terms Of Link Building?
SaaS services can be a great way to outsource your link building.
These services can provide you with high quality links from a variety of sources, including guest posts, blog content, and more.
They can also help you save time by doing the research and outreach for you.
Does An Ecommerce Marketing Agency Benefit From HARO?
An ecommerce marketing agency can certainly benefit from HARO.
This is because they can use HARO to find potential guest post opportunities, build relationships with other businesses, and get their clients' products and services in front of a larger audience.
Would An In-House Link Building Team Benefit From HARO?
An in-house link building team can also benefit from HARO.
HARO outreach is always a great way to find new link building opportunities.
Wrap Up.
HARO link building campaigns are a great way to get high-quality backlinks to your website.
The services listed above are some of the best ones when it comes to HARO link building.
That said, all services will have their own strengths and weaknesses, so be sure to do your research before deciding on the platform to go with.
Further reading on AdamEnfroy.com: Blogging is one of the best ways to build a long-term, sustainable business.
Knowing how to start a blog and make money has changed over the years.
With various lessons I wish I had known before starting my own blog, learning what works (and what doesn't) will help you save time, money, and energy as you grow your blog.
Disclosure: I may receive affiliate compensation for some of the links below at no cost to you if you decide to purchase a paid plan. You can read our affiliate disclosure in our privacy policy. This site is not intending to provide financial advice. This is for entertainment only.