11 Best Document Management Software of 2023 (Reviews)
Choosing the right document management software is crucial if you want to know how to keep your business organized and running smoothly. From finding the correct document when needed to making sure everyone in your company has the right access, the best document management software can help you meet your goals. In this guide, I ranked and reviewed the 11 best document management software, along with my top 5 choices, so that you can pick the best one for you.
---
We're reader-supported. When you buy through links on our site, we may earn an affiliate commission.
Documents and files are an essential part of your business.
Whether you're running a large organization, a small business, or even doing a work from home job, chances are you're creating a lot of documents.
Once you create these documents, you need to keep them safe and organized to ensure your team and clients can access them easily.
To make things simpler, you can use document management software.
The need for these tools is increasing, with the global document management software market likely to reach $11.06 billion by 2028.
These tools are getting more and more popular – and for a good reason.
They help you keep files organized and secure to ensure seamless collaboration among all stakeholders.
They also make it simpler for you to upload, download, or just access files from any platform, device, or web browser.
Let's get started.
What Is The Best Document Management Software?
Here are my top picks for the best document management software to use this year.
Best for a complete document management solution.

Adam's Take
Dropbox is the best overall DMS for small businesses because it's user-friendly and comes with a slew of features, including document versioning, granular permissions, and integrations with various apps. I recommend it as a DMS solution.
Dropbox is one of the most popular all-in-one document management solutions available.
It allows digital asset management for both traditional and multimedia documents.
It also allows editing of the documents, and changes are visible in real-time to other users.
With new features like optical character recognition (OCR) to turn images into text and tons of third-party app integrations, you can't go wrong with Dropbox.
Key Features:
Account Transfer Tool – It allows you to securely transfer business files between multiple users in the event of shuffle or change of responsibilities.
Dropbox Showcase – Showcase all your works in professionally managed pages and track users engaging with your files.
Third-party App Integration – Dropbox offers robust integration with over 3,00,000 connected applications.
Live Support – Its live support offers robust service through email, chat, and phone calls.
Pros:
Offers 'remote wipe' feature to instantly clear your files from stolen devices and hacked accounts to keep the data safe
Allows you to monitor your team's activity through the admin dashboard
Provides temporary access through expirable links and disables downloads in links
Helps you recover deleted files by restoring the previous version of the file
Syncs across devices and platforms
Comes with a feature called 'team folder manager' to help you gain control and visibility over team folders
Offers a host of flexible storage plans
Cons:
Mobile version is not as user friendly as the desktop version
Uploads can be slow
Pricing
Dropbox's has two plans available with multiple sub-plans for each. The prices below are for its plans with yearly billing.
For its personal plans, Dropbox offers:
Plus: $9.99 per month
Family: $16.99 per month
For its business plans, Dropbox offers:
Professional: $16.58 per month
Standard: $12.50 per user per month
Advanced: $20 per user per month
Best for easy storage and management of documents.
Adam's Take
Zoho Docs helps you manage your documents and allows you to create and edit them on the go. With Zoho Docs, you can easily convert your Office documents into PDFs and share them with others in just a few clicks while collaborating with your team in real-time.
Zoho Docs is another popular document management software on this list.
It enables you to store and manage all your files on the cloud securely.
It also offers powerful collaboration tools, including group sharing and two-ways sync, to help you work with remote clients and employees efficiently.
Key Features:
Store Documents – It enables users to easily store large files, including videos, folders, and even complete databases.
Email In – Instantly send documents from your email or scanner to cloud storage without signing in.
Clean Organization – Easily create folders and subfolders for clean categorization of files based on project, function, and file types.
Two-way Sync – You can work either online or offline on your desktop – files get automatically updated once you are back online.
Pros:
Allows you to transfer a large number of folders without messing up the order
Creates auto-backup of files to prevent data loss
Allows you to upload files in bulk
Enables you to create a group to share files with multiple users at a time
Provides in-app chat to collaborate with different team members
Sets reminders and task to manage and delegate work among teams
Saves your files on different servers at multiple locations
It provides stringent security by encrypting files through an RSA based 2048-bit key built via Perfect Forward Secrecy (PFS)
Offers the audit trail feature to track edits done by other users
Allows you to personalize it as per your branding requirements
Offers a free version for up to 5 users
Cons:
The user interface looks basic and dated
The loading time of the application is slow
Pricing
Its paid plans start from $4 per month onwards. You also get a free trial before having to make a committment.
Best for searching within documents with ease.
Adam's Take
eFileCabinet is a top DMS that helps you scan and convert paper documents into PDFs, so you can store them on your computer or in the cloud and access them anytime, from anywhere.
eFileCabinet is another powerful document management system (DMS) that helps you scan and converts physical files into digital documents instantly.
It also allows you to send a single file in multiple formats with password-protected links and categorize and locate files easily.
Key Features:
Powerful Search – It enables a full-text search to search for any file located in any folder. It organizes, automatically recognizes, names, and stores all the documents using information present in the files.
Workflow Management – Easily review the snapshot of your document workflow. It also allows you to take a look at specific stages of the workflow.
In-built Templates – Leverage templates for folder structure that you want to keep throughout the system. You can also perform document creation with pre-defined names.
File Requests – Allow remote clients and employees to remotely upload files on the system through guest access by leveraging its File Request feature.
Pros:
Allows you to set governance of individual folders, cabinets, drawers of files
You can send an eSignature request to anyone for any document
Lets you keep a separate audit trail for signed documents to ensure compliance and safety
Provides a user-friendly desktop application
Imports emails and attachments in a pre-defined folder
Offers responsive tech support
Comes equipped with Android and iOS mobile applications
Enables you to upload documents directly from the camera
Leverage two-factor authentication and role-based permission for enhanced security
End-to-end encryption of file sharing and storage
Provides integration with third-party applications including Salesforce and Microsoft Office
Cons:
It could be more user friendly
Pricing
You are required to get in touch with Efilecabinet in order to get a quote for your business.
4. Digital Drawer.
Best for easily importing folders from your computer to their drive.
Adam's Take
If you're looking for a solution that can help with scanning and storing documents and keeping them secure, then Digital Drawer may be a good option for you. It can help you save time by automatically scanning and storing documents and offers additional security features that come in handy.
Digital Drawer is one of the preferred options of medium-size businesses in retail, manufacturing, and education, among others.
It's capable of document scanning and storing documents instantly and offers on-premise document storage for an added security layer.
If you are looking to scan photos specifically then check out my roundup post on the best photo scanning software.
Key Features:
Organization of Documents – Easily organize all your documents in a centralized location with a familiar Windows-based file/ folder structure. It also lets you store files in multiple file cabinets for easy segregation.
Flexible – Easily merge documents or add pages to the already existing documents. You can also re-label documents with different indexes.
Easy Import – Leverage drag and drop, copy and paste, and scan or import features to easily import files directly into the drive.
Security – It offers powerful security of all the documents through AES-128 bit Encryption. You can also leverage the audit trail to keep track of changes made to any document.
Pros:
Instantly customize file cabinets for specific business requirements
Leverage version control to gain access to older versions of the same file
With keyword and text search, you can easily find files stored in any folder on the drive
Allows you to print documents directly from the drive
Capture and import multiple documents at the same time
It syncs changes made to the files from any device
Easily collaborate with different stakeholders by reviewing the changes made to the file in real-time
Offers a free trial
Cons:
Offers limited features
Not suitable for large organizations
Pricing
You can either buy a single-user license of the software at a one-time cost of $1,200 or can go with its subscription plan of $500/year. There are also various licence available if you require more than one user to access the system.
5. FileHold.
Best for direct digital scanning.
Adam's Take
Want to organize your business's documents but not sure where to start? Check out FileHold, a solution that allows you to index and store all your documents in one place. With features to go through your documents and scan them for easy storage, you can ensure that all your documents will be accounted for and easy to find when you need them.
FileHold is an enterprise document management solution (DMS) that is affordable and easy to install.
You can easily scan, store, and index documents through the software.
To ensure absolute security, you can also install the software on your local server.
Key Features:
e-Forms – Easily extract metadata information from electronic forms by leveraging standard Microsoft Word tools present in Office or PDF forms.
Courier – It's a secure method of sending documents that also sends proof of delivery. It also notifies the recipients through emails with a link to the document.
File Management – It enables you to become more efficient by differentiating your daily tasks and making file management an effective process.
Scanning and Imaging – Go paperless by directly scanning and imaging the documents to send to different users across the globe.
Pros:
Offers multiple browser support
Comes with a capable smartphone software for easy management of all the documents
It comes equipped with Google-like advanced search that leverages the metadata of the document to help you find relevant results
You can integrate it efficiently with Microsoft Office to enable direct access to tools like Outlook, Word, PowerPoint, Excel, and Visio
Easily manage both latest and archive documents through advanced disposition and retention policies
Leverage check-in/checkout ability to avoid overwriting while you're working on a particular document
Create virtual folders to achieve infinite aggregation of files
Allows you to work on the documents offline, and all the changes will get saved once you are back online
Offers enterprise content management systems (ECM) and archiving
Cons:
If you're a beginner, you might find it a bit challenging to understand its functionalities
The user interface is not user friendly
Pricing
You can sign up for a free trial or watch a free webinar in order to learn more about the pricing structure of FileHold.
6. Document Locator.
Best for creating workflows that save time and effort.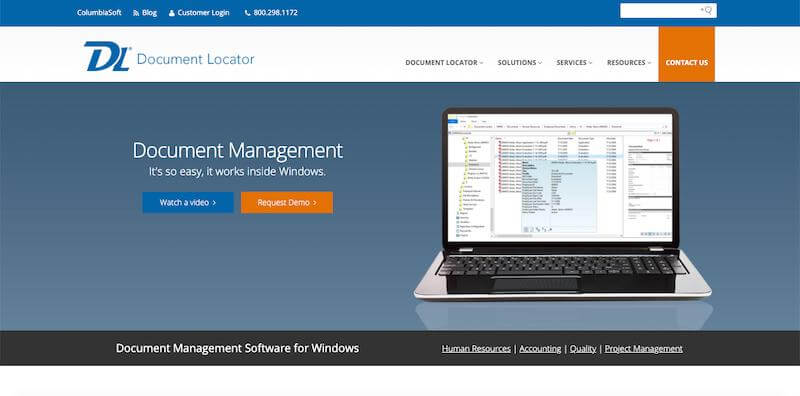 Document Locator offers powerful integration with Windows and an efficient cloud hosting for convenient file management.
Some of its most impressive features include version control, paperless scanning, document control software, email management, and more.
Key Features:
Scanning – Document Locator allows you to convert paper docs into fully searchable files easily. You can also perform document capture and understand important facts about the document as file metadata.
Automated Workflows – It offers a variety of workflow features, including time-out, role-based processes, quality control points, and customizable notification templates, among others.
Search Options – You can search files through multiple capabilities, including quick search, power search, advanced search, or My DL search.
Document Approval – Easily capture electronic document approval to ensure transparency and compliance. It also supports both single approver steps and complex multiple approver steps.
Pros:
Allows you to capture the metadata of scanned files from zones, cover sheets, barcodes, or select individually on the screen by using the preview in the Document Pro
Offers support across browsers, mobile devices, and platforms
Enhances process flexibility through delegation options
You can automate document-centric operations to avoid repeatability and enhance the efficiency of the operation
Review a defined sample of workflow for better quality control
Enables you to track the status of the document's review and the steps of approval
Automatic reminders and notifications fasten the approval process of documents
Cons:
The user interface is a little sloppy
Offers training only offered a few times a year
Pricing
You can request a demo to learn more about Document Loctaor and what it can do for your business.
7. HighTail.
Best for on-to-go previews of your documents.
HighTail enables document management more user-friendly and intuitive.
Moreover, it allows creative professionals to easily share large files, including video, artwork, design, photography, and presentation files, among others.
Key Features:
High-Resolution Preview – You can preview or stream large files without downloading them.
Real-Time Conversation – Individuals or teams can receive real-time emails, project updates, and comments.
Freehand Annotations – Allows you to proofread the files by drawing a box, arrow, line, or freehand shape to markup the multimedia files.
Version Comparison – You can leverage side-by-side version comparison of the files on the same screen to gauge the changes and easily give feedback.
Pros:
Allows users to give clearer feedback through a direct comment on the file, resulting in fewer results and a better end product
Streamlines and consolidates the creative process to reduce time-to-market
Once you share documents, recipients don't need an account for access controls
Comes with 256-bit AES encryption, along with enterprise-grade security offerings to deliver stringent security across the system
Provides 'send tracker' feature to find out when files get delivered and downloaded
View multiple files at once through visual folders
Offers a free version for individuals
Cons:
Shared links expire too quickly
The search feature is not user friendly
Pricing
Its premium plans start at $12 per month and go up to $36 per month.
8. Evernote Business.
Best for enhanced productivity through note-taking and screenshots.
Evernote Business is, without a doubt, one of the most popular tools for file management.
It helps you create and share notes and files easily to create a smarter and more productive workplace.
All its features focus primarily on enhancing the productivity of the business.
Key Features:
Enhance Productivity – Teams can efficiently collect, categorize, and share ideas to enhance productivity.
Web Clipper – Instantly store website screenshots in your EverNote account. You can easily save all the useful information online and find them clipped whenever you need them.
In-built Templates – You can leverage Evernote's in-built templates to save time and effort while meeting specific needs. The easy-to-install templates are highly customizable, and you can even use them infinite times.
Extensive Integration – It offers extensive integration with third-party apps like Gmail, Outlook, Salesforce, Google Drive, and Slack, among others.
Pros:
Allows cropping of screenshots to capture the information you need
Offers multiple keyboard shortcuts to enhance your efficiency
Allows you to edit files and accounts in real-time
It also allows you to search handwritten notes, whiteboard pictures, and scanned images
It's capable of identifying 11 handwritten and 28 typewritten languages
Evernote for Business also supports Penultimate for iPad
Enables you to manage documents by scanning the physical version and keeping them as secured files
Cons:
Organization of items is not error-free
Syncing of larger files is a tad slow
Pricing
The paid plans start from $7.99 per month, per user.
9. Smartsheet.
Best for combining project management with document management.

Smartsheet is one of the preferred choices of enterprises to achieve smooth project management, file sharing, and collaboration.
One of its primary features is that it offers extensive integration with third-party apps, including Google Apps, Box, Salesforce, Dropbox, Zapier, and more.
Key Features:
Preset Templates – It offers preset templates to help you define workflows and business processes in a much easier manner.
Content Collaboration – Easily oversee the progress of production from your sheet, assigns tasks, leverage automated reminders, allow other users to review content, and give detailed feedback through pinned annotations.
Highly Secure – Smartsheets leverages multi-site data redundancy, hosting at Equinix, and AWS facilities to make sure that your documents are secure.
Automation – You can automate repetitive processes by requesting approvals or sending alerts and updates.
Pros:
Allows you to combine conditional paths and multiple actions to automate your workflows easily
Enables efficient collaboration by updating the data in real-time across different applications
Easily replace or merge data from Excel spreadsheets, CSV files, and Google Sheets into Smartsheet
Provides easy-to-use drag-and-drop UI to customize your dashboard
Provides real-time access on your smartphone through mobile apps for iOS and Android
Allows third party users to review files and documents
Cons:
You need to put a lot of effort into learning its long list of features
Pricing
The standard pricing starts at $7 per month for the Pro version. The business version starts at $25 per user per month and requires a minimum of 3 team members. For enterprise plans with more advanced features, you have to get in touch with the vendor.
10. Onehub.
Best for top-notch security of your documents.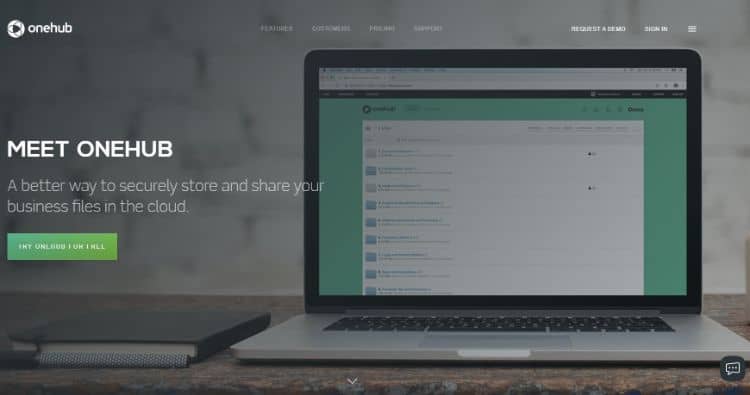 Onehub is another powerful document management software on this list. It offers easy upload of files with its drag-and-drop functionality.
Moreover, it allows users to control versions, organize files in subfolders, and share securely.
Key Features:
Upload Files Easily – Instantly upload files through drag and drop feature. It also allows automatic versioning of files, folder-based organization, and secure FTP gateway for bulk uploads.
Customization – Easily customize pages, logo, and color themes of the application as per your branding needs. You can also add a custom domain and white labeling to your account.
Security Features – It leverages a plethora of security features, including role-based permissions, session timeouts, audit trails, and two-factor authentication to help keep your data secure.
Preview – Easily view the preview of files and documents without downloading them on a browser or mobile device.
Pros:
Allows you to contact the collaborator to approve or review your files
Offers smooth integration with Google Drive and OneDrive
Allows you to messages to communicate with every member of the team
Track activity to know who is posting what and when
Post comments on folders to easily share feedback
Leverage audit trails to instantly revoke access whenever you see something fishy
Easily enforce complex password policy
Cons:
The user interface looks a bit dated
You can't create subgroups of users
Pricing
Its paid plans start from $12.50 per month and go up to $500 per month. There is also a 14 day free trial for all of its plans.
11. InfoRouter.
Best for tracking documents in real-time.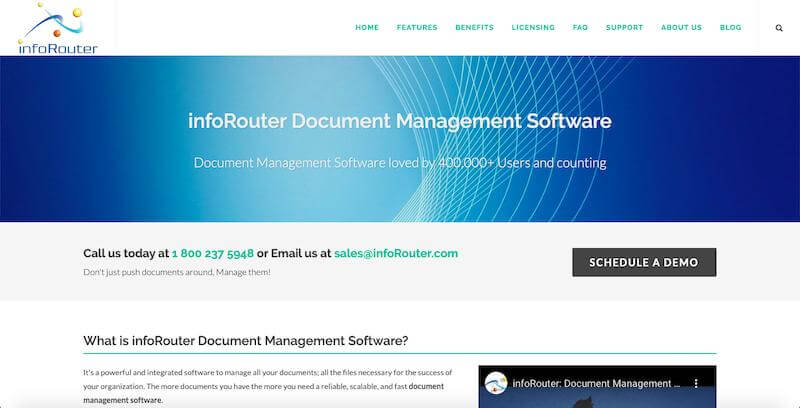 InfoRouter is another document management tool that can help you manage all your documents easily.
However, you have to install it through the server-side with no client's side components.
The good news is that it's highly scalable and can leverage up to 100 servers to share the workload.
Key Features:
Records Management – Securely manage business-critical records by sending documents to pre-defined workflows and tracking their status in real-time.
Reporting – Get a consolidated report of events happening on a daily basis.
Multi-Language – It offers multi-language support that you can leverage for email notifications.
Hot Folders – It automatically imports the data of monitored folders in pre-defined infoRouter folders.
Pros:
Allows you to convert images into PDF files
You can create an unlimited number of folders
Allows the creation of multiple root folders
Supports both HTTPS and SSL
Allows you to customize email and text templates
Supports classification history and classified documents
Cons:
Uploading of large files is a bit slow
The user interface is complex
Pricing
Its pricing is available on a request basis.
Other tools not mentioned in this list include Docuware, M-Files, and SharePoint.
What Is Document Management Software?
With businesses moving online, document management software is garnering a lot of attention lately.
Quite simply, they are computer software used to organize, index, store, manage, and track documents in digital format.
Moreover, many document management systems help you convert documents into digital formats with the help of scanners pretty easily.
Dealing with a massive amount of data is quite challenging, especially when the document is in its physical form.
In fact, a lot of business productivity is lost simply on overcoming documentation challenges.
Once converted into electronic formats, it gets easier to navigate through documents.
Ultimately, you spend less time searching for them and can concentrate more on mining information.
Implementing a document management system doesn't have to be complicated.
While there are organizations that can benefit from advanced features such as having an API system coded or even routing documents through specific locations (for more advanced security or for ISO purposes), companies can easily start using a document management system within a few hours based on their specific needs.
How Do You Use Document Management Software??
Document management tools are pretty easy to use.
Most of the steps overlap, whichever software you use.
Let's look at the practical steps with the help of Evernote Business.
Visit the website and create your account and fill in the necessary details if it's a business account.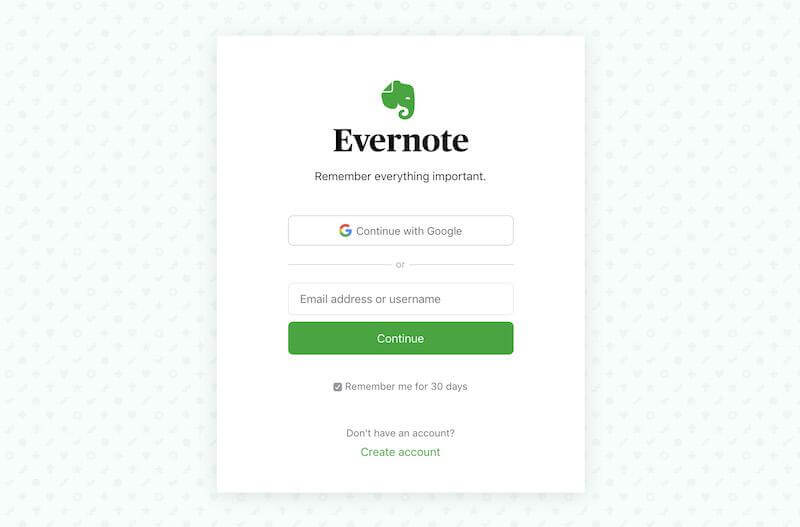 You can log-in and start creating content right away.
Evernote is compatible with a variety of documents, including photos, spreadsheets, articles, timelines, and notes.
Most document software tools allow these documents as well.
Next, you can start adding users to your business account.
Simply click on the left-hand side icon that says, 'Add Users.' You can send them invites via email and ask them to join.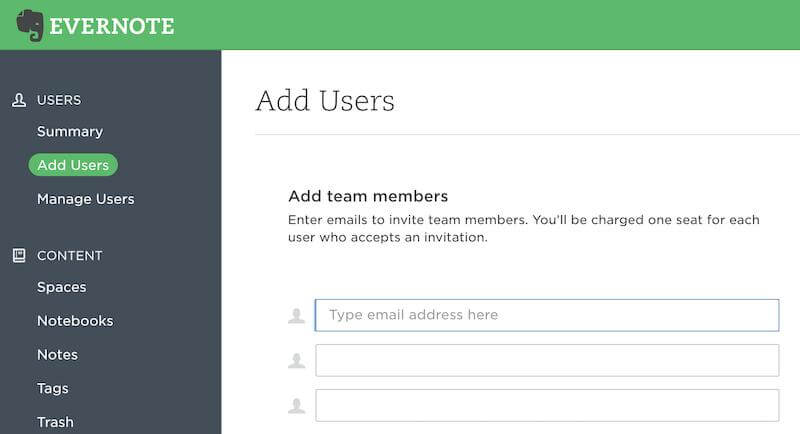 Once you add a user, they'll be able to view the central repository for data and information. Here, it's called the Space Directory. They will be able to access documents and make edits and changes in the repository.
Evernote also allows you to make notes, set up work chats, create shortcuts and tags, scan documents, and collaborate in real-time with your colleagues.
What Should You Look For in an effective Document Management System?
While your choices and preferences will vary according to your needs and business documents, here are some of the basic features you'll always need:
1. Archives.
The software should allow you to archive your documents in a central repository, for ready access and immediate retrieval of information – for example, Zoho Docs.
2. Extensive Integration.
The document management software should provide easy and extensive integration with third-party applications like Gmail, Outlook, Salesforce, Google Drive, and more.
It helps in the seamless interchange of documents. Evernote Business is a great example.
3. Bulk Uploading.
Business scenarios involve numerous documents. It's difficult as well as time-consuming to upload them one by one.
Therefore, you should choose a document management tool that allows bulk uploading of documents.
4. Document Security.
Businesses use document management tools to handle and store sensitive and classified documents.
The compromise of such data usually has far-reaching consequences on businesses and might even threaten their existence.
That's why it's necessary to choose a document management tool like Digital Drawer to ensure powerful data security.
5. High-Resolution Previews.
When you use a document management tool, you shouldn't have to download a document every time you want to view it. The software should allow high-resolution previews whenever you want.
It isn't a holistic list of features. There are plenty of other essential attributes that users look for, including a wide range of templates, real-time chats, level of automation allowed, records management feature, and more.
Executive Summary.
These were some of the best document management software available.
With this digital transformation, long gone are the days of paper documents. Cloud storage is clearly the best option.
However, all these tools have different sets of capabilities and USPs.
Therefore it's no right to declare a clear winner – your selection should solely depend on your requirements and budget.
For instance, if you're looking for a free/affordable yet reliable solution, then EverNote Business could be an excellent choice.
However, if you have the budget and require an enterprise solution with more advanced features, then you might want to go with Smartsheet.
Review different tools and their features carefully before making your final decision.
Are there any document management tools that you like to use? Let me know in the comments.
Further Reading on AdamEnfroy.com: For more business software reviews, check out my guides to the best scheduling apps, the top project management software and the best presentation tools to try this year.
Disclosure: I may receive affiliate compensation for some of the links below at no cost to you if you decide to purchase a paid plan. You can read our affiliate disclosure in our privacy policy. This site is not intending to provide financial advice. This is for entertainment only.