Jasper vs. Copy AI: Which One is Best for You?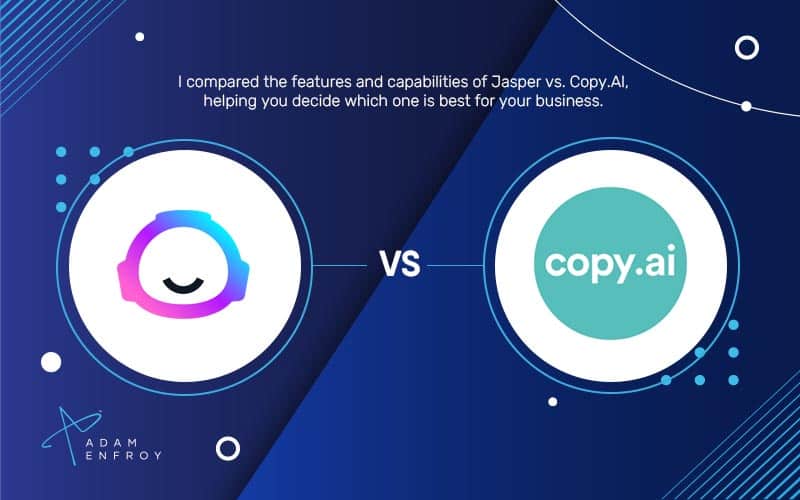 Whether you're looking for AI writing software to create blog posts or copywriting tools to help you sell and market your products, finding the right platform can be challenging.
Jasper and Copy AI are AI tools offering a range of features that can be extremely helpful for content marketers, but they also have unique strengths and weaknesses.
In this comparison article, I dive deep into the features and capabilities of both Jasper and Copy AI to help you decide which one is the best fit for your business.
Let's get right into it.
Behind The Scenes Of Jasper AI And Copy AI
Knowing how the tools work is critical to understanding how they can help you in your content marketing strategy.
Jasper is an AI-powered content marketing tool that helps you create better content faster.
It uses GPT-3 to generate content ideas, optimize headlines, and improve writing.
Copy AI is another tool that uses AI to help you with your copywriting.
With a focus on short-form writing, Copy AI can help you create social media posts, improve your writing style, and develop new ideas for your business.
The Differences Between Copy AI and Jasper AI
Jasper's boss mode is one of the things that sets it apart from Copy AI.
With this feature, you have complete control over the content Jasper creates.
For example, you can give Jasper a topic using plain English, asking the tool to generate an outline with subheadings and bullet points.
You can then use this outline to write your article or blog post quickly and easily.
In addition, Jasper has more features than CopyAI.
The second AI writing tool focuses on copywriting-based tasks, helping you with elements such as your website copy, digital ad copy, product descriptions, etc.
Let's now dive deeper into each tool and what it can do.
What is Jasper And Who Is It For?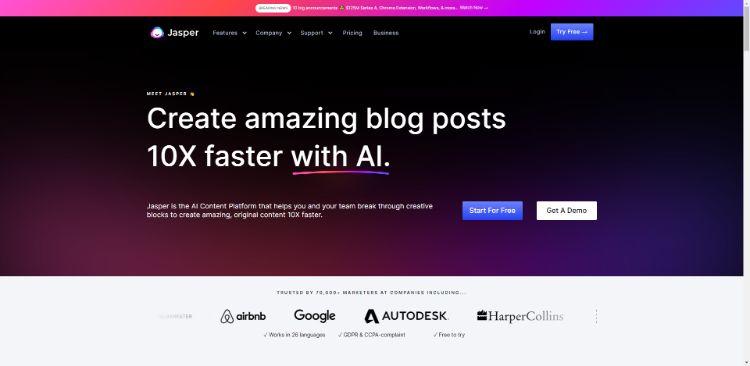 Jasper is an AI-powered content marketing tool that helps you create better content faster.
Jasper is perfect for businesses of all sizes that want to create high-quality content quickly and easily.
From solo freelancer who wants to improve their blog writing to an enterprise that needs to create lots of content for their website, Jasper can help you get the job done faster and more efficiently.
Each entrepreneur can benefit from using this software in their content marketing strategy.
Jasper is also great for businesses that want to improve their SEO.
The platform can help you optimize your headlines and content for better search engine visibility.
You can get more traffic to your website, leading to more sales and conversions.
Agencies can also benefit from using Jasper.

The various templates allow content to be transformed from one format to another without issues.
For those multiple managing clients, this means having the ability to create different content for clients without any problems quickly.
The platform can help you with everything from brainstorming ideas to optimizing headlines and writing better content.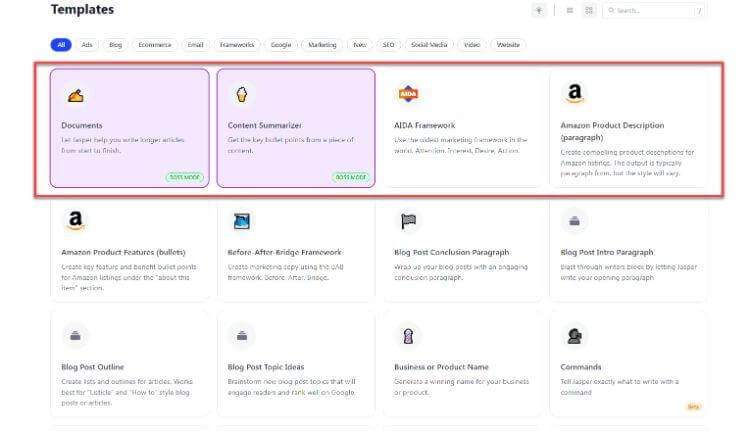 Get started with Jasper.
Features Of Jasper
Here are some of the key features that make Jasper stand out.
Boss mode plan: Creating long-form content can be time-consuming. With Jasper's boss mode, you can have content created on any topic under the sun. Having been trained on as much as 10% of the internet, the software can generate content on various topics.
Jasper Chat: Interact with Jasper AI in a natural dialogue with easy to learn interface for generating content fast.
Plagiarism checker: Want to ensure that your content is unique? The plagiarism checker will help you do just that.
Ad copy creation: From marketing copy that sells products and services to ecommerce product descriptions, Jasper can help you write better ad copy quickly and easily.
Short-form content templates: When it comes to content generation, templates such as the rephrase, explain it to a child, and the commands template are some of the best ways to create short-form content.
Grammarly integration: To ensure your content is mistake-free, you can integrate Grammarly with Jasper. Your content will be checked for grammar errors before publication.
Social media post creation: From LinkedIn posts to Facebook ads, Jasper can help you create better social media content quickly and easily.
PAS framework: The PAS framework is a great way to create content that is both persuasive and interesting. This framework can be used for content, including blog posts, social media posts, and even sales letters. You must only fill in the blanks with the relevant information to operate the PAS framework.
AIDA Framework: The AIDA framework is another excellent way to create informative and exciting content. Following a customer's attention, interest, desire, and action lifecycle, this framework can produce content that speaks to each journey stage.
Surfer SEO Integration: Jasper integrates with Surfer SEO, a great way to improve your content's search engine optimization. With this integration, you can get insights into what keywords to use in your content and how to optimize your headlines for better visibility.
Real-estate listing: If you're in the real estate business, you know how important it is to have good listings. With Jasper, you can quickly and easily create great-looking listings, helping you to sell more properties.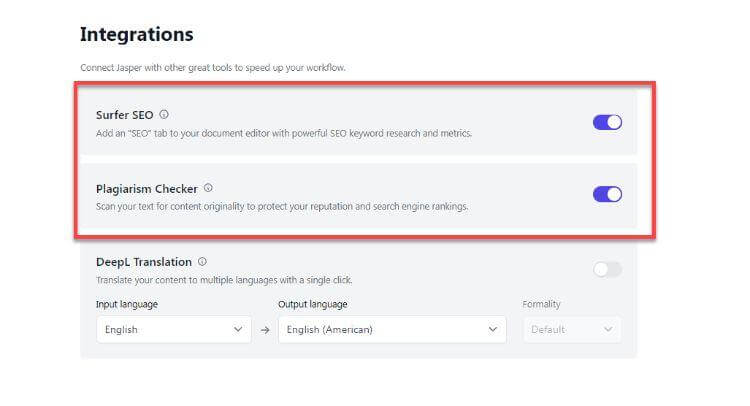 Jasper Art
Another feature that sets Jasper apart is the Art feature.
With this feature, you can turn any text input into a piece of art, and create social media images, blog post images, email headers, and more.
Get started with Jasper Art.
The Learning Curve With Jasper
While you can use the majority of the templates from the get-go, long-form content creation may take some time to get used to.
That said, a ton of training is included, and an extensive community (70,000+ members) on the official Facebook group can help with any issues you face.
If you understand that, like any other skill, creating great content takes time and practice, you'll be fine.
What Is Copy AI And Who Is It For?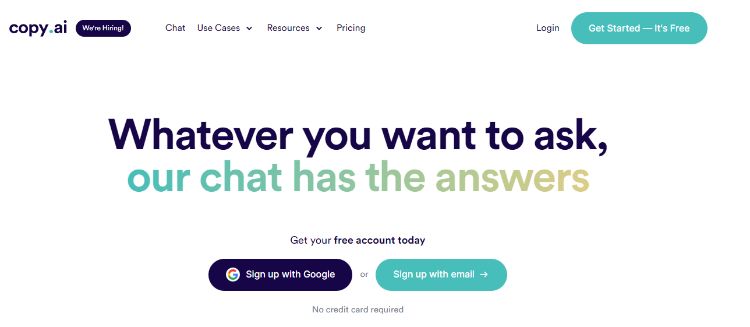 Copy AI uses artificial intelligence to help remove writer's block and create better-generated content.
Whether your workflow is about creating marketing copy that involves Facebook headlines, adding emojis to text to make it more engaging, having Tik Tok brainstorming ideas, or generating Instagram captions, Copy AI can help.
The types of users that can benefit from Copy AI are similar to Jasper in that it's great for content creators, social media managers, real estate agents, and more.
However, if you want to focus your content on longer-form writing, Copy AI may not be the best tool.
Get started with Copy AI.
Features Of Copy AI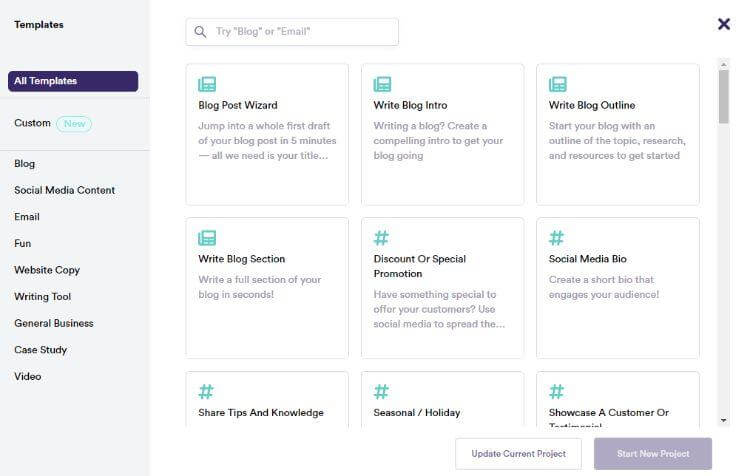 Here are some of the features that Copy AI offers:
Adjective Accelerator: This is one of the interesting AI writing tools feature one can play around with. It shows you a list of adjectives you can use to make your copy more engaging.
Analogy Generator: Online content can often be repetitive and boring. To combat this, Copy.AI has an analogy generator that can help you create more exciting and unique ways of explaining stuff.
Bullet Point to Blog Section: Removing writer's block and starting to write with just a bulleted list can be difficult. However, the tool helps you do just that by converting a list into blog content.
Bullet Point to Paragraph: With this feature of the writing assistant, you can create an intro, main paragraph, or conclusion for any article you're making.
Keyword Generator: Copy.AI can generate a list of keywords for your content as an SEO tool. This way, you can create SEO-optimized posts that will help you rank higher in search engines.
Launch Your Product: From beginners to more advanced entrepreneurs that want to launch a product, Copy.AI can help them create a landing page filled with sales copy that converts.
Relatable Experiences: Content writing is often about personal experiences. With Copy.AI's relatable experiences feature, you can easily insert relevant experiences into your content to make it more relatable to your readers.
Ad Copy Variants: Split testing different versions of landing pages is often about testing headline variations. With Copy.AI's ad copy variants feature, you can easily create multiple headlines and descriptions to test out.
Facebook Headlines: The right digital ad copy is essential for any business and its advertising goals. With Copy.AI's Facebook headline generator, you can create attention-grabbing headlines that will make people want to click on your ad.
Facebook Link Descriptions: Besides the headline, using the right words in your description can be the difference between someone clicking on your link and not. With Copy.AI's Facebook link description generator, you can easily find the right words to use.
Social media captions: Coming up with clever and attention-grabbing social media captions is not always easy. Copy.AI's social media caption generator makes this a piece of cake.
YouTube video descriptions: YouTube is an excellent platform for businesses to market their products or services. Copy.AI's Youtube video description generator lets you easily create descriptions to help your videos get clicked.
Email subject lines: If your email subject lines are unattractive, people will likely delete them without reading them. With Copy.AI's email subject line generator, you can easily create attention-grabbing subject lines that will make people want to open your email.
Google Ads: Effective Google Ads grab one's attention and force one to pay attention. With Copy.AI's Google Ads generator, you can easily create ads that do just that.
Next Product: For small business owners who want to come up with ideas for creating the following product in a sequence, Copy.AI can help you develop the various specifications.
Startup Ideas: Machine learning can also be used to generate startup ideas. Copy.AI's startup ideas generator lets you quickly develop new and exciting business ideas.
Viral Ideas: Content writers often need to come up with ideas that are shareable and have the potential to go viral. This specific template will help you do just that.
The number of workflows and use cases you can complete with Copy.AI is impressive compared to other AI copywriting software.
Copy.AI Integrations
Integrations is one area where Copy.ai needs to improve compared to Jasper.
There's little on offer when it comes to integrations.
You must manually copy and paste your content into other AI software to complete the task.
Jasper vs. Copy AI: Pricing
Jasper offers these pricing plans: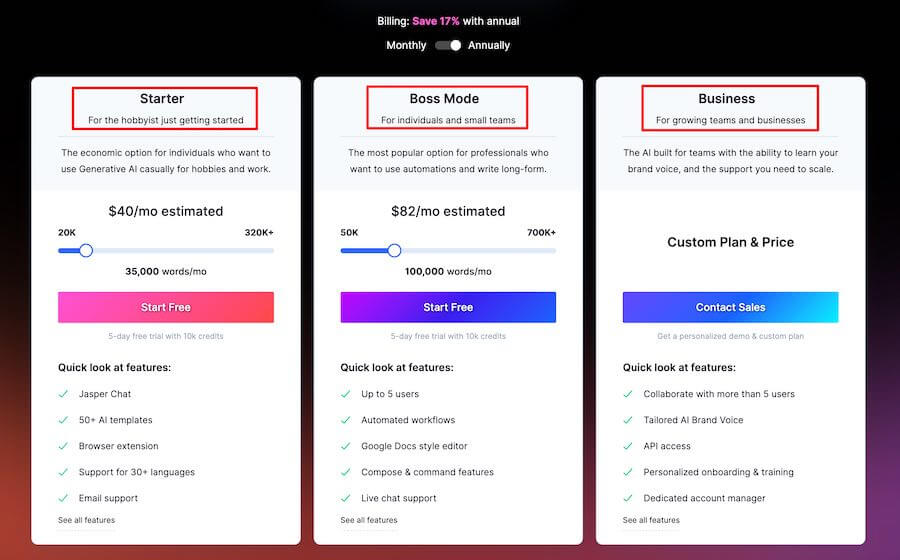 Starter Plan: $40 per month
Boss Mode: $82 per month
Business: Custom plans are available
Jasper will charge your account based on the number of words you generate.
Jasper doesn't offer a free trial, but it does offer a five-day money-back guarantee.
On the other hand, Copy AI pricing is as follows: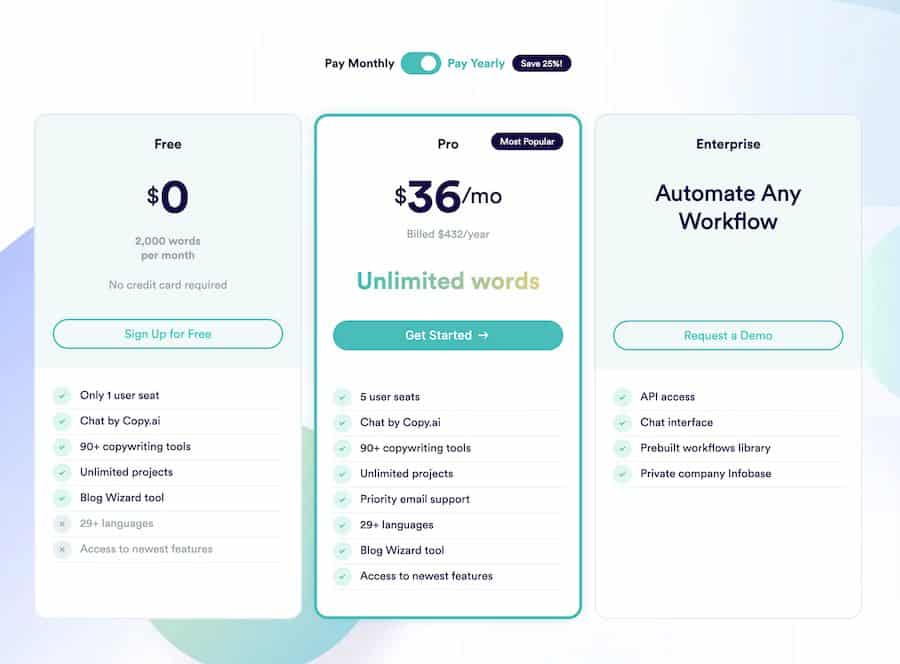 Free Plan: $0.
Pro Plan: $36 per month.
Enterprise: Contact Copy AI for more information.
The free version gives you 2000 words per month.
You can keep using this free version forever.
The pro version starts at 40,000 words per month.
You will then be billed more if you go over your limit.
You can contact Copy AI for a custom plan if you need more than 300 000 words per month.
The Human Aspect When Using AI Content Generator Tools
While both tools can benefit the person using them, do not forget that the human element is still critical to content creation.
Even the best AI tools cannot replace the creativity and uniqueness that comes from actually writing your material.
Ultimately, it will depend on what you need for your project and which tool best fits those requirements.
Jasper might be better for someone looking to generate many articles quickly but may lack quality.
At the same time, Copy AI might be a better option for someone who needs high-quality content but does not have the time or resources to create them manually.
Although both tools offer significant advantages when creating content, they can only supplement the creative process.
If you will use either of these tools, make sure you also spend some time reviewing and editing the content to ensure it fits your needs.
After all, no matter how good a tool might be, the human touch is always necessary.
Jasper vs. Copy AI – FAQ
Which Tool Creates The Best SEO-Optimized Content For Bloggers?
The answer depends on what you want in AI writing software.
Copy AI is the better option if you want something that is easy to use and produces short-form quality content.
However, if you are looking for more features and options while also going for longer-form content, Jasper AI is the better tool.
What Is Conversion.AI?
Jasper used to be called Conversion.ai.
It was also called Jarvis AI at one point.
However, the team changed the tool's name to Jasper in 2022.
How Important Is Ease Of Use In Content Creation Tools?
Ease of use is a significant factor.
It's good to note that content creation tools can vary regarding this feature.
Some are designed for people who are not tech-savvy, while others require more of a learning curve.
It all depends on your needs and preferences.
What Are The Most Important Features When Choosing A Content Creation Tool?
Some of the essential features to consider when choosing a content creation tool include the following:
The type of content you can create (short-form, long-form, etc.)
The level of customization and control you have over your content
The ease of use
The price
Integration with third-party tools like Google Docs, WordPress, etc.
Customer support
What Is The Best Content Creation Tool For Creating Video Scripts?
This is a difficult question because it depends on your specific needs.
Both Jasper and Copy.ai have video script creation capabilities.
Copy.ai offers templates that you can use to create video scripts.
Jasper offers the same features and the ability to give specific commands to the tool as if you were speaking to a human assistant.
Ultimately, it depends on what you are looking for and what suits your needs best.
Wrap Up.
When comparing Jasper AI vs. Copy AI, their AI-generated content is on par with each other regarding quality.
However, Jasper offers more features regarding its AI writing tool, making it ideal for longer blog posts.
Get started with Jasper.
Copy AI is better suited for creating shorter content, such as social media posts or articles.
Get started with Copy AI.
Awareness of your writing process dictates how your usage of AI tools will go, so be sure to analyze that before making a decision.
Thus, you can use all the features to your advantage.
Further reading on AdamEnfroy.com: Want more information on Jasper and its various features?
Check out my in-depth Jasper review.
You can also check out this Jasper vs. Writesonic review to directly compare two of the most in-demand AI tools.
By learning about what you can do with such a tool, you can start your blog and monetize it successfully, helping you make the most of affiliate marketing programs to earn the desired income.
Editorial Process:
Our reviews are made by a team of experts before being written and come from real-world experience. Read our editorial process here.
Some of the links in this article may be affiliate links, which can provide compensation to us at no cost to you if you decide to purchase a paid plan. These are products we've personally used and stand behind. This site is not intended to provide financial advice. You can read our affiliate disclosure in our privacy policy.
---
Last Updated on April 10, 2023 by Adam Enfroy