Jasper AI vs. Writesonic: Which is Best? (2023)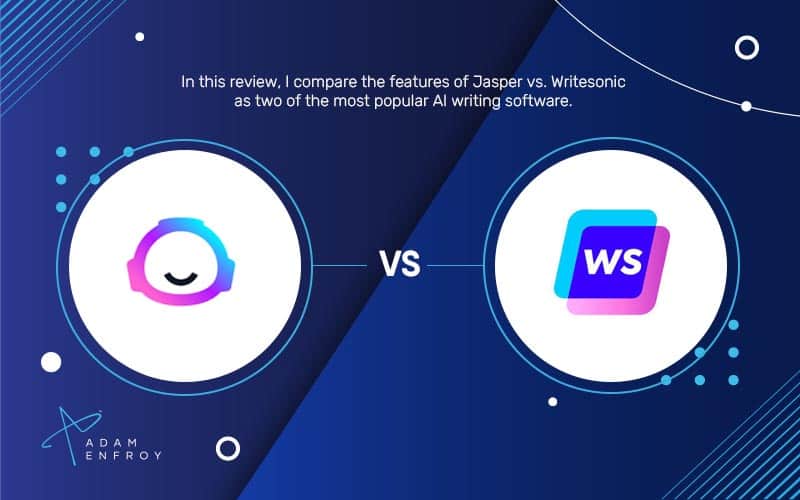 Imagine an army of young robots, busy writing away at their desks.
They don't need coffee breaks or holidays.
They can work around the clock, producing near-perfectly written articles, reports, and even novels.
Such an image often comes into my head as I see words magically appear on my computer screen through such AI writing software.
Jasper and Writesonic are two of the leading companies in this field, and in this article, I'm going to pit them against each other to see which is better.
What is Jasper AI?
Jasper AI is one of the AI market's most famous artificial intelligence writing software.
Formerly known as Jarvis and Conversion.ai, the team behind Jasper has built a solution they fully stand behind, recently raising $125M at a $1.5B valuation.
With its ability to generate outlines, do research, write entire articles, and much more, Jasper is a powerful tool for any writer looking to increase their productivity.
What is Writesonic?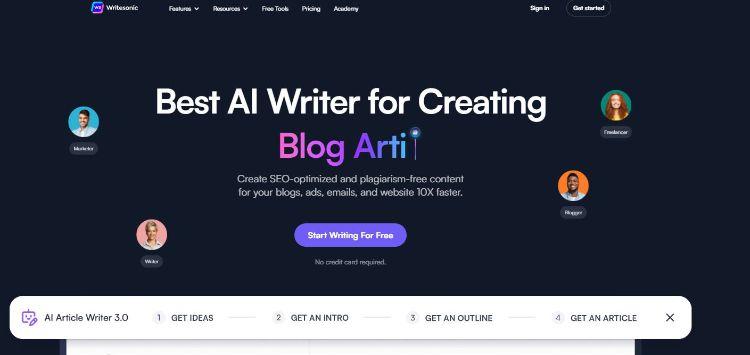 Another AI writing assistant that's gaining popularity is Writesonic.
With the ability to generate content that ranges from specific copywriting excerpts to one-shot blog posts, Writesonic is a versatile tool for any writer.
Apart from its content generation capabilities, Writesonic offers several features that make it an excellent choice for writers looking to increase their productivity.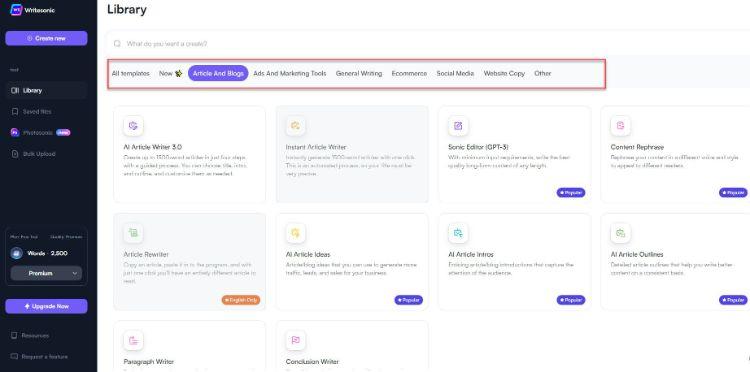 Check out this Writesonic review for more information on its offer.
The Technology Behind Both Products
GPT-3 is the driving force behind both Jasper and Writesonic.
Providing users with the ability to generate high-quality content, GPT-3 is revolutionizing the way writers work.
By helping eliminate writer's block and increase one's productivity, GPT-3 is quickly becoming the standard for artificial intelligence writing software.
In addition, this technology is constantly evolving, which could mean that Jasper and Writesonic will only improve with time – especially since GPT-4 came out.
Software Features
Let's now consider Writesonic vs. Jasper regarding their functionality for content creators.
Regarding content creation, AI writing tools need to generate high-quality content quickly and efficiently.
The most important aspects to consider for content writing include grammar, style, and plagiarism.
Both of these tools cater to these features – and more.
These tools also offer SEO options that can help you optimize your content for better search engine ranking.
Here are all the features you should take into account.
Content Rephrasing
An AI article writer should be able to rephrase content quickly and easily.
While keeping relevant keywords in place and improving grammar, the tool of choice should produce new versions of existing content at the same (or better) quality.
In this Jasper vs. Writesonic battle, both these tools offer content rephrasing capabilities.
Writesonic calls its tool a paraphrasing tool, while Jasper calls it "Rephrase."
Both of these do an excellent job generating new versions of existing content.
AI Image Generator
Another battle regarding the AI art generators in the Jasper vs. Writesonic showdown occurs.
Writesonic offers Photosonic, an AI-based text-to-image generator that can rapidly create stunning visuals for your articles.
AI image generator allows users to create professional-quality images at the click of a button, offered as part of its paid plan (and therefore costing users credits per image generation).
Jasper also offers its Jasper Art platform, allowing users to generate professional-quality images accompanying their content.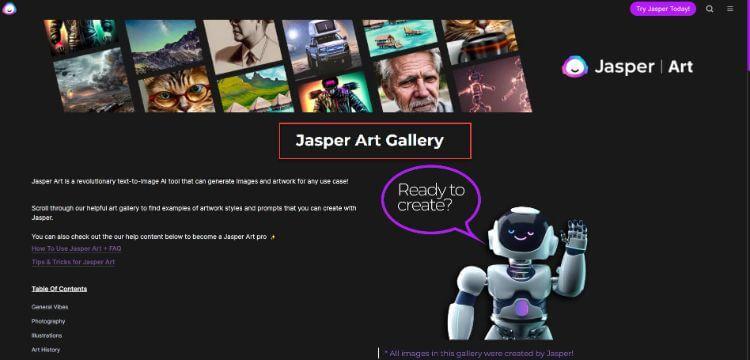 Currently, Jasper offers this as a separate plan from its primary AI writing tool.
Long-Form Articles
Long-form content is the bread and butter that interests most content writers.
Jasper can generate long-form content on command, with articles potentially reaching thousands of words in minutes.
Regarding Writesonic and its ability to create long-form blog posts, it is no slouch either.
With its instant article writer, content generation speed is one of the top features.
Copywriting
While bloggers don't necessarily create or optimize website copy, it never hurts to have AI copywriting tools that can help.
These two tools offer a wide range of copywriting features that include:
The ability to use AI copywriting tools and templates to create digital ads
Creating advertisements for Facebook Ads and Google Ads
Making highly-optimized eCommerce copy for landing pages
And much more.
These AI copywriting software tools are generally found as templates (more on this in the next section), each having a specific use and purpose.
For example, users can use the AIDA template for creating effective ads, while the PAS template helps create high-converting eCommerce landing pages.
Templates
From SEO-based templates to specific product descriptions for ecommerce listings and those producing social media hashtags and posts, both Jasper and Wrietsonic utilize templates to create content.
While various templates allow you to create content that people consider pretty run-of-the-mill stuff (such as generating a content outline, coming up with meta descriptions, and more), other templates are more particular in their use cases.
For example, the "explain it to a child" tool within Jasper and the "analogy maker" and "company vision" within Writesonic are all examples of templates that help create content that's somewhat out of the norm.
Originality
With an in-built plagiarism checker as part of Writesonic, you can rest assured that any content you create will be 100% unique.
On the other hand, Jasper integrates with Copyscape, which is an extra expense for users.
However, the cost is minimal and gives you the peace of mind that your content will be original, whether you're creating short-form content for social media or LinkedIn value propositions.
Workflows
The content creation process can be more linear with Jasper's recent addition of workflows.
Use the article generator to enhance your content marketing and SEO efforts.
In that case, a built-in workflow takes you through the entire process, progressing your content from keyword research to having the actual article written.
With a blog post workflow demonstrating how the process works to create content optimized for search engines and your audience, Jasper takes the guesswork out of standardized content creation.
That said, you can build your workflow how you want to – whether for ad copy, social media posts, or something else entirely.
User Interface
Both software offer ease of use when generating AI content.
Jasper also allows you to organize multiple projects into different folders, which is a nice touch.
That said, there exists a learning curve to getting the outputs you want, and one has to go through several iterations of using either software before becoming fully proficient with the tool of choice.
Integrations
Writesonic integrates with tools such as WordPress and Google Docs, which makes it an excellent choice for content marketers who want to publish content fast.
Those creating content with SEO in mind will be happy Jasper combined forces with Surfer SEO, making it a powerful tool for improving their organic traffic game.
As a Jasper user, you can optimize content directly through the tool's interface.
Commands
As part of Jasper's boss mode, you can issue human-like commands to the software to get it to output the type of content you want.
It provides significant control for those wanting to create particular content types.
Writesonic doesn't offer the same level of control.
At the same time, it provides a one-shot blog post template that will help you to create optimized content quickly and easily.
Affiliate Program
Apart from the ability to create long-form content, both AI tools pay you when you refer them to others.
Both programs also offer the same 30% lifetime commission for any user one brings to the platform.
You can find more information about the Jasper Partners program and the Writesonic affiliate program if you want to learn more.
Customer Support
With a Facebook group of almost 70000 people, the Jasper community is one of the most active and helpful in the industry.
In addition, the Jasper team responds to questions within 24 hours which is quite impressive for a software company growing alarmingly fast.
Even more impressive is that Writesonic customer support promises to get back to users within two hours.
Both tools offer excellent customer support, but Writesonic has the edge regarding response time.
Training And Educational Resources
With tutorials on both platforms, users can learn how to use the software quickly and efficiently.
Jasper Academy is an excellent resource for those that want to learn more about how to use the software, as it offers a variety of video tutorials on different subject matters.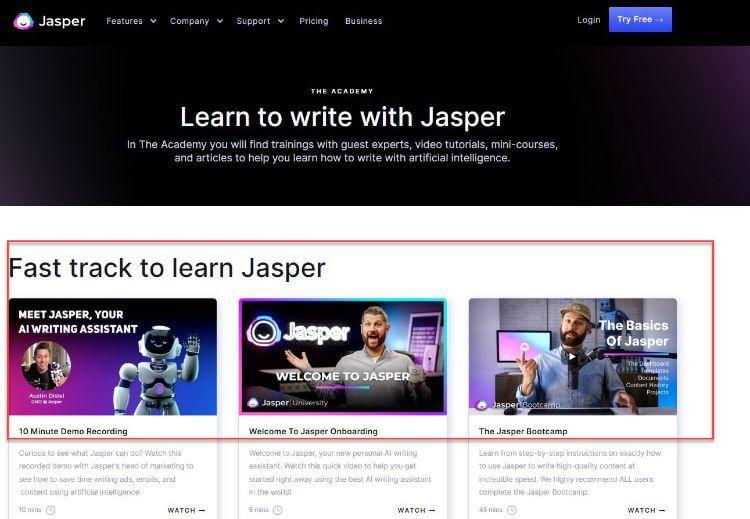 The Writesonic Training Academy is the training counterpart, offering users the same resources to learn how to use the software effectively.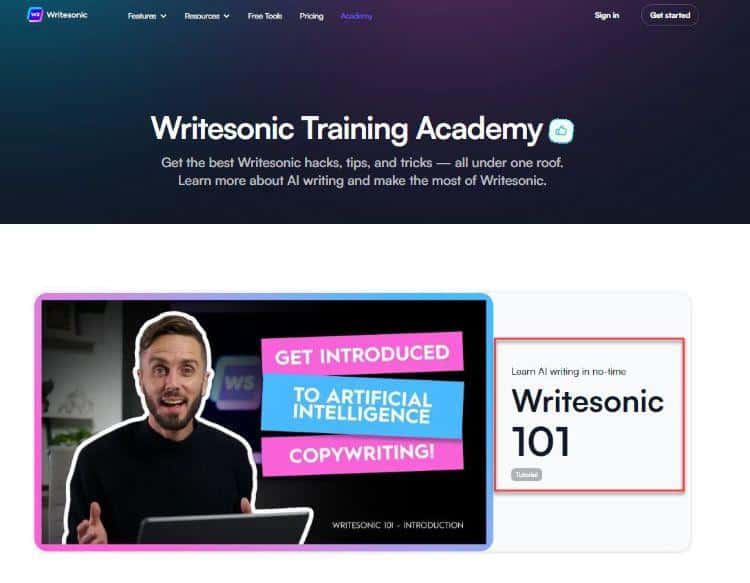 Who Are Jasper's And Writesonic's Main Users?
From beginners to experts, some typical users that can benefit from Jasper and Writesonic are the following.
Marketing Agencies
Those who must produce large content regularly will find that Jasper and Writesonic are great options.
Marketing agencies can get clients the content they need without breaking the bank.
Content Writers
Content writers relying on generated content will find that Jasper and Writesonic are great options.
With various templates that cater to short-form stuff and longer ones, these tools facilitate the job of the content writer.
Copywriters
Those who use words to sell (a.k.a. copywriters) will find that Jasper and Writesonic are great options.
With the ability to influence the reader's emotional response, these tools can help copywriters sell more stuff while spending less time crafting headlines, copy, and the like.
Pricing Plans
The platform created its pricing with beginners and more advanced users in mind.
The starter plan is excellent for those new to AI content generation, while its boss mode plan is the tool's highlight and is often the primary plan mentioned.
The boss mode plan allows you to issue commands and write longer-form articles.
However, there are two other plans on offer: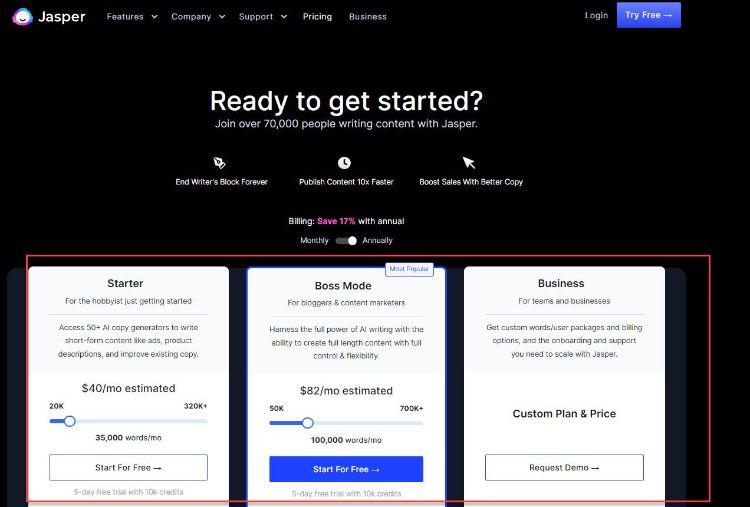 Starter Plan: $40+ per month
Boss Mode: $82+ per month
Business: Custom prices
Jasper offers a five-day money-back guarantee if you don't like what you see during your testing.
They also offer 10,000 words in free credits to help you get started.
Get started with Jasper.
On the other hand, Writesonic offers a free plan – you can get access without inputting your credit card details.
While this is their basic plan, it also allows you to keep generating words monthly as the number of credits regenerates.
These are the Writesonic plans on offer: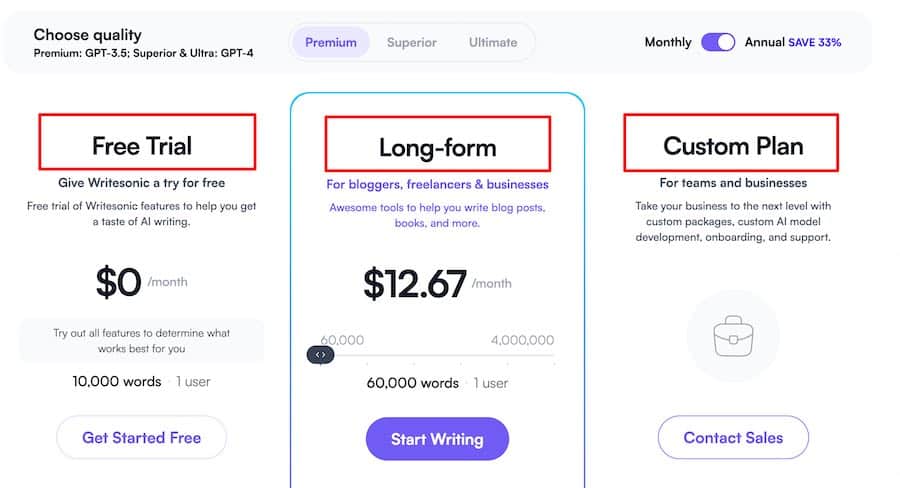 Free Trial: $0
Long Form: $12.67 per month.
Get started with Writesonic.
It's good to note that none of the tools offer unlimited credits.
At the same time, both tools offer monthly subscriptions and annual ones based on user needs.
The Importance Of Customer Support When Using AI Software
Customer support ensures a smooth user experience when using AI software.
While these tools are designed to make our lives easier, they can still be complex and overwhelming to navigate without proper guidance.
One commonly cited benefit of AI writing software is its ability to generate content quickly and efficiently.
However, this speed can also lead to errors if the user is unfamiliar with the program's capabilities or limitations.
Strong customer support is key, as it can help users troubleshoot issues and optimize their workflow.
In addition to technical support, customer service teams can provide users with valuable insights and advice on how to get the most out of their AI writing software.
This advice includes tips on customizing settings, using various features, and integrating the software into existing workflows.
Another advantage of customer support is the ability to provide personalized solutions and address individual user needs.
As AI software becomes more sophisticated, it is essential to have a team of experts who can offer tailored support for specific industries or niches.
Overall, customer support is a crucial component of any AI writing software, and users should not overlook this aspect when evaluating different providers.
By working with a company that prioritizes customer service, users can ensure they quickly get the most out of their software investment and achieve their content goals.
Wrap Up.
Jasper and Writesonic are great options for those who need to generate large amounts of content.
Ultimately, the decision comes down to your needs and budget.
Jasper is pricier overall, but it might be worth the investment if you need the range of features it offers.
I suggest exploring the features and finding the tool that offers what you need.
Further reading on AdamEnfroy.com: Want to know what other tools are available in the AI writing market?
Check out this Jasper vs. Rytr review for another AI head-to-head comparison.
Editorial Process:
Our reviews are made by a team of experts before being written and come from real-world experience. Read our editorial process here.
Some of the links in this article may be affiliate links, which can provide compensation to us at no cost to you if you decide to purchase a paid plan. These are products we've personally used and stand behind. This site is not intended to provide financial advice. You can read our affiliate disclosure in our privacy policy.
---
Last Updated on April 24, 2023 by Adam Enfroy