Jasper AI Pricing: Which Plan Should I Get & Is It Worth It?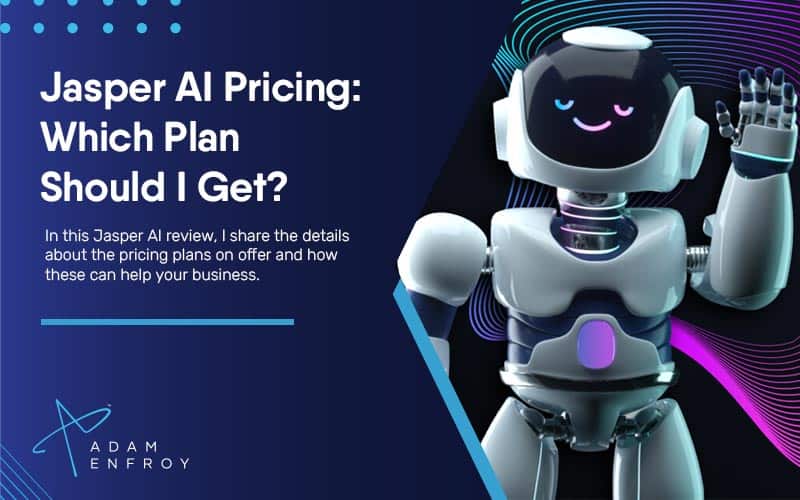 Do you struggle to come up with the right words when writing?
Or you might be on a tight deadline and need to produce quality content quickly.
If so, then don't worry – help is here!
In this Jasper AI review, I will tell you all about this AI writing software that can help you with any content-based creation work.
Whether generating new content or improving existing pieces, Jasper has your back.
What Is Jasper?
Jasper is an AI writing software designed to simplify content creation.
It uses artificial intelligence and machine learning technology to help people create content quickly and accurately.
Its advanced algorithms can also write in a specific tone of voice, understand the context, suggest improvements and provide ways to improve your writing.
Jasper AI Pricing Plans
The Starter Plan is perfect for those who are just starting and need some help with their content without breaking the bank.
The Jasper AI Starter Plan allows you to generate up to 20,000 words for $29 per month.
That's enough for headlines, descriptions, or other short messages, so it's perfect for businesses that need content for specific use cases.
Jasper does everything securely, so your data is protected from malicious actors.
Boss Mode
The next level in the Jasper pricing plans is Boss Mode.
The difference between the Jasper Starter plan and the Boss Mode plan is that the latter has extra features to make content creation more accessible.
With Boss Mode, users can access advanced long-form text capabilities and natural language processing in an open document setting.
The Boss Mode plan is excellent for businesses looking to get more out of their investments in productivity and efficiency.
For example, as a user of Boss Mode, creating recipes also allows you to customize your workflows based on your needs.
Recipes are a set of commands you can repeatedly perform to get your desired outputs.
In addition, one can use commands in boss mode to easily create and edit content by writing statements as if speaking to another human being.
Boss Mode starts at $59 per month for 50,000 words.
Get started with Jasper.
Business Plan
The Business Plan is the top-of-the-line choice with features that make content creation more efficient.
You'll have to contact the team to discuss a customized, more expensive plan tailored to your needs.
Jasper AI's Annual Plan
One of the top billing options for Jasper AI is its annual plan.
With this package, you get access to all of the features included in the starter and boss mode plans for an entire year – at a discounted rate!
Users get 17% savings from the monthly payment and two exciting offers:
Starter for 20K words/month at $24/month or
the Jasper AI Boss Mode for 50K words/month ($49/month).
For custom pricing explicitly tailored to your business needs, contact Jasper AI's expert team of professionals, who help guide you through the process step-by-step.
One can find more information on Jasper's pricing page.
Jasper AI Free Trial Period
While there is no lifetime deal, Jasper AI offers a generous 5-day free trial.
The trial period grants you full access to this powerful AI writing software and its features, so you can decide if it's right for your needs without any financial commitment.
You'll also be able to take advantage of helpful resources like tutorials and webinars that will help you get started quickly and easily.
With their 5-day money-back guarantee, there is no risk to the user.
What Makes Jasper Unique?
Jasper stands out from the crowd of AI tools because it offers a wide range of frameworks and templates for different projects and the ability to match your style and language needs.
Moreover, the content Jasper produces is unique and plagiarism free.
In addition, Jasper can write in 25+ languages, so no matter what language you're working in, Jasper has you covered.
And if that isn't enough, Jasper can improve existing content pieces.
If you have already created content but think it could be better, Jasper can help ensure that it is perfect for you before publishing it.
Jasper Product Updates
Here are a few recent updates to consider on Jasper AI's platform.
These updates make the platform even more powerful when generating content.
Longer Look Back
One of the most valuable features of Jasper's Boss Mode is that it allows the software to reference more characters than ever before when writing.
Jasper looks at the past 3,000 characters in a document every time you generate new content.
As far as understanding context, this is an excellent feature.
Users can write long-form content quickly and easily without worrying about the platform going out of point.
Long-Form Assistant & Documents
Jasper's long-form assistant helps content creators in various ways.
From automatically suggesting relevant topics for their articles or blog posts to having a side-by-side view of accessible templates, this clutter-free interface makes writing a breeze.
Additionally, with folders, users can create industry-specific writing that's well-organized into categories.
Jasper Commands Feature
Jasper's Commands feature gives users direct access to the AI writing tool, helping them make Jasper do their bidding better.
With this feature, users can type in commands like "expand on the above" or "suggest synonyms for this word," and Jasper AI will do just that.
Jasper Art
For those needing creative content, Jarvis AI has also gone to art school and learned how to draw.
Jasper Art is a relatively new feature that allows users to get creative visuals without hiring an artist or sourcing images online.
Describe what you want the AI to draw, and it will generate an image based on your description.
If you're creating social media posts and need a custom visual, this is one of the best tools to create a unique piece of art quickly.
One can use Jasper Art to generate logos, customize illustrations, and create abstract art.
Jasper Chat
Jasper Chat is a revolutionary chatbot that utilizes natural language processing to provide you with brilliant conversations that can help you achieve more.
Whether creating blog posts or coming up with creative topic ideas, Jasper Chat has covered you.
Even better, this fantastic tool is (currently) free for all users without using up any of their credits.
With its natural language processing capabilities, Jasper Chat can assist users in tasks, including creating blog posts, generating creative topic ideas, managing projects efficiently, finding the correct information quickly, staying on top of deadlines, and much more.
Using NLP, Jasper Chat can understand and respond to your inputs, making it as close to a real-time conversation as possible.
Top-Notch Customer Support
Jasper's customer care system provides top-notch service with email support and an expansive library of helpful tips.
No matter your issue, their friendly customer service team will help you quickly.
Jasper AI understands that time is of the essence when it comes to customer service inquiries – especially if your product isn't working correctly or you have any other urgent concerns.
That's why they promise a quick response time – no matter where you are.
Jasper AI has your back if you prefer to troubleshoot your issues.
With a library of helpful tips and tricks related to various topics like product setup and troubleshooting instructions, finding the necessary answers couldn't be easier without contacting customer service.
They also include detailed video tutorials (called the Bootcamp) for those who like visual explanations better than written ones.
What Can Jasper Create?
Jasper has you covered when doing any content writing (both short-form and long-form).
This AI software can help content writers generate blog posts, articles, emails, and social media posts.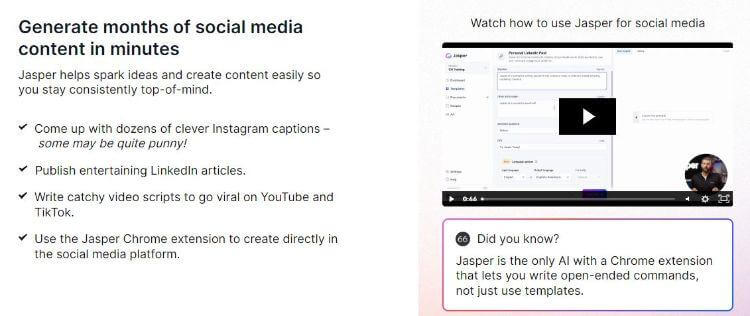 In addition, copywriters can also find everything they need when creating advertisements for digital marketing platforms.
Creating engaging and creative short copy is essential when producing items like Facebook Ads and Google Ads.
Jasper has specific templates that can help with this.
Furthermore, its SEO templates can come in handy for those involved in search engine optimization.
Integrations
Great software integrates with users' existing workflows.
To this end, users can combine Jasper with several popular tools and platforms to help them get the most out of their content.
For example, plagiarism-free content is excellent for those that want to maintain a strong reputation online.
Copyscape integration ensures that your content is original by allowing you to run it through a plagiarism checker directly in Jasper's interface.
Grammarly integration ensures that no matter if you're writing product descriptions or blog posts, they stay consistent in tone and maintain grammar rules.
With long-form content writing, the chances of making mistakes generally increase, which is why this integration is worth its weight in gold.
There is also integration with Surfer SEO, one of the top SEO tools in the market.
This integration helps you optimize your content for search engines and ensure it ranks higher in SERPs for your chosen keywords.
The Credit System
The number of words you can generate on Jasper AI revolves around a credit system.
This credit system means that each time you hit the "Generate" button to get more content, the platform deducts credits from your account balance.
Short-form content will waste fewer credits than more extended pieces, so awareness of this is critical when using the tool.
On the other hand, various tools on Jasper's Boss Mode plan are more credit-intensive than others.
Knowing these word limits is essential if you have team members added to your account.
An easy-to-access report shows you how much credit you've used for the month.
Training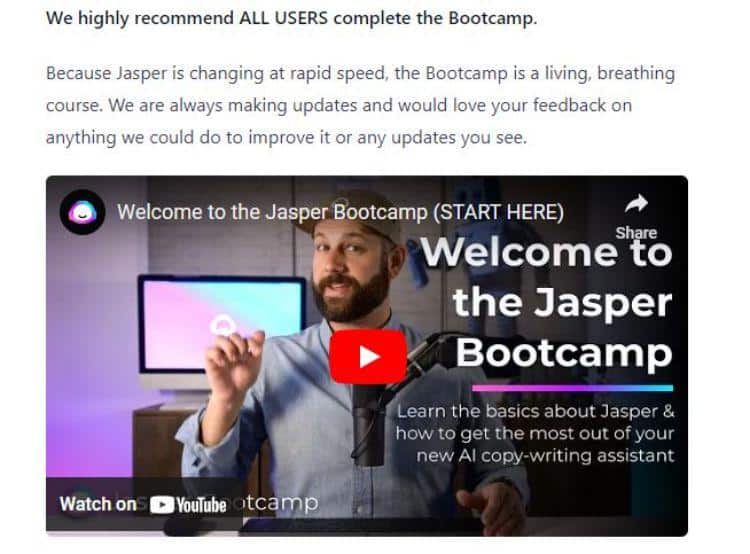 Jasper provides training on how to generate AI content best.
As part of one's onboarding, the first suggestion would be to go through the Jasper BootCamp.
This video training helps users start with AI writing, allowing them to write better and faster than ever.
This training provides in-depth knowledge about generating long and short-form content optimized for SEO efforts.
There is also training about the various templates that can craft personalized emails, write blog posts intros and outros without human input, and much more.
In addition to this training, the Facebook group associated with Jasper is still one of the best resources for understanding how the software works.
Generally, the Jasper community is warm and ready to help, assisting anyone who needs tips and tricks for content generation.
Furthermore, if you encounter any issue with the Jarvis AI writing software, email hey@jasper.ai, and the support team will respond in no time.
The team can help with issues ranging from short-form content to long-form generation and anything in between.
Get started with Jasper.
Having Multiple Users Using Jasper
Jasper's pricing also caters to multiple people working on the same account.
For example, employers can access their workspace with user logins and provide employees with separate credentials.
This feature is helpful for employers who have multiple people create content, ad copy, or any other type of copywriting for different projects.
In addition, with unlimited project folders, you can ensure your projects stay organized in the most suitable way for your team.
Does Jasper use GPT-3?
Jasper's content generation abilities come from GPT-3.
Using GPT-3 gives Jasper users the best possible experience when creating content, making writer's block a thing of the past.
Whether creating content about the latest YouTube tools or reviewing a new restaurant as part of your content creation plan, GPT-3 makes it easier for users to come up with unique and exciting topics to write about.
Jasper AI Pricing – FAQs
Can Bloggers Use Jasper Ai To Write Content?
Yes, bloggers can benefit from using AI-powered writing assistants.
The software is perfect for bloggers looking to create high-quality, SEO-optimized content.
How Much Does Jasper AI Cost?
Prices for the various plans vary depending on what features you need.
The Starter plan costs $24 per month, while Boss Mode begins at $49 monthly.
Is There A Refund Policy When Using Jasper AI?
Yes, if you're unsatisfied with your purchase within five days of signing up, you can request a full refund.
What Does Revision History Mean In Jasper AI?
The revision history feature provides a record of every document edit, so you can look back and see how your content has evolved.
This function is handy for bloggers working on longer writing pieces, as it allows them to keep track of their progress and revert to a previous version if needed.
Is Jasper AI worth it?
Jasper AI is worth it if you use AI-powered writing assistants to generate high-quality content.
It's a powerful tool with many features that make content creation faster and easier.
The pricing plans are also reasonable, making it the perfect choice for small businesses, content marketers, and anyone that can benefit from an AI copywriting tool.
Wrap Up.
If creating better content, eliminating writer's block, and creating original content are tasks you need help with, Jasper can become your new best friend.
A Jasper free trial is a great way to get started with the platform and get familiar with its features without committing long-term.
Jasper also takes care of mundane tasks, allowing you to focus more energy on the creative side and produce more engaging content.
Get started with Jasper.
Further reading on AdamEnfroy.com: Automating your AI marketing can save you time and money and help you create better content.
As content marketing becomes more critical for businesses, it's essential to produce fresh, engaging content quickly and efficiently.
Disclosure: I may receive affiliate compensation for some of the links below at no cost to you if you decide to purchase a paid plan. You can read our affiliate disclosure in our privacy policy. This site is not intending to provide financial advice. This is for entertainment only.
---
Last Updated on February 20, 2023 by Adam Enfroy