Jasper AI vs Rytr: Which is Best to Write Quality Articles (2023)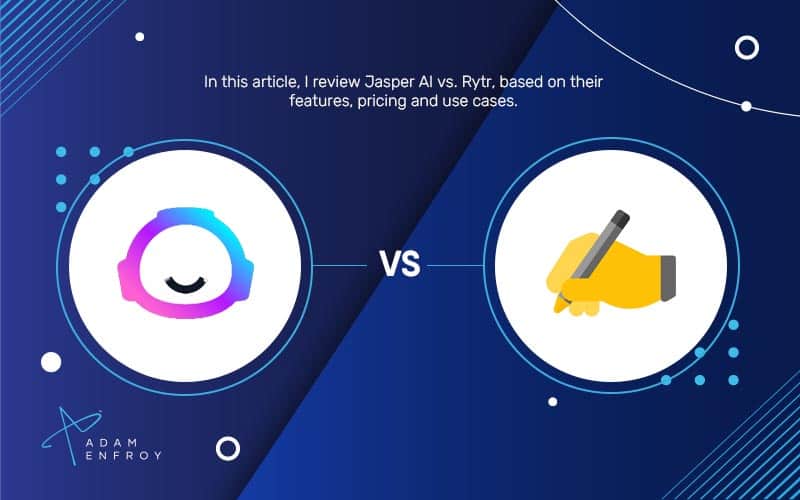 Article creation has evolved a lot in the last few months.
There is no reason to use mediocre article writing tools to get a job that's half well done.
While Jasper and Rytr can satisfy specific user needs, which is the true champion?
In this Jasper AI vs. Rytr review, I take a comprehensive look at both tools, so you can decide which platform is better for your needs.
Let's get started.
Jasper AI vs Rytr
Let's compare these two AI tools.
What is Jasper.AI?
Jasper is an AI content writing platform that promises to help you create high-quality, engaging content.
Jasper uses natural language processing (NLP) and machine learning to help you write better articles faster.
Based on GPT-3 technology, Jasper uses artificial intelligence to help you improve your writing skills and ensure that your articles are free of grammar and spelling errors.
The tool also features AI copywriting templates that help you create a specific type of content.
Using these templates, you can create headlines, blog posts, product descriptions, and more.
In a nutshell, Jasper should be your AI content writing platform if you aim to obliterate writer's block and improve your writing skills.
With various integrations to tools such as Surfer SEO and Copyscape, you can take the guesswork out of SEO and content marketing while ensuring unique and plagiarism-free content.
Key Features Of Jasper.ai
Here are some of the critical features of Jasper.ai: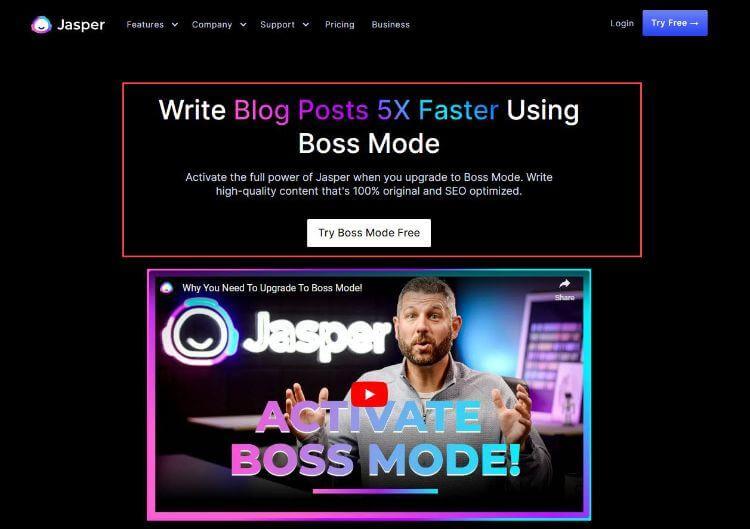 More than 50 templates help you improve your writing skills
Teams plan allows you to issue commands just like you were talking to a real person
You can write short form content as well as long-form one that is free of grammar and spelling errors
Use Jasper Art to create custom graphics for your articles
Jasper.ai is integrated with popular SEO and content marketing tools
Create content in more than 25 languages that are ready to be published
A Facebook community with 70,000+ members helps you network with other content creators
Get started with Jasper.
What Is Rytr?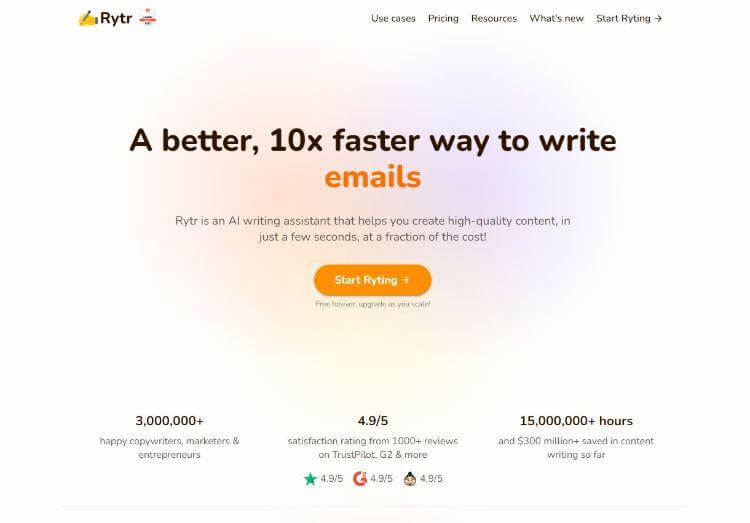 Rytr.me is a content writing platform that provides more than 30,000 AI content writers worldwide with an easy way to create content.
With Rytr, you can get high-quality, engaging content for your website or blog quickly and easily.
With various use cases you can choose, you need to add your input to give context to the tool, then select the style you want.
After that, Rytr will automatically deliver tailored content to your needs.
The tool also comes with copywriting formulas that the team created with the help of professional copywriters.
With these formulas, you can make better headlines, calls to action, and more.
You can also reword and optimize your website content with Rytr's built-in SEO tools.
You can ensure that your content ranks high in search engines and drives traffic to your site.
Rytr also offers you the possibility of downloading your work in DOCX or HTML format.
Key Features Of Rytr: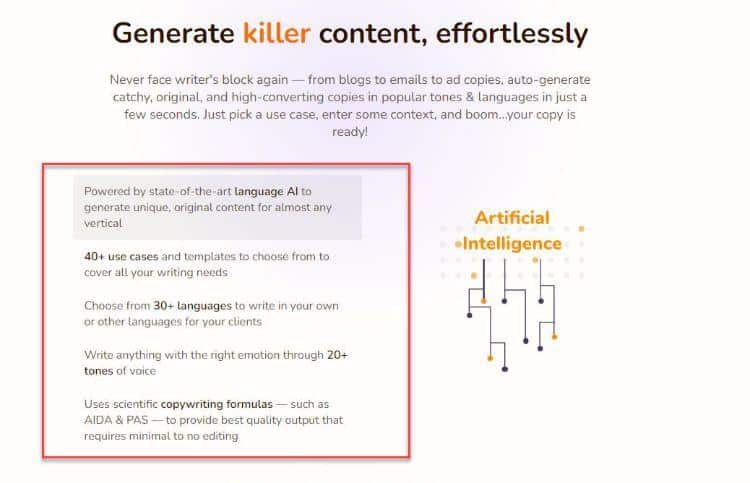 Plugins that integrate with WordPress, Shopify, and other platforms ensure easy publishing
SEO analyzer tool analyzes your content and provides tips to improve your ranking
Mobile-friendly to allow for content creation on the go
Rytr API lets you connect this platform to your content management system
99% average satisfaction score from customers
A Direct Comparison
Let's now look at how these tools compare head to head.
Original & High-Quality Copy
Since both tools use GPT-3 technology, they can produce unique and high-quality copywriting material.
Whether using the tool for shorter social media posts or producing long-form content, you can be confident that both tools will help you create ready-to-go content.
Paragraph Generator Tool
This handy template found in Jarvis allows you to create entire paragraphs in just a few clicks.
Select the type of paragraph you want to generate and fill in the details.
You can create paragraphs for introductions, product descriptions, blog posts, and more.
You can also ask the tool to use specific keywords in your paragraphs to help with SEO.
For example, if you wanted to write a paragraph about "dog food," you could ask Jarvis to use the keywords "dog food," "kibble," or "dog food brands."
The SEO writer's job becomes a lot easier and helps you create content that is more likely to rank.
The paragraph generation tool is also great for producing shorter ad copy and is used in conjunction with another AI copywriting tool for even better results.
Rytr doesn't have a tool that only generates paragraphs.
Instead, users have to use the blog post template.
While this is alright and still produces high-quality content, it could generate a lot of excess text you may not need.
SEO
Both tools have SEO features that allow you to optimize your content for better ranking.
Rytr's SEO analyzer tool provides tips for improving your ranking as you generate content.
Users can choose the keywords that make sense within the produced content.
A partnership with Semrush opens up the use cases one can opt for and allows users to dial in and create content tailored to their specific needs.
Jasper.ai doesn't have native SEO features.
However, because it integrates with Surfer SEO from within its interface, you can get all the features you need to optimize your content.
Jarvis has an SEO mode, allowing users to split their screens into different columns to ensure they include all the correct elements in their articles, leading to better rankings.
Templates
As an AI writing assistant, Jasper has over 50 templates for various content types.
These templates make Jasper an AI software that one can use for various content needs.
There's a template for everything from creating meta descriptions to generating one-shot blog posts.
Rytr also has as many as 30 templates, which is not lacking in this department.
However, because Jasper offers more templates, it gives users more options for the type of content they can create.
Formatting Of Sentence
When using AI writing tools, getting proper formatting from the get-go helps to save time.
Jasper offers many formatting options for headings, bullet points, and more.
On the other hand, Rytr doesn't give users as many formatting options, meaning they have to do it themselves or hire someone to polish things up.
Keyboard Shortcuts
Keyboard shortcuts make life easier for writers when writing content.
Jasper offers many keyboard shortcuts that help with everything from adding headings to inserting bullet points.
On the other hand, Rytr doesn't give users shortcuts as they write content, which means they have to do it the point-and-click way.
AI Image Generator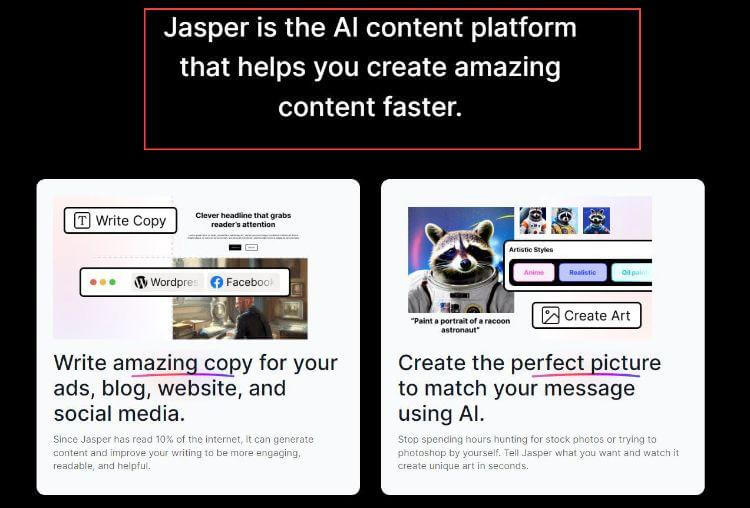 The team at Jasper also considered that beginners, advanced bloggers, and anyone in between need images to enhance their content pieces.
As such, Jasper Art is a tool that helps create stunning images for your content.
Rytr doesn't offer AI image generation capabilities, so users have to find and insert images themselves.
Jasper users don't have to outlay this extra expense.
Grammar Fix
As you generate high-quality content, speed, and accuracy are essential.
Whether using these tools as AI copywriting or content-producing software, grammar is vital.
Jasper integrates with Grammarly, making the process of producing error-free content easy.
On the other hand, Rytr offers an improved text feature, which gives you a helping hand in ensuring your content is grammatically correct.
Plagiarism Check
One element equally crucial as grammar when using writing tools is generating plagiarism-free content.
Rytr offers an in-built plagiarism checker, which helps ensure that your content is original.
On the other hand, Jasper directly integrates with Copyscape, a well-known plagiarism-checking tool.
In their way, both tools take care of any hints of plagiarism.
Recommendation Of Idea
Everyone needs ideas when creating content at scale.
From creating multiple Google Ads or Facebook Ads and split-testing them to creating social media posts on platforms like LinkedIn and Twitter, having a list of never-ending ideas is essential.
Both Jasper and Rytr allow users to generate ideas for their content quickly.
Ease of Use
Jasper's Teams plan offers some of the best ease of use regarding writing tools.
With the ability to use your own words to generate unique articles through commands, Jasper makes it easy to produce high-quality content quickly.
On the other hand, Rytr is also reasonably easy to use but doesn't offer as many features as Jasper.
Voice Dictation
Both AI writing tools can use third-party tools that allow users to dictate what they want their content to be about.
Gone are the days when you must type in commands to create high-quality content.
Now, you can use third-party tools to dictate your content to your tool of choice, and this will be turned into a well-written article or social media post.
Supported Languages
AI writers who create long-form copy for international audiences must ensure that their tool of choice supports multiple languages.
Both these tools support multiple languages, making them great for writers who must produce content in various languages.
Customer Support
Besides content generation, an AI writer tool must offer customer support for technical issues.
Jasper offers very responsive customer support, which can be reached through email.
The promise is that support will get back to users within 24 hours.
In reality, this often happens before that.
Rytr also offers customer support through email, but no mention of how long it will take to get a response.
Chrome Extension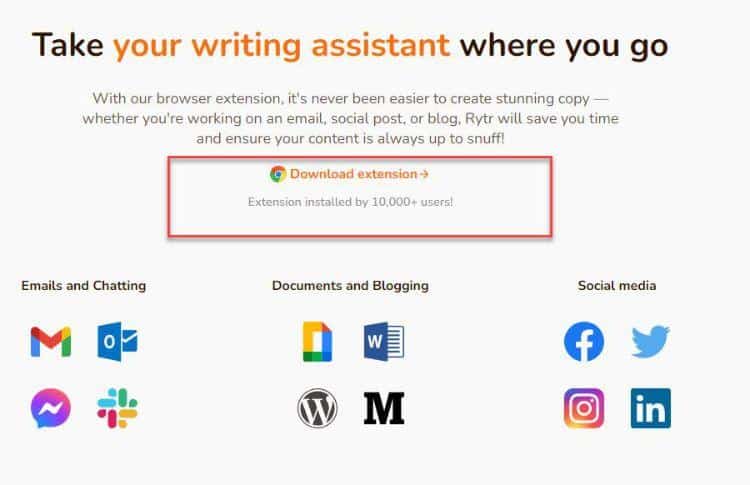 Developer teams should allow an AI tool's use to more than just within its interface.
A Chrome extension can be handy if you want to optimize long-form content in a Google Doc or have a specific blog post workflow that helps you generate ideas outside the tool.
Jasper and Rytr Ai excel in this, as they have a Chrome extension that can vastly increase your content production.
Workflow Creator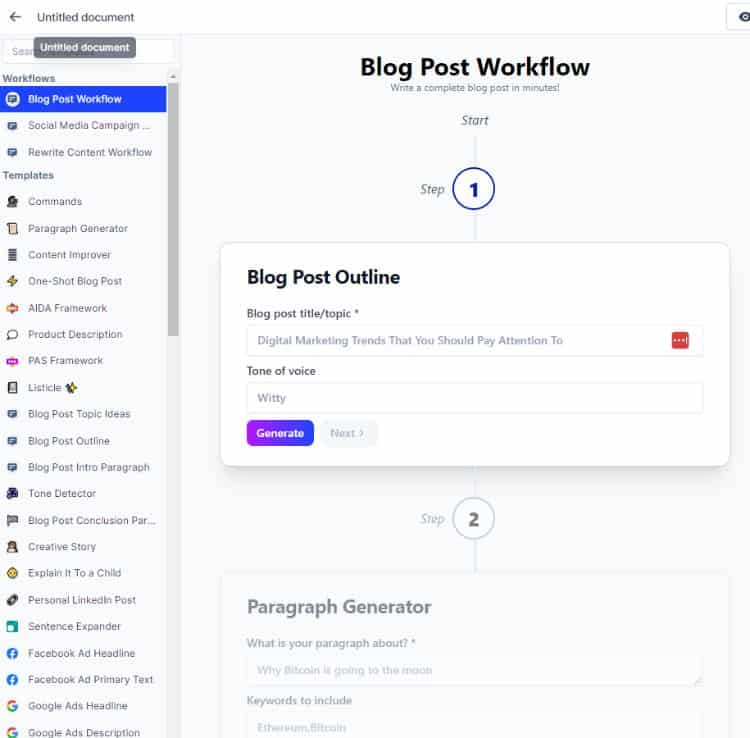 Jasper has just introduced a workflow creator that takes creating content to the next level.
This workflow allows you to build up the steps required to generate an article, social media post, or anything in between and then have Jasper do all the hard work.
In this respect, Rytr has fewer features than Jasper and offers nothing similar to its users.
Users Of AI Writing Tools
Wondering if any of these AI tools are for you?
In my experience, here are the most common user types that benefit from using these AI platforms.
Copywriters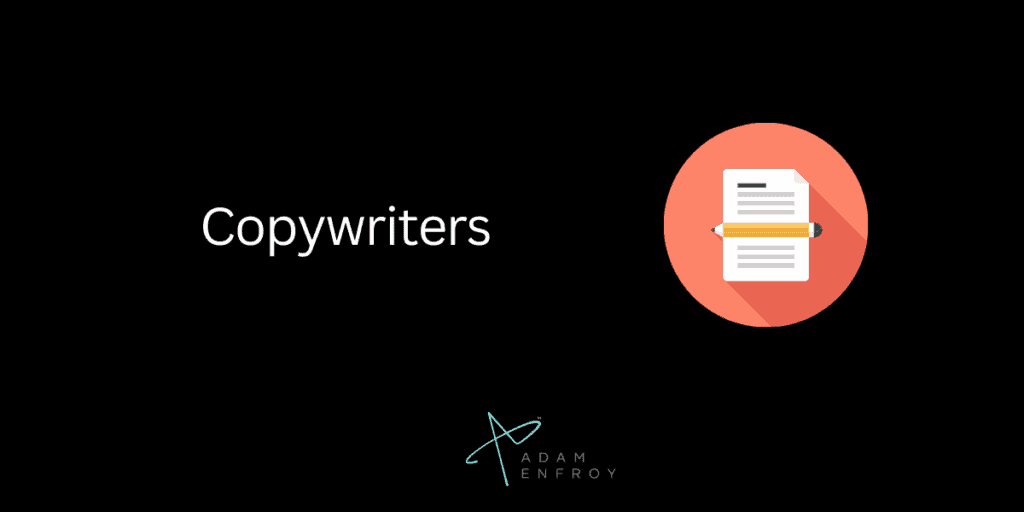 Using copywriting tools to produce long-form content can be a huge time saver.
If you write words that sell, AI copywriting tools can make it easier to develop ideas, research, and even edit your sales-related copy.
Social Media Managers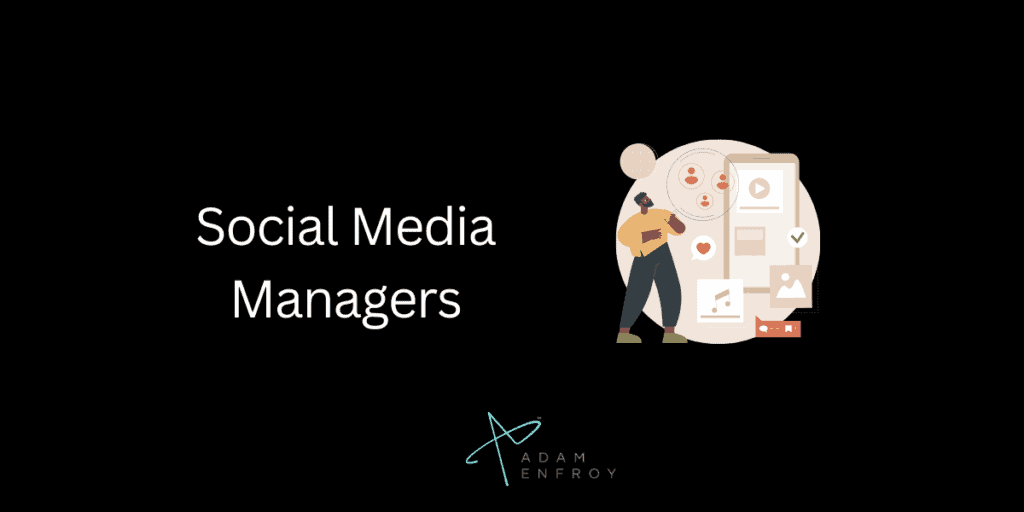 From creating social media captions to generating ideas for new posts, social media managers can use Jasper and Rytr to help them save time and produce better content.
As a social media manager, there's no need for a separate toolset when you can use these AI writing tools for your day-to-day needs.
Ecommerce

Ecommerce businesses can use Jasper and Rytr to create product descriptions, category pages, and blog posts.
Well-written content on your website can help improve your SEO and conversions, and an AI writing tool is a great way to get there.
Small Businesses
Small businesses can use Jasper and Rytr to produce all kinds of content – from blog posts and website copy to email newsletters and social media posts.
As a small business owner, the world is your oyster using AI writing tools.
Freelancers
Freelancers can use Jasper and Rytr to help them with their writing projects.
Whether working on a long-form article or a short blog post, these tools can save you time and help you produce better content.
Landing Pages
If you're creating landing pages for your business, then using an AI tool like Jasper or Rytr can help you make high-converting pages in a fraction of the time it typically takes.
Being able to produce quality landing pages quickly can be a game-changer for businesses that rely on them for leads and sales.
You can quickly create multiple landing page versions and test and optimize them until you find a winner.
Pricing
These two AI writing software have different pricing structures.
Jasper's Creator plan costs $49 per month, while Rytr's free plan is free.
As an AI writing tool, Rytr also offers users a plan with the ability to generate unlimited characters.
Here's a more in-depth look at the pricing plans on offer.
Jasper Pricing Plans: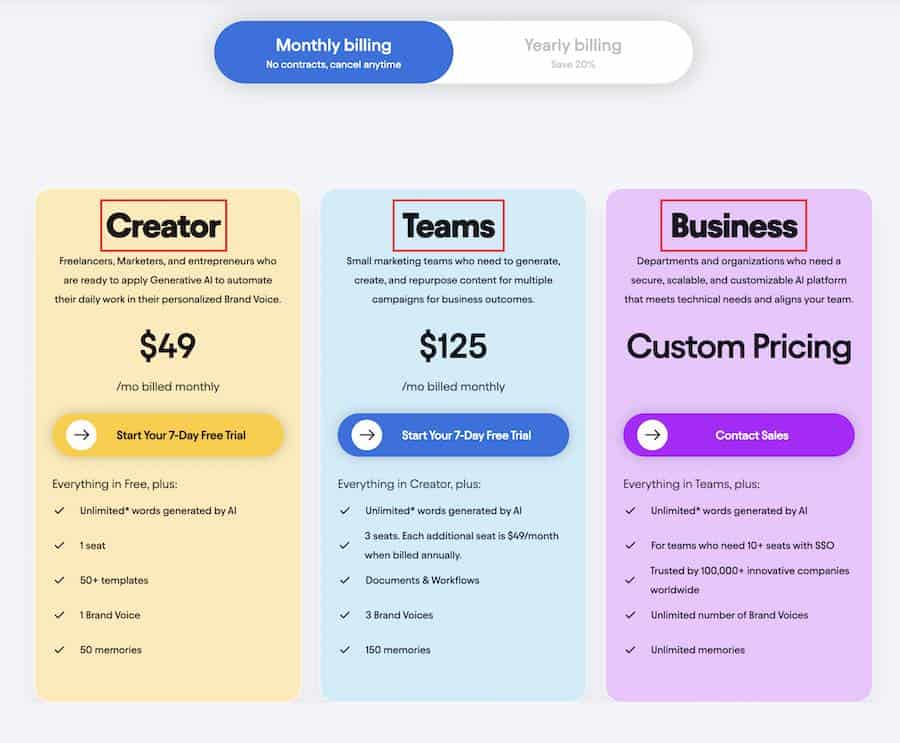 Creator plan: $49 per month
Teams plan: $125 per month
Business plan: Custom prices are available
Get started with ArrivedHomes.
Rytr Pricing Plans: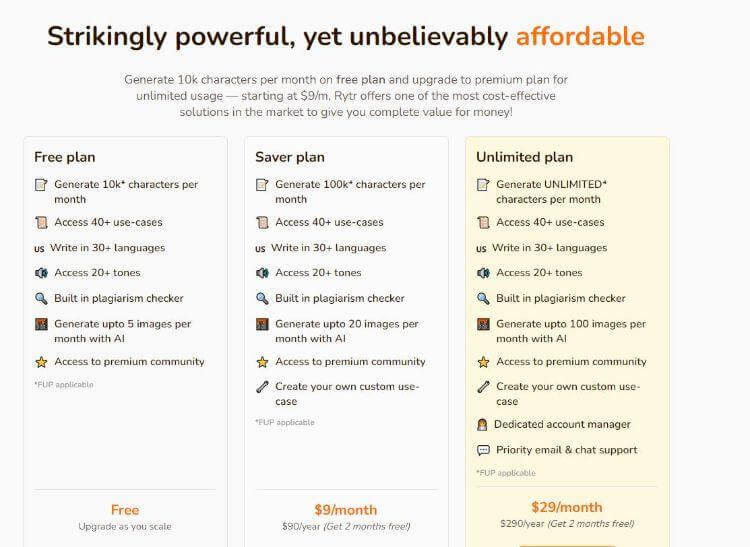 Free plan: $0
Saver plan: $9 per month
Unlimited plan: $29 per month
How Do I Choose Between Jasper, Rytr, or Other AI Writing Tools?
When choosing between Jasper AI, Rytr, or other AI writing tools, it is essential to consider the features and capabilities of each of the platforms.
Look at speed and accuracy, cost-effectiveness, customization options to personalize your content creation process, and customer support options.
As a user, you'll want to assess how well the AI can support your content creation process.
For example, do you need help with grammar and spelling checks?
Do you require assistance with researching and finding content ideas?
Do you want to be able to control the tone of voice for different publishing platforms?
These are all important considerations when determining which platform is best for you.
Jasper AI and Rytr both have strong capabilities in these areas.
Jasper AI offers an advanced language processing technology that allows users to write articles faster while maintaining accuracy.
Its natural language processing technology also helps users create content that reads like a human writer.
Rytr has a good selection of templates and customizable writing options, and its AI-assisted feature helps writers quickly create content based on topics chosen by the user.
Additionally, Rytr offers a range of analytics reports that allow you to track and evaluate your content's performance.
Ultimately, which AI writing tool is best for you will depend on the specific needs of your project.
Jasper AI and Rytr offer innovative tools and features that help users write quality articles faster than ever – so it's worth considering both platforms when deciding which one is right for you.
Wrap Up.
In conclusion, in the Jasper vs. Rytr comparison, both are great AI writing software tools that can save time and help you produce better content.
Jasper is the better option if you want a tool with more features to help you with a broader range of writing tasks.
However, Rytr's free plan may be more suitable for you if you're on a tight budget or want to test the waters.
You might want to consider Jasper AI to help you with your content marketing efforts as you scale.
Whichever tool you choose, ensuring you make the most of the features on offer will help you save time and produce better content.
Further reading on AdamEnfroy.com: Want more information on Rytr?
Check out my full Rytr review.
You can also read my Jasper vs. Copy AI and Jasper vs. Writesonic comparison articles for more information.
For a more in-depth look, you can check out this Writesonic review to learn more about how artificial intelligence within content marketing can save you time and help you produce better content.
Editorial Process:
Our reviews are made by a team of experts before being written and come from real-world experience. Read our editorial process here.
Some of the links in this article may be affiliate links, which can provide compensation to us at no cost to you if you decide to purchase a paid plan. These are products we've personally used and stand behind. This site is not intended to provide financial advice. You can read our affiliate disclosure in our privacy policy.
---
Last Updated on May 19, 2023 by Adam Enfroy