Rytr Review: Is It The Right Option For Your Content in 2023?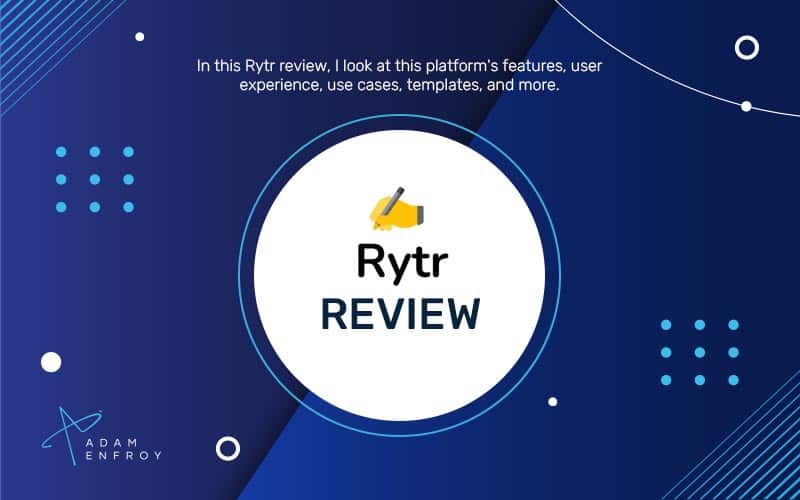 Is ryting important for your business?
Do you find the ryting process difficult?
Bad spelling aside, AI writing tools are becoming increasingly popular as they can create content quickly and efficiently.
With users seeking simplicity and speed in execution and a user-friendly interface, Rytr is an AI writing tool that promises to do that.
In this Rytr review, I'll look at its features, user experience, use cases, templates, and more so you can decide if it's the right platform for you.
What Is Rytr.Me?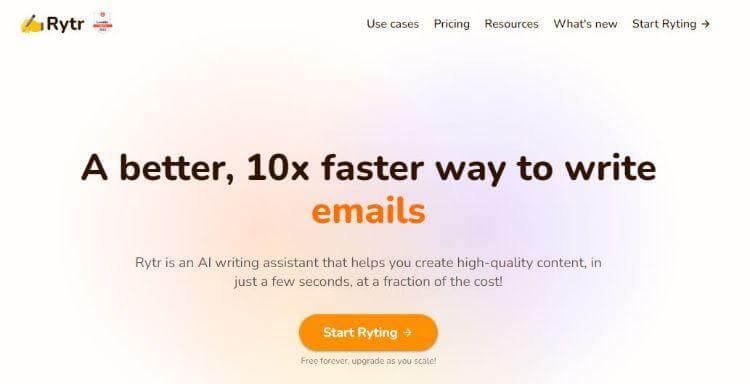 With a focus on short-form content, Rytr is an AI writing tool that uses OpenAI's GPT-3 API to create content quickly and easily.
However, providing Rytr with the correct input is critical.
Whether you want to create blog ideas, video intros, product descriptions, or other types of copy, you'll need to provide Rytr with the proper instructions.
With shorter pieces of copy, this generates decent results in a short amount of time.
However, the result is only sometimes as expected with more extended output types.
Getting Started With Rytr
As you sign in, you get an explainer video to help you understand how to use the tool quickly and efficiently.
After watching this video, you'll be able to generate content much faster since you know what to do.
The Rytr Dashboard then provides robust project management features, a nice touch for multiple projects running simultaneously.
The user interface is easy to understand and navigate, and being compact makes it easy to edit, format, and share your content with others.
All you need to do is use the left side of the screen to fill in instructions for the AI writer before clicking 'Generate' on the right side of the screen.
User Experience
The AI assistant can be accessed from any page within Rytr, allowing users to quickly generate content ideas and templates.
Developers will appreciate the API integration, allowing them to customize their experience further.
For a more on-the-go writing experience, Rytr also offers a Chrome browser extension so users can work on their projects wherever they are.
Pick Your Selections
As mentioned, an AI writer uses machine learning technology to understand your instructions better.
Whether you want a content generation tool or AI copywriting output, Rytr can help through its various modules.
First, pick the tone for your use case, choose one of the twenty-nine languages available, and then enter any specific keywords you want to see in your written output.
Selecting Your Use Cases
There are tons of use cases when using Rytr.
Said differently, you can create content for various purposes depending on the input fields.
From social media posts to website copywriting, all you have to do is describe your post and let the tool generate creative content for you.
You can also give Rytr more information depending on the situation, which will help with accuracy and efficiency.
Variants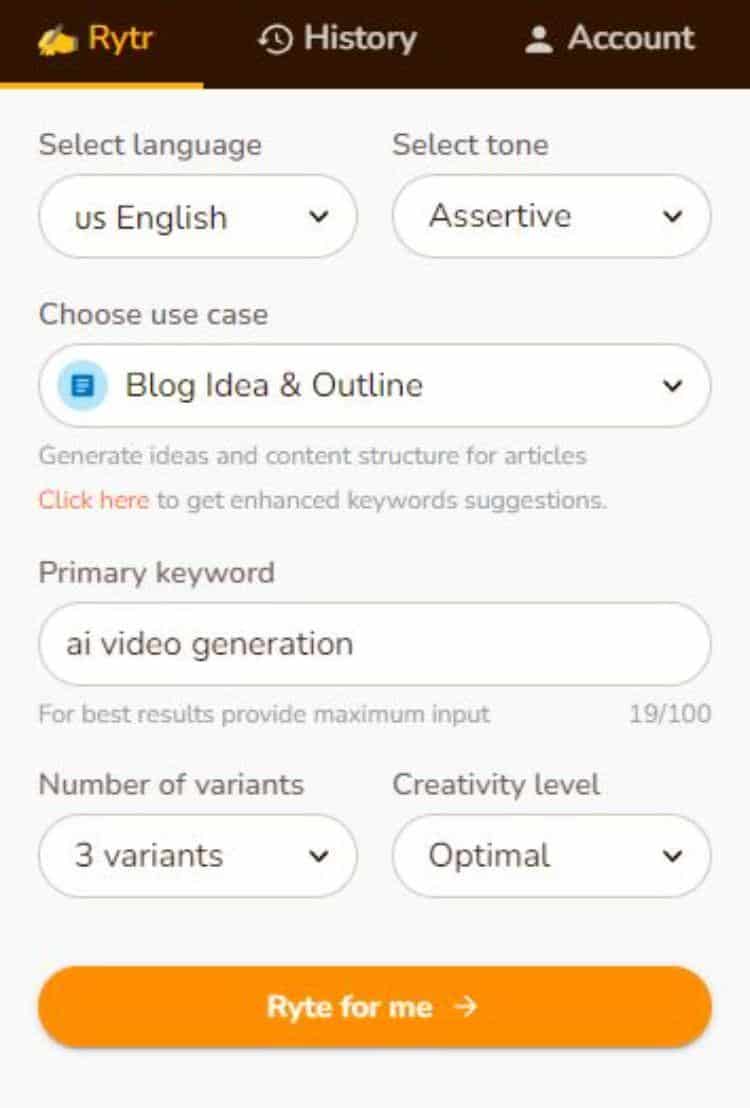 Another nifty feature is the ability to select the number of output variants when using Rytr.
These generally range from one to three.
Many other AI tools don't allow you to make this distinction, so this is an advantage that Rytr has over its competitors.
However, remember that the more variants you select, the more credits you must pay for each use case.
Creativity Level
Another option not common among AI copywriting tools is the selection of creativity level when generating content.
While this is an excellent feature, the team at Rytr needs to refine this part of their service to be a valuable tool for users.
The type of content produced in the different settings is similar.
Rytr Features And Use Cases
Here are some of the features and use cases that Rytr offers.
Multi-Language Support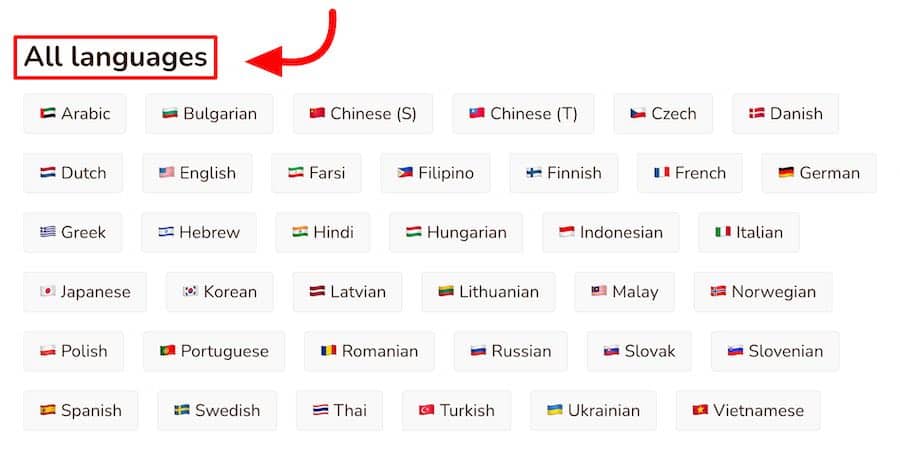 Generating high-quality content in various languages is a big plus for marketing.
With Rytr, you can easily create content in multiples language.
You can get the desired output from meta descriptions to short-form content with a quick selection change.
Rytr caters to 29 languages: English, Spanish, French, Chinese, and more.
There's also Hindi support, making Rytr one of the only tools with this language support.
Edit Options

To get even more refined output, you have advanced text editing options available with Rytr's AI content writing assistant.
This type of real-time editing can take your content from good to great in seconds.
Here are some of the edit options you have when using Rytr.
Rephrase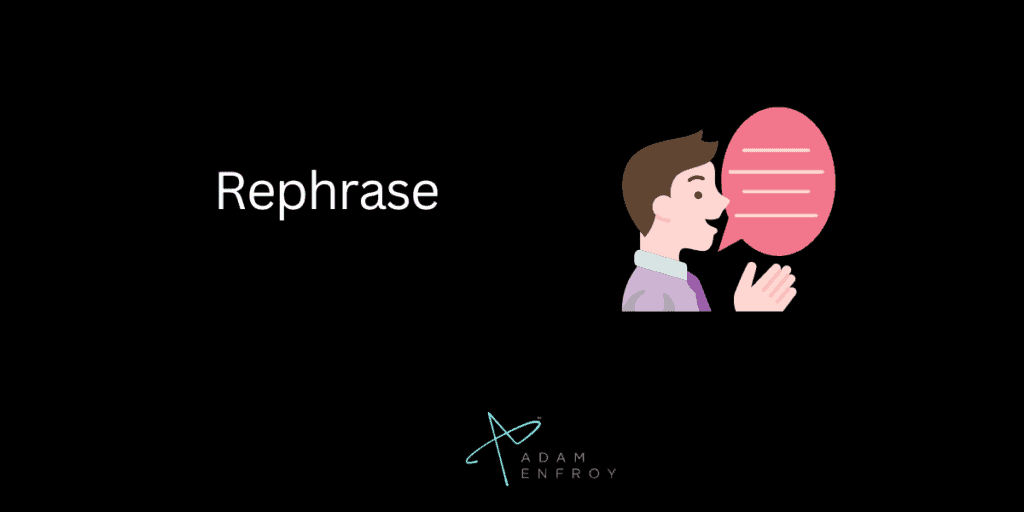 Use the rephrase option to get more creative with your content.
Taking a blog section and making it more exciting or entertaining is one prime example of what this feature offers.
Improve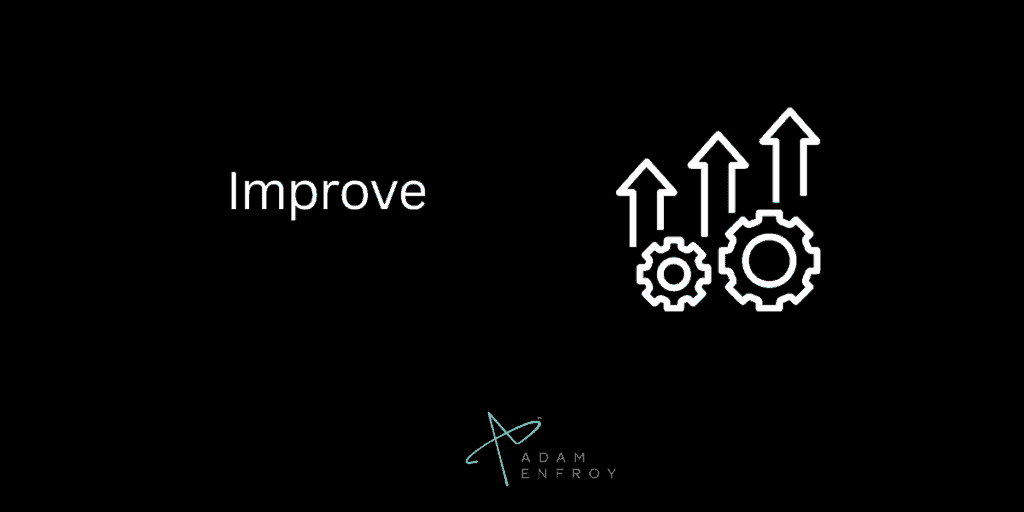 When you create blog posts, you can tweak them without spending too much effort.
Especially with long-form content, the AI writing assistant can take care of all these small changes.
Whether you want to improve your video descriptions or correct basic grammar mistakes, it's all possible with Rytr's improvement feature.
Expand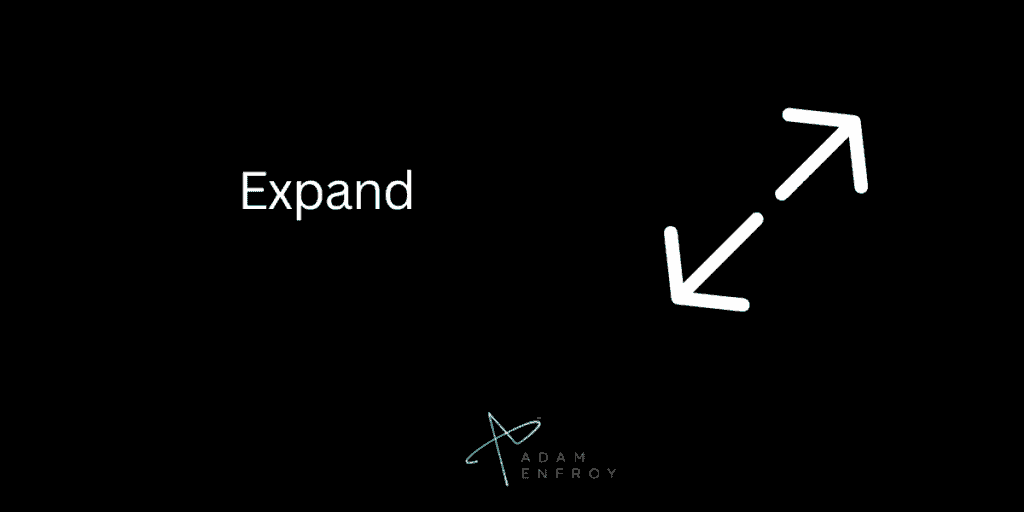 If you have a piece of high-quality AI content that you want Rytr AI to generate more of, the expand feature is perfect for this task.
Consider that you might be creating a tutorial and want to provide additional information on specific topics.
Or, you might have a blog post that needs more content to meet your criteria.
Elaborating on particular sections without writing much yourself is a great time saver.
You can also use the expand feature as part of a copywriting framework where you need to create longer pieces of content quickly.
Write A Paragraph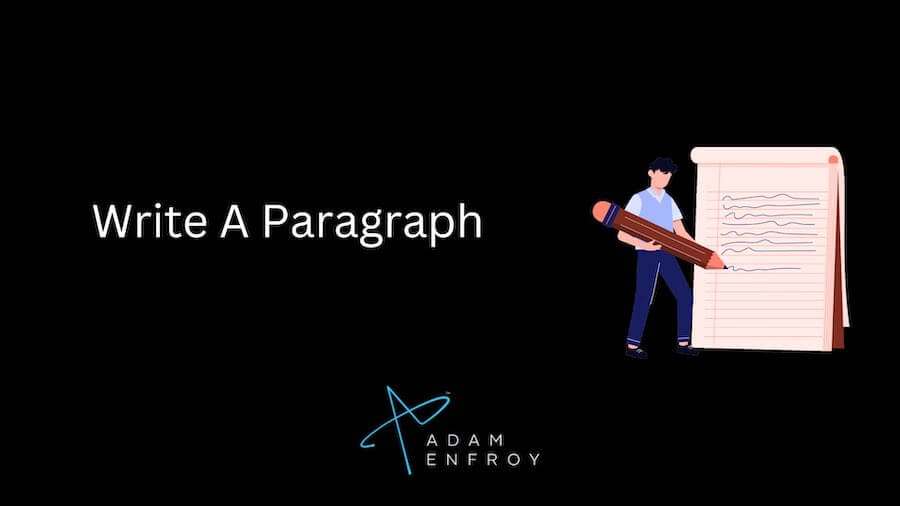 Is writer's block hitting you hard?
Don't worry; Rytr is here to help.
The 'write a paragraph' option is an excellent way for beginners and more advanced writers to get ideas flowing.
This feature helps if you're creating a blog post and need help with creating original content.
Plagiarism Check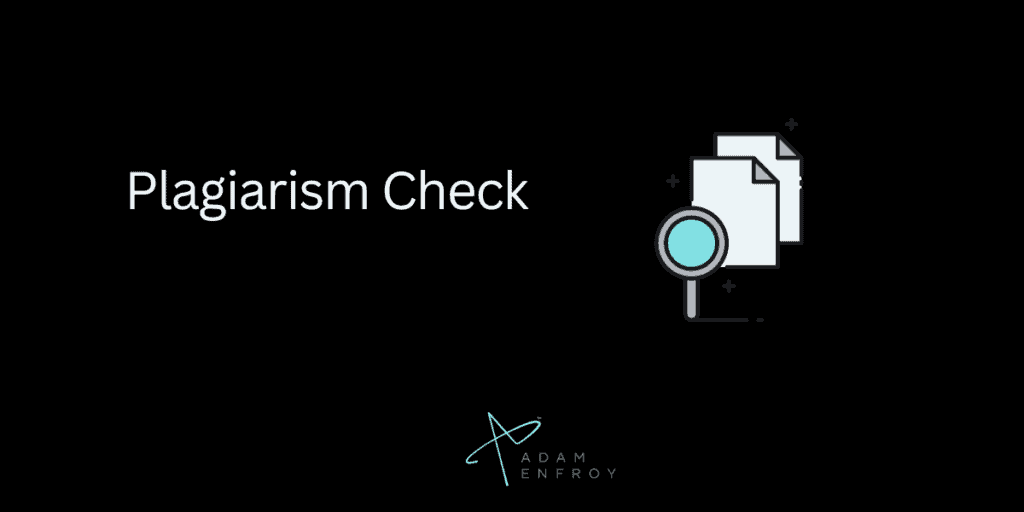 Checking an entire blog post manually for plagiarism is a challenging task.
Especially with the ability to generate unlimited characters on the highest-paid plan, ensuring that no copied or duplicated material exists would be very time-consuming.
With a built-in plagiarism checker, digital marketers can ensure that this writing assistant only produces unique content.
Shorten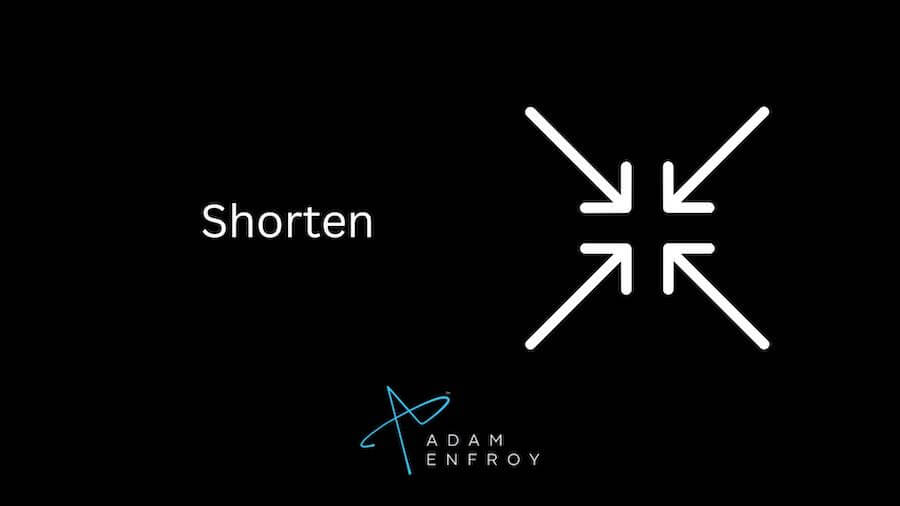 The opposite of the expand feature is the 'shorten' option.
When using this writing assistant, you might want to take an existing piece of content and condense it into something more concise.
In addition, there are instances where you need to shorten content to meet a set requirement.
You can also use this option to create a meta description for your blog post.
Overall, the on-page features offered by Rytr make this process easy and customizable.
The various options on this AI writing software's interface also ensure you get a primary first draft output before delving more profound.
Using the above tools, you can get publish-ready material.
Custom Use Cases

With AI writing tools using artificial intelligence to generate content, it can be challenging to know how best to approach any tasks you have.
This situation lends itself to using custom use cases.
Using Rytr's interface, you can create your custom use case that best suits your situation and needs.
Building custom use cases also helps when you need specialized outputs unavailable in pre-defined output templates.
While the pre-provided templates get you started quickly, creating custom use cases does take some work as you provide information in input fields and an example output for the AI to work from.
However, once done, training the AI with existing content is quite handy and can save time in setting up rules for formatting and syntax.
Also, when you create your templates, there is an added layer of content quality control, as you can tailor the output to your needs.
Rytr Templates
Regarding templates, here are some formats that Rytr's AI writing assistant can quickly generate for you.
AIDA, PAS
For content marketing campaigns, the AIDA (Attention, Interest, Desire, and Action) and PAS (Problem-Agitation-Solution) templates help craft content that will engage potential customers.
These templates provide structure to:
create compelling copy that grabs readers' attention
sparks their interest in your product or service
drives them to take action
and encourages them to purchase.
Blog Outline And Sections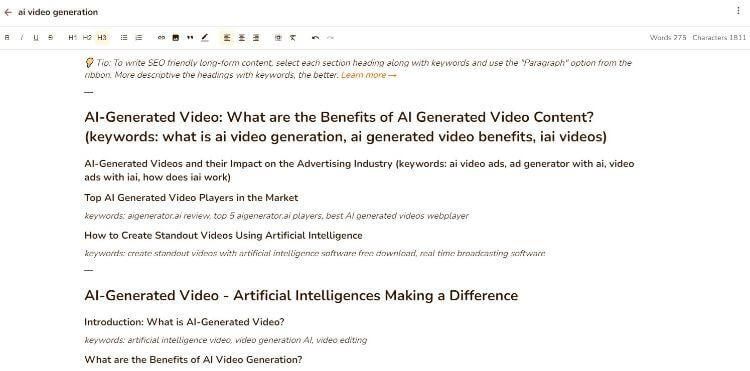 Generating outlines and sections for your articles in just a few seconds can be a great way to jump-start the writing process.
With Rytr, you can quickly generate blog post outlines and sections to keep your readers engaged and ensure your article has all the necessary content.
Call To Action
Nothing is more important in marketing than a compelling call-to-action (CTA).
Rytr's AI writing assistant can help create CTAs tailored to your needs and products.
Post And Caption Ideas
Creating creative ideas for posts or captions can be challenging, especially with people's attention spans on social media.
With Rytr's AI writing assistant, you can generate various ideas to capture your audience's attention.
Video Description And Idea
Creating videos for marketing or other purposes is now easier than ever with Rytr's AI writing assistant.
Just provide some basic information, and it will generate a video description and an idea for content that will ensure your video stands out from the crowd.
Integrations
Rytr doesn't come with many integrations out of the box.
It does integrate with SEMRush, allowing you to get keyword ideas and insights quickly and easily.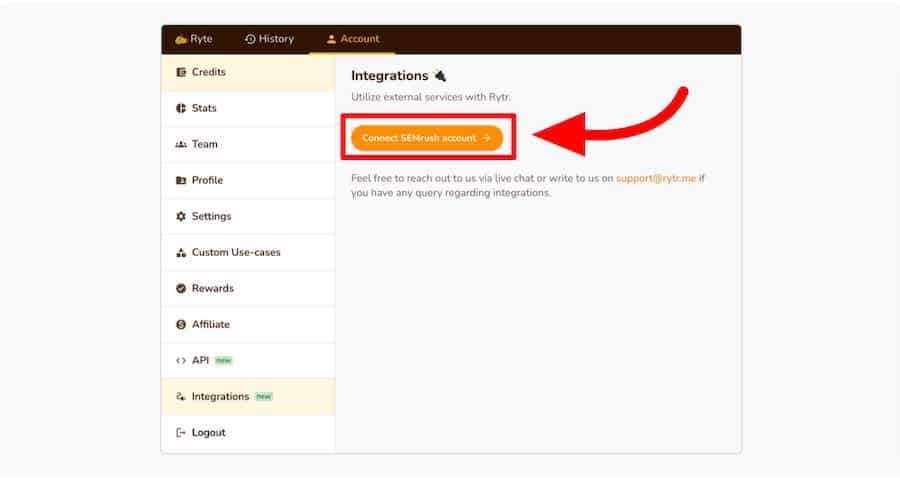 The Rytr API also allows developers to customize their experience even further.
However, Rytr doesn't offer many integrations compared to its competitors.
For example, many tools offer Grammarly integration which helps with grammar checks, Surfer SEO which allows for search-engine-optimized research, and more.
Rytr Chrome Browser Extension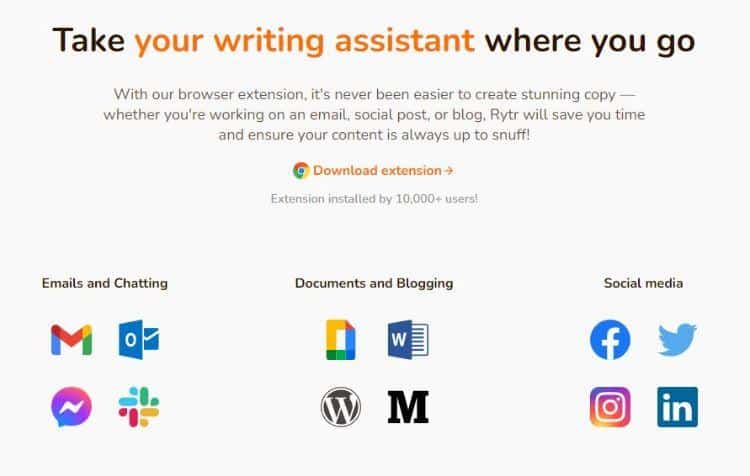 The browser extension helps you use Rytr's AI writing assistant even when you're not actively using the platform.
You can use it to add text snippets quickly, create content on the go, and keep track of your writing progress and productivity.
Who Is Rytr For?
Many users can benefit from Rytr's AI writing assistant.
People that want to generate various ad copies for their landing page and help them stand out from the competition would be the prime candidates.
Moreover, if you want to create high-quality content for LinkedIn or other social media platforms, Rytr can be a great tool.
The great news is that you won't have to worry about running out of content ideas using the unlimited plan.
For bloggers and content writers that want to generate long-form articles for their WordPress blog, there might be better choices than this tool.
Rytr Support
A ticketing system lets you contact the Rytr team directly from their website.
This chat support is quiet handy for addressing any issues you run into.
For any queries you might have, there's also Rytr's knowledge base which offers a wide range of helpful tutorials and articles that can help you get the most out of the platform.
Rytr Competitors
When it comes to Rytr alternatives, the following tools stand out.
Jasper AI
Jasper AI is an AI writing assistant that focuses on helping you create SEO-friendly content for your website.
With its boss mode, Jasper helps you issue commands and get content generated in seconds.
One can also use multiple templates to generate content quickly.
CopyAI
Copy.ai is another writing assistant that helps you quickly create optimized and engaging content.
It allows you to use natural language processing (NLP) to get personalized recommendations based on the input you provide.
For long-form content, this tool is better than Rytr.
Rytr Pricing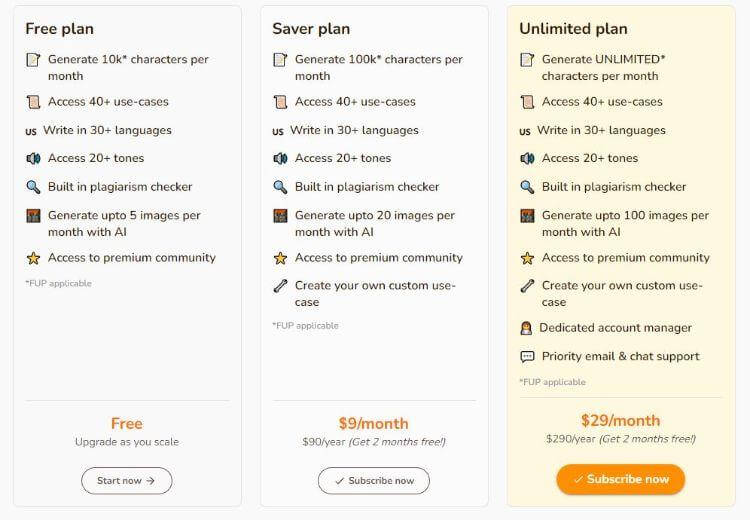 Does Rytr offer a competitive pricing model?
Rytr has three plans you can choose from.
The free plan allows you to generate up to 10K characters per month, which isn't much.
However, it offers insight into the platform's capabilities.
The Saver Plan comes in at $9/month and allows you to generate up to 100K words per month.
Lastly, Rytr's Unlimited Plan is $29/month and provides access to unlimited characters.
Having unlimited characters helps you utilize the AI writing assistant without worrying about wasting content generation.
Overall, the pricing is very competitive compared to other AI writing assistants.
Specific Rytr Use Cases
Rytr can help with various types of content creation tasks.
It can help users create high-quality, engaging content quickly and easily.
For example, Rytr can generate blog posts, social media copy, videos, and more.
For bloggers or social media marketers, Rytr can provide creative post ideas and suggest optimized images for each platform.
Rytr also provides an SEO content writing feature, which can help you generate quality copy optimized for search engine results pages.
This tool enables you to use popular keywords in your content while ensuring it's still readable and engaging.
Regarding optimizing your LinkedIn profile, Rytr makes the process easier with its automated features.
It can suggest relevant profile sections based on your industry expertise and even provide examples of profiles from other professionals in the same field.
Wrap Up.
Rytr is a powerful AI writing assistant that can help you create high-quality content for your website, blog, or social media pages.
It offers an affordable pricing model to get you started and customer support that provides users with the best experience possible.
If you're looking to generate short-form content quickly and easily, Rytr is a tool to consider.
Further reading on AdamEnfroy.com: As a blogger, using an AI writing assistant to optimize search engine optimization and create content quickly can help you scale your blog business.
Copywriting software can also help you create sales copy quickly, allowing you to optimize your ad campaigns without breaking the bank.
Whether you're looking for freelance writing jobs or trying to get a permanent position as a content writer, understanding the importance of SEO and search engine optimization can help you succeed in these positions.
Disclosure: I may receive affiliate compensation for some of the links below at no cost to you if you decide to purchase a paid plan. You can read our affiliate disclosure in our privacy policy. This site is not intending to provide financial advice. This is for entertainment only.
---
Last Updated on April 13, 2023 by Adam Enfroy