Writesonic Review: Pros, Cons & Features in 2023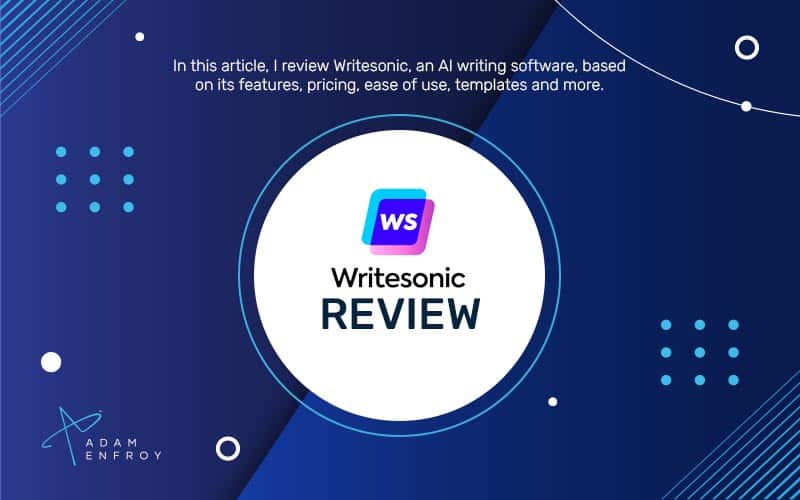 Robots and writing.
Who knew that those two things could go together so well?
As AI writing software improves, we're seeing more and more amazing applications for it.
In this article, I'll review Writesonic, an AI writing software that many content creators in this industry love and use daily.
I will look at its pros, cons, and features, helping you to decide if it's the right AI writing tool for your business.
An In-Depth Writesonic Review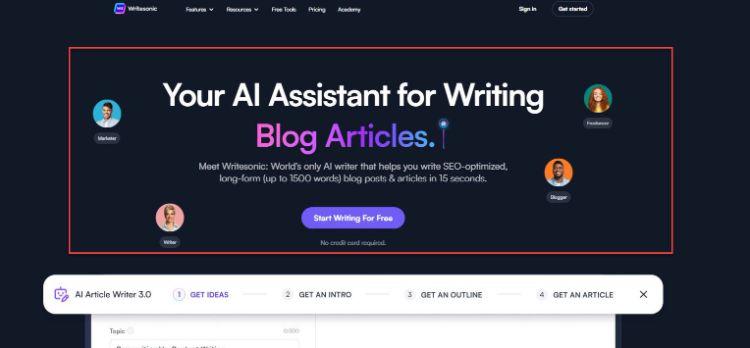 Writesonic is an AI-powered writing assistant that helps with various content-related tasks.
Writesonic makes it easy to create high-quality content by using a natural language processing algorithm to help with the writing process.
For a content writer wanting to leverage AI's power, Writesonic might be the perfect tool to go for.
It also includes several features that make it easier to produce quality content, features I'll look into in further detail below.
Whether your job revolves around creating social media posts, eCommerce descriptions, or even full-fledged articles, Writesonic can help you do the job faster while ensuring the final product is error-free.
How Does Writesonic Work?
If you can give instructions to another human being, you're qualified to use Writesonic and get the desired outputs.
Developers designed Writesonic to be as intuitive as possible, responding well even to more complicated requests.
Regarding the actual workings, the software comes with various templates trained to generate specific types of content.
Once you've chosen a template, it's time to start filling in the blanks with the information you want Writesonic to use.
Once you do, the artificial intelligence software will take your input and work towards generating the desired output.
The great thing is that you can also review what Writesonic comes up with at every stage, so you can also regenerate specific content if you're not happy with what you see.
The Library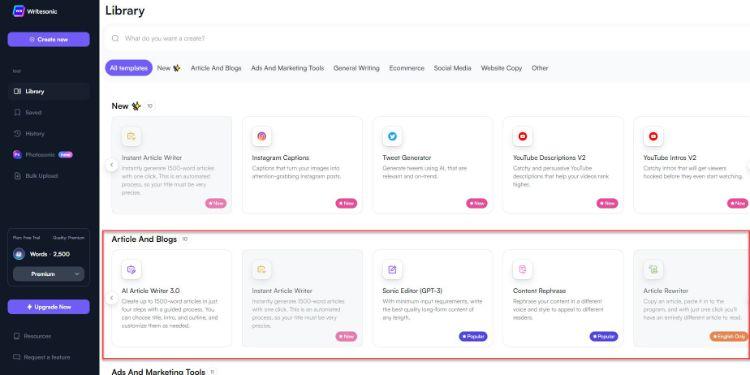 Writesonic's library sorts its templates into easy-to-use categories, making it easy to find a suitable template for the job, even if it's the first time using the software.
The library is constantly updated with new templates, so you'll always have access to the latest and most excellent options.
The primary categories include 'new ones', templates related to writing articles and blogs, 'general writing', 'ads and marketing tools', 'e-commerce', and more.
They cover the needs of most businesses that are looking to use AI for content creation.
Get started with Writesonic.
What Can Writesonic Write For You?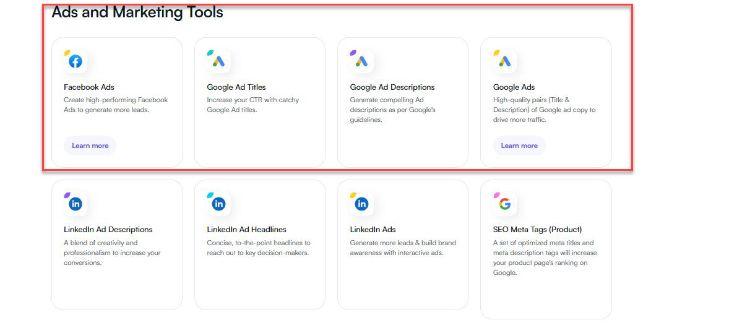 With many features, Writesonic is one of the market's most feature-rich AI writing tools.
Here's a quick overview of some of the features that come as part of this software:
Startup Ideas: Writesonic's Startup Ideas allow you to start a small business and explore ideas from various angles. Brainstorming using the power of artificial intelligence lets you consider options you might have never thought about before.
AIDA Framework: One of the top formulas in the copywriting world is AIDA (attention, interest, desire, action). In addition to the pain-agitate-solution formula (also found in Writesonic), AIDA can be a great way to write content that engages your readers.
Short Press Releases: The generated content in this template can be perfect for those wanting high-quality press release generation.
Meta descriptions: Ensuring your website's meta descriptions are on point is essential for SEO. It allows you to get help from an AI writing assistant to develop this information quickly.
Personal Bios: A suitable website copy to tell visitors who you are is essential. The 'personal bios' template will allow you to create a professional and interesting bio.
Sentence Expander: If you've ever experienced writer's block and needed help expanding on specific article ideas, this is the AI tool for you. It takes your existing sentence and completes your thoughts, helping you kickstart or improve your creativity.
YouTube Outlines: For those using Writesonic for video creation purposes, this template can be a lifesaver. It allows you to quickly generate an outline for your YouTube videos that are both informative and engaging.
Short LinkedIn Posts: If you're looking for a template of the best value-for-money, try this. It allows content creators to produce high-quality content for their LinkedIn profiles.
Google Ad Descriptions: Such a feature is beneficial if you're selling products on Amazon and want to use Google to drive traffic to your listing or if a small business owner wants to create ad copy for your Google Ads campaign.
Blog Outlines: It is excellent for beginners who want to start blogging. It allows you to generate summaries of blog posts to quickly develop new ideas and plan out your content in advanced ways.
Facebook ads: Creating digital ad copy that converts on Facebook is critical. As a copywriting tool, Writesonic can be an excellent asset for those who want to create high-converting Facebook ads ready to publish.
Product descriptions: Writesonic can also create product descriptions. Whether selling physical goods or digital products, this tool can help you create informative and engaging descriptions.
Landing pages: Generating the proper headers, subheaders, and copy ensures your website's landing pages are up to par. Such a feature can benefit those wanting to increase their conversion rates, coming up with variations they can split-test.
Content intros: Regarding content writing, bloggers often need help coming up with catchy and informative introductions. Writesonic allows you to generate high-quality starters regarding blog post ideas quickly.
Content rephraser: Taking blog ideas and saying them differently (while making them more engaging) is a skill that takes time to learn. However, with Writesonic, you can get help from an AI writing assistant who will rephrase your content while making the necessary improvements.
As you can see, there are many features you can take advantage of with Writesonic.
With 80+ templates, this platform is an excellent tool for businesses looking to create high-quality content using AI.
Ease Of Use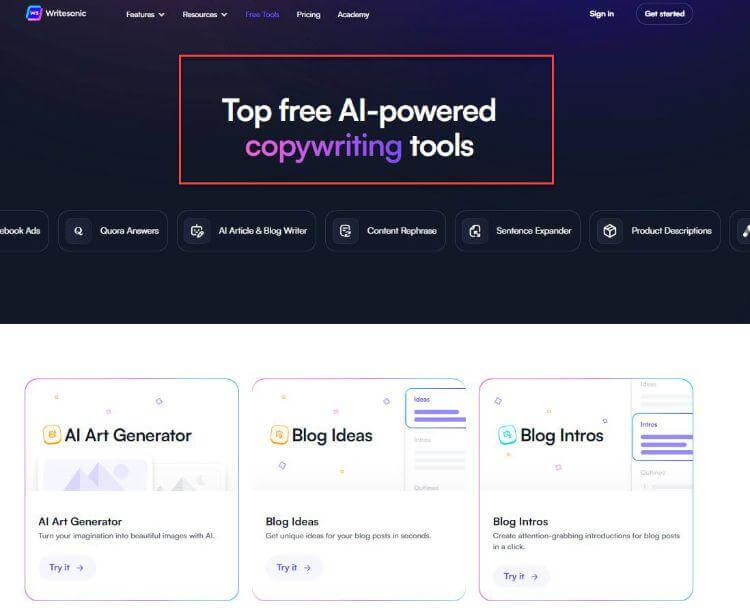 The various templates are easy to use, with examples provided within each one.
There are videos within the templates, helping you make the most of the software.
It's also good to note that using AI to create content will create different variations of your content.
You can easily create different versions of your content without starting from scratch each time.
Word Quality
Writesonic offers a feature that few other AI content generators have: the ability to control the quality of your words.
If you're focusing on quality content, the premium option will ensure that the words used are of the highest quality.
If you want more of a quantity-based approach, going with the economy option will focus the AI on writing content that is longer in size.
That said, you can use various templates with any word-quality option.
At the same time, all the content is plagiarism-free, meaning that Writesonic AI is an excellent option for businesses looking to create unique content.
The built-in plagiarism checker can also help you double-check this.
AI Article Writer
For those that want to generate longer (think 1500+ words) blog posts or go in-depth when they write articles, Writesonic's AI article writer can help.
AI Article Writer lets you enter a topic, and the software will generate a well-written article or blog post.
Another advantage of this feature is that the generated articles will be SEO-focused, helping you rank your content higher in search engines.
Writesonic Training Academy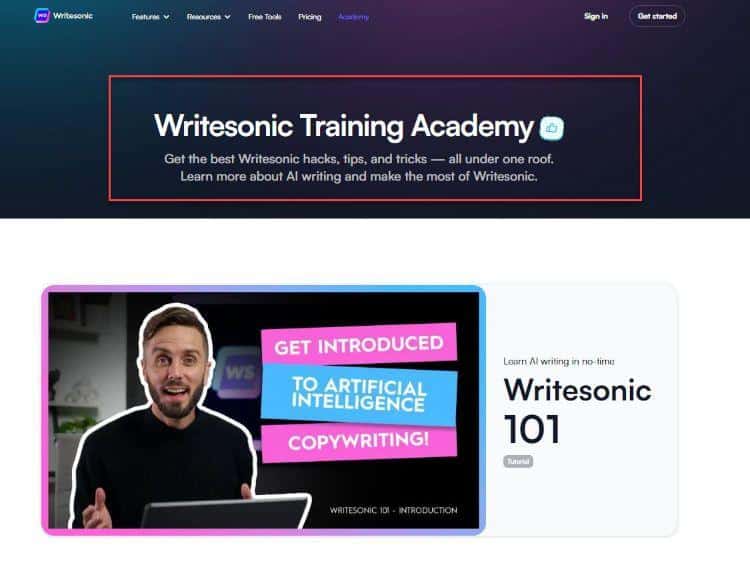 If all of the above sounds like a lot to take in, don't worry – Writesonic offers a training academy to learn everything you need about the software.
The training academy comprises video tutorials and resources to help you get the most out of the software.
Some of the topics covered within this academy include:
Picking the right plan
How to use the Writesonic dashboard
How to use the Article Writer
Get to know the Sonic editor
And more.
All of this ensures that you'll be able to get the most out of Writesonic and start creating high-quality content in no time.
Writesonic API
The company offers an API for developers who want to integrate Writesonic into their applications.
The API gives developers access to all of the available features within the software, making it easy to create custom content generation solutions.
While you have to contact the Writesonic team to get the API key and get started with the API, the process is relatively straightforward.
Overall, Writesonic's API is an excellent option for those that want to create their content generation solutions.
Photosonic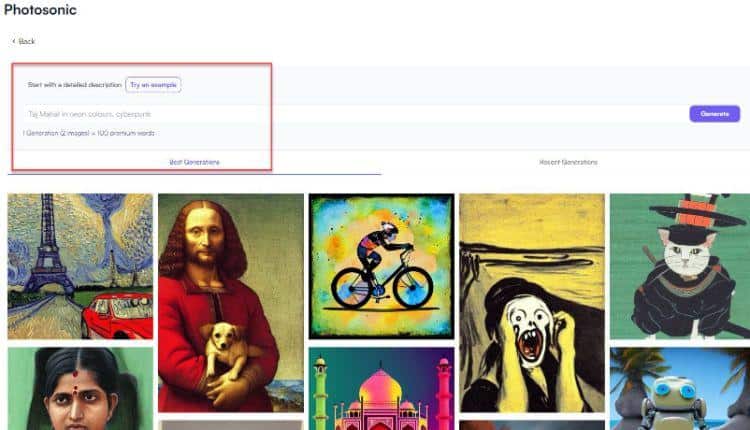 As the relatively new AI image generation trend keeps growing, Writesonic has also introduced an AI image generation tool called Photosonic.
Photosonic allows you to generate high-quality images for your website or blog. quickly
All you need to do is enter a keyword, and the software will generate royalty-free images that you can use.
Each generation produces two images, and the cost equals 100 premium words, making it easy to track your software usage and ensuring you get the most out of your subscription.
Whether you want to generate images that compliment your blog posts or use them on social media, Photosonic is an excellent option to consider.
Moreover, it's available within the same interface you'd use to generate content.
Writesonic Pricing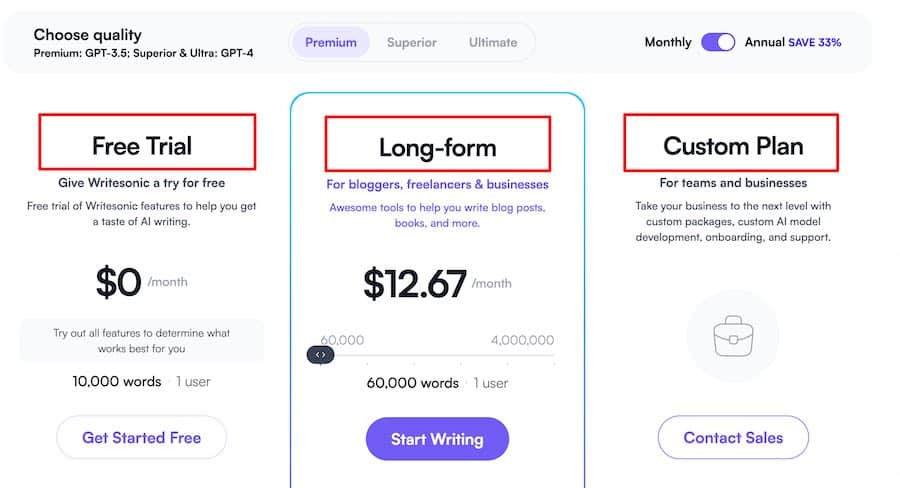 Writesonic offers three different pricing plans, as follows:
Free Trial: Here, you can generate up to 10,000 words, giving you plenty of opportunities to test the software and see if it fits your business's needs.
Long-Form Plan: You can generate as many as 4 million words monthly. With the ability to choose annual billing and save 33% on your subscription, this amount of words would cost around $666 monthly. However, it's all variable depending on the number of words you generate.
Custom Plan: Contact sales at Writesonic to set up the perfect plan for your business.
Just note there are no unlimited credit plans, so you'll need to keep an eye on your word count or upgrade your plan.
Is Writesonic Good For SEO?
The answer is yes.
One of the most significant advantages of using Writesonic for SEO is that it can help you save time and effort in creating content.
Its machine-learning capabilities can generate unique and relevant content on any topic in seconds, allowing you to focus on other essential tasks.
Another benefit of using Writesonic for SEO is that it can help you optimize your content for keywords and phrases related to your business.
By analyzing search engine queries and using natural language processing, the tool can suggest the best keywords to use in your content and help you improve your search engine rankings.
Additionally, Writesonic can create meta tags and meta descriptions and optimize on-page elements to ensure your content is easily discoverable by search engines.
This can help improve your website's visibility and attract more organic traffic.
However, it's worth noting that while Writesonic can be helpful for SEO, it shouldn't be relied on entirely.
It's important to conduct keyword research and ensure that your content is well-written, engaging, and provides value to your target audience.
Wrap Up.
For freelancers that want to harness AI copywriting and content generation to business owners that want to automate content creation, Writesonic is a tool that's worth considering.
The software offers a wide range of features and tools that make it easy to generate high-quality content without spending hours upon hours doing so.
Not only does this free up your time, it also allows you to focus on other business areas.
With templates that cater to various situations and needs and an impressive array of customization options, Writesonic is a tool that businesses of all sizes can use.
Get started with Writesonic.
Further reading on AdamEnfroy.com: There are various other GPT-3 based AI writers to consider on the market right now.
From Copy.ai to Rytr, there are several options to choose from.
Check out this Jasper review for more information on one of Writesonic's direct competitions.
Artificial intelligence technology can also power up various creative tasks, including AI story generation and novel writing.
It can even help with search engine optimization, with various AI SEO tools able to optimize your website for Google.
Editorial Process:
Our reviews are made by a team of experts before being written and come from real-world experience. Read our editorial process here.
Some of the links in this article may be affiliate links, which can provide compensation to us at no cost to you if you decide to purchase a paid plan. These are products we've personally used and stand behind. This site is not intended to provide financial advice. You can read our affiliate disclosure in our privacy policy.
---
Last Updated on May 1, 2023 by Adam Enfroy