7+ Best AI Story Generator Tools for Writers in 2023
Choosing the right story generator tool is vitally important to your business. From coming up with the right hooks to keep readers engaged, to helping you beat writer's block, the best story generator tools can help you meet your goals. In this guide, I ranked and reviewed the 7+ best story generator tools, so that you can pick the best one for you.

Jasper.ai
Jasper.ai can help with everything from one-shot blog posts to creative story templates for writers looking to get published.

Writesonic
Writesonic can transform your writing with AI-driven tools like Sonic Editor and AI Writer, designed to craft engaging content.
---
We're reader-supported. When you buy through links on our site, we may earn an affiliate commission.
Would you believe me if I told you you could write a story and have it ready to be published within the next seven days?
What if you didn't even have to slave on your keyboard all day long?
What if you could instead just sit back, relax, and let an AI writing software do the work for you?
From writing character descriptions to starting a book blog, these AI tools can be valuable for any writer.
In this article, I'll review the best AI story generator tools for writers based on features, pricing, abilities, and use cases.
Let's get right into it.
What Are The Best AI Story Generator Tools?
The following are the best AI Story Generator tools for writers right now.
Best Overall For AI Writing.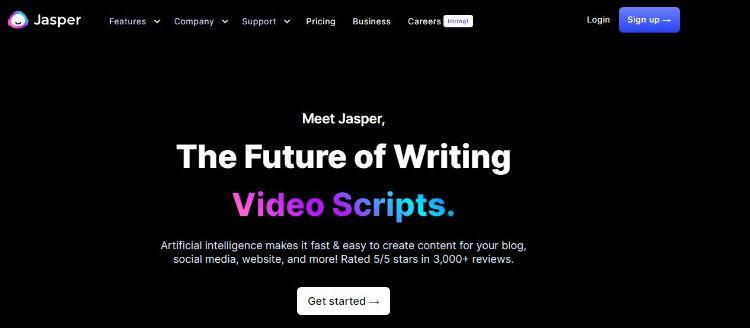 Jasper.ai (formerly Jarvis) uses various templates to generate story ideas.
From one-shot blog posts to creative story templates for writers looking to get published, this AI tool can help with it all.
If you hate being stuck when starting from scratch or need the inspiration to move forward, Jasper.ai is your best story generator.
In addition, with the 'explain it to a child' template, you can ensure that your story idea is understandable and easy to follow.
Key Features: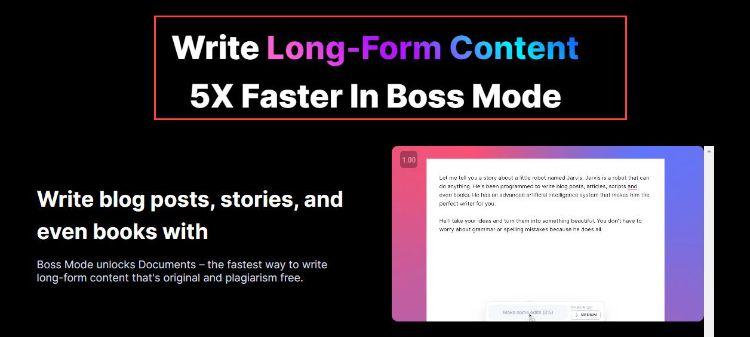 Build content fast by using multiple templates to generate ideas.
Write blog posts, books, or stories with the help of AI.
Optimize content to rank for valuable keywords, helping the right people to find your work.
Keep your team organized with folders for different projects so that everything is in the right place if you're writing one or more content pieces simultaneously.
You can talk to the AI to get the desired outputs using Jasper Chat.
User Experience: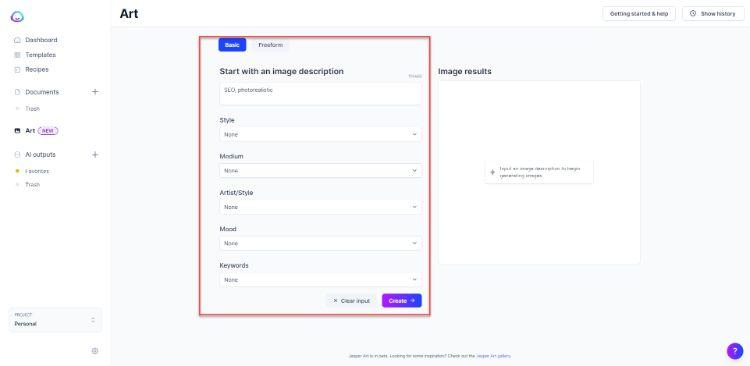 The new Jasper Art feature is fantastic for those who want to add visuals to their stories.
Pricing: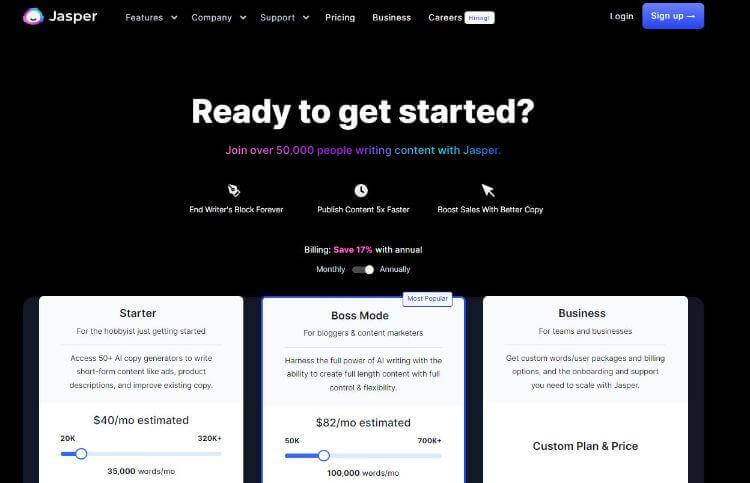 Jasper.ai starts from $40 per month.
You could also go for Boss Mode, a command-based content writing tool that helps you create content faster and with fewer restrictions.
The costs here start from around $82 per month.
There's also a business plan for those that need even more features.
What I Like/Dislike About Jasper:
Like:
Whether you use boss mode or any of the various templates available, generating the right story can be accomplished.
Dislike:
There is a learning curve if you want to maximize your credits.
You have to learn a few commands to get the desired output.
Product Updates:
The recently added commands template allows you to instruct Jasper about your desired content, making starting with this AI content-writing tool easier.
Get started with Jasper.
Best For Flowing Writing.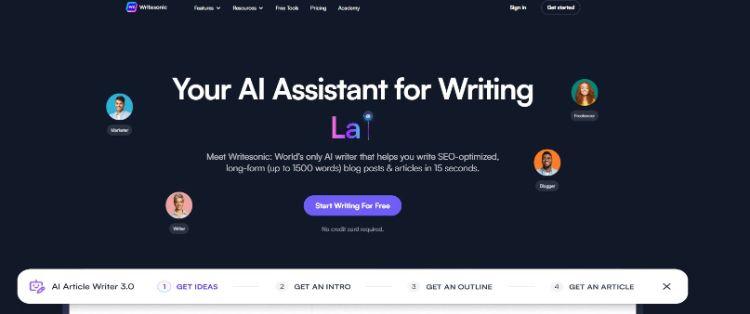 Writesonic uses its Sonic Editor to help you write better stories that sound good and flow in a way that makes sense to the reader.
The idea is that by using this tool, you can create content that is more engaging and enjoyable to read.
You can also use their AI Writer to create long-form content like blog posts and articles.
Then, with various editing tools, you can ensure your content is error-free and flows well.
Tools like the Paraphraser, Expander, and Shortener were created to help you improve your writing.
If you're unsure what to write about, Writesonic can help with that too.
Simply describe your topic, and their AI will develop ideas for you.
Key Features: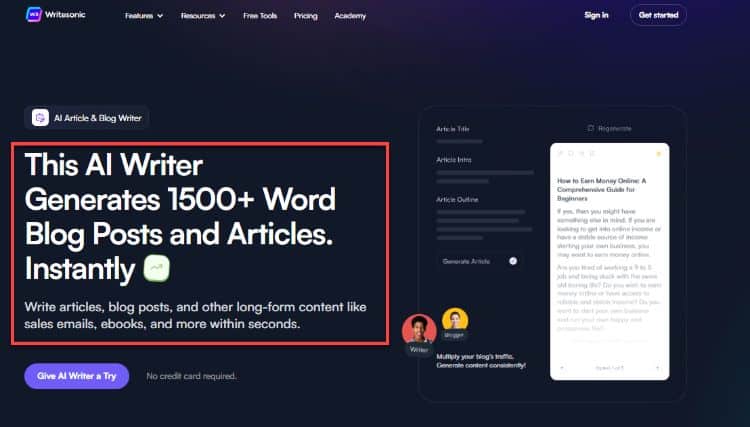 If your writing is getting out of hand, use the paraphrasing tool to make it more concise.
If you want to make your writing sound more natural, use the sentence expander.
And if you're unsure what to write about, Writesonic will develop ideas for you.
I also like their company vision template feature that can help you create a clear and concise company vision statement.
You can also craft cold emails that use the correct stories to get recipients to take action.
User Experience: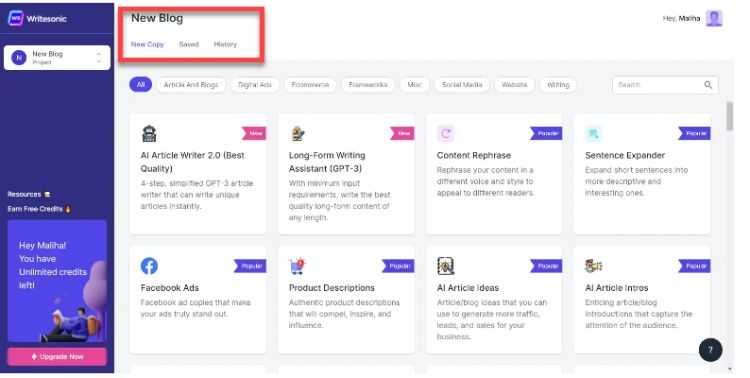 As a blogger or content writer, this is one of the best tools you can use to ensure your writing skills are on point.
With an easy interface and fun to use, you can get started immediately.
Pricing: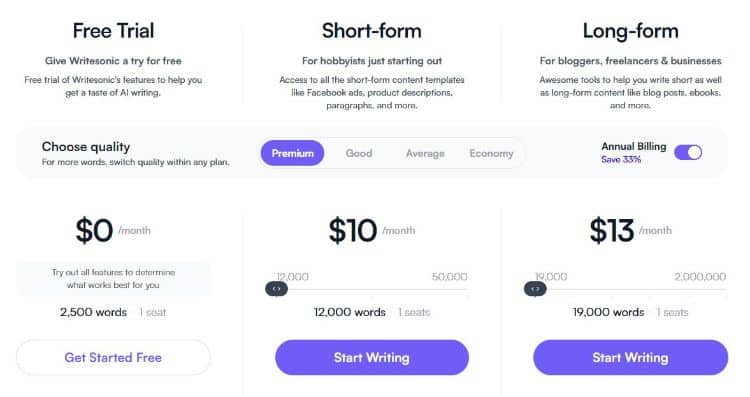 Writesonic offers these pricing plans:
Free Trial: $0
Short-form: $10
Long-form: $13
What I Like/Dislike About Writesonic:
Like:
You can easily pick apart what you like from various texts and combine them to create something new and improved.
This is a great tool for non-copywriters who want to improve their writing.
Dislike:
With various options, you must select the right one to finish the job, which can be confusing initially.
Product Updates:
Templates such as 'Real estate listing descriptions', 'Keyword Extractor', 'Pain-Agitate-Solutions', and more are now available.
Get started with Writesonic.
Best For SEO-Focused Content.

CopyAI can help create any story or content you need.
This AI-based tool can help with things like generating ideas, writing headlines, and even coming up with social media posts.
Companies are also using it to create SEO-focused content that converts.
CopyAI can help by providing a much-needed boost of inspiration even for those that love freestyling in their story writing.
From novels to product descriptions, this tool can help with it all.
Key Features: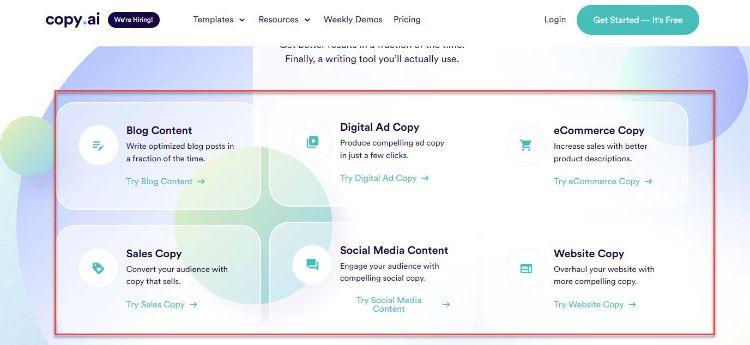 Create social media content that stops people from scrolling and forces them to take notice.
Use CopyAI to write sales copy that's impossible to resist.
Generate digital ad copy that gets people clicking.
Create blog posts with ease using CopyAi's blog tools.
Write emails and letters that get the response you need.
User Experience: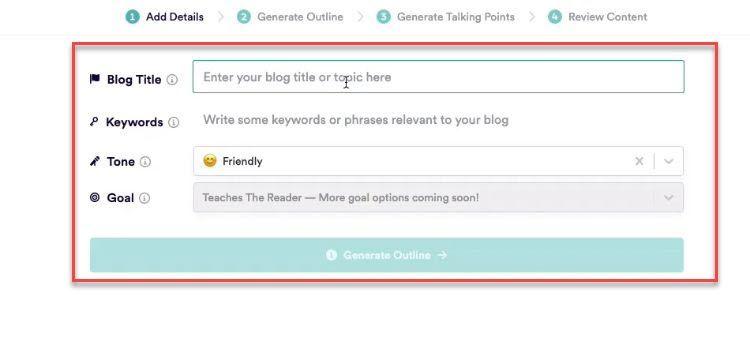 Generating an outline is super easy – all you need to do is fill in a few blanks, and CopyAI takes care of the rest.
Pricing: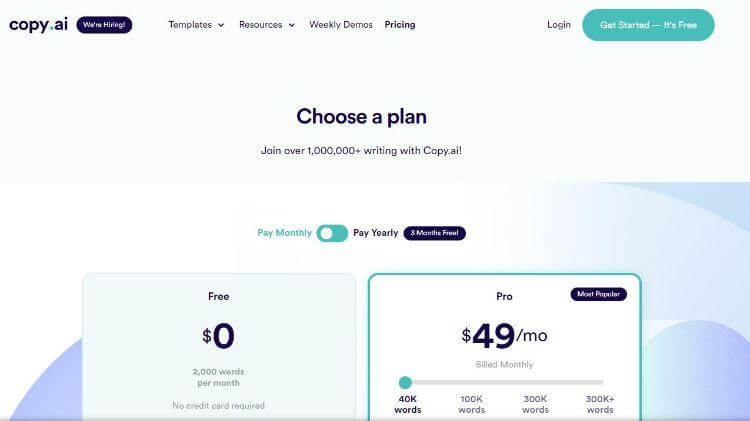 CopyAI offers different plans:
Free: $0 per month – 2000 words
Pro: $49 per month – 40000 words
You can also generate more words than the above limit, billed per word.
What I Like/Dislike About CopyAI:
Like:
It has an easy-to-use interface that allows you to get started immediately
It comes with a decent text editor for modifying the AI-generated story.
Dislike:
Building long-form copy can be frustrating, with this platform's wizard lacking some features that would make the process smoother.
Product Updates:
You can keep using this tool for free with 100 free credits upon account creation.
Then, you get ten more monthly free credits to keep the ball rolling.
Get started with Copy AI.
Best For Improving Current Stories.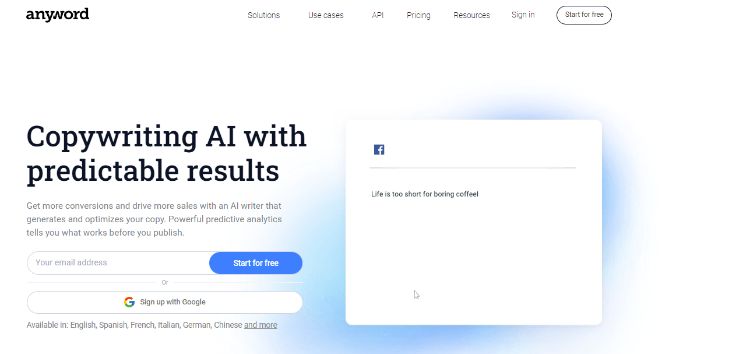 Anyword offers various features for writers looking to improve their storytelling skills.
It uses AI to help you develop new ideas, improve your writing style, and even make the current text on your website more engaging.
For example, their sentence rewriter feature can help you take a bland sentence and make it more interesting.
Creating relevant, quality content is becoming more complex, Anyword can give you a much-needed boost.
Whether you're creating stories to publish on your blog or working on the next great American novel, Anyword is worth checking out.
Key Features: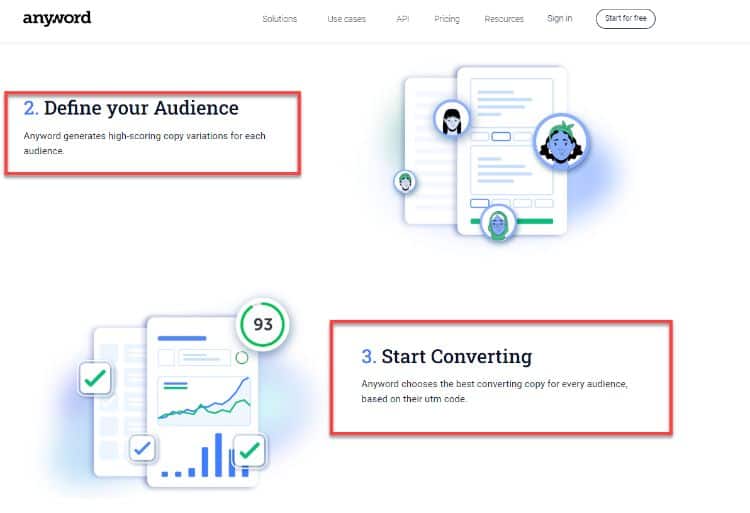 The content improvement feature is perfect for bloggers who want to make their posts more engaging without spending hours editing them.
I like that I can save time and guarantee my performance with Anyword.
I also like that it can help me improve my existing copy, making it more engaging for my readers.
User Experience:
Simply choose from ad copy, social posts, emails, or more, to create the correct type of content for your needs.
You can also use the "Content Improver" to spruce any content.
Pricing: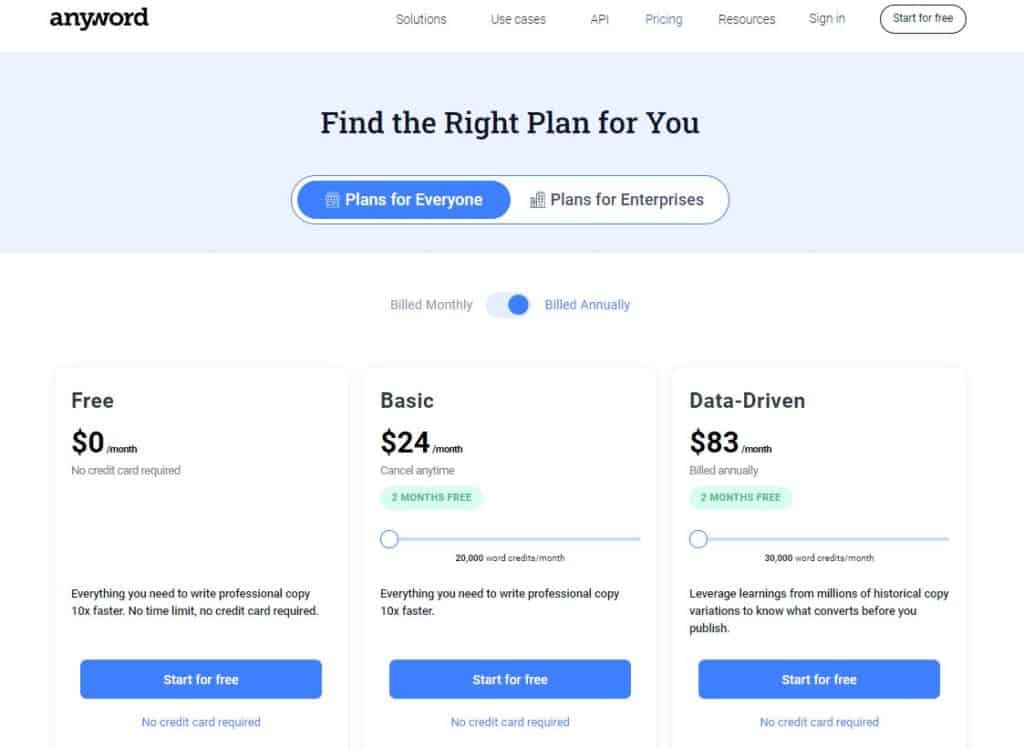 Anyword offers these different subscription plans for users:
Free: $0 /month
Basic: $24 /month
Data-Driven: $83 /month, billed annually.
What I Like/Dislike About Anyword:
Like:
Fill in the details, like choosing a keyword and titling the body, and you're good to go.
This feature is a considerable time and money saver for people who want to improve their content without spending hours editing it.
Dislike:
You have to read over your material before presenting it to ensure it is cohesive with the topic at hand, so the final product still requires some level of human interaction.
Product Updates:
The predictive performance score is a great way to see how your content is faring and if you need to make any changes.
Get started with Anyword.
Best For Blog Post Generation.
Have you ever wished that you could write like a master?
Now, with the help of Shakespeare, you can turn your writing into a work of art.
Whether you are writing an academic paper or want to be creative, Shakespeare can help unlock your untapped potential as a writer.
Shakespeare is an AI-powered writing tool that helps users quickly create fresh and unique content for any paper without needing time to master new skills.
The platform is perfect for those looking to improve their writing skills without spending hours learning them.
To get started, type your text in the proper templates and watch as the platform instantly generates new sentences and ideas.
Shakespeare is a great tool to help you craft perfect papers with ease.
You can also create whole posts with just a few clicks of a button, and the platform even generates different ideas every time.
Key Features:
AI predictive text completes your sentences, giving you more time to focus on the quality of your content.
With expanded content creation tools, everything from project outlines to whole articles can be easily created.
With thousands of words available monthly, content can be created quickly and in bulk.
Onboarding and training sessions ensure everyone knows how to use the platform for the best results.
Premium technical support is available when needed, ensuring your projects are in good hands.
User Experience:
The complete blog wizard provides users with a simplified process for creating content.
The result is divided into sections that make it easy to read and understand.
Pricing:
Shakespeare offers three pricing options, with a 5-day free trial (and a 90% discount for the first month) to let you test the platform before committing.
The standard plan offers 45K per month for just $49, while the Pro plan provides 60K words for $59.
You will pay as you go if you use more words than the above limits.
What I Like/Dislike About Shakespeare:
Like:
As someone wanting to ease my content creation workload, I love how Shakespeare allows me to generate new ideas and content quickly.
Its various templates and tools allow users to structure their papers as best as possible.
Dislike:
While there is the option to organize your outputs into projects, there doesn't seem to be an easy way to create multiple projects and manage them properly.
Get started with Shakespeare.
6. Rytr.
Best For Faster Writing.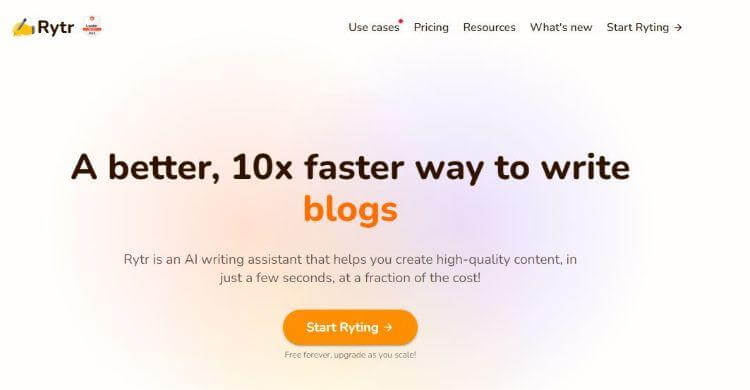 Rytr is a way to write 10x faster using an AI-powered content generator.
This tool can help you generate ideas, rewrite sentences, and even come up with headlines.
It's great for those who want to write faster without compromising quality.
Whether you want to create stories for your website or develop ideas for your next blog post, Rytr can help.
Rytr is also highly focused on originality when it comes to content generation.
If you're tired of hiring paid writers that don't quite deliver what you're looking for, Rytr can help you get the story you need without any associated hassles.
Key Features:
Choose your use case based on the type of content you need.
Add some input for context so Rytr can understand what you're looking for.
Rytr will then generate your content, which you can edit and perfect.
You can customize the length, keywords, and other details to ensure they fit your needs.
Rytr makes it easy to share your content on social media with just a few clicks!
User Experience: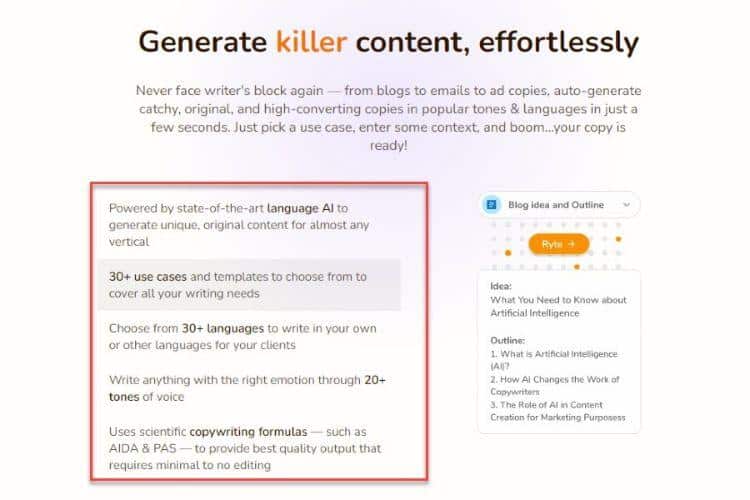 With the various use cases available, it's easy to find the right way to use Rytr for your story-writing needs.
Pricing: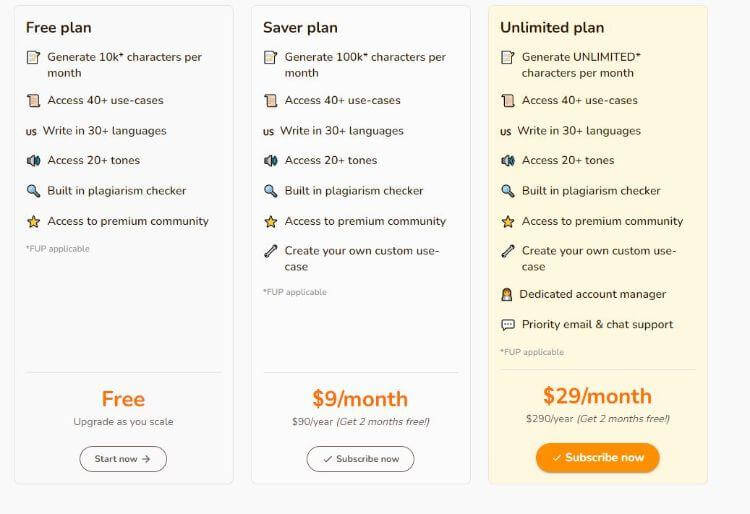 Rytr offers these plans:
Free plan: $0
Saver plan: $9/month
Unlimited plan: $29/month
What I Like/Dislike About Rytr:
Like:
With the Unlimited plan, Rytr is excellent for those who need to generate a lot of content quickly.
The plagiarism checker is built-in, ensuring your content is unique.
Dislike:
The Saver plan comes with a relatively small amount of credits for the price.
Product Updates:
The new API tools are available for everyone, so you can use Rytr for your website or app without hassle.
7. StoryLab.
Best For Generating Hooks.

StoryLab is a great tool not known by many regarding story generation.
This tool can generate hooks and outlines to help with character development.
It's also great for those who want to improve their writing skills.
From anything marketing related to developing the story plot for your next book, this tool should be one of your first stops for story generation.
Key Features: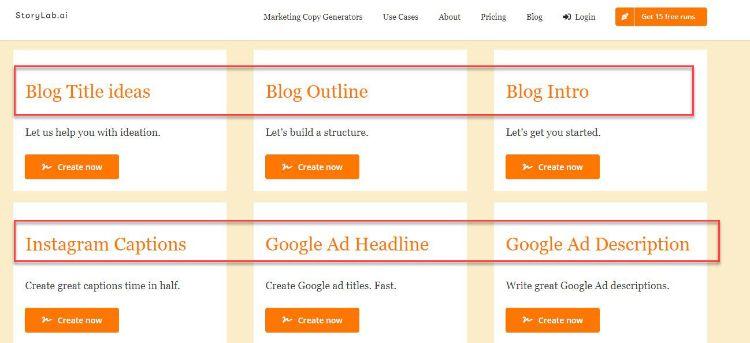 Blog title ideas ensure you never run out of topics to write about.
A blog outline generator helps you organize your thoughts to write more efficiently.
The blog intro module provides a great starting point for your next blog post.
Instagram captions enable you to come up with attention-grabbing captions for your photos.
Google ad headlines and Google ad description templates help you write compelling stories and ads that get clicks.
User Experience: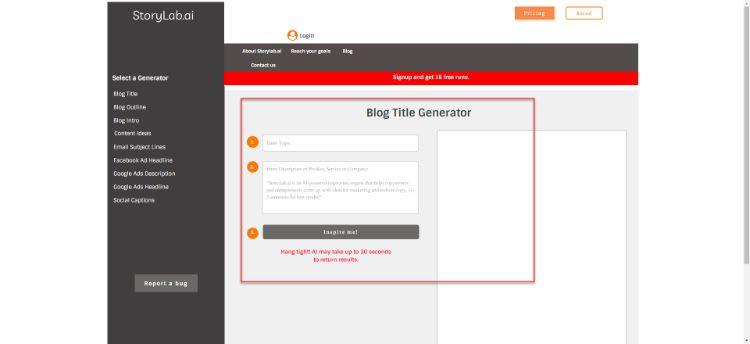 With its left-hand side menu, everything is organized within this platform and allows you to find what you're looking for quickly and easily.
Pricing:
StoryLab offers a free plan that allows for 15 AI runs every month.
After that, the paid plans are as follows:
Starter: $7 per month for 100 AI runs
Pro: $20/mo for 300 AI runs
What I Like/Dislike About StoryLab:
Like:
The blog title suggestions are usually entirely on point, helping you develop topics people want to read about.
The results of the Facebook ad copy template, which you can use to promote your story, are usually quite good.
Dislike:
The user interface isn't the friendliest, so this could be improved.
Product Updates:
Various marketing copy generators have been added to help promote your story once it's written.
8. Plot Generator.
Best For Developing Story Plots.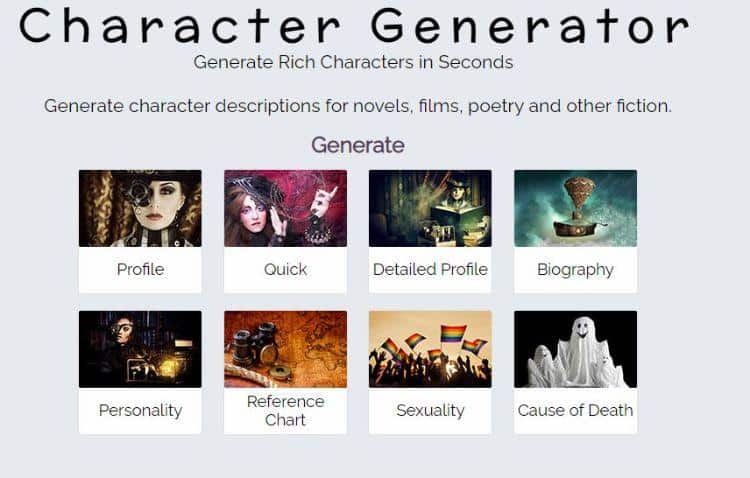 Plot Generator allows you to develop a story based on your chosen genre.
This is an excellent tool for those that want to write a book but don't know where to start.
You can also use this tool to develop ideas for short stories, movies, or even songs.
From writing a short story to movie scripts, opening lines, memes, and fairytales, the sky is the limit regarding what you can create with Plot Generator.
All you need to do is fill in the prompts to get started.
This tool is an excellent resource for anyone who inspires to tell their story to the world.
Key Features:

Use this AI storytelling tool to find the perfect inspiration, no matter your writing niche.
Choose a genre, and receive a list of plot ideas inspired by that style.
Create a storyboard for your project, so all your thoughts are in one place.
Get feedback from others by sharing your project with them.
Build a portfolio of your work and ensure it's easy to find and view.
User Experience: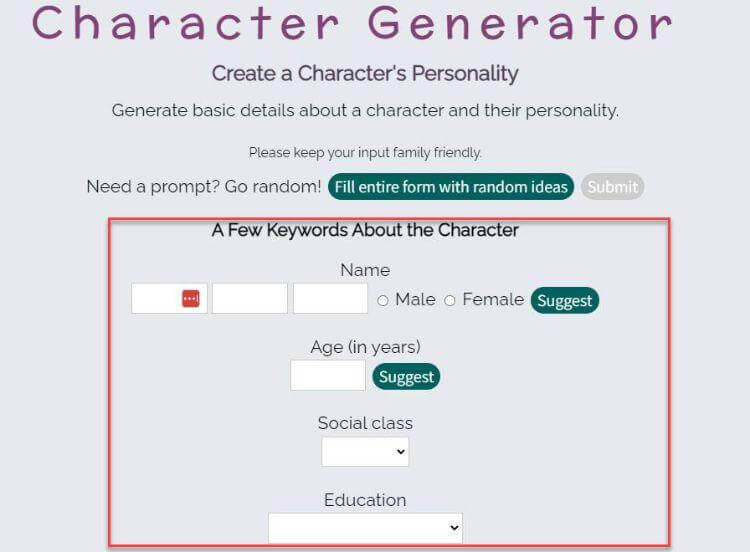 The various templates are well-organized on the homepage and are easy to access.
Pricing:
Plot Generator is free to use.
What I Like/Dislike About Plot Generator:
Like:
Various templates can help generate plots much easier.
The inputs are clearly labeled, making understanding what you need to do easy.
Dislike:
Since it's a free product, the site has various ads.
9. ShortlyAI.
Best For Removing Writer's Block.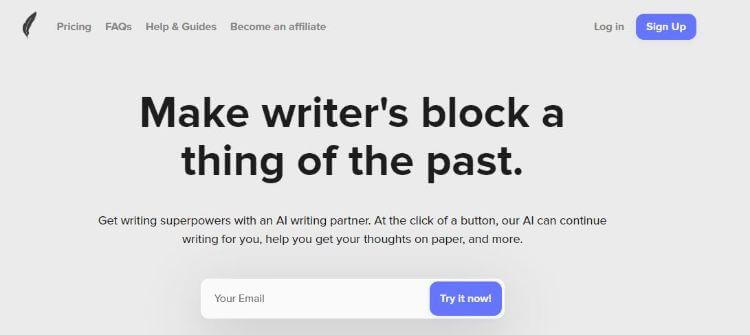 ShortlyAI helps ensure writer's block becomes a thing of the past.
It turns your ideas into fully-fledged articles with headlines, subheadings, and images.
Whether you're creating fully-fleshed prose or need some ideas to get started, ShortlyAI can help.
It's also great for those who want to improve their writing skills.
It can also become your brainstorming partner, taking the ideas in your head and expanding on them.
Key Features:
Powerful commands help you get the most out of ShortlyAI.
No credit system exists, so you can write as much as you want.
The generated output is original, so you won't have to worry about plagiarism.
Extend your creativity and use AI to develop ideas you would never have thought of.
Pricing: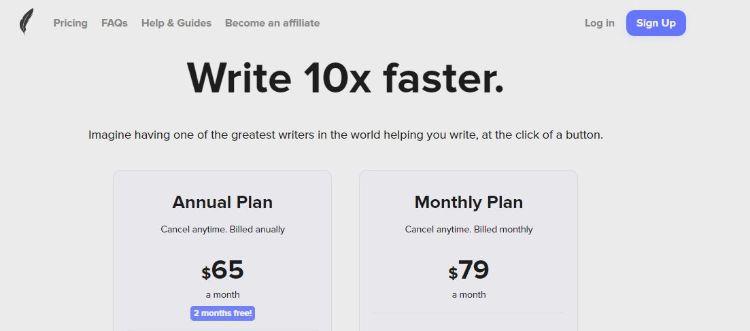 ShortlyAI comes in at the following prices:
Monthly plan: $79 a month
Annual plan: $65 a month
10. Writecream.
Best For Cold Outreach.

Writecream is an excellent AI tool that can help you craft the correct stories in a marketing context.
Specializing in cold emails, Writecream can help you come up with content that's not only creative but also effective in driving conversions.
While many find it tough to know what to say to someone they don't know, Writecream can help take the guesswork out of the process.
It does this by understanding your target market and customer base.
With people's first instinct to ignore anything that remotely looks like spam, it's more important than ever to have a tool like Writecream in your arsenal.
Using a person's LinkedIn profile URL, Writecream can help you develop a personalized message with a much higher chance of getting read.
Key Features:
You no longer have to dread cold emails with Writecream in your corner.
LinkedIn connection requests and InMails are now easy to write with this AI tool.
Backlink outreach just got a lot easier and more effective.
Podcasts can now be easily pitched with the help of Writecream.
Social media posts are no longer something you have to spend hours thinking about.
Pricing: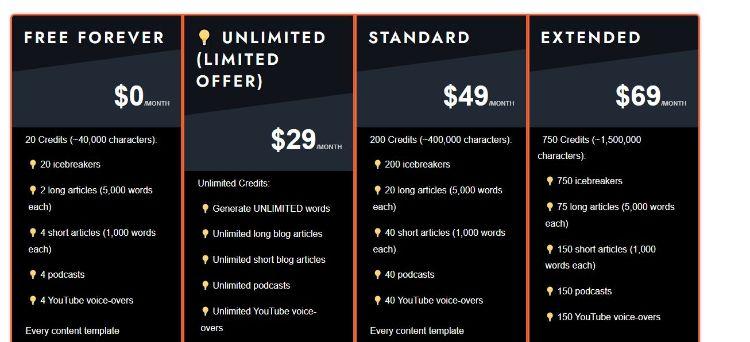 Writecream is free forever with its basic plans that, amongst other things, allows for 20 icebreakers, two long articles, and much more to be generated.
After that, the paid plans are as follows:
Unlimited: $29/month
Standard: $49/month
Extended: $69/month
Other story generator tools not mentioned in this article include Quillbot, Deepstory, Sassbook AI story generator, and NovelAI.
What Are AI Story Generators?
AI-generated stories are a new type of story created with the help of artificial intelligence.
Whether an author wants to write engaging stories or use a powerful AI story generator to help guide them with a story outline, there are many benefits to using an AI tool.
Getting one's creative juices flowing is not always easy, especially without an extended AI story writer, authors need that extra push to get going.
The right artificial intelligence tool can bypass writer's block and help with creative writing, resulting in a much more complete story in a fraction of the time.
Benefits Of Using An AI Story Generator Tool
With machine learning and neural networks, AI better understands context and creates realistic outputs.
This means an AI story generator tool can help with ideas and create complete, believable stories.
Here are some of the main benefits of using an AI story generator:
Save time: with a tool that can come up with ideas and even write complete stories, you can save a lot of time that would otherwise be spent brainstorming or staring at a blank page.
Get better results: by using a tool designed explicitly for story generation, you can be sure that the results will be of high quality and potentially better than what you would come up with on your own.
Get past writer's block: Premium plans on story generator tools will increase the number of ideas generated daily, which can help you get past writer's block.
Improve creativity: New exciting content is not always straightforward, which is another benefit AI story generator tools can help with. In addition, with a plagiarism checker usually inbuilt into the top tools, one can ensure that their work is original.
Write longer stories: GPT-3 (the engine behind OpenAI's TextWorld) can help write stories that get to thousands of words in length.
Bring a new perspective: Some of the algorithms in these story-generation platforms can learn from past data to provide a fresh take on familiar topics. This means that authors can describe their characters and settings in new ways, providing readers with a unique experience.
Who Is An AI Story Generator For?
An AI story generator tool is perfect for writers who want to save time, get better results, or overcome writer's block.
However, some specific people might benefit more than others from using these AI content generators.
Fiction Authors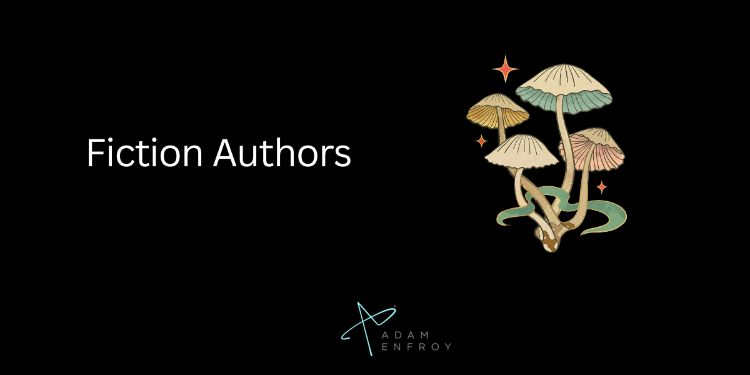 Creating quality content in the fiction niche is essential to success but can be very time-consuming.
With content creators striving for original content, an AI story generator tool can help create ideas for new and exciting stories.
The New Writer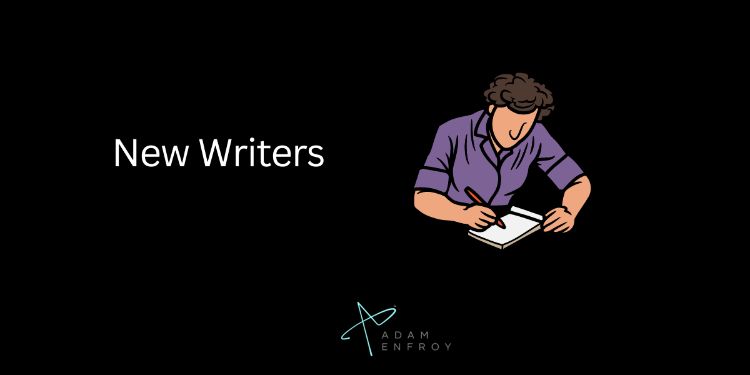 If you're new to writing stories, a story generator tool can be a great way to start.
You can use the tool to generate ideas and then use those ideas to write your own story.
The Writer Who Wants To Improve Their Writing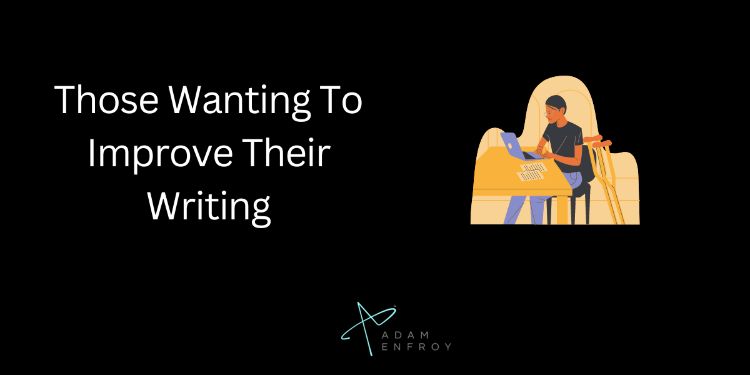 If you're struggling with your writing or want to get better at it, using a story generator tool can help.
Using the tool to generate ideas, you can improve your writing skills by seeing how other people have tackled similar topics.
Then, using various story generators, you can see the patterns that the best writers use to create their stories.
Authors Who Want To Create Longer Stories
If you want to write longer stories, a story generator tool can be a great way to start.
The right text generator will produce high-quality long-form stories that you can either use as a foundation for your writing or as is.
Screenplay Authors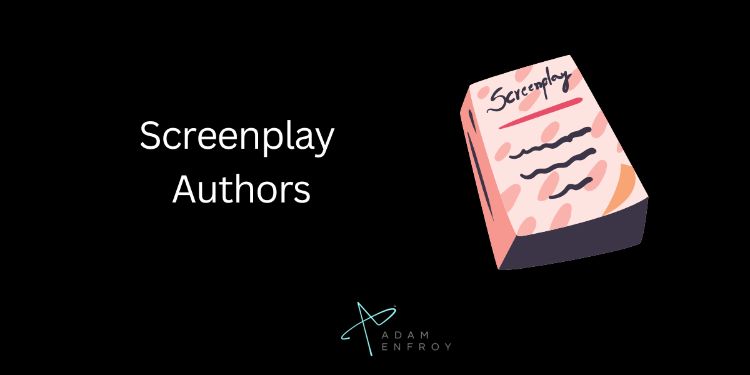 Creating a story using screenwriting software can be very time-consuming.
Various story-writing tools can help create ideas and even write complete scripts, saving a lot of time.
Marketing Freelancers And Agencies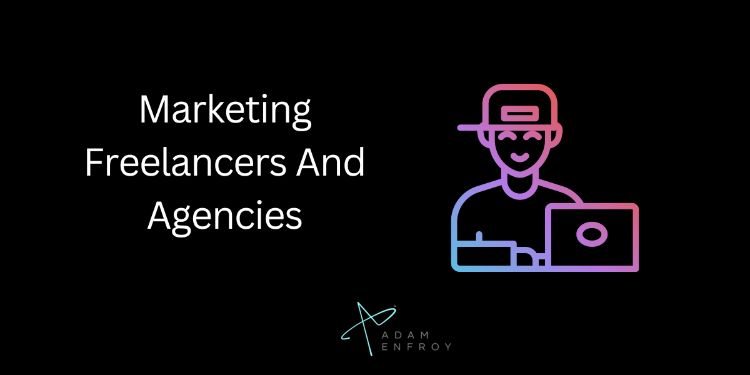 Stories are at the heart of every great marketing campaign.
From using proven formulas within copywriting software to generate AI content that helps sell products and services to AI writing tools to help produce blog posts that inform and educate, weaving in the right stories will help make your marketing more effective.
SEO Bloggers
Another use for an AI story-writing program is for bloggers that want to make money on platforms like WordPress.
Natural language processing can also help with SEO by helping you create keyword-rich and informative content.
How to Best Get Started with the AI Story Generators
Here are the main steps in getting created with an AI story-writing tool:
Research: Take the time to research your topic and know what type of story you want to tell. This step is crucial in collecting relevant information to ensure an interesting and engaging story.
Brainstorm: Start brainstorming ideas and think about how the plot, characters, setting, and other elements combine to make an exciting narrative. You can do this on paper or with digital tools like mind mapping software.
Outline: Develop a system that brings all of your elements together – this helps keep track of your progress and direction throughout the writing process, so you don't lose sight of what you're trying to achieve.
Writing: Start writing the narrative using your outline and research as a guide. Don't worry too much about syntax or grammar; instead, focus on getting all the ideas out of your head and onto paper (or screen).
Editing: After you have finished the first draft, it's time to go back and ensure everything flows correctly, that there are no plot holes or inconsistencies in character development, etc. This can be done through editing software or by hand.
Publishing: Finally, you can publish your story – whether self-publishing or submitting it to a publisher for consideration. With some AI story writing tools also able to help you craft your story even further, nothing can stop you from creating an amazing piece of content.
Wrap Up.
There you have it – some of the best story-generator tools for writers.
An AI story generator tool can save time, get better results, and overcome writer's block.
Whether you want to create original content, write longer stories, or improve your writing skills, these tools can help.
Would you ever consider using a story generator tool?
What type of story would you write?
Let me know in the comments below.
Further reading on AdamEnfroy.com: Writing stories is an excellent use of artificial intelligence.
With paraphrasing tools like Quillbot that can create new content based on original ideas, you can generate the correct output.
By combining such tools with keyword rank trackers, you can ensure that your content is not only well-written but also ranks high in search engines.
Disclosure: I may receive affiliate compensation for some of the links below at no cost to you if you decide to purchase a paid plan. You can read our affiliate disclosure in our privacy policy. This site is not intending to provide financial advice. This is for entertainment only.