7+ Best AI Novel Writing Software in 2023 (Rated & Ranked)
Choosing the right AI novel writing software is crucial if you want to produce high-quality novels that are enjoyable to read. From character development to plot construction, the best AI novel writing software can help you meet your goals. In this guide, I ranked and reviewed the 7+ best AI novel writing software, so that you can pick the best one for you.

Jasper.ai
Jasper is the best overall AI writing software because it is incredibly user-friendly and has a wide range of features to help you write your novel.

Writesonic
Writesonic provides an easy and efficient platform for writers to create content for websites, ads, emails, and blogs.
---
We're reader-supported. When you buy through links on our site, we may earn an affiliate commission.
Did you know that artificial intelligence will have contributed close to $15.7 trillion to the global economy by 2030?
AI is rapidly becoming part of our lives with various use cases and applications.
And now, AI is all set to change the face of literature with some excellent AI novel writing software.
After taking over the AI writing industry with various software for businesses, AI is now all set to help writers create better novels.
If you are a novelist (or simply thinking about starting a book blog), using AI in your writing process can help you in more ways than one.
Not only will it help you write better and faster, but you will also be able to get ideas and inspiration from your AI software.
In this article, I rate and rank the best AI-powered writing software for novelists that you can use right now, tools that can help with:
Brainstorming ideas for your novel
Outlining your plot
Writing and editing your draft
And more.
So, without further ado, let's get started.
What Are The Best AI Novel Writing Software?
The following are the top AI novel writing software to consider.
Best Overall.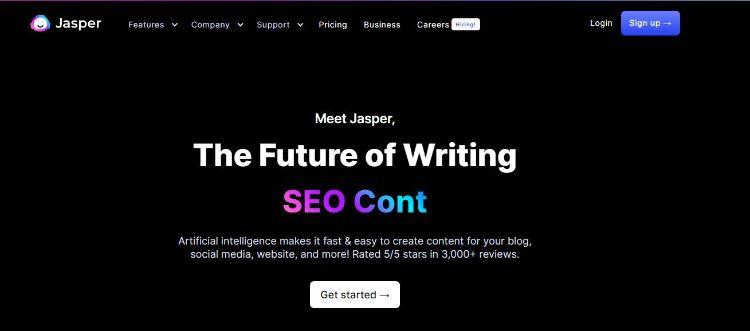 Jasper.ai (formerly Jarvis AI and Conversion.ai) makes easy work of writing a novel by taking care of the heavy lifting for you.
All you need to do is come up with an idea, and Jasper.ai will help you flesh it out into a full-fledged story.
Jasper AI is perfect for people who want to write a novel but don't know where to start or those who have trouble staying motivated.
If you want to eliminate writer's block, various templates can help you get started, or you can easily use the AI-assisted boss mode to get the job done.
Key Features: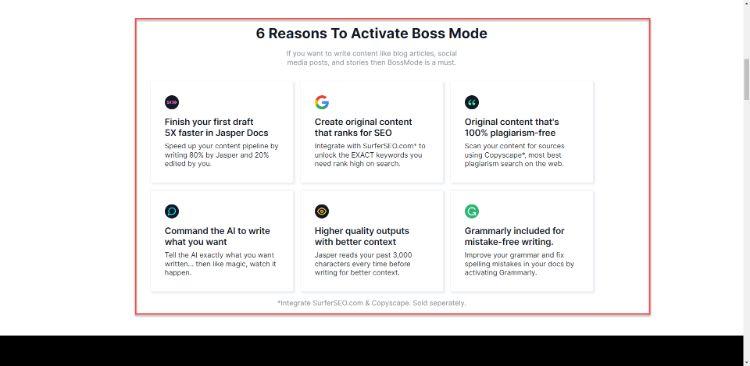 Scale up your content production fast to get your writing out there.
With over 50 templates and 25 languages supported, Jasper.ai makes it easy to get started and stay on track.
End writer's block with ideas from a robot that is contextually relevant and interesting.
Use recipes to store commands and automate your content creation process.
User Experience: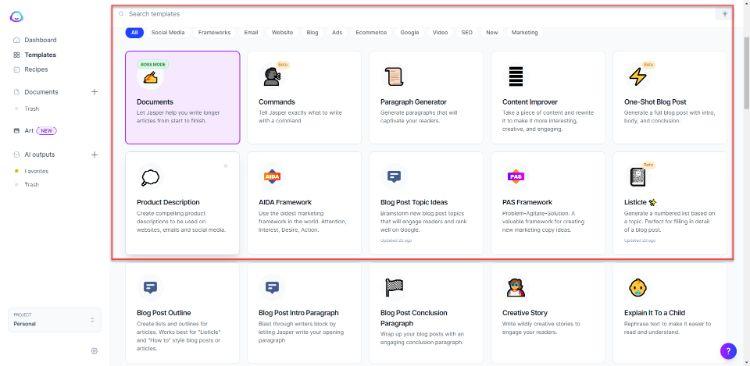 The template screen offers a wide range of options to help you get started, so no matter what your writing style is, you'll find something that suits you.
The user interface is straightforward, with all the features you need within easy reach.
Pricing: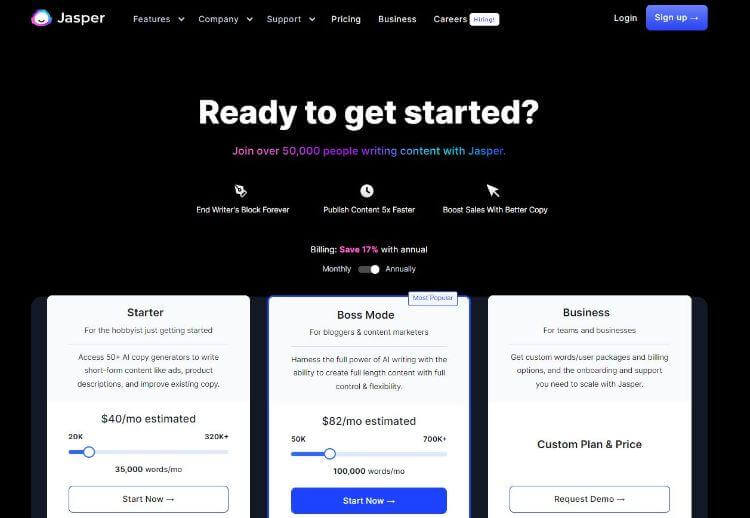 Jasper offers these pricing plans:
Starter: from $40 per month
Boss Mode: from $82 per month
Business: Contact their sales team for custom prices
What I Like/Dislike About Jasper:
Like:
The ability to instruct Jasper to write a story for you and the fact that it can do so quickly is fantastic.
Dislike:
There is a learning curve to getting the best output for your ideas.
The software will repeat some ideas if you don't give clear instructions.
Product Updates:
The new one-shot blog post feature is fantastic and allows you to create a post from an idea in seconds.
Get started with Jasper.
Best For Plagiarism-Free Content.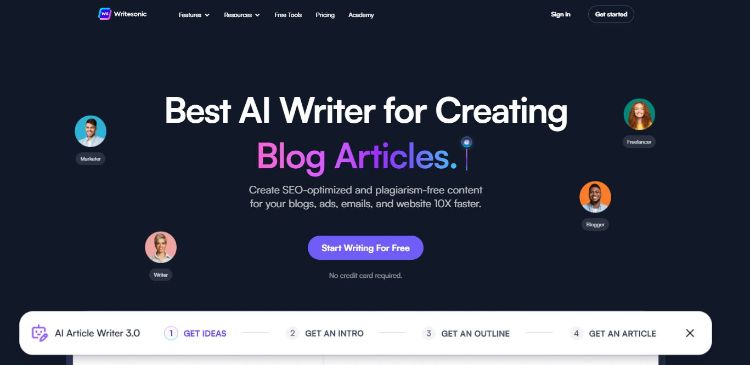 Writesonic is an innovative software that has revolutionized how writers create content for their blogs, ads, emails, and websites.
With its AI Writer and Sonic Editor tools, you can create plagiarism-free content faster.
Writesonic's AI Writer tool is designed to help writers create long-form content quickly and easily.
With its natural language processing algorithms, this powerful tool can generate content that reads as if a human wrote it in no time.
Plus, the AI Writer understands industry jargon, so you don't have to worry about explaining things multiple times or using overly complex words that may confuse your readers.
The results are high-quality articles optimized for search engines such as Google and Bing.
The Sonic Editor is an enhanced version of Google Docs, making writing more accessible and efficient than ever.
It allows writers to write sales emails, essays, reports, and even ebooks without worrying about formatting or editing errors.
Key Features: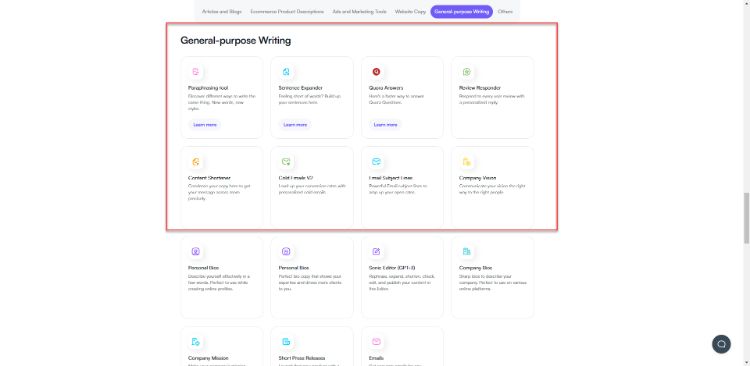 If you want to output blog ideas for your next article or write SEO-optimized content fast, Writesonic is the perfect tool for you.
With its powerful AI and intuitive editor, it's never been easier to create high-quality content quickly and efficiently.
You can use the blog outlines to create an article structure quickly and then use the AI Writer tool to generate content for each section.
Various tools like the paraphrasing tool and content shortener will help you quickly optimize and reduce the length of your content.
Finally, I also like the content shortener as it allows you to reduce the length of your content without losing its meaning.
User Experience: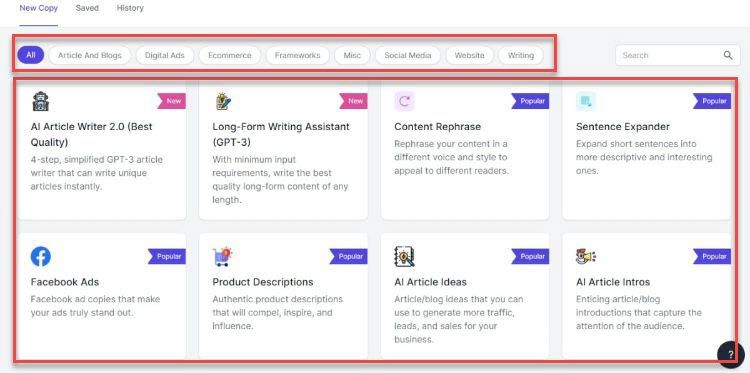 Choose from neatly organized templates to start, then watch as the AI Writer automatically generates content for each section.
This structured writing approach makes it easy to create high-quality content with minimal effort.
Pricing:
Here are the pricing plans for Writesonic:
Free Trial: $0
Long-form: $12.67 per month
Custom Plan: Contact sales for custom quotes.
What I Like/Dislike About Writesonic:
Like:
They offer several tools custom-tailored to content writing
Turning thoughts into blog posts is a breeze with the AI Writer
Dislike:
In some contexts, the options provided don't make much sense.
Product Updates:
The team always adds more templates to the AI Writer and improves its features.
Get started with Writesonic.
Best For Creating Targeted Content.
Whether you're writing a blog, creating social media posts, or crafting an ad, finding inspiration and generating content quickly can be difficult.
Copy.ai is a tool that solves this problem by streamlining your content creation process.
All you have to do is enter a sentence or two about what you need copy for, and Copy.ai takes it from there – delivering more than you could ever imagine in the blink of an eye.
In addition to generating topics quickly, Copy.ai also allows users to customize their generated content with keywords, tags, and categories.
These features allow users to tailor their copy for their target audience or niche market.
Key Features: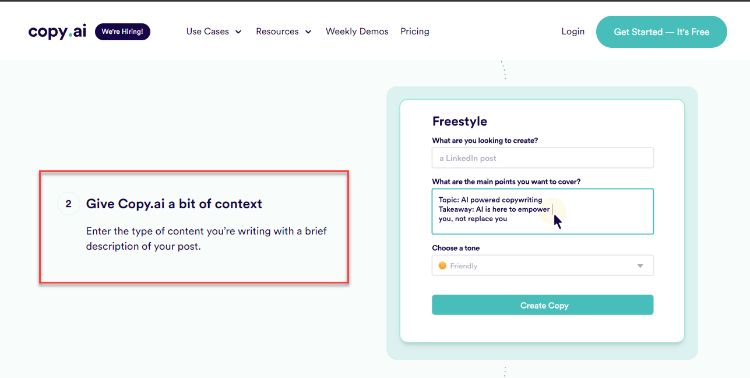 I like that you can generate blog content that resonates with target audiences.
With 90+ tools and templates, creating content for social media is easier
Copy.AI allows you to create high-quality content quickly
You can also create social media content that represents your brand voice, ensuring consistency across all posts
User Experience: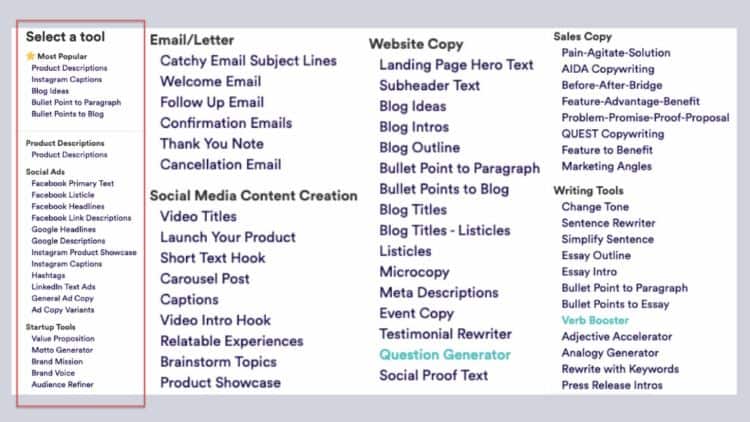 One can use many templates and tools, so the user experience is always unique and tailored to each creator's needs.
The interface is straightforward, making it an intuitive tool for beginner content creators.
Pricing:
Copy.ai offers two pricing plans:
Free: $0
Pro: $49 per month
What I Like/Dislike About Copy.AI:
Like:
Being very accurate in generating content quickly, one can easily make engaging content.
Copy.AI offers resources and guides to help design content that will ring true with your target readership.
Dislike:
Having sub-folders would help content creators better organize and categorize their content.
Product Updates:
One can keep using this tool for free, as Copy.AI's credit is updated monthly.
Get started with Copy AI.
4. Sassbook.
Best For Combining AI Tools.

Sassbook combines various tools that make writing a novel easier, such as an AI-assisted editor, a summarizer, a headline generator, and more.
With their AI story writer, you can get help coming up with ideas, character development, and plot points.
The ability to automate significant parts of your writing process makes Sassbook an excellent tool for those who want to write a novel but don't have the time or energy to do it all themselves.
From coming up with various title ideas that help you capture your audience's attention to getting an AI-assisted editor that can create content briefs for you, Sassbook has everything you need to write a great novel.
Key Features: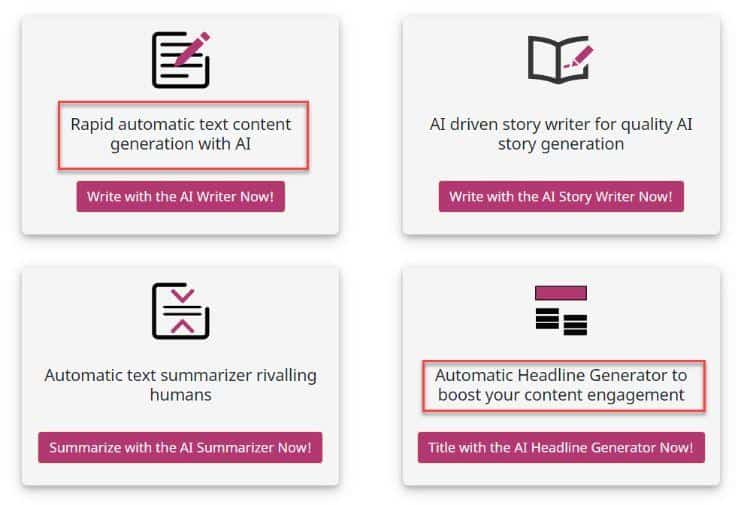 Automatically generate unique text content rapidly with Sassbook AI Writer.
Rapid automatic text AI content generation automates most of your content creation process so that you can focus on more critical tasks.
The AI-driven story writer for quality AI story generation helps you come up with ideas, character development, and plot points.
The automatic headline generator creates attention-grabbing and relevant headlines to your content, boosting your content engagement.
The automatic text summarizer rivals what a human could do, automatically summarizing your content so you can get the gist of it without having to read through the entire thing.
User Experience:
Using the provided sliders to set options such as ingenuity, target size, headline candidates, and more is very useful.
This allows for fine-tuning the results you want from the AI writer.
Pricing:
Sassbook offers the following plans:
Free: $0
Standard: $32.5 per month
Premium: $49.16 per month
The paid plans are billed yearly.
What I Like/Dislike About Sassbook
Like:
It often hits the topic in question and gives a great starting point when writing novels.
The sliders do make a difference in the quality of the results.
Dislike:
The output sometimes seems messy, as if the software is attempting to cover too many topics simultaneously.
Product Updates:
The newly launched AI Story Writer within Sassbook focuses on quality AI-story generation.
5. Ryter.ai.
Best For Various Writing Use Cases.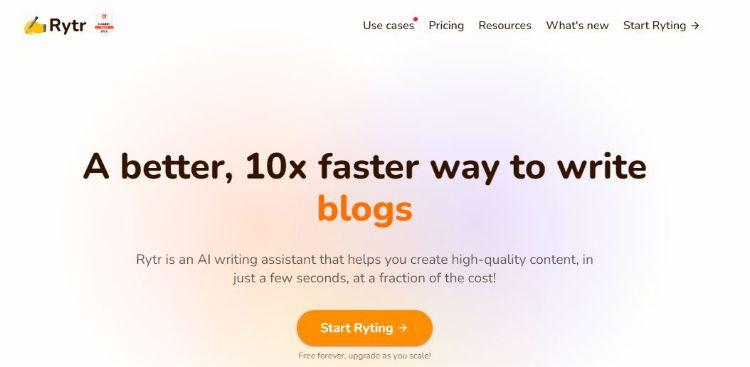 Ryter.ai offers a balance between an easy-to-use interface and accurate predictions, making it an excellent tool for writers who want to get the most out of their AI writing assistant.
Ryter.ai can help you develop ideas and get the ball rolling if you find yourself staring at a blank page more often.
Ryter.ai is also worth checking out for quality content that is generated quickly and easily.
Apart from novels, the tool can also help with marketing copy, web content, and even email marketing.
All it needs is some context, and it can get to work, making it one of the most versatile AI writing tools on the market.
Key Features:
Choose your use case and add some input for context, and Ryter will magically write for you.
The tool has 40+ use cases and templates to choose from to cover all your writing needs, including novels, marketing copy, and web content.
You can pick from more than 30 languages to write content in.
Whether you want to sound happy, angry, or sulky, the right tone of voice ensures this is accomplished.
User Experience:
Selecting a tone of voice from a list of options is much more user-friendly than other software, where you must enter a tone of voice without much guidance.
This leads to more accurate results.
Pricing: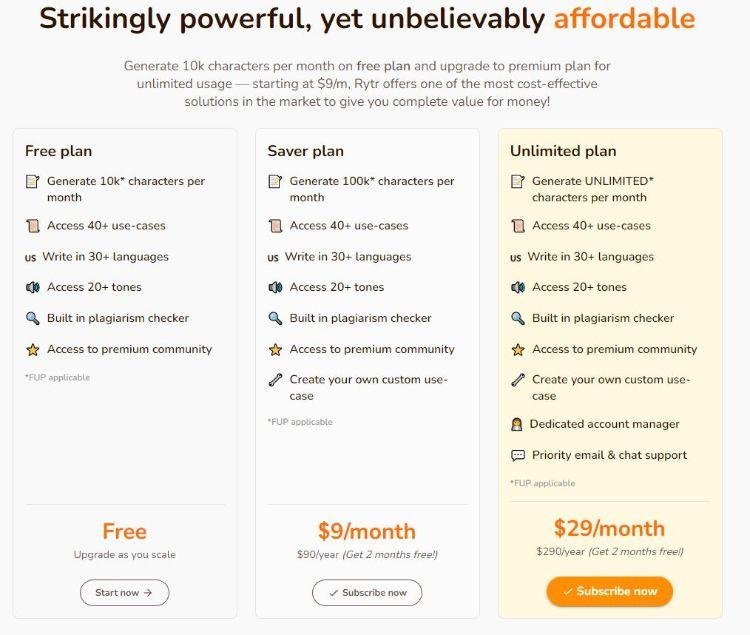 Rytr offers these various plans:
Free plan: $0
Saver plan: $9/month
Unlimited plan: $29/month
What I Like/Dislike About Rytr:
Like:
Simple to use and fill out your information to provide the correct input
It's simple to grasp how this tool works and the situations in which it's beneficial.
Dislike:
It is not possible to construct a long-form story from scratch.
Product Updates:
Dark mode is now available on Ryter.
Detailed guides show you everything you need to know about each use case.
6. Bramework.
Best For Writing Novels Fast.

Bramework makes writing novels five times as fast as other software and is best for writers who want to increase their productivity without sacrificing quality.
Getting the first draft done quickly is often the most challenging part of writing a novel.
Bramework takes the pressure off of getting the first draft done and can help you stay motivated and focused, making it easier to finish your novel.
This also means your novel is more likely to be well-written and free of errors.
Bramework is also helpful for those that want to increase their site traffic, helping them write SEO-optimized content that ranks well in search engines.
Key Features: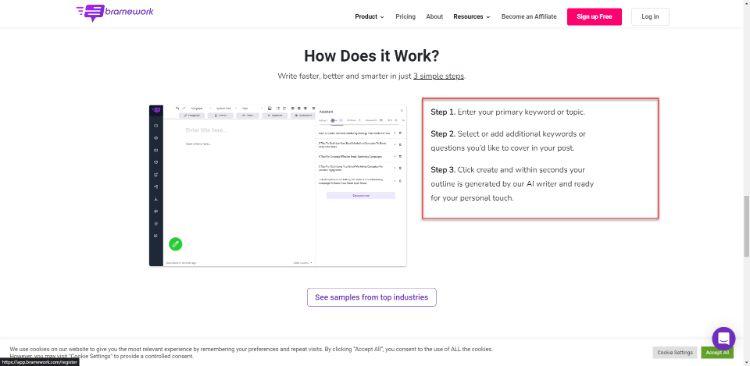 Save time writing, no matter what you're working on
The AI listicle generator is perfect for those that want to increase their website traffic.
It creates SEO-optimized content that ranks well in search engines, helping you build brand awareness and increase website traffic.
You can also find images related to your topic with the image finder and track your keyword ranking with the keyword rank tracking tool.
Its AI rewriter feature can also help you improve your SEO ranking by rewriting your content to make it more unique.
User Experience: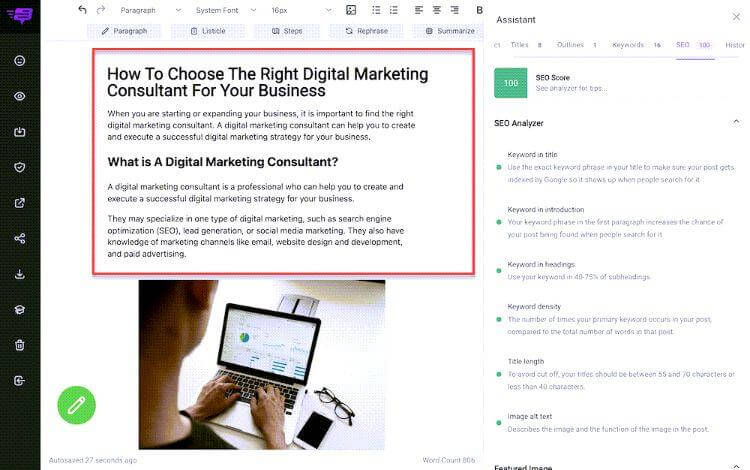 Having a blank space on the left-hand side of the screen helps you focus on what you're trying to achieve in terms of writing, ensuring you don't get lost in a sea of tangled thoughts.
The assistant on the right-hand side is also handy to provide needed directions.
Pricing:
Bramework has these plans on offer:
Basic: $19
Starter: $49
Professional: $79
Agency: $199
What I Like/Dislike About Bramework:
Like:
With 1 – 8 user seats, you can have a team of writers working on the same project simultaneously, making it perfect for agencies or businesses that need to produce a lot of content quickly.
Dislike:
Since the software was created with SEO in mind, it specializes in helping novel authors that are looking to increase their website traffic by ranking well in search engines. This makes it a bit limited for other types of writing.
Product Updates:
It's now possible to compose paragraphs, listicles, and restate ideas within the tool.
7. Closers Copy.
Best For Copywriting Templates.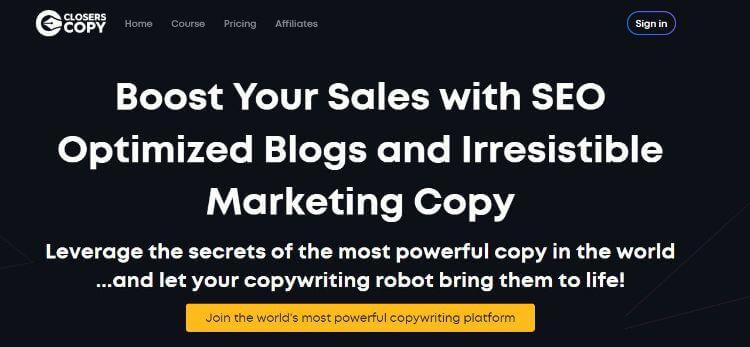 Closers Copy uses various copywriting templates to help you write better, faster, and more efficiently.
If you struggle to come up with ideas or get writer's block often, Closers Copy can help.
This platform doesn't rely on the same type of AI (GPT-3) as many other AI copywriting tools, as it uses its own proprietary AI.
This means that Closers Copy can help you write more original content rather than just pooling in from the same sources.
You can also build your framework and save it for later use.
This is perfect for those that have a specific style or format that they like to write in.
Key Features: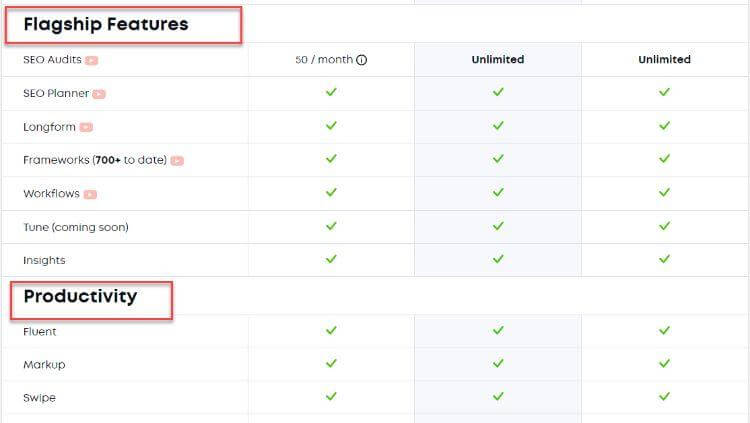 The long-form editor helps you write faster by keeping your fingers on the keyboard and your mind in the zone.
Frameworks are perfect when you need inspiration or just want to start working quickly.
StoryAI helps you come up with ideas for your next story.
Languages allow you to write in several different languages.
Community gives you access to a group of like-minded writers.
Email support ensures that you can get help when you need it.
Lifetime updates keep your software up-to-date.
User Experience: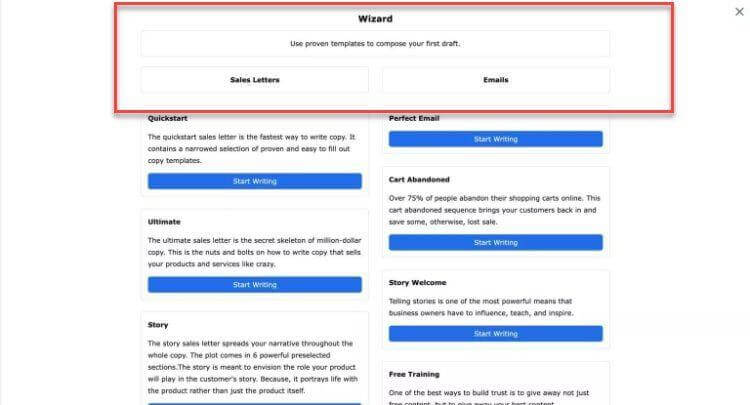 Using a wizard to get started is helpful when you're feeling stuck.
With the first draft of any project, it's helpful to have a general idea of what you want to say before getting too bogged down in the details, and Closers Copy is handy for this.
Pricing: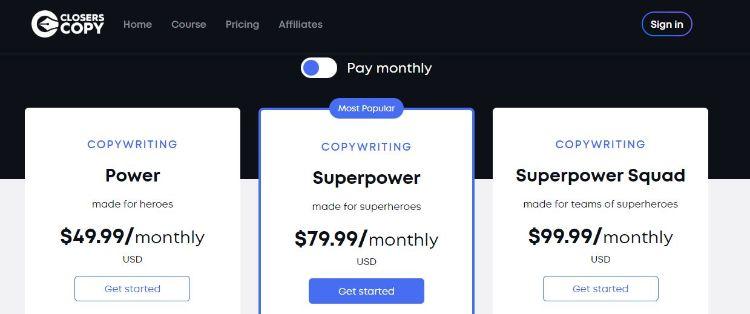 There are three pricing plans on offer:
Power: $49.99/monthly
Superpower: $79.99/monthly
Superpower Squad: $99.99/monthly
What I Like/Dislike About Closers Copy:
Like:
You'll always find a suitable template for your project, with hundreds to choose from.
With quality output and support, this software is excellent for when you need to get the job done quickly and efficiently.
Dislike:
A learning curve is involved in using the software, and it can take some time to get used to the interface.
Product Updates:
The ability to create your own frameworks has been added.
8. Shortly.ai.
Best For Brainstorming Ideas.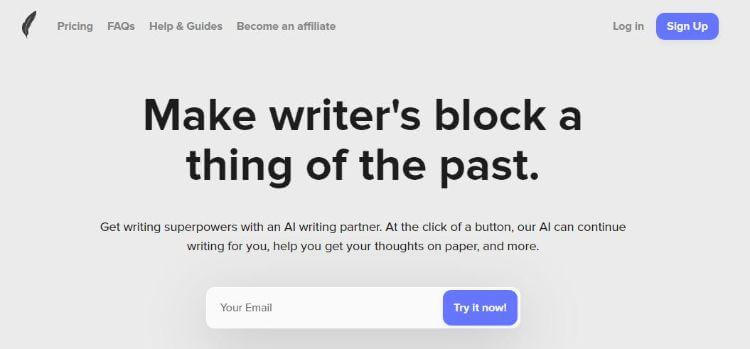 Shortly.ai helps get your ideas out of your head and into a written format quickly and easily.
This AI writing tool can help you get all your work done, from writing a best-selling novel to the next great blog post.
With creative brainstorming features and a focus on helping you stay organized, Shortly.ai uses commands to shorten, expand and rewrite any text.
This makes it perfect for those that want to get their ideas down quickly without getting bogged down in the details.
Key Features:
Get past the dreaded blinking cursor and get your ideas down quickly with Shortly.ai.
This AI writing tool can help you turn your thoughts into text quickly and easily.
Use powerful commands that can shorten, expand and rewrite any text.
Pricing: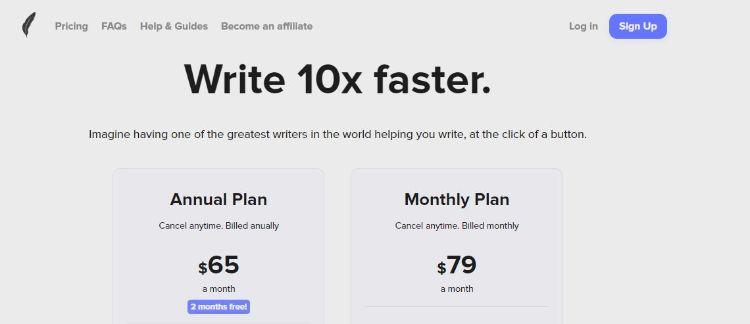 Shortly.ai has these paid plans available:
Monthly plan: $79 a month
Annual plan: $65 a month
9. WordHero.
Best For Getting Writing Feedback.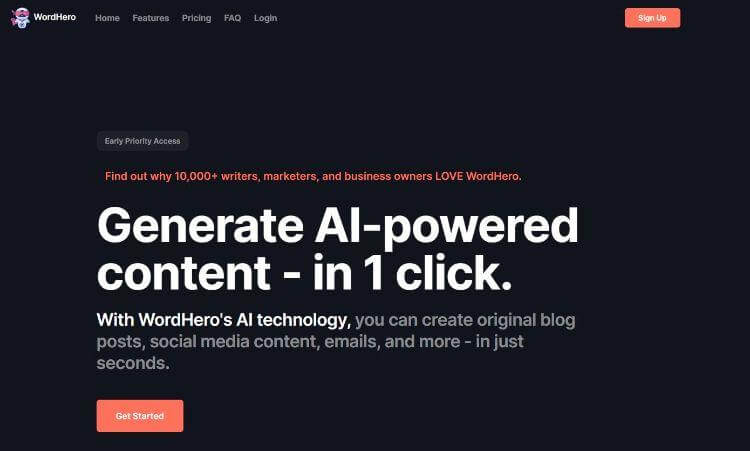 WordHero generates content in a single click, so you can create great novels without doing any of the hard work traditionally associated with writing.
Using various sources, WordHero can help you develop ideas for your next story.
With feedback on your writing, you can also improve your writing skills over time.
WordHero also offers over 1 million royalty-free images to help you visualize your story.
This makes it perfect for those who want to create inspiring text that tells a great story and beautiful novels that look amazing.
You can also produce blog articles, emails, social media postings, and more.
Following a simple three-step process, WordHero can help write a novel that people will want to read.
Key Features:
Save hours of writing by letting WordHero do the heavy lifting for you.
Reduce the time spent on the research required to write a great novel.
Eliminate the need to hire expensive copywriters.
Speed up time to market by launching your next project quickly.
Easy-to-use interface ensures little to no learning curve is needed when getting started.
The keyword assistant helps you to find the perfect keywords for your project.
Pricing: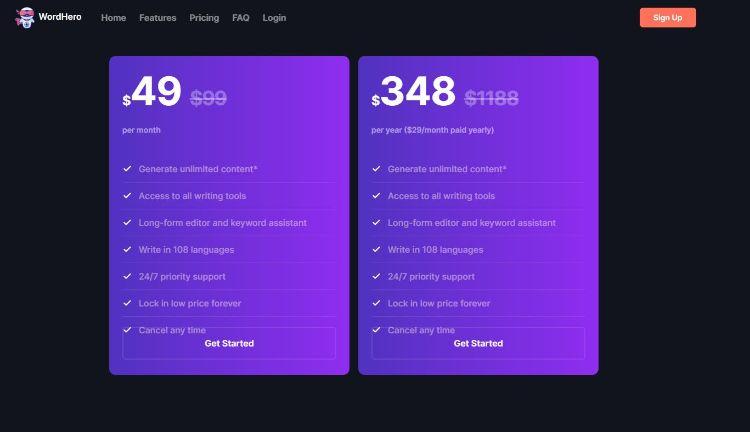 WordHero offers a monthly and yearly plan.
These are as follows:
Monthly plan: $49 per month
Annual plan: $348 per year
What Are AI Novel Writing Software?
When writing novels, AI software tools help authors get their ideas down 'on paper' quickly and easily without getting bogged down in the details.
While using artificial intelligence to help authors write novels might be a relatively new concept, it's quickly catching on as one of the best ways to write a novel.
With many novel writing software tools also having functionality that helps write grammatically correct sentences and fix spelling errors, these tools can be a great way to produce an error-free novel.
There are also various considerations for the writing style needed, with many AI software offering the ability to set the tone of voice and giving clear instructions on how the novel should sound.
Whether doing science fiction writing, creating historical fiction, or writing a romantic novel, the various AI writing software options on the market mean that there is a tool out there to suit every need.
What Else Can AI Writing Novel Software Help With?
From social media posts that stop people from scrolling and force them to pay attention to what's being said, to writing blog posts that inform and entertain readers while providing a call to action related to the product or service being sold, the best AI writing software offer writing tools for a variety of use cases.
With natural language processing being a vital aspect of any AI tool, authors can also explain the same ideas using different words, which makes the writing process all the more natural.
One crucial point to consider is that providing citations is not often something that can be done with most AI novel writing software.
Since the content is generated on the fly, any facts must be checked to ensure that whatever the AI tools state is true.
While machine learning algorithms are getting better regarding facts (due to additional training being provided), the technology still can't be trusted when sourcing facts.
Features Of A Great AI Novel Writing Software
With many available tools, it can be tough to decide which is the best AI writing software for your needs. Here are some key features to look out for.
Setting Up The Proper Workflow
The best AI writing software will offer a range of features and options to help you customize your content creation process.
This includes setting target word counts, reading level scores, and more.
Easy To Share Content
For content writers and those proofreading, easy sharing of content is a must.
The best AI writing software will offer options to share your content with others via email, social media, or direct links.
Plagiarism Checker
When creating new content, it's essential to make sure that your writing is original.
A plagiarism check is a process that allows you to see if your content has been seen anywhere else on the internet.
As such, the best AI writing software will offer a plagiarism checker to help you ensure that your content is 100% unique.
Grammar Checker
Using a grammar check when writing is always a good idea.
Having grammar mistakes in any writing is a big no-no.
The best AI writing software will offer a grammar checker to help you clean up your content before publishing.
Simplifying Language
A more straightforward sentence structure is critical when writing specific types of content.
Creating high-quality content sometimes means catering your writing to having a lower reading level score.
Any grade level below grade 9 generally ensures the right readability and ensures most readers can easily understand what they're going through.
Various Use Cases
I've already touched on a few use cases for AI writing software.
From being able to write Amazon product descriptions to running the right SEO optimization on your blog posts, these tools can help with various requirements you might need as a writer.
Unlimited Words
Creating long-form content only to be limited by the number of words you're allowed to use is frustrating.
With the starter plan on many tools, unlimited words aren't something that can be taken for granted.
However, this limit is usually lifted with a premium plan, allowing for more writing freedom.
Integration With Other Tools
From being able to use Chrome extensions to integrating AI tools within Microsoft Word and Google Docs, AI writing software is becoming more and more accessible in various contexts.
Also, some tools connect directly to WordPress to enhance one's content writing and SEO efforts.
From a novel writer wanting to keep track of their word count to bloggers focusing on producing quantity and quality of information pieces, the right integrations can make a world of difference.
Wrap Up.
Writing a novel used to be a long, drawn-out task, but with the right AI writing software by your side, it can be a much more enjoyable process.
By considering the various features I've discussed in this article, you should be able to find the perfect tool for your needs.
Do you have any questions about AI writing software?
Would you ever write a novel with the help of AI?
Let me know in the comments below.
Further reading on AdamEnfroy.com: Artificial intelligence is being used in various aspects of business, not just writing.
From AI sales software that helps close more deals to AI customer service chatbot tools that help reduce the number of tickets a company has open, AI is changing the business landscape.
Powered by GPT3-AI, many of these new AI business tools are more affordable and user-friendly than ever.
Disclosure: I may receive affiliate compensation for some of the links below at no cost to you if you decide to purchase a paid plan. You can read our affiliate disclosure in our privacy policy. This site is not intending to provide financial advice. This is for entertainment only.