11 Best Screenwriting Software of 2022 (Free and Paid)
Choosing the best screenwriting software is crucial if you want to become a great writer. From a distraction-free environment to easy outlining of scenes and characters, the best screenwriting software can help you meet your goals. In this guide, I ranked and reviewed the 11 best screenwriting software, along with my top 5 choices, so that you can pick the best one for you.
---
We're reader-supported. When you buy through links on our site, we may earn an affiliate commission.
Want to get right to it? My top pick for the best screenwriting software right now is Arc Studio.
The streaming wars are in full swing and there's more global film talent than ever before.
If you're a professional screenwriter looking to break into the film industry, you no longer have to be located in Hollywood or brush elbows with filmmakers and movie producers daily.
Today, all that you need is a computer, screenwriting software, a literary agent, a knack for writing, (and a lot of luck). To get your script from page to screen, you need the best screenwriting software.
You could also consider using AI novel writing software to generate new ideas or even to help you do the writing faster.
That said, let's get right into screenwriting software.
What is Screenwriting Software?
While writing is a broad area, with many freelance writing jobs available on the market, today I'm speaking about those that do writing profesionally.
Essentially, screenwriting software helps you perform composition, editing, formatting, and printing of scripts used in films, television, or video games.
It helps scriptwriters in meeting the stringent formatting guidelines of the industry, study and correct language and grammar, and keep back-ups of their documents.
This software eliminates the need for manual formatting to get your script in line with industry standards.
With simple keyboard shortcuts, screenwriters can add action, dialogue, sluglines, scene headings, transitions, parentheticals, character names, and more.
However, there are hundreds of screenwriting programs available on the market today.
Today, I'll look at the best ones. Let's get started.
What is the Best Screenwriting Software?
Here are my picks for the top best screenwriting software to use:

Adam's Take
Want to take your screenwriting to the next level? I recommend Arc Studio Pro as the #1 solution. It's the best screenwriting software out there and it's quickly becoming the new industry standard. Having the right tools is essential for any screenwriter, and Arc Studio Pro is the best overall.
Arc Studio Pro is the most well-designed screenwriting software, and quickly growing to become the new industry standard.
It is used by professionals, such as the writers' room for Arcane (Netflix), but also is very beginner-friendly due to its intuitive design.
The best part: it has a free plan that is perfect if you're just starting out.
Best For:
With its range of solutions to help you write, Arc Studio Pro takes your writing farther than other industry standards.
Most notable, their distraction-free writing allows you to focus on your ideas and words.
With their creative story-building tools, you'll be able to visualize your story and brainstorm ideas before committing it to script format.
Enjoy stress-free collaboration, with the ability to view each other's edits as they happen.
Arc Studio was also the software of choice in the writers' room for the Netflix series "Arcane".
Key Features:
Offer a distraction-free design that's both modern and compact.

Collaborate in real-time with your writing partners to create the best script possible.
Work in the cloud with real-time capabilities using Google-Doc like software
Keep notes linked to the script by using an advanced plot board to structure the script's structure.
Industry standard formatting allows for perfect script specifications.
A distraction-free writing mode that allows you to focus on the words and nothing else.
As you write, quickly glance at your story outline to verify that it's accurate.
User Experience:
The ability to divide your content into various acts as well as having an expansive content library to utilize helps make Arc Studio Pro a great tool for creating professional-looking eBooks.
Add Key Beats when you want to focus on a specific moment in your story, and use the Content Cards feature to get inspired by other writers' work or to keep track of your own ideas.
Pricing: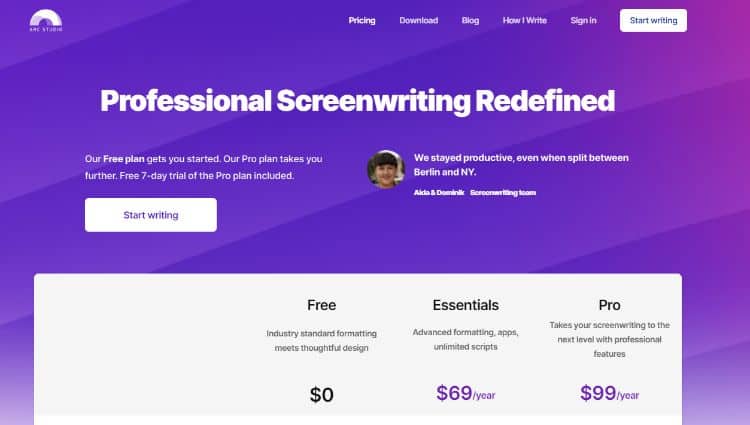 Arc Studio offers three pricing plans:
Free: $0
Essentials: $69/year
Pro: $99 /year
What I Like/Dislike About Arc Studio Pro:
Like:
Built in Beat Outlines helps keep your story focused and on track.
I also really appreciate the simple, organized user interface.
The feedback features are fantastic and help you improve your writing.
Dislike:
Free version of the service is browser only
Product Updates:
Outlining tools make it easy to plan and structure your writing
Revision management ensures that you can keep track of changes and easily revert back to previous versions if needed.
Get started with Arc Studio.
Used by 95% of Film and Television Productions.

Adam's Take
If you're looking to write screenplays for film and TV, my advice would be to check out Final Draft. It's the industry-standard software that the vast majority of professionals use, and it's a great option if you're looking for a leg up when making your scripts look and feel great.
Final Draft is a multi-award winning screenwriting software, initially released in 1990. In 2013, it was awarded a Primetime Emmy Engineering Award and is famously used by Netflix, NBCUniversal, Paramount, ABC, Pixar, and more.
Best For:
With its wide range of features, Final Draft 11 is best suited for those looking to use the same industry-standard screenwriting software that major television shows and motion pictures use.
Key Features:
Advanced brainstorming and visualization tools to collaborate in the writing process with various writing partners.
Automatically paginates and formats scripts to industry standards.
It allows you to organize and customize "beats", including character arc, plot points, location ideas, research, and more.
Story maps connect your visualizations and beat boards into your script.
You can visually plan key milestones and plot points.
Alternate dialogue lets you store as many versions of lines as you want.
Keyboard shortcuts like Tab and Enter allow you to switch between dialogue and action quickly.
It provides automatic file back-ups so you never lose your data.
Revision mode provides a history of all changes when taking a script through production.
Its fonts support over 97 languages.
Text-to-speech support.
Over 100 different templates to choose from.
Available on and compatible with Windows, OSX, and iOS.
User Experience:
With the ability to build your own toolbar to reflect what you use most in the software, you can make your user experience more efficient and streamlined.
The new interface is designed to be more intuitive and easier to use, with fewer clicks required to get things done.
Pricing: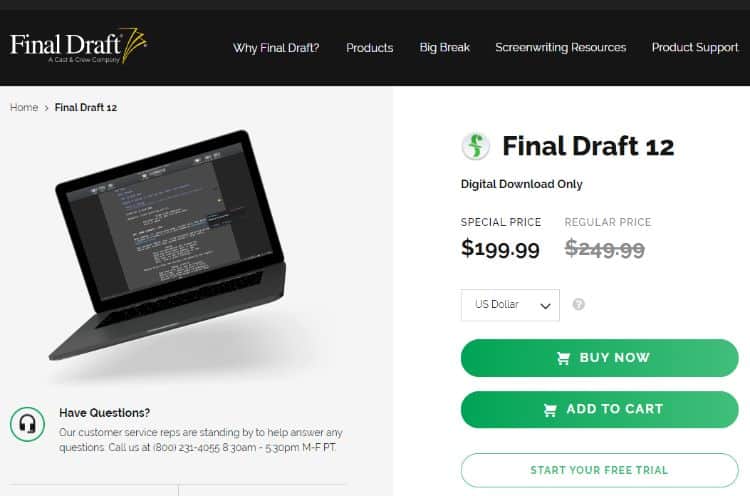 Final Draft is currently on sale for $184.99 as a digital download and allows two activations per purchase. They also offer a 30-day free trial to test it out.
Overall, it's a great price to learn the most important piece of screenwriting software on the market.
What I Like/Dislike About Final Draft:
Like:
Has all the fundamentals needed when starting to use the software.
It is easy to get started and has a low learning curve.
Dislike:
Collaborative writing features are subpar when compared to other software in the market.
Product Updates:
Writing / Editing Features make it easy to format your script the way you want it, with plenty of options for customizing margins, pagination, and more.
Story Development Tools help you track your characters, locations, and plot points, so you can stay organized and on track as you write.
Purchase Final Draft 11 today to start writing and get $50 off.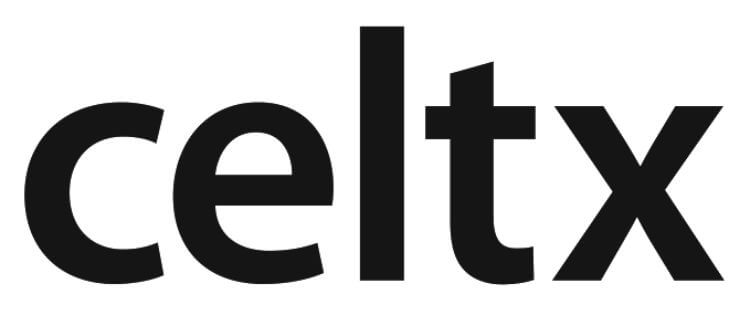 Adam's Take
Being a cloud-based software, Celtx helps users in real-time collaboration with others on the same project. It also offers an extensive set of features for its users, making it a powerful tool for any screenwriter. With millions of users all over the globe, Celtx is one of the best screenwriting apps in the market.
Celtx is a cross-platform, cloud-based screenwriting and media pre-production software. With 6 million global users, it is one of the best screenwriting apps in the market.
From script to shoot, this software provides you with tools that help you create better content quickly. The fact that it is a cloud-based software makes it easy for you to access your accounts from anywhere you want. Moreover, you can take advantage of Celtx's powerful reports to gain actionable, production insight.
Best For:
Celtx is best for screenwriters. It helps to turn simple, scattered ideas into full-fledged plans quite easily. It is also quite useful for playwrights and novelists.
Key Features:
Has a simple, easy to learn, and intuitive user interface
You can work online or offline with mobile apps for iPhone, iPad, and Android
A single master file (for better organization, you can work off a single master file)
Uses a rich text editor module for novel writing
It can support the creation of production calendars and strip-boards
Allows directors and writers to tag elements within each script
Fully cloud-based solutions
Designed for real-time collaboration
All-in-one pre-production management
Team tailored production workflow
User Experience:
With a production workflow comprised of just four simple steps, Celtx is perfect for those who are new to the world of screenwriting and film production.
In addition, the software's intuitive interface makes it easy to find the features and tools you need, when you need them.
Pricing:
Celtx comes with three pricing plans.
The 'scriptwriting' plan costs $15 per month, payable annually.
The 'video production' plan costs $27 per month, payable annually.
The 'game production' plan is $27 per month, billed annually.
You can also obtain educational discounts by contacting the customer support to get an estimate.
What I Like/Dislike About Celtx:
Like:
Formats scripts intuitively by understanding common screenplay formatting rules so you can focus on writing rather than worrying about margins and spacing.
The online cloud format enables you to access your project from anywhere and share it with collaborators.
Dislike:
No longer available for free
Focus is more on the whole pre-production process (in-depth screenwriting features aborted)
The Copy paste option needs improvement
PDF scanned scripts are not exported without OCR software
Product Updates:
New dedicated space for our users who work collaboratively means more opportunities to connect with other writers.

Adam's Take
If you want to collaborate with other writers, WriterDuet is the screenwriting software for you. It allows you to work on a screenplay with another writer in real-time, seeing each other's changes as they're made. You can also leave comments for each other, and see who made what changes and when.
WriterDuet is a dedicated screenwriting software for writing and editing screenplays and other forms of mass media. It caters to a wide range of requirements and, apart from screenwriting, can be used in case of video editing and gaming as well.
The USP of the software is that it allows real-time collaboration of writers from remote locations and writing from different devices. Although it is not a free software screenwriting tool, it allows three free scripts upon signing up.
This is more than other screenwriting software currently offer.
Best For:
WriterDuet is best for screenwriters and professional writers who require real-time collaboration to write down their ideas. It is also useful for educational tutorials.
Key Features:
Allows you to install various plugins for better customization (for example an offline, traditional, file-based desktop software experience)
Supports mobile devices and multiple browsers
Signing up is free
Supports a wide range of screenplay formats (offers high customizability here as well by enabling changes in script template)
Fully integrated with SSL certification (scripts aren't shared except through user request and authorized guest codes)
Allows back-up copies to cloud storage services like Dropbox, Google Drive, iCloud, and your system
Offers seamless services both online and offline
Allows you to track all your edits
Intuitive and user-friendly software
Provides free, in-built tutorial upon sign up
User Experience:
The user interface is very clean and distraction-free, which is great for helping you focus on your writing.
The real-time collaboration feature is also very handy for getting feedback from other writers or working on a project together.
There is also a helpful menu at the top of your screen, so you can easily access all the features and tools you need.
Pricing:
With WriterDuet, you get three free scripts. After that, you need to upgrade to a paid plan. The first plan is Plus, which is available for $5.99 per month, payable annually.
Then, there's Pro at $7.99/month and finally Premium at $9.99 per month.
What I Like/Dislike About WriterDuet:
Like:
It's lightweight: you can access it from anywhere and it doesn't take up a lot of space on your computer.
Cloud-based writing: you can access your work from anywhere and share it with others easily.
Dislike:
Only three free scripts (further scripting requires subscription)
While offline working is possible, collaboration is not (you must be online to collaborate real-time)
The primary focus is on the 'Pro' accounts
Product Updates:
Offline editing is possible so you can continue working on your projects even if you're not connected to the internet.
5. Trelby.

Adam's Take
I recommend Trelby when it comes to free and open source screenwriting software. Being able to work on both Windows and Linux platforms is also a big advantage. In addition, it's a great solution to test out before committing to more expensive software. I also like that it's available on Github so anyone can contribute to its development.
Trelby, previously known as 'Blyte,' is a free screenwriting software that is also open-source. As of now, it operates on both Windows and Linux platforms and is currently available on Github.
Licensed under GPL, Trelby welcomes developers and screenwriters to collaborate and make the platform even better. Moreover, it comes with a built-in, highly configurable PDF generator.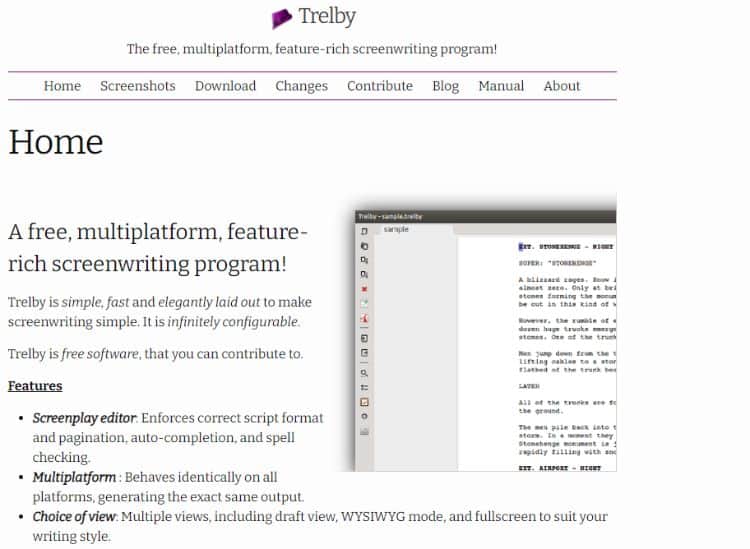 Best For:
Trelby is perfect for screenwriters and individual writers who are on a budget since the software is entirely free of cost. It is also suitable for educational purposes, demonstrations, and tutorials.
Key Features:
Extremely user-friendly and intuitive user interface (infinitely configurable)
Comes with an in-built screenplay editor (enforces correct script format, pagination, and spell checking)
Compatible with multiple platforms
Multiple choices of views to choose from
Reporting options (scene/location/character/dialogue options)
In-built ability to compare scripts (to identify changes, if any)
Allows you to choose from a multitude of options while importing (Screenplay formatted text, Final Draft XML (.fdx), Celtx (.celtx), Fountain (.fountain), Adobe Story (.astx), and Fade In Pro (.fadein))
Can generate PDF with custom watermarks adding to increased flexibility
Has a rich, fully in-built character name database
System requirements for the software to work are minimal, making it easy to run even on old systems
User Experience:
If you're looking for a user experience where you're able to focus on your writing, Trelby is the software for you.
There are no distractions since it's a white writing area and a very distreet-looking left-hand side menu that houses all your options for the screenplay.
You can easily change between writing in pages or scenes mode, which is very helpful.
And you don't have to worry about formatting (if you don't want to) because Trelby takes care of that for you as you type.
Pricing:
It is an open-source software tool and comes entirely free of cost. The codes are available on Github.
What I Like/Dislike About Trelby:
Like:
Reliable, no problems with all the necessary features for a screenplay
A vintage (old) MS Word-like interface takes you back to the good old days
Dislike:
The revision tracking feature needs some improvement
Available only on Windows and Linux (not compatible with OSX)
No bold, italics, or underlining option
Long term support lacking (most recent updates are many years old)
Online collaboration option is not available
Supports the English language only (no characters outside the ISO-8859-1 set are compatible)
Product Updates:
Undo/redo features means you can move back/forward when you're editing your work. This is really helpful if you make a mistake or want to change something.
Fountain import/export support means you can transfer your screenplay to other software that uses the Fountain format.
Adobe Story import support means you can bring in screenplays from Adobe Story (another popular screenwriting software) into Trelby.
6. Scrivener.
Initially released in 2007, Scrivener is one of the best screenwriting software tools for authors and novelists. One of the best screenwriting software in the market right now, it offers a wide range of activities, including organizing notes, drag-and-drop features, and editing multiple documents at one go.
It's compatible with Windows, Mac, iOS, and Linux. The best part is that you can use it as a project management tool as well. On top of that, it can mimic a typewriter, ring-binder, and a scrapbook.
Best For:
Scrivener comes with features like footnote support, MathType integration, and the ability to refer to a research library. Thus, it is an excellent screenwriting software for historical, fictional, and non-fictional authors. Templates for writing general and academic non-fiction are also available.
Key Features:
You can switch instantly from editing a section of your document to editing the entire document
Has a user-friendly and intuitive interface
Familiar text editing (allows you to use bolds, italics, and other formatting options)
You can import your files from numerous Word processors and extensions, including Microsoft Word docs, text files, PDFs, and more
Includes an in-built 'Corkboard' that allows you to rearrange files using a simple drag-and-drop option
Pools all features onto a single platform for easy reference
Easy compilation of documents into one chapter
30-day free trial period
You can choose your own font
Video tutorials available for easy understanding
Cons:
It takes time to learn the software
The same license isn't applicable for different platforms
There are some paid updates
Pricing:
The price varies depending upon the platform you will use it on. The Mac and Windows versions will cost you $49 (with a reduction in price if you're a student or academic), while the iOS version is $19.99.
7. Fade In.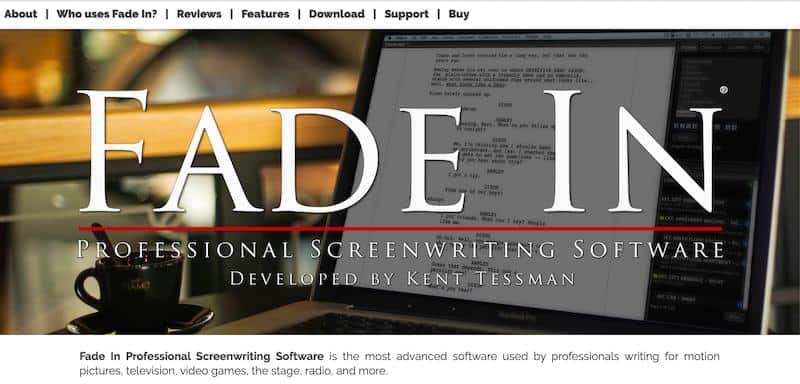 First released in 2011, Fade In is one of the best screenwriting software tools available in the market currently. It is widely used in the film industry and is compatible with multiple platforms like Mac, Windows, Android, Linux, and iOS. It is also one of the most affordable software tools on the market, offering great features.
Boasting of attributes like support for multiple languages, action-to-dialogue calculator, and well-rounded functionality for rewrites and revisions, it is becoming very popular as the new industry standard. In fact, it has been pitted as a direct rival of the software 'Final Draft.'
Best For:
Best for screenwriters who want seamless integration between their thoughts and the software they use. Fade In is primarily used by screenwriters working on major motion pictures in the film industry.
Key Features:
Universal, state-of-the-art application interface
Automatic script formatting
Comes with an in-built autocomplete typing feature (suggest words as you type)
Offers real-time collaboration (you can work on projects with multiple collaborators from remote locations)
Provides complete image support (allows you to insert images directly into the document)
Page-only, distraction-free, full-screen mode available
Support multiple file formats (text, HTML, and more)
Offers cloud storage service (easy access from any location)
Free software updates
Cons:
May cause compatibility issues between working from inside and outside the film industry
The free version comes with the company watermark
Pricing:

You can use 'Fade In' for a limited time for free. After that, you need to purchase it by paying a one time fee of $79.95, which is one of the most reasonable rates in the market as of now. A distinct advantage is that the software updates in the future will be free.
8. KIT Scenarist.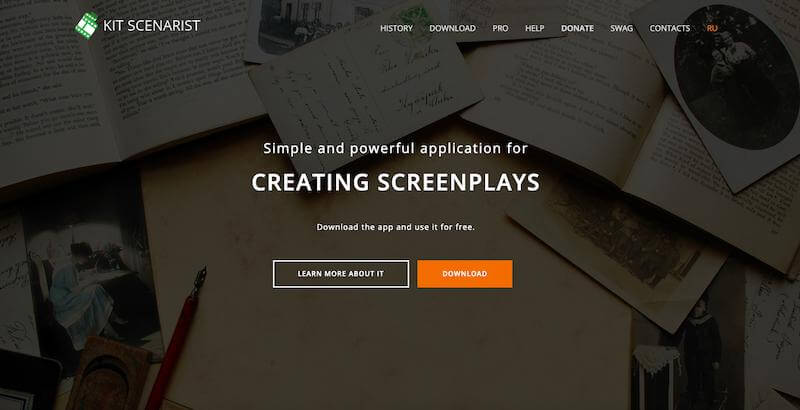 Most users claim that KIT Scenarist is one of the best screenwriting software tools currently available in the market. It offers one of the most exceptional full scriptwriting experiences.
The best part is that it is free and open-source software that provides a very high degree of customizability. Moreover, it is used by more than 3000 authors worldwide and keeps up with the latest technology by providing updates nearly every month (more than 70 updates to date).
Best For:
Very useful for high-level scriptwriting work in feature films and television series. It is also useful for authors and novelists and perfect for writers with a requirement in multiple languages, and statistical analysis.
Key Features:
Compatible with Windows, Linux, Mac, iOS, and Android
Has an all-in-one research module (collect necessary information, manage a list of characters, and store a variety of materials)
Provides in-built card module (helps you build story development, providing you visualizations to work with)
Comes with an in-built, rich formatting tool with script editor so that you can concentrate only on writing
Offers services in multiple languages
Export scripts in multiple formats (PDF, FDX, Fountain, and Docx)
Option to use multiple themes (dark or light)
Provides in-built statistical tools
Fully integrated with in-built character and set management
Cons:
An online collaboration between multiple users is possible but at a subscription fee
Cloud service use is a paid feature, after an initial 30-day free use
Although it supports Android and iOS, the compatibility comes is not available free of cost
Pricing: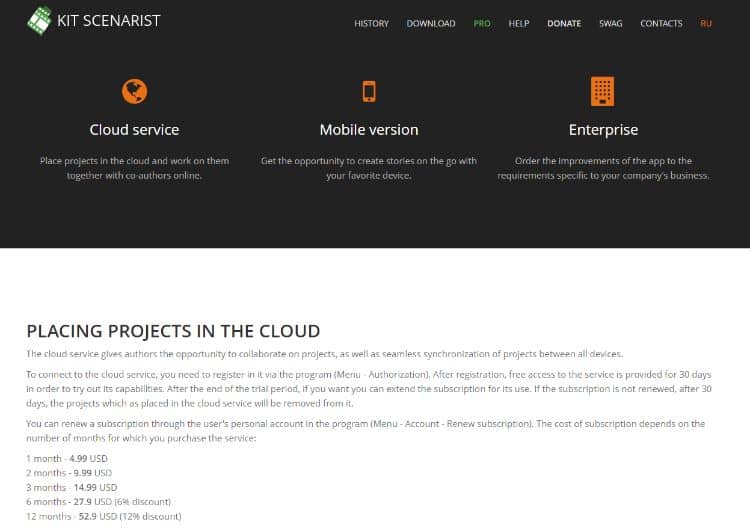 KIT Scenarist is a free software tool, available on the internet for use. However, if you want to use cloud services, you need to subscribe to a paid plan, after a 30-day free trial.
The price becomes more worthwhile the more you subscribe for.
9. Movie Magic Screenwriter.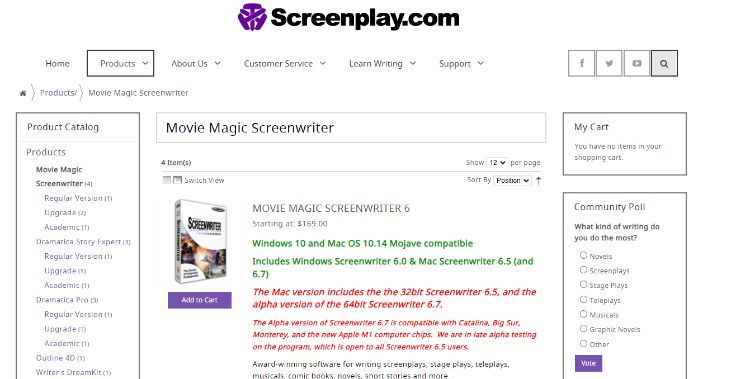 Movie Magic Screenwriter is an award-winning software that is perfect for screenwriting, novels, comic books, stage plays, musicals, and a lot more.
It offers free online videos to improve ease of use, and also enables users to download a free demo version to try the software out. It has been used in many Hollywood movies, including the hit series 'Pirates of the Caribbean.'
Best For:
Although Movie Magic Screenwriter is best for the film industry, it can also be used in the educational sector for assignment and research paper writing and submissions. However, despite new features, the high price makes it difficult for small organizations to use it.
Key Features:
Very intuitive and flexible
Automatically formats scripts to current industry standards (real-time, intelligent formatting)
Allows you to tag characters and locations (when exporting to a scheduling program
Has built-in collaboration tools (real-time)
Color-coded features for easy reference and organization
Highly customizable (changes the layout and modify interface)
Includes a custom 'NaviDock' interface (this can contrast your script based on a variety of factors)
Offers professionally compiled templates
The option of real-time collaboration with multiple stakeholders from remote locations (iPartner feature)
'Text-to-speech' transformation feature
Has a notes commander that allows you to quickly organize, access, view, and script your ideas
Cons:
One of the most expensive screenwriting software tools (although features are not as great as Final Draft)
Pricing:
Movie Magic Screenwriter has multiple pricing plans. The Movie Magic 6 is $169. The upgrade is priced at $89.95 (for Windows and Mac), whereas the 6.5 upgrade costs $69.95 (only for Mac). All of these have 3 activation options per purchase.
The 'academic' version has 2 activation options per purchase and costs $99.95.
10. Highland 2.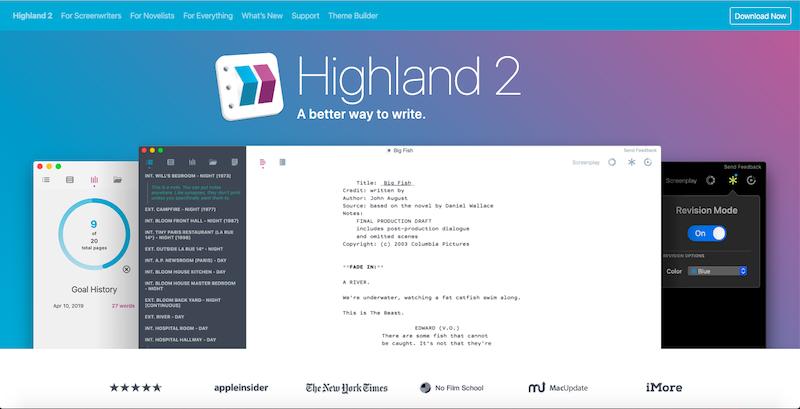 Highland 2 is one of the best screenwriting software in the market currently. However, as of now, it is compatible only with Mac. It has a user-friendly interface that is easy to navigate so that you can focus solely on your writing.
Additionally, it offers high customizability and is excellent for individuals or teams that have diverse requirements. It has a free version with minimal features. To access better, more advanced features, you need to upgrade to a paid version.
Best For:
Highland 2 is an excellent software for Mac users, individuals, and bloggers who have a constant need for images. The numerous shortcuts that the software provides are also handy for blog editors and screenwriters who are just starting out.
Key Features:
In-built automatic formatting mode (so that you don't have to format)
Take advantage of the 'Sprint' feature that allows you to track time while you get your work done
Offers an in-built gender analysis tool (first script writing software to introduce this)
Regular updates so that you are always abreast of the latest technology
Feature-laden free version (5 PDF templates, two built-in editor themes and much more)
Get automatic plain-text back-up at the frequency of your choice
Provides excellent customer support
'Scratchpad' feature to take and leave notes about projects, much like using index cards or beat boards
You can design your own themes with the 'pro' upgrade
You get plenty of keyboard shortcuts
Cons:
The free version has watermarked PDF
Only available for Mac
Complaints of bugs with dual dialogue in PlayScript mode
Pricing: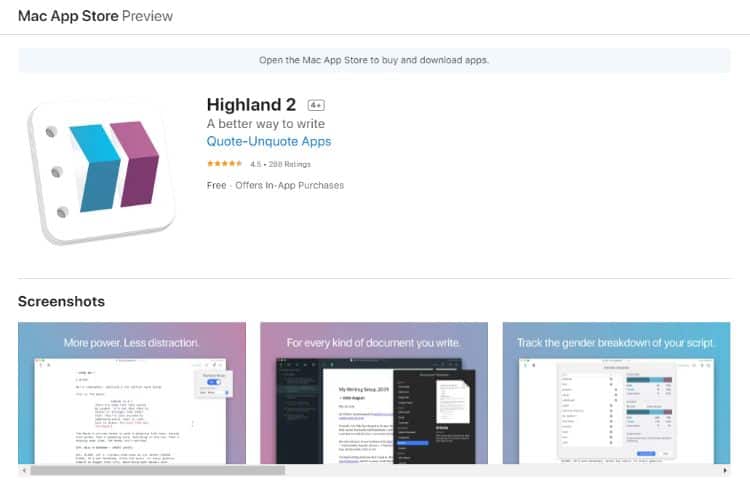 Highland 2 currently has offers a free version with basic features. However, if you are looking for enhanced features, you can purchase the paid version for $49.99.
11. StudioBinder.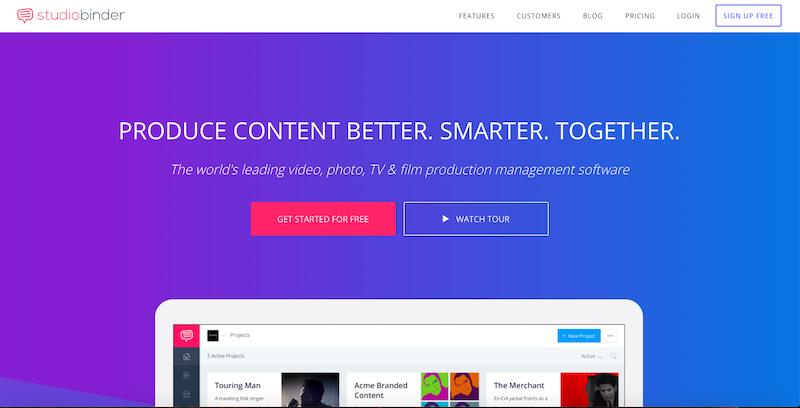 StudioBinder is one of the most popular screenwriting tools on the market right now. Known for its modern design, it comes with an easy-to-use interface.
Plus, it provides useful, fully customizable solutions for photo and video production companies to better manage their work, by pooling everything on to a common platform. It is trusted by thousands of companies all across the globe, including leaders like Spotify.
Best For:
StudioBinder is best suited for large scale companies or expert individuals working on high-profile motion pictures or television projects. It is a bit difficult for small companies to afford. The free plan provides great options for educational use.
Key Features:
Call sheets (create and send personalized call sheets and track RSVPs). You can add personalized call times and upload attachments
Script breakdowns (import scripts and tag elements)
Robust, highly customizable shot lists and storyboard builder
In-built drag-and-drop interface
Collate and send messages to the crew, vendors, and clients, all at the same time
Offers a free version for use as long as you want
Cons:
The price is not feasible for small scale companies
Too many options to choose from, which might get confusing for a beginner (the software is designed keeping experts in mind)
Pricing:

StudioBinder offers an instrumental free version that can be used indefinitely.
However, they also offer paid subscriptions for individuals and businesses.
The individual plans start at $29 per month and go up to $99 per month, payable monthly. If you pay annually, you can save up to 15%.
For businesses, the price starts at $249 per month and goes up to $1499 per month, payable monthly. Again, if paid annually, you get a chance to save up to 15%.
Screenwriting Software – FAQ
How do I use screenwriting software?
Answer: To use any screenwriting software, it's important that you download the respective software from the link, install it and follow the instructions.
What are the benefits of a paid version as compared to a free version?
If you choose a paid version, apart from receiving better customer support, you will receive more privacy and security. Unlike free software, paid services are less likely to contain harmful viruses or malware.
What is the process for backing up my work?
Answer: Every screenwriting software will have a way to back up your work. However, some of them might not be automatic. So it's vital that you make use of this feature every time you close the program or shut down your computer.
What are the things that I should look for in screenplay software?
There are plenty of things to consider before you purchase any screenwriting software. The most important factors are the type of script format it supports, availability of an automatic backup feature, ease of use, and compatibility with different operating systems.
Screenwriting Software – That's a Wrap.
Screenwriting software options won't make you the next Quentin Tarantino, Aaron Sorkin or John August overnight. However, professional screenwriting software can make things easier by assisting you in your journey towards producing a clean, formatted, error-free, pitch-ready script.
My ultimate recommendation is to use the tool that 95% of TV and movie studios use and go with Final Draft.
When you're ready to start producing your content, you can read my reviews of the best video editing software and animation software.
Is there any script writing software I didn't mention on the list? Let me know in the comments.
Further reading on AdamEnfroy.com: Did you know that artificial intelligence can be used when creating screenplays and other types of stories?
With the latest AI story generators, authors are now able to create screenplays and novels by simply inputting a few parameters such as plot, genre, and character.
This is an exciting new development in the world of storytelling, and many are jumping on board to try out this new technology.
Disclosure: I may receive affiliate compensation for some of the links below at no cost to you if you decide to purchase a paid plan. You can read our affiliate disclosure in our privacy policy. This site is not intending to provide financial advice. This is for entertainment only.