17+ Best Scheduling Software of 2023 (Ranked & Compared)
Want to jump straight to my top picks? The best scheduling software are Acuity Scheduling and SimplyBook.
Did you know that scheduling software can keep organizations compliant, help manage resources and productivity, and increase real-time response times to customer inquiries?
A good scheduling tool can optimize resource and project management and streamline business operations.
Organizations can also leverage scheduling software to minimize paperwork and workflow gaps and please their customers to make more money online.
In this post, I'll rank and review the best scheduling software based on their features, pricing, user reviews, and more.
---
We're reader-supported. When you buy through links on our site, we may earn an affiliate commission.
What is the Best Scheduling Software?
Adam's Take
If you're looking for a platform that offers a variety of features to help you manage your appointments, Calendly is a great option. It's simple to use and gives you all the necessary functionality to streamline your booking process. For those reasons, I recommend this software for businesses of all sizes.
Calendly offers an intuitive and straightforward user interface to assist small and medium-sized organizations.
This appointment scheduling software helps businesses to enhance service quality, increase sales numbers, and encourage savings at the same time.
Moreover, Calendly eliminates the need to manually schedule appointments, calls, interviews, and demos.
Key Features:
Non-technical users can efficiently use Calendly due to its easy-to-navigate user interface.
After the client or colleague chooses a date, it automatically updates it in the calendar.
It offers robust integration with Office 365, Google, and Outlook.
It cross-checks all calendars to avoid conflicts and double bookings.
Users can send automated invites through custom reminders and confirmation features.
It is compatible with all devices, including desktops, tablets, and smartphones. It means you can use the platform from any location at any time.
The software allows users to check the team's availability and automated email reminders and follow-ups.
Multiple invitees can schedule similar slots for webinars, classes, or workshops. Invitees can also make an appointment without registering or signing up on the platform.
It also offers robust email support.
Cons:
Email support is available for the premium version of Calendly.
It can connect to only one calendar per account.
Sometimes it misreads the data and schedules false appointments.
Cost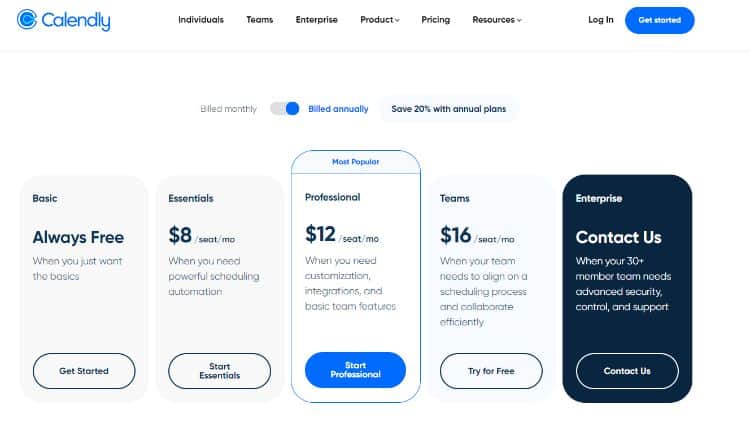 Calendly paid pricing plans start at $8 per month per user. You also get a 14-day free trial for the paid plans to test all their features.
Get started with Calendly.
Best Overall Appointment Scheduling Software.
Adam's Take
I like Acuity Scheduling for daily schedule use because anyone can access your availability in real-time and make appointments. The software is also great for managing multiple availability calendars in one place. Overall, I think Acuity Scheduling is a helpful tool that offers a lot of value to users who need to stay organized and on top of their schedules.
Acuity Scheduling offers scheduling solutions to users who need to access their availability in real time and make appointments depending on their pre-planned schedule. The software is famous for being highly functional and delivering a friendly user interface.
Moreover, it enables clients to monitor their daily schedules easily and eliminates miscommunication.
Key Features:
It allows the user to track revenue based on the details of unpaid and paid appointments. Users can also flag no-shows and take a record of fulfillment plus hours given per appointment.
It offers easy customization options to meet diverse requirements.
Acuity Scheduling allows sharing your calendar on social media, including Facebook and Twitter. You can also share it via email and embed it on a landing page so people can book their appointments.
It provides end-to-end protection of customer information on both web and mobile devices.
It offers secure online transactions through several avenues, including PayPal and Stripe.
It provides easy integration with Squarespace, iCal, and Zapier.
Cost
It comes with a free trial. The paid plans start at $14 per month and up to $50 per month, based on your scheduling needs.
Get started with Acuity Scheduling.
Adam's Take
Setmore provides a meaningful and memorable experience for customers with its customizable features. You can personalize the booking page to create a unique look that aligns with your brand and add special extras to learn more about customers' needs.
Setmore offers robust online scheduling solutions for individual entrepreneurs, small businesses, organizations, and NGOs.
It can streamline many processes, including payments, online booking, scheduling, and client engagement. Moreover, the software comes equipped with easy-to-use administrative features and enhances the efficiency of the workflow.
Key Features:
It is compatible with any device, including desktops, tablets, and smartphones, to give the flexibility to use it from any location and at any time.
It offers text reminders and mobile scheduling to prevent users from missing appointments.
Businesses can give access to in-house employees to manage appointments made by users.
It offers SMS and email alerts for every rescheduled and canceled appointment.
Setmore enables clients to make appointments through social media platforms, including Facebook. It allows easy integration with Facebook and the website.
Businesses can leverage website widgets to facilitate faster delivery.
Its highly optimized payment processing feature enables faster transactions through cards.
It offers robust customer support that responds almost instantly.
Cons:
The user interface looks a bit dated.
Integration with third-party apps can be more reliable and robust.
Cost
It offers a freemium plan with all the necessary functions, and no credit card is required. The paid plans start from $9 per month.
Get started with Setmore.
Best For Service-Based Companies.
Adam's Take
If you have a service business and are looking for a great way to get online and take bookings, SimplyBook is the solution for you! I suggest you check out the marketing features included in the plans to get an idea of how you can use SimplyBook to benefit your business.
SimplyBook is the best online scheduling tool available for service businesses.
It's an especially great solution for service-based businesses, and you can get a professional website with a complete booking system. This system allows you to add "Book Now" button widgets on your website or Facebook, Instagram, and Google profiles.
SimplyBook also offers the ability to accept payments online via its POS system and has many other great marketing features. From offering video meetings and sending marketing emails to providing coupons and gift cards, their software is a one-stop solution for service businesses.
Key Features:
It enables automated delivery of booking confirmation emails and SMS. And the users can cancel the booking at any point in time.
You can issue tickets in the form of QR codes.
You can easily embed the booking page on your social profiles and website.
Users can leverage its extensive setting features to offer multiple services and club offers in meaningful packages.
It allows businesses to receive online payments from several payment avenues. The payment avenues include Skrill, Bitcoin, Dwolla, PayPal, Mollie, CCAvenue, Zooz, and PayFort.
Easily sync available time and booking transactions through the Google Calendar Sync plugin.
Its intuitive dashboard offers all the data, including booking transactions and their statuses, through different colors for easy accessibility.
It offers efficient integration with Google Analytics to track visitors and engagement.
It also offers a reward system through which businesses can encourage their existing customers to promote their business.
You can easily create classes and events through its newly launched Class & Membership functionality.
There are custom features in every plan, which include add-ons to extend the functionality of your bookings.
Cost
It offers a free plan and free trial of its paid plans that start at $9.90 per month and up to $59.90 per month.
Free Plan – includes a booking website with up to 50 bookings and one custom feature.
Basic Plan ($8.25/month) – includes up to 100 bookings, three custom features, and adds POS and coupons/gift cards.
Standard Plan ($24.90/month) – gives you up to 500 bookings and eight custom features and adds HIPAA regulations.
Premium Plan ($49.90/month) – provides up to 2,000 bookings, unlimited custom features, and adds link removal, which removes the Simplybook.me text from your widgets.
Get started with a 14-day free trial of SimplyBook.
Best Free Meeting Scheduler with Built-In Marketing Tools.
Adam's Take
If you love any Hubspot products, you'll like Hubspot Meetings. It's a great meeting scheduling tool that gives you a personalized booking link to invite people to view your availability and book meetings with you. I advise you to try it out if you want a free, user-friendly scheduling tool.
HubSpot's meeting scheduling tool provides you with a personalized booking link you can use to invite people to view your availability and book meetings with you. When someone schedules an appointment, their contact details will automatically be added to your calendar and pushed to the HubSpot CRM database (the CRM is free forever for unlimited users).
HubSpot Meetings integrates with both Google Calendar and Office 365 and is part of HubSpot's All-In-One WordPress plugin. When you sign up for HubSpot Meetings, you'll gain access to HubSpot's free CRM, marketing, sales, and customer service tools, including email marketing automation, live chat, and forms, as well as HubSpot Academy, a free online educational resource.
Key features:
Personalized booking link and customizable booking page (headshot, logo, color palette)
Integration with both Google and Office 365
Group meetings link to allow prospects to schedule time with more than one person in your organization
Custom form questions to provide you with valuable context about your contact before the meeting
Available as part of HubSpot's free All-In-One WordPress plugin
Ability to embed your calendar on your website
Cost:
Free Plan – Includes one personalized meeting link, unlimited meetings, integration with HubSpot's free-forever CRM, and the ability to embed a calendar on your website.
Starter Plan ($50/month) – Includes all the other paid features of HubSpot Sales and 1,000 personal and team meeting links.
Get started with HubSpot Meetings.
Best Overall Scheduling Tool for Small Business
Bookafy is a versatile scheduling tool that lets you easily create meetings. You can design the look and feel of your scheduling site, automate video meetings, collect payments, and more. It's great if you're a small business needing a scheduler with a wide range of meeting options.
Key Features
The free plan is feature-rich.
Includes a beautiful customer-facing interface that you can customize to match your branding, including colors, fonts, styling, etc.
Simple and Robust – one of the most extensive feature sets available in the space
One Customer and One Staff appointment, One Customer with Multiple staff, Group events for multiple customers
One-Off Appointments for Adhoc scheduling.
2-way and 1-way sync with iCloud, Outlook.com, Exchange, Google Calendar, and ICS calendar subscription link.
Open API, Custom development, and Enterprise features are available.
Customers speaking 34 languages in 180+ countries use Bookafy for online appointment booking.
GDPR Compliant, HIPAA compliant.
Cons
No Mobile Application. All web-based.
Time tracking is absent.
Pricing
Pro Plan costs $7.00 per month billed annually or $9.00 per month billed monthly.
Pro+ Plan costs $11.00 per month billed annually or $13.00 per month billed monthly.
You also get a 7-day free trial of the Pro plan. No credit card is required. No commitment.
Get started with Bookafy for free.
7. Findmyshift.
Findmyshift is an employee scheduling solution perfect for creating employee schedules, tracking your labor costs, managing shift requests, including timesheets and spreadsheets, and communicating with employees efficiently. If you want to control labor costs, Findmyshift is also an excellent tool.
The cloud-based scheduling platform offers a user-friendly interface that non-technical people can easily use. The best part is that it provides a stable, reliable, and scalable scheduling process for organizations of all sizes and types.
Key Features:
Easily track all the staff from one place.
Leverage any web browser to instantly create and schedule duties from anywhere and share them with employees.
It offers a one-month free trial with all the premium features.
Use its time clock scheduling app to track employee work hours and schedules. This scheduling tool comes with a zero subscription fee.
Findmyshift comes with highly functional Android and iOS applications to keep employees connected on the move.
Teams of up to 5 people can easily use free employee scheduling software to create employee schedules.
Send notifications and messages to employees through text messages, emails, and push notifications.
Send automated shift reminders and conduct shift scheduling in one dashboard.
Use its intelligent pay rate calculation to pay hourly employees with different rates.
Secure all the data in the cloud with automated backups.
Cons:
You can't adjust clock-in time if an employee forgets to clock in.
The desktop version's user interface looks a bit dated.
The options may seem limited for a large organization.
Cost
It offers a free version for up to 5 employees. You also get a 1-month free trial for the paid versions that start from $25 per team.
8. Bitrix24.
Bitrix24 offers robust and collaborative features that automate scheduling systems to address the business needs of companies of all sizes. It can easily manage your messages, files, emails, contacts, tasks, and projects.
Key Features:
Businesses can leverage its Activity Stream to efficiently collaborate under one roof and keep track of all the tasks.
Its cloud-hosted premium plan is compatible with any device, including tablets and smartphones.
Organizations can also access source codes, acquire extra tools, and control data.
You can easily integrate Bitrix24 to centralize activities, projects, information, and tasks.
Users can also upload and share files with other users through this software.
Businesses can leverage intranet services, including conversations, wiki, files, email notifications, tasks, and photo galleries, to efficiently manage internal and external communication.
It also allows users to receive or make virtual phone calls.
Bitrix24 has many tools, including time-tracking, work check/in-out, planning, task reporting, employee directory, and absence chart.
Users can easily access time planning tools, including meeting manager, event scheduler, and calendars, by syncing Outlook and CalDAV.
Its document libraries are powered with WebDAV versions and offer flexible permission features.
It offers both phone and online customer support.
Cons:
Its premium plans are more expensive than other options on the market.
A plethora of integration options and features could overwhelm the new user.
It requires a steep learning curve to leverage all its features efficiently.
Cost:
It offers a free plan for a team of up to 12 people. Bitrix24 also offers a free trial for all its paid plans that range from $12 to $99.50 per month.
9. Appointy.
Appointy offers a powerful all-in-one online scheduling solution. It is best suitable for assisting users in driving vertical business growth.
Moreover, it comes equipped with an intuitive user interface that is functional yet simple enough for people who are not friendly with technology.
Key Features:
It has a simple integration that you can set up within a few minutes.
It can manage a large number of employees and several locations efficiently.
Appointy can help businesses implement customer loyalty programs to retain existing customers easily.
It allows customers to schedule appointments through Facebook and the website.
Businesses with no website can leverage Appointy's subdomain to create a unique booking page.
Appointy enables customers to make recurring appointments and bookings.
It adjusts business hours to help customers make appointments at their own convenient time.
It offers real-time notifications that can be checked from anywhere through mobile devices.
It offers capable reporting and analytics tools to track staff performance and appointments.
It sends automated reminders through emails and SMSes to reduce the number of no-shows.
Cons:
Customer support is not robust.
Syncing issues with third-party applications.
Cost
The paid plans start from $19.99 per month and range up to $79.99 per month. You also get a free trial for 14 days and a free plan for your basic requirements.
10. SuperSaaS.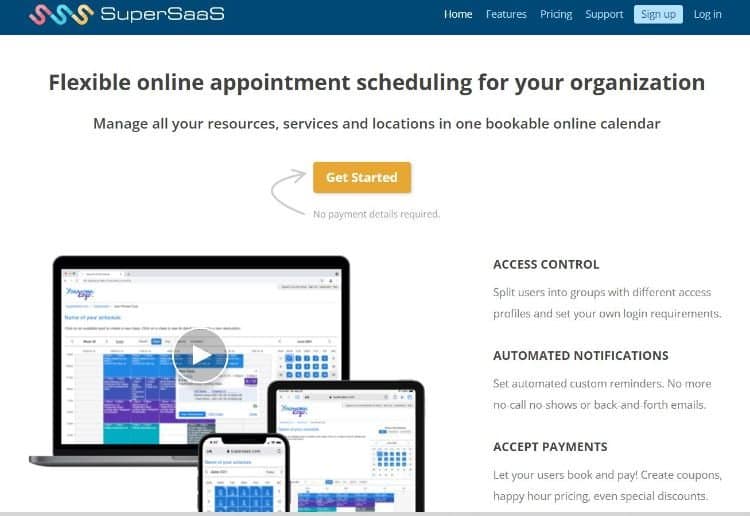 SuperSaaS offers appointment scheduling services for any business. You can leverage this highly customizable software for one-on-one scheduling, reservations & rentals, group scheduling, and service appointment booking, among others. The best part is that it integrates with many third-party tools and offers a user-friendly interface.
Key Features:
It seamlessly integrates the website and Facebook with a 'Book Now' button. You can also use it as a standalone appointment booking system for businesses that don't have a website or Facebook account.
SuperSaaS can send automated reminders via SMS, and email, reducing the possibility of late arrivals and no-shows.
The tool can accept customer payments through Stripe, PayPal, and credit cards.
It offers growing businesses a highly scalable solution to accommodate unlimited users, increasing staff members and other resources.
Users can make bookings from any geography through mobile devices.
It offers an automatic adjustment of the time zone and support for 34 languages.
It easily syncs with Microsoft Outlook, Google Calendar, Zoom, and phone calendars to avoid conflicts and duplicate bookings.
Users get efficient integration with iCal for instant updates of appointments on the calendar.
Cons:
The calendar has only one design.
It shows the time zone of business to the client. That would mean the customer from a different time zone would see the wrong time.
Cost
It offers a free version for a maximum number of 50 upcoming appointments. The paid plans start from $8 per month and go all the way to $46 per month.
11. Ganttic.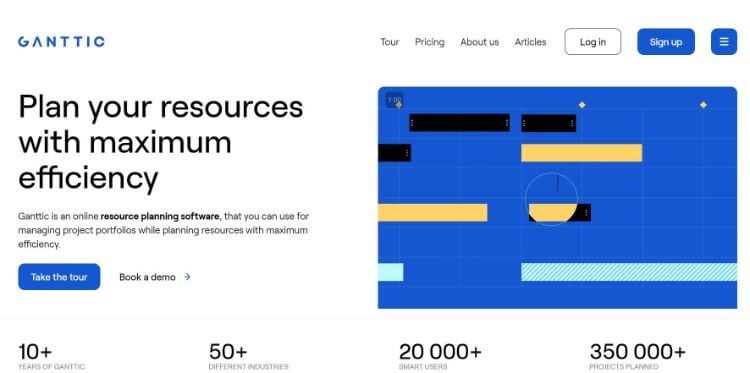 Ganttic is a competent planning tool that offers all the right resources to plan and manage your workflow and meetings. It is equipped to schedule projects, facilities, people, and equipment efficiently.
It also offers the option to plan everything visually through a simple drag-and-drop feature. Apart from offering a competent graphical interface, it also provides charts to run the show efficiently.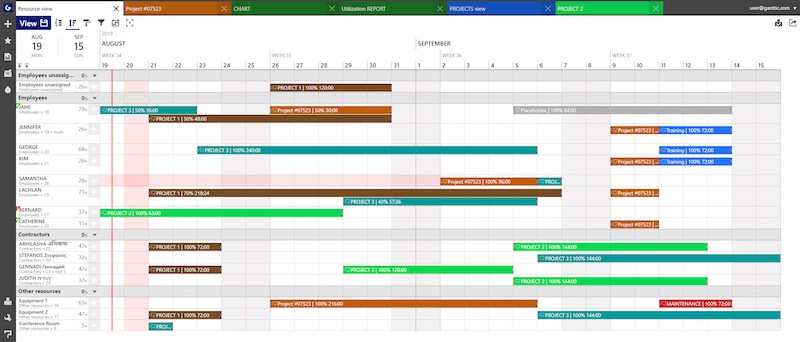 Key Features:
It is capable of allowing real-time collaboration with an unlimited number of users.
Leverage drag-and-drop scheduling to easily create tasks, edit details, and add custom data.
Plan the work resources based on the time duration required or the level of effort needed.
You can have separate views for different projects and use a general view to keep an eye on all the projects.
Use charts and resource utilization calculations to avoid under or overstaffing in any project.
Generate graphs and custom reports to analyze projects, tasks, and resources.
It allows the allocation of the same task to multiple resources.
Offers Facebook Page integration.
Leverage time tracking to calculate efficiency and make better resource planning in the future.
Use iOS and Android mobile apps to stay connected on the go.
You can sync it with the phone and Outlook calendars to avoid conflicts and duplicate tasks.
Cons:
It requires a steep learning curve.
It might take longer than expected to integrate complex tasks.
Cost
Ganttic is free for up to 10 resources. It offers a 14-day free trial for the paid plans that start from $25 per month.
12. Square Appointments.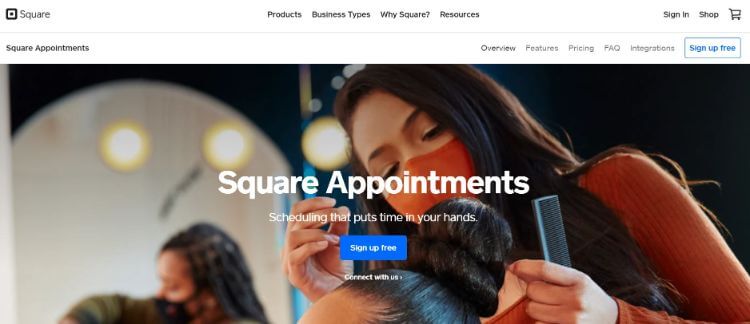 Over the years, Square Appointments has grown to more than just scheduling and booking software. It now offers a fully-functional point of sale system (POS) that can take payments, create a discount, and accept tips. Moreover, it is a perfect pick for health and wellness businesses.
Key Features:
Businesses can efficiently embed booking buttons and appointment widgets into their website.
It supports automatic updates of services, schedules, and prices across channels.
Businesses that don't have a website can leverage Square's free booking website and include many features, including staff bios, services, calendars, pricing, and cancellation policies.
Users can also send personalized messages to clients to achieve higher customer satisfaction.
Business owners can work on multiple devices as the software sync functions seamlessly across platforms and devices.
Appointment confirmations and reminders are sent automatically via emails and SMS.
Users can book multiple services at the same time.
It comes bundled with apps for smartphones and tablets.
Customers can leverage Square Assistant to make or reschedule appointments via digital chat.
Cons:
It offers limited customization options.
Features might look basic for large enterprises.
It is relatively expensive in comparison to the services of other competitors.
Cost
It offers a free trial for individual use. The paid plans start from $50 per month. You also get a 30-day free trial for the paid plans.
13. Bookwhen.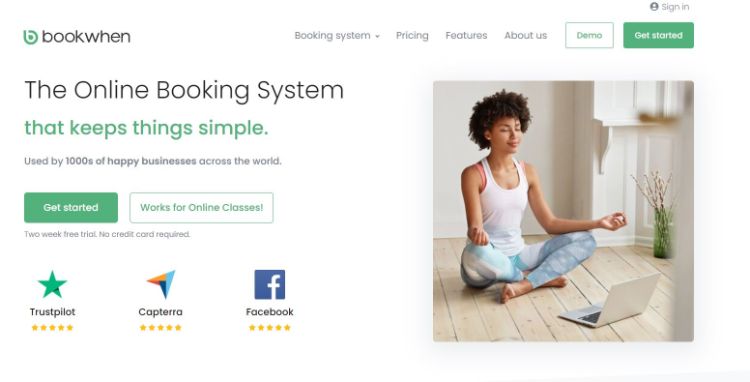 Bookwhen meets the scheduling requirements of businesses of all shapes and types. It offers many robust features and elements, including custom booking forms, the capability to export bookings to Excel, and more. Moreover, the software is easy to use and integrate.
Key Features:
Businesses can customize booking forms for every event, validate responses, and opt-in for marketing.
It allows online payment through Paypal, Stripe, and WorldPay. You can also provide a 'Pay Later' option to accept offline payments or other modes of payment.
Confirmation and reminder emails carry essential information, including a link through which customers can manage the booking, a calendar file, and customizable text the business sends.
Leverage the online register to mark attendance.
A single user can make multiple appointments or bookings. It also offers recurring bookings.
Use a simple code to embed the booking widget on any website, including Wix, WordPress, and Squarespace.
It is perfectly optimized for mobile devices.
It is available in multiple languages, including English, Italian, Danish, Dutch, German, Swedish, French, Spanish, and Hungarian.
Its Franchisors feature allows the deduction of commission automatically from partner outlets.
Cons:
Their chat support works only on weekdays.
Businesses can't reschedule appointments.
Cost
It offers a free version that allows up to 50 bookings per month. The paid plans start from $15 to $59 per month. There is also a higher plan for enterprise solutions.
14. SkedPal.
SkedPal is a highly user-friendly scheduling application. The software works wonders for people who are always busy and want to streamline their workflow to gain efficiency. Moreover, it is apt for every professional, whether an entrepreneur or a freelancer.
Key Features:
It offers apps for all platforms, including Windows, Mac, and Linux. Smartphone apps for iOS and Android help users stay connected and productive from any location.
SkedPal allows users to create habits that recur monthly, weekly, or daily. It assists users in their free time to achieve these goals and habits.
It seamlessly integrated with Outlook, Google, Office 365, and iCloud calendars to ensure no duplicate bookings and conflicts.
Tell SkedPal what you want to accomplish, and its AI engine will automatically collate all your priorities that need attention.
Leverage its Time Map feature to plan your week efficiently by budgeting the time for different things, including work, hobbies, and meetings. It all happens with a click of a button.
Cons:
The mobile application is not as smooth as desktop applications.
Time tracking is absent.
Cost
SkedPal costs $9.95 per month per user and is billed annually. You also get a 14-day free trial to check whether the tool aligns with your requirements.
15. Setster.
Setster is an enterprise online appointment scheduling tool. It helps simplify your complex scheduling challenges through a friendly user interface and actionable logic.
Moreover, Setster offers an omnichannel experience to promote efficiency and increase customer engagement.
Key Features:
It allows specific settings and rules for every appointment you make, depending on the clients you meet.
It allows the linking of team members from any location, including virtual or geographical.
Users can avoid back-to-back appointments through padding. It allows a buffer time to prepare for the next meeting quickly.
Businesses can send advance notice of the appointment to avoid no-shows and later arrivals.
Control employee availability by blocking time off and adding holidays.
You can directly accept payment in your account through PayPal, Stripe, and FreshBooks. It also allows the customer to make the payment in person after the completion of the appointment.
It offers an API for highly customized integration of the application.
Get seamless integration with third-party applications, including Salesforce and Zapier.
Efficiently syncs with Office 365, Outlook.com, and Google calendar to ensure all planned workflow stays on one screen.
Deliver notifications to customers at customized times for higher engagement.
Customers can also request the appointment time before getting a final confirmation.
Cons:
Integration with Salesforce is not reliable.
It is one of the priciest options available.
Cost
The paid plans start from $16 per month and go up to $1206 per month (for one license). You can also get a discount of 20 percent on annual subscriptions.
16. EngageBay.
EngageBay goes beyond just scheduling and aims to solve many different marketing challenges. Trusted by over 12,000 businesses, the software combines the efficiency of sales, marketing, and services in one solution.
Key Features:
It offers excellent personalization options to send highly engaging emails to customers.
Enable faster scheduling of appointments by helping customers book appointments.
Automatically sync appointments from Google or Office 365 to ensure you have the most updated list of daily schedules.
Allows group appointments that enable the customer to make appointments with more than one person in your organization through a single booking.
Show the time slots based on your availability. Users can also set the availability based on different time zones to avoid confusion.
Set up form fields to gather valuable information about clients you could use later to generate leads.
It intimates customers about upcoming appointments well in advance through automated reminders.
The software is available free of cost.
Cons:
It offers limited features, which makes it suitable for small businesses only.
The user interface could be more intuitive.
Cons
The tool is available entirely free of cost. For more advanced features, pricing plans start from $12.99 per user per month.
17. InviteOnce.
InviteOnce aims to take charge of all your business bookings. It offers efficient scheduling of multiple appointments in a flash. It can cater to various industries, including B2B SaaS, financial services, consulting, healthcare, lifestyle, and education sectors.
Key Features:
You can customize each meeting through individual settings, including location and time.
Its "Round Robin" feature ensures equal distribution of work among team members.
It maximizes the availability of resources by combining the professionals of different teams. This helps in minimizing cancellations and bounce rates.
Its scheduling engine automatically selects the most suitable time slot depending on the requirement of the meeting.
You can embed a suggested meeting time in the email so the customer can instantly confirm the meeting with a single click.
Create meeting templates instantly to gauge the requirement of your organization efficiently. Users can easily create a new template with a single click.
Cons:
Integration with Instagram and other social media channels is not seamless.
It has some bugs that might cancel the scheduled appointment or show empty slots as booked slots.
Cost
The paid plans start at $10 per month. The good news is that you get a free trial for 14 days to discern whether it is a perfect fit for you.
18. Nowsta.
Nowsta is a capable employee scheduling tool suitable for businesses of every scale. The software is ideal for various industries to streamline workflow by optimizing payroll processes, shift management, field service management, and time tracking. It answers the usual questions employee scheduling software leaves unanswered and can make scheduling shifts easy.
Key Features:
Businesses can leverage filters and tags to find the most relevant resources for the task and send them work requests.
There is a conflict notification to avoid double booking.
Overtime warnings allow you to schedule employees, track time, manage shift swaps and deal with schedule changes.
Employees can access and respond to work requests through mobile apps to minimize work time.
Its GPS-enabled punch feature helps track employees' location and ensure that people are at work.
If employees want to swap shifts, this becomes an easy process.
It automatically flags gaps by matching the tracked hours against an employee's schedule.
It leverages photo verification instead of body punching for more robust and secure access in the system.
It automatically prepares wages based on the logged hours.
It offers robust and seamless integration with third-party payroll applications.
Cons:
The time clock application is not error-free.
It might log out the user abruptly without giving any reason.
Cost
Nowsta is one of the most cost-efficient employee scheduling apps. Its paid plans start from $3 per month per user.
19. UpKeep.
UpKeep is an advanced maintenance and asset management tool most suitable for large teams. Users can easily access all the features of UpKeep from desktops, tablets, and smartphones from anywhere around the globe.
It enables professionals to have efficient communication with workers on the go. Its most prominent features include automatically maintaining the workflow, preventive maintenance, downtime tracking, keeping checklists, etc.
Key Features:
Leverage its real-time notifications and alerts to create work orders from anywhere and receive alerts and notifications of updated tasks on your smartphone.
Prevent recurring trends by reviewing reports regularly to maximize uptime.
It offers secured storage of data in the cloud and takes backups regularly.
You can access work orders and requests from anywhere through tablet and smartphone applications.
Monitor inventory, assets, and locations from a single point.
It offers a user-friendly interface that users of different technological expertise can leverage.
It can be implemented quickly and requires a low learning curve.
Gets regular updates to incorporate enhancements and new features.
Cons:
It is incapable of creating bulk orders efficiently.
The free version comes with limited features.
The user interface could become more intuitive to ensure more efficient functioning.
Cost
UpKeep offers a free version. The paid plans start at $45 per month, billed annually.
What is Scheduling Software?
Scheduling software is a software-as-a-service (SaaS) tool perfect for helping businesses manage appointments, bookings, employee scheduling, or project management tasks.
Moreover, it can automate the process of scheduling appointments along with many other features, including cancellation of bookings, online payments, helping you connect with different stakeholders, and more. It also allows businesses to eliminate mistakes, miscommunications, and duplicate reservations.
If you want your enterprise to become more customer-friendly and agile, you might also want to try out one of the scheduling platforms mentioned in this article.
What Should You Look For in Scheduling Software?
When you start searching for the right software solutions, you will likely get overwhelmed by all the available options. It becomes challenging to figure out the key differentiators and make the right decision.
Here are a few essential points that you must consider while searching for the right scheduling software:
1. Third-Party Integrations.
Ensure that the scheduling platform offers robust and seamless integration with the website, social media applications, and other third-party applications.
It would help you keep an omnichannel connection with resources and customers.
Take InviteOnce, for instance: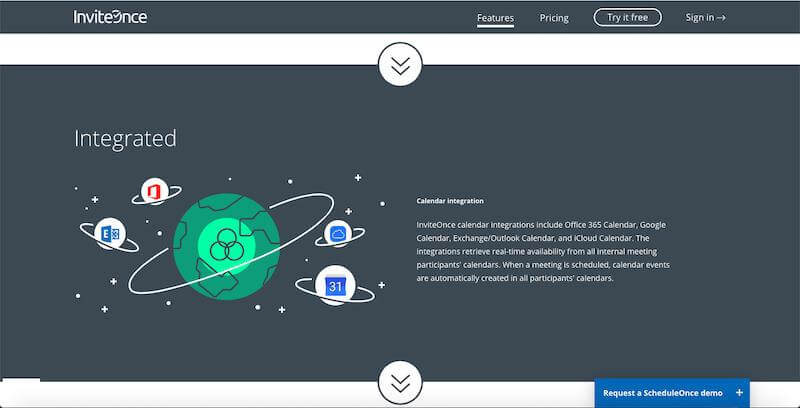 It enables integration with vital third-party tools like Office 365 Calendar, Google Calendar, Exchange/Outlook Calendar, and iCloud Calendar.
These integrations allow InviteOnce to retrieve real-time availability and make things more streamlined.
2. Compatibility.
Make sure to look for a scheduling platform that provides efficient compatibility with all platforms and devices.
You might also want to look for an option that offers a mobile app to ensure smooth and seamless access to your entire business schedule.
3. Scalability.
It would be wise to use highly scalable scheduling software if you are a small business riding on a high growth rate.
It is essential to ensure that the platform can meet your expanding requirements in the future. Therefore, check the number of users it supports and how many customers it can handle at a single point in time.
4. Customer Support.
Look for a scheduling platform that offers omnichannel customer support to help resolve issues. Also, make sure to check whether the platform assists with the setup or not.
Consider these points to judge each option more critically and single out suitable options easily.
Executive Summary.
So, there you have it — some of the best scheduling software available online today. However, to make the right pick, you first need to analyze the requirements of your organization.
Here are a few points that you must keep in mind before selecting the right scheduling software:
Number of Employees: If you are a freelancer or run a business with a small team, then select the free version that offers decent features. However, if you have a company with a bigger team, then go for an enterprise plan that provides the best value for your money.
Type of Business: Your business might require software for booking tickets, appointment scheduling, or distribution of tasks. Select a platform that meets your specific scheduling needs instead of a tool that offers useless features.
Budget: Ensure your platform is under your budget and offers the best value for money. Compare prices against features of other options to get the best bargain. Look for free versions if you have a small team or simple requirements.
Ponder over these points and analyze each tool critically.
When it comes to scheduling meetings and other vital business tasks, there's no simple way of managing everything. The best thing you can do is take the assistance of a scheduling platform to streamline your business meetings.
Would you be using any scheduling platform from this list? Please share your favorites in a comment below.
Editorial Process:
Our reviews are made by a team of experts before being written and come from real-world experience. Read our editorial process here.
Some of the links in this article may be affiliate links, which can provide compensation to us at no cost to you if you decide to purchase a paid plan. These are products we've personally used and stand behind. This site is not intended to provide financial advice. You can read our affiliate disclosure in our privacy policy.