15 Best Audio Editing Software of 2023 (Free and Pro Options)
Choosing the right audio editing software is crucial if you want to produce high-quality audio recordings. From simple sound effects to complex audio editing, the best audio editing software can help you meet your goals. In this guide, I ranked and reviewed the 15 best audio editing software, along with my top 5 choices, so that you can pick the best one for you.
---
We're reader-supported. When you buy through links on our site, we may earn an affiliate commission.
Want to jump straight to the best audio editing software right now? My favourite is Adobe Audition.
Professional audio production has come a long way in the last decade. What used to take expensive digital audio workstations (DAWs) and recording studios can now be completed with just a laptop and microphone.
And oftentimes, audio quality is more important than video quality. Sometimes a shaky or less-than-perfect video clip can be improved by professional audio. However, poor audio is much more noticeable and hard to improve with a well-shot video.
However, when looking for the best tool, there are so many audio editing software options to choose from – it can get overwhelming.
I remember editing a video together and being unable to fix a poorly recorded audio track. I scoured the internet for hours trying to find a tool that could easily get rid of background hums and p-pops.
After researching tools late into the night, I finally found one that I was looking for.
This guide covers the best audio editing software for musicians, video editors, podcasters, and everything in-between.
Let's get started.
What is the Best Audio Editing Software?
Here are my top picks for the best audio editing software.
Best audio software for video editors ($20.99 per month).

Adam's Take
Whether you want to create a podcast, add sound effects to a video, or clean up some audio recordings, Adobe Audition has features to help you get the job done. Being part of CC, it also integrates well with other Adobe tools like After Effects and Premiere Pro.
Adobe Audition, part of Adobe Creative Cloud (CC), is a suitable tool for broadcasters who want to edit, mix, and restore audio. You can use Adobe Audition for both single and multi-track editing. It also lets you import files in the timeline through a simple drag and drop feature, which is a bonus for beginners. Its visual interface is modern and straightforward which helps you focus on optimizing your audio tracks.
It also brings professional depth to the sounds effects you create.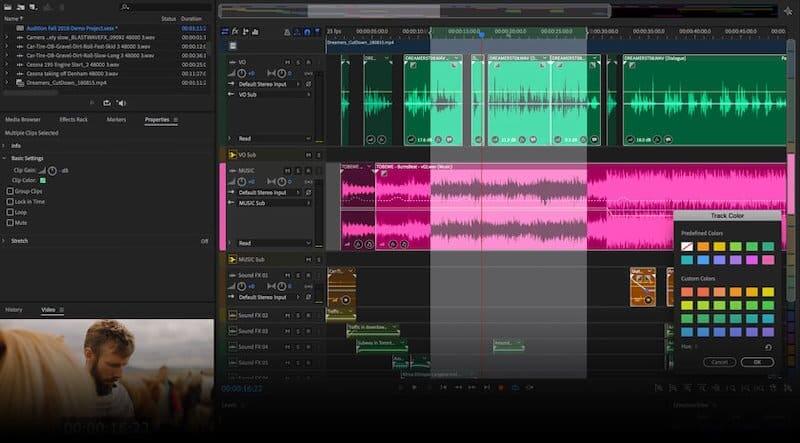 Adobe Audition provides different types of textures for sound effects, such as:
Animated tones with over 250 cartoon sound effects
Add arcade and modern gaming sound effects like beeps and boops
Over 450 gun and firearm sound effects
Add comical sound effects, such as whistles, honks, and pops
What's more, Adobe Audition enables you to easily perform noise reduction. You just need to create a 'noise print' at a particular point in the audio, and it will replicate the background in the entire clip. You can also get rid of an unwanted echo with just a click of a button. It's also one of the audio editing tools to let you include the recordings of multiple resources in a single track.
Key Features:
Free Sound Effects – Use Adobe's hundreds of royalty-free sound effects to add professional depth and creativity in your audio.
Adobe Sensei – The remix function edits your music based on your requirements automatically.
Essential Sound Panel – You can use its sound editing tools to adjust your voice recording and remove any unwanted sound from the clip.
Pros:
Dynamically control the sound of dialogue or music using its autodocking tool.
Use Spectral Frequency Display to remove hisses, beeps, and background. You can also visually edit soundwaves with this feature.
Directly add your final audio files to video editing tools like Adobe Premiere Pro.
Capture sound from multiple mics and easily mix or manipulate voices from different speakers.
It offers editing in both Multitrack or Waveform.
Supports external equipment, including mixers or audio interfaces, for enhanced results.
Pricing: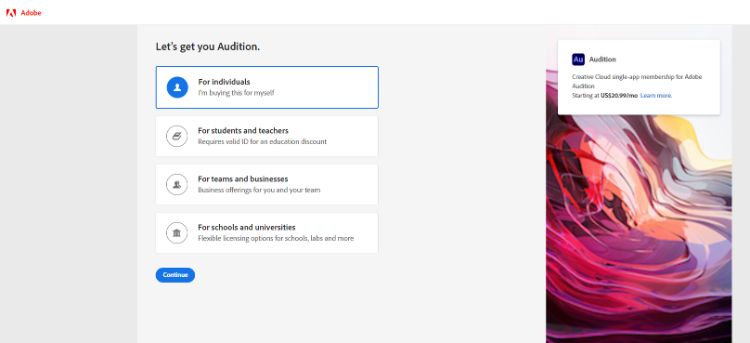 Free: It offers a free trial version for seven days.
Business Class: It costs around $20.99 per month per user.
It provides discounts to students and teachers. The companies that require multiple licenses also get special discounts.
Get started with Adobe Audition.
Best for post-production professionals ($29.99 per month).

Adam's Take
For large studios with big budgets, Pro Tools is the industry standard. The software integrates with a wide range of hardware from different manufacturers, making it the most versatile option for professionals. I advise you to check it out if you're after one of the best tools in the game.
Pro Tools is one of the best professional audio editing software for large studios looking to integrate their hardware with powerful software. Moreover, Pro Tools offers a powerful workflow, letting you record for up to 4 mics simultaneously. Its Audio Engine offers a 64-bit architecture, capable of dynamically allocating host processing resources, and low-latency input buffer.
It also allows you to search through instruments, tracks, and more through a type-ahead search. Plus, you can now select multiple items on the menu at a time. One of its most amazing features is its capability to record the sound retroactively. This means that you don't have to remember to press the record button whenever you start jamming in the studio. Pro Tools also offers a good collection of virtual instruments.
The distribution of music also gets easier with Pro Tools. It gets your music on streaming sites like Apple Music, Spotify, Amazon Music, iHeartRadio, and more.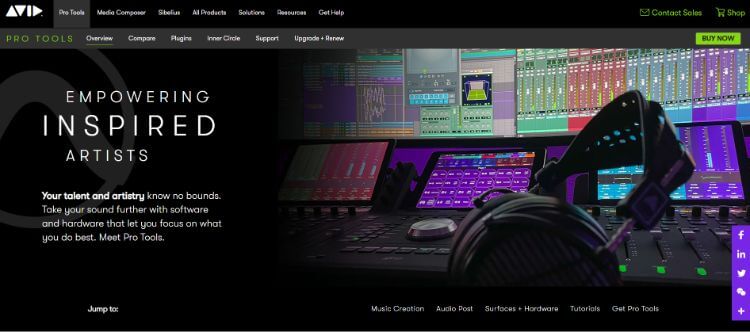 Here are some of the features that let you produce professional, movie-quality sound.
Up to 768 voices/audio tracks to create bigger mixes
The hardware system offers dedicated DSP and premium audio I/O
Infinite routing flexibility
Ability to find and collaborate with other professionals around the world
Key Features:
UVI Falcon – It offers an extensive 2.6 GB collection of synthesizer and instrument samples with around 1,000 present clips.
MIDI Editor – You can use its pop-up MIDI Editor to handle all the details of the project. You can also export all the sessions as Sibelius files (.sib).
Mix Window – You can view all the audio tracks in the mixing board style. It provides the flexibility to automate any parameter at any point in the track.
Pros:
Match up with local broadcast guidelines using multiple metering standards like peak and average to VU, K, and PPM.
It allows you to write your music even while the track is in recording or input. You can then do various music editing adjustements.
Pro Tools also supports Avid Nitris DX, Avid Mojo DX, and a variety of Blackmagic Design video interfaces.
It also supports AJA to monitor QuickTime video and DNxHD.
Work with up to 10 users on the same project using the cloud-based collaboration functionality.
Easily import sessions created on other audio editing tools.
The multiple AIR effects come in handy during the mixing session.
Pricing: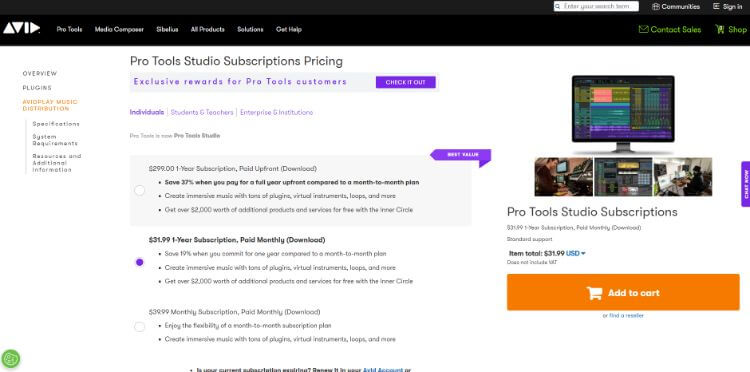 Pro Tools offers two pricing plans:
Pro Tools Yearly, Paid Upfront: $299
Pro Tools Yearly Subscription, Paid Monthly: $31.99
Pro Tools Monthly Subscription, Paid Monthly: $39.99
Suitable for professionals looking for a serious DAW for creating, editing, mixing, and mastering audio ($449).

Adam's Take
If you're a fan of beats that snap and pop with lots of character, you'll love what Studio One can do. Studio One comes with a great collection of effects and plugins to get you started, so I recommend you to check it out if you're looking for a top-quality audio editor.
Studio One is an excellent audio editing tool for recording voice and laying down stunning beats. It's super-responsive and agile. For instance, its drag-and-drop interface lets you set up instruments instantly with complete pictorial representation.
The drag-and-drop interface lets you achieve plenty of other essential functions easily, such as:
Drag audio loops, virtual instruments, and presets into your session easily
Simply copy FX chains from one channel to another
Convert MIDI to audio or vice versa
Remove glitches by dragging a plugin to your effects chain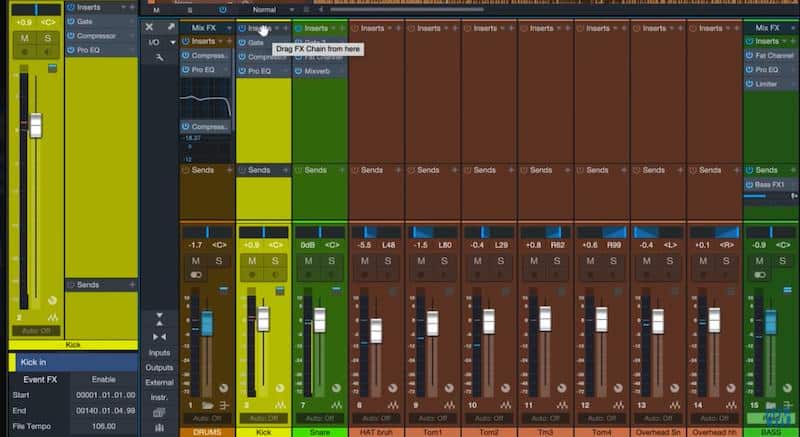 Other than this, it has all the editing functions one would expect in an efficient digital audio workstation (DAW). You can add fades, trim or split clips, and adjust the gain of a clip straight from the 'Edit' interface.
Plus, it automatically suggests dates and names to your new projects to help you always stay organized. You can also set keyboard shortcuts to mirror Pro Tools or any other DAW for easy migration to Studio One.
Key Features:
Master Mastering – It's one of the only DAW that lets you link songs with finished projects. You can also jump back to any particular moment to make the tweaks.
Drag and Drop – Its drag and drop workflow helps you easily add virtual instruments, plugins, and loops into the audio clip.
Arranger Track – Edit moving sections of your songs with harmonic editing.
Analog Mixing – Its State Space-modeled analog input drive adds the right amount of warmth and grit in the song.
Pros:
It also offers a drum editor and an acoustic kit.
It comes loaded with 64-bit floating-point WAV recording and export.
Edit multiple tracks simultaneously using the advanced group function.
Constantly change pitch and delays by creating echoes.
Efficiently manage arrangements and chord shuffles with its Arranger Track.
Feed external audio through its dedicated Aux Channel.
Pricing: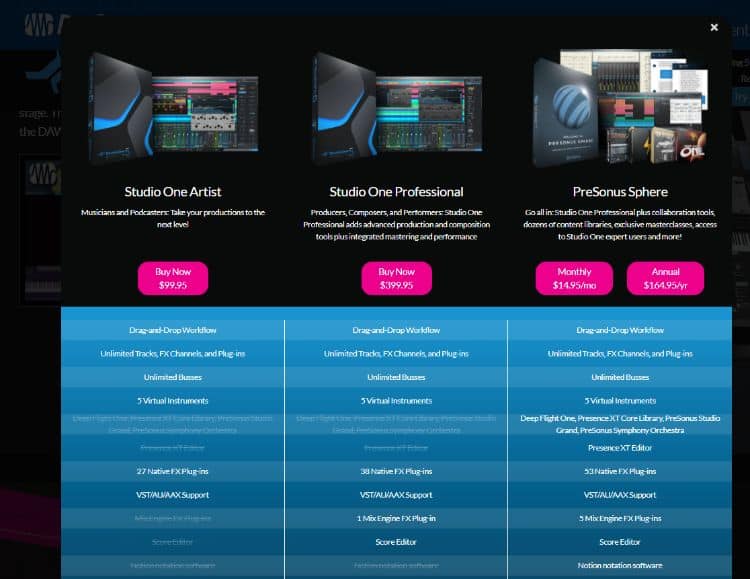 Studio one costs $399.95 for a one-time purchase. You can also upgrade for more advanced features.
There are also the Studio One Artist, selling for $99.95, and the PreSonus Sphere, with a monthly subscription of $14.95 or an annual one for $164.95.
Open-source audio editing software for multi-track editing (Free Audio Editor).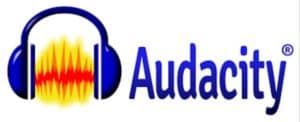 Adam's Take
Renowned for being a free yet powerful tool, Audacity comes packed with features such as support for a wide range of file formats, support for multiple audio effects, and more. With Audacity, you can easily record and edit audio files on your computer and even add effects to them.
Audacity is one of the best open-source and cross-platform audio editing tools for multi-track editing and recording. It offers a user-friendly interface and supports macOS, Windows, GNU/Linux, and many other operating systems. Plus, you can record live audio through a microphone/ mixer, and digitize audio recordings from other media.
Audacity also superior quality sound with 16-bit, 24-bit, and 32-bit support. Other than this, it converts formats and sample rates through high-quality dithering and resampling. It also supports LADSPA, Nyquist, LV2, VST, and Audio Unit effect plugins. If none of these plugins align with your requirements, you can write your own plugins too.
Here's a list of some of the most prominent features that make it one of the best free audio editing software: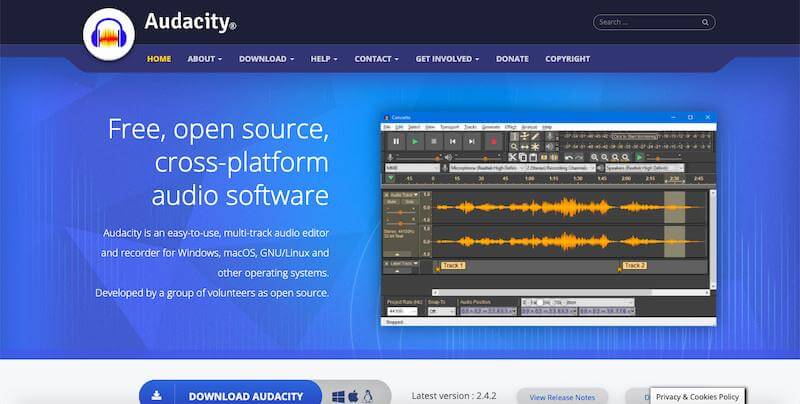 Import & export music files in different formats, such as AIFF, MP3, and more
Import & export multiple files at once
Amazing sound quality
Support for plugins like ADSPA, LV2, Nyquist, VST and Audio Unit effect
Cut, copy, paste, and delete functions for easy editing
Spectrogram view mode
Key Features:
Accessibility – It offers a massive number of keyboard shortcuts. You can even manipulate tracks and selections through the keyboard.
Analysis – You can use its Spectrogram mode for visualization and selection of frequencies. The Plot Spectrum Window provides a detailed analysis of frequencies.
Special Effects – Monitor your audio through the real-time preview of LV2, VST, LADSPA, and Audio Unit (macOS) effects.
Pros:
Its plugin manager handles all sorts of plugin installations efficiently.
Go back or forward by any number of steps with an unlimited number of sequential Undo and Redo to go back or forward by any number of steps.
Export multiple audio files simultaneously in different formats.
Its 'Level Meter' monitors volume levels in real-time or before and after the recording.
Use the Draw tool to play with sample points.
Pricing:
Free: It's an open-source tool available for free.
Suitable for both a professional composer or a music production beginner ($329.99).

Adam's Take
I advise you to check out Cubase for its various features and capabilities. Cubase offers its users a wide range of editing options. You can use Steinberg Cubase to create, record, mix, and produce music, so it's worth checking out if you're serious about audio editing.
Steinberg Cubase is a powerful audio editing software for users who want to create, mix, and produce music. When it comes to editing audio, a ton of great features improve the mixing and quality of your recordings. Additionally, a host of flexible tools help you create music at a faster pace.
It also offers a lot of effects, virtual instruments, and sounds to help you bring depth to your audio. You can also edit and sequence MIDI and audio easily.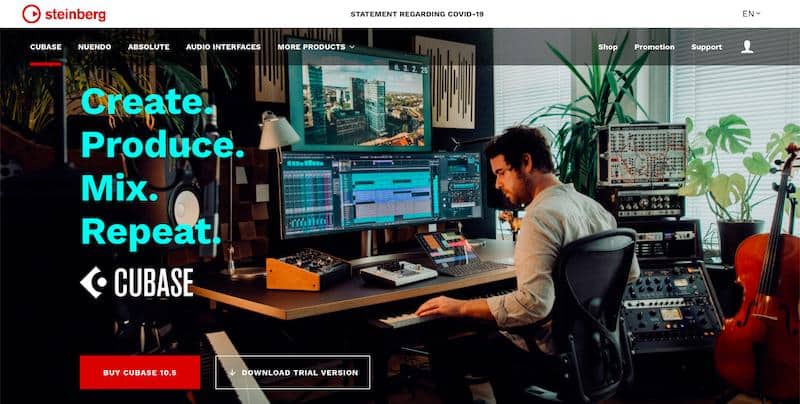 Some of its most unique audio editing features include:
The time stretch feature lets you change the tempo and length of the audio
Warp-quantize multiple audio tracks at once
Direct offline processing
Audio alignment
Group editing
And more
What's more, its Audio Alignment feature can optimize more than one track with a single reference track. If you are new to audio editing, you can use its Sample Track feature to draw inspiration in a fun way.
It's also more than just an audio editing software as it also lets you create tracks and produce beats.
Key Features:
Drum Editor – Create perfect rhythms and work on grooves and beats to create the type of audio you want.
VariAudio 3 – It lets you edit at the micro-pitch level for more accurate control of transitions and vocalist's drifts.
Lower Zone – You can easily Mix Console, lock the Piano editor, or anything else under the arrange window.
Recording – Its 64-bit audio engine supports 32-bit, 192KHz recording, and 5.1 surround sound. There are no limitations of MIDI, instruments, or audio tracks.
Pros:
It can export and import an XML file.
The recording automation feature lets you trigger write, latch modes, touch, and read.
Use its drag-and-drop-based Comp Tool to assemble takes at a faster pace.
It offers over 3,400 patches among 8 instruments.
It offers over 80 plugin effects, including EQ, Delay, Reverb, and mastering tools.
Its 150 track presets set up by Allen Morgan helps you arm your audio with stunning free music.
Pricing: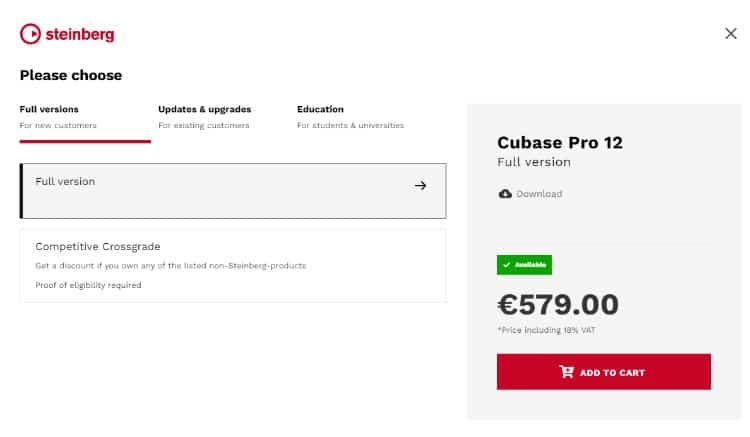 Cubase costs $579.00
An audio editing studio for both beginners and professionals ($59.99).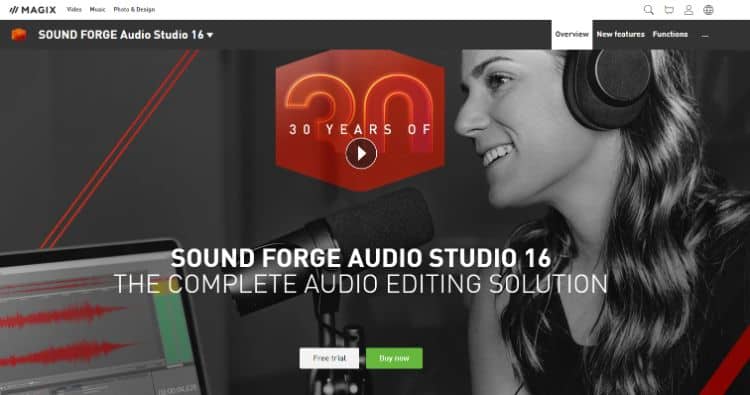 Sound Forge is an excellent tool for all digital audio editing requirements. Its comprehensive range of functions and tools let you edit your audios using professional effects. What's more, it transforms cassettes and vinyl into digital audio. You can also burn and create CDs or produce soundtracks for videos.
Here are some of the essential highlights:
Instant action window for a fast workflow
Easy task assignment
Extensive professional effect plugins and presets
Quick, user-friendly mastering
Professional editing of audio files with special event editing tools
It also offers sound 11 effects from the DirectX plugin to add professional depth to your audio recording. On top of that, you can preview the effects before adding them to your final cut. Another good thing about Sound Forge is that it offers a completely customizable toolbar and interface to help you create your own audio editing experience.
Key Features:
Windows Context Menu – You don't have to open the entire software for common tasks. Just right click on the system button to save a lot of time.
Improved VST – It provides an enhanced loading speed of VST plugins to prevent sluggish performance and potential crash.
Oscilloscope – Easily visualize sound waveforms in periodic oscillations or use chain manipulations display effect in real-time.
Pros:
Produce professional-quality recording using its automatic master wizards.
The user interface is highly customizable and comes with four shade settings.
Use its Instant Action window for a clear overview of all the tools. It would help you focus on editing and save a lot of time.
Use its quickFX feature to install a wide range of plugins for chorus, flanger, and creative effects.
You can edit your audio with 6 channels simultaneously.
Leverage Analog Delay feature to modify the delay time of an instrument.
You can use its various filters to achieve the required voice modulation.
Pricing: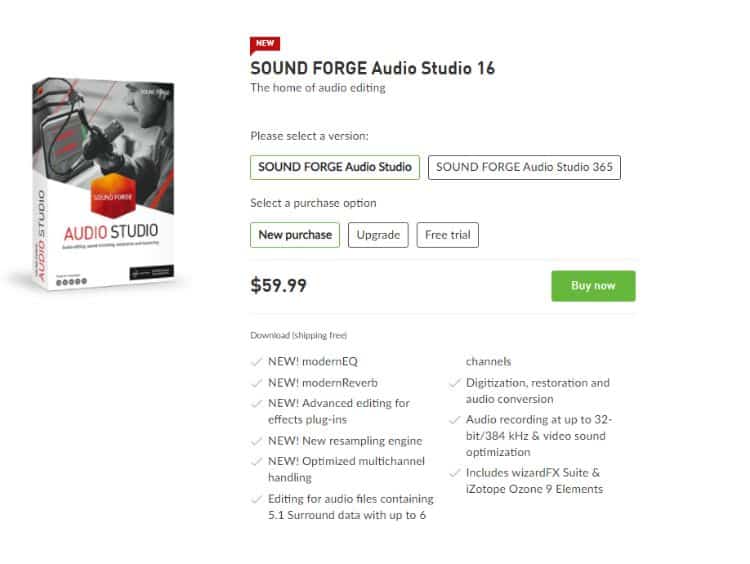 Its prices start from around $59.99 for a one-time purchase. You can also access its free trial.
A cross-platform and easy-to-use audio editing tool for beginners (Free).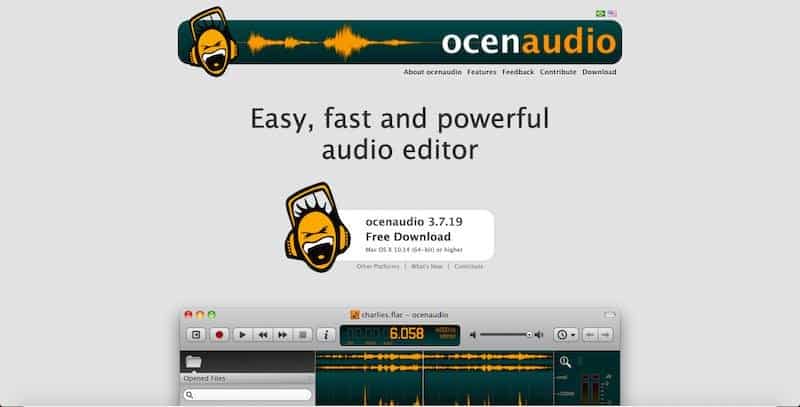 Ocenaudio is an easy-to-use, fast, and functional audio editing tool for daily use. It comes with a straightforward user interface and provides a real-time preview of effects to execute audio editing quickly.
Ocenaudio's keyboard shortcuts also make your editing task faster and more efficient. Other than that, it supports files stored on your local machine and files stored in the cloud.
Some of its most prominent features include:
VST (Virtual Studio Technology) plugin support
Real-time preview of effects
Cross-platform support
Multi-selection
Editing of large audio files
Spectrogram for a waveform view of your audio files
You can also use its large library of filters for sound modulation with just a click of a button. It also offers a fully loaded spectrogram to analyze the spectral content of the audio with enhanced clarity.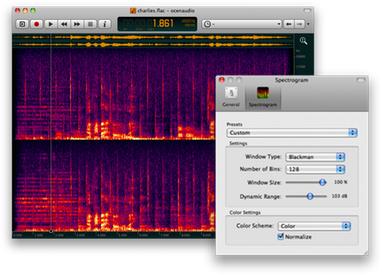 Key Features:
Cross-Platform Support – It supports all major operating systems, including Linux, Windows, and macOS. It generates native applications for all the platforms from a common source for seamless integration and flawless performance.
Multi Selection – Execute complex editing at a faster pace with this feature. You can select different sections of the clip and apply effects simultaneously.
Miniature View – Leverage miniature view and listen to the effects in the selected audio section.
Pros:
Apply spectrogram settings in real-time.
There are almost zero stacking effects.
The user interface is clear and easy to learn for new users.
Its filters help you achieve required voice modulation easily.
You can simply copy and paste audio sections and save more time.
You can convert parts of the audio file into labeled 'regions' for better organization.
Pricing:
It's an open-source software and is available for free.
Versatile software for editing, organizing, and burning music ($29.99).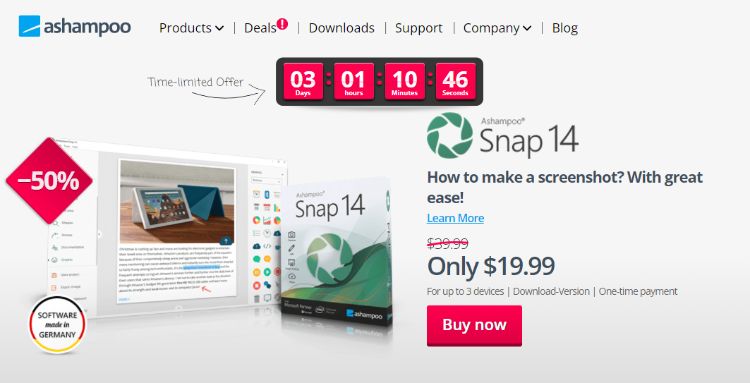 Ashampoo Music Studio is a great audio editing tool and provides complete multimedia solutions. It lets you extract audio from videos as well as from the CDs directly. You can import entire folders or individual audio or music tracks to create playlists.
Its built-in audio editor crops and cuts audio files efficiently exactly the way you want. Apart from this, the editor adjusts the volume, split music, and more.
Its editor is also capable of:
Converting common formats
Volume adjustments
Editing metadata tags
Searching for corrupted files
Searching for missing metadata
And more
It also comes with a unique tool that can create CD covers and labels. It adds a nice touch to monetize your audio with accessories.
Key Features:
Helium Music Manager – Manage your music library by editing bookmarks and creating categories efficiently.
Burn Music – You can easily burn your music to disc. Its organizer also automatically renames and stores the files.
Prefix Mix Tapes – Create mixtapes for an event with several fades and transitions.
Pros:
Bring order to your unorganized playlist by renaming a few tracks or a complete folder automatically.
Adjust volumes in sections of audio files. You can also mute the entire section in the audio.
Extract your final audio file anywhere.
Record audio files from multiple sources simultaneously.
It can also convert audio files into several other formats.
The architecture supports 32 and 64 bit systems.
Pricing: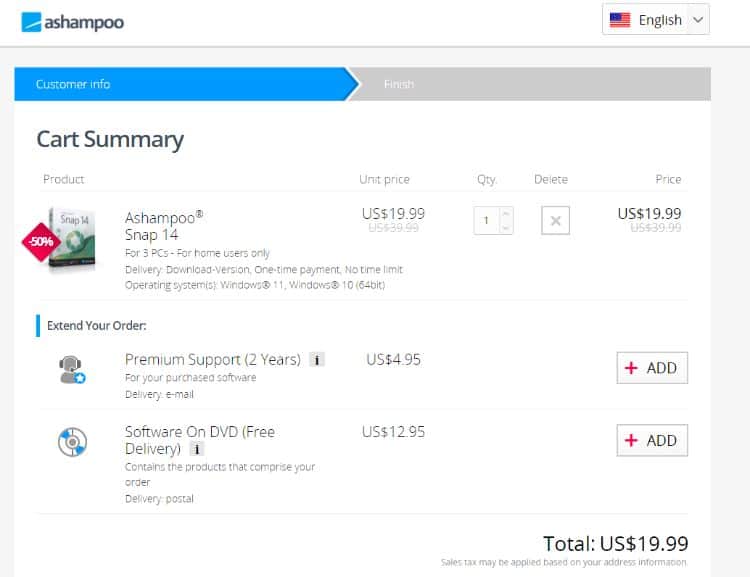 The paid product costs $19.99 per user. It also offers a free trial of its full version software.
A complete digital audio production application for computers ($60 per license).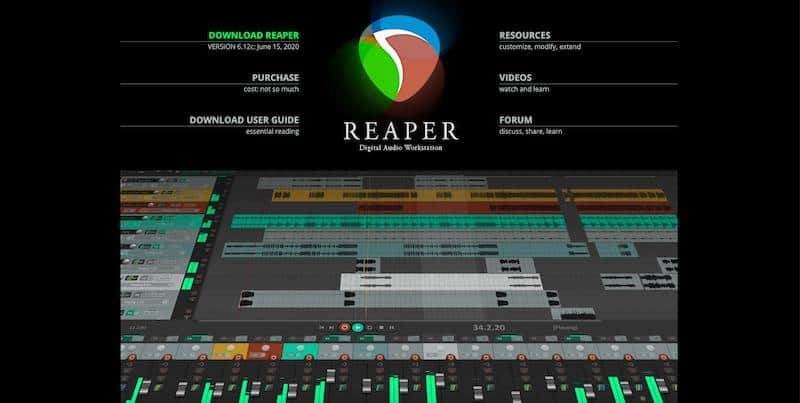 Reaper is an excellent digital audio production application for beginners looking for an affordable option. It offers support to a massive range of digital formats, plugins, and hardware. You can also modify, script, or extend the software as you want pretty easily. Another plus point is that it's a tightly coded audio editing software that offers great stability and easy user experience.
You also get powerful multi-channel support along with audio and MIDI routing. The team also releases regular updates for feature improvements, new features, and bug fixes. Other noteworthy features include automation, grouping, modulation, VCA, macros, surround, OSC, control surfaces, scripting, custom skins, etc.
You can also connect it with several virtual instruments, including VST, AU, DX, VST3, and other third-party plugins.
Key Features:
MIDI CC Envelopes – Handle it as continuous data envelopes instead of discrete events. It would help you in creating smoother effects and musical articulations.
Auto-Stretch Timebase – It enables you to reconfirm and stretch audio around complex enhancements automatically. You can also work with live-played recordings.
Routing Diagram – Edit and view routing of projects through an efficient graphical patch by emulation.
Pros:
Enable the loop while you can ignore the note-off.
You can customize the menu and controls according to your preference.
The envelope control panel helps you avoid any sort of potential hang.
It's compatible with over 20 multiple audio formats.
It can export files in several formats, including MP3, WAV, and AIFF.
You can also overdub a video file with Reaper as it supports all popular video formats.
Pricing: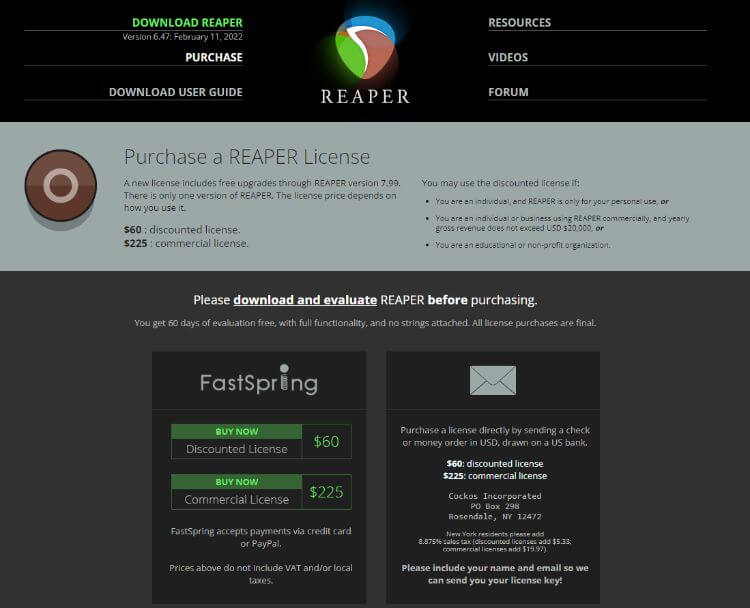 It offers two licenced plans:
Discounted license – $60 per license
Commercial license – $225 per license
Discounted license version is for individuals or businesses with annual gross revenue less than USD 20,00.
The professional audio editing tool for cleaning and restoration of audios ($99.99).

What's more, you can export the restored audio file in any format, including WAV, OGG, MP3, and FLAC. A multitude of advanced audio settings let you clean the sound with just a click. You also get access to an advanced algorithm for adjusting the pitch and speed of your audio. On top of that, its Auto Cleaning feature does most of the audio enhancement on its own.
Here's a list of some of its audio editing features in brief:
Eight tracks for the audio montage
Batch processing
Range editing
Ability to adjust the volumes easily
CD covers & track info
And many more.
Key Features:
Spectral Cleaning – Visualize the sound in your video through the visual representation of all frequencies. It would help you single out the noise and enhance the audio.
Restoration – Reduce noise, crackling, and clipping sound to enhance speech in the audio.
Import Audio – Import audio directly from CD to create your collection of audio. You can also start editing the audio directly.
Pros:
Its 96 kHz/24-bit resolution lets you record speech in high-quality audio.
It offers over 360 presets to help you get the best sound output.
Its user manual comes with all the essential tips and tricks required to use the software.
Its De-hum module in RX 7 Elements automatically identifies the fundamental frequency of unwanted background noise like humming.
Use its Voice De-Noise feature to reduce unwanted sounds during vocal recordings.
You can also restore a flawed recording instantly.
Pricing: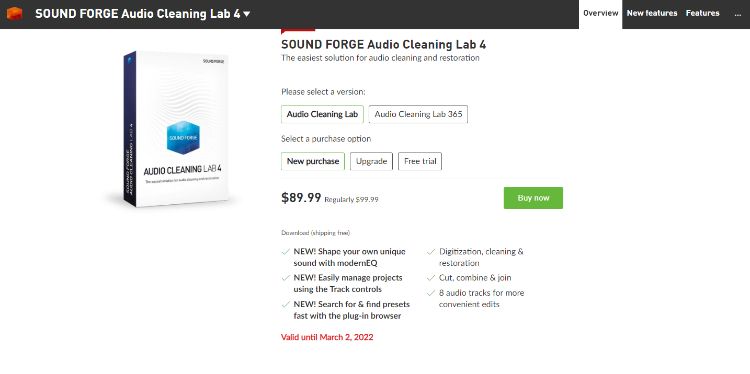 The paid product costs around $89.99 per user. It also provides a free trial.
Advanced audio editing tool with AI-based tools ($75 per user).

Acoustica is an affordable audio editing tool that can help you restore, enhance, and mix audio. It comes powered with a 'Spleeter' artificial intelligence-based remix tool. Basically, 'Spleeter' separates vocals and instrumentals of any audio automatically. You don't even need any prior technical know-how since it's an automated function.
It also splits the mixed audio into five stems and remixes the audio in real-time. You can also import an audio file of a complex mix in a multitrack session to create separate tracks automatically.
What's more, it removes background noise and disturbances automatically. It also offers 7.1 surround sound with multichannel support. You also get real-time access to analysis tools, including ITU-R BS.1770 and EBU R-128.
To summarize, some of its most prominent features are compliance with loudness metering, phase correlation measurements, true peak level metering, and spectrum analysis.
Key Features:
Audio Restoration – It removes all sorts of unwanted noise from the speech, including crackle, clicks, and background noise.
Multitrack Editing – Mix audio of different tracks in real-time. It also creates cross-fades and inserts audio effects in the clip.
Processing Tools – It comes equipped with high-quality processing tools, including the latest suite of dynamic processing tools.
Pros:
It offers EQ and effects like chorus and reverb. All come integrated with the time stretching, sample rate conversion, and pitch shifting.
It supports VST3, VST, and AU plugins.
Efficient batch processing.
It offers the latest remixing tool to separate stems and supports real-time mixing.
It supports Workspace files.
Leverage automation for common tasks, such as cropping and background noise removal.
Pricing:

It offers two versions:
Minecraft 9 Recording Studio: $75 per user.
Minecraft 9 Pro Studio: $149 per user.
A free and easy-to-use audio editing tool for beginners (Free).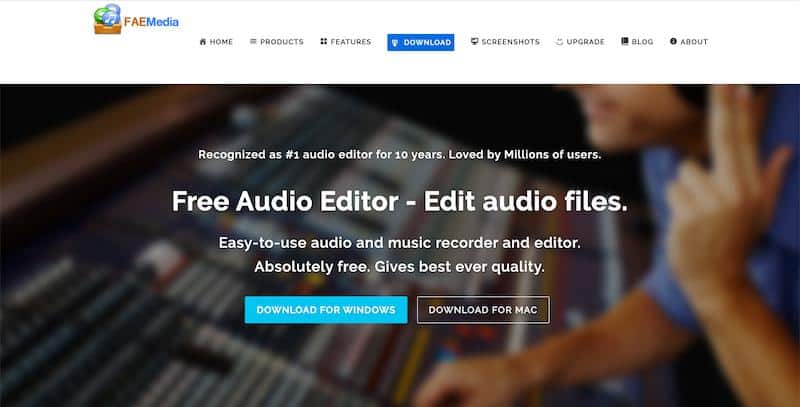 FAE Media is a decent and user-friendly audio editing tool for users who want a free option. It comes with a built-in audio recorder that can capture sound from a multitude of sources.
It captures sound from:
Recordings
Mic
Internet telephone
Online streams
Web radio
Cassette tapes
And more.
What's more, you can visually edit your audio files and recordings. It also allows you to add several audio effects to the clip.
The good news is that it compresses the audio without compromising the quality. Hence, you can save a lot of space on your hard disk. You can also remove unwanted sounds like ums, pops, hiss, clicks, chirps, shuffles, buzz, rustles, and creaks to make your production more professional.
A well-designed interface and numerous export formats make it an excellent option for beginners.
Key Features:
Flexible Quality Presets – Choose any preset you want to achieve the desired output quality. You can produce high-resolution 24-bit or 32-bit audio files with sample rates of up to 192 kHz.
Frequency Analysis – The Amplitude Statistics feature helps you fix frequency issues. These functions let you deliver the final cut with confidence.
Process in One Batch – Automate redundant operations, including sample rate, file format transformation of multiple files, and audio effects.
Pros:
Combine audio files in different formats and frequencies into a single format.
Use the traditional Waveform view to achieve millisecond precision.
Load recording directly into the Waveform window to start editing the audio instantly.
It supports several input audio formats, including MP3, WAV, WMA, AAC, and FLAC.
Hear the results of mixing in real-time before processing the final audio file.
It also offers over 30 native effects and signals processing engines.
Pricing:
It's an open-source platform. Thus, it's available for free.
A professional tool suitable for live performances ($99 per user).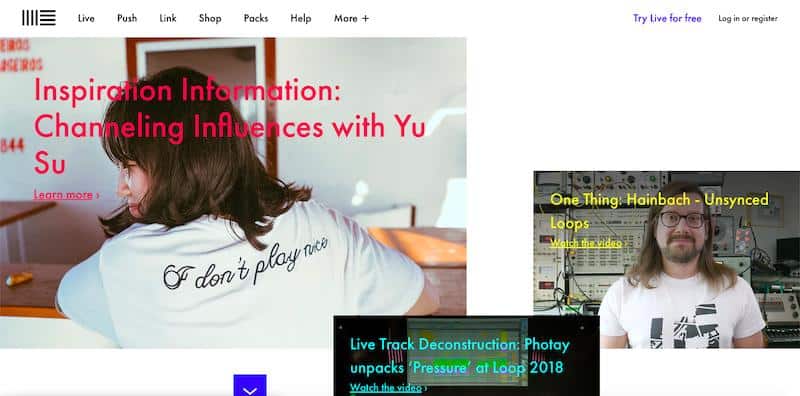 Ableton Live is one of the preferred tools for musicians to manage real-time performances on stage. It lets you automatically dictate your music in the form of audio. Plus, you can cover everything to MIDI – From melodies and harmonies to sampled beats. Just take audio pieces from libraries and samples and easily transform them into an original creation.
You can also scroll or move audio clips while editing. On top of that, it reveals or hides automated data through a single click. It also offers a collection of tools to sequence melodies, pitch shift, and delays.
Key Features:
CV Tools – Generate and receive control, pitch, clock, and trigger CV to facilitate modular synths and other gear.
Surround Panner – It's a multi-channel panning device designed for handling installations, performances, and theaters. It can manage setups of 4 to 8 speakers.
Delay – Easily combine 'Attach Delay' and 'Ping Pong Delay.' You can also add filter modulation with it.
Pros:
The 'Pedal' feature enhances the sound of analog stompboxes for more immersive listening.
Add character to your drum beats with the drum bass feature.
Play any frequency in any instrument to achieve different musical results.
Record the live performance by hitting the 'Record' button with no additional programming or setup.
Easily warp samples.
Reveal or hide the automation data with a single click.
Pricing:
It offers three one-time pricing plans:
Live Intro: $99
Live Standard: $449
Live Suite: $749
The Live Suite plan also comes with 70 GB of sound and over 30 audio effects. You can also start with a free trial.
It provides everything a professional musician would need ($49.99).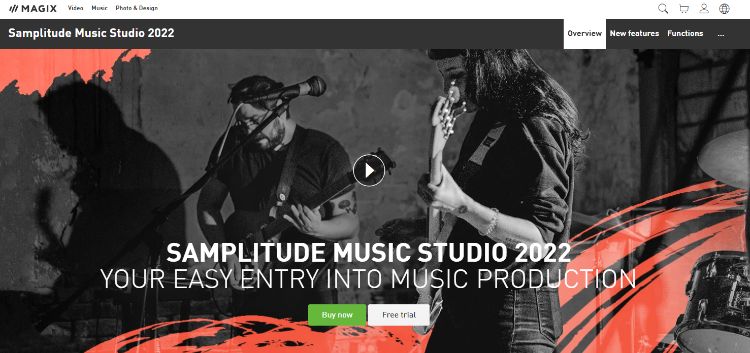 Magix Samplitude is a mid-priced digital audio workstation (DAW) for multitrack recording, mixing, editing, and mastering.
Samplitude supports over 900 tracks, 32-bit recording at 384kHz, and 256-bit physical input and output. It also allows you to edit the audio in real-time even while during the recovery. You can visualize the clip's volume and apply stunning effects in a customized manner.
You can also automate the editing of multiple files and process them in batches at once. The MIDI Polyphonic Expression runs advanced controllers, including ROLI Seaboard. It also comes with a dedicated section to help you monitor the entire editing process.
Key Features:
ARA2 Support – Switch between ARA-compatible plugins and Samplitude to swap audio data quickly.
Tempo Track – Leverage automation to create flawless transitions among fast and slow passages.
MIDI Polyphonic Expression – It offers a dedicated MIDI channel to achieve parallel modulation independently.
Pros:
Instantly change tempo and beats of the audio with additional buttons.
Make different monitoring paths to configure and integrate playback easily.
Simplify your workflow with predefined curves in the automation.
Depict different Waveforms with contrasting colors for more efficiency.
It offers 11 new virtual instruments.
Pricing: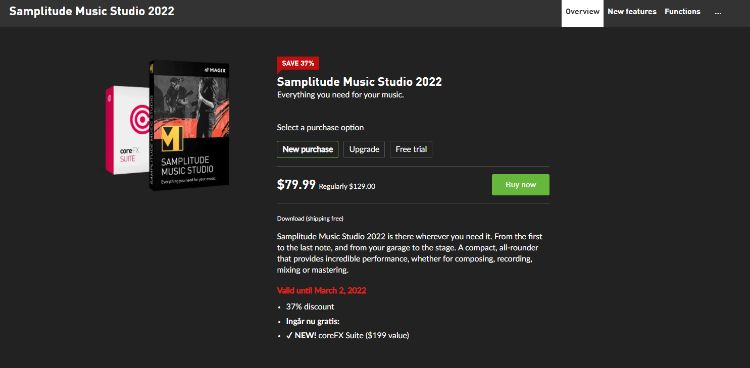 It costs $79.99 per user. For advanced features, you can purchase an upgrade of $39.99.
Complete software music production environment for creative artists ($99 per user).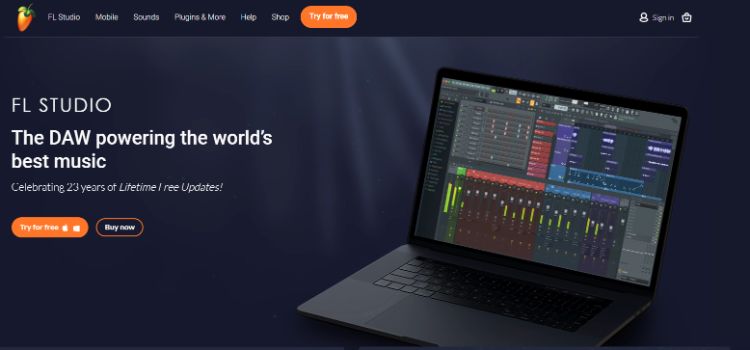 FL Studio is a popular DAW for users who want to meet their end-to-end music production requirements with a single tool. Its graphics are sharp and easy to read despite its complex layout on Retina-class windows. Plus, it offers a fully scalable user interface across multiple display formats.
Interestingly, it's responsive to multitouch gestures. However, you would need a touch-screen monitor on your PC. You can also leverage it as a live music mixing board and shift multiple faders simultaneously.
What's more, you can use it to make tracks from several basic templates, including the Channel Rack. You can also get booming mixes instantly by automatically putting the limiter across the master bus.
Key Features:
Step Mode – its plug and play offerings create sequencing and patterns easily.
Piano Roll – It helps in the manipulation and complex editing of scores.
Plugins – It supports over 80 plugins that cover sample playback/manipulation, synthesis, automation, compression, equalization filtering, delay, etc.
Pros:
You can overlay any data type by placing them anywhere you want.
It supports VST Standard 1, 2, and 3 to provide access to the largest range of third-party plugins.
It comes equipped with live DJ controls.
You can render visualizer 4K videos directly.
Its user interface offers touch control.
Pricing: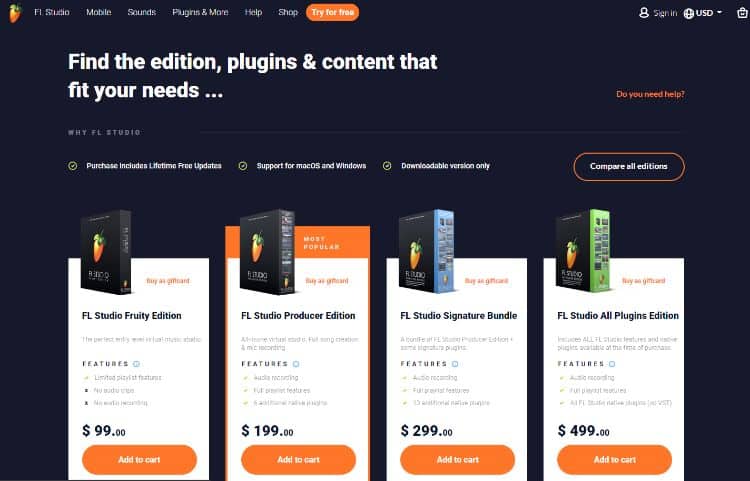 It offers four different bundles:
FL Studio Fruity Edition: $99
FL Studio Producer Edition: $199
FL Studio Signature Bundle: $299
FL Studio + ALL Plugins Bundle: $499
Note: some other software packages not yet included on this list include GarageBand and WavePad.
What is Audio Editing Software?
From manipulating audio to alter the length, you need a tool to take care of all these post-production tasks. And not just this, you need to create additional versions, including loops, mixing multiple tracks, and more.
And this is where audio editing software comes into play. To put things in perspective, you need an audio editing tool to produce and normalize an audio track.
And a good audio editing software can help you record from multiple mics set up, edit it as per the requirement, and process the audio in the required format.
What Should You Look For in Audio Editing Software?
Here's a list of some essential features that are crucial in a powerful audio editing software.
Number of Tracks – To have enough room for sound effect, narration, and music, your audio editing software should play at least three audio tracks. And these audio tracks are separate from the video sound.
Volume Control – You may want to mute or lower the volume in certain sections of the audio. A volume control feature would come in handy to control the volume of individual tracks precisely.
Leveling – You can use this feature to bring the sound of all audio tracks at the same level with a simple click of a button. It comes in handy while mixing multiple tracks.
Noise Filter: It will help you enhance the sound of poorly recorded audio.
Audio Editing Software – FAQ
What does audio editing software enable you to do?
Audio editing software enables you to modify an existing audio file in the desired manner so as to improve it. It also helps remove unwanted portions of the soundtrack. The process of modifying the soundtrack may include adding or removing music, rearranging or mixing multiple recorded tracks into one final mix which suits your preference. There is also a sound restoration and noise reduction feature that helps you get rid of the white noise and other distracting sounds.
What are the basic features of audio editing software?
The basic tools in an audio edit software include cut, copy, paste, delete, mixing tracks etc. Many of them also have sound effects which can be added to the music so as to make it more appealing. Transposition and amplification are some other common features available in most audio editing software programs. Most audio editing programs now come with plug-ins that help improve the look and feel of your soundtrack. Expertise in using these editing tools will let you produce professional sounding music at ease.
I am using audio editing software for the first time. How do I use it to edit a song?
It would be ideal for you to try out a few simple audio samples before modifying your own soundtrack. This will help develop your skills and also give you the confidence to make necessary changes to the existing soundtrack. You will first need to import or directly open the file that you want to modify and then look for the "Tools" menu which lets you navigate through different features available in the software.
Can audio editing software be used to remove unwanted portions of the soundtrack?
Yes, it definitely enables you to do so. There are a number of built-in features that help you edit sections at specific points in a song. The simplest way is to highlight a particular section and use the delete option to get rid of them from your soundtrack.
That's a Wrap.
That concludes my list of the best audio editing tools available.
All of them have some unique capabilities and offer different pricing. However, it's wiser to choose the software that best aligns with your requirements and budget.
For instance, Adobe Audition can meet the requirements of mid-tier video production. If you're a beginner on a tight budget, you can try out FAE Media. And if you're looking to make beats, FL Studio is a good option.
Remember to review all of these tools carefully before making your final decision.
Which one of these audio editing tools are you planning to use? Let me know in the comments below.
Further Reading on AdamEnfroy.com: If you're looking to start a podcast, check out my guides to the best podcast recording software and best podcast hosting to get started. And if you're looking to incorporate video, read my reviews of the best video editing software to use this year.
Editorial Process:
Our reviews are made by a team of experts before being written and come from real-world experience. Read our editorial process here.
Some of the links in this article may be affiliate links, which can provide compensation to us at no cost to you if you decide to purchase a paid plan. These are products we've personally used and stand behind. This site is not intended to provide financial advice. You can read our affiliate disclosure in our privacy policy.