7+ Best Podcast Software to Edit and Record Your Show (2022)
Choosing the right podcast software is vitally important to your business. From editing to recording, as well as publishing and promoting, the best podcast software can help you meet your goals. In this guide, I ranked and reviewed the 7+ best podcast software, so that you can pick the best one for you.
---
We're reader-supported. When you buy through links on our site, we may earn an affiliate commission.
Want to jump straight to the best podcast software? My top pick is Buzzsprout.
Are you looking to start a successful podcast this year?
Just look at the power of podcasts:
Around 32% of Americans listen to podcasts each month.
45% of podcast listeners say they got influenced to buy a product after hearing a podcast.
So what tools do you need to get started?
In addition to knowing how to record a podcast and having the right podcast hosting platform, you need podcast software to record and edit your shows. (If you're not sure what is the best podcast hosting platform to choose from, check out my guide on podcast hosting.)
Let's get started.
What is the Best Podcast Software?
Here are my top picks for the best podcast software to use this year:
Best for professionals and desktop users ($20.99 per month).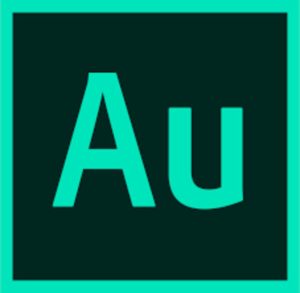 Adam's Take
If you want to start your own podcast and produce professional-quality audio, then Adobe Audition is the tool for you. With its powerful recording capabilities and multiple editing tools, you can easily create a polished finished product that sounds great on every platform. Whether you're recording interviews with guests or creating a multi-track podcast with music and sound effects, Adobe Audition makes it easy to produce professional-quality audio.
Adobe Audition is a feature-rich audio recording tool for podcasters looking to produce multiple audio tracks on PC.
Adobe Audition is a part of Adobe Creative Cloud (CC) and lets you record multiple podcasts at a single point in time through different microphones. On top of that, you can create, mix, and design a multitude of sound effects.
This comprehensive podcast software also provides good podcast production features like individual EQ, processing treatment, and gain levels to each voice during post-production.
Hence, it enables you to record and process a roundtable discussion easily.
Other than that, Adobe Audition comes with various non-destructive effects and sounds into the entire track or a clip. Its adaptive background noise reduction capability helps you record podcasts with professional quality.
Key Features:
Spectral Analysis – Eliminate unwanted surrounding sounds from the podcaster's voice with Spectral analysis.
Envelopes – Easily control the volume levels of music beds/ music, fading in, fading out, and "ducking" under voice.
Match Loudness – Match the loudness of other speakers to keep podcast's the overall loudness at uniform levels.
Pros:
Add music, SFX, dialogue, and Ambience voice through Adobe Audio Essential Sound.
It lets you add more than 50 audio effects.
The multi-track view lets you mix different tracks easily.
The Frequency Analysis feature shapes your sound and places it over different tracks.
It also offers an Essential Sound Panel that you can use to include important sound and effects in the podcast.
It also lets you restore audios easily.
Pricing: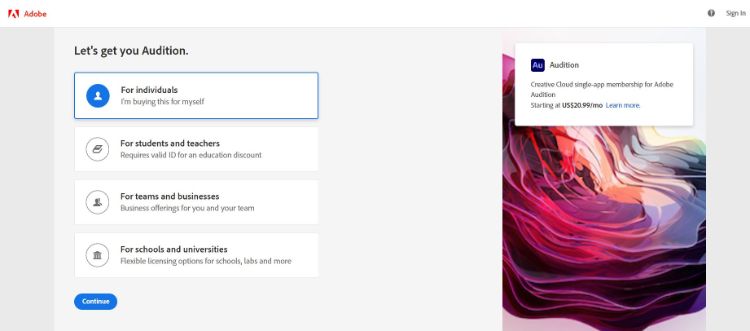 Initially, it offers a 7-day free trial to check out the product. The paid "Business Class" plan costs $20.99 per month.
Get started with Adobe Audition.
Best For Monetization.


Adam's Take
RSS.com provides high-quality customer service when getting started and at any point during your podcast creation and distribution process. In addition, they also have a platform that allows sponsors to find your content and deliver the ads that are most targeted to your audience. As such, I advise you to check out RSS.com if you're looking for a way to monetize your content and deliver the best experience to your listeners.
RSS.com is another great platform for those that want to create, upload and manage their podcast.
In addition to providing you with all the needed management tools, distribution is also a big focus of this platform.
Whether it's Amazon Music, Google and Samsung podcasts, Apple podcasts, and more, you can be sure that your content will be widely available.
After your content is distributed, you'll have access to analytical tools that allow you to see your download trends, where your listeners are from, how long they listened for, and more essential data points.
This allows you to adjust your content and marketing strategy accordingly.
Another great benefit of using RSS.com is that you can get found by the right show sponsors or even get dynamically-inserted advertisements into your episodes.
This is a great way to monetize your content and generate revenue.
Key Features:
Get overall downloads and trends – Know how your podcast is doing by seeing how many people are consuming it.
Track the number of growing followers – Keep track of your audience over time.
Know the location of your listeners – See where in the world your podcast is being downloaded the most.
All-in-one dashboard – Manage everything from one convenient location.
Dynamic ads – these allow you to generate revenue through your content without having to do any extra work.
Pros:
Sponsors provide you with opportunities to get your podcast sponsored.

The donation button will enable listeners to support your show financially.
Chapters, soundbites, and transcripts features make your podcast more accessible and engaging.
Episode scheduling helps you stay organized and on track by publishing consistently.
The embedded episode player makes it easy for listeners to play your episodes wherever is most convenient.
Easy social media sharing allows you to share your content on various networks easily.
Pricing:
For students or NGOs, pricing starts from $4.99 a month.
For everyone else, there is an All-in-One Podcasting Plan, billed annually at $8.25 per month.
Finally, for podcast networks that require advanced features, you can contact RSS.com's sales team to get a custom quote.
Get started with RSS.com.
Free, Open-Source Podcasting Platform Suitable For Beginners (Free).

Adam's Take
With its free and open-source license, Audacity is a great choice for those who want complete control over their software. I like that the editing tools are easy to use and that it includes a variety of useful effects, such as noise removal and EQ.
Audacity is an easy-to-use and cross-platform audio editor and recording software for both beginners and experts.
Its digital audio workstation is compatible with numerous operating systems, including Windows, MacOS, GNU/Linux, and more. It's an open-source platform with a free version built by many volunteers.
You no longer need a full recording studio or expensive digital audio workstations (DAW) to record audio – just a computer and a few simple pieces of podcast software like Audacity.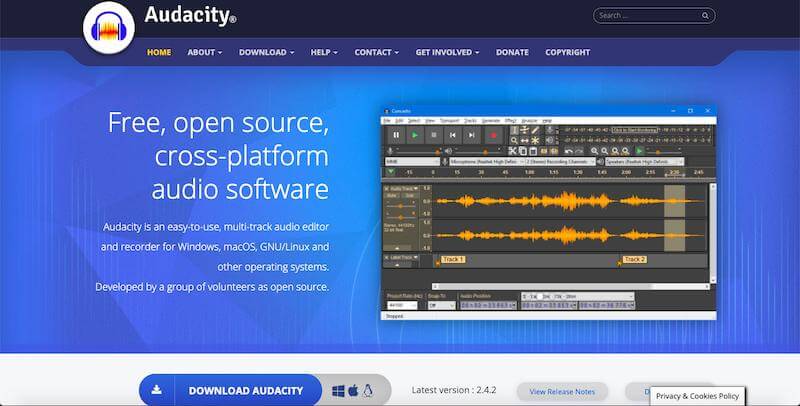 Some of its primary features are:
Sync-lock
High audio quality (Supports 16-bit, 24-bit, and 32-bit)
Ability to import/export audios in numerous formats
Easy podcast editing options
Support for multiple plugins (LADSPA, LV2, Nyquist, VST and Audio Unit effect )
On top of that, the developers make sure to update it regularly to provide all the latest features.
Key Features:
Analysis – The spectrogram view mode helps with the visualization and selecting frequencies. It also supports the Vamp analysis plugin for deep analysis of the descriptive content of audio files.
Special Effects – You can not only add effects but also review them in real-time. The special effects include LADSPA, LV2, VST, and Audio Unit (macOS) effects.
Keyboard Shortcuts – A wide range of keyboard shortcuts let you fully track and manipulate the selections.
Pros:
Audacity is an open-source platform, so it's entirely free.
It's decidedly easy to use once you get the hang of its functionalities.
Digitize recordings from any other media you want.
Record live audio, either using a microphone or a mixer.
Easy customization and editing with functions like cut, copy, and paste.
Pricing:
Audacity is an open-source podcast software, so it's entirely free without any hidden charges. Developers also update it regularly to meet the changing demands of the industry.
4. GarageBand.
Best music production and podcast software for Mac (Free).

Adam's Take
Known for many years as the audio editing software for Mac users that want to podcast, GarageBand has become increasingly popular among podcasters for its ease of use and wide range of features. I recommend you check it out if you want a solution that is simple to use, yet still provides all of the tools you need to create a high-quality podcast.
GarageBand is one of the best podcast recording software for Mac users to arrange and combine multiple audios into a single podcast.
This affordable digital audio workstation offers an easy learning curve and comes with a user-friendly interface.
It also offers pre-recorded loops and synths to help you create background music and jingles for your podcast.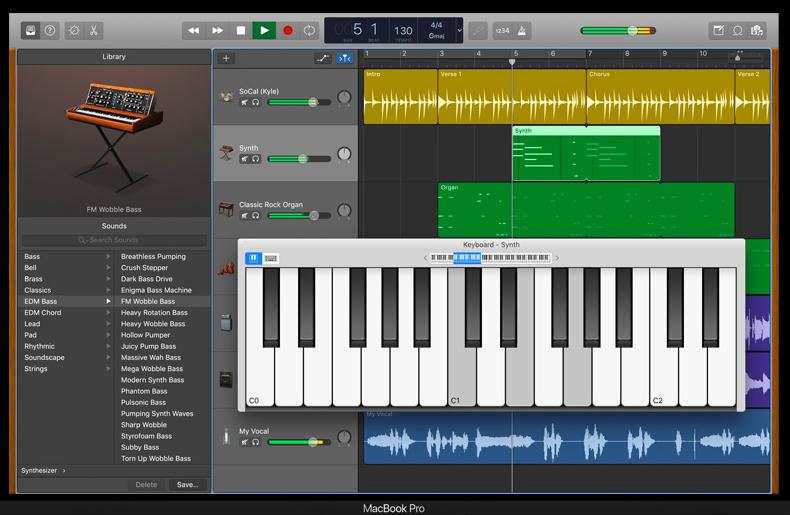 It allows you to easily create separate tracks for intros, outros, music, and ad spots. On top of that, you can enable several plugins for each track, including noise gates, EQ, and compression.
The shape-shifting controls let you adjust the sound level of individual tracks and move them anywhere you want.
If you own a Mac and have a shoestring budget to record and edit your podcast, working on GarageBand makes a lot of sense. It's not only free for use but also provides some exceptional features.
Key Features:
Add Track – Add a track to your podcast on the go, using your iPhone or iPad.
Smart Control – It enables you to tweak the participants' voices in real-time to optimize for a more professional podcast recording.
Master Track – Easily control overall EQ, mix compression, and limiting to help get average levels at a higher point.
Pros:
Add real-time effects in your podcast to reduce your post-production work.
It lets you add an infinite number of tracks on your podcast.
You can adjust volume and panning or shorten and extend the musical loop.
It offers a user-friendly interface.
Tweak and morph sound as you want.
You can also change the pitch and velocity of tracks.
The MIDI sound tool helps you create great background music and jingles for your podcast.
Pricing:
Free: GarageBand is available for free. You can download it from Apple's app store.
5. Apple Logic Pro X.
A good option for users looking for full-featured podcasting and music production ($200/one-time purchase).
Adam's Take
If you're after a fully featured music production and recording software with a lot of the features for podcasting, Logic Pro X is definitely one tool to try. It's Logic's top of the line software and it'll handle just about anything you can throw at it.
Apple Logic Pro X is a full-featured music production and recording software for very high-quality work. You'd be glad to know that it shares some of its DNAs with GarageBand.
So, if you are already familiar with the GarageBand, you can easily start working on Pro X.
Other than this, it now offers multi-touch gestures to help control the tone of individual tracks through Visual EQ. On top of that, its plugin manager customizes the hierarchy of your menu to keep all the required plugins ready to use.
Logic Pro X also allows you to record your loops into a cell directly. You can also leverage the iPhone or iPad to control the grid more organically and even control individual cells by simply tapping on the grid.
Its Remix Effects Plugin does everything for you, including:
Modulating the voice
Filtering audio
Adding effects to the voice
And more.
Moreover, the Remix FX feature adds DJ-style transitions and effects in your audio to give a unique flavor to your podcast.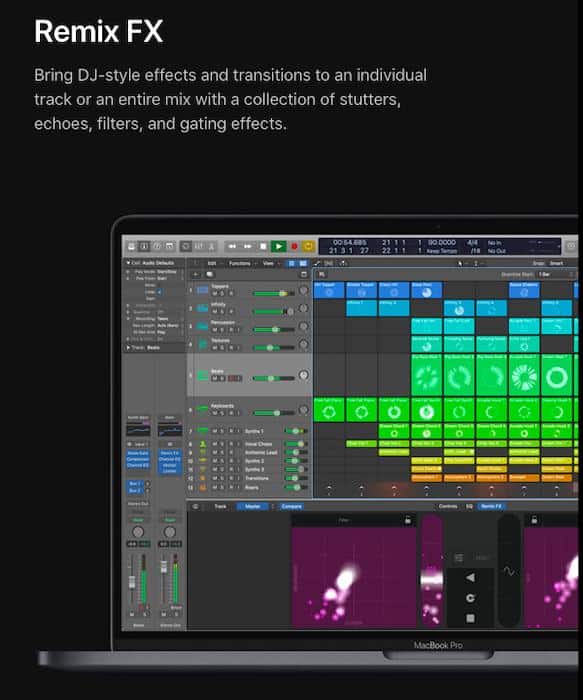 Key Features:
Live Loop – This function lets you create and arrange podcasts and music in real-time.
Logic Remote – Easily control features, including Remix FX, Live Loops, and more, from iPad or iPhone through multi-touch gestures.
Multi-Touch Mixing – Control your mix from any device, whether it's your smartphone, desktop, or tablet.
Ultimate Recording – It enables automatic take management and seamless punch recording. It also supports 24-bit/192kHz audio.
Pros:
Leverage region-based parameters for time, note velocity, and dynamics to deliver a gripping recording.
The 'Flex Time' feature manipulates the tempo and timing of recording.
Select the best takes of a section using a simple click and drag function.
Enable automation to capture changes to a plugin parameter or channel strip.
It creates the best audios using EQs, dynamics processors, and other premium production effects.
Easily share tracks and projects with Mail Drop and AirDrop.
Pricing: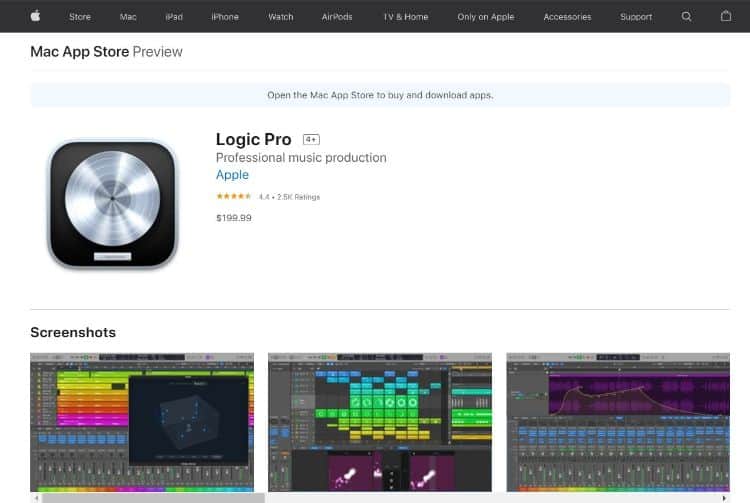 The Pro version is available at a one-time payment of $200. You also get a free trial to check out the podcast software before purchasing it.
One of the easiest ways to create and promote your podcast ($12 per month).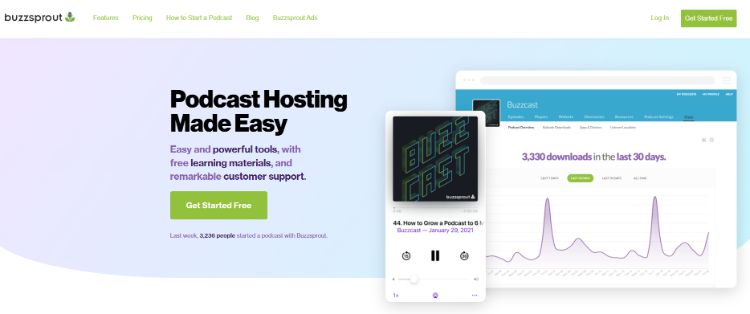 Buzzsprout is a great podcast hosting tool for users who want to create, host, promote, and track their podcast from a single platform. It enables you to reach millions of potential listeners.
On top of that, list your podcasts on some of the most popular platforms, such as:
Spotify
Apple Podcasts
Stitcher
Alexa
iHeartRadio
Soundcloud
And many more
Getting your podcast added to all of these different platforms is one of the simplest forms of natural podcast marketing that you can do to help get your podcast off the ground and start building an audience.

It allows you to customize the podcast player as per your branding needs. The podcast player also enables you to listen to podcasts at 2x speed. This way, you can listen to more content in less time.
What's more, you can easily monetize your podcasts. Buzzsprout partners with several brands to help you get started and start making affiliate earnings.
It also lets you:
Easily create and publish podcasts.
Provide easy to understand podcast stats.
Optimize your podcasts automatically.
Create chapter markers inside your episodes.
Promote your podcasts to grow its reach.
Its 'Magic Mastering' also works wonders for your audio quality. Basically, what Instagram filters are to image, magic mastering is to your audios.
On top of all of this, it offers a 90-days free trial period to every user to explore the platform.
Key Features:
Magic Mastering – It leverages advanced technology to modulate audio files automatically. It also optimizes your audios to align with industry standards and deliver a professionally recorded podcast.
Automatic Episode Optimization – Buzzsprout automatically optimizes different technical aspects of audio, including bit rate, ID3, or file type.
Transcription – Make your podcasts more accessible for disabled users and more visible on search engines with transcripts. For more information, you can read my guide to transcription software and other text-to-speech options.
Pros:
The 'Chapter Markers' help your users easily navigate favorite podcasts, track the latest developments, and avoid spoilers.
An unlimited number of users can manage a single podcast. You can also add an unlimited number of podcasts on a single account.
The Buzzsprout API allows podcasters to connect directly.
Release video soundbite of your podcasts on social media for more effective digital marketing.
Buzzsprout also helps you create your own website with custom domain and branding.
Track the performance of your podcast based on demographics, regions, and more.
Pricing: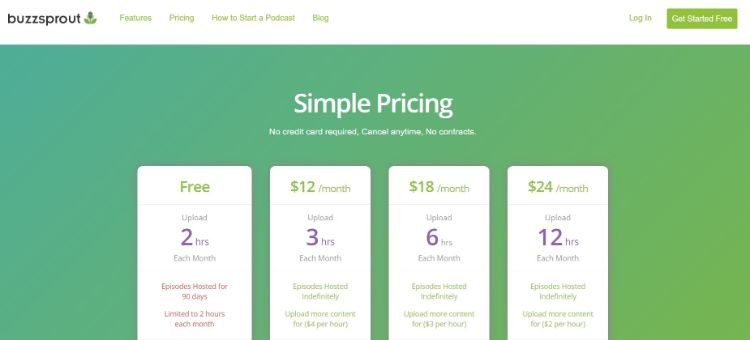 Buzzsprout offers four pricing plans, including:
Free: Free trial available for 90 days with 2 hours of upload per month
Standard Plan: $12 per user per month with 3 hours of upload per month
Business Class: $18 per user per month with 6 hours of upload per month
Enterprise: $24 per user per month with 12 hours of upload per month
All plans offer unlimited storage, unlimited team members, advanced stats, and podcast import. Only upload hours vary for different plans.
You can read my full Buzzsprout review for more information.
Get started with BuzzSprout.
Suitable for podcasters who are looking for a unique set of podcasting tools ($8 per month).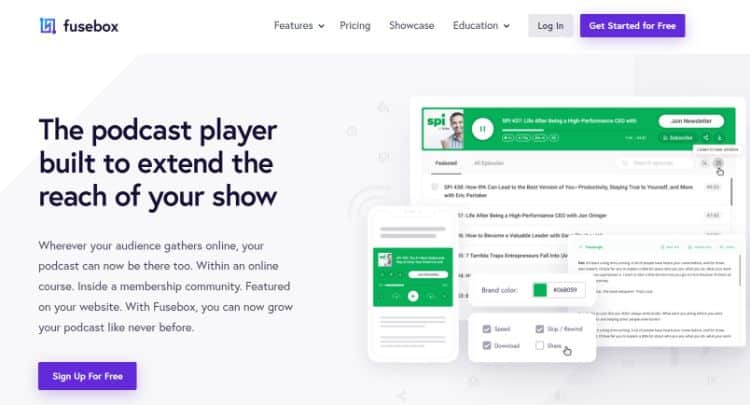 FuseBox is one of the most powerful podcast players and editing for your website.
FuseBox offers a three-in-one podcast player, including Full Player, Single Track Player, and Site-wide Sticky Player. These flexible options help you increase user engagement and the listen/download count.
FuseBox also lets you:
Binge listen to the podcasts
Increase conversion rates and drive leads to email
Reward your podcast listeners with transcripts
Promote your podcast and make it a focal point of your brand
It also comes with an in-built email capture form to encourage users to subscribe to your podcast. It's an excellent way to build a large pool of loyal listeners. Its podcast player is customizable, and you can choose multiple speed limits to listen to the podcast.
Here's a brief rundown of some of its other prominent features:
Speed control
Email capture
Custom colors
Mobile friendliness
Social sharing
And more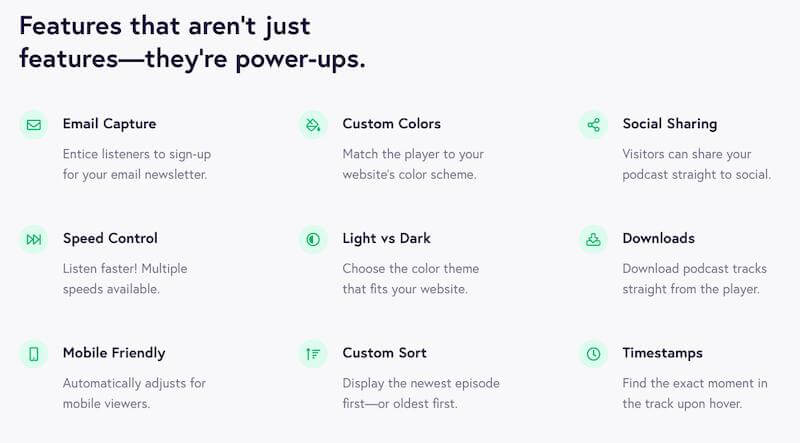 Key Features:
Transcript Plugin – It generates SEO friendly transcripts of your podcast to help you rank better in search engines. It also improves engagement and helps differently-abled audiences read the podcast.
Social Sharing and Download – Users can easily share their favorite episodes on various social media platforms. They even have the choice to download the track for offline listening.
Mobile-Friendly – The platform is mobile-responsive for all screen sizes.
Pros:
Match the color of your players with your branding requirements.
You can add URLs and text in the description of your podcast.
Place a sticky player at the top or bottom of your webpage to attract more user engagement. It also lets your users listen to podcasts while surfing your website.
Download the transcripts of podcasts in PDF format if you prefer reading.
It also offers powerful integration options with third-party email marketing solutions.
Gain access to all podcasts in the search option.
Pricing: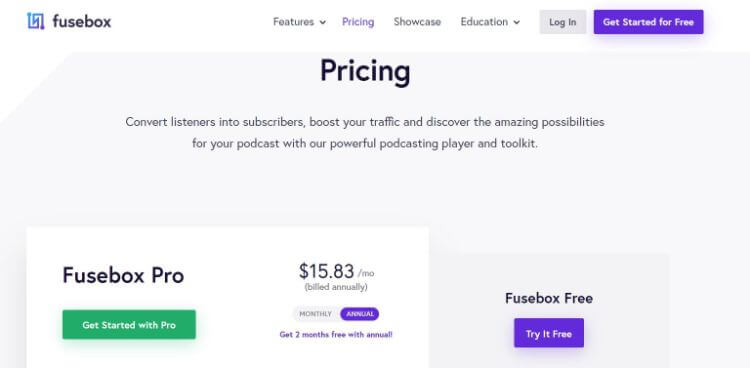 FuseBox comes with two plans:
Free: The freemium plan only offers a Sticky player.
Fusebo Pro: $15.83 per month per user when billed annually.
Features like email capture and player customization are absent in the free plan. Also, advanced functions like email support and webinar training are only available with the paid plan.
8. Anchor.fm.
A great application for podcasters who want to record straight from the smartphones (Free).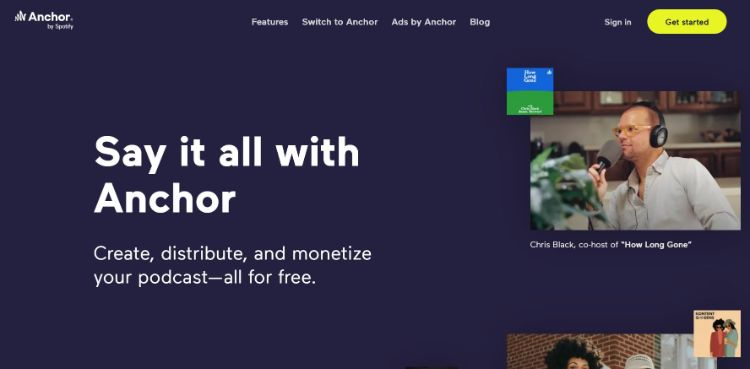 Anchor.fm is a free podcast software, suitable for beginners and experts alike. The iOS and Android device support enables you to record a podcast without any extra equipment. Hence, if you are looking for a simple podcast recording software, Anchor.fm is an amazing option. After recording your podcast, you can edit it right from your smartphone.
It also offers an Episode Builder to help you create episodes without any editing. You can also add transition effects and your listeners' voice in your podcast to make the podcast more engaging. Plus, Anchor lets you rearrange your segments as needed.
Anchor also offers free podcast hosting, which is a bonus.
Some other features that make it unique are:
One-click distribution of podcasts to several platforms
Monetize your podcast using listener support and sponsorships
Co-host your podcasts with friends or invite multiple guests
Analytics to track your podcasts' performances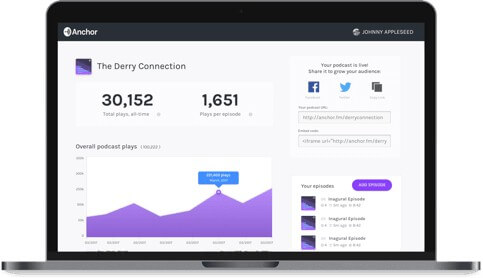 Key Features:
Editing Tools – After uploading or recording the audio, you can instantly start editing from your iOS or Android device. It allows you to trim segments and keep only what you want to keep.
Creation Tools – Easily add music from Apple Music or Spotify into your podcast. You can also add background music, transition effects, voice messages, or even import and audio to your podcast.
Podcast with Guests – You can invite anyone as a guest or a co-host. This means multiple podcasters can record a single podcast from their respective devices.
Pros:
The intuitive analytics dashboard lets you track the performance of your episodes and audience growth.
Monetize your podcast by selecting the sponsorship ads of your choice.
You can also take donations from listeners each month.
Distribute your podcast to all major platforms, including Google Podcasts, Apple Podcasts, and Spotify.
From creating a podcast to hosting it, Anchor.fm is absolutely free for its users.
You can also manage your RSS feed manually to have total control over the distribution of your podcast.
Pricing:
Free: Anchor.fm's services are available for free for all users.
Best for turning your browser into an easy-to-use recording studio.
Riverside is the best overall online podcast recording studio on the market. It is simple to use, only requiring a slight learning curve to get started.
As a podcasting software, Riverside is designed for users who want to record both voice and video and post them to the web. It provides the simplest method to record podcasts and video interviews in studio-grade quality from anywhere, using your internet browser to record and save the files directly to the cloud.
Riverside's strength lies in ensuring that your sessions are always smooth and lag-free, thanks to local recordings happening with all participants. Gone are the days when you get choppy and pixelated recordings when having multiple people in the same podcast room.
When it comes to audio, all recordings happen on the users' devices at 48kHz, ensuring the sound quality is second to none.
With each user's voice uploaded to the cloud in real-time, you may immediately download the podcast to your computer after it's finished.
Key Features:
You can get full access to Riverside in the role of a producer, which means that you'll be able to watch from the side without being recorded. In addition, ensure that your show settings are fine-tuned as the podcast progresses.
Be able to invite guests, mute people, and take the desired actions as the podcast is happening
Creating audio and video tracks that are distinct from one another happens automatically, which means that you'll always have easy access to both when post-editing.
You can record podcasts while on the go with Riverside's iOS app, so you'll be ready to go when inspiration strikes.
With many FAQ articles and a chat feature on the site, you'll have all of your questions answered quickly and directly.
You can also record webinars with Riverside, meaning that you won't need extra software if you decide to take your business in that direction.
Pricing:
To get started, you can get unlimited access to all the features at no cost and trial the software for a maximum of 60 minutes. There is no need for a credit card so you can test it out before purchasing without any obligations.
After that, the pricing plans are as follows:
Basic: Record 2 hours per month, billed at $90 annually
Standard: Record 5 hours per month, billed at $180 annually
Pro: Record 15 hours per month, billed at $288 annually
Enterprise: Contact them for a custom quote
With the annual prices mentioned above, you'll save up to 21% when compared to the monthly plans.
Get started with Riverside today.
Note: Some other podcast software and audio editing software not yet on this list includes Avid Pro Tools, Zencastr, Hindenburg Journalist, Libsyn, and Alitu.
What Are the Steps to Record a Podcast?
Recording and editing a podcast is not rocket science. However, it would require a bit of technical know-how and practice to record and cut an engaging podcast.
I created this guide to record and edit a podcast in Logic Pro X for users who have an elementary knowledge of creating podcasts.
Also, note that here we are recording a podcast with two participants. Both the participants are recording the podcast on different locations from their respective microphones. After the podcast's completion, one participant will send the audio to incorporate it in the final file of the podcast.
1. Start Your Project.
Open Logic Pro X and select the "Multi-Track" option. You can reach here by clicking on File>New from Template. It will open an empty project that will reflect empty tracks.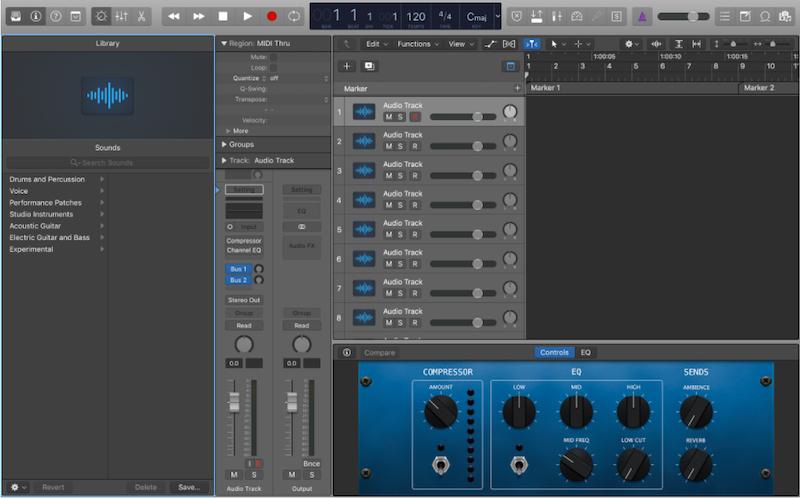 2. Import Audio Files.
Next, import audio files, including the voice of both the podcasters and the one having a combined conversation of both. Label these tracks according to the speakers' names. Don't worry about the position of tracks at this point. Make sure to save the project after you import the audio.
3. Synchronization.
The common problem that podcasters face is the lack of synchronization among different tracks. However, it's not a big issue if you have the context of the conversation in your mind.
Here, the recording of the combined tracks helps. You can line up your voice in the separate audio file against the combined audio file and then line up another person's voice with the same combined audio track. After a bit of effort, you can achieve perfect synchronization.
Here is how the waveforms would look – perfectly lined up after the synchronization of audio files.
After achieving the perfect synchronization, you can delete the combined audio file. It is not required anymore.
4. Strip Silence.
The Strip Silence feature allows you to clip silent moments in the podcast automatically. You can set parameters as per your preference to let the tool detect and cut silence from the podcast.
You can modify parameters based on time, threshold, pre-attack time, and post-release time. All you need to do is just select the audio track, and it will highlight silent moments. Next, you just need to press Ctrl-X to delete highlighted parts.
5. Delay, Cross Talk, and Noise.
Running Strip Silence resolves a lot of issues, including delay, cross talk, and noise.
If the single person is talking uninterruptedly for a long time, you might not need to edit anything. In that case, just move to the next section of the audio.
However, in a scenario where the first person nods to whatever the second person is saying, it ends up creating repeated interruption. Strip Silence can easily identify these blurbs and help you delete them instantly.
On the other hand, when you record a podcast with participants at different locations, you might face connectivity delays by up to 2 seconds, especially if you're using something like Skype or Zoom. In that case, just press Shift-F to achieve perfect synchronization.
6. Export.
You can export the final podcast episode by bouncing to a file. Just press Cmd-B to access the bounce menu. You can normally use the MP3 at 160 kbps setting or a WAV file to export the podcast.
What is a digital audio workstation?
A digital audio workstation (DAW) is an audio recording software that is used to create music, podcasts, or really any type of audio production work. Full fledged DAW's can be a bit more complicated then a tool like Garage Band, but using a DAW is the ideal podcast software to get the best audio quality.
F.A.Q
What software do you use for podcasts?
Audacity is a program that you can use to produce podcasts and edit audio. It's free to download and available for Windows, Mac, or Linux computers. You probably already have it if you're using iTunes! Using the Audacity directions, anyone can produce their own podcast with interviews from other people in just a matter of minutes.
What is the best free podcast software?
GarageBand is best for recording podcasts from your sources, so-called "live" recording. It also has great editing features and allows you to be fully professional in your appearance with a studio-like environment. In contrast, Audacity is good for importing existing recordings into audio files of different formats before posting them on social media or podcast websites. Compared to audio recorder apps like Tape AC360 by Spire FM and Pandora's Sound Studio, both are very simple tools that require no installation (though you might need specific versions of updated macOS). They download as stand-alone apps that don't need anything installed to save the program itself so they're the quickest downloads possible if speed is what you require most.
What do I need to record a podcast?
1) Phone or landline to record sound from guests.
2) Microphone of any sort for the presenter to record their side sound – this is essential, and a cheap USB microphone will suffice.
3) Software such as Audacity, GarageBand, or Adobe Audition.
4) Internet connection with good bandwidth/upload speed
5) Headphones (not speakers) for the recording person to monitor themselves. Speakers create an echo which it's best not to have on your recording.
What is the best program to edit podcasts?
Adobe Audition is most likely the best program for editing podcasts because it has an intuitive interface and comes with a wide selection of effects, synths, loops, plug-ins, and instruments that are all optimized for enhancing audio quality.
Executive Summary.
That covers some of the best podcast software and podcast production platforms.
Each option offers some unique and some standard podcast software features. However, all these tools will help you record and edit podcasts efficiently. Focus on each podcasting tool's unique features to decide which option would give the biggest bang for your buck.
For instance, if you want to record podcasts with a multi-mic setup, it's better to go with podcast tools with advanced capabilities like Apple Logic Pro X, Buzzsprout, or Adobe Audition. However, if you don't need a complex recording or editing setup, you might consider Anchor.fm to record and edit podcasts from your smartphone directly.
The final choice depends on your overall preferences and budget.
Which one of these podcast software are you planning to use? Let me know in the comments below.
Further Reading on AdamEnfroy.com: Check out my full guide to the best audio editing software, the best podcast hosting, and my full guide on what podcasting is to get your podcast off the ground.
Disclosure: I may receive affiliate compensation for some of the links below at no cost to you if you decide to purchase a paid plan. You can read our affiliate disclosure in our privacy policy. This site is not intending to provide financial advice. This is for entertainment only.