Thinkific Pricing: What's the Right Plan for Your Business? (2023)
Are you seeking an affordable, reliable online course platform to create, market, and sell online courses?
Look no further than Thinkific.
This platform provides plenty of powerful features to help you succeed in creating an online course.
In this Thinkific review, I'll go over their pricing plans and features in detail so you'll know which plan is right for you.
Thinkific Features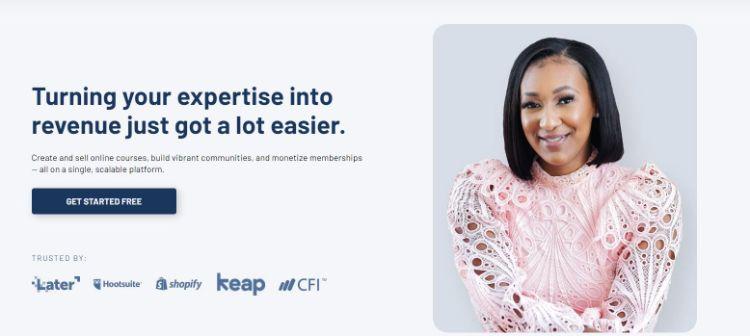 Thinkific is an innovative platform providing site admin accounts complete control of their online courses and content.
Offering everything from basic course creation to advanced marketing and sales features, Thinkific makes it easy for educators to create comprehensive online courses that engage and inspire their students.
Thinkific also offers course creators the powerful tools and critical functionality necessary to design and distribute course content.
With potentially unlimited students, courses, and site access, Thinkific allows educators to launch their businesses without having technology limit them.
Thinkific is also a great platform to start selling online courses while maintaining a professional look and feel to your course content.
With the Thinkific basic plan, you can create complete courses with unlimited learners, have email and chatbot customer support and even design course quizzes and surveys.
If your company requires more advanced features, Thinkific's range of packages might be more suitable for you.
You'll find it all, from drip content delivery with manual triggers, student analytics reports, advanced branding options, auto-enrollment in multiple courses simultaneously, and much more.
Thinkific also offers a comprehensive academy so users can learn how to use its features to maximize the platform's value.
Numerous integrations are also available to help you integrate this platform into your workflow.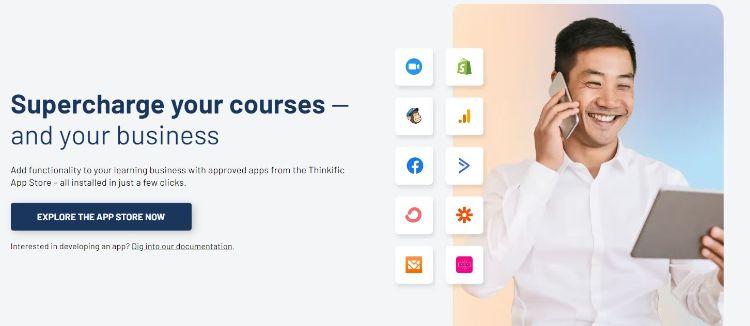 From Paypal and Stripe for payment processing to Zapier to automate tasks and Zoom to host live classes, you can find the perfect integrations to match your needs.
Thinkific also offers a landing page builder, so you can easily design beautiful and practical marketing pages to promote your courses.
With the ability to have hidden courses on Thinkific, you can also create and sell revenue-generating courses without having them appear publicly on the platform.
Student notifications and progress tracking are also available to keep your students informed and engaged.
The platform also offers users an app they can get through the app store, allowing for even better student engagement and course accessibility.
As one of the top LMS systems, Thinkific has everything companies need to sell online courses quickly and efficiently.
Get started with Thinkific.
Thinkific Pricing Plans
Whether you're just starting and need a Free Plan or higher-end features like bulk enrollments and student emailer, Thinkific has something for everyone.
Let's look at their pricing plans to determine which suits you.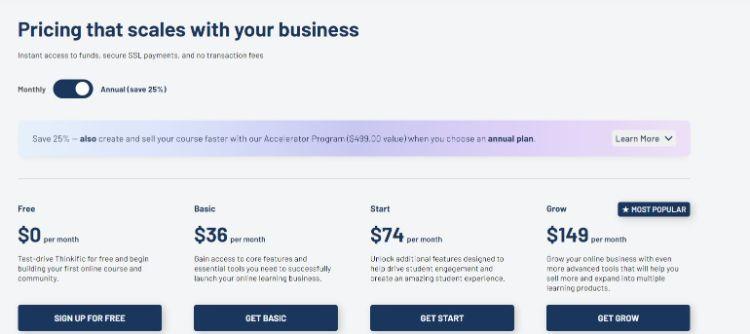 Thinkific offers five pricing plans.
After the free plan, prices start at $49/month (or $36 when billed yearly).
Here is a breakdown of each plan and what it offers:
The Free Plan: The Free Plan is perfect if you're just starting and don't want to commit to a paid plan yet.
It includes all the basics, such as course building, marketing tools, and access to essential support.
No transaction fees are associated with this option, making it attractive to entrepreneurs just starting or those on a tight budget.
The Basic Plan: The Basic Plan includes everything from the Free Plan plus additional features like a custom domain, affiliate selling options, and discount coupons.
Prices start at $49/month (when billed annually).
The Start Plan: The Start Plan includes everything from the Basic Plan plus additional features like assignments, -ons and bundles, advanced customization options, live lessons, and more.
Prices start at $99/month (when billed annually).
The Grow Plan: The Premier Plan includes everything from the Start Plan plus features like white labeling solutions and API access.
Prices start at $399/month (when billed annually).
The Plus: The Plus plan includes everything from the Premier plan plus additional features.
These include single sign-on (SSO), multiple seats, a dedicated custom team, and more.
Thinkific does not mention the prices on their website, so you'll have to request a custom quote.
Let's now dive deeper into each plan.
Thinkific Free Plan
With online course creation becoming increasingly popular, many people are looking for an easy way to get started with e-learning.
That's why Thinkific has developed the free plan – a perfect way to explore the world of online course creation for no cost.
It offers limitless student enrollment for a single course.
It features the ability to design your course using simple design concepts and access to funds and various file types for your course.
These include PDF/audio/video files and more.
This plan allows course creators to create courses of any size and assign roles for various types of students.
While the number of courses is limited, online course creators can add unlimited content and features such as freebies, downloadable files, marketing materials, completion certificates, and more.
Furthermore, it also comes with other Thinkific pros, such as instant access to the video library, mobile-friendly design, and website customization options.
Of course, there are some downsides, too.
With the free plan, users won't have access to content locking or drip release features, and integration capabilities across other platforms will be limited.
But overall, it's still an excellent option for those who need entry into e-learning without breaking their budget.
If you're new to eLearning and looking for a low-cost way to sell courses, the Thinkific-free plan is a great place to start.
Thinkific Basic
Thinkific Basic is the perfect plan for online course businesses that want a drag-and-drop course builder with a few more functions than the free program offers.
Access to the free Accelerator program lets you learn how to launch your online business quickly.
The plan also comes with unlimited courses, a custom domain, and the ability to have affiliates sell for you.
Features such as bundles and assignments do not form part of this plan.
Thinkific Start Plan
This next-level subscription-based plan offers up to ten spaces per community, the ability to give live lessons, advanced code editing features, and much more.
The Thinkific Start Plan is the perfect choice for those wanting more control over the look and feel of their course.
Some features allow for more student interaction, which would increase user engagement.
This plan works well for course creators looking to automate, scale, and share their expertise with the world.
The Start Plan is an excellent choice if you're looking for an all-in-one solution to help you create a professional-grade online course without investing in additional software or services.
There is, however, no API access on this plan, so if you want complete programmatic control, this won't be possible at this stage.
It's also limited in its bulk emailing capabilities compared to other plans offered by Thinkific.
Thinkific Grow Package
The Thinkific Growth Package is the next-level add-on to the Start Plan and is designed specifically for course designers who wish to increase sales and use advanced marketing automation with their courses.
This package allows you to access many features unavailable in previous plans, including their bulk enrollment and student emailer.
It provides course admins and authors access to remove the default Thinkific branding and allowing them to put their own instead.
As an online course platform for businesses serious about scaling up, this Thinific plan balances a great feature set with a reasonable price tag.
The downside to this package is that it limits admins to two people (as opposed to unlimited ones with the Plus Plan).
However, for most people, this plan might be more than enough.
Thinkific Plus Plan
Suppose you're an entrepreneur or an established online course business owner looking to take your e-learning experience to the next level.
In that case, the Thinkific Plus Plan will provide everything you need.
Thinkific Plus provides advanced tools for selling your courses, including the support of a dedicated customer success team.
It also offers multiple seats and pricing, enterprise API access, bulk selling features, 99.9% SLA, and more.
But is it worth the investment?
As the highest-paid plan offered by Thinkific, the Plus Plan is ideal for serious course creators who want to take full advantage of all of Thinkific's features.
The Thinkific Plus Plan can accommodate entrepreneurs and established businesses needing advanced tools for selling their courses.
The cost of the Thinkific Plus Plan does not feature in the pricing section of their website.

You'll have to learn more about it by filling out a form on their site, and their sales team will get back to you with details.
Why Choose Thinkific?
If you're a course creator looking to take your course to the level of a successful online course business, Thinkific can be one of the best platforms to consider.
With Thinkific, you can create high-quality courses with ease and access features that make organizing and marketing content even more accessible.
Thinkific offers flexible pricing plans to meet your needs – from free to custom ones.

The free plan gives you the essential features for your course.
Premium plans offer more advanced features, including more advanced student enrollment and better ways to market and sell your course.
Investing in Thinkific can also benefit businesses regarding single sign-on, customizing course content, API integrations, and creating affiliate programs.
Not only can you access exclusive CSS editing, but you can also gain access to features like custom HTML embedding, version control, and interactive content creation.
Thinkific also makes it easy to market your courses by providing a library of templates for promotional emails and webpages and other helpful resources such as tutorials on using social media or SEO optimization tips.
Thinkific Competitors
If you're considering using an online course platform for your business, comparing different options is essential.
Thinkific is among the leading e-learning platforms, but other top contenders feature.
The most popular Thinkific competitors include Teachable, Kajabi, and LearnWorlds.
All three platforms offer similar features and pricing options to Thinkific.
Whether drag-and-drop course builders, integrations with payment processors, customizable themes, and support for various documents and media types, the most common features are among the top learning platforms.
Researching and comparing each platform's features is essential before deciding which is best suited for your business.
Thinkific For Email Marketing
One use case in which Thinkific is not the right solution is if you are exclusively targeting email marketing.
An email marketing solution like Aweber, ActiveCampaign, MailChimp, Convertkit, Infusionsoft, or Sendinblue might be better.
These solutions have dedicated email marketing features like detailed analytics, A/B testing, and autoresponders built into the platform.
These services can also integrate easily with ecommerce platforms like Shopify and WooCommerce so you can keep track of customers and courses you have sold.
The drawback to these solutions is that they may need more customization and flexibility in design than Thinkific regarding online teaching.
Hence, evaluating which platform best fits your needs is essential before deciding.
Thinkific Pricing – FAQs
Does The Thinkific Platform Offer A Drag-And-Drop Course Builder?
Yes, Thinkific offers a breath-and-drop course builder that allows you to create beautiful courses without coding easily.
How Do You Get Access To Your Funds As A Course Host?
Thinkific makes it easy to get paid. You can link your bank account in your Thinkific dashboard and receive payments directly into your bank account with no additional fees.
Does Thinkific's Free Plan Include All The Necessary Features For Onboarding?
The free program includes limited features, enough to get a feel for the platform.
It would help if you considered upgrading to a paid plan to access additional features as you scale.
What Is Thinkific Group Analysts Feature?
Splitting students into groups allows instructors to create groups with various levels of access to course content, as well as the ability to analyze and report on each student's performance.
Wrap Up.
If you're looking for an affordable yet reliable platform for creating online courses, Thinkific.com is worth exploring.
Not only does it offer a great deal of value, but it also provides you with additional tools you'll need as your business grows.
Additionally, it comes with various payment plans so companies can find the one best suited for their needs.
While the right online course platform will depend on the user's needs, Thinkific.com is an excellent choice for an easy-to-use and robust solution.
Overall, this learning management system is an excellent option if you want an easy way to start selling your online course quickly and efficiently without worrying about the technical aspects.
Get started with Thinkific.
Further reading on AdamEnfroy.com: Here are a few other Thinkific alternatives to consider:
Disclosure: I may receive affiliate compensation for some of the links below at no cost to you if you decide to purchase a paid plan. You can read our affiliate disclosure in our privacy policy. This site is not intending to provide financial advice. This is for entertainment only.