27 Best Name Generators (Domain, Company, and Random) 2023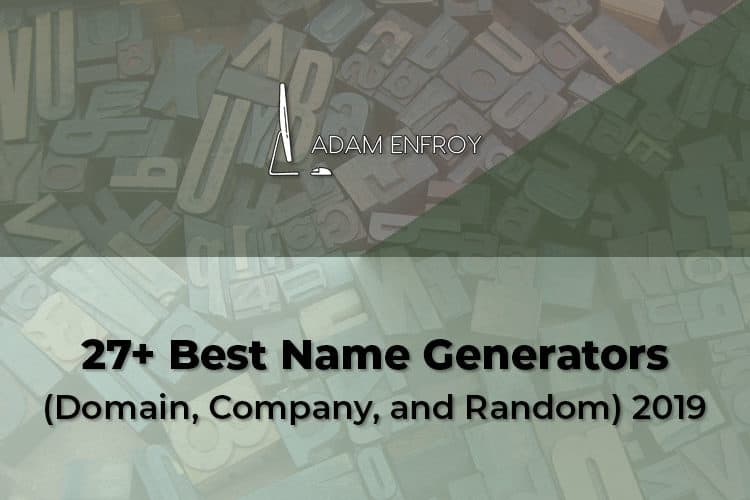 Finding an appropriate name that aligns with your brand, company, and domain name (and is catchy at the same time) can be challenging. It's often one of the first struggles of starting a new business or a website. Luckily you can use a name generator to help you out.
First, you come up with a great name by brainstorming blog name ideas.
You make plans to get your business cards designed, launch your website, and start to spread the word.
But your plans come crashing down if your perfect domain name is taken.
In this article, I have rounded up some great name generators. These include domain name generators, company name generators, username generators, and random name generators to help you find the perfect name for almost anything in life.
What is the Best Domain Name Generator?
Your domain name is a massive part of your brand. And you can't afford to make a misstep here, as you'll end up with an easily forgettable website.
For one, a huge chunk of your website traffic will come through users who type in your domain name in search engines like Google. That's why you need to think of domain name ideas that exude the true ethos of your brand and can help you generate income online.
Here is an overview of some of the best domain name generators available on the internet.
Lean Domain Search
Name Mesh
NameBoy
NameStall
Bust A Name
Domain Puzzler
Domains Bot
Shopify Business Name Generator
Instant Domain Search
Domain Wheel
Here are my picks for the best domain name generator.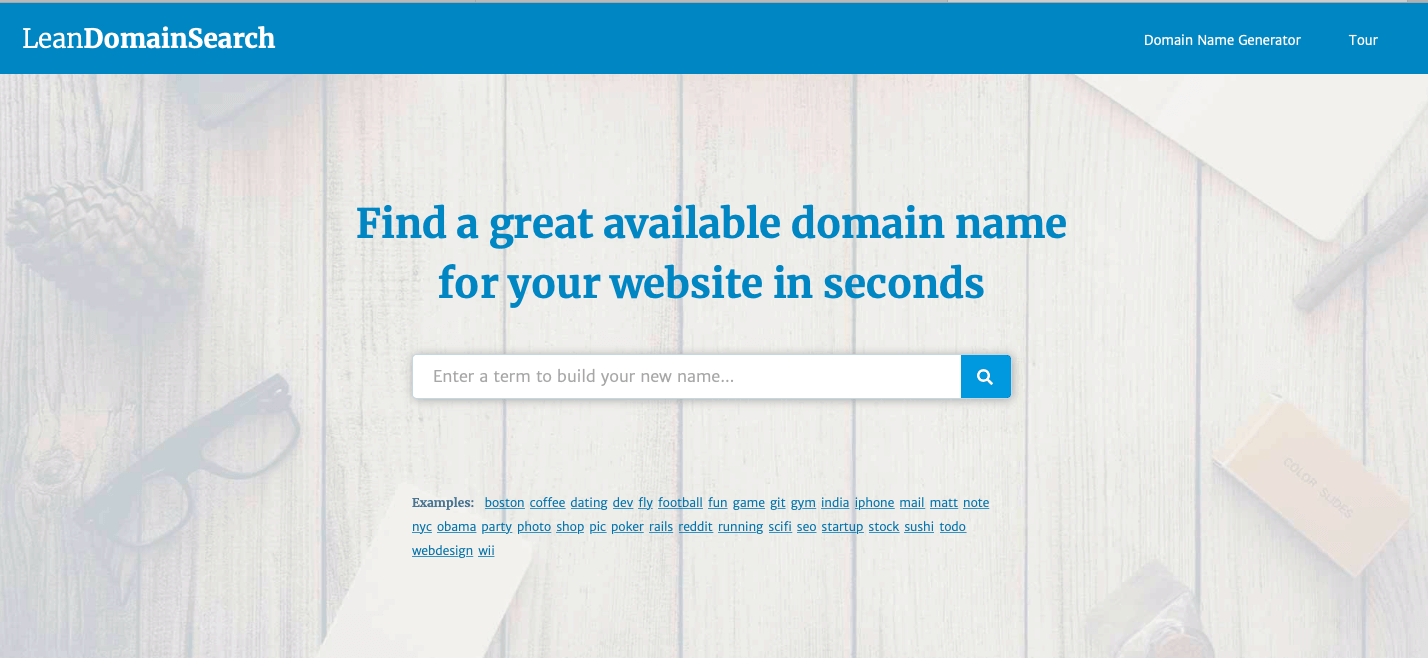 Lean Domain Search is a great way to check domain availability, and the best part is that it's free. You have to enter the keyword(s) that perfectly defines your brand or shows it in the best light and click on the "search domains button." You will be immediately redirected to hundreds and thousands of the domain name for your website.
This popular domain name generator also allows you to filter your search according to popularity, length, and alphabets. Another great thing is that all of the results it displays are available in the ".com" extension.
Lean Domain Search is an excellent suggestion tool to brainstorm some cool domain names for your website. You can even "favorite" some of the names that you like and leave them to review later.
Other prominent features to look out for:
It allows you to register the domain name you like directly from the tool.
You can even check available Twitter usernames.
You can view your search history.
If you want to include more than one keyword in your domain name, the Name Mesh name generator is your best option. The process with this tool is easy. It allows you to create your domain name based on neatly divided categories, including new, SEO, short, and more.
It is particularly useful if you are planning to add a couple of keywords in your domain name and want them to be arranged neatly.
Here are some ways they help you find a good domain name:
You can search using various categories, which breaks down your search.
The number of options you will get are countless
The Fun category is a great option to come up with creative, innovative names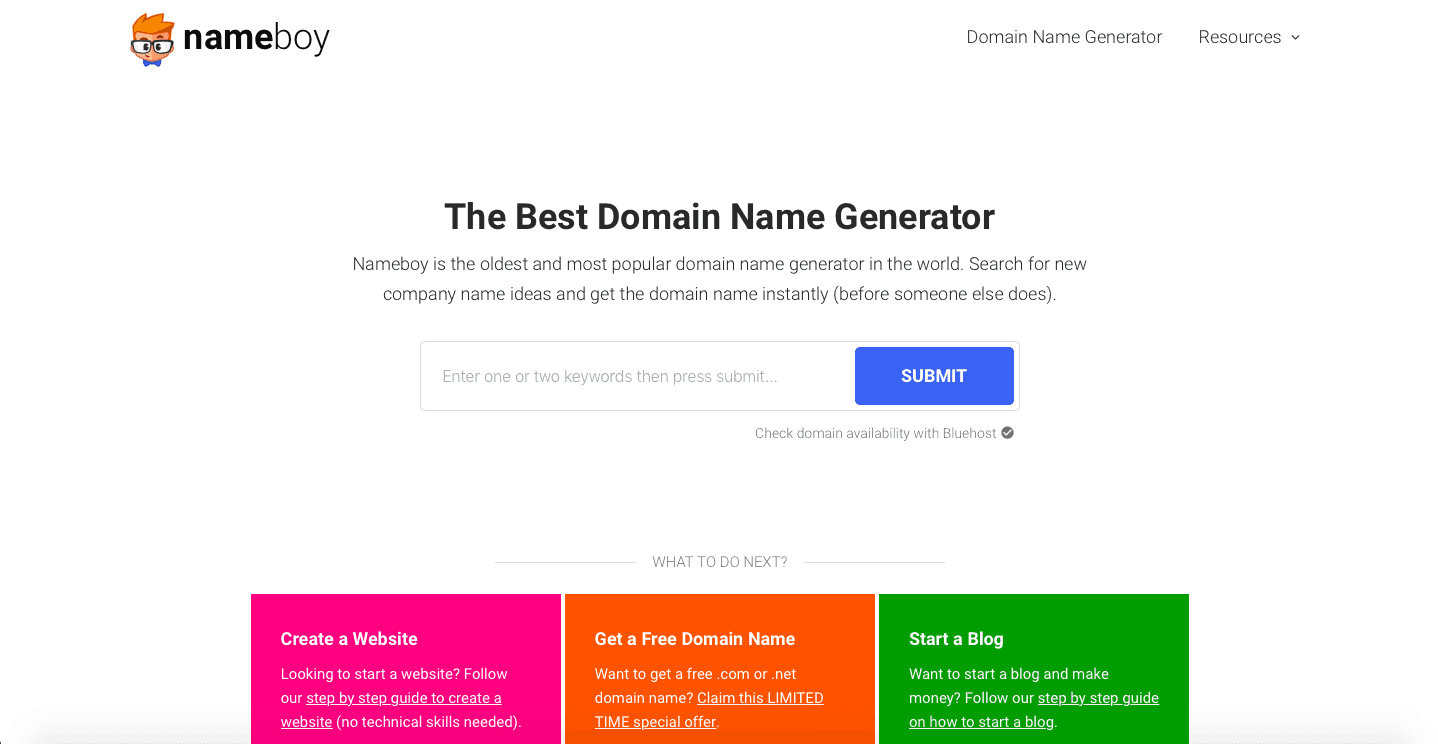 If you know what your new domain name should be and want options other than regular dot com domain extensions, they have you covered.
NameBoy is one of the few domain generator tools that help you build a website and get a free domain name. You can create a website name, make a WordPress blog, and get web hosting all set up with different hosting companies like Bluehost.
To get the best results with this tool, you should type in your primary target keyword along with a secondary keyword. You can also add hyphens and request a domain that makes your keywords rhyme.
Some of my favorite features include:
You can check availability from top domain registrars like GoDaddy on extensions other than dot com domain names.
It shows you all available domain names that are up for resale
It allows you to combine two primary keywords to get the right domain name.
You are given a choice between hyphenated or unhyphenated.
NameStall is not your regular domain name generator — it offers a full suite of options. For instance, they have a primary domain name generator, the rhyming generator, the three-word generator, and other ways to come up with a random domain name.
With NameStall, you can also choose whether you want your keyword at the start or end of the last domain name. It provides a multitude of top-level domain (TLD) options, including country-specific ones.
It is an excellent tool to customize and filter your options to narrow down your search.
Some popular features that make this tool a favorite, including:
You can pick where you want to place your seed keyword in the entire domain name.
You can check various extensions at once and register them directly from the tool.
It offers great customization options.
This domain name generator is a special one. With Bust a name, you can exceptionally fine-tune your domain name and check the availability of not just ".com" extension but various other top-level domains (TLDs).
When you open their tool, you will immediately see two options. The word combiner is for the domain name search, and the other is to make verify and finalize the name. Initially, start with the phrase combiner and add an intended keyword that is extremely relevant to your niche. Choose a filter option from the drop-down menu to see the best results.
After that, you can check the results and see whether they are available in the TLD of your choice.
Other attractive features include:
It allows you to filter your intended domain names by various extensions like ".com," ".net," and so forth.
You don't have to have a keyword in mind. You can also initiate a random search to find some creative ideas.
You can save your favorite domain name to purchase it later using the link provided.
This domain name generator may look simple at first glance. However, it packs some powerful features. It has a snappy, easy-to-use interface and offers a variety of options to find a perfect domain name.
It has three search options: Easy, Advanced, and Magic.
The "Easy" mode helps you determine whether your domain name is available or not. "Advanced" mode is especially useful if you want to combine two seed keywords. Use "Magic" mode to find out some refreshing suggestions based on multiple keyword searches.
There are several reasons to use this tool, including
It allows you to enter numerous keywords, unlike most other domain name generators that put limitations to just one or two keywords.
It offers another great function called "Page Rank," which helps you compare the search engine rankings of the domain names.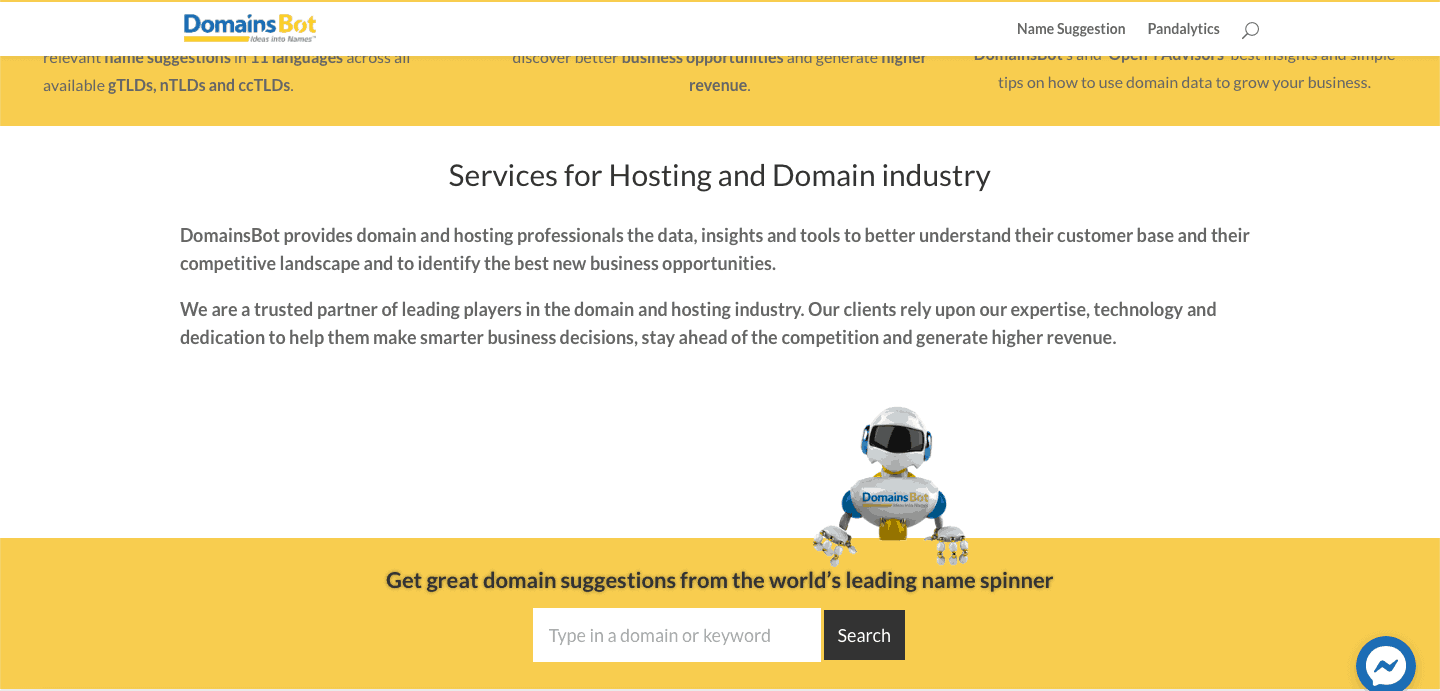 With DomainsBot, you not only have the option to search your domain name, but you can also pick the synonyms to align with your seed keyword.
You have type in your primary keyword to get started right away, after which you will be able to customize the name. You can change the extensions, add or change the synonyms, and more.
This domain name generator helps you accomplish things like:
It allows you to add/change synonyms alongside the seed keyword along with suffixes and prefixes.
Options to choose numerous extensions.
You can register the domain name of your choice right from the tool.
Developed by Shopify, this domain name generator works precisely like the Lean Domain Search. Although the name suggests that the tool is only for business names, however, it works well for domain names as well.
Just enter a keyword that aligns with your business, and you will see a large number of domain name suggestions. Just like Lean Domain Search, Shopify's business name generator also suggests the domain names that are available as a ".com" extension.
This tool poses a few limitations, however. If you want to register a domain name straight from this tool, you can't do so unless you build a Shopify store on top of it.
Here are some pros of using this tool:
The domain names it suggests are very creative as compared to various other tools on the internet.
You can register a domain name straight from the tool
What is the Best Business Name Generator?
Choosing a business name is probably one of the toughest parts of starting a business even though it seems to be the easiest one. If you are facing the former scenario and are finding it hard to come up with a great business name, then you are in the right place.
Here are seven excellent business name generators that can help you find a creative and memorable name for your business.
Cool Name Ideas
Brandings
BrandBucket
Brandroot
Names4Brands
FreshBooks
Mithril and Mages
Panabee
Here are my picks for the best business name generator.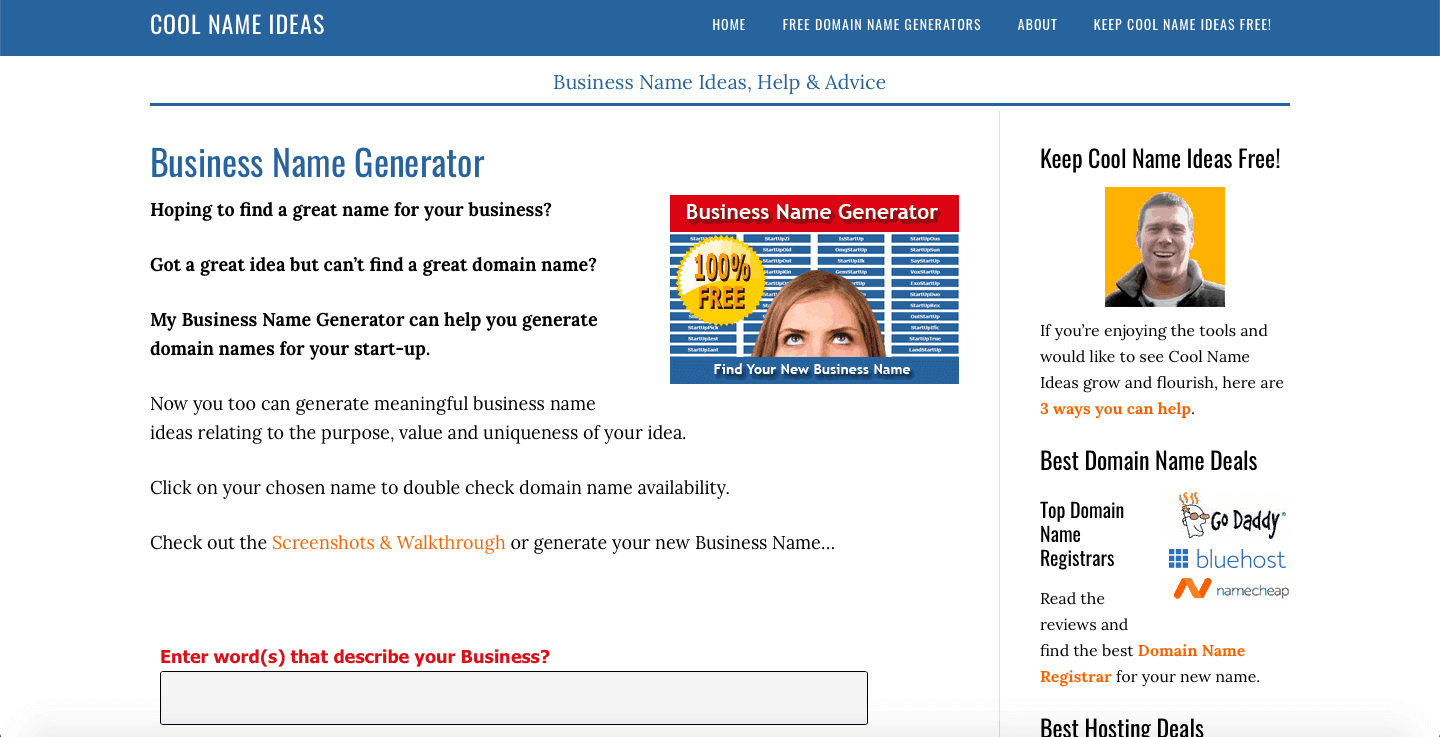 Cool Name Ideas is not just a single business name generating tool. It's a suite of three tools and helps you generate a perfect name for your business, blog, or products.
It narrows down your search and comes with the most suitable name for your business to be asking questions, such as:
What type of business are you naming?
What benefit(s) will your business bring to the customer?
What style business are you naming?
You need to input the answer to these questions along with your keyword, and you will get thousands of relevant business name ideas. If you want to check out a domain name for numerous extensions like ".net" and more, you can click on the "Advanced" options.
Moreover, you can also select where you want your keyword to appear in the name along with its length.
Brandings is one of the few business name generators that offer a multitude of filtering options, including lots of industries, hobbies, scientific names, hotel/motel names, and much more.
It has two search options: search by industry and browse by style. With the search by industry option, you will be allowed to browse names in the industry, field, sector, or market you are in. Their "browse by style" options find names that evoke a feeling — for example, names that are "unique," "smart," and more.
Some great features to look out for:
It breaks down your search in sub-categories to make your task easier and narrow down your search.
The tool gives you relevant reasons why the name is good for your business and the cost to register it.
It also provides articles articulating the things that the top 5000 start-ups have in common. This information is like to come in handy if you are just starting your business.
Unlike other tools in the list, BrandBucket is not a free business name generator tool. Most of the business names you find using this tool will cost around $1,000, and you can purchase them right no their site. The names that you generate with BrandBucket mostly turn out to be catchy, interactive, and unique.
Moreover, if you select a domain name using this tool, you will also get a logo with it. The best part is that you can even request them to edit or modify your logo, as per your business requirement.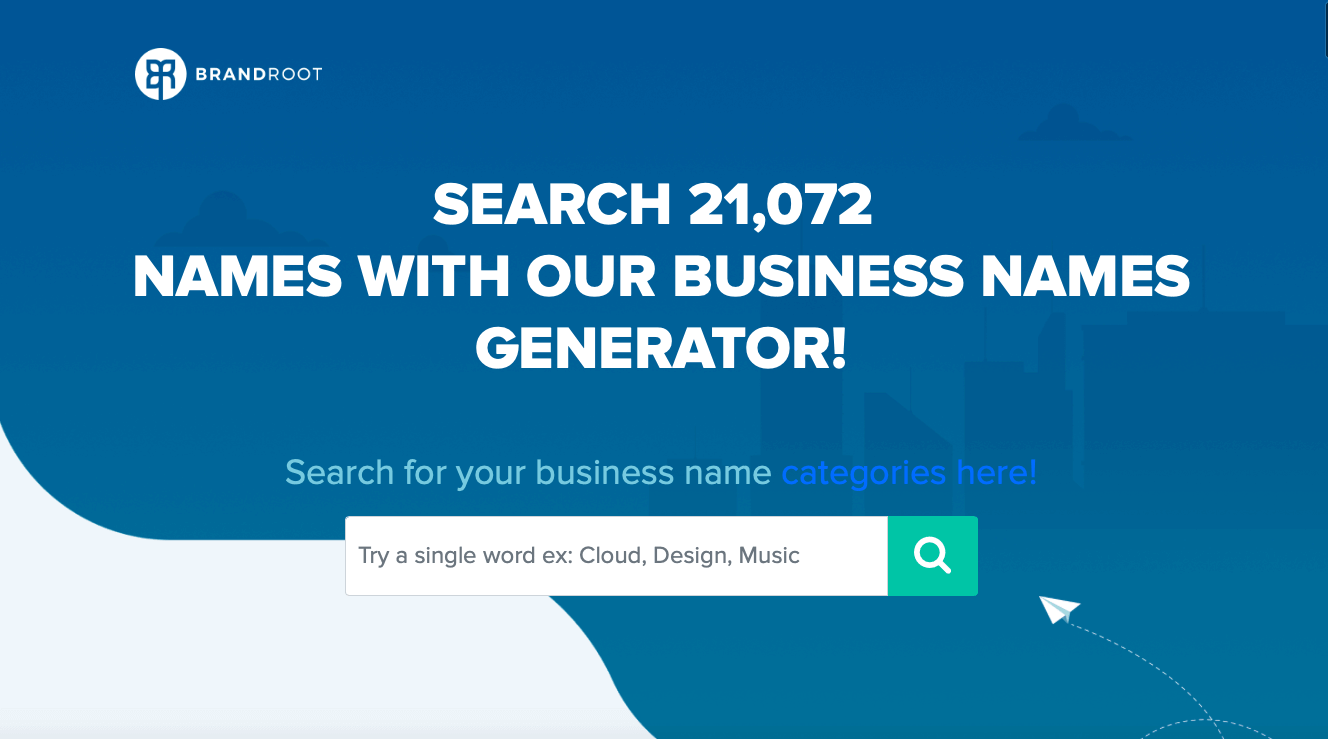 Brandroot is a great business name generator that provides you with unique, unforgettable names with a variety of options. You can proceed with your search using filters such as different industry categories, technology, random names, premium names, and more. Apart from this, you can also perform a keyword-based search by typing in a keyword of your choice.
Brandroot also has one interesting filter; it allows you to search your business name by price. The more budget you are willing to shell out for your business name, the more choices you will have.
As with most of the business name generators, you can also select a domain name right away. In fact, I'd suggest you do it since it saves you the extra time required to search for the domain name.
However, buying a domain name with Brandroot is going to cost you somewhere around $3,000. But it is also worthy to note that Brandroot provides you with a creative logo for your business along with the domain name.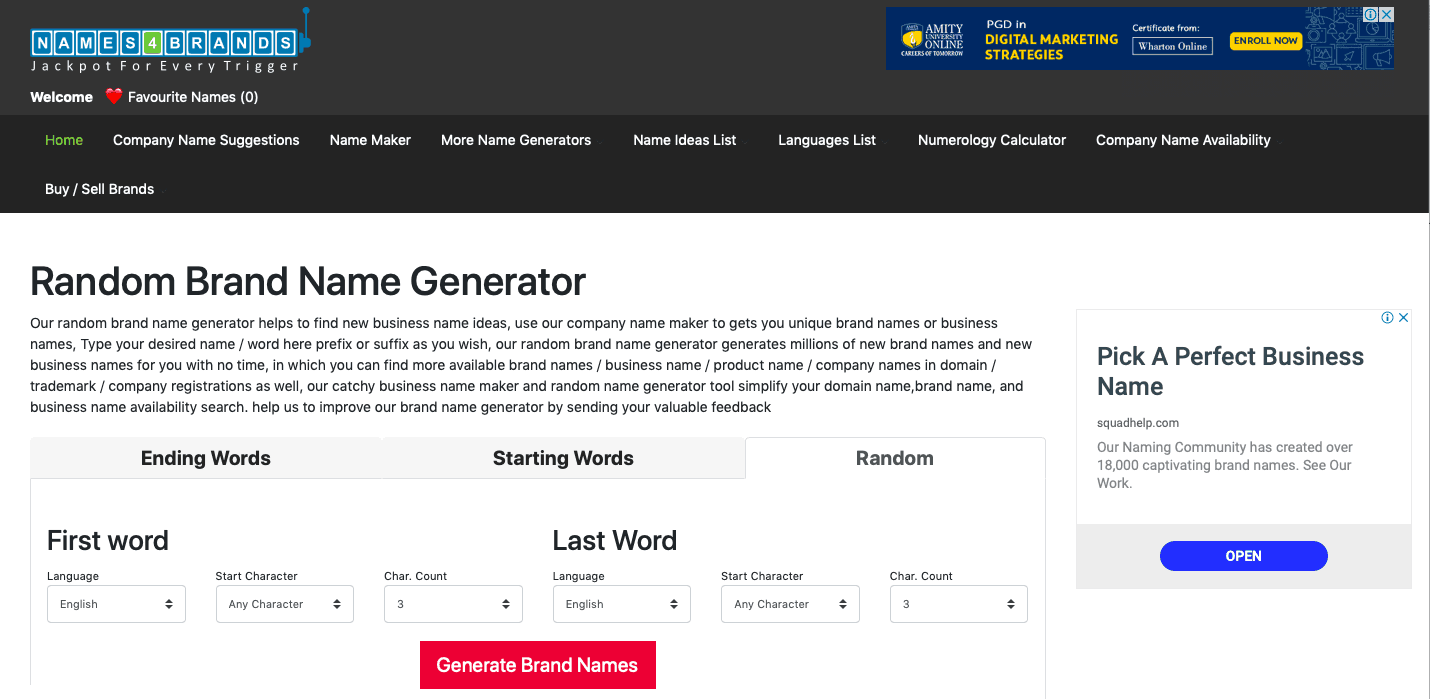 Names4Brands is another great business name generator in this list that helps you find a perfect name for your new business. Business norms say that you should include two words in your business name. This is not to say that you should stick to it.
This tool gives you numerous options to choose your business name, such as:
You have the choice of up to 18 languages
The number of keywords you would like to incorporate in your name
You can decide the starting letter of the words
The options do not end here, and there are plenty of other filter options to fine-tune your search.
Like various other business name generators, Names4Brands also provides a customary domain name and allows you to verify its availability.
If I say that FreshBooks is one of the most interactive tools in this list, I wouldn't be exaggerating it. It is indeed a great tool to generate your business name.
To get started with this tool, you have to follow some quick steps.
Step #1 To begin, click the "Let's Get Started" call-to-action button, which will redirect you to a page where you will be prompted to select your industry.
Step #2 You will be given four options to choose from, including the marketing collateral and industry, including legal services, and business consulting industry, trades and home services, and information technology.
Step #3 Now enter a relevant keyword that you want to include in your business name and click on the "Make Me a Name" option and voila, you will be provided with three options to choose from.
If you are not satisfied with the options you get, you can click on "show me more names," and you will get more options to choose from.
As fancy as its name is, the names that this business name generator provides are even fancier. It is also not just a basic name generator. With multiple categories and sub-categories, it helps you fine-tune your search and choose a perfect name that aligns the best with your business.
You just have to fill out various drop-down boxes with relevant answers, and you will be offered numerous business names to select from.
This business name generator also provides you with a variety of unique options such as medieval names, tarot, fantasy names, and more. Brainstorm and play around with all these eccentric categories to spruce up your business name.
What is the Best Random Name Generator?
What's in a name? As humans who communicate through language, picking what you will officially be referred to is a big deal. There are baby names. Business names. Fantasy names. Fictional names. Brand names. And random name generators are online to help you come up with ideas.
Additionally, there are podcast name generators, Reddit username generators, show name generators, funny name generators, company name generators and more.
There are even mountain name generators, cool name generators, email name generators, gamer name generators, and almost any type of name you can dream up.
And there are so many different types of random names based on nationalities. Here are the most popular types of names by nationality searched online:
French
Spanish
Italian
Thai
Korean
Japanese
Chinese
German
Irish
British
American
Greek
Norse
Norwegian
Polish
Portuguese
Russian
Scottish
Serbian
Ukranian
Vietnamese
Welsh
Armenian
Azerbaijani
Basque
Bulgarian
Czech
Danish
Dutch
Estonian
Finnish
Icelandic
Latvian
Macedonian
Every nationality has its own history behind their names.
To get started, here is a list of top random name generators that will provide you with a huge array of random creative names.
Random name generator
Masterpiece generator
Behind the name
Random lists
Random word generator
Fantasy name generators
Here are my picks for the best random name generator.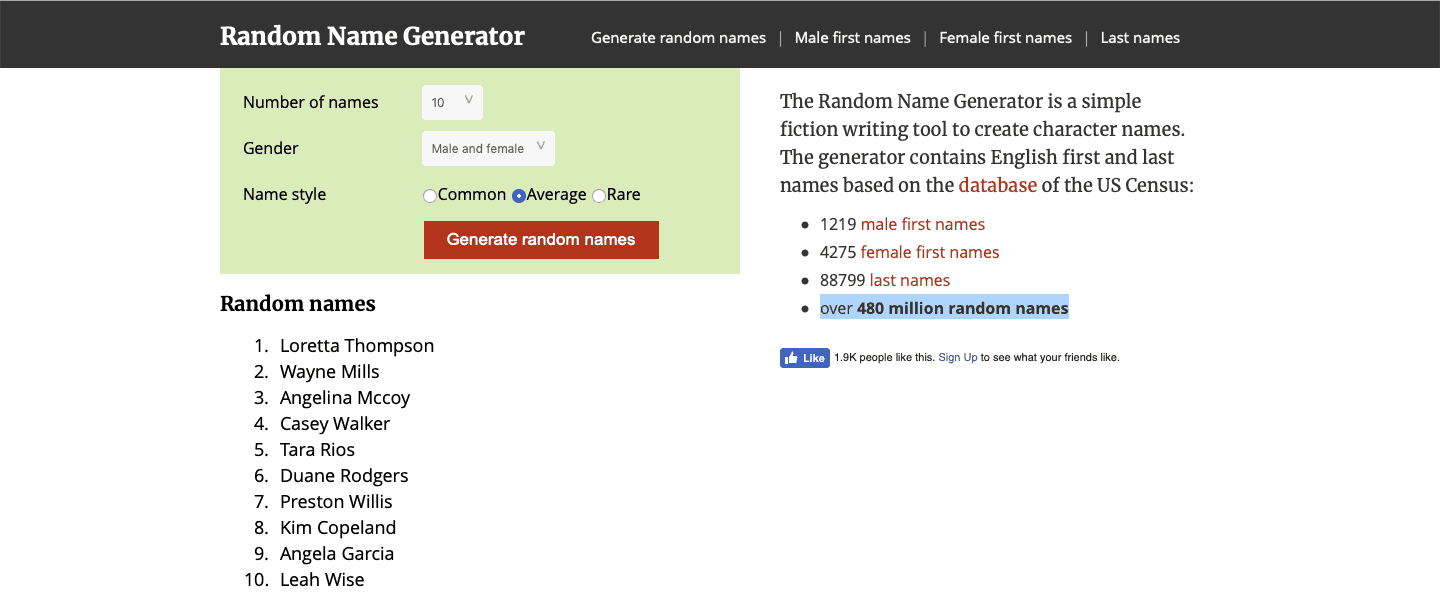 This random name generator surely lives up to its name. With options such as common, average, and rare, you can generate a random name of your choice. You can also select between a male and a female name.
This tool is simple and looks generic at first. However, it serves its purpose of generating random names exceedingly well.
Moreover, this name generator is also a compendium of random names, which are categorized by "Male first names," "Female first names," and "Last names." This list can be further filtered by selecting the first letter of the world. Random Name Generator has over 480 million random names in its directory.
This random name generator, called Masterpiece Generator, is a great help to find the perfect name for any occasion. You can either generate random names or filter your search as you browse.
From babies to characters, you can conduct your search for all types of names. This tool also gives you an option to specify the names using categories like male names, female names, or both.
This tool is particularly useful for lyricists and authors to create a plot or song using a range of random names and weave them into their stories.
Behind the name is a popular random name generator that was first created in 1996. According to its founder, when created, this was the first site of its kind. The inspiration behind this website was to understand the etymology, linguistics, and the history of names.
That said, now the website is used as a powerful name generator tool with over 21,974 names in its database. You can search a name of choice using filters like masculine and feminine, countries, mythological names, Biblical names, most common names, and many more.
The website claims that no method of selection is less bias than random selection — and it is indeed true. With Random Lists, you have an option to select from a multitude of random name generator suites such as random animals, random addresses, random things, random word generator, and so on.
This is one of the few name generating tools that generate not only human or business-related names but also other random names of things like addresses, movies, animals, and countries.
This tool is especially useful for novelists who want to weave a story but finding it hard to select their character names and other names surrounding the characters.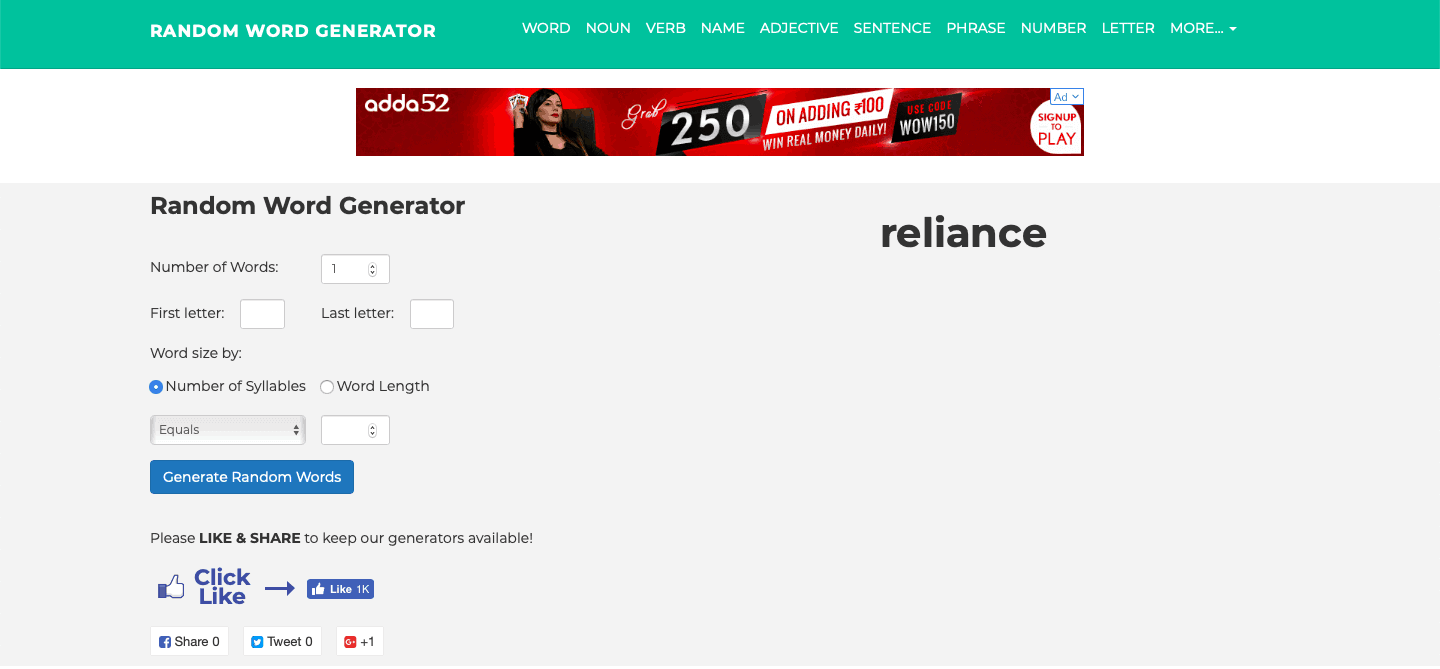 Random Word Generator is one of the best, if not the best random name generators on the internet. It narrows down your quest of a perfect name using some great filters.
For instance, with this tool, you can even break down your search in terms of the number of syllables or word length. It also allows you to select the "first letter" and the "last letter" of the intended word.
Apart from this, you also have the choice to generate a random sentence or phrase. Other filters include:
Noun
Verb
Adjective
Number
Letter
Wedding Hashtags
Bible Verse
And the choices do not end here, and once you visit the website, you will find a multitude of other options.
Although the name suggests that the tool only generates fantasy names, however, Fantasy Name Generators works just fine for real names as well. From "Pop Culture" names to "Place Names," you have plenty of options to choose from, depending upon the purpose of your search.
As for the Fantasy names, you have numerous options along the lines of "World of Warcraft name generators." Again, this tool is most helpful to fiction and fantasy writers looking for unique names for their characters.
What is the Best Username Generator?
When online, wherever you turn you're going to need a username, be it a social media channel, email account, or your video game Gamertag.
Naturally, you want a cool social media username. This is where username generators come into the game.
Visit these automated username generators where they will help you find a great username.
Name generator 2
Jimpix username generator
SpinXO
LastPass username generator
Username generator – Make Cool, Funny, and Good Usernames
BestRandoms
Here are my picks for the best username generator.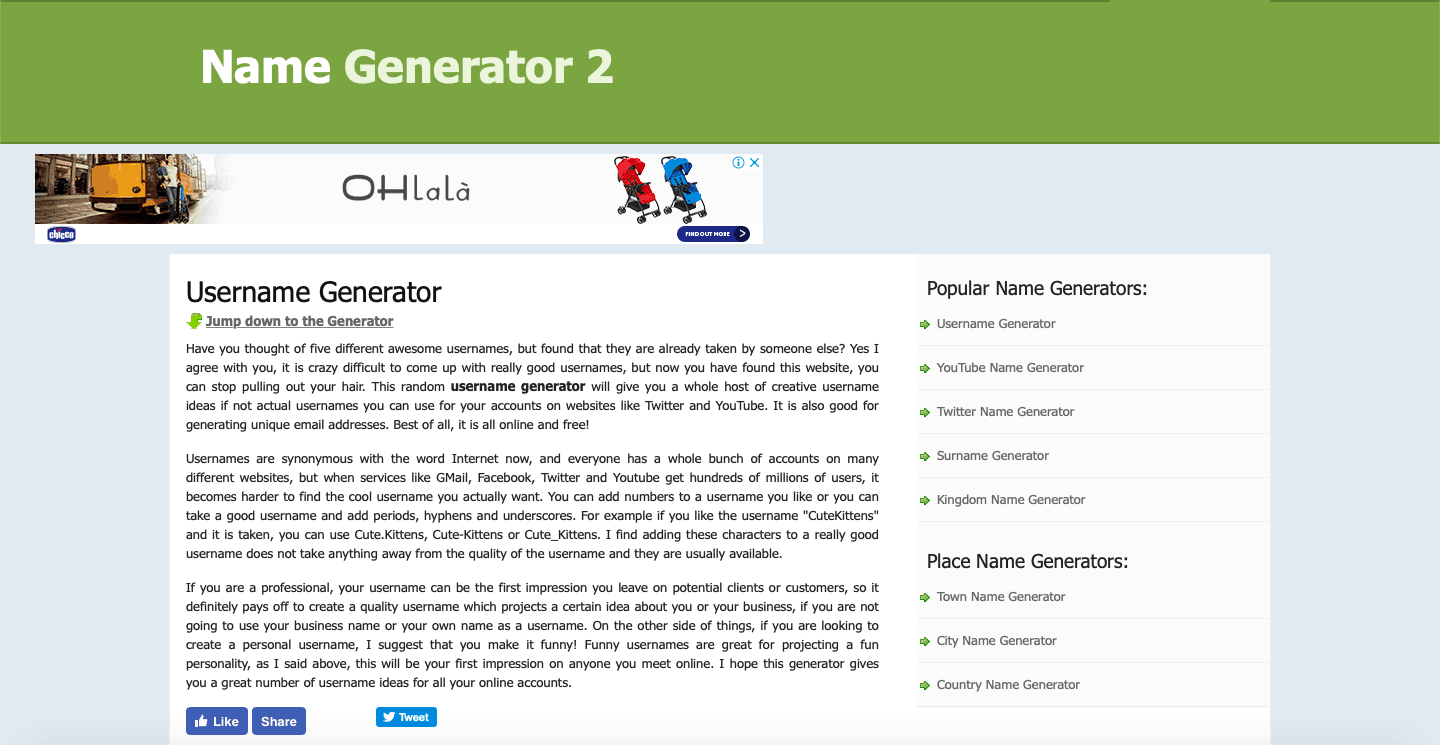 Coming up with good usernames is difficult. Coming up with good and unavailable usernames is even more difficult. However, Name Generator 2 alleviates this problem for you.
This random username generator will provide you with a wide range of username ideas to choose from. You can input your choice of Prefix and Suffix and sort your search based on different social platforms such as "YouTube Name Generator," "Email Name Generator," "Twitter Name Generator," and so on.
You can also mark your favorite names and then further select the name of your choice.
Jimpix is akin to a one-stop-shop with a myriad of options under single platforms, such as the username generator, one-word usernames, and many other variations.
This username generator also helps you check whether the username is available across all the social media channels such as Instagram, Facebook, Twitter, Youtube, and more.
Click the "Show Bells and Whistles" option underneath the search bar to display the filters. You can sort out your search using options like nice font, reverse, or plural.
To get started with SpinXO, you would have to type in some preferences, such as:
Your name or nickname
What are you like?
What are your hobbies?
Things you like?
Important keywords you want to include in the username
Numbers or letters you would like to include in the username
All these detailed questions allow this username generator to provide you with a perfect username that matched your personality and requirement the best.
You can further solidify your search by breaking down your search using categories like "Instagram names," "YouTube Names," "Gamertags," and more.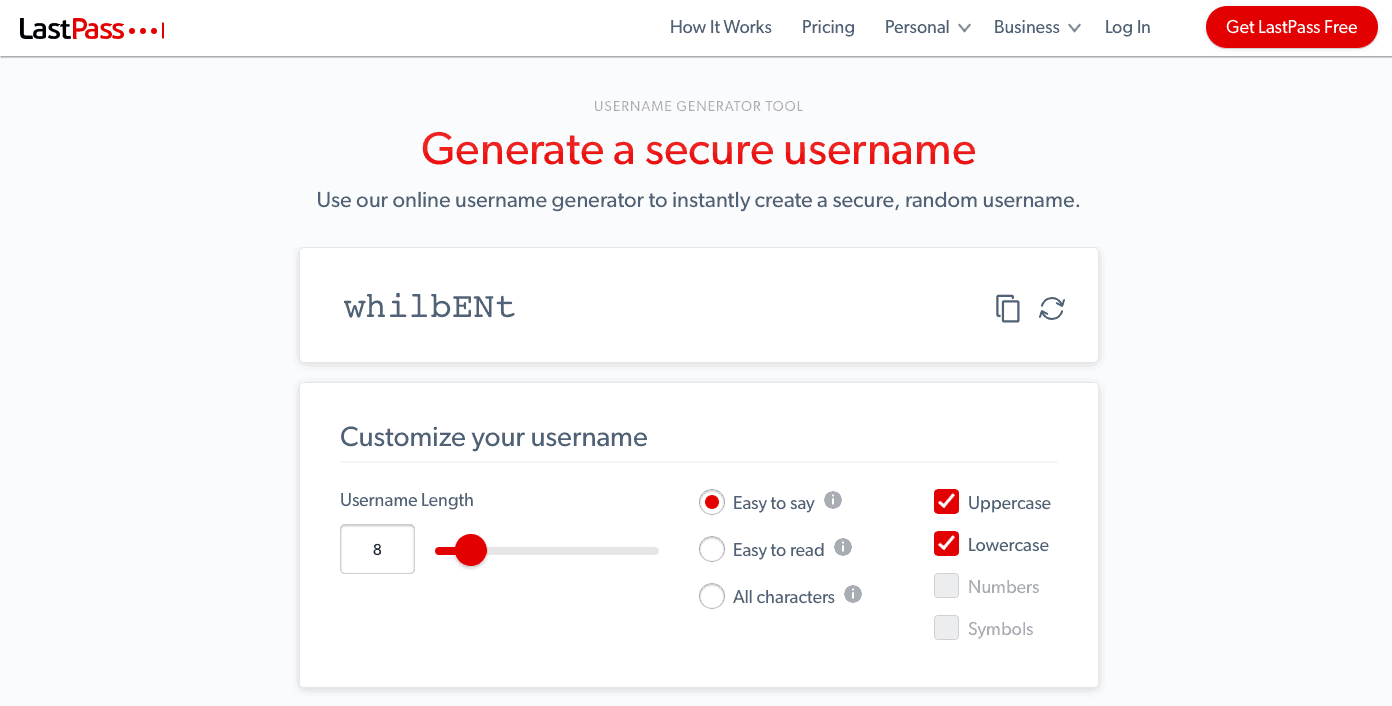 LastPass Username Generator lets you generate secure, random usernames with substantial ease. You can select the length of the username you intend to generate along with filters such as "Easy to say," "Easy to read," "All characters."
You can also streamline your search by search for a username with all letters in uppercase, a username with all letters in lowercase, or both. If you want, you can also decide to include numbers and symbols to the username.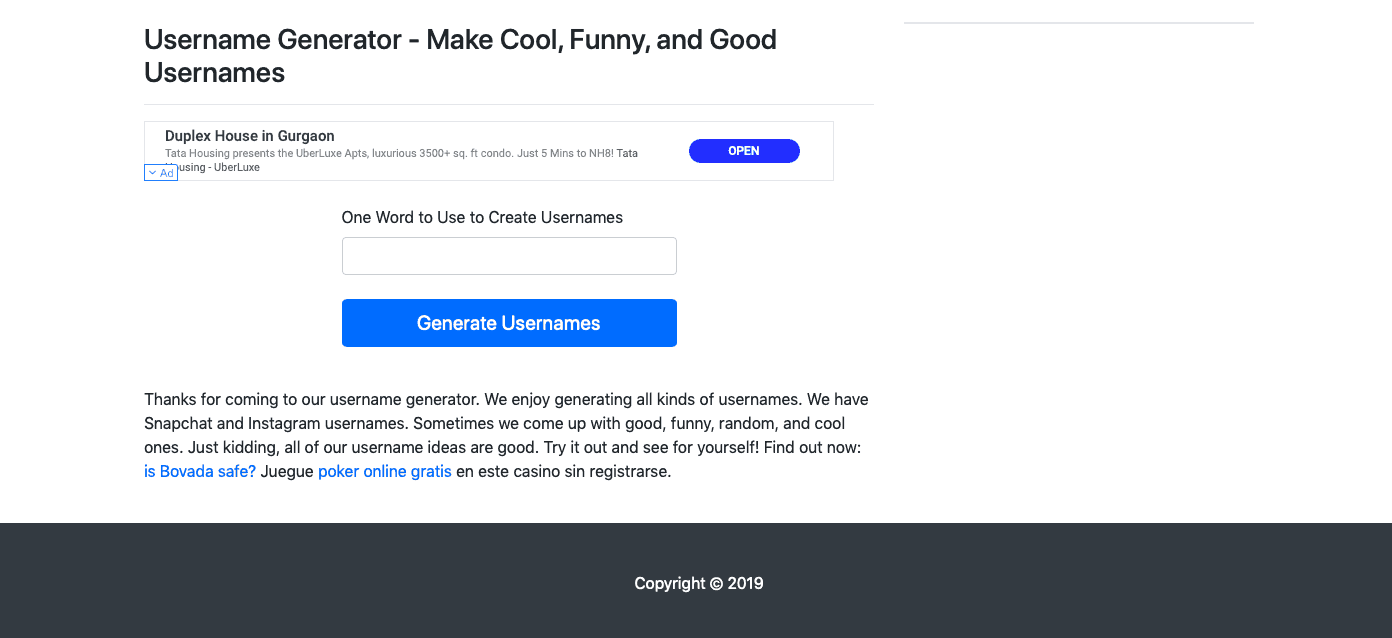 This random username generator eliminates all the hassle from creating a username. You just have to type in one relevant keyword that you would like to include in your username, and voila, you will be provided a list of a number of potential usernames.
After that, just click on the username you like and check whether it is available to use on websites such as Facebook, Twitter, Youtube, Reddit, and more.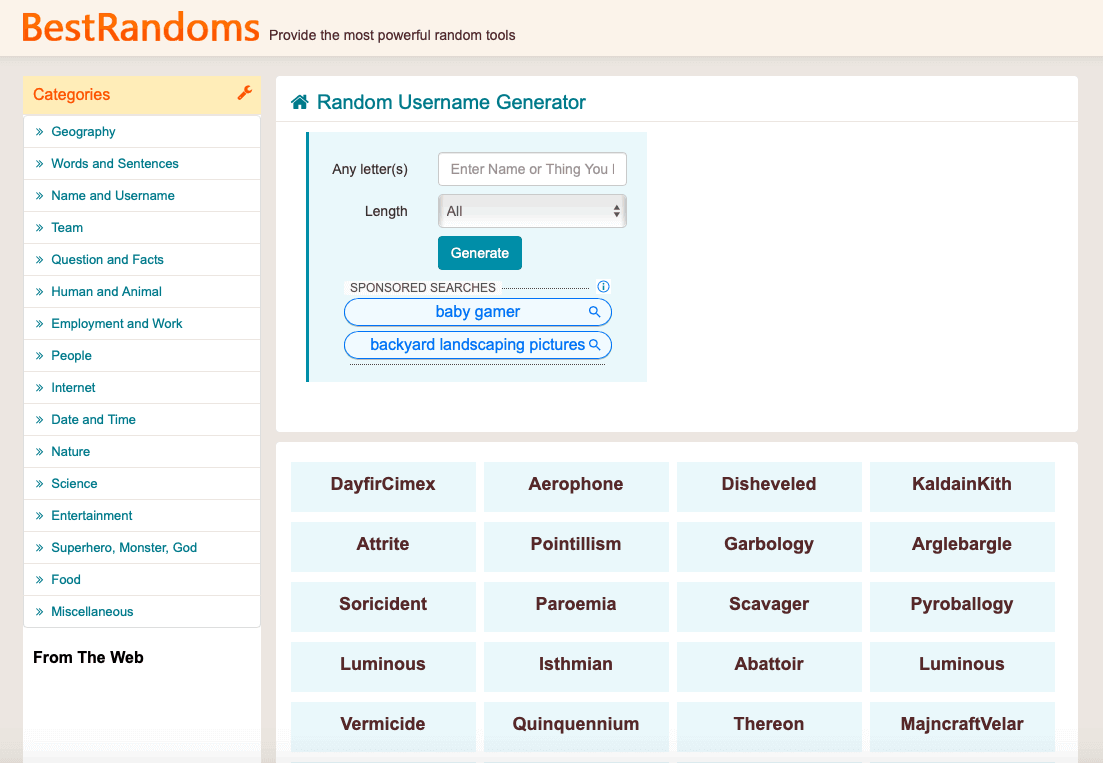 Another great username generator in the list, BestRandoms provides the usernames that are not only unique but also easy to memorize. You just have to enter a keyword or your name along with the intended length to be redirected to numerous username options.
If you are not satisfied with any of the usernames, you can click on the "New Random Usernames" button to see a list of new random usernames.
It's All in a Name
Choosing a name is hard — be it a business name or a domain name for your new website or blog. You are bound to overthink your name in the process, which often results in irritation. It's easy to buckle under the pressure. After all, responsibility is a big one; you have to select a name that will represent your brand over the long haul.
Luckily, you have the assistance of these wonderful name generator tools. The tools above are some of the best name generators available on the Internet. You can have your pick, as per your name requirements — these tools will surely help you pick a name you love for your domain name, brand, or username.
Are you eager to try these name generators? Is there a tool not on this list? Try them out and share your feedback below.
Disclosure: I may receive affiliate compensation for some of the links below at no cost to you if you decide to purchase a paid plan. You can read our affiliate disclosure in our privacy policy. This site is not intending to provide financial advice. This is for entertainment only.