17+ Best Dropshipping Suppliers of 2023 (Companies Ranked)
Choosing the right dropshipping suppliers is vitally important to the success of any online store. From the types of products you sell to the speed at which you can get your merchandise in front of potential customers, the best dropshipping suppliers can help you meet your goals. In this guide, I ranked and reviewed the 17+ best dropshipping suppliers, along with my top 5 choices, so that you can pick the best one for you.
---
We're reader-supported. When you buy through links on our site, we may earn an affiliate commission.
Want to get right to it? The best dropshipping suppliers right now are AliDropship and SaleHoo.
Dropshipping has become a lucrative business for online sellers.
It enables small businesses to source products at lower costs from manufacturers across the world, and sell their products at competitive prices in the retail market – without the need to ship products themselves.
Dropshipping businesses can even generate 50% more profits than sellers who maintain an online inventory.
If you're planning to start a dropshipping business and use an ecommerce platform, you need to choose the best dropshipping suppliers.
The online tools in this guide help you connect with thousands of manufacturers so that you can add their wholesale products to your ecommerce site – while they handle the shipping and returns.
These rankings are based on their inventory selection, pricing, ease of use, inventory management features, order fulfillment processes, and more.
Let's dive in.
What Are the Best Dropshipping Suppliers?
Here are my top picks for the best dropshipping suppliers.
The best solution for dropshipping with AliExpress.
Adam's Take
Starting an online store requires the right technology backing you up. Alidropshipping gets my #1 vote since it is not only a standalone platform filled with top-notch suppliers, but also integrates with others such as Shopify, Wordpress and WooCommerce. This makes it ideal in a variety of situations.
AliDropship is great for online entrepreneurs who want to get a fully-fledged online store for a one-time payment at a reasonable price.
These solutions, ranging from a plugin and custom store to various add-ons and themes, are aimed at creating a seamless and satisfactory experience for every dropshipping store owner.
For your convenience, the plugin is fully integrated with WordPress, WooCommerce, and the Shopify app.
Either way, AliDropship provides not only great but helpful solutions for any dropshipping entrepreneur, both new and experienced.
Key Features:
Import an unlimited amount of dropshipping products from AliExpress into your store in one click or from 50,000+ products database of AliExpress top-selling edited items.
Import AliExpress product reviews.
The plugin collects emails from your customers to help automate email marketing.
AliDropship plugin supports all the most popular payment processors like PayPal, 2CO, Stripe, PayU, and others.
Choose customizable, mobile-friendly themes. The abandoned cart is already in.
Free life-long support and updates for all solutions.
User Experience:
With tons of options and products, AliDropship is a great dropshipping supplier for those just starting out.
The user interface is clean and easy to navigate, making finding the right products a breeze.
Features such as an abandoned cart, countdown timers, and order tracking are just a few things that make this supplier stand out from the rest.
Pricing
You pay a one-time payment for only $89 for the AliDropship Plugin or from $299 for a custom store creation with no recurring payments.
What I Like/Dislike About AliDropship:
Like:
Full ownership of your online store.
One-time payment.
Easy to use for both beginners and advanced users.
Free life-long support and updates for all solutions.
Dislike:
If they had to upgrade this plugin for other marketplaces like eBay or Amazon, it could become more valuable in various situations.
Product Updates:
Premium Stores allow you to have a fully-functional online store built for you by a team of professionals.
Online Contest Software is a great way to increase engagement and conversions on your website.
Get started with AliDropship.
Best Dropshipping Directory ($127 For Lifetime Access)
Adam's Take
The Salehoo directory is where most reliable dropshippers find their suppliers. With access to more than 8000 suppliers that have been checked and verified, I suggest you check out this directory if you want to get started with dropshipping.
SaleHoo offers an extensive supplier directory and efficient research tool – it's the best database when you're just getting started.
With SaleHoo, you also get access to a large online community of wholesale suppliers and dropshippers. The user-friendly tool helps businesses identify and procure profitable products from low-cost and certified suppliers.
It also offers unlimited training to help you understand the ecosystem and tread smartly in the dropshipping business. Apart from finding great product ideas, SaleHoo also gives you insight into hot selling trends and the supply chain behind it.
Key Features:
Extensive List of Products – SaleHoo offers access to over 1,000 verified suppliers and 2.5 million products.
Money-Back Guarantee – It offers a 60-days unconditional money-back guarantee on all its sales.
Verified Supplier – All the registered suppliers get verified under a stringent process to eliminate fraudulent suppliers and counterfeiters.
Market Research Labs – A powerful research tool to find trending niches and discover products with high profit margins.
User Experience:
You can easily apply the filters to find the type of products you're looking for, and SaleHoo provides a wide variety of suppliers.
You can then see all the products that each supplier has to offer, making it easy to find the perfect products for your store.
Pricing:
It costs $67 for one year of access or $127 for lifetime access. At that price, it's a no-brainer.
What I Like/Dislike About SaleHoo:
Like:
It allows you to source products from suppliers that ship internationally. This feature lets you grow your business even when you have only a few suppliers in your country.
You can easily attach notes on the dashboard for each supplier to remind yourself about what you like the most.
It has over 70 percent of suppliers that require zero or minimal investment.
It lets you discover beforehand the product range and the quantity each supplier is capable of providing.
Sell products across multiple niches, including clothing, accessories, antiques, collectibles, electronics, health, cosmetics, homes, gardens, etc.
Dislike:
Some limitations for domestic suppliers in the US mean that the products might not be as cheap as you'd hoped.
Product Updates:
Free personal concierge on the search page to find your low-cost supplier so you can get back to business.
Save time & request suppliers for the product you are looking for without even having to leave the app.
Get started with SaleHoo.
Best For Automatically Syncing Inventory to Your Ecommerce Site.
Adam's Take
Knowing what your ecommerce supply levels are is crucial when running a successful business. I like Inventory Source since it automatically syncs inventory to many of the top marketplaces and ecommerce platforms. This gives you the right insights into how your business is doing when it comes to supply.
Inventory Source is an amazing tool that helps you find suppliers, choose products, and sync inventory to your ecommerce platform. I used them with both Shopify and BigCommerce stores and it was a breeze.
You can sync inventory with all of the leading ecommerce solutions, including Amazon, eBay, Shopify, BigCommerce, 3dcart, Magento, WooCommerce, and even Walmart. Inventory Source also offers a connection with over 230 suppliers and the flexibility to add your own suppliers to the platform.
Key Features:

Automation Rules – Easily build and customize automation rules to filters, pricing, and product categories.
Product Data Uploads – Ensure all the product data, including images, titles, descriptions, weights, categories, and more, get uploaded correctly through automation and CSV file creation.
No Price Markup – All the products are listed and delivered at the supplier's price.
User Experience:
You can easily change the view mode to see better the products that each supplier has to offer, which makes it easy to find the perfect products for your store.
You can then add the products you want to sell to your store with just a few clicks.
Pricing:
Inventory Automation begins at $99/month and includes:
230+ pre-integrated suppliers.
25+ ecommerce platform integrations.
Full inventory sync.
Automatic uploading of product data.
You can also get started with a free plan to research their suppliers and view product feeds.
What I Like/Dislike About Inventory Source:
Like:
It allows you to send orders automatically to the suppliers and sync shipment tracking.
Syncs your inventory automatically based on supplier inventory levels.
Easy one-click integrations with platforms like Shopify and BigCommerce.
Leverage inventory data to never sell out-of-stock products.
It offers an extensive range of over 1,000,000 products.
You also get the benefit of 24/7 customer support.
It provides an intelligent system to route orders to multiple suppliers and warehouse management tools to help you minimize delivery time.
Dislike:
When you have numerous firms with various inventory, it isn't easy to manage and increases costs.
Product Updates:
Inventory Automation helps you keep your product inventory updated automatically by integrating with your supplier's inventory.
Get started with Inventory Source.
Best Dropshipping Supplier For Shopify.
Adam's Take
Finding profitable suppliers when running a Shopify business is not always easy. Oberlo gives you the tools you need to get this done. It also comes with shipment tracking and order monitoring features, which are ideal for having complete control over your business.
Oberlo is one of the most popular dropshipping marketplaces to search and source products and works exclusively with Shopify.
It allows businesses to find profitable products and add them to your Shopify store instantly. You can also leverage its in-depth product reports to analyze the product's potential and make the right decision.
Oberlo also allows you to easily buy orders and ship to the customer with just a single click. And you can stay informed with integrated order tracking and status updates.
If you're new to the dropshipping business, you can start with its free starter plan, which allows 50 orders per month.
Key Features:
ePacket Delivery – The ePacket filter allows online sellers to ship only those products that have the fastest delivery.
Customize Products – Easily edit images, descriptions, and titles of the products as per your needs.
Track Sales – Analyze all your sales statistics conveniently through an intuitive sales and costs dashboard.
User Experience:
With various categories already listed on the site, Oberlo makes finding products that fit your niche easy.
You can also add use the left-hand side menu to quickly add products to your store while managing all the various features of your store from the dashboard.
Pricing:
Its Basic and Pro plans cost $29.90 per month and $79.90 per month, respectively. There's also a "Starter" pack that is entirely free and provides all the necessary features.
What I Like/Dislike About Oberlo:
Like:
Leverage integrated order tracking to know the location of your orders.
Instantly switch between multiple suppliers and select the one offering the value proposition.
Manage several wishlists and import products directly from the seller.
You can connect with various user accounts that can authorize others to help with your business.
Creating pricing rules for different products and pricing all products in bulk
Dislike:
Oberlo can be integrated with more e-commerce platforms to make life easier for entrepreneurs.
The browser plugin/addon slags and is challenging to use.
Product Updates:
Oberlo automates most of the process so you can focus on other areas of your business while ensuring that your customers get the best possible service.
Get started with Oberlo.
Best For Online Sellers Who Are Looking to Sell Original US/EU Products.
Adam's Take
If you're looking for suppliers in what are considered to be the top countries (as well as those in the European Union), then I recommend you check out Spocket. This gives your customers faster deliveries than if you were to find suppliers and dropship from other countries.
Spocket is a relatively new dropshipping supplier. It offers smooth integration with both WooCommerce and Shopify. With Spocket, you can easily start a dropshipping business by buying products from suppliers present in the USA and the European Union.
It also gives access to suppliers from Australia and New Zealand. This makes Spocket different from other options as some dropshipping suppliers give access to products sold on AliExpress only.
It also offers a massive marketplace with thousands of listed products. You can also leverage Spocket to procure sample products from several suppliers. All the goods sourced from Spocket come with pre-negotiated discounts to help you earn higher margins on your sales.
Key Features:
Faster Delivery – Since most suppliers are from the USA and EU, products on Spocket ship faster and usually reach customers within 3 to 5 days instead of a longer 30 days time period.
Customer Support – It offers extensive customer support through live chat and email.
Branded Invoicing – It allows you to create customized invoices for easy branding of your business. You can also send a personalized note to the customer to enhance the experience.
User Experience:
With preset filters that allow you to quickly find products that fit your niche, Spocket makes it easy to add products to your store.
You can then get more information on each product, such as supplier information and product reviews, to help you make the best decision for your store.
Pricing:
It offers two paid plans, starting from $24.99.
What I Like/Dislike About Spocket:
Like:
You do not have to maintain an inventory of the product. Make the payment to the supplier only when the customer purchases the product.
It offers a heavy discount range of 30 to 40 percent on all products to help you earn more margin on products.
You can start using Spocket free of cost with trial fees and credit card registration.
It gets synced with your online store and reflects all orders automatically on your application.
It also provides product samples to test the speed of delivery and quality of products before making them live on your ecommerce platform.
Dislike:
A way to automatically change all of the product details doesn't exist, which would be helpful in the various stages of the product lifecycle.
Product Updates:
Available Integrations increased, meaning that Spocket can now be integrated with more platforms to make your life easier.
Get started with Spocket.
Best For Online Sellers That Are Looking For a One-time Payment Plan Dropshipping Solution.
Worldwide Brands give you access to over 16 million certified products through over 8,000 suppliers. With its one-time pricing plan, it offers lifetime access to its vast list of products and sellers. Hence, it's a great value proposition if you plan to stick to the dropshipping business for a longer period of time.
Key Features:
One-Time Cost – It offers a one-time cost for all its features. You can also pay the price in three easy installments if you don't want to shell out the entire money in one go.
Mobile Apps – It offers native iOS and Android mobile applications to help you search for the best products on the go.
No Minimum Order – You can order as little as you want. This means you don't have to hoard unnecessary articles in your warehouse.
Pros:
It provides a refund within 60-days of the purchase if you paid the amount in full. However, if you made the payment in installments, then you can claim the refund within 30-days.
It's BBB A+ Rated, and WBI certified to offer powerful security to its customers.
It offers extensive customer support via email and phone calls. Its phone lines are open Monday to Friday from 9 a.m. to 5 p.m on 1-877-376-7747.
All its suppliers get verified under stringent guidelines to eliminate the possibility of duplicate products.
It allows you to do business with multiple suppliers from central locations.
Pricing:
Its one-time fees cost $299. You can also pay in three easy installments of $99, and then $100 twice.
Get started with Worldwide Brands.
Printful is Best For Businesses That Want To Sell Custom Branded Apparel, T-shirts, and Merchandise.
Printful is a great dropshipping supplier, especially if you want to create and sell custom and print-on-demand products. The print-on-demand service offers easy-to-use design tools to create customized apparel and accessories within minutes. Moreover, it's a great way to start generating some extra income with zero investment.
When the customer places the order of your customized product, it gets sent automatically to Printful for printing, packaging, and shipping. Also, all the products get shipped in your brand's packaging to make it appear as if you shipped the product.
Key Features:
Warehousing & Fulfillment – Easily store all your orders in Printful's warehouse and ship them directly to your customers.
Integration – It offers extensive integration with multiple ecommerce platforms, including Shopify, Wix, WooCommerce, BigCommerce, and Squarespace. You can also integrate it with online marketplaces, including Amazon, eBay, and Wish.
Flexible Payment – You don't need to pay monthly fees. Just pay for shipping and fulfillment after you receive the order.
Pros:
It doesn't provide any minimum capping, so you don't have to struggle with unsold inventory anymore.
All the shipping gets facilitated under your branding, including custom labels and pack-ins.
It offers reliable and cost-efficient shipping options.
It ensures global deliveries at a faster pace through its fulfillment centers located in North America and Europe.
Printful provides both iOS and Android mobile applications to help you easily manage your orders.
Pricing:
It's available for free. Pay only after receiving the order to cover fulfillment and shipping.
Want to dive deeper into Printful? Here is my Printful vs Printify comparison post.
Get started with Printful.
8. Doba.
Best For Online Sellers Who Don't Want to Manage Dropshipping Suppliers.
Doba offers a product catalog of millions of products from which you can instantly upload products on leading ecommerce platforms and marketplaces. With Doba, you can easily identify hot and trending products, manage the product catalog, and track the location of your orders.
It also gives three easy options to find suppliers and products, including product feeds, a list of products, and the search option. On top of that, it allows you to filter the products by categories, brand, supplier, price range, or search them alphabetically. You can also build your own inventory of products that you are interested in selling. It's like a custom catalog that allows you to save and revisit products whenever required.
Key Features:
Data Management – You can easily export your product information into several formats, including spreadsheets. You can also import the data in multiple third party formats to easily upload the data on ecommerce platforms, including eBay and Amazon.
Educational Resources – If you are new to the platform, you can leverage its free helpful educational resources, including blogs, infographics, tools, whitepapers, and guides to understand the dropshipping business.
Customize Inventory – It helps you customize your inventory easily by letting you keep track of it, reviews all your storage at a glance, and more.
Pros:
Get automatic low inventory notifications to avoid taking orders more than the availability of products.
It offers extensive integration with over 100 shopping carts to list all the products on your eCommerce applications automatically.
Pay to the supplier only after selling the product to the customer.
It gives a list of top 30 products in each category with a total of 270 products to help you tap the pulse of the market.
It gives you a private FTP (File Transfer Protocol) to handle large data packs efficiently.
Pricing:
Its Startup, Business, and Enterprise plans come at $14.99, $29.99, and $249.99, respectively when paid annually. You also receive a 30-day free trial.
9. Sunrise Wholesale.
Best For Online Sellers Who Want To Sell Branded Products Globally.
Sunrise Wholesale dropships products right at the doorsteps of your clients. It offers efficient integration with top ecommerce platforms, including Amazon, Shopify, eBay, and BigCommerce. On top of that, it offers thousands of products in over 20 categories, including home decor and electronics. Sunrise Wholesale even lets you export the product details to Amazon, eBay, or your own website.
Sunrise Wholesale offers access to a website-building application that enables efficient integration to fill in the product list if you want to sell products through your own application. You can also browse its constantly updating inventory to gauge the relevance of your products in the market.
Key Features:
eBay Wizard Tools – Easily post products on eBay while connecting with five accounts simultaneously. Populate all the information for listings, fulfill orders with a single click, analyze, and track orders.
Sale Analyzer – Leverage its intuitive sale analyzer tool to track your sales' different metrics in one place.
Amazon Manager – It lets you automatically update prices, quantity, and products. Plus, you can easily fulfill orders, gauge product trends, and track orders efficiently from a centralized place.
Pros:
It offers over 100 hundred custom templates to help you customize your website.
You can build SEO-enabled and social media-compatible ecommerce stores.
It automatically updates product listings to save tons of time for more essential tasks.
It also automates tasks such as generating orders and tracking numbers.
If you're a BBB member, then you get additional benefits like live chat and email support.
Pricing:
Monthly membership costs $49.00.
10. Wholesale 2B.
Best For Businesses Looking For A Commission-based Pricing Model.
Wholesale 2B curates products from some of the best dropshipping companies under one single platform. It provides access to over 1.5 million products at competitive prices from over 100 certified sellers.
It provides you with impressive tools to assist you in selling your products, along with product content data and sales & inventory analysis. You also get direct integration with multiple online sales platforms, including Amazon, eBay, and Shopify.
With Wholesale 2B, you can also create a new online platform with multiple profitable products. It also enables you to easily find products and list them through its searchable inventory enabled by UPC, keyword, and ASIN. The good news is that you get access to all the product lists without paying any fees.
Key Features:
Automation – Automatically import the selected products, sync all inventory or price changes, add new product listings, and remove discontinued products to keep your application up to date.
Order Tracking – It automatically imports your orders and enables you to process them without any manual effort. You don't have to deal with suppliers either since it processes all the orders directly.
Real-Time Integration – It offers real-time integration with ecommerce platforms like Magento, Shopify, and BigCommerce.
Pros:
It offers an extensive range of customized plans to meet the specific requirements of different businesses.
It provides in-built eCommerce marketplace integrations with eBay and Amazon.
It Offers eCommerce website development service with product integration.
You can target best products and categories through its actionable sales analytics data.
Pricing:
There are three plans available:
Import to your existing store: $29.99 per month
Import to marketplaces: $39.99 per month
They create a store for you: $49.99 per month
11. Wholesale Central.
Suitable For Online Sellers Looking A Straightforward Platform For Dropshipping.
Wholesale Central's website doesn't offer an excellent user interface but means business. It provides over six hundred thousand listed items sold by over 1000 wholesale suppliers. You just have to click on the name of the listed dropshipper to view their details.
Other than this, the user interface is simple to use, and you can leverage it to start a dropshipping business even on a shoestring budget. It offers a simple design and multiple search options to help you find trending and relevant products. However, there is no customer support available with Wholesale Central.
Key Features:
Free to Use – All its services are available for free. You just need to share your email address to leverage its premium services.
Capable Sourcing Tools – It offers multiple ways to source the latest supplies and products. Its smart sourcing tool facilitates suppliers and sellers to collaborate easily on the platform.
Clear Navigation – Clearly listed products and categories save a lot of time by helping you find the right product quickly.
Pros:
It regularly updates the Deals & Steals section to help sellers earn more margin on products.
It published a monthly online magazine for traditional and online stores to help them find the latest product offerings and learn the nuances of successfully running an online business.
The product locator feature helps you contact suppliers for products that you are unable to find on the portal.
It charges $399 every six months from suppliers to maintain a credible list of manufacturers.
Pricing:
It's available for free.
12. Megagoods.
Suitable Option For Online Sellers Who Want To Sell Electronics And Consumer Goods.
Megagoods offers an inventory of over 2000 electronics items and is a low-cost solution to run a dropshipping business. While it has a lower range of products, it's a good option if you want to specialize in a niche. Plus, this LA-based company offers a 30-days free trial and an affordable subscription for small businessmen.
Its suppliers' list also includes some of the credible brands, including Boss, Disney, and Revlon. It also offers international shipping but only after taking the advance payment of the goods.
Key Features:
Payment Methods – It offers multiple payment methods, including Credit Cards, PayPal, Debit Cards.
Fast Shipping – It offers fast delivery of products within the alibUS through FedEx, and USPS is available for PO boxes.
Extensive Support – It offers reliable customer support through phone calls, email, or snail mail. The support team is highly responsive and provides a shorter turnaround time.
Pros:
It provides custom data export support to easily list your products on different platforms, including Amazon and eBay.
It offers an extensive FAQ section to help users get all the relevant answers.
All the refurbished items sold through Megagoods come with a 90-day manufacturer's warranty.
Its web app offers a simple layout for a more indulging customer experience.
Instead of listing everything, it focuses on bringing credible brands to the platform.
Pricing:
It offers a 30-days free trial, and after that, it costs around $15 per month.
13. Modalyst.
Best For Online Sellers Who Want To Run Their Business On Auto-pilot With Minimal Effort.
Modalyst can help your ecommerce business transform seamlessly into a successful dropshipping online business. It offers instant access to leading dropship suppliers in the USA and Europe. You also get access to billions of profitable products listed through its official AliExpress Dropshipping partnership.
It's a great option for businesses looking to drop ship high-quality and unique products from US/EU based suppliers. It offers several categories of unique products, including eco-friendly and made in USA products. It also allows sellers to contact directly with the supplier and help them create relationships with different brands.
Key Features:
Luxury Brands – It offers an expansive list of luxury brands with worldwide delivery and faster shipping in the USA.
Extensive Integration – It offers smooth integration with BigCommerce, Wix, and Shopify. It is also the only dropshipping application on the Wix app marketplace.
Private Label Dropshipping – With this service, sellers can sell products with their own branding. It sources all the products from Savoy Active only.
Pros:
It enables customers to track the location of the product quite easily.
It's the only automated dropshipping application for Wix.
You also get smooth integration with Shopify's KIT to render smart recommendations to customers.
All the products get stored at the nearest warehouses to enable quick delivery.
It offers free shipping to the USA for orders above $49.
Pricing:
Initially, it offers a freemium plan that comes with all the basic features. The paid plans start from $30 per month on the yearly plan.
14. Dropified.
Best For Online Sellers Looking To Sell Products Through Aliexpress In An Automated Mode.
Built by Shopify, Dropified makes dropshipping a wholly automated task. It offers a powerful research tool to help you find profitable products and instantly import them into your dropshipping store with a single click.
It also offers a detailed video training program through which you can learn the art of driving traffic towards your website. On top of that, it enables you to quickly build a brand of your products and start selling them instantly.
Key Features:
Faster Global Shipping – Dropified is the only dropshipping platform that promises faster shipping of products globally. It delivers products within days instead of weeks.
Big Margins – It offers big margins of up to 300 percent on USA-made high-quality products.
Advanced Product Research – Automate product research to find profitable products for your business.
Pros:
Instantly add products from eBay, AliExpress, and other leading online platforms.
Increase credibility and conversion rate by importing product reviews of sellers from AliExpress.
It also allows you to automatically send placed orders to suppliers for faster fulfillment services and shipment.
It offers a 60-days eCommerce training to help you run a profitable online business.
Pricing:
It provides three pricing plans, starting from $19 per month and ranging up to $47 per month (both billed annually). There is also a free plan that is 100% free.
15. Dropship News.
Best For Online Sellers Looking For A Free Online Directory Of Dropshipping Suppliers.
Dropship News offers an expansive list of over 126 dropshipping suppliers, and the list gets updated regularly. They have stringent verification norms, and the suppliers are always credible to help you run the dropshipping smoothly.
All the information related to the suppliers is readily available on their profile. As a will help you save a lot of time that you would waste while researching relevant information from different suppliers. To gain access to the platform, you are not required to pay any fees.
Key Features:
No Registration – You don't have to register to gain access to the platform.
Free Resources – It offers a lot of free guides and other learning resources to help you become well-versed in the dropshipping business.
US-Based Suppliers – If you are looking to sell high-quality products from US-Based suppliers, it offers plenty of credible names.
Pros:
It offers a Shopify tutorial to help set up an online store easily.
It also has a self-help group on Facebook where you can quickly resolve your queries and problems.
Dropship News offers detailed guides on eCommerce, setup, and other nuances of online business.
It's also affordable for budding business owners with no experience in dropshipping.
You can follow its long-read blogs to stay notified about everything happening in the dropshipping space.
Pricing:
It's available for free.
16. AliExpress.
Best For Online Sellers Looking To Gain Access To An Unlimited Number Of Products.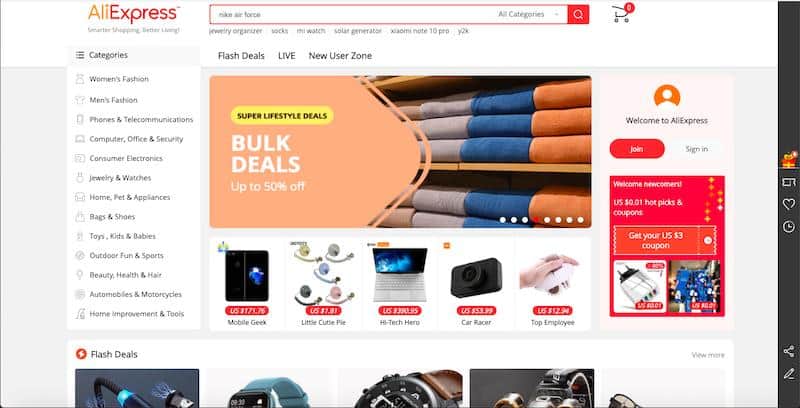 AliExpress is one of the largest dropshipping suppliers in the world. It offers access to thousands of sellers and millions of products for dropshipping. Since most of the products get sourced from Chinese suppliers, AliExpress offers ridiculously low prices and gives you the potential to earn large margins.
You can place orders with suppliers through secure online transactions, and the product gets delivered within a few weeks. The good news is that it doesn't charge any extra amount for shipping.
Key Features:
60-Days Warranty – If your product does not get delivered within 60 days, AliExpress guarantees to return the entire amount instantly.
Free Shipping – It offers free shipping to any address in the world. The only downside is that it takes a lot of time for products to reach the customer.
Payment Escrow – Payments get released to the supplier only after the delivery of the consignment to AliExpress for shipping.
Pros:
AliExpress's customer support is highly responsive and helps you connect with your supplier in case of any issue.
The prices of products listed on the platform are up to 80 percent lower than other platforms.
It offers a powerful order tracking mechanism to help you track the location of your order.
Given the scale of AliExpress, you can order in large quantities without any hassle.
There's no minimum order capping.
Pricing:
It's entirely free.
17. National Dropshippers.
A Good Option For Businesses Looking To Dropship Only The USA-made Products.
National Dropshippers provides the list of suppliers and products that help you earn larger margins. It comes equipped with affordable plans and also offers a 7-days free trial. If you don't want to pay recurring fees, you can use its lifetime membership plan.
On top of that, it offers an extensive listing of thousands of the products provided by several suppliers and manufacturers. The pricing range of National Dropshippers varies between 33% to a whopping 66% below MSRP to help sellers earn handsome margins.
Key Features:
Large US-Based Product Range – It offers a large range of over 100,000 products manufactured or supplied by American businesses. All the products are superior in quality than other drop shippers.
Tracking Code – It automatically generates a tracking code of each order to help you track the location of orders.
Refunds – It refunds the entire amount in case the orders run out of stock and replaces damaged and defective items.
Pros:
It's an excellent option for people who want to sell high-quality products manufactured in America.
It offers excellent margins on products.
National Dropshippers provide reliable customer support via email or telephone.
It comes with a simple user interface with no complexities.
Search Bar is capable of displaying relevant results based on keywords.
Pricing:
It costs $19.99 per month. You can also buy its lifetime plan for $199.
18. Dropshipper.com.
Suitable For Business Owners Who Want To Sell Jewelry And Beauty Products.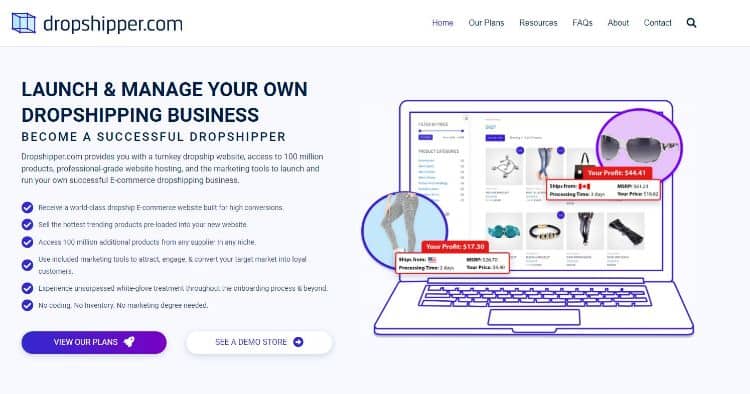 Dropshipper.com offers a wide range of products like jewelry, cosmetics, and electronics. The platform has over 800 suppliers, with over 100 million listed products. It provides both lifetime and recurring plans to access the list of products and suppliers on its platform.
You can also leverage Dropshipper.com to buy your domain name free of cost and start your eCommerce website quickly. It also offers automation and marketing tools, such as email-opt-in, live chat, and abandoned cart recovery, to boost your application's conversion rate.
Key Features:
Email Marketing Platform – It offers a fully functional tool for email marketing to help you reach the maximum number of customers across the globe.
Facebook Sales Accelerator – Easily install the Facebook pixel, automatically upload your product catalog, and create an online shop on the Facebook page. It also enables you to run dynamic ads on Facebook.
SEO Tools – It offers capable SEO tools to help your eCommerce website rank higher in search engine result pages and drive more traffic.
Pros:
Efficiently import products from AliExpress to sell on your platform.
Capture user email from abandoned carts to boost conversion.
Enhance customer experience with the live chat feature.
Leverage affiliate marketing tools to diversify your revenue stream.
Ship customized products under your brand.
Pricing:
The pricing plans start from $299 per month.
Notes: another platform not yet reviewed for this list is Dropship Direct.
What Are Dropshipping Suppliers?
In the dropshipping business model, the retailer doesn't need to stock any goods to start an ecommerce business. They are only responsible for taking orders from the customers and acting as a middleman between them and the respective product suppliers.
Here's how dropshipping works:
Dropshipping suppliers are a vital cog in any dropshipping business and are responsible for the delivery of the ordered products within a stipulated time. The customer orders get forwarded to them by the retailers, and dropshipping suppliers directly ship the products to the customer with the help of their distributors.
What Should You Look For When Choosing a Dropshipping Companies?
Different dropshipping companies have different unique features or niches they are best for. For example, some may have a wider selection of consumer electronics or video games, while others excel with dropshipping wholesalers in the home and garden industry.
However, there are some standard features that each dropshipping supplier should offer:
1. Regional Base.
Speed is an essential consideration in the dropshipping business. And more often than not, clients prefer suppliers based out of the mainland United States or the UK.
That's why you should choose a dropshipping platform that can help you zero in on these suppliers, like Inventory Source. That way, you can avoid shipping every item from China or India which could take weeks.
2. Trial Period.
A lot of dropshipping suppliers charge you to look at their inventory. Sometimes you just want to preview what's available without signing up for a complicated service. That's why you should choose a dropshipping service that gives you a free trial period.
For example, SaleHoo and Inventory Source both allow you to sign up for free to preview what they offer.
3. Supplier Scorecard and Prices.
With intense competition in the market, it's wise to read up on third-party reviews about the suppliers you want to work with. Supplier scorecards are a great way to do that. They provide you access to specific details like fulfillment rates, wholesale prices, average processing times, shipping times, and costs so that you can make an informed decision.
You need to ensure your pricing provides a good profit margin after you factor in the cost of goods sold (COGS) and shipping costs.
4. Reliable Support.
It's essential to partner with a supplier that values time, customers, and their relationship with you. Worldwide Brands & Oberlo are great examples of service known for their fast turnaround time in providing client solutions and 24*7 support.
5. Integrations With Other Ecommerce Platforms.
You want to spend the least amount of time managing your dropshipping and ecommerce platform so that you have more time to market your business.
Look for a dropshipping tool that offers extensive integrations with ecommerce platforms. For example, Printful offers integration with Wix, WooCommerce, Shopify, Squarespace, and more. Whereas Oberlo works exclusively with Shopify.
6. Reporting and Analytics.
To succeed in today's market, you need a proper tool that can tell you how your eCommerce store is performing, conduct detailed statistical and analytical calculations, and generate actionable insights.
7. Product Quality and Custom Branding.
Even though you're selling products from other brands, you need to ensure the unboxing experience matches your brand standards. For example, you should check to see if your dropshipper can add custom inserts with your brand name, messaging, customer coupons, and other branded elements.
Summary.
The dropship supplier you choose is likely to play a crucial role in starting your dropshipping business.
Every dropshipping supplier comes with its unique set of capabilities. However, you need to select an option that aligns the best with your ecommerce tools, budget, and product selection.
For instance, you should go with Oberlo if you're already a Shopify merchant. Or you could use Spocket if you're looking for custom US and EU goods.
Ultimately, I recommend you go with SaleHoo or Inventory Source, as they are the best dropshipping suppliers on the market.
Make sure to review different companies carefully before making your final choice.
Which supplier do you plan to use for dropshipping? Let me know in the comments below.
Disclosure: I may receive affiliate compensation for some of the links below at no cost to you if you decide to purchase a paid plan. You can read our affiliate disclosure in our privacy policy. This site is not intending to provide financial advice. This is for entertainment only.