How to Stream on Twitch in 2023 (Step by Step Guide)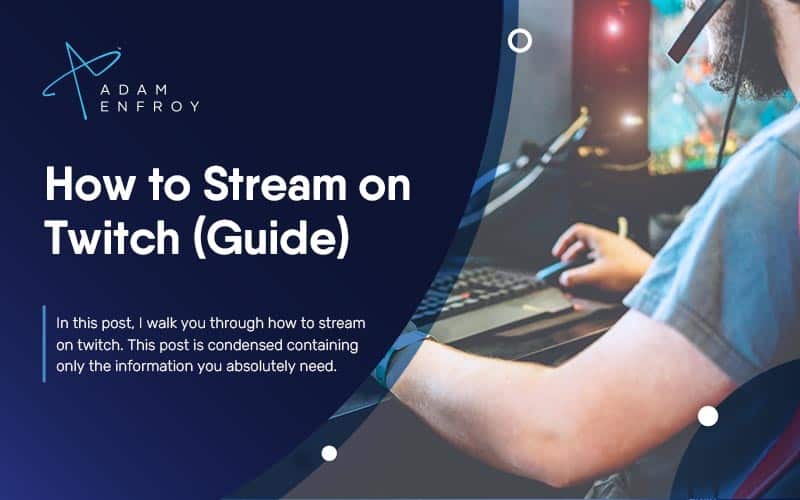 Twitch is the king of the online live streaming arena.
Statistics suggest that 9.6 million unique creators stream on Twitch each month.
Other platforms have tried to compete and even YouTube, known for video hosting, has tried to lure in top gamers but all of them have failed to overtake Twitch.
However, many creators think that you have to play video games to start streaming. But nothing could be further from the truth.
Anyone can stream anything on Twitch – from cooking shows to painting and producing audio content to playing music. It's a great way to share knowledge, connect with a community, and make some extra cash too.
And you don't specifically need to be an expert or own a gaming PC/console to stream. You can go live in minutes using Twitch with your mobile device, Mac, or a PC combined with streaming software.
This ultimate guide will take you through the detailed process of how to stream on Twitch in 2021.
Overview.
Twitch.tv is a live video streaming platform that allows users to upload and watch various online streams in different genres: gaming, creative arts, music, yoga, karate, and more.
It's where streamers from around the world come together to create a community, share tips, and collaborate on creative projects.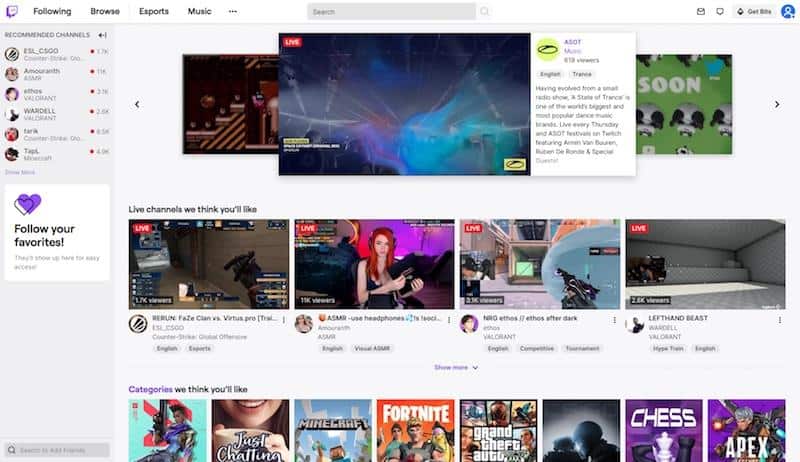 The platform was founded by Justin Kan in 2011 and gained 45 million unique visitors by October 2013.
Predicting the vast potential, Amazon acquired the platform by August 2014. It continued to grow – with 55 million users in 2015, rising to 140 million unique visitors every month in 2020. Today, it's one of the largest streaming services on the internet.
Some of the most popular streamers made names for themselves on the platform over the years, such as Dr. DisRespect or Shroud.
Some movies even ended up being a promotional thing for Twitch streams. For instance, Avengers Infinity War saw immense popularity on Twitch for weeks after the release.
Why Stream on Twitch?
Here are some of the reasons why you should stream on Twitch:
Twitch's programming interface is designed for streaming purposes. The platform's interface provides native integration with Live: Air Solo, making it easy to connect it to your account.
After the latest update, Live: Air now has a new tool called the Twitch chat – integrated into the bottom of Live: Air's main interface. It helps you interact with viewers while broadcasting live.
The broadcasting software automatically segments your streams into different categories to direct interested audiences to your content.
Getting Started With Twitch.
There are specific settings and configuration options before you finally start broadcasting.
Here's a step-by-step process on how to stream on Twitch:
1. Create Your Account.
Creating an account is easy. But before that, make sure to read the Terms and Conditions and Community Guidelines. This will tell you all you need to know about the site and each function on it.
Make sure to obey the rules and guidelines. The moderators are serious about using this tool responsibly. If you get banned, there is no official way to get unbanned. Your account will be irrelevant, and you might have to start over with a new IP address and account altogether."
To create an account via desktop, go to the official website.
Once you're on the homepage, just click "Sign Up" and fill out the fields with your personal information.
You will see the Log In / Sign Up screen. Fill out the Sign Up form with the necessary details, including username, password, email address, and date of birth. You can also choose a display name if you don't wish to use your real name for your channel.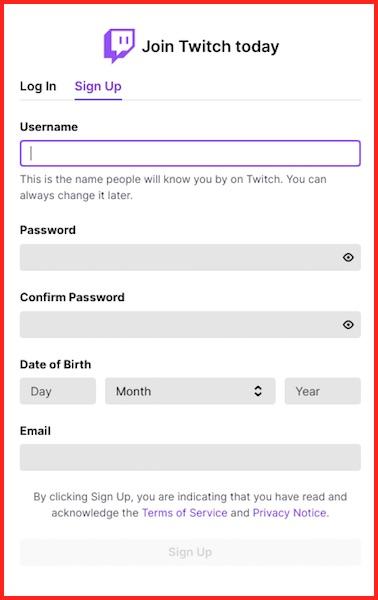 For the mobile Sign Up, download the Mobile App for your device and install and launch the app.
Click on the Sign-Up button. You can either sign up using your mobile phone number or email address. Twitch recommends signing up with your phone number and then adding and verifying your email.
Verifying your email will allow you to:
Receive email notifications.
Access your account if you lose your mobile details.
Chat in other channels that require email verification.
If you wish to sign up with an email address instead, click on the "Use email instead" option.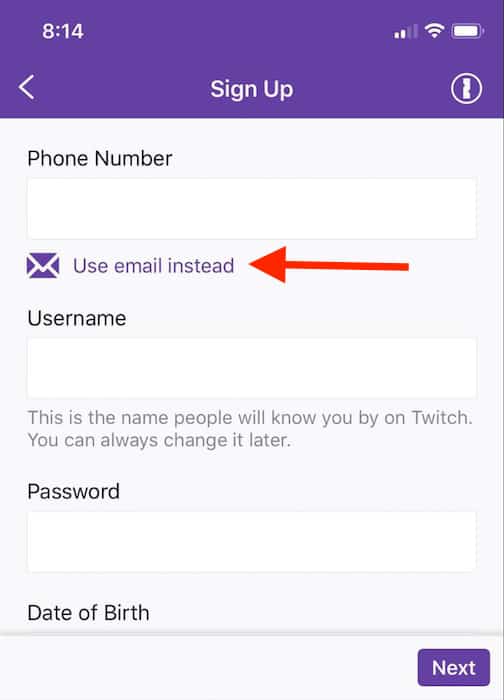 After you enter the details, click on the "Sign Up" button. You will receive a one-time password (OTP) in the form of a six-digit code via SMS or email to confirm the phone number or email address you provided.
Once you become a user with a verified email on your account, you can also create additional accounts. You'll just need to enable a setting in your security settings section in your dashboard.
2. Set Up Two-Factor Authentication.
Twitch makes 2FA obligatory to protect your account from unauthorized logins. And note that you won't be able to stream unless you enable two-factor authentication.
However, you can't enable Two-Factor Authentication unless you verify your email account first. If it's confirmed, go to your Security and Privacy settings page from your desktop.
Select "Set Up Two-Factor Authentication" and choose the "Enable 2FA" option.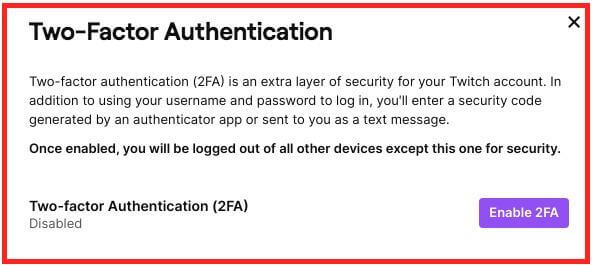 Next, enter your phone number and then click on the "Continue" option.
Now check your phone for the 7-digit verification code you will receive via text and enter it. Select Continue
If you are using an authentication app, you will need to scan the QR code displayed with your phone camera. You can even skip this step and use SMS instead.
For QR code, You can download an authentication app from your phone in any app store.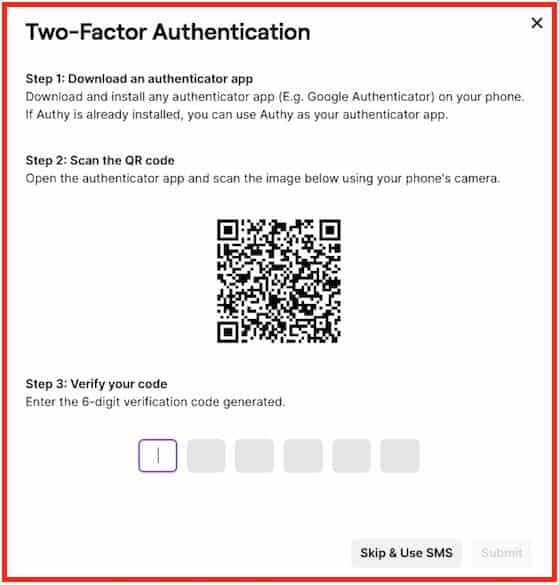 Once you scan the QR code, enter the six-digit verification code created in the authentication app and hit the "Submit" option.
Finally, your account is now secured with Two-Factor Authentication (2FA).
3. Pick The Right Streaming Software to Live Stream on Twitch.
Software is one of the essential parts of streaming if you're streaming from your PC. It's what allows you to connect your webcam to stream, play a game, broadcast online, and talk to your viewers.
Some of the prominent choices for software are:
Twitch Studio
OBS Project
Streamlabs OBS
XSplit
Vmix
Elgato Game Capture
Live Gamer Extreme
Lightstream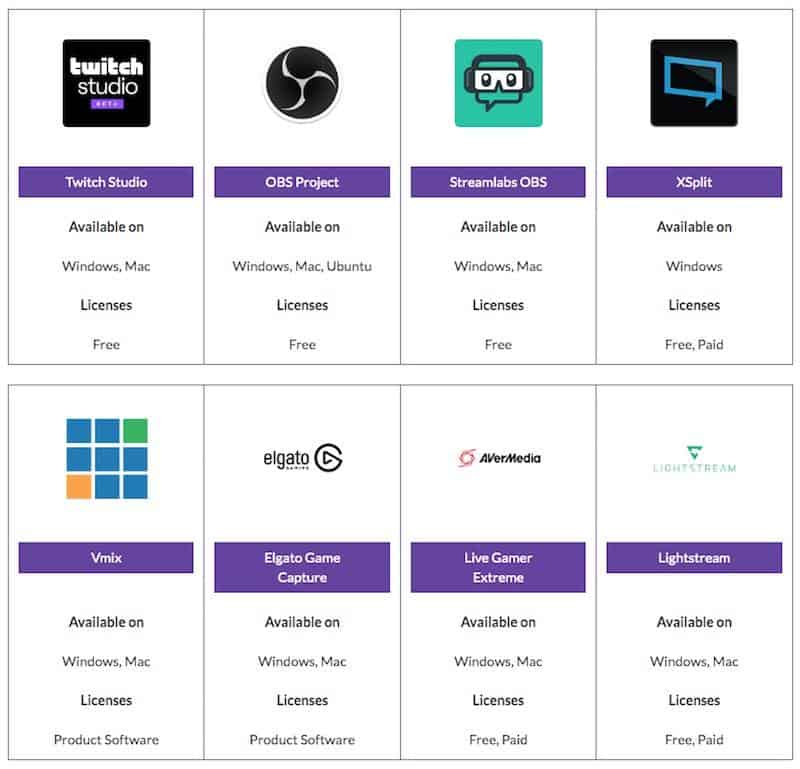 Twitch itself recommends these platforms for beginners and first-time broadcasters. There are both free and paid software encoders.
Here are some of the main features of live streaming software to look for:
Compatibility – Is the streaming software compatible with a variety of platforms? You should be able to stream to Twitch, YouTube Live, Facebook Live, LinkedIn, Twitter, and more.
Customization – Check whether the software's customization options and functionality meet your requirements.
High-performance Integrations – Integration with third-party apps and plugins is crucial.
Customer Support – Support is a bonus since you never know when you might get stuck.
Easy to Set Up And Use – Pick the live streaming software with an intuitive interface that makes adding channels easy.
The software you choose depends on several factors. However, OBS Project, Streamlabs OBS, and XSplit are some of the popular ones you can check out.
Here's a brief overview:
XSplit – XSplit is the easiest to use, but it's only available on Windows. It provides smooth setup, 24/7 customer support, and multiple customization options. You can use it to stream on Twitch, YouTube, Facebook, Mixer, Twitter, and more.
Open Broadcaster Software (OBS) Project – It's an open-source platform compatible with Windows, macOS 10.13+, and Linux. The initial setup will take more steps than XSplit, though.
If you're entirely new to streaming, you can use Twitch Studio – Twitch's own streaming software. The free streaming software is designed especially for new creators to share content with a community. You'll find it right into your dashboard.
You'll even get access to the guided setup process, customization options, and customizable templates.
4. Pick The Right Hardware To Live Stream.
You must have a reliable hardware system for streaming on Twitch.
Don't worry about getting the newest CPU generation or the latest model DSLR to broadcast on the platform, as it doesn't support 4K streaming. However, it needs to be up to the mark.
Here are some of the hardware recommendations:
Computer.
Use a computer that can let you stream without any hiccups, especially if you plan to stream heavy PC games. A functional computer with solid performance is sufficient for a good streaming experience.
Your computer should also quickly encode your video and audio and send it to Twitch to broadcast.
Laptops.
Choose a laptop if you are going to be traveling or streaming in high-traffic areas. These laptops will be more expensive than a standard laptop, but they will be worth every dollar.
Twitch recommends the following PC laptops for streaming:
ASUS TUF Gaming Laptop, 15.6" (Basic Laptop).
ASUS ROG Strix Scar II Gaming Laptop, 15.6" (Midrange Laptop).
MacBooks are also a popular choice among creators, especially musicians. They are better when you're going to spend several hours a day on your laptop.
Twitch suggests MacBook Pro 13" with 1.4GHz 8th Gen i5 128GB Storage.
However, you need an additional USB C Hub Adapter with Ethernet, HDMI, and USB 3.0 ports to stream with a Mac.
USB Interfaces / Mixers.
You'll require an interface or mixers with a USB output to hook up your audio equipment to your streaming computer.
Here are some popular options:
Yamaha AG03 (Basic Mixer)
Focusrite Scarlett 2i2 (Basic Interface)
Yamaha MG10XU (Midrange Mixer)
Mackie ProFXv2 (Midrange Mixer)
Steinberg UR44 Audio Interface (High-End Interface)
Microphones.
Microphone quality is vital for streamers, as you need something that can pick up your voice. Your voice has to be audible for viewers to understand what you are saying.
The most popular streaming microphones are:
Blue Yeti (Basic Condenser)
Audio Technica AT2020 (Mid-Range Condenser)
The AT2020 from Audio Technica is the standard for streaming mics since it got released in 2004. Users love this mic because not only is the sound quality great, the collapsible design makes it easy to carry.
The Blue Yeti is a favorite because of its large-diaphragm condenser mic and multiple pickup pattern settings. It's quiet enough to capture your every breath while positioning it in front.
Besides, entry-level mics like the Blue Snowball are also great.
Cameras/Webcams.
You can use your laptop's built-in camera or dedicated capture cards linked to high-end cameras or settle for a DSLR. I'd recommend using simple webcams that don't need a complicated setup.
Some popular options are Logitech C920, Razer Kiyo, and Logitech Brio.
Lighting.
Bright lighting is essential for a high-quality stream. Lighting should also be even across the streaming area, giving viewers a bright, clear picture of your face and gameplay.
Digital cameras alone won't give you the best results if your room is dimly lit. Use natural lighting instead to give your stream a warm glow.
Some people use white lamps with built-in reflectors underneath, and others replace their windows with plexiglass panels. Softboxes with LEDs are also a great choice.
Stands / Mounts.
Those who want to stream from their computer rely on cameras they can mount on a tripod.
Some suitable options for mounts are:
Desk Mount: RODE PSA 1
Desk Stand: Gator Frameworks Short Weighted Base Microphone Stand
Other than this, you might also require a green screen to broadcast yourself on a wide range of different backgrounds. You can make any location into your own personal channel, and followers won't have to watch you streaming from your bed.
You'll also need a headset, a reliable internet connection, dual monitors, graphic cards (like Nvidia's 1660 Ti), and more.
5. Customize Your Channel.
Before you start streaming, you have to configure your account and customize some elements of the channel.
Start by setting up Title, Category, and Notification for your stream.
You can make all these modifications from the Settings option in your dashboard.
When you customize your channel, new viewers will know who you are when they discover you. Modify your profile photo and bio from your smartphone as well as the desktop. You can also customize several additional settings through your web browser.
Make sure to add an attractive banner and some panels as well. It will give your viewers a better understanding of what you are going to stream. Plus, it can help you redirect viewers outside the Twitch platform with external links.
When it comes to the panel's size, keep it to 320 x 160 pixels.
Here are some of the best panel makers to choose from:
Nerd or Die – It's a free panel maker that offers plenty of Twitch panel templates and designs. You will be able to customize colors, icons, fonts, text, and sizes. It's also easy to use but needs pre-installation.
Snappa – This panel creator offers more than 4,000,000 templates. You will also be able to design Twitch banners, YouTube thumbnails, video arts, and more.
Broadcast to Twitch.
Now that you have everything in place, you can finally start streaming. You can go live from your Mac/PC desktop or laptop, smartphones, or from a web browser.
1. Live Stream from your Twitch Account with Mac/PC Desktop.
Start by downloading streaming software such as Twitch Studio (PC/Mac), XSplit, or OBS Project (PC/Mac) to offer your audience superior audio quality.
I'm using OBS Project to demonstrate the process of live streaming to Twitch.
Start by downloading OBS from OBSproject.com.
After installing OBS, your first step is to grab your "Stream Key" from your Twitch account. This is a unique code that you'll have to enter in OBS to link it to your Twitch channel.
You can easily find it under the "Settings >> Stream" option from your Creator Dashboard.
Copy your Stream Key to paste it into the OBS settings later on.
Note: Don't share your key with anyone. Anyone with your stream key can stream to your channel.
Now head back to OBS.
Select the "Settings" option, then "Stream," and then finally select Twitch from the drop-down menu. Finally, paste in your Stream Key.
Now OBS will be able to show your stream to your audience.
However, you need to configure your OBS before that.
First, you need to specify what bitrate you want to use for your video stream. The higher the bitrate, the better will be your video quality. However, this will also require a higher upstream connection.
You can use this chart to determine the Encoding, Bitrate, Resolution, and Framerate settings to get the right balance.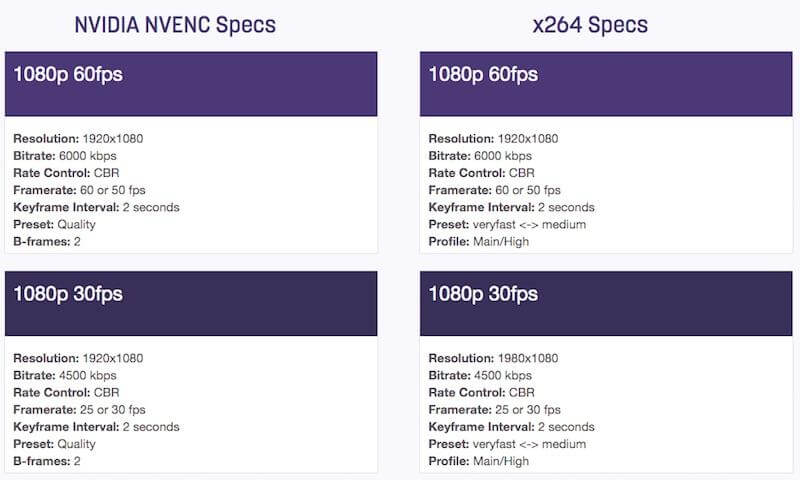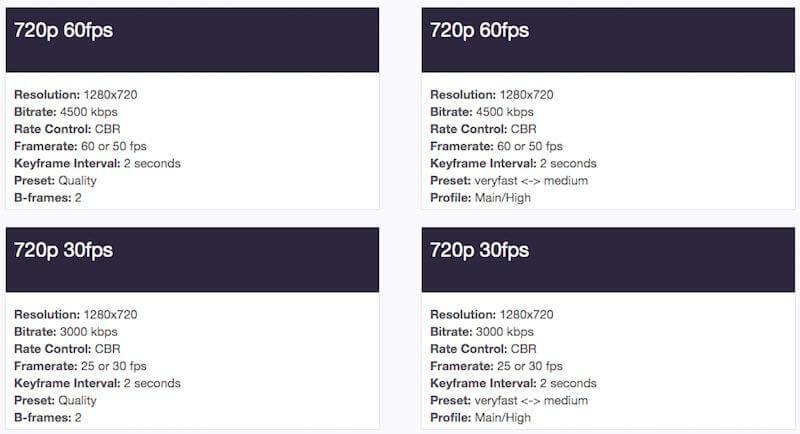 Next, enter the base resolution ( what you're running your stream at) and the output resolution (the resolution of the stream) in the Video Tab.
Now, change the configure the Audio tab, right above the Video tab.
Here, set your Sample Rate to 48khz and specify whichever speakers and microphone you want to use.
Once you get through these broadcast settings, it's time to configure the scene your users will view.
Now you have to configure three essential things:
Your webcam
The show or game you're streaming
The audio from your microphone
We'll create a "Source" for that.
Click on the "+" icon from your main OBS window. This will be a part of the window you'll be streaming.
You'll get different options here for various types of streams:
Display Capture – to capture the entire display (but not a game).
Game Capture – to capture games in fullscreen.
Window Capture – to capture a specific application you are using.
Next, select a capture mode to your liking and choose OK to add the source.
For instance, if you're live streaming a game, have that game window running already and select Game Capture. Drag the game to make sure it takes up the whole screen in the main OBS view.
Next, configure your webcam by going back to the "Sources" list and then selecting the "Video Input Capture" option. Finally, specify the webcam you are using.
You're now all set to begin streaming.
However, I'd recommend testing your microphone, audio levels, and other settings first. Ensure that your audio levels aren't too high or too low.
You can also adjust the sliders under the "Mixers" option to reconsider the settings. Finally, start recording to make sure everything is just the way you want.
These were the basic OBS settings. You can also go through this in-depth guide to stream on Twitch with OBS.
Alternatively, you can also use Twitch Studio to set up your stream and go live quickly. The platform has a Twitch Studio tutorial that will guide you through the process of setting up your webcam and audio inputs.
You can also opt for the Streamlabs OBS software to connect your Twitch account and set up your stream. The platform also offers a brief tutorial.
2. Live Stream Using the Twitch App.
To live stream from your smartphone, download the Twitch app for iOS or Android.
Next, log into your account and click on your profile icon from the top-left corner of the app.
Finally, click on the "Go Live!" button to start streaming.
This is the fastest way of going live using Twitch, and you don't need any special hardware or software equipment either. Only your phone camera and microphone will suffice.
You can also opt for Dolby On for iOS or Android to enhance your live stream's audio quality on your phone. Dolby On is a US-based free recording app with Dolby audio technology.
To start streaming, sign in to your Twitch account and sync it with the Dolby On app. Finally, start streaming by clicking on the Go Live button.
Integration with Dolby On will result in enhanced audio, noise reduction, and dynamic EQ. Keep your phone with the Twitch app or computer handy so that you can interact with your community and respond to the chats simultaneously.
3. Live Stream to Twitch From Your Web Browser.
You can also go live without installing any extra software from your web browser using Lightstream Studio. Lightstream allows you to invite guests to your live broadcast with a few clicks.
Go to the Lightstream site, log in with Twitch, and authorize your account.
Next, select the option you are streaming. You can either broadcast gaming from Xbox, Playstation, or your computer.
You will get a step-by-step tutorial that will guide you through the process of adding your camera and audio source. Check "disable processing for music sources" for high-quality audio.
You can then navigate to the top right corner and click on the "GO LIVE" button to start streaming.
Besides, you can also broadcast gameplay from your current-gen Xbox and PlayStation 4.
Increase Your Viewership.
Whether you're a beginner or an experienced streamer, there's always room for improvement. If you're trying to improve your performance and grow a community of loyal followers, it's all about putting in the work.
There are so many different ways that you can improve – from tweaking your channel to promoting your streams and audience feedback.
Here are a few tips that will help increase your viewership and cement yourself as an up-and-coming broadcaster.
1. Advertisement and Charity.
With millions of active daily users, Twitch is an ideal platform to advertise.
Many viewers also support causes they believe in and are open to advertising on the platform, as ads support their favorite broadcasters.
Twitch is a marketing-based platform where:
62% of viewers engage with esports and gaming personalities daily.
70% offer monetary support.
64% buy products recommended by them.
This means you can place advertisements in different niches and offer targeted ads to engage your viewers.
You can also undertake philanthropic initiatives on the platform. It will offer your brand a unique opportunity to partake in something your audience feels strongly about.
And it's usual for streamers to raise millions of dollars for charity through their live streaming.
For example, Fortnite Streamer, Ninja, raised $2.7 million for St. Jude Children's Hospital in July 2018.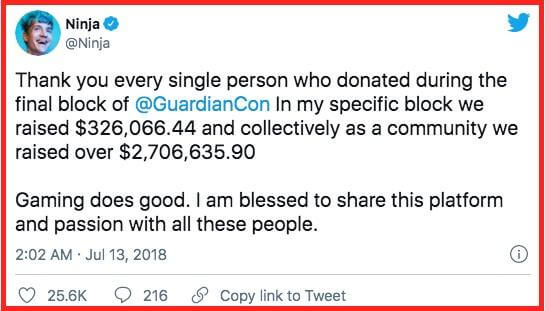 He participated in some challenges like dying his hair, getting a tattoo, and more. And his viewers kept donating for each challenge during the live stream, helping him raise millions.
2. Partner With Brands.
Brands can advertise on Twitch by partnering with a streamer with a loyal follower base. So, once you have enough viewers, you can start partnering with brands to promote their products and, at the same time, boost your viewership.
You can either include the brand in a sponsored stream title or their channel page's title. Another way is to mention the brand either organically by bringing it up during the stream when something relevant occurs.
For example, Totino's Pizza once partnered with some creators on Twitch. The streamers promoted the brand by eating pizza rolls on stream after each win.
Partnering with famous brands also helps you establish your authority in the industry.
Viewers react promptly whenever a brand gets mentioned on stream. The brand can also track how the stream affects the traffic, especially if your stream is scheduled.
Usually, businesses contact influencers directly or via business managers for partnership opportunities.
3. Identify the Top Streamers in Your Niche, and Emulate Them.
It's challenging to stand out on Twitch with so many people sporting the similar setup you have. You also have to compete with numerous top and intermediate-level streamers to make your mark.
And you don't even have to do something entirely out of the norm to boost your audience base. You can simply identify top influencers in your niche, see what they're doing, and try to understand why they enjoy a massive audience.
Use Twitch's API data to identify the top 10% of streamers. It uses different metrics, including concurrent viewers or channel followers.
Since people broadcast on Twitch from across the world, there are different peak hours that streamers experience based on their location.
You can extract this data using the API and use it to your benefit. Apart from that, you'll be able to find out which games are most popular on the platform.
Once you are privy to all the competitor information, you can leverage it to emulate the best success strategies of the top streamers in your domain.
4. Choose the Best Tools And Plugins to Build Your Community.
From analytics and sound alerts tools to donation plugins and tools for sponsoring, you can sync your Twitch account with plenty of tools to grow your channel.
Sound Alerts: Community Engagement Tool.
Sound Alerts is Twitch's built-in community engagement tool. Viewers can play an array of sound effects on your stream, allowing them to cheer you while you stream.
It also allows you to upload your own sound collection. The "Bit amounts" feature for sound alerts enables you to thank your donors. Such gestures breed familiarity and make your viewers feel acknowledged.
This might result in word-of-mouth promotion, helping you gain more viewers.
Sound Alerts also come with overlay and chat-notification features.
Moobot: Automation Tool.
Moobot is a smart bot tool that can help you automate several tasks involved with running your channel.
Here's everything Moobot can do for you:
Share your social media accounts with viewers in chat.
Offer scripted messages about sponsors.
Listen to viewers' song requests.
Conduct community polls.
Run your giveaways on your behalf.
Make the bot repeat any important message to your viewers.
Here's an example of a custom chat command given to Moobot: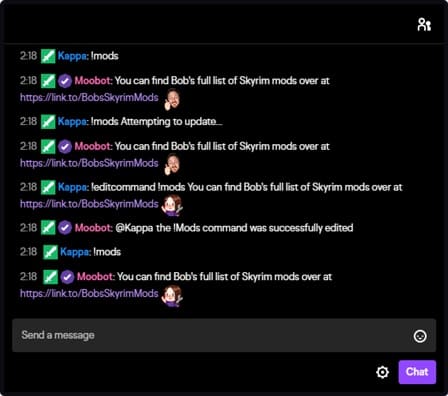 The tool focuses on community growth by supporting engagement and loyalty from your subscribers and viewers.
SullyGnome: Statistical and Analytics Tool.
Using SullyGnome statistical and analytics tool, you can collect information on streamers. It shows different categories, including most-watched channels, most-watched games, fastest-growing channels, most-viewed streams, and more.
This information will help you grow your channel by staying on top of things occurring in the Twitch circle.
TipeeeStream: Payment Plugin.
TipeeeStream allows you to accept donations via PayPal, credit card, and Bitcoins, thus helping you grow your channel by monetizing it. The tool will also display personalized screen alerts for donations and subscriptions.
TeeBoard: Plugin for Twitch Desktop.
TeeBoard is an excellent plugin for streamers using the desktop version of Twitch. It will help you set your channel status, view your broadcasts and highlights, run commercials, and more.
You will also find several functional widgets, including:
Notifications for new followers and donations.
A clock with the ability to set an alarm
Countdown functionality.
A live chat feature.
A poll widget.
Monetize Your Streams.
If you're a streamer, you can maximize your success by monetizing it. Twitch allows you to do just that with their Affiliate Program, Sponsorships, and more.
Here are all the monetization options to earn money with your streams.
Earn Money Without Being A Partner.
When you are just starting, you won't be able to make money from Twitch Bits, subscriptions, game sales, or ads. For that, you'll have to become a Twitch Affiliate or Partner.
Besides, it's nearly impossible to earn from sponsorships or merchandise unless you have a large following.
However, there are ways to make money on Twitch without being a Partner.
Here's how:
1. Donations.
Many viewers are willing to support their favorite streamers by donating money. You can accept them via a third-party service.
Here are some ways to receive donations from your viewers:
Add a Donate button to your channel using services like PayPal, Streamlabs, or Donorbox.
Add a donate panel in the 'About Me' section of your profile.
Promote your donation link in the chat using Moobot to make it easier for users to donate.
Additionally, you can also encourage viewers to donate by making them buy in-stream services.
2. YouTube.
You can upload the best parts of your streams to a YouTube channel and start earning a little money from YouTube ads. Here is a list of YouTube alternatives where you can also monetize your content.
Uploading videos to YouTube also works as a cross-channel promotion strategy since you're sharing your content on a new social media channel. It will help you attract new followers to your streams.
3. Patreon.
Once you acquire a few regular viewers, you can encourage them to donate money to you monthly on Patreon. In exchange, you can provide valuable content or give them rewards that you create.
4. Affiliate Marketing.
Sharing affiliate links can also help you earn money without becoming a partner. Don't confuse this with becoming a Twitch Affiliate, though.
Amazon Associates is a popular way to make money with affiliate marketing. This program includes linking to products on Amazon and getting a cut whenever your viewers make a purchase.
You can even promote your affiliate links in your social media profiles, during streams, and within the chat via a chatbot.
Get Paid As An Affiliate.
Becoming a Twitch Affiliate will give you access to three more monetization options – subscriptions, twitch bits, and game sales. You can benefit from the first two even if you aren't selling games.
To become an Affiliate, you should have at least:
50 followers.
Five hundred minutes of broadcast in the last 30 days.
Seven days of broadcast.
Three or more concurrent viewers on average.
Here's a quick overview of all three affiliate programs:
1. Subscriptions.
This program allows you to provide premium content in exchange for subscription fees from your subscribers. You can provide several subscription tiers: $4.99, $9.99, $24.99, and the freemium plan.
The subscription bonuses include subscriber-only streams, exclusive chat rooms, unique emoticons, and merchandise discounts.
2. Twitch Bits.
Bits are direct donations that you accept once you become an Affiliate. Viewers buy the Bits or earn them by viewing ads or filling out surveys.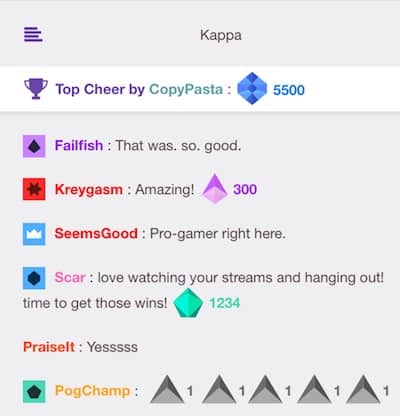 Basically, bits are virtual cheers or tips that viewers give to streamers in the chat as support. As a Twitch Affiliate, you receive $0.01 for every bit.
Earn Income With A Significant Audience.
Once you garner a significant audience, the process of making money will become easier. Besides, you can make a little extra income in two more ways:
1. Brand Sponsorships.
It's not necessary to become a Twitch Affiliate or Partner to land sponsorship deals (though that will be a bonus). Twitch lets you promote all types of brands and products to your audience.
All you require is a rather sizeable engaged audience so that brands will reach out to you on their own. Or you can pitch your proposal to brands directly.
2. Sell Your Merchandise.
Once you have an engaged fanbase, some of your viewers might be willing to buy your merchandise, such as mobile cases, t-shirts, stickers, mugs, etc.
It's a lengthy process, however. Firstly, you'll have to get things manufactured, printed, and shipped. Second, you'll have to set up a Shopify store and configure payment options.
Or you can eliminate the entire manufacturing, pricing, and shipment process using all-in-one print-on-demand platforms like Printful.
When it comes to designing the graphics, you can then use tools like Hatchful or Canva. Another option is to hire a designer from platforms like Fiverr.
Make Money on Twitch as a Partner.
Once you are a top-performing Twitch Affiliate, you can join the Twitch Partner Program.
As a Twitch Partner, you will get all the benefits as Affiliates. One of the benefits includes a share of the ad revenue made from their streams.
Before viewers join a stream, pre-roll ads get displayed on Twitch. Partners can also trigger mid-roll ads any time they are streaming. Those ads are usually worth between $0.002 and $0.01 per view.
What do I need to start streaming on Twitch?
In order to stream on Twitch, the first thing you will need is a Twitch account. To get an account with Twitch, head over to their website and register as a user. Next, download one of the many streaming software options available and install it on your computer or laptop. Then create a broadcast using your new broadcasting software by selecting where to broadcast and what's being streamed (webcam and audio). Before starting the broadcast make sure everything is connected properly and all necessary settings are synced accordingly. If you're looking for more in-depth instructions read the rest of my blog post.
Can you make money streaming on Twitch?
Yes, there are multiple ways to make money streaming on Twitch. The simplest way is through native advertising revenue sharing on the platform. Other methods include selling your own merchandise, digital products, and product placements for brands.
How do I get started streaming?
Before you stream, register an account on Twitch and download the software onto your PC or Mac. Basically, a streaming setup is made up of just two things—a video to capture the content being streamed and a place to put that content so it can be seen by peers. This could be as simple as a webcam with Skype (free) or Apple's FaceTime (free), but for those who want greater control over their stream, more complex setups are available; there are many free and paid programs that will allow you to record footage from multiple sources.
Executive Summary.
Streaming on Twitch is a fun hobby that anyone can jump into. While being a successful streamer may not be rocket science, it certainly takes skills and hard work.
Start by configuring your account and picking the right equipment. You also need to widen your stream, incorporate new editing skills, and create a community.
It's also essential to monitor what's working for your competitors and then decide how you can best optimize their strategies.
And then comes the final part – growing your audiences and monetizing your stream.
What do Ninja, Shroud, and Lirik have in common? These are some of the top streamers on Twitch.
They also successfully engage viewers and monetize their content through numerous means, such as sponsorships and creating products (like merchandise or books).
You can do it too with the right, step-by-step approach.
Disclosure: I may receive affiliate compensation for some of the links below at no cost to you if you decide to purchase a paid plan. You can read our affiliate disclosure in our privacy policy. This site is not intending to provide financial advice. This is for entertainment only.