Moz vs. SEMrush vs. Ahrefs: Which SEO Tool is Best?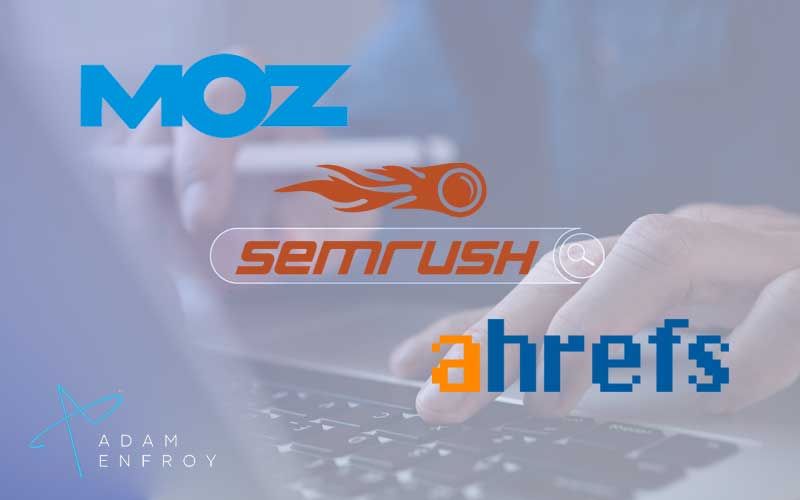 All websites need traffic.
Whether you're selling products (ecommerce), other people's products (affiliate marketing), or your time (consulting), getting free organic traffic is vitally important.
To get traffic, you need to be well-versed in SEO.
However, proper search engine optimization covers a lot of disciplines, such as:
Keyword research.
Link building.
Competitor analysis.
Tracking organic rankings.
On-page SEO and content marketing.
And many more.
According to statistics, over 61% of marketers believe that improving SEO is their top inbound marketing strategy.
This is where the best SEO tools come into play.
Moz, SEMrush, and Ahrefs are the clear heavyweights in this arena.
That's why I ranked and reviewed these SEO tools based on all features, including pros, cons, and clear winners in each discipline.
Let's get started.
Disclaimer: Please note, I may receive affiliate compensation for some of the links below at no cost to you. However, these are the best tools I have tested when it comes to SEO. You can read my affiliate disclosure in my privacy policy.
Moz vs. SEMrush vs. Ahrefs Overview.
Moz is one of the leading SEO tools that covers end-to-end SEO solutions, including keyword management, crawling, and web page optimization. It helps you increase traffic, rankings, and visibility in search engines.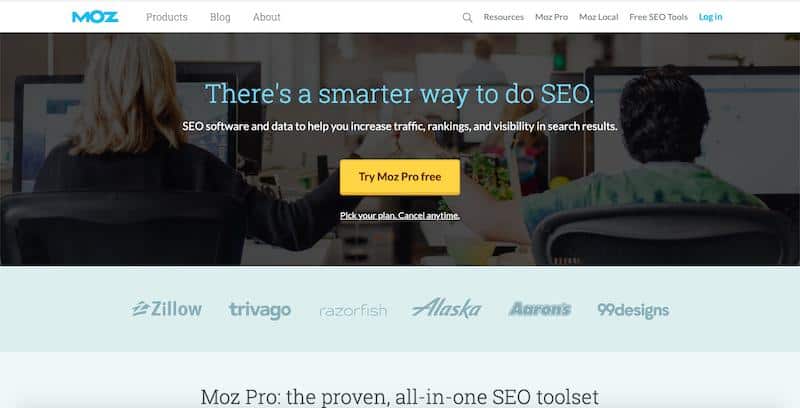 Founded in 2004, its versatile features and SEO tools make it a good option for small businesses.
Here are some of Moz's critical features:
Keyword tools
Site crawl
On-Page optimization
Link research
Custom reports
SEMRush also provides a complete workflow for SEO professionals.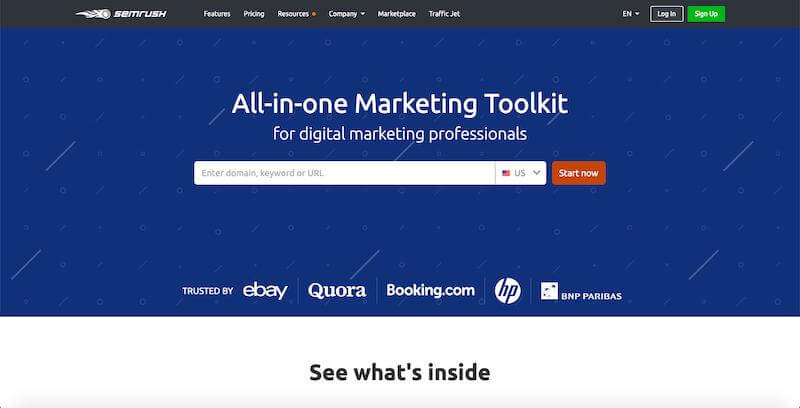 Here are some of the key SEMrush features:
Technical SEO audit
Semantic core collection
Position tracking
Ideas for gaining more organic traffic
Competitive intelligence
Backlinks audit and analytics
More than that, it offers an all-in-one digital marketing solution, including SEO, content marketing, competitive research, advertising, and campaign management.
It also has a healthy user base of over 4 million users that includes some of the top advertisers and fortune 500 companies. They are best known for their technical site audits, which help websites identify problem areas that need to be addressed.
Ahrefs is a newer SEO tool that is best known for its keyword research and rank tracking tools. They also boast the second-fastest web crawler compared to Google.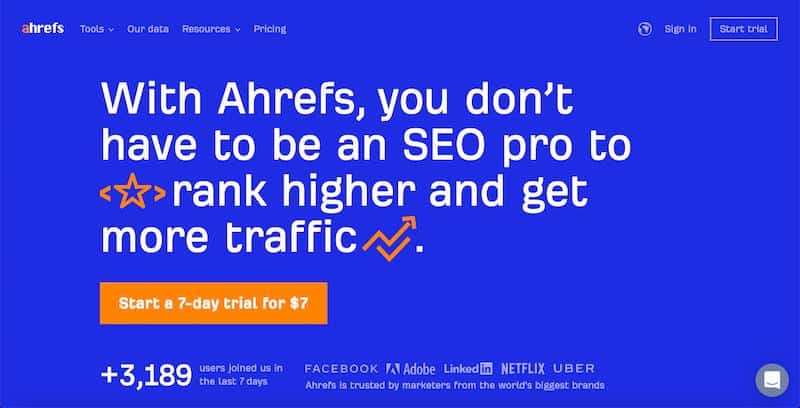 This all-in-one SEO toolset performs key functions, including:
Site audits
Competitor analysis
Keyword research
Content marketing
Rank tracking
Its clients' list includes some of the biggest brands on the planet, like Facebook, LinkedIn, Uber, Netflix, and Adobe.
With Ahrefs, you can also optimize your website, analyze your competitors, learn from the top-performing content in your niche, and track your rankings. It also offers free learning materials and encourages you to learn the basics of SEO even before starting its trial offer.
SEMrush vs. Moz vs. Ahrefs: Which One is Best?
Next, let's move onto a point-by-point comparison between Moz, SEMrush, and Ahrefs based on:
Keyword & Competitor Research
Technical SEO
Site & Link Explorer
Advertising & Research
Analytics & Reporting
Link Building Tools
Pricing Plans
1. Keyword and Competitor Research.
Targeting the right keywords is essential if you want to acquire traffic to your website. Every single webpage on your website needs to target one primary keyword and include it in the title, URL, headings, and throughout the content of the page.
Identifying the right keywords is like finding the sweet spot of your success.
Each of these SEO tools (Moz, SEMrush, and Ahrefs) are pretty good at keyword research, with Ahrefs being the clear winner.
Moz:
Moz enables you to easily add, create, and manage keywords lists in one place. Plus, you can categorize, compare, and prioritize phrases or keywords to develop an effective content strategy.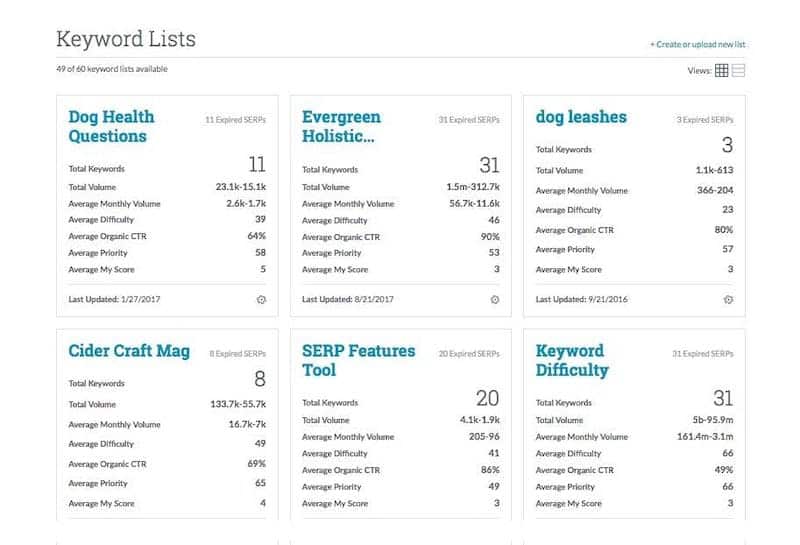 Moz's reliable database of high-quality keywords provides multiple keyword suggestions and the latest SERP data. This feature makes it easier to outrank the competition.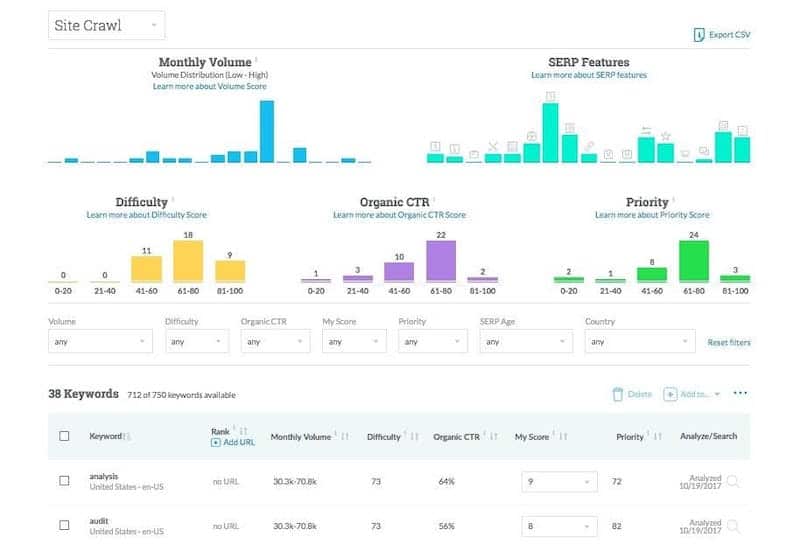 You get to see metrics like difficulty level that tell you how challenging it would be to rank for that particular search term. From here, pick keywords based on their competitiveness and estimated CTR on SERP.
Plus, you can estimate the performance of keywords through Search Volume estimates that offer 95% accuracy. You can also assign your own custom score to increase the importance of keywords.
SEMrush:
SEMrush's 'Keyword Magic Tool' gives millions of keyword results based on your business requirements. You can instantly build a master list of keywords by entering the main keyword that you need to rank for, choose the geography, and press the Search button to get a comprehensive keyword list within a few seconds.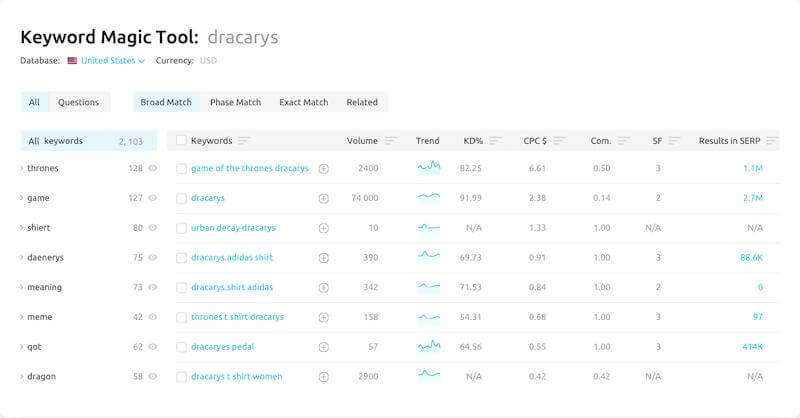 The keywords come grouped in types, questions, and clusters so you can identify long-tail keywords right away. You can also analyze the competitive density, search volume, and CPC estimates of these keywords. This helps you determine the competitiveness of these keywords in both free and paid search results.
The free version of this tool provides access to 10 requests per day.
You can sort the search queries by date, volume, or difficulty with a single click. You can also analyze trends and search volume over the last 12 months. Clicking the "Questions" tab provides questions that people search for related to your keywords. And the "Related" tab can find semantically related terms that you can also rank for.
Plus, the keyword manager saves all of your keywords in one place for great ease of use.
All in all, SEMrush provides you with access to keywords and simple columns to understand and come up with new ideas.
It helps you:
Search for the right keywords for your SEO and PPC campaigns.
Find long-tail keywords.
Keyword research in 16 languages.
Gather similar phrases and related keywords as the highest-ranking web pages.
Ahrefs:
Ahrefs' Keyword Explorer is an amazing keyword research tool. It helps you view competitive metrics, come up with new keyword ideas, calculate their traffic potential, and analyze their ranking potential.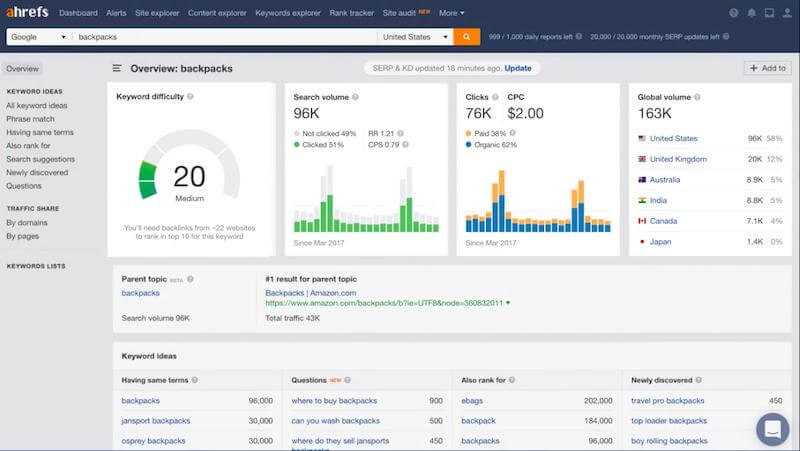 Ahrefs runs on a massive database of over 7 billion keywords that gets updated each month. The data also gets segregated based on 171 countries. Apart from Google, it can also estimate the keyword volume for Amazon, Baidu, Bing, and YouTube.
As soon as you enter your keyword, you will get four sections:
Keyword Difficulty
Average monthly search volume
Clicks & PPC Data
Global search volume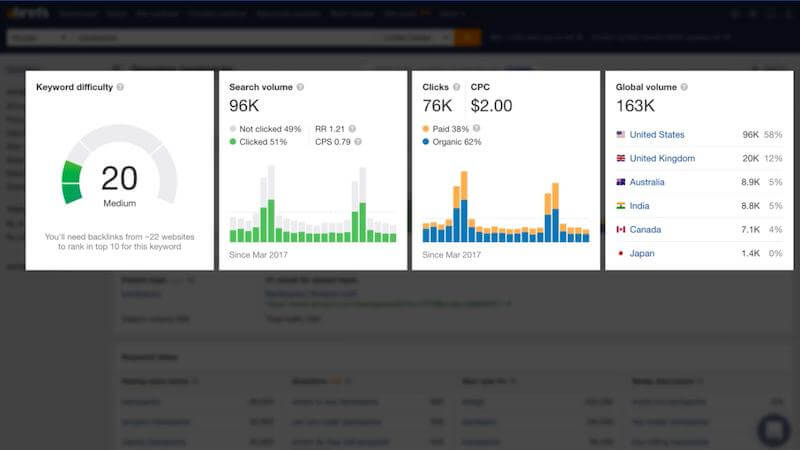 The clickstream data function delivers refined search volume every month. You can also target easy keywords by gauging their difficulty score and the estimated number of clicks on a keyword. To help you keep your research safe, you can easily segment and save your keywords list.
Where Ahrefs stands out is the extra keyword research data it provides. You can view the SERP Position History to view how the top five sites ranked for a target keyword over the last six months.
You can also view the entire top 100+ rankings for a target keyword to view competitive metrics on the individual domains: how many links are pointing to their article, their Domain Rating (DR), their Ahrefs Rank, and more.
This SEO software is great for bloggers as it provides both keyword and competitor data in one place. Check out my huge guide to learn how to start a blog for beginners for more information on how to do keyword research when choosing your niche.
Here are some of the primary features of the 'Keyword Explorer' tool:

You get thousands of keyword suggestions based on your target keyword.
Keywords for 10 different search engines.
Provides data for 171 countries.
Accurate search volumes.
Provides keyword difficulty score to determine the ranking potential.
An overview of advanced SEO metrics.
SERP position history.
"Also Rank" for provides great keyword ideas.
Winner: Ahrefs.
With a database of over 7 billion keywords that get segregated based on 171 countries, Ahrefs is a clear winner here. It provides everything you need for your keyword and competitive analysis. On top of that, the dashboard is easy to navigate and use.
2. Technical SEO.
Keeping your technical SEO free from errors is a necessity. A fast-loading, well structured, properly implemented site is a must.
I view technical SEO as a negative ranking factor. Having a strong baseline won't immediately boost your rankings, but having poor technical SEO will certainly decrease your rankings.
Because of this, it's important to conduct regular site audits to discover problem areas and fix them quickly.
These three tools all offer different ways to view these issues and address them. You typically enter your domain in their site audit tools, and then find common issues like duplicate meta descriptions, missing image alt text, slow pages, 404s, and more.
Moz:
Moz offers step-by-step guidance to optimize your on-page content. You just have to enter the keyword and page combination to get prioritized SEO recommendations that could improve your rankings.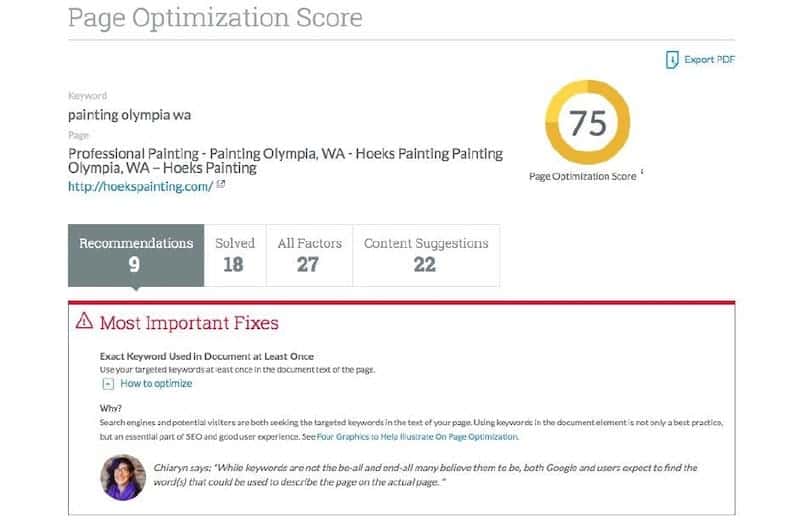 You can also prioritize your pages depending upon the page optimization score. It also runs instant audits to optimize your page with relevant keywords and audits.
Moz helps you with your site's SEO in the following ways:
Track and monitor ranking potential
It provides content suggestions from other top-ranking sites
On-page optimization
Crawls & audits your sites
Issues alerts regarding new site crawl issues
SEMrush:
SEO Checker by SEMrush helps you get the best result out of web pages. It evaluates the factors affecting your Google ranking, compares your website with top performers, and churns out an actionable report based on the data.
SEMRush also checks all of your pages to find out whether they comply with on-page/off-page SEO elements.
It identifies the effectiveness of your content's relevance and quality, backlinks' authenticity and reputation, the body of text, page titles, H1 tag, meta description, and more. Plus, it offers a structured list of improvements to help you implement technical SEO in a planned manner.
SEMrush compares your web page with top websites to give you actionable data.
Here are the suggestions it provides:
Semantically-related phrases and words to enhance your content
Build backlinks and grab referral opportunities
Optimize the length of your content
Smart usage of keywords to outsmart your rivals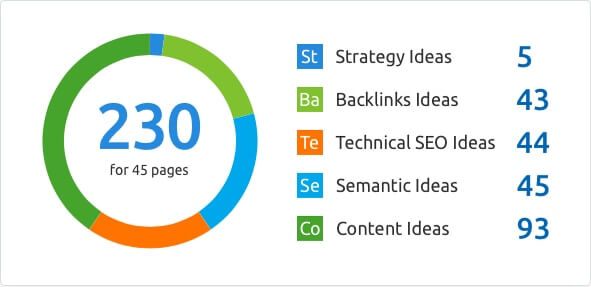 SEMrush stands out with its technical SEO ideas.
Based on your site crawl, the tool provides all of the technical items that need to be fixed and provides a site score.
Ahrefs:
Ahrefs lets you see under the hood and identify precisely what's stopping your website from ranking higher.
It crawls all the pages of your website to provide details like:
SEO health score
Key data analytics
SEO issues
Actionable recommendations to improve your on-page SEO
Even if you have a huge website, you don't have to worry. Just verify your domain and crawl all the pages for fast SEO checks. You can also skip the crawling of irrelevant pages.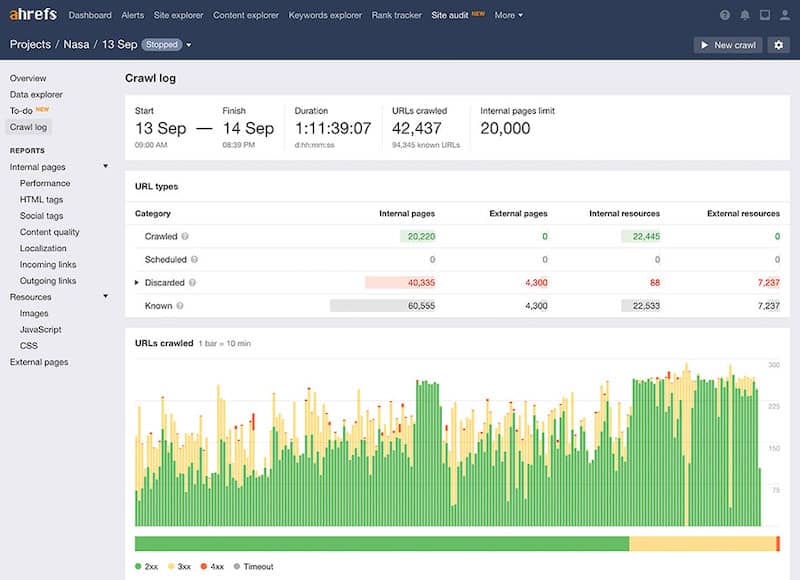 Furthermore, it provides solutions to over 100 pre-defined SEO issues.
Here are some of the prominent ones:
Flags out large HTML or CSS and slow pages to enhance the performance.
Duplicate, missing or non-optimal length of meta descriptions, H1 tags, and title tags.
Missing or incomplete Twitter cards or open graph tags.
Duplicate pages or low word count.
Issues with Hreflang for better localization.
Identify nofollow link issues and orphan pages.
Links to broken pages and redirects.
Issues with CSS, images, and JavaScript.
External pages issues.
Apart from this, SEO professionals get total control over a hundred data points on all the pages through Ahrefs' Data Explorer tool. To put it simply, you get all the relevant SEO metrics in one place.
Winner: SEMrush.
It's a close call between SEMRush and Ahrefs. But SEMrush is a slight winner due to its ability to give on-page SEO improvement suggestions in a structured manner. Digital marketers can also prioritize their SEO optimization on web pages with greater organic ranking potential.
3. Site Explorer & Link Explorer.
It's technically impossible to compete with your rival without knowing them. You can't compete with a top-ranking website in your niche without knowing their keywords, backlinks, PPC strategy, domain authority, and much more.
That's why you need to have a closer look at your competitor's website.
Moz:
Moz's Link Explorer (Formerly Open Site Explorer) extracts all essential data on a target website, including its Domain Authority, Page Authority, and more.
You just have to enter the URL and click on the "get free link data" option.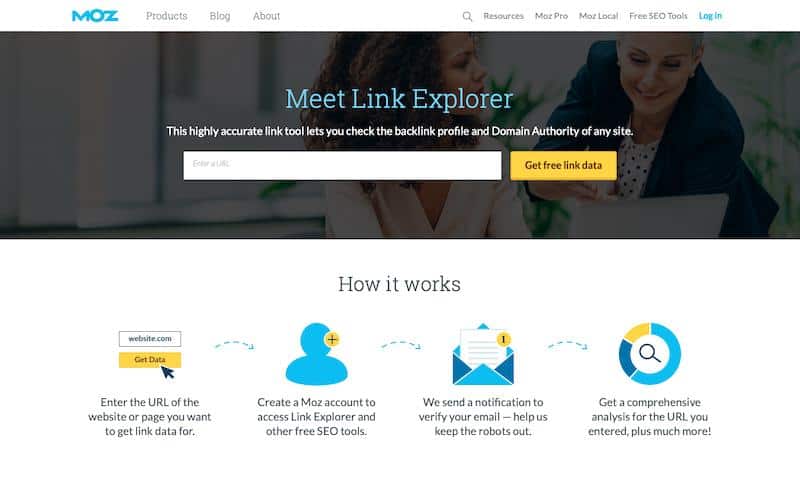 It will bring out all the required data like linking domains, inbound links, ranking keywords, external, and internal links.
Here is how the result page would look something like this: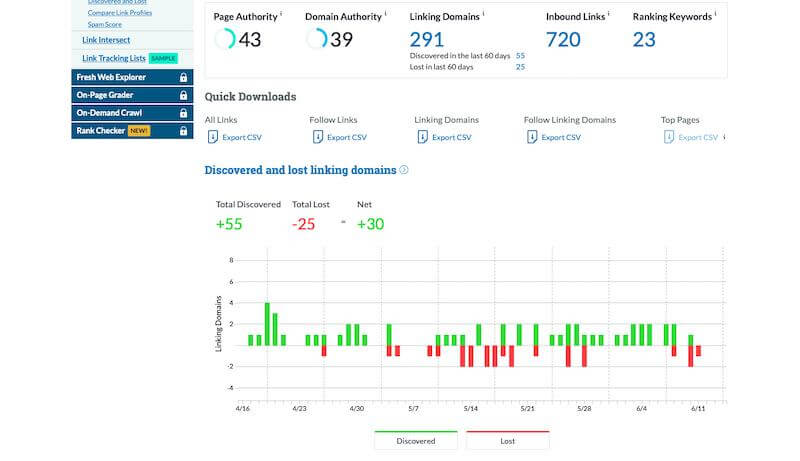 The two key metrics here are:
Domain Authority (DA) – measures ranking strength of the entire domain
Page Authority (PA) – measures ranking strength of individual web pages
Other than this, you get 10 free queries for an entire month, which comes in handy if you want to check the product before purchasing the paid plan.
All in all, Moz's link explorer lets you:
Identify broken links
Research top-performing content & competitor backlinks
Analyze anchor text
Find the spam score of backlinks
Identify link building opportunities
Export separate CSV files for all the metrics
SEMrush:
SEMrush also offers a simple user interface for gathering essential data on any site.
Simply enter the URL and click on the "Check it" option here: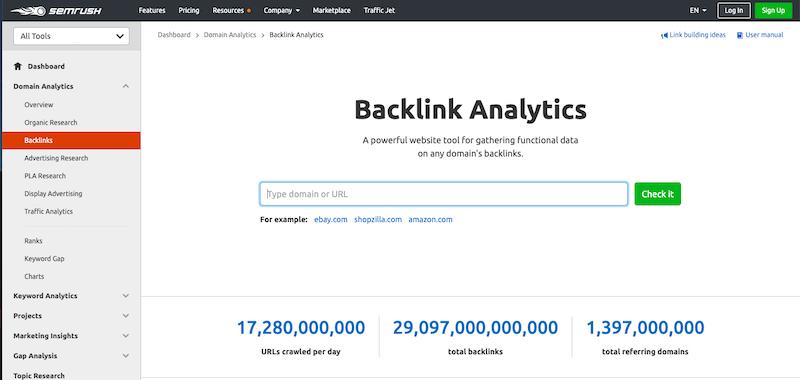 Next, it pops out all the essential data, including domain authority, backlinks, lost backlinks, your competitor's link building process, and more.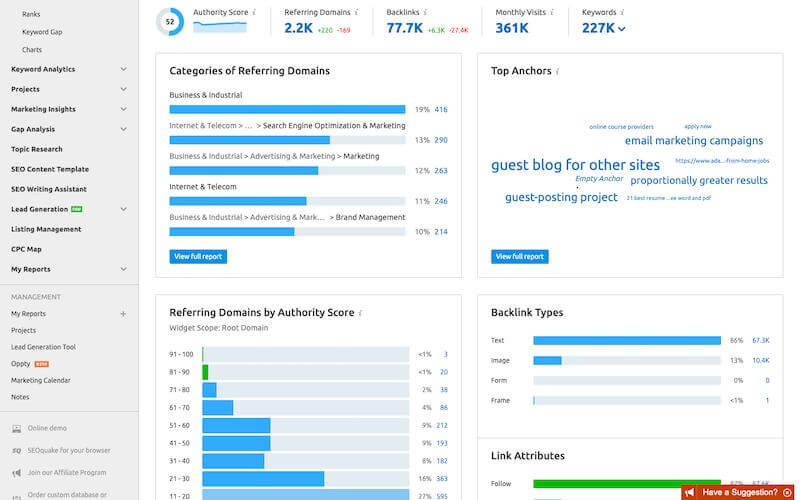 On the first page, you have details on metrics like:

Top anchors
Authority score
Backlinks and their types
Monthly visits
Categories of referring domains
Scroll down further to find detailed reports on: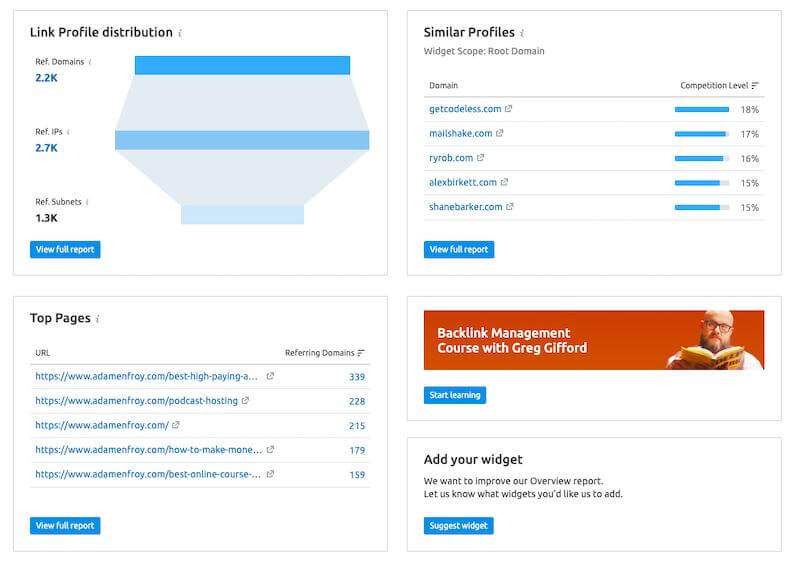 Link profile distribution
Top pages
Similar profiles
You can also analyze the list of keywords based on specific countries. It also shows the categories and authority of referring domains. Click on referring domains to find out the number of backlinks, root domains, and countries.
The report also reflects data of referring IPs, indexed pages, competitors, anchors, and referring domains. You'll see a "view full report" option under all the metrics to provide you a deeper insight into all these figures.
All in all, backlink analysis by SEMrush lets you:
Track any domain's backlink in depth
Conduct deep link analysis
Analyze your competitor's marketing strategies
Ahrefs:
Ahrefs started out as a link analysis tool. Their "Site Explorer" is one of the best SEO tools out there (and one I use almost on a daily basis).
This Site Explorer allows you to input any domain and provides in-depth analytics of the backlink profile and organic search traffic of the website.
It also combines three powerful SEO functions in one interface:
Organic traffic search – to check the pages your competitors are ranking for and the pages which bring maximum traffic.
Backlink checker – to check the backlink quality of your website as well as your competitors' website.
Paid traffic search – gauge the advertising strategy of your competitors.
An in-depth analysis of competitor backlinks helps you identify backlink gaps and sites to target. You can also view broken backlinks, dofollow vs. nofollow links, and more.
Ahrefs also boasts of over 150 million keywords in its database. With all of this keyword and backlink data you can:
View a website's competing domains and which keywords they rank for.
View the top pages on any domain and how much monthly traffic is going to them.
Check incoming backlinks on a page-by-page level.
View the backlink profile and all referring domains to any website.
Check your competitive metrics like Domain Rating (DR), Ahrefs Rank, monthly organic traffic, traffic value, and more.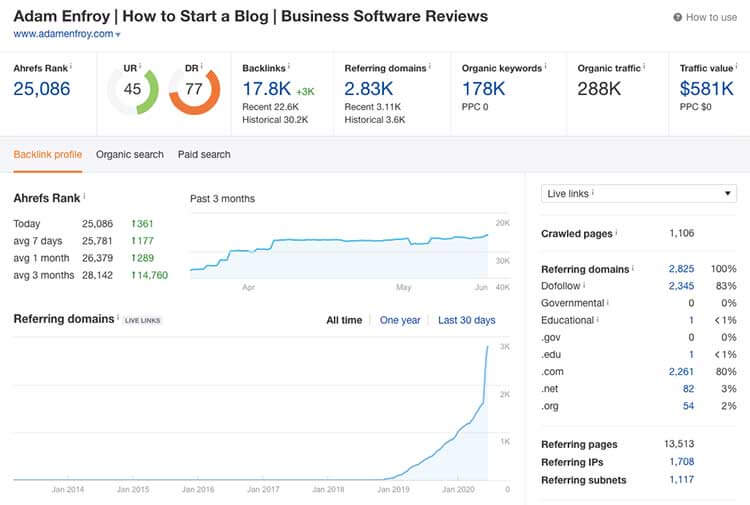 Winner: Ahrefs.
Ahrefs Site Explorer is the gold standard for competitor research.
4. Advertising & PPC Research.
It's essential to research the right keywords for ad campaigns to reach potential customers. Advertising in the wrong geography or with incorrect phrases will only burn your hard-earned money with zero results.
Hence, it's crucial to review your competitor's and your own marketing plan to achieve sales and higher ROI.
Moz:
Moz's unique research capabilities help you run highly optimized PPC campaigns. For instance, you can create, add, and manage keywords list in one place to run PPC ads.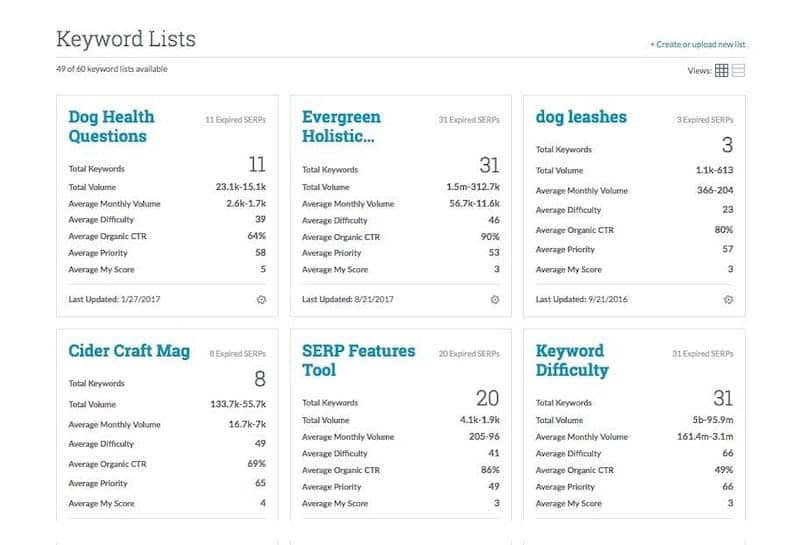 It offers thousands of intuitive suggestions to help you choose better keywords and rank higher in the competition. Metrics like search volume estimates to pick high-quality keywords for your campaigns.
Then there's Moz Local – an excellent tool for small businesses to advertise their presence in the local market.
SEMrush:
If you want to plan your PPC campaign correctly, then it's essential to know your competitors. Uncover their strategy and search ads – half the battle will be over.
Advertising Research tool by SEMrush enables you to: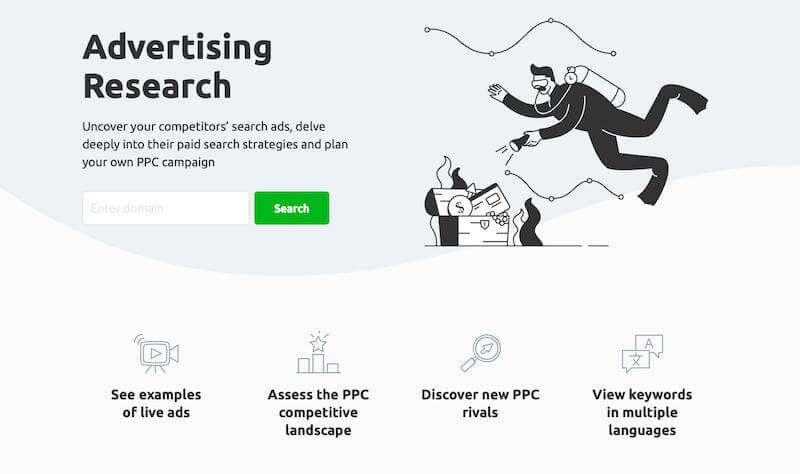 Uncover your competitors' search ads
Analyze your competitors' paid search strategies
Plan your own PPC strategy taking all the metrics into account
It evaluates things like competitors' PPC expenditure and marketing strategy from serious perspectives.
You can analyze the amount of money splurged by your competitors on advertising and the traffic they received via PPC. It gives you a clear picture before you spend money on advertising your website. If you want to dive in more, you can read the competitor's ad-spending pattern over the year to optimize your budget more efficiently.
Then there's the market explorer feature by SEMrush that provides details about specific topics to attract targeted audiences, market demographics, and more.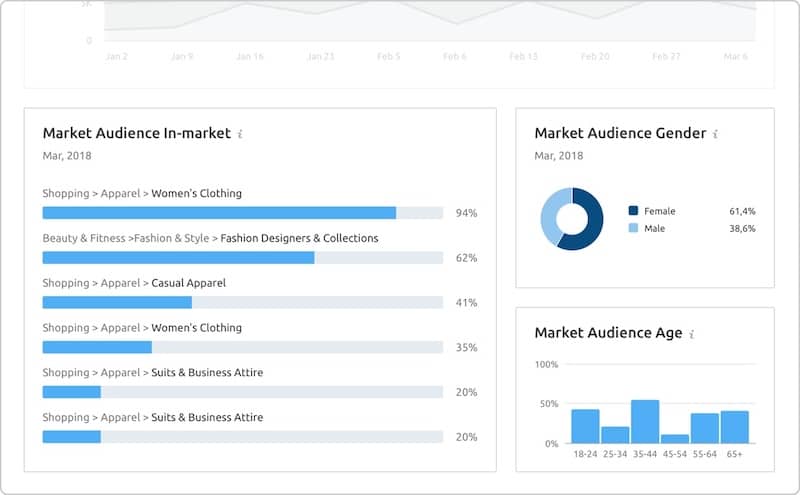 Other than this, SEMrush evaluates competitors' PPC strategy from different angles, including:

Current state
Seasonality to see how competitors' advertising changes over the year
Keywords
Subdomains
Ahrefs:
Ahrefs generates thousands of keywords ideas in six ways to help you run engaging PPC campaigns:
Engaging phrases containing your keywords.
Optimizing the terms based on your target keywords.
It gives suggestions in the keyword search bar to help you use more effective keywords.
Keywords of the top-ranking pages in SERPs.
Keywords based on recently added search queries to the database.
Search queries in the form of a question.
And if you don't want to run your PPC campaign on Google search, then Ahrefs is the marketing tool you should consider. It leverages clickstream data to gauge the popularity of search queries in other search engines. Ahrefs can make your paid marketing a breeze on platforms like YouTube, Baidu, Amazon, Bing, among others.
It also lets you identify and prioritize a variety of keywords by applying various filters, including:
Search volume
Clicks
Keyword difficulty
Clicks per search
Cost per click
Return rate
Apart from this, it also offers advanced metrics, including the percentage of clicks, percentage of organic vs. paid clicks, and return rate for deeper insights.
Winner: SEMrush.
Ahrefs' ability to generate keyword ideas in multiple formats makes it an excellent option. However, SEMrush's market explorer and advertising research tool gives it a slight edge over both Ahrefs and Moz. Ahrefs comes a close second since it provides the ranking of search queries on various search engine platforms other than Google, making it a versatile option.
5. Analytics & Reporting.
There is no point in putting effort into something if you don't know the outcome. That's why you need powerful analytics and reporting to gauge the result of your SEO efforts and calculate ROI.
Moz:
With Moz, you can get up to:
30,000 monthly keyword reports
4,500 keyword rankings
Ability to track 50 campaigns
Access to 40 users
Moz's rank tracking function analyzes the SERP standings of your website. This enables you to track web pages and keywords.
It also provides a detailed list of keywords with their SERP rankings that you have been tracking over the month. You don't have to check up the SERP rankings manually, which saves a lot of time.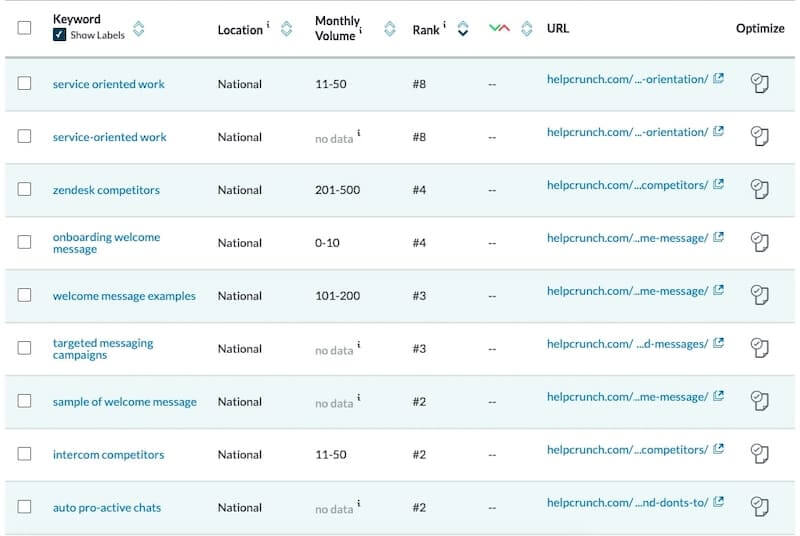 Moz's historical data (across all the search engines like Yahoo!, Google, Google Mobile, and Bing) lets you analyze the results of your SEO efforts. And not just global, you can also track local rankings based on region, city, or area.
SEMrush:
SEMrush analyzes the performance of websites pretty easily. You can easily compare traffic with your competitors or partners. On top of that, monitor trends and define leaders based on competitive traffic analysis.
SEMrush also provides reports on numerous marketing metrics, such as keyword rankings, backlinks, paid search positions, and more.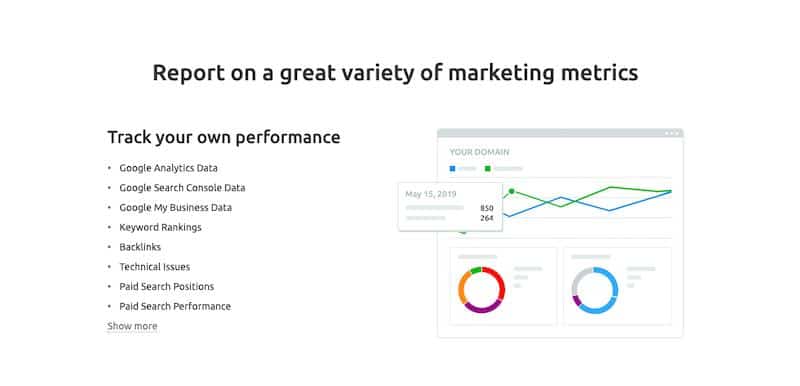 It also lets you streamline your reports in three easy steps: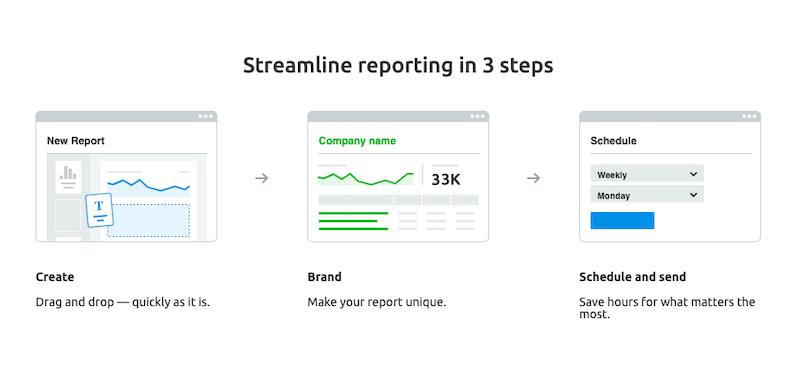 Create – use the drag and drop function to create reports easily
Brand – use your company's brandings to make your reports unique
Schedule & send – schedule reports to receive important insights regularly
You can also gauge the user engagement on multiple devices and compare them as desktop vs. mobile. SEMrush also lets you compare your audience with your competitors, analyze potential growth, and identify user preferences.
You can also analyze the 'Entrance Sources' of your competitors. This function finds out the focus of their digital marketing campaigns.
Apart from this, SEMrush also tracks top products, popular topics, and blogs to optimize your content strategy. It also figures out the best performing channels, gauge expenses, the performance of affiliates, and your performance based on geographies.
Ahrefs:
Ahrefs also offers a powerful rank tracker tool to monitor the performance of your keywords and website. You can monitor Google SERP rankings on mobile and desktop across 170 countries and get all the related reports delivered right into your inbox.
You just need to import or input the list of keywords, add countries, and enter competitors' URLs. And voila, it will start tracking your SEO data and send you updated reports regularly.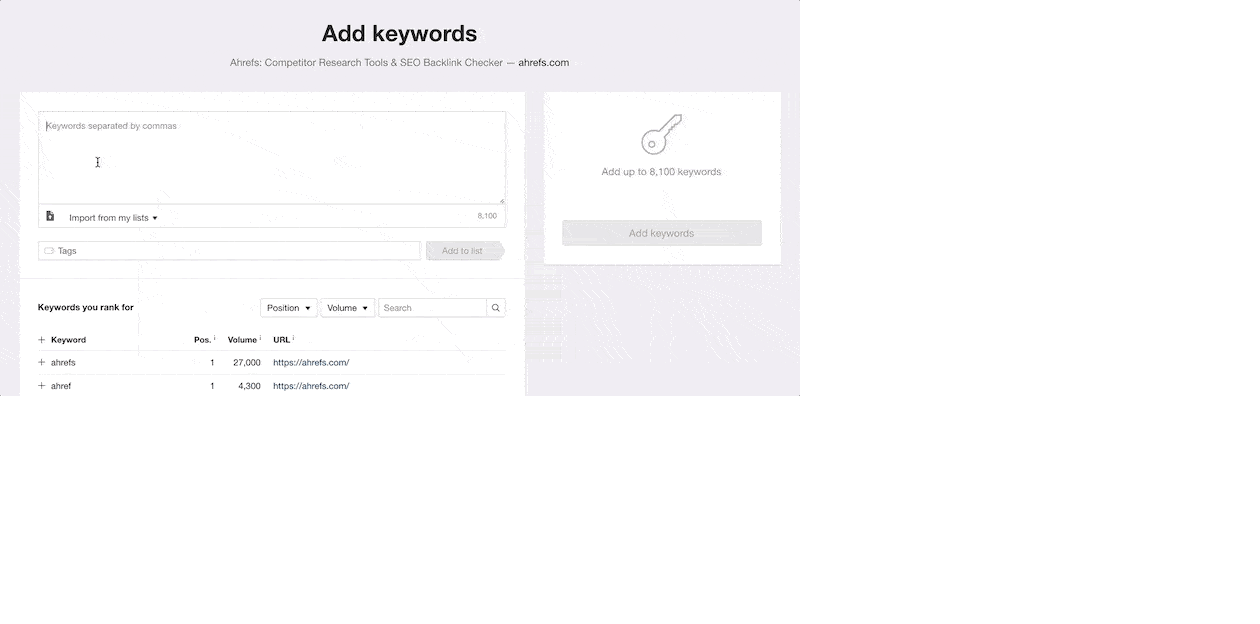 Moreover, it lets you analyze the percentage of traffic from organic search and check your progress over a particular period. You can also track your rankings segmented in different groups.
You can segment your data to see only what you want to see if you have an extensive list of keywords.
Ahrefs also provides a Batch Analysis tool that can pull SEO metrics for up to 200 URLs at once.
Winner: SEMrush
All these SEO tools provide unique tools for analytics and reporting. However, SEMrush is the winner for its ability to render these reports for yourself or for clients.
Moz vs. SEMrush vs. Ahrefs: Pricing Plans.
Pricing is an essential consideration while choosing an SEO tool. You don't want to overplay your budget.
Here's a breakdown of the pricing plans of Moz, SEMrush, and Ahrefs:
Moz Pricing.
Moz offers 4 pricing plans:

Standard ($99 per month)
Medium ($149 per month)
Large ($249 per month)
Premium ($599 per month)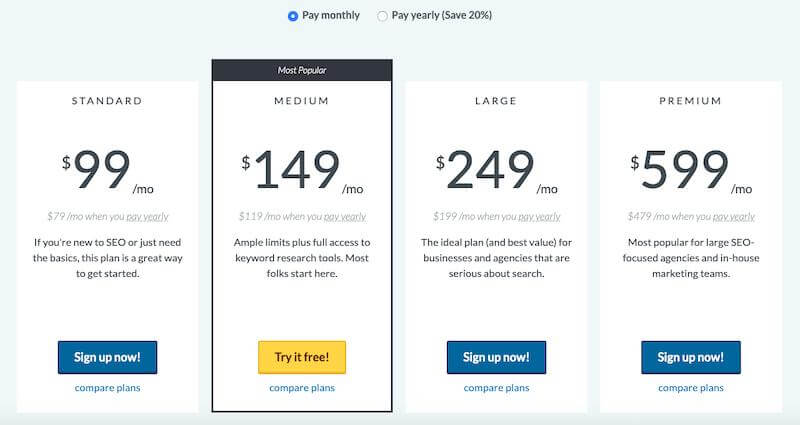 The Standard plan is suitable for small businesses and beginners. The Medium plan is its most attractive plan as it also offers a free 30-day trial and complete access to the keyword planning tool.
On the other hand, its Large plan offers more advanced features like 1900 keyword rankings, 60 on-demand crawls per month, and unlimited reporting. Finally, the Premium plan is for large enterprises and SEO-focused agencies. It can generate data from 4,500 keyword rankings, gives access to 5 user seats, and provides unlimited reporting.
All Moz plans come with these standard features:
Mozbar Premium (Moz's SEO toolbar for Chrome)
SEO insights
Multiple search engines
1-on-1 walkthrough
Moz Q&A Forum
Round the clock online support
You also save 20% when paid annually.
SEMrush Pricing.
SEMrush offers three pricing plans:
Pro ($99.95 per month)
Guru ($199.95 per month)
Business ($399.95 per month)
Enterprise – quote-based plan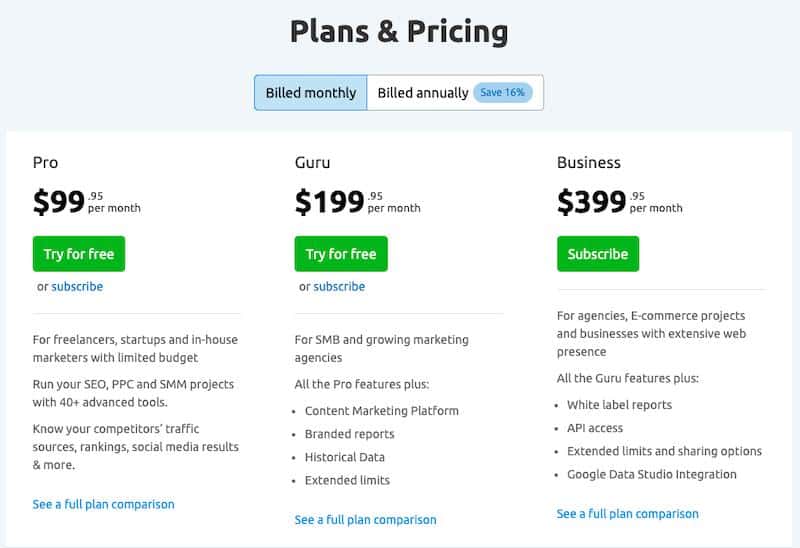 You get a 16% discount on the yearly subscription of these plans. Both the Pro and Guru plans also come with a free subscription.
Here's a feature comparison report for all of the plans: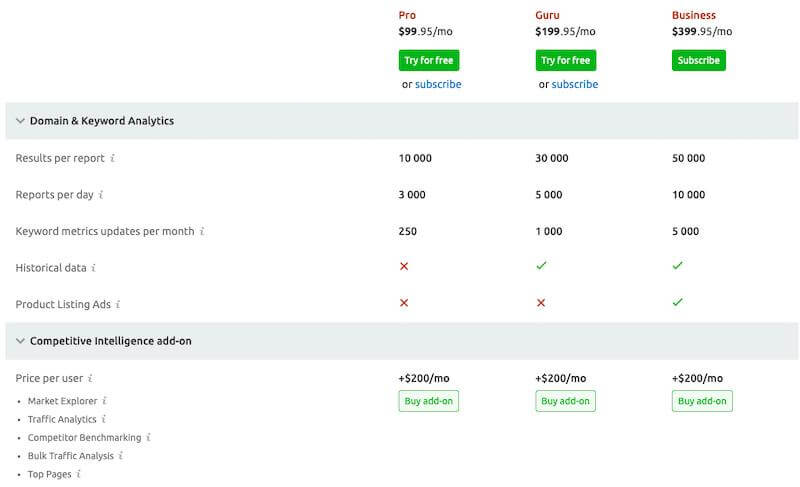 The product listing feature is only available with the business plan. And the historical data feature is not available with the Pro plan. Plus, you can get up to 50,000 results for each report in the business plan. Pro and aGuru plans offer 10,000 and 30,000 results per report, respectively.
Ahrefs Pricing.
Ahrefs offers four plans, including:
Lite ($99 per month)
Standard ($179 per month)
Advanced ($399 per month)
Agency ($999 per month)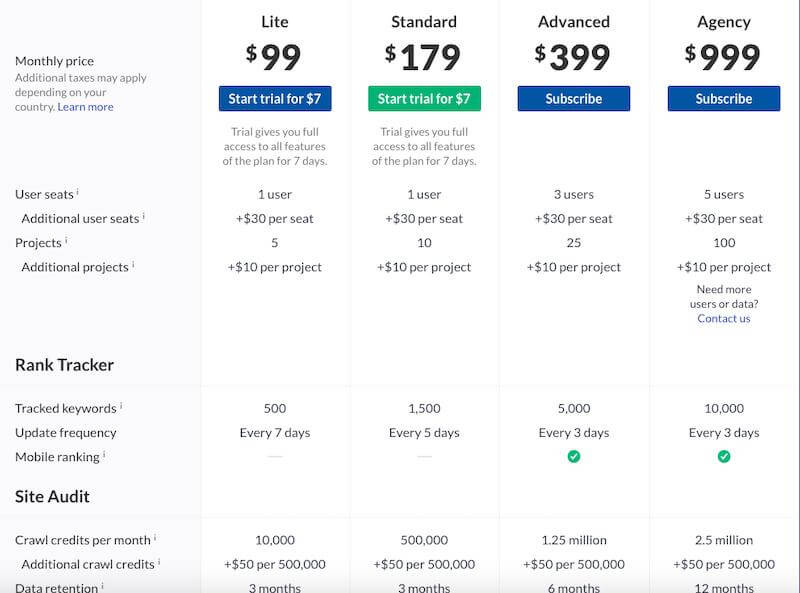 Lite and Standard plan also offer a 7-day trial for $7. Lite and Standard plans allow only 1 user. Advanced and Agency plans allow access to 3 and 5 users, respectively.
All plans offer some standard features, such as:
Batch analysis
Domain comparison
Monthly new keywords
New or lost backlinks
With annual billing, you can get two months' worth of subscription for free.
Winner: Ahrefs
With the overall best features and a 7-day trial for $7, Ahrefs is the winner in my book. You can always try it out for seven days, do all of your organic research, and then cancel before the first payment.
SEMrush vs. Moz vs. Ahrefs: Pros & Cons.
All three of these tools have strengths and weaknesses.
To make things a little easier, here are the pros and cons of each tool to better understand their unique selling points and problem areas.
Moz Review.
Moz Pros:
Good keyword rank tracking.
Link building opportunities.
Thorough competitors' assessment.
Reliable search volume metrics.
Easily track all campaigns from a dashboard.
Moz Cons:
Campaigns and crawls have limited ties.
Outdated web crawler.
Can't compete with SEMrush and Ahrefs.
The interface might be underwhelming for new users.
SEMrush Review.
SEMrush Pros:
Reliable competitor research.
Efficient suite for link analysis to find all key metrics of competitors.
Logfile analyzer is handy.
A comprehensive dashboard to manage reports and PPC campaigns.
Great for PPC planning.
High-quality reports and exports.
Strong technical SEO site audits.
SEMrush Cons:
Its Chrome extension is clumsy.
Limited customization of graphs.
Limited keyword research and site explorer compared to Ahrefs.
Often inaccurate website metrics (crawler not as powerful as Ahrefs).
Ahrefs Review.
Ahrefs Pros:
Massive database for backlinks checking
Database of over 7 billion keywords
Powerful reporting of SEO metrics
Find new niches with Link Intersect Tool
Easily find high authority websites with backlinks
Ahrefs Cons:
No ability to export site audit reports for clients.
A bit on the expensive side and lower tier plans are somewhat limited.
SEO Definitions to Understand: Moz vs. Ahrefs.
1. Domain Authority (Moz).
Moz identifies the search engine ranking score of your website by giving it a Domain Authority (DA) score. The DA can hover anywhere between 1 to 100. The higher the score, the greater your website's chances to rank on search engine result pages (SERPs).
Moz calculates the DA by factoring multiple vital metrics, including the number of total links and linking root domains. The single DA can be useful to compare the ranking strength of different websites.
Here are some of the ways to improve your site's domain authority:

Get high-authority backlinks.
Get backlinks from sites relevant to your niche.
Avoid spammy backlinks.
Create linkable assets like statistics and infographics.
2. Domain Rating (Ahrefs).
Ahrefs calculates Domain Rating (DR) to find the strength of the website. It takes both the quality and the number of its backlinks into account. Like Moz, it also calculates the DR score on the logarithmic scale of 0 to 100. Ahrefs' Domain Rating is similar to Moz's Domain Authority (DA).
Here's how they calculate the Domain Rating at Ahrefs: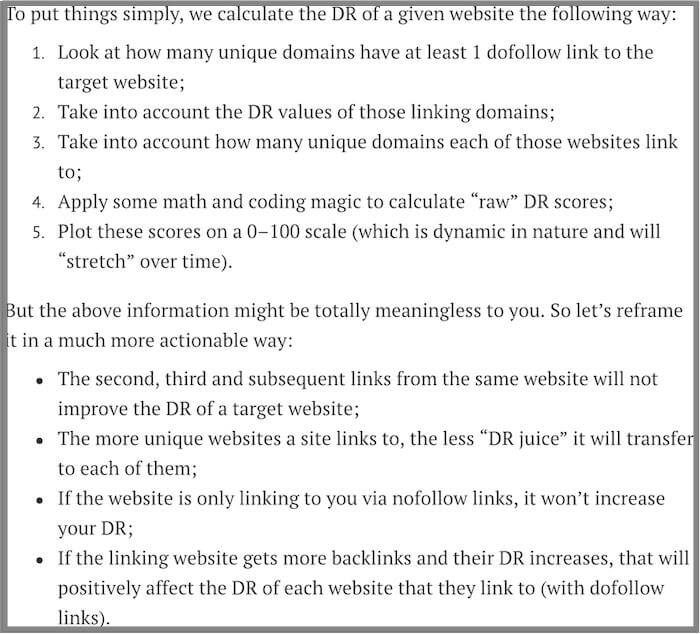 3. Page Authority (Moz).
Page Authority determines the ability of a web page to rank on a SERP. Its score can be anything between 1 to 100. Naturally, web pages with a higher rating have better chances to rank on the search engine page.
Page Authority gets calculated using metrics like index data and Domain Authority. Moz also leverages the machine learning algorithm to figure out the Page Authority of a specific web page. If you want to improve your page authority, then try to improve your backlink profile.
4. URL Rating (Ahrefs).

URL Rating (UR) defines the link profile of a web page on the logarithmic scale of 0 to 100. It calculates the UR by factoring both external and internal links. Also, the higher the logarithmic value, the better a web page's URL Rating is.
Ahrefs uses the same principles as Google's page rank to calculate the URL rating.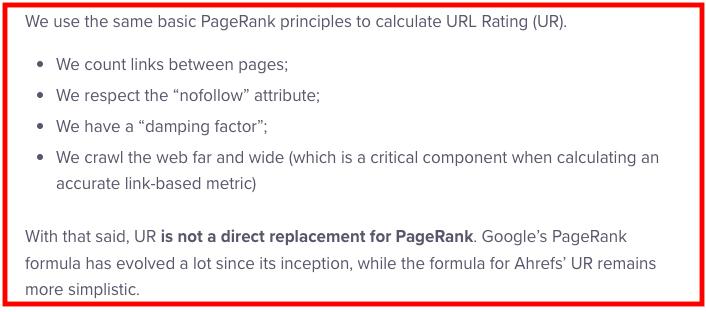 5. Referring Domains (Ahrefs).
Referring Domains are all of the number of websites linking to you. For example, a site that links to you three times is considered three backlinks, but one referring domain.
For instance, if your home page has a backlink on Buzzfeed, you have one referring domain. And if you have backlinks on both Buzzfeed and Washington Post, it means you have two referring domains. However, even if you have two backlinks on Buzzfeed, it's considered as only one referring domain.
6. Linking Root Domains (Moz).
Similar to Referring Domains, Linking Root Domains are the number of third party websites linked to your website through backlinks. Only the number of unique domains get counted as Linking Root Domains. This means that two links from a website get counted as one. The concept of linking root domains is similar in principle as Referring Domains.
7. Spam Score (Moz).
Spam Score defines the percentage or number of websites with similar features and is also banned or warned by Google. Moz's machine learning algorithm calculates 27 standard features through millions of penalized or banned sites.
However, don't fret if your website gets a Spam Score. Just work to ensure that you are getting high-quality links from low Spam websites.
Executive Summary.
There you have it – my review of Moz vs. SEMrush vs. Ahrefs. Each SEO tool comes with its own unique strengths and weaknesses.
For instance, if you want a reliable SEO tool with excellent technical SEO and analytics functions, then I recommend SEMRush.
And for powerful backlink tracking, site explorer tools, and keyword research, Ahrefs is the best option.
Finally, Moz is a decent SEO tool for local SEO, customized reporting, and campaign analysis.
Make sure to go through these reviews carefully before making your final decision.
Disclosure: I may receive affiliate compensation for some of the links below at no cost to you if you decide to purchase a paid plan. You can read our affiliate disclosure in our privacy policy. This site is not intending to provide financial advice. This is for entertainment only.