7 Best Video Hosting Sites of 2023 (Plus Free Options, Ranked)
Choosing the right video hosting sites is crucial if you want to ensure that as many people see your videos as possible. From amateur content creators to major brands, the best video hosting sites can help you meet your goals. In this guide, I ranked and reviewed the 7 best video hosting sites, so that you can pick the best one for you.
---
We're reader-supported. When you buy through links on our site, we may earn an affiliate commission.
Can you imagine what 2020 would have been like without video hosting?
We'd have no Zoom to communicate with family and friends, no YouTube to turn to when tensions boiled over while stuck in the house with the family for weeks (or months) on end.
In the business world, getting video right is mission-critical for enterprises and small business owners alike.
But what does that mean? What does excelling at video, especially in a business sense, entail?
Let's start with the basics.
You need to rethink the way you present videos on your website.
In other words, you need to choose websites that allow for hosting videos that form part of a strategic plan for your onsite video content.
That's what a video hosting website is for.
What is the Best Video Hosting?
Just like with streaming and OTT platforms, the video hosting service market has a few prominent names. While many offer similar (or at least comparable) features, some vendors are more suited for specific customer use cases.
Also, keep in mind that YouTube is not the only game in town. There are many YouTube alternatives out there.
Here are my top picks for the best video hosting sites.
Best Overall Video Hosting Site for Business
Adam's Take
When it comes to video hosting, the best overall option is Vimeo. With all the features you need to showcase and promote your videos, Vimeo is the ideal choice for people who want a professional-looking platform that's easy to use. What's more, it can scale with you as your needs grow, making it a great long-term investment.
Vimeo is kind of the odd man out on this list. A more secure YouTube, Vimeo is designed for artists looking to showcase their videos without relinquishing control to a behemoth like the Google-owned video site.
After you create an account, uploading your videos and embedding them into your site is an easy process.
They will also exist on a standalone Vimeo page visitors can reach.
Depending on the subscription package you opt for, you can add engagement-enhancing features, such as calls to action and lead forms to Vimeo videos.
Vimeo falls short when it comes to integrations and dynamic templates.
Unlike with Cincopa, Wistia, and Vidyard, if you want to integrate your Vimeo account with, say, a marketing automation platform (or really any kind of CRM), you'll have to use Zapier to do so. This can prove costly and time-consuming.
Additionally, if you're looking to present videos in a way similar to Cincopa Video Course or Wistia Channels while using Vimeo, you'll have to hire a web-developer to create a custom template for you (this is true about any kind of playlist layout).
With Vimeo- what you see is what you get (i.e., a solid video player).
You should check out Vidyard if you are an:
Pricing:

You can explore Vimeo's basic package during a 30 day trial period, after which you can select one of the following premium plans. Unlike the other platforms on the list, Vimeo charges according to cloud storage capacity, not the number of uploaded videos:
Starter – For $12 a month, you can host up to 5GB of videos a week. Suitable for one use.
Standard – For $20 a month, you can host up to 20GB of videos a week. Suitable for three users.
Advanced

– For $65 a month, you can host up to 7 TB of videos. Suitable for 10+ users. With this plan, you can add calls to action to your videos and while live streaming, as well.

Enterprise – Contact their team to learn more about what this plan has to offer.
Best Free Video Hosting Platform.
Adam's Take
YouTube needs no introduction. The world's second most popular website is an awesome video platform that helped launch the careers of pop stars and influencers and gets people to watch hours of video at a time. If you're looking to get your videos out there, YouTube is the place to be.
The world's second most popular website, YouTube, is an awesome video platform. It helped launch the careers of pop stars and influencers and gets people to watch hours of video at a time. But what's good for Billie Eilish and Bieber isn't necessarily good for you and your business.
You can embed YouTube videos on your website, and it won't cost you a thing. But, sometimes, free comes with a price.
When you embed YouTube videos on your website, you essentially relinquish control over the content your visitors will meet. Just as glaringly, you ostensibly open a trap door through which viewers can easily bounce out of your website and go down the YouTube rabbit hole.
YouTube is also not an ad-free platform, which means that your competitors can advertise before your target audience gets to see your videos.
Customizable videos are a serious issue, as well.
Speaking of customization, To make YouTube embed codes your own, you'll need to tinker with CSS and code, which may prove time-consuming and ultimately will lead to less than satisfactory results. You can also arrange for your YouTube video embed to appear without the signature controls; this is something even the most technically-challenged can figure out how to do.
All of this is in stark contrast to (most) of the other platforms mentioned on this list. Designed to be super flexible, business-oriented video hosting software enables users to design their own video player, one that showcases a company's logo and matches its brand colors.
Perhaps most importantly, YouTube doesn't provide data as comprehensive as other paid options.
Here's the extent of YouTube's analytics:
You can view the total views and the like to dislike ratio.
Besides these vanity metrics, you have no idea whether or not your video is resonating with your audience. This proves problematic when trying to assess whether or not your video marketing initiatives are succeeding.
You should check out YouTube if you are:
An individual or company with a tight marketing budget.
Uploading unlimited videos, hosting free videos social sharing and even hosting live streams are all possible.
Here is a step-by-step guide for how to start a YouTube channel in 2021.
Price:
Free
Adam's Take
Cincopa is great to not only upload and host your videos but also manage all your media from one platform. You can use Cincopa to ensure that all your videos are stored securely and easily accessible to your entire team. Plus, Cincopa makes it simple to customize your videos with a variety of tools including overlays, text, advertising options, and more.
Cincopa stands out as being a comprehensive digital asset and media management platform. That's a fancy way of saying you can host anything using Cincopa: Images, podcasts, audio files, and, of course, videos.
Remember that immersive, Netflix-like video environment mentioned above?
You can easily do that with this platform by creating a Cincopa Video Channel. If you're planning on making a video course, whether it be for students, customers, or onboarding employees, you can use Cincopa Video Course.
You can capture individual viewer information by arranging for forms to pop-up during a video. Thanks to powerful third-party integrations, you can funnel this valuable information into your marketing automation platform (e.g., HubSpot).
That way, you can take the content your audience is most likely to engage with and incorporate it into your automated marketing initiatives (e.g., lead scoring based on predefined viewing benchmarks, workflow triggers).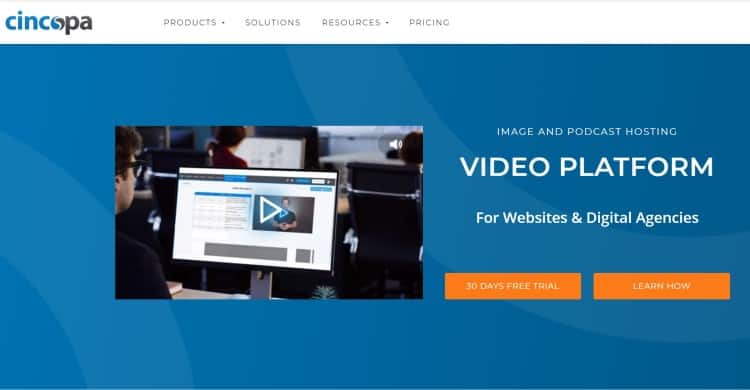 Like other vendors on this list (Vidyard and Wistia), Cincopa offers a powerful screen recording tool: RecTrace.
A free Chrome extension, RecTrace, allows users to record themselves, their screen, or both and deliver bite-sized, impactful videos. Users can do all this from within their email browser.
Users can click on the RecTrace icon within their Gmail, record themselves; once they're done recording, the video is automatically added to the email.
Finally, Cincopa's robust analytical features can prove game-changing, especially to those who value individual lead generation. You can see who each viewer is, where in the world they watched a video, what device they used to so, and the exact breakdown of their viewing history (e.g., number of views, engagement with CTAs, etc.).
Other features, such as Cincopa Heatmaps, provide an aggregated view of a given video's performance. You can see when there's a significant drop off in viewership and optimize in response.
You should check out Cincopa if you are an:
SMB
SME
Enterprise
Franchisor
Online educator
Pricing:
You can explore Cincopa's platform during a 30 day trial period, after which you can select one of the following subscription packages:
Plus

– For $25 a month, you can host up to 40 videos, along with 1500 images, 200 audio files (including long-format podcasts), and 40 PDF files. With this plan, users gain access to basic analytical features and to a variety of third-party integrations.

Corporate – For $99 a month, you can host an unlimited number of online videos, images, podcasts, and PDF files. Suitable for ten users. With this plan, users gain access to Cincopa's advanced analytics features and to its third-party integrations.
Enterprise– For $350 a month, you get unlimited bandwidth, and the ability to upload images, podcasts, PDF files, and high-quality video files. It's suitable for 250 users. With this plan, users gain access to Cincopa's analytical features and to its third-party integrations.
4. Wistia.
Adam's Take
Want a stable, secure, and feature-rich platform for hosting your videos? Look no further than Wistia, one of the most popular video hosting sites on the market today. With its advanced analytics, convenient embedding options, and robust security features, I recommend Wistia for enterprises that are serious about marketing with video.
A premier video marketing platform, Wistia is a popular video tool sought after by enterprises and marketing agencies. Offering a slew of analytical features, Wistia can be leveraged towards generating more leads through onsite video viewing.
Of particular note is Wistia's A/B testing feature. Once users upload videos, they can use random thumbnails to A/B test, analyze, and track viewer engagement.
Sensing their immense business potential, Wistia has recently added podcast hosting to its list of offerings.
Users can upload podcasts to their Wistia account and upload them to their Wistia Channels (a template comparable to Cincopa Video Channels).
Along with robust analytics (pertaining to individual viewing patterns), Wistia offers a screen recording software called Soapbox.
Users can record themselves, their screen, or both and immediately send videos to customers, leads, and team members.
Wistia offers embed codes compatible with most CRMs (including WordPress).
You should check out Wistia if you are an:
Pricing:

Wistia offers a free plan that allows you to upload and embed three videos or podcasts.
Otherwise, you can choose one of the following paid plans:
Plus – $19 a month
Pro – $79 a month
Advanced – $319 a month
Premium – Contact Wistia for more information.
5. Vidyard.
Adam's Take
When it comes to various businesses that want to host and share videos online, Vidyard is another platform that I would recommend. With an intuitive interface and a variety of features, Vidyard has become one of the leading video hosting solutions available today. Whether it's for marketing, sales, or internal communications, Vidyard has a solution that's tailored for your specific needs.
Vidyard is an established name within the video hosting game and with good reason. Like Wistia and Cincopa, its platform is easy to use and offers users an intuitive interface.
However, unlike the platforms mentioned above, Vidyard's solution is tailored to four specific use cases: marketing, sales, internal communications, and enterprise.
Offering advanced video analytics, Vidyard can show users who watched each video and provide a detailed breakdown of individual viewing patterns.
Additionally, Vidyard offers its version of RecTrace and Soapbox (i.e., a screen recording extension), simply named Vidyard Screen Recorder. Like with RecTrace and Soapbox, these videos can be inserted into emails.
Vidyard offers a variety of powerful integrations, including Twitter and Hootsuite. You can schedule video uploads straight to your social accounts and up your social video sharing game.
Finally, it's worth noting that Vidyard has a native integration with HubSpot (a popular marketing automation tool, especially for SMBs and SMEs).
You should check out Vidyard if you are an:
Pricing: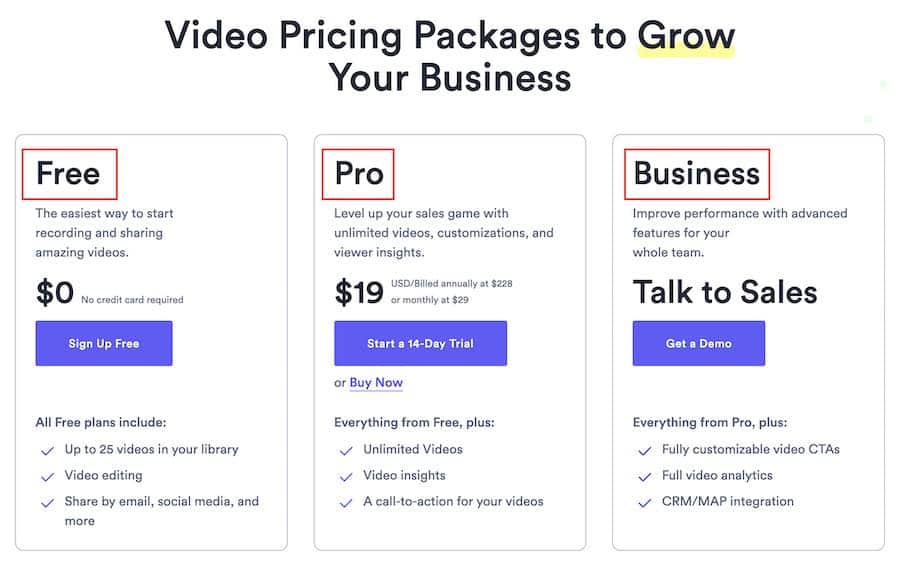 Vidyard offers a free plan that allows you to upload and embed five videos.
Otherwise, you can choose one of the following packages:
Free
Pro– For $15 a month, you can host up to 20 videos. With this plan, a user can gain access to Vidyard's analytics.
Business – Contact Vidyard to request a demo.
6. Brightcove.
A professional video hosting platform, Brightcove caters exclusively to enterprises.
Amongst its impressive list of customers, you can find ESPN.com, Adobe, SAS, and Rogers Media.
This becomes apparent in the information available regarding the price of its subscription packages.
Brightcove's plans are tailored specifically to each customer, according to their needs, the number of users, and bandwidth.
Brightcove offers users comprehensive security features, along with in-depth analytics, pertaining to individual viewers' preferences and patterns.
Publishers can turn to Brightcove, knowing that it can help with video monetization; the platform is compatible with programmatic VAST advertising.
A unique feature to Brightcove is banner additions to a video channel. Users can create a unique video channel (a-la Wistia and Cincopa Video Channels) and add clickable ads within them (similar to retargeting banners seen on social media).
You should check out Brightcove if you are an:
Enterprise marketer
Publisher
Pricing:
Brightcove offers a variety of plans tailored to different use cases and business needs. They do not publicize their prices. To ask for a quote, you'll have to contact their sales department.
7. Kaltura.
More than the other platforms on this list, Kaltura has a primary customer use case of online education.
Leading universities, along with major enterprises, rely on Kaltura as an online course platform for employees and students, knowing the platform's functionality is intuitive yet comprehensive.
Like the other platforms on this list, Kalutra users are treated to a comprehensive analytical dashboard. Critical for monitoring student progress, administrators can see how each student interacts with a given video:
Did he or she watch a given video once? Twice? More than that?
Did he or she complete the quiz presented in the middle or at the end of a certain video?
You can get a clear answer to these questions when checking out Kaltura's analytics.
If you work with an LMS (learning management system) for onboarding employees, you can integrate Kaltura with it. This will allow you to introduce video into an otherwise text-based approach.
You should check out Kaltura if you are an:
Enterprise
Online educator
Pricing:
You can explore Kaltura's platform during a 30-day trial period, after which you will have to contact sales and upgrade to their enterprise plan. Final prices depend on customers' specific needs.
Other tools not yet mentioned on this list include JetPack, SproutVideo, and DailyMotion.
What is a Video Hosting Platform?
Website developers looking to add videos to their website have a few options to go with.
They can upload videos to YouTube, copy the YouTube videos' URL, and then embed it in their content management system (CMS) editor (e.g., WordPress).
Alternatively, they can turn to video hosting platforms.
Good video hosting solutions are designed for different business use cases. Once you subscribe to a platform, you can easily upload your videos. You will then be presented with an embed code that you can just as easily paste into your CMS.
However, there are major differences between relying on free solutions and a video hosting solution.
HBOMax, AppleTV, Amazon Prime, and, of course, Netflix, have established a new norm as far as video consumption is concerned. When they reach your site, your visitors expect to meet a viewing experience consistent with the streaming giants.
Video hosting sites enable you to indulge your viewers with a dynamic, immersive video environment on your website.
It gets better.
With various powerful features, such as on-video forms and calls to action (CTAs), you can capture individual viewer information. You can see who watched each video, from where in the world they tuned in, the device they used, and an exact breakdown of what and how much they watched.
Finally, video hosting sites truly enable you to reap the benefits of video SEO.
Google awards video content when matched with a video hosting service. Thanks to a JSON-LD file (automatically injected into your webpage's header), search engines are more likely to showcase your video in search engine results pages (SERPs).
Factors to look for when choosing a video hosting website
The following factors should be kept in mind when choosing a video hosting website for your business.
Cost
The cost of the service and whether or not there is a free version. A common mistake is to choose a paid option because it appears more professional; this can be costly if you only need the site for one video and don't intend on using it again. Free sites allow you to upload your videos without having to pay for uploading or advertising fees. On the other hand, a paid video hosting site is a great idea if your business depends on the success of your videos.
Customizable
A customizable interface allows you to rearrange the layout in a way that is most efficient for you. This allows businesses with multiple videos to have them all in one place so they can be found easier. It also allows business owners to have their social media links easily displayed as well as the company logo at various parts of the videos.
Monetization
Monetization deals with how you will make your money back from your video hosting website. Many websites give you the option of having advertisements play before, during, and after people view your video. Some websites allow you to add affiliate links and make money when people click on the link and purchase a product or service.
Search Engine Optimization (SEO)
SEO deals with how easily someone can find your video. This is important to businesses because it allows people looking for information about specific products or services to find them. Many companies choose platforms based on their SEO capabilities because they want their videos listed as high as possible in search engines such as Google and Yahoo.
Statistics
Statistics tell you how many people have viewed your video or visited your website after viewing the video. This is important for businesses because they can determine what viewers are interested in, the demographics of who is viewing it, and how many people are willing to share the video. Statistics also provide information about which videos are performing well or not well.
Sharing
Sharing enables you to post your videos on popular social media sites such as Facebook, Twitter, LinkedIn, TikTok, and many more. This is important for businesses because it allows their videos to reach a wider audience by sharing them in various places where their target audience hangs out.
Video Hosting FAQ.
What are the video hosting platforms?
The top video hosting platforms are YouTube, Vimeo, and Wistia. These are the video hosting platforms that you will encounter most often. If you are a business that is looking for video hosting I would strongly recommend going with Vimeo or Wistia. I use both of these platforms in my business and I am extremely happy with them.
Where can I host videos for free?
Free video hosting sites like YouTube and Dailymotion are great options for getting started. If you are looking for more of a premium video hosting option for business I would go with Vimeo, Wistia, or Vidyard. They are a ton of features that free video hosting sites just don't offer.
Which hosting is best for video website?
If you website is centered around online video hosting, I would opt for a premium video hosting site like Vimeo or Wisita. Both of these platforms are great for building a video based website around.
Summary.
By the end of 2022, 82% of consumer internet traffic will be video-based.
Regardless of size or industry, companies would be wise to start placing a heavy premium on video marketing.
And, to go about it strategically, marketers (B2B and B2C alike) should explore video hosting platforms.
With built-in features such as on-video forms and calls to action, you can start leveraging your videos for lead generation and sales acceleration (as opposed to just another promotional vehicle).
In a mere matter of clicks, you can embed your video into your CMS and engage website visitors with your awesome video content.
Whether or not YouTube embeds align with your business goals is unclear. Companies looking to excel at the video marketing game would do well to opt for a multichannel approach:
Ultimately, you should use a custom video hosting platform to present videos on your website while creating and cultivating a YouTube channel.
Disclosure: I may receive affiliate compensation for some of the links below at no cost to you if you decide to purchase a paid plan. You can read our affiliate disclosure in our privacy policy. This site is not intending to provide financial advice. This is for entertainment only.