5 Best Underrated Side Hustles to Start in 2023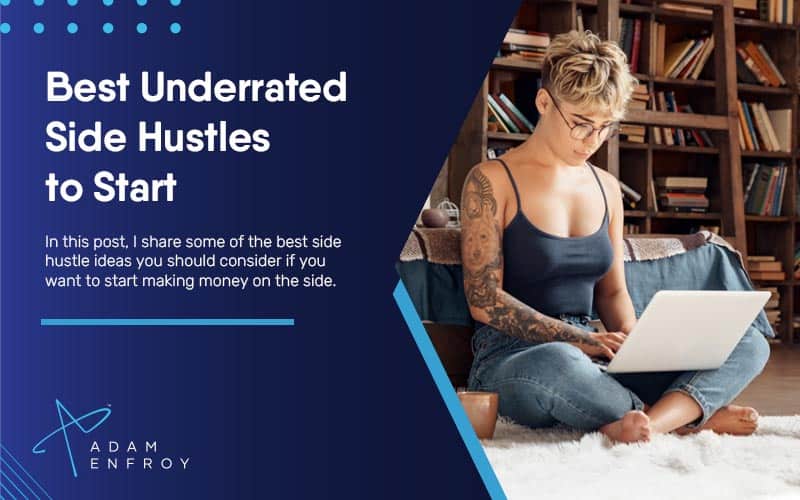 What would you say if someone came up to you in the street and asked you, "What's the best side hustle in the world right now?"?
Would you tell them to start a blog?
Sell handmade goods on Etsy?
Provide freelance services on Fiverr?
Drive for Uber or Lyft?
All of the above can be great answers however, some are better than others.
With some side hustles flying under the radar right now, I think a few specific ones have enormous potential both now and in the upcoming years.
With work-from-home jobs and small business ideas on the rise, now is the time to start thinking about which one is right for you.
In this post, I'll share some of the best side hustle ideas you should consider if you want to start making money on the side.
Let's get right into it.
What Are The Best Side Hustles?
Here are the top-side income jobs to consider.
1. Ecommerce Business.
One of the side hustles having consistently high demand is running your own ecommerce store.
From selling on Amazon to building an Etsy store, there are many ways to get started in this space.
Also, with a big occasion coming around every few weeks, there's always a reason for people to buy stuff online, which you can take advantage of as an online store owner.
Building an online store is relatively easy to make money online and allows the right shopper to find products (or services) that they may not be able to find in traditional stores.
Understanding trending products and catering to a niche market can help you stand out from the competition and make sales.
To understand such trends, here are a few resources that can help:
2. Affiliate Marketing.
For those that already have a blog (or want to start a blog) and build out a great side hustle, affiliate marketing can be a great option.
With the ability to earn passive income through various programs, this side hustle can be very lucrative.
From simply making enough to cover student loans to serving as a full-time job, many people find that affiliate marketing makes a great side hustle.
A great benefit to this type of marketing is that it can be done at a low cost, generally involving more time than money.
You only need a domain name, hosting, and a WordPress site to get going.
Once you have those set up, you can start adding content to your site and promoting products for which you're an affiliate.
You can also write about many niches, including food, fitness, finance, pet blogging, travel, and more.
In my online course, Blog Growth Engine, I cover everything you need to start with affiliate marketing and how to scale it to a full-time income.
3. Virtual Assistant.
While many disregard this job as something that won't yield any tangible results, being a virtual assistant could provide a great way to earn extra money and learn a ton in the process.
With business owners always needing to take care of mundane (yet important) tasks such as responding to emails, scheduling appointments, uploading podcast recordings, or even creating various graphic design elements, finding the right virtual assistant can be invaluable for them.
If you have skills business owners could use in their day-to-day operations, don't be afraid to put them out there and start offering your services.
You might be surprised at just how much work you can get!
4. Social Media Management.
Consider the following question.
Do you spend a few hours on any social media networks every day and know how they run to the point where you could give lessons?
Have you ever thought you could share this knowledge with others to help them grow their businesses?
From the up-and-coming influencer that needs more time in their day, to the real estate agent that simply doesn't care much about running their social media accounts, if you can help people grow their business, you could be in for a good side hustle.
Many businesses are willing to pay someone to do their social media management; if you're good at it, you could earn a lot of money from this side hustle.
To get started, create a list of services you can offer, find businesses that need help, and start pitching your services, focusing on the value you can provide them.
5. Freelance Writing.
Writing as a freelancer is one of the best ways to start your own business and make good money.
As you build up your knowledge in various subject areas through your writing, you could also consider creating an online course showing the right audience how to get better at the topic you start specializing in.
Finding freelance writing can be done through sites like Fiverr, Upwork, Craigslist, and other side job boards.
Alternatively, you could even approach bloggers, business owners, personal finance websites, or any other type of online business you're interested in writing for, and offer them a sample of what you can do.
As a freelance writer, making extra income or even replacing your day job is not just a dream.
It can definitely become a reality with the right work ethic and focus on getting better at what you do.
As you build up your business, asking for a referral from clients can also help you land new side gigs and grow your business.
In addition, as a potentially lucrative side hustle, you can hire your own writers down the line as the business expands, allowing you to turn your knowledge into extra money.
Other Noteworthy Side Hustles To Consider
There are tons of other side hustles that might interest you.
In this section, I will divide these into online and offline side hustles, as this will make it easier to find one that's right for you.
Online:
Teach English to international students: While we might take it for granted, not everyone can speak English proficiently. To make more money in this industry, you might want to specialize in teaching sub-niches like business English and exam preparation. You can earn more money by focusing on such audiences in terms of the clients you attract.
Transcribing audio files: With various use cases for transcription, there's always a demand for accurate and timely transcriptions. Transcription sites like Rev.com offer competitive pay, and you can work as little or as much as you want.
Proofreading documents: No one wants to have a document filled with errors, so if you have a good eye for detail and are proficient in a particular subject, you might want to consider becoming a proofreader. Tools such as Grammarly and Hemingway Editor can surely help with this.
Market arbitrage: If you have thrift stores near you, you can help people who want to sell their stuff and make money by going online to sites like eBay and Facebook Marketplace. If you can products sold at a lower price than you can re-sell them for, you're off to the races.
Answer online surveys: With researchers requiring focus groups for various studies, there's always a demand for accurate and timely survey responses. The skillset needed for such exercises isn't typically advanced, so you won't have to spend much time learning how to do this in order to earn a few extra bucks.
Offline:
Rent out any spare room you have: Platforms like Airbnb make it easy to have a side hustle where you can make money by renting out any extra space in your house.
Give people lifts: From Uber to Lyft, people need to get around. Many don't want to use their own transport, which provides a perfect opportunity to make some extra cash by giving them lifts instead. Ridesharing is a big industry, and there's plenty of money to be made.
Babysitting: If you're good around children, babysitting can be a great way to make some extra money. Parents are always looking for reliable and trustworthy people to look after their children, so this can be an excellent opportunity to get started in this industry, even on a part-time basis.
Pet sitting: From bird watching, to providing a dog walking service, to cat care while the owners are abroad, the demand for pet sitters will always be there. Using a site like Rover allows you to find pet-sitting jobs in your area and start making money right away. Plus, it can also be a fun side hustle if you really love animals (which you should if you're going for this one).
Deliver Items: Sites like Doordash are great for people that don't have time to cook their food and want a practical solution to their problem. As a food delivery driver (Dasher), you can make money by picking up and delivering food to people in your area. This is a great side hustle for those with spare time during the day or evening. Plus, it's a great way to get some exercise in!
Wrap Up.
Finding the perfect side hustle is a great way to make some extra well-needed money.
Considering your skills, schedule and interests is a great way to start finding side hustle ideas around you.
Once you've narrowed down your options, take some time to research each option's earning potential and feasibility before taking the plunge.
Finally, consider that hustling more is not always the answer to making more money.
In your opinion, what's the best way to make money?
Have you ever done any of the above side hustles?
And what's too much when it comes to hustling?
Let me know in the comments below!
Further reading on AdamEnfroy.com: Whether helping someone with small business accounting and bookkeeping, to becoming a virtual assistant researching the best credit card solutions for startups, the potential of freelance work as a side hustle can be significant.
In addition, there are various travel jobs that can help you make money while on the road.
With the right combination of skills and knowledge, you can make a great living working from anywhere in the world.
Editorial Process:
Our reviews are made by a team of experts before being written and come from real-world experience. Read our editorial process here.
Some of the links in this article may be affiliate links, which can provide compensation to us at no cost to you if you decide to purchase a paid plan. These are products we've personally used and stand behind. This site is not intended to provide financial advice. You can read our affiliate disclosure in our privacy policy.