11+ Best Small Business Accounting Software of 2023
Choosing the right business accounting software is crucial if you want to ensure the success of your business. From bookkeeping to invoicing and GST filing, the best business accounting software can help you meet your goals. In this guide, I ranked and reviewed the 11+ best business accounting software, along with my top 5 choices, so that you can pick the best one for you.
---
We're reader-supported. When you buy through links on our site, we may earn an affiliate commission.
In 1494, an Italian Renaissance mathematician Luca Pacioli created the method of accounting we know today. Back then, it was also called bookkeeping because 500 years ago, people actually used books for it and stared ominously as they wrote down their (apparently horrible) financial statements.
Now over 500 years later, small business accounting is as essential as ever, but we can rely on accounting software rather than a menacing man with beautiful hair and an Italian cloak.
Ultimately, accounting entails summarizing, analyzing, and reporting all transactions related to a business, whether large or small. It's a necessary function for every business in order to understand their profits and losses, tax responsibilities, and overall health of the business.
Usually, accounting includes the following functions:
Decision making
Cost planning
Economic performance measurement concerning a business
Also, most businesses tend to hire dedicated personnel called accountants to take care of the accounting activities of the firm.
However, if you're self-employed today, you have access to numerous accounting systems to help you manage your finances on your own.
These tools help you create invoices, track and manage inventory, manage payroll services, setup accounts payable automation, and help with customer relationships.
But with so many options available in the market, it can be challenging to choose the right one for your business.
What is the Best Small Business Accounting Software?
Here are the best accounting software tools for small business owners to check out:
Best Overall Accounting Software.
Adam's Take
Patriot Accounting is a great choice for small businesses that are looking for simple, effective accounting software. Created with the input of business owners that had practical problems to solve in their day to day, Patriot Accounting is easy to use and reasonably priced.
Patriot's accounting software is a great option for small businesses because it is easy to use and includes all of the features businesses need to manage their finances effectively.
This platform is designed to be easy to use so you can get back to running your business as quickly as possible.
The one-click setup and data import make it easy to get started, and the time-saving workflows ensure that you can complete tasks quickly and efficiently.
Another important consideration when choosing accounting software is whether or not it includes payroll functionality.
Payroll can be a pain, but Patriot's payroll software takes the pain out of payroll and guarantees accurate calculations.
This means that you can save time and focus on other aspects of running your business.
Key Features:
I like that Patriot offers free expert support to help you get the most out of their software. This is a big help for small businesses who may not have the internal resources to troubleshoot accounting issues.
I also appreciate that the software is mobile friendly. This is key in today's business world where more and more people are working remotely or on the go. Having the ability to access your accounting software from your mobile device is a huge plus.
The ability to execute unlimited payments to vendors is also a great feature. This can save you a lot of time and hassle when paying your bills.
Pros:
You can easily import data from other accounting software platforms which is a big time saver.
Easy corrections allow you to quickly and easily fix any errors that you may have made.
Unlimited users means that you can add as many users as you need without having to worry about additional costs.
User-based permissions give you granular control over who has access to what data. This is great for security purposes.
Cons:
It does require an integration to track time, which can be an additional cost.
Pricing:
Patriot offers two pricing plans
Accounting Basic: Starting at $20 per month
Accounting Premium: Starting at $30 per month
Get started with Patriot.

Adam's Take
Want to get all your accounting done in one place? Then you need FreshBooks. I recommend it as the best accounting software for small businesses because it's simple to use and has everything you need to manage your finances.
FreshBooks is of the most popular accounting tools in the market. It can streamline the management of all your accounting activities like invoicing, time tracking, making payments, and more. The best part is that it is fast, secure, and easy to use.
Key Features:
Invoicing – You can personalize your emails and create your own invoice with excellent customization, including your logo and signature
Automatic Expense Tracker – Simply link your bank account with the software and get automated updates about your spending at predetermined frequencies
Track Your Time – Track the exact time spent on activities like engaging clients, finishing a project, and more
Accounting – Provides easy to use, double-entry accounting tools
Project Management – Provides holistic project management features and facilitates collaboration
Pros:
It's a mobile-friendly software that lets you stay connected with customers through the mobile app
User-friendly and intuitive user interface
Multi-language and multi-currency compatibility
Cloud-based software, so it is inexpensive and easy to use
Excellent customer support via phone, email, live chats, and ticket
Allows excellent customization
Accepts credit cards, business credit cards, and performs ACH bank transfers online
Regularly generates project budgets to keep your team up to date
Generates robust and actionable insights
30-day free trial period
Every transaction is SSL certification encrypted to provide enhanced data security and maintain the integrity
Provides unlimited expense tracking, time tracking, expense entries, and customized invoices
Clean, easy-to-navigate dashboards for increased efficiency
Cons:
On-premise deployment not possible
Doesn't have a free plan
The metrics, goal-setting, and reporting features need improvement
Pricing:
Freshbooks offers four plans.
The first three plans are priced at $4.50, $7.50 and $15 per month (billed annually). The last plan is a customized plan to cater to the needs of an individual, and you have to contact a sales rep to get a quote.

Adam's Take
Zoho Books helps all the departments in an organization to collaborate and work together on a single platform. In addition, it offers features like automated recurring invoices, online payments, expenses tracking, and insight generation to help businesses make informed decisions.
Zoho Books is an online accounting platform that is an all-in-one tool and can manage your finances, automates business workflows, and helps you work collectively across departments.
Key Features:
Inventory management – It provides complete inventory management, from monitoring stock levels to replenishment
Project management – You can perform comprehensive project management with features like logging time, role-based access to track time, recording project expenses, and raising direct invoices
Estimation management – Create estimates in a matter of seconds and convert them to invoices with a click when they are accepted
Automation – Take advantage of the software and automate tedious, error-prone, and high volume tasks
Pros:
Offers a 14-day free trial
Offers a wide range of third party integrations like G Suite, PayPal, Razorpay, Office 365, and more
Fully compatible with mobile platforms
Cloud-based and therefore inexpensive and easy to set up
Extensive customer support via phone, email, and tickets
RESTful API makes it extensively customizable
User-friendly and intuitive interface
Integration with Zoho CRM lets you follow the credit status of customers, create new orders. and more
Wide range of invoice templates to choose from that can be highly personalized with logo and sent individually to customers
Multi-language and multi-currency capability
Create, send, and manage bills online and automatically adjust stock levels
Create recurring bills for regular purchases
Offers a client portal for easy approval of estimates, bulk payments, and more
Confirm sales orders, keep teams updated, and avoid delivery errors with real-time information access
Easily view dashboards, charts, reports covering all receivables, payables, and inventory
Use the auto-scan feature to scan receipts, invoices, bills and extract information
Cons:
Doesn't offer on-premise deployment
Live chat support is not available
Pricing:
The plans start from $0 and range up to $30 per organization per month.

Adam's Take
I advise you to check out QuickBooks if you are in search of feature-rich accounting software for your business as it is loaded with functionality to make your accounting tasks easier. It can be used by businesses of all sizes and industries.
Intuit QuickBooks Online is one of the newest accounting software for small businesses and offers both cloud-based and on-premise versions. It provides a holistic solution for all accounting activities like accepting business payments, management, and payment of bills and payroll functions.
Key Features:
Invoicing – create custom, professional invoices, sales receipts, and estimates that you can send in minutes
Accounting reports – instantly see how your business is performing with customizable reports and dashboards
Cash flow management – Enter bills from vendors and pay them only when due. You can schedule recurring payments as well to save time
Expense tracking – record every expense for the month when you have to pay your taxes. You can also photograph and save receipts with the QuickBooks Online mobile app
Inventory management – This is a module where you can view quantity on hand when you buy or sell inventory due to real-time updates. You can also access real-time inventory valuation, which is automatically adjusted throughout the day and lets you stay on top of purchase orders by keeping track of what you've ordered from each vendor.
Pros:
Offers a 30-day free trial period
Offers both on-premise and cloud-based deployment
Extensive customer support available via phone, email, tickets, and live chat
Takes automatic backups every day so that you're always up to date
Provides bank-level data security (128-bit SSL encryption) for security and integrity
24/7 access to accountants from any device
Allows efficient, real-time collaboration between different team members and teams by providing unlimited access
Bookkeeping software works with Windows, Mac, Android, and other operating systems
Cons:
Doesn't offer a free plan
Supports only English
Customer support isn't available during weekends
Pricing:
Intuit QuickBooks Online provides five plans, starting from $12.50 per month and ranging up to $90 per month. All Quickbooks Online subscription plans come with a 30-day free trial period.
You can check out my article comparing Quicken vs. Quickbooks for more information.
Adam's Take
If you're looking to customize the various accounting software solutions out there to better suit your business, then Accounting Seed is a great option. It's also good for businesses that want an easy-to-use solution that will still give them plenty of features and functionality.
Accounting Seed is a highly-customizable software solution that helps you take care of all accounting-related aspects of your business. It's highly flexible, easy to use, and provides a collaborative environment that enables you to make strategic business decisions.
Powered by the Salesforce Platform, their open architecture allows both open customization and reliable connections with tools on and off Salesforce. This streamlined database provides best-in-class security, collaboration, and automation in one place.
If you're interested in the accounting technology you need in 2020, check out their new 2020 Accounting Technology Buyers Guide.
This guide includes how accounting technology has changed over the last 50 years, key accounting features you need, the current costs of new accounting software, how to implement new solutions, and more.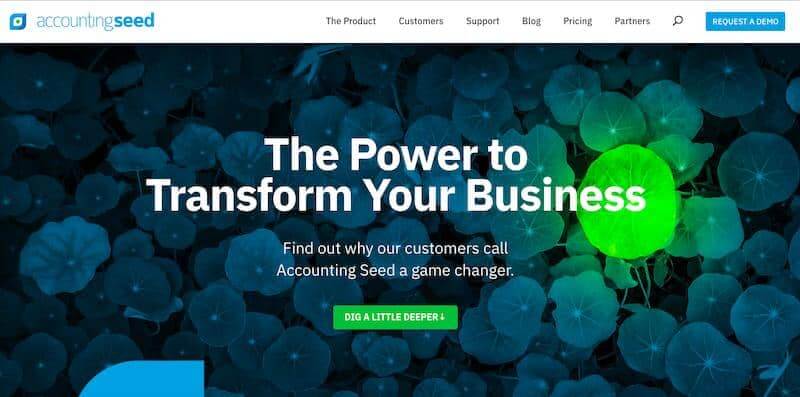 Key Features:
Financial reporting – Accounting Seed offers a wide range of standard financial reports, including profit and loss, balance sheets, cash flow statements, comparative of budget to actual, comparative of budget to budget, and many more. They also offer custom reporting with unique formatting and calculations tailored to any business.
Flexibility – Since every business is unique, Accounting Seed has a lot of customization tools to configure any business process. This includes customization around custom objects and fields, document management, security, and much more.
Cost-Effective – Their software is fast to implement and their sales team offers potential incentives for new prospective customers.
Automation – Anything that can be put into logic can be automated. This includes event automation, batch automation, scheduled job automation, as well as full automation of internal control processes.
Inventory and order management – Take control of inventory and order management from ordering to replenishment.
Sales order management – It creates a consolidated sales order process that is highly streamlined. You can create a sales order, allocate inventory to reserve products, record packing, and shipping details and create purchase orders directly.
Purchase order management – Fully customize purchase order management by tracking creation and approval of purchase orders, receipt of goods in warehouses, and more.
Pros:
User-friendly and intuitive interface
Create subscription billing and automated recurring billing as per your needs
Integrated with Stripe to conduct credit card, ACH payment processing, and other add-ons
Analysis of past, present, and future activities to help you manage billing
Easily embed purchase orders with sales orders and accounts payable
Cloud-hosted and therefore easy to set up
Provides customer support via phone, email, tickets
You can link multiple banks and multiple customers to your account
Create bank reconciliation statements easily
Powerful automation features eliminate needs for manual, error-prone data entry
Highly configurable and customizable
Pricing:
The pricing details aren't available on their website. To get a personalized quote based on your business needs, you can contact their sales team.
ZipBooks is a simple and powerful accounting software tool that can help you take your business to the next level. It is a web-based software that can help you streamline all your accounting activities.
Key Features:
Accounting – Offers a complete and straightforward accounting solution. Create ledgers, bank reconciliation statements, balance sheets, trial balance, income statements, and more
Billing – One-time, recurring billing so that you get paid faster
Expenses – Smart and automated expenses tracker
Intelligence – Offers you a full suite of tools to generate and gather actionable reports and insights to keep you on track. You can generate business health score, invoice quality score, and perform smart searches
Synchronicity – You can synchronize all your bank accounts and secure all your financial details
Team Management – Allows all the team members to access the same data in real-time for effective collaboration
Pros:
Allows sending of unlimited invoices
Can manage unlimited vendors and customers
30-day free trial period
Syncs with Microsoft Excel and Lite plans
You can send invoices in multiple currencies
You can accept digital payment via PayPal or Square and access accounts receivable plans
Enables you to send custom quotes and estimates
Cloud-based software that makes it inexpensive and easy to use
Phone and email customer support available
Has an excellent free accounting software plan for freemium user and bookkeepers in addition to a quality premium plan
'Accountant' custom plan provides excellent features like texting clients directly, time tracking across client accounts, bulk transactions editing, and a single dashboard for holistic client management
Cons:
Supports only English
No option for on premise-deployment
There is no live-chat or ticket-based customer support
Pricing: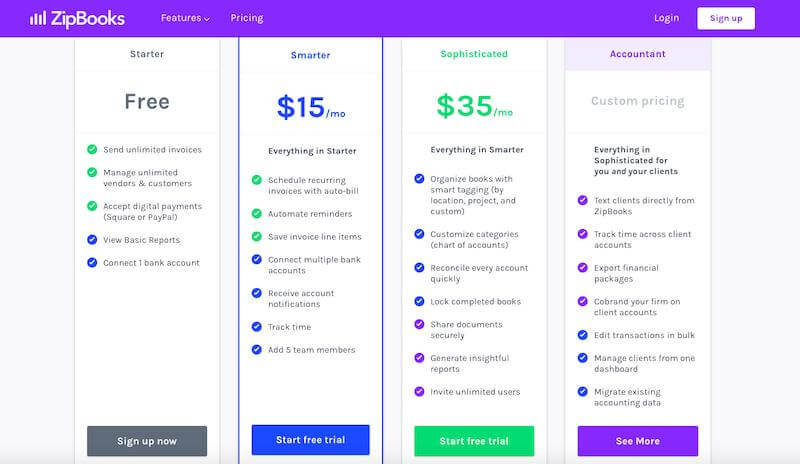 ZipBooks offers four pricing plans. The 'Starter' plan is an excellent freemium plan, while the paid plans start from $15. You also get a quote-based plan, for which you need to contact their sales team to get a quote.
SlickPie is a simple, easy-to-use, cloud-based software for all your accounting needs. It's a comprehensive tool that lets you specifically take care of all your tax commitments and ensure regulatory compliance.
Key Features:
MagicBot – It's an in-built, automated receipt data entry tool that enables businesses to streamline accounting by automatically pulling details from bills and converting to digital data
Track Sales Tax – With this software, you can manage business taxes with inputs like municipal, state, regional, federal, provincial, and pool them into a single platform
Late Payment Reminders – In-built, automated due and overdue reminders that can help you get paid faster, and avoid late payment related issues
Financial Management and Reports – Measure, track, and access all the information related to the finances of your business. It helps you make well-informed, data-driven decisions, and visualize information using insightful reports
Pros:
Has an excellent free plan
Offers a free trial period for a paid subscription
Provides phone and email customer support (paid plan) and only email support for the free plan
Open API, which makes it highly customizable
Can send invoices online
Multi-currency compatibility
Can make and accept digital payments (PayPal, Stripe)
Track expenses and manage bills
You can get live bank feeds
Compatible with any device
Based on the cloud, so easy to use and inexpensive
Tracks transaction history
Allows you to create bank reconciliation statements
Creates and sends quotes and estimates
Highly intuitive and user-friendly software
You can add and link unlimited users
Cons:
No on-premise deployment
Doesn't provide live chat customer support
Supports only English
There's no customizable plan
Limited invoice customizations offered
Not enough third-party integrations
Pricing:
SlickPie offers only two pricing plans.
The 'Starter' plan is free and comes with limited features. The paid plan is called 'Pro' and costs $39.95 per month.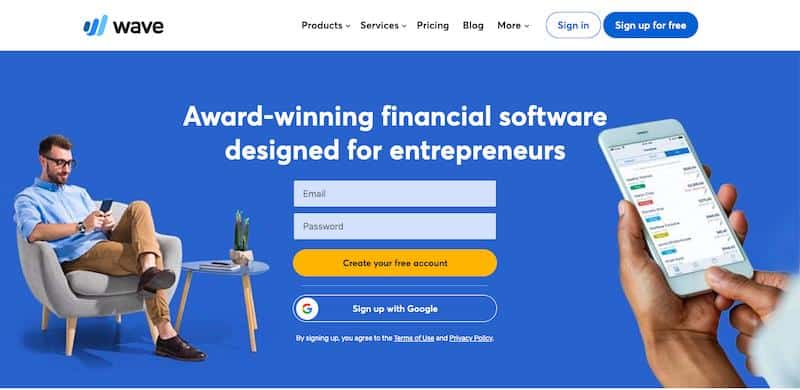 Wave is a comprehensive and integrated software that can provide a holistic and all-in-one solution to all your accounting needs. It is one of the best software for small businesses, entrepreneurs, freelancers, and those who are self-employed. The good news is that it is entirely free of cost.
Key Features:
Accounting – This software caters to all your accounting needs, including tracking expenses and income. You can connect your bank accounts, sync expenses, balance your books, and get ready for seamless tax compliance
Invoicing – Very easy to create and send professional invoices, all at the click of a button. It's highly customizable, easy to use, and comes with an unlimited choice of templates
Receipts – You can receive and read receipts on any device. This software also lets you scan the receipts anytime, wherever you are, even when you're offline
Pros:
No paid subscription; it is entirely free and has no hidden charges
You can set up recurring invoices for repeat customers and receive automatic, on-time, credit card payments
Compatible with mobile devices
Get instant notification when an invoice is due, is viewed, or gets paid
Avail unlimited bank account and credit card connections
Has 'smart dashboard' feature that lets you organize income, expense, payments, and invoices together
Secures bank data connections that are read-only and uses 256-bit encryption
User-friendly and intuitive interface
No installation required; you can use it with a browser and an internet connection
Cons:
Fees collected for specific cases for processing online payments (dispute fee of $15 and a return fee of $5 per item)
Doesn't offer a credit note feature
Features like time tracking and audit history are not yet available
Pricing:
Wave is one of the few accounting software platforms that are entirely free of cost. Rest assured, there are no hidden fees or charges
Xero is of the newest accounting applications on this list. It provides you with all the accounting tools you need to grow your small business.
Key Features:
Asset management – Track every business asset like vehicles, machinery, hardware, and office equipment for real-time accounting purposes
Project management – This software lets you complete all your project management tasks like capturing time and costs, sending invoices, and monitoring progress on a single platform
Sales tax – Sales tax-related features make it easy to file taxes online, prepare, and submit sales tax returns. It also calculates taxes for your sales and purchases with the most recent rates
Business performance dashboard – Make use of the dashboard, which includes in-built charts and graphs for actionable insights to make data-driven business decisions
Inventory management – Excellent inventory management tools let you stay on top of the numbers and keep track of your inventory
Pros:
30-day free trial period
24/7 customer service via phone, email, live chat, and email
Reduces the time to get paid with online invoices that come with 'pay now' button
Chase outstanding payments with automated reminders
Run unlimited payroll across all the US states
Seamlessly connect bank accounts to your profile
Compatible with mobile devices
Bundles payments together and schedule upcoming payments to be paid together
Save time by setting up recurring bills
Automatically track gains and losses for over 160 currencies
Get a real-time view of your cash flow from any device
You can import and categorize your latest bank transactions, and reconcile at the click of a button
Cons:
Doesn't have a free plan
A large number of transactions can cause it to slow down
Pricing:
The paid plans start from $20 per month and range up to $40 per month. Each plan includes a 30-day free trial period.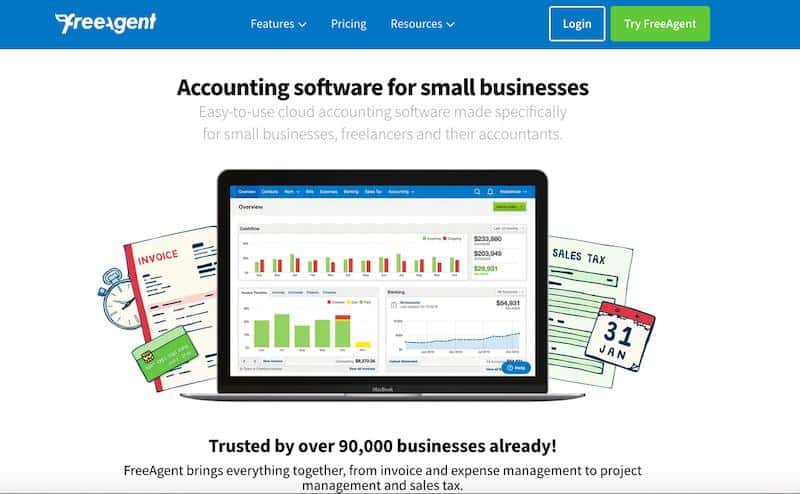 FreeAgent is a cloud-based accounting software tool that is perfect for freelancers, small businesses, and their accountants. Trusted by more than 90,000 businesses worldwide, it brings everything, including invoice, expense management, project management, and the sales tax on the same platform.
Key Features:
Advanced expense management – Comprehensive management where you can categorize expenses by currency. You can also track things like documented and paid invoices
Tax management – Tax management module enables you can complete all activities related to managing tax and compliance
Accounts payable management – It can generate and manage bills effectively, and can also customize each bill by adding an introduction for ready reference
Contract management – Create and send invoices to your clients with ease and choose from a range of templates
Pros:
Provides a 30-day free trial
Extensive customer support by phone, email, ticket, and live chat
Since it's cloud-based, it is inexpensive and easy to set up
Can provide very speedy estimates that can help you do more in less time
Multi-currency and multi-language support. And you can send invoices in over 25 different languages
Comprehensive dashboard view enables you to visualize the big picture, with the cash flow, profit & loss statements, and invoice timeline
It allows high customization of invoice by addition of your logo and signature and sends invoices at one click
Wide variety of invoice templates to choose from
You can set-up automatic, self-chasing reminders for recurring invoices
Highly intuitive and user-friendly software
Allows digital payment through PayPal, GoCardless, and Stripe
One of the least expensive accounting software platforms in the market
Cons:
Doesn't provide a free plan
Doesn't have the on-premise deployment option
Pricing:
With FreeAgent, you get only one universal plan. It costs $12 per month for the first six months of your subscription, and $24 per month after that. You also get a 30-day free trial.
Tipalti is a comprehensive accounting software platform that provides end-to-end solutions to automate the entire supplier payments operation, making global mass B2B payments efficient and frictionless. Moreover, it is a KPMG-certified application.
Key Features:
Supplier management – You can easily guide suppliers through submitting contact information, banking details, tax forms, and more
Invoice management – Provide automated invoice capture, approvals, payments, and reconciliation in a single end-to-end AP platform to boost efficiency and standardization
Tax compliance – It solves the complex manual process of collecting tax information through digital capture, ensuring payment validation even before its processed. It has a KPMG-certified tax module ensuring IRS and VAT compliance
Tipalti Detect feature – It can proactively prevent fraud with detailed payee monitoring that effectively mitigates risk exposure
Pros:
Cloud-based software, therefore easy to set up
Provides an end-to-end AP
Capable of generating Form 1099 and 1042-S tax reports
Facilitates international bank/wire transfer
Customer support available in the form of phone, email, and tickets
Has an in-built self-billing module with automated invoice creation and submission
Facilitates mass payments in over 190 countries and 120 currencies
The secure could infrastructure is SSAE 16 SOC compliant and ISAE 3402 Type II certified
Performs instant payment reconciliation and generate financial reports
Provides 24/7 supplier hub online access and cloud accounting
Provides invoice workflow automation with touchless OCR (optical character recognition) software, approval processing, and PO matching faster, more accurate invoice management 24/7
User-friendly, highly automated software
Cons:
Doesn't provide a free plan
Comes with hefty pricing plans
Doesn't offer on-premise deployment and live-chat
Can be difficult to use for a beginner
Doesn't have an immediate check image feature
Pricing:
Tipalti provides three pricing plans, starting from $299 per month and ranging up to $1599 per month.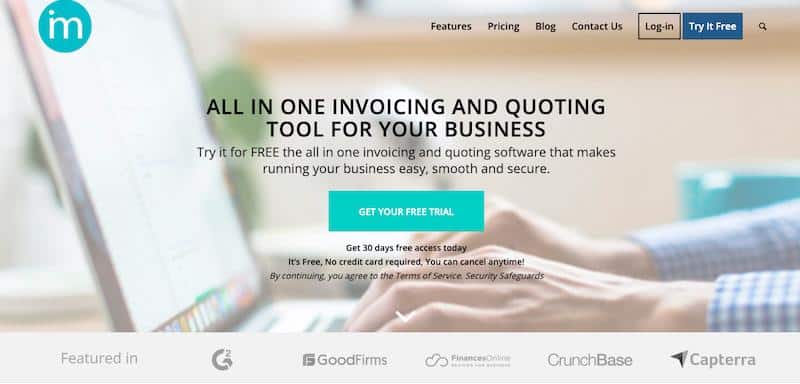 Invoice Meister is another excellent accounting platform on this list. It is most suitable for small and medium-sized businesses and helps with functions like entering your revenue and expenses, creating invoices, and linking bank accounts to organize your business.
Key Features:
Detailed analytics – With this software, get detailed analytical reports that can help you reap actionable insights for data-driven decisions
Financial reports – Get detailed financial reports and visualize them together on your device with the help of their highly navigable dashboard
Invoice templates – Make use of the wide variety of invoice templates available, and customize them according to your needs with your logo and signature, and send it along with a personalized email
Sendbox – The "Sendbox" feature tracks and keeps the history of every invoice/quote that you've sent to the clients. You can also download a pdf of all the records
Pros:
Offers a free trial period of 30 days
Set up automatically recurring invoices, keep track of payment status and automatically update upon payment
You can create automatic bank reconciliation statements without any manual entry
Provides extensive customer support via phone, email, and live chat
Since it's a cloud-based platform, it's easy to set up and is decidedly inexpensive
Lets you accept, sync, and track payments, even if you're offline
Allows you to invoices in any currency with its multi-currency capability
Provides extensive video tutorials for ease of use
Sends automatic reminders for every overdue invoice
Extensive data security and integrity protocols
Cons:
Doesn't offer a free plan
No ticket-based customer support
Offers services only in English
Doesn't offer on-premise deployment
Pricing:
The pricing plans start from $7.50 and range up to $15 per user per month. Upon annual or bi-annual payment, you get a discount of 17% and 33%, respectively.
Other software not yet included on the list includes Sage 50cloud, Sage Business Cloud, Gusto, Kashoo, and AccountEdge.
What is Accounting Software for Small Business?
As the name suggests, accounting software can help businesses handle day-to-day as well as bulk accounting calculations.
According to various small business statistics, there are more than 30 million small businesses in the US alone. Therefore, the scope and usability of small business accounting software are extensive.
Accounting software is especially vital for everyone who's self-employed since they may have a limited number of clients and a small scale of operations. That's why it doesn't make sense for them to spend more time than necessary, generating invoices and creating financial reports for clients.
Instead, they can complete the task at hand, meet all the client requirements, and ensure a long-term business relationship.
A small business accounting software records, tracks, and processes accounting transactions with its various, specific, in-built functional modules, and lets you concentrate on the pressing task at hand.
What Are The Benefits Of Using Accounting Software?
Here are some of the benefits of small business accounting software:
1. Ease of Use.
Accounting software tools are usually easy to use and navigate. It doesn't take a lot of time to train your employees either. And after you train them, the work gets done much faster, leaving plenty of time to focus on meeting customer requirements.
From this list, FreshBooks is one of the most straightforward accounting software tools to use.
2. Data Security.
As the popularity of such platforms continues to rise, there's a distinct focus on ensuring data security and integrity. That's why most of the accounting platforms come with state-of-the-art data security features, including QuickBooks, Tipalti, and so forth.
3. Timely Form Fill-ups.
Once you start using an accounting software platform, you don't have to worry about missing a deadline for filling up a form or filing your tax returns. Most of these functions are taken care of through automation or regular reminders.
4. Manage Cash.
It's hard to keep track of cash when you do your accounting manually. In fact, it's quite usual to miss one or two transactions.
With proper accounting software in place, you can view and manage your transactions real-time, and never lose track of money.
Moreover, calculation of things like discounts to clients on bulk orders and performance incentives of employees becomes easily manageable.
5. Accuracy.
The use of an accounting software tool can eliminate the angle of human errors and lead to better compliance and proper record-keeping.
6. Save Costs.
A small business doesn't always have the means to hire employees for every role. Many are expected to work cross-functionally.
In such a scenario, although setting-up and training with accounting software are costly, it's only a one-time cost that you have to incur. In the long-term, the overall prices are much less than hiring an extra accountant.
If you're running a business via an ecommerce platform and need things like inventory tracking, access to financial data, and the ability to invoice customers, you can save costs with this software.
7. Forecasting.
You can leverage the software technology to predict and forecast probable losses and profits. Furthermore, you can derive insights that can help you make better business decisions.
For example, when I transitioned from a sole proprietor to an S Corp, I was able to plan ahead by paying payroll taxes and income tax obligations ahead of time so that I didn't a surprise come April.
Here are some of the most prominent benefits of using small business accounting software, in brief: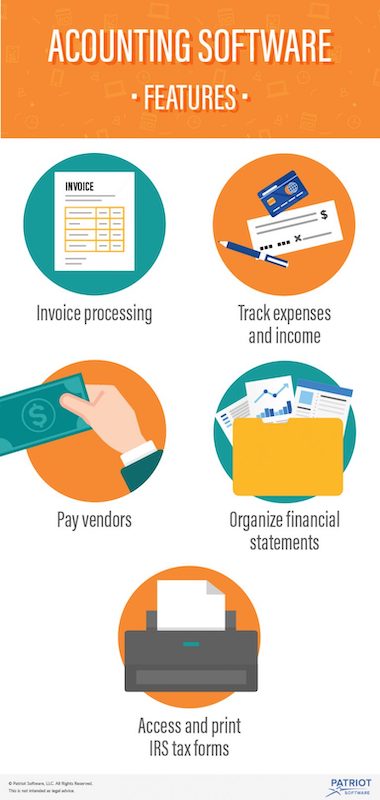 How To Use Small Business Accounting Software.
It's easy to use an accounting software tool once you get the hang of it. You can use an accounting software platform to do the following:
1. Invoice Processing.
Accounting software allows you to create an invoice and enter it in your database quickly.
When you create an invoice, you've got to enter the details like:
Name of customer
Date of delivery
Payment due
Advance paid if any
Invoice number and date of creation of invoice
Product details like quantity and specifications
It keeps a tab on the money you are to receive.
When you receive an invoice from a vendor, you need to enter details like:
Vendor name and address
Products bought
Advance paid if any
Money owed
Invoice number and date of creation
It helps you track the money you owe to vendors.
Take Invoice Meister, for instance: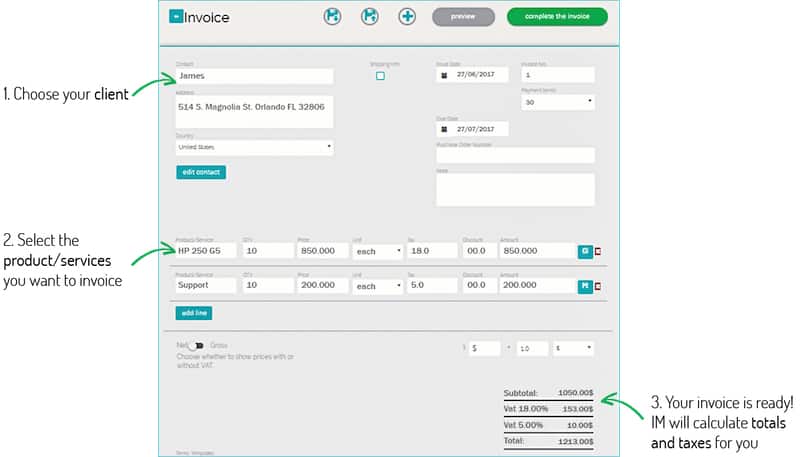 This accounting software takes care of the entire invoicing functions for you, including sending online invoices, setting-up recurring invoices, keeping track of your invoices, and more.
2. Track Income, Expenses, and Pay Vendors.
You need to log every transactional detail into the software: revenue earned and its sources, and the expenses incurred.
Once you feed all the data into the software, you don't need to pore over books and manually tally the numbers.
For example, FreshBooks can help you track things like:
What is owed to which vendor or supplier
The amount you are yet to receive from clients
The advance payment that has been received or paid (if any)
Units of products sold
Units of inventory in stock
Most accounting apps can also help you predict future trends and focus areas.
3. Create Financial Statements.
Every business needs financial documents like journals, ledgers, profit & loss statements, balance sheets, and bank reconciliation statements.
Manually creating all these statements can be long and tedious.
You have to create individual statements for the specific time periods you want to study.
However, you can save yourself precious time and effort when you use any accounting software to do these tasks for you.
All you need to do is select the time frame you want, and the accounting software will create the statements for you.
Also, automated statements are decidedly safer than paper documents, that can easily be damaged or misplaced. Electronic statements eliminate this issue.
4. Comply with the IRS.
Strict compliance with the Internal Revenue Service (IRS) is essential to conducting business on US soil.
Any deviation from absolute adherence to IRS norms can lead to the cancellation of a business license.
If you use an accounting software tool, you can create Form 1099 and Form 1096 very quickly and without errors.
You can also send them to the concerned authorities at the click of a single button.
5. Work hand-in-hand with proposal software
The right accounting software can help you save time on repetitive, yet essential, tasks so you can focus on your business goals.
One of these tasks is creating proposals.
When you're working with clients, you want to make sure that you have the most up-to-date and accurate information at your fingertips.
This means having a system where you can quickly gather data from past projects, as well as your current pipeline, and have it all in one place.
Choosing the best proposal software that integrates well with your accounting software can save you a lot of time.
Executive Summary.
Every business is different and has different requirements when it comes to accounting.
To choose the right accounting software for your small business, you could focus on accounting features like:
Automation
Ease of tax compliance
Third-party integrations
Invoice templates
Multi-language and multi-currency capability
Payment reminders
Recurrent billing
Numerous accounting apps focus on the characteristics mentioned above. For instance, Zoho Books is perfect for automation and third-party integrations, FreeAgent for multiple invoice templates, multi-language and multi-currency capability, and ZipBooks for recurrent billing.
Ultimately, you must choose the software that provides you the best value in your budget.
Which of these accounting software tools are you planning to use? Comment below.
Further Reading on AdamEnfroy.com: If you're looking for more tools to run a successful online business, check out my reviews of the best project management software, ERP software, and CRM platforms. And read my ultimate guide of the best business ideas to try this year.
In addition, the best carbon accounting software can help you measure and offset your company's carbon footprint, so if you're looking to be more eco-friendly, they're worth considering as well.
Disclosure: I may receive affiliate compensation for some of the links below at no cost to you if you decide to purchase a paid plan. You can read our affiliate disclosure in our privacy policy. This site is not intending to provide financial advice. This is for entertainment only.