11 Best OCR Software of 2023 (Free and Paid Tools)
Choosing the right OCR software is crucial if you want to digitize any physical document. From extracting text from a scanned document to converting a PDF into an editable format, the best OCR software can help you meet your goals. In this guide, I ranked and reviewed the 11 best OCR software, along with my top 5 choices, so you can pick the best one.
---
We're reader-supported. When you buy through links on our site, we may earn an affiliate commission.
OCR software converts images of text into scannable, machine-readable online documents.
While the accuracy of traditional OCR didn't leave much to be desired, advancements in technology have allowed for higher accuracy rates.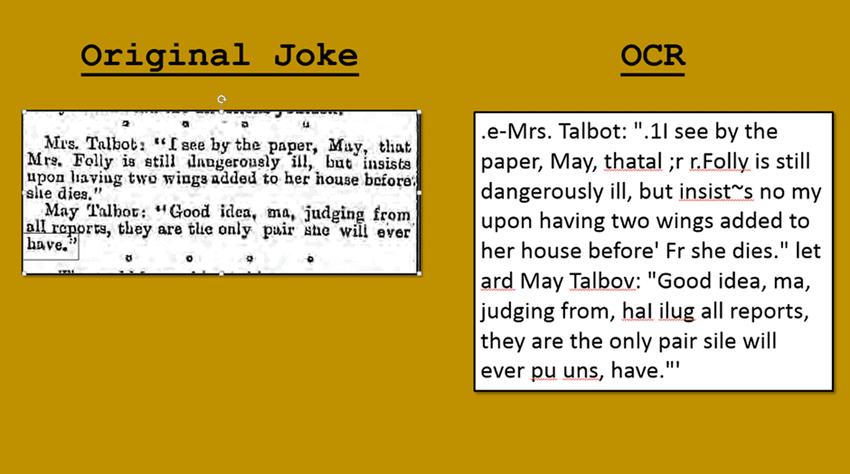 Image credit: https://www.researchgate.net
Today, one can combine these tools with translation software to make document management and cloud storage fast and easy for individuals and businesses.
Let's get to the list.
What is the Best OCR Software?
Here are my top picks for the best OCR software this year.
Best OCR software for out-of-the-box data extraction in seconds

Adam's Take
I rank Nanonets as the best overall OCR software for its ease of use and accurate data extraction abilities. It's an excellent tool for anyone needing digital information from paper documents or images.
Nanonets allow you to use AI to make the long process of manual data entry obsolete.
Using AI to extract data from documents/images, Nanonets leaves your employees more time to focus on higher-value tasks instead of having them spend hours entering data by hand.
In seconds, you can capture and organize the relevant data from your PDFs/papers/images.
Use AI to understand documents in a few short steps and digitize them in minutes.
You can also extract information from documents that don't follow a standard template, such as invoices, purchase orders, tax forms, insurance forms, medical forms, id cards, etc.
Validating data that has been entered along the way is also possible, ensuring that nothing goes wrong.
Key Features:
Increase productivity by removing time-consuming tasks such as manually entering data from paper documents into a spreadsheet, ERP, or Database, allowing employees to spend more time on the work that matters.
Validate data extracted from your documents, and the AI learns and improves as your usage grows to ensure higher levels of accuracy.
Capture only what you want by using the AI-based OCR to do the legwork for you
Keep your data clean and organized in a cloud-based platform that allows you to create custom workflows and automate repetitive tasks.
Add new fields to ensure you receive all the information you need.
Archive your data for as long as you like on the platform at no additional cost
Integrates with ERPs such as Salesforce, Netsuite, Yardi, Entrata, Dynamics and also with databases such as MySQL, PostGres, MSSQL, etc
Nanonets also has a Zapier connector that allows you to import data from your Inbox, Email, Chat, Dropbox, Box, Google Drive, Microsoft Outlook, JotForms; run the model, and export the captured data to Quickbooks, FreshBooks, Google Sheets, or even notify a team member using Facebook Chat!
Pros
Capture just the data/information you need from all kinds of documents.
Upload files and export data in a single step to ensure that your data is always accessible.
Ensure GDPR compliance and stay ahead of the curve.
Model retraining allows Nanonets to learn continuously the more you use it, ensuring that it gets higher levels of accuracy.
Fast OCR API response time is a testament to this product's efficiency and ease of use.
Pricing:
With a free trial available, users can test this product to see if it fits their needs.
After the free trial expires, the pricing plans are as follows:
Pro: $499 per model per month.
Enterprise: Custom prices are available based on your needs.
Get started with Nanonets today.
Best overall OCR software for complete PDF solutions ($14.99 per month).

Adam's Take
If you want to start using editable PDF files in your business to make things more efficient, you will want to check out Adobe Acrobat Pro DC. This software makes it super easy to convert scanned documents into editable PDFs, and it also has OCR capabilities that will help you extract text from images. You can even use the software to fill out forms electronically.
Adobe Acrobat Pro DC is an OCR software that helps you extract text and convert scanned documents into editable PDF files.
It provides a complete PDF solution for any device.
You can create and edit intelligent PDFs and convert PDF files to Microsoft Office formats and JPG. You can also share PDFs, sign PDFs, and print or compress directly from Pro DC.
Adobe also recognizes your text, matches your font, and converts the PDF into that font.
Besides, the OCR tool offers multiple editing features, including text recognition, adding comments, page reordering, and combining files. You can also perform functions like rotating, deleting, or cropping pages.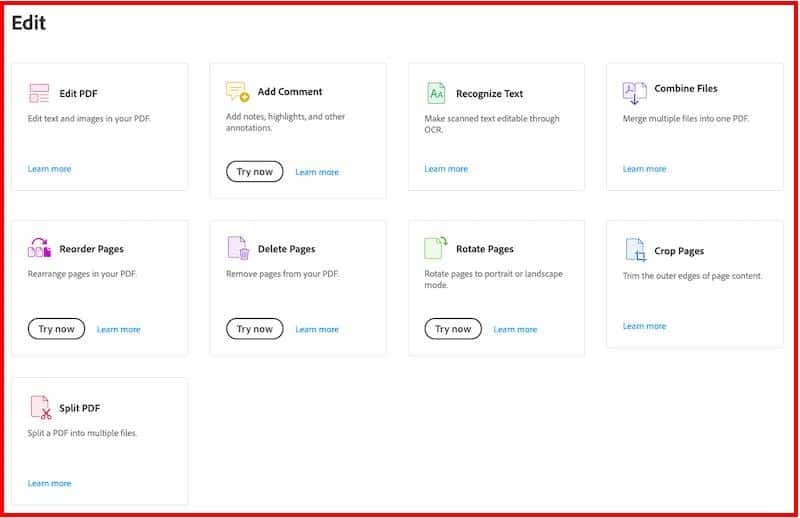 You can even install its Acrobat Reader mobile app to delete, reorder, insert, or rate PDF pages directly from your smartphone. Then there's an Adobe Scan app to help you scan documents, receipts, whiteboards, and more to PDF.
Plus, you can customize files by reusing multiple PDF pages from different files. It also lets you add form fields and links in your PDF files.
Pro DC also helps you share files in a protected format for comments and comparison. It also lets you remove passwords from protected PDFs and collect feedback from multiple people in one file.
Key Features:
Split PDFs – Its PDF splitter helps you separate multiple PDF files into different documents by specifying file size, number of pages, or top-level bookmarks.
Sign – Request signatures on documents from others and add your signature. You can also transform physical forms into fillable PDF forms instantly through scanning.
ISO Standards – Convert PDFs into compliant files using a wizard or profile. You can also validate PDFs against PDF/X, PDF/VT, PDF/A, or PDF/E criteria.
Security – Apply password security and permissions to restrict access or modify files. You can also digitally sign documents, verify signatures, and add redaction features.
Comments – Add comments and sticky notes to share feedback on documents with others. You can also draw shapes with the Pencil tool for more accuracy.
Pros:
Part of Adobe, which integrates well with its photo editing software, photo management tools, and graphic design software.
Leverage Action Wizard to customize and create PDFs while saving keystrokes and time.
Verify PDF's accessibility using Accessibility Checker.
Automatically scan texts from the paper and convert them into editable documents.
Compress PDF files with an optimized PDF online tool without losing quality for easy storage and management.
Convert PDF into multiple formats, including PNG, TIFF, or JPEG.
7-day free trial.
Pricing:
Adobe Acrobat Pro DC costs $14.99 per month. You can also use Acrobat Standard DC at $12.99 monthly to create, edit, and sign PDFs.
Get started with a free trial of Adobe Acrobat Pro DC.
Best for real-time batch processing ($499).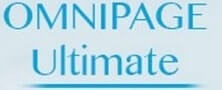 Adam's Take
Want to do away with traditional scanners and convert all your paper documents into digital format? OmniPage Ultimate is here to help you do just that. I like the ease of use and the results it produces. This very user-friendly OCR application can easily handle even the most complex documents.
Omnipage Ultimate is an optical character recognition (OCR) application that can help you turn paper, PDFs, and images into digital files. It transforms forms and PDF files into editable documents that you can edit, archive, and share. However, the software only supports the Windows system, so you can't use it on your Mac.
Besides, the OCR software enables you to send converted PDF files automatically to pre-programmed workflows. And its eDiscovery Assistant helps you convert both single and batches of PDF files into searchable files.

OmniPage offers digital camera equivalent OCR accuracy and reproduces documents into multiple formats. It's a scheduling software where you can process many files for batch processing from emails or folders. All this happens with undocumented automation to ensure the real-time processing of documents.
Integration with all types of scanners, including mobile scanners, also comes in handy for processing documents.
Key Features:
Mobile Document Capture – It helps you capture text from a smartphone camera to convert pictures into text.
Language Recognition – It supports over 120 languages to help you edit, process, and store documents practically from any part of the world.
OmniPage Server – Use the OmniPage Server for faster processing of documents for data analysis and archival needs. You can use it to process massive loads of documents regularly.
Cloud Connector – This feature helps you integrate the software with cloud storage services such as Microsoft SharePoint, Google Drive, and Box.
Advanced OCR Software – The advanced OCR software lets you quickly recognize complex documents.
Pros:
It supports various formats, including Microsoft Office, PDF, Word, Excel, PowerPoint, Corel WordPerfect, HTML, ePub, etc.
Scan documents to any format and route them anywhere on the network.
Leverage Amazon Kindle Recognition to send converted documents directly to the eBook reader.
Execute recurring jobs more accurately by creating your workflows.
The tool maintains the formatting of original documents.
Integrate OCR functions into apps to support operating systems virtually for computers and smartphones.
Pricing:
OmniPage Ultimate comes at a one-time cost of $499. Initially, you also get a 15-day free trial to get familiar with the OCR software.
Get started with a 15-day free trial of OmniPage Ultimate.
Best for correcting sentences and fixing the alignment of documents ($199).

Adam's Take
With the latest OCR technology from ABBYY, you can easily convert any PDF document into a searchable and editable format. Whether a simple contract or a 100-page report, FineReader can quickly turn your paper documents into digital files that are easy to store, search, and share.
ABBYY FineReader PDF 15 is a PDF solution incorporating AI-based OCR technology to create and enhance all PDF documents. It also helps you digitize, retrieve, protect, collaborate, and share multiple types of documents in the same workflow.
It further enables you to correct paragraphs and sentences and even fix the layout of the documents.
ABBYY helps you annotate any part in the PDF file through a text box, notes, and a broad set of drawings and mark-up tools. You can also comment on markups or reply to comments. Bring more transparency to assigning comments to different collaborators.
It also lets you search comments by sorting, filtering, and keywords. There's even an option to collect more than one digital signature on the document.
Other prominent features include comparing documents in different formats, automating digitization and conversion routines, creating fillable PDF forms, etc.
Additionally, it got new updates recently that include:
It can convert Gothic fonts into editable documents or searchable PDFs.
An alignment assistant tool helps you align text or images automatically.
The tool produces files of smaller sizes without losing the visual quality while converting PDFs.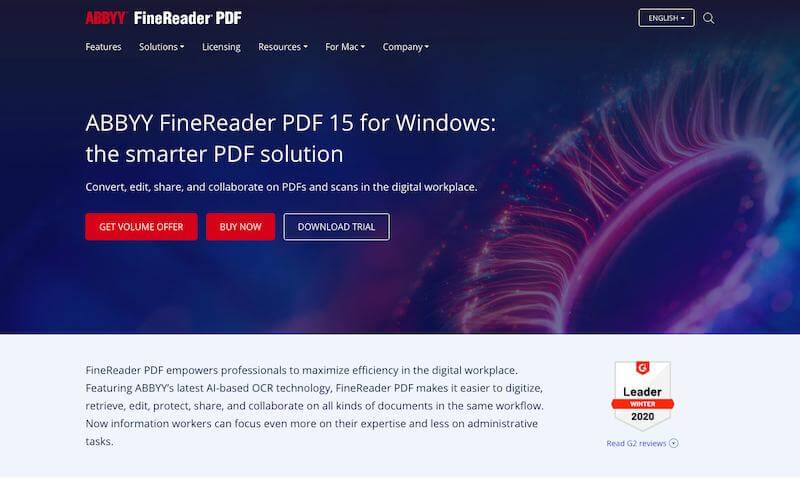 Key Features:
PDF Forms – Fill interactive fields in scanned paper and PDF forms to include text at critical points. It also supports digital signatures and facsimiles for eSignature.
Split PDF Documents – Separate large PDF files into multiple short files to meet size requirements. It also allows you to save chapters of documents as separate PDF files.
Remove Hidden Information – Avoid accidentally sharing confidential data in a PDF file by removing personal data and objects. It helps you remove text layers added by OCR, attachments, comments and annotations, bookmarks, links, metadata, media, scripts, actions, and form data.
Batch Process PDF Files – Automate all your editing tasks with a single click using batch processing. It allows you to apply multiple changes in one go, thus saving time and effort.
Automate PDF Workflows – Streamline the workflow of your documents by automating common tasks such as merging, splitting, watermarking, and more.
Pros:
Create different levels of password protection for PDF files.
Verify the digital signature to ensure integrity and authenticity.
Convert PDF files into multiple editable formats, including Microsoft Excel, Word, and more.
Split PDF documents by page count, file size, or bookmarks.
Leverage MRC Compression to reduce PDF file size by up to 20 times.
Pricing:
ABBYY FineReader PDF 15 offers three paid plans:
Standard: $199 one-time payment
Corporate: $299 one-time payment
Volume Licensing: quote-based (for large organizations)
Get started with a 7-day free trial of ABBYY FineReader.
Best for converting text files into audio files ($49).

Adam's Take
I like Readiris for the ability it gives its users to protect their PDFs. With Readiris, you can password-protect your PDFs so that only those with the right password can open them. You can also add a watermark to your PDFs to prevent others from copying or printing them without your permission. Finally, you can use Readiris to digitally sign your PDFs so that recipients know the document is from you and has not been tampered with.
Readiris is a PDF and OCR publishing software that helps you edit, annotate, aggregate, split, protect, and sign your PDF files. It also enables you to edit, convert, and transform paper files into multiple digital formats with just a few clicks.
Plus, it offers various tools to attach comments, annotations, and hypertext lines to reach the attached documents directly.
You can also convert images, PDFs, and texts to edit in the required format, including Word, PowerPoint, Excel, or indexed PDF. It also has a new recognition engine that offers faster document management.
Besides, Readiris helps you sign and protect your PDFs and send them electronically. Additional features include document batch conversion, barcode reading and encoding, splitting and merging your PDFs, and more.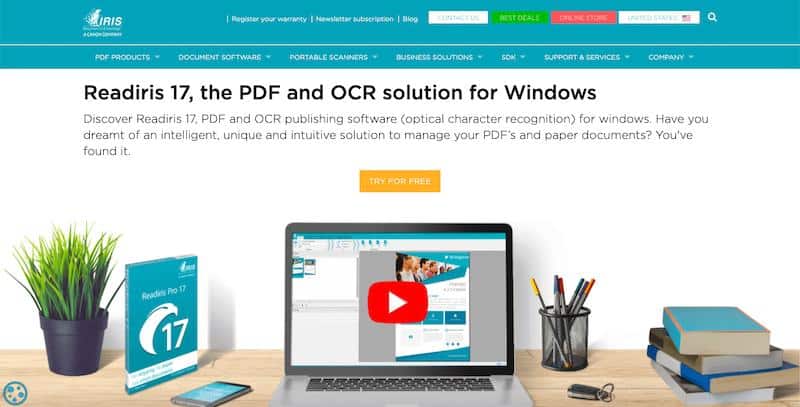 Key Features:
Audio Files – Readiris converts text files into .mp3 and .wav audio files. You can also listen to audio files on any device, including smartphones, tablets, or desktops.
Verbal Annotation – It offers verbal recognition to help you embed verbal annotation into PDF files.
Multi-Format Import – You can import files in multiple formats, including PDF, DOC, JPEG, RTF, PNG, JPEG, PPT, and more.
OCR Correction – Readiris also offers an automated correction system to ensure maximum accuracy in your OCR operations.
Export Options – You can export files to various formats for easy sharing across different platforms.
Pros:
The tool is compatible with all Twain scanners.
Rotate and adjust upside-down and tilted documents.
Convert books and documents to EPUB format on an eBook reader.
Modify text embedded in images.
Readiris recognizes over 130 languages.
30-day money-back guarantee.
Free online tech support.
Use IRIS iHQC technology to compress the size of PDF files by up to 50 percent.
Pricing:
Readiris offers three sub-products:
Readiris PDF 17: $49
Readiris Pro 17: $59
Readiris Corporate 17: $89
Best for individuals looking for a free OCR tool (Freeware).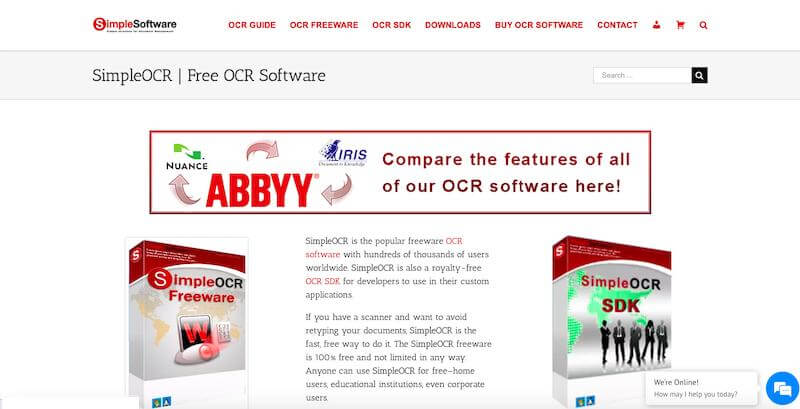 SimpleOCR is a freeware OCR and offers a royalty-free OCR SDK for developers to use in custom apps. It works on all Windows versions and requires only a TWAIN driver to maximize compatibility with scanners.
It offers an extensive dictionary of over 120,000 words to recognize words efficiently in your documents. On top of that, you can also add new words through the text editor.
Besides, you can use SimpleOCR's despeckle or "noisy document" to increase the accuracy of unclear copies and faxes. It also recognizes multiple formatting elements, including italic, underlined, and bold, to retain the original format of documents.
Additionally, an in-built spelling checker helps you correct errors in the converted text.
Key Features:
Image Retention – You can use it to capture and retain images from documents to eliminate the need to import pictures separately.
Batch OCR – Process multiple documents or batches of files through a single command.
Error Correction – It automatically highlights potential errors to simplify text proofreading.
Searchable PDF – Create searchable PDFs that allow users to identify the information they need quickly.
Extraction – Automatically extract critical data from documents, such as names, dates, or numbers, and store it in a structured format.
Pros:
Leverage Zone OCR to extra text from a particular part of the document.
You can save the converted files in a DOC or TXT format.
It supports simple text extraction.
Compliant with TWAIN scanners.
The tool supports French and English recognition.
It's free for personal use.
Pricing:
The software is free to use. However, the paid versions start from $25 and range up to $2500.
Best for Gmail image spam detection (Free).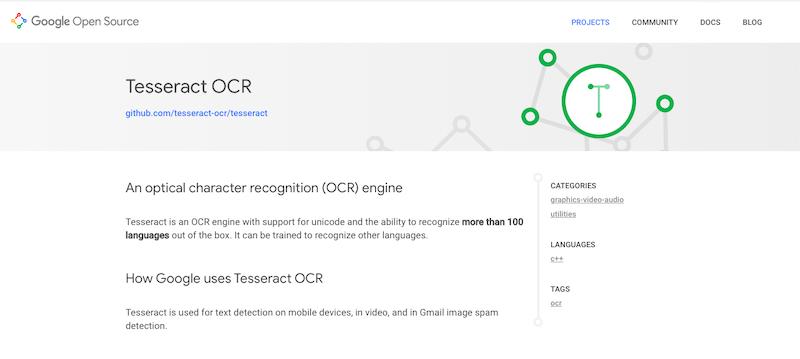 Tesseract is a free OCR software released under Apache License. This open source also supports output text formatting, page layout analysis, and hOCR positional information. Plus, it uses the Leptonica library to support multiple image formats.
The tool is most suitable for text detection on mobile devices, videos, and Gmail image spam detection. It's also capable of detecting proportionally and monospaced spaced texts.
What's more, it can recognize more than 100 languages. Apart from English, it supports other western languages like French, German, Italian, Spanish, Dutch, and Brazilian Portuguese. On top of that, you can train Tesseract to recognize more languages. Besides, the OCR software can process right-to-left written languages like Hebrew, Arabic, and more.
Key Features:
Line Finding – It provides a line-finding engine to recognize skewed pages without de-skewing to prevent image quality loss.
Baseline Fitting – It uses quadratic spline to fit baselines more accurately into the documents. Tesseract can also handle curved baselines.
Word Recognition – It recognizes words to identify and reduce inaccuracies in scanned documents.
Text Detection – It detects and extracts text from any image or document regardless of the font, size, color, etc.
Character Recognition – This feature allows Tesseract to recognize individual characters in a given document.
Pros:
It organizes blobs of text into aligned text lines.
It supports Windows, Linux, and Mac OS X.
Tesseract can recognize and rectify small caps and fuzzy spaces.
You can train the software to detect other scripts and languages.
It uses linguistic analysis to figure out the most likely words from characters.
The OCR software detects both proportional and non-proportional words.
Pricing:
Tesseract is an open-source tool and is entirely free.
Best for taking and organizing notes ($69.99 per year).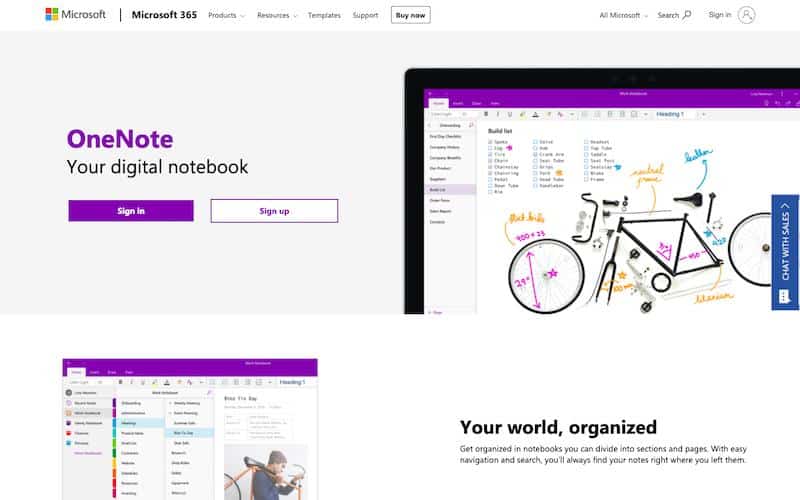 Microsoft OneNote is an OCR tool that helps you take notes, gather information, digital forms, screen clippings, notes, etc. Plus, it lets you copy text from a picture or file printout and paste it into your notes to edit the text.
Now you can divide and organize your notes into different sections and pages – and navigate those notes with a search bar. Plus, all your notes get saved on their own, and you can find them right where you left them. You'll also get options to revise your notes with highlighting, typing, or ink annotations.
Not only this, but you can also create notes together with your colleagues in OneNote. This feature also helps you share your ideas with your colleagues and employees.
Additionally, the To-Do tags option helps you tag your notes to avoid missing out on any critical notes.
The tool lets you record audio notes, insert online videos, and add files. You can use OneNote to organize lessons in searchable digital notebooks and create a shareable content library for educational purposes.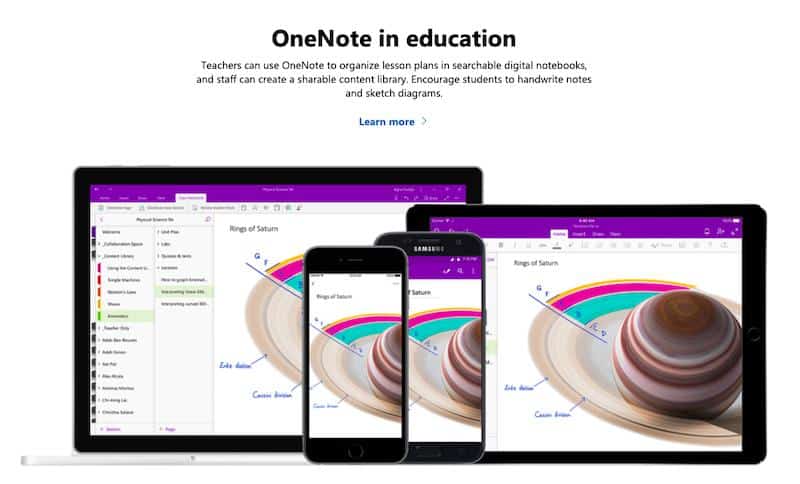 Besides, you can use OneNote on your mobile phone anywhere, anytime. The mobile application is available on iOS, Android, and Windows platforms.
Key Features:
Clip and save – OneNote provides a Web Clipper to help you save content with a single click.
Editor – Their in-built editor software helps you identify and correct grammar issues in your text.
OneDrive Ransomware Detection and Recovery – This feature helps you protect all your files from digital and virus attacks.
OneDrive Personal Vault – You can save important files with an extra security layer like two-step verification.
Real-Time Collaboration – You can share your documents with others and work together in real-time.
Pros:
You can draw on your notes using a stylus or your fingers.
Add files, online videos, and audio notes to your notes.
It provides access to up to 6 members.
Up to 1 TB storage per person.
You can also access Microsoft Office Mobile apps like Word, Excel, and PowerPoint.
Pricing:
Microsoft OneNote comes with three pricing plans:
Office Home & Student: $149.99 (One-time purchase)
Microsoft 365 Personal: $69.99/year
Microsoft 365 Family: $99.99/year
You also get a one-month trial with the Microsoft 365 Family plan.
Best for scanning legal documents (Free for up to 1000 pages).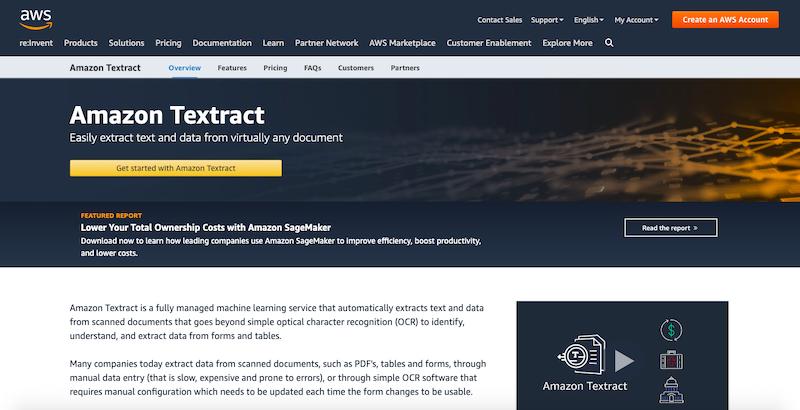 Amazon Textract is a machine learning software that automatically extracts data and text from scanned documents. It uses OCR technology to extract data from forms and tables and automatically detect printed text and numbers.
The tool is most suitable for scanning a resume, legal document, book page, etc.

Data extraction doesn't require any manual effort or manual entry. Not only this, but these tools also claim to process millions of document pages in hours.
The software also automatically detects a document's layout and essential elements. It also lets you extract data from different documents and present them in a tabular form. This helps you quickly analyze documents that mainly consist of structured data like medical reports, financial reports, inventory reports, etc.
The OCR software integrates with Amazon Augmented AI(Amazon A2I) to review extracted text from scanned documents.
Key Features:
Form Extraction – Amazon Textract automatically detects values in documents.
Pre-defined Schema – It has a pre-defined schema to extract all the data in rows and columns.
Automated document processing – You can build automated workflows without human intervention. Amazon Textract can store inputs required to process all the data and text automatically.
Integrations with other services – You can easily integrate Amazon Textract into your existing systems and applications.
Real-time data extraction – Amazon Textract extracts data in real time, so you can get the most up-to-date information about your business processes.
Pros:
Although you can download it through the command line, it's a web-based tool.
The tool lets you convert up to 1000 pages for free.
Compatible with Web, Windows, macOS, and Linux.
Pricing:
The pricing plans depend on the form of data extracted:
Detect Document Text API (OCR): $0.0015/page
Analyze Document API for pages with tables: $0.015/page
Analyze Document API for pages with forms: $0.05/page
Analyze Document API for pages with tables and forms: $0.015+$0.05/page
New users can analyze up to 1000 pages per month using the Detect Document Text API and up to 100 pages per month using the Analyze Document API for the first three months.
Best for individuals and small-scale requirements (Free).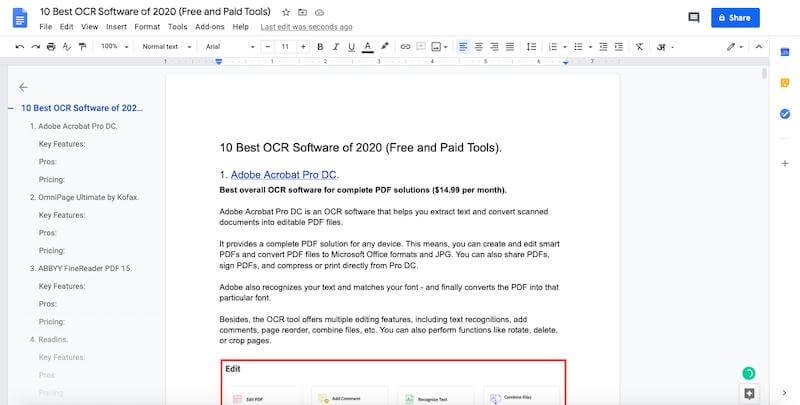 Google Docs is a web-based word-processing software with editing and styling features to help you format text and paragraphs.
It also has an OCR feature that lets you convert PDF files into editable text for free.
You have to follow some simple steps, including:
Upload your PDF file to Google Drive.
Next, right-click on your file and click on Open With > Google Docs.
The file will get converted to an editable Google Doc file. However, lists, tables, columns, footnotes, and endnotes might not get detected.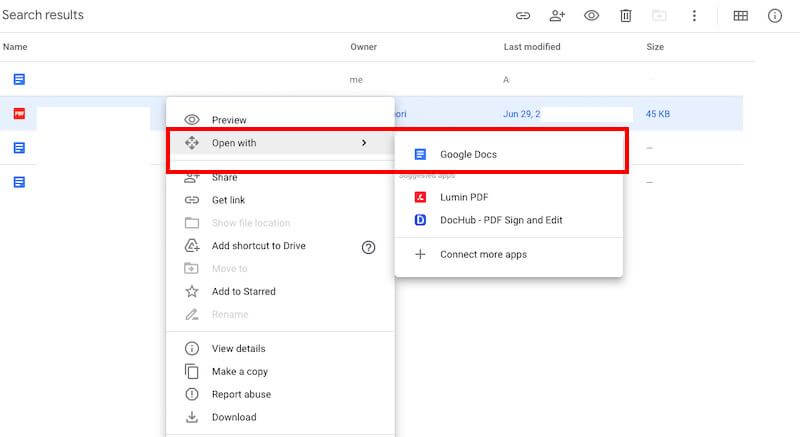 Aside from this, Google docs can detect hundreds of fonts. Plus, you can add images, drawings, images, and more to the converted document.
You can even share your documents with anyone and give them access to them in real-time. Google Docs also helps you identify when someone is editing your document and what changes they make.
Now you don't need to hit the save button again. All the changes in the document automatically get saved in Google Drive cloud storage. Plus, you get revision history, who made the changes, what changes they made, and more.
Key Features:
Edit in real-time – Share your converted documents with your team members and provide them access to edit in real-time. You can also view the changes in highlighted texts.
Chat and comment – Chat with others directly from the document or add a comment to convey anything you want.
Review and approve – Ensure that your documents are error-free before they go to the public domain. Get everyone's approval with just a click of a button.
Audit trail – Keep track of all the changes made to the document with our audit trail feature.
Secure and safe – Document conversion is secure and protected from any kind of data breaches.
Pros:
Voice typing.
Get free templates for documents like resumes, reports, and more.
Access Google Docs anywhere-anytime from your phone, computer, laptop, or tablet.
Google Docs supports all file formats.
You can quickly check the total Word count.
Spelling and grammar check.
Pricing:
Google Docs is free.
Best for invoice scanning and data extraction (Quote-based).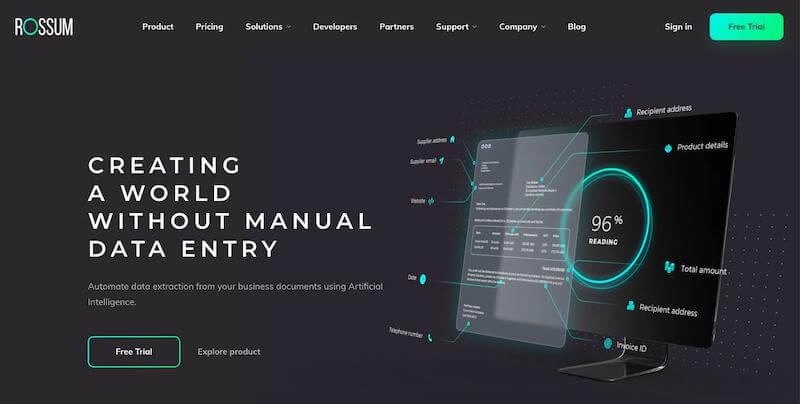 Rossum is an AI-based OCR software that helps you extract data from your invoices and reduces manual data entry. They claim to accurately capture 98% of data from any business document and invoice. Not only this, but they also help you reduce errors.
Plus, Rossum doesn't pose limitations for any template and can capture data from any style invoice. After converting or scanning the document, you can add or change data and give feedback.
And due to AI capability, the software learns and stores data from each invoice and gets smarter with use. It uses spatial OCR technology to scan invoices to understand their possible meaning, structures, and patterns.
Additionally, Rossum automatically prompts the users to review and inspect invoices for which their software is unsure.
Key Features:
Any Type of Document – Rossum is compatible and can extract data from all documents, including invoices, purchase orders, and bills of lading.
Extensive Integration integrates with numerous third-party business systems like SAP, Microsoft Dynamics, Netsuite, and QuickBooks.
Advanced AI Technology – Rossum uses advanced artificial intelligence to recognize structures in text and images.
Flexible Solutions – Rossum offers custom solutions that can be tailored to the specific needs of each client.
Advanced Reporting – Rossum provides real-time insights and analytics to help businesses make more informed decisions.
Pros:
It supports formats like PDFs, JPGs, and PNGs.
Their software can export data in four formats CSV, JSON, XLSX, or XML.
The software provides NBD email support.
Unlimited users can have access to a single account.
Scan multiple documents at once.
Pricing:
Quote-based plans.
What is OCR Software?
OCR software leverages OCR (Optical Character Recognition) technology to recognize printed or handwritten text inside digital files or physical documents. Its primary functions include examining a document's text and translating it into code for data processing. OCR software is also a text recognition tool in layman's language.
Plus, OCR systems leverage software and hardware to convert physical documents into machine-able characters. It uses an optical scanner or specialized circuit board to read or copy texts, and its software typically executes advanced processing.
The software utilizes artificial intelligence (AI) for advanced intelligent character recognition (ICR), including language identification and handwriting styles.
OCR software helps turn hard copies of legal or historical documents into PDFs for archival or data processing purposes. Once a soft copy is created, you can format, edit, and search documents for other soft copies.
What Features Do You Need in OCR Software?
Here are a few essential features that you must look out for in an OCR tool:
Layout Analysis – It should be able to automatically detect all the columns of text, split, tables, images, and more.
Search – It should offer accessible search features through keywords, filters, titles, and more.
Split – You should be able to split long documents into multiple shorter documents for easier upload and management.
Language Recognition – Multiple language recognition can help you process, edit, and store documents in multiple languages worldwide.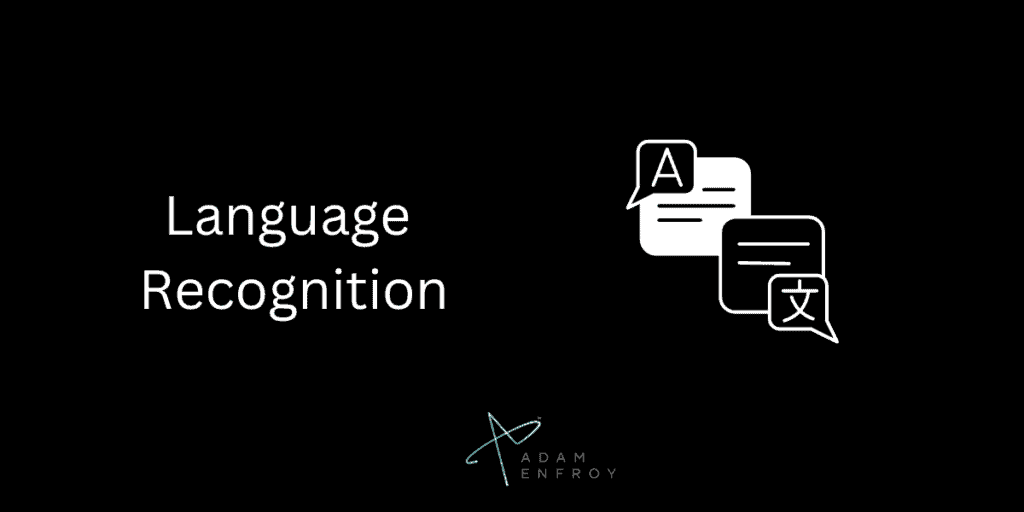 Format Support – It should support importing files in multiple formats, including MS Office, PDG, JPG, and more.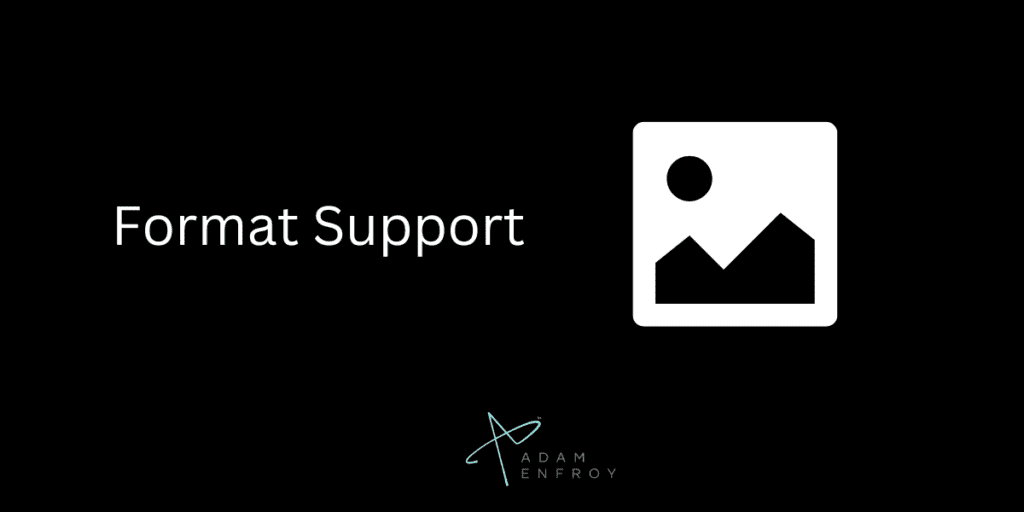 Layout Detection – It can help you retain the original format and document layout. You can also adjust the format as per your requirement.
Digital Signature – You should be able to give and take digital signatures on documents from remote locations.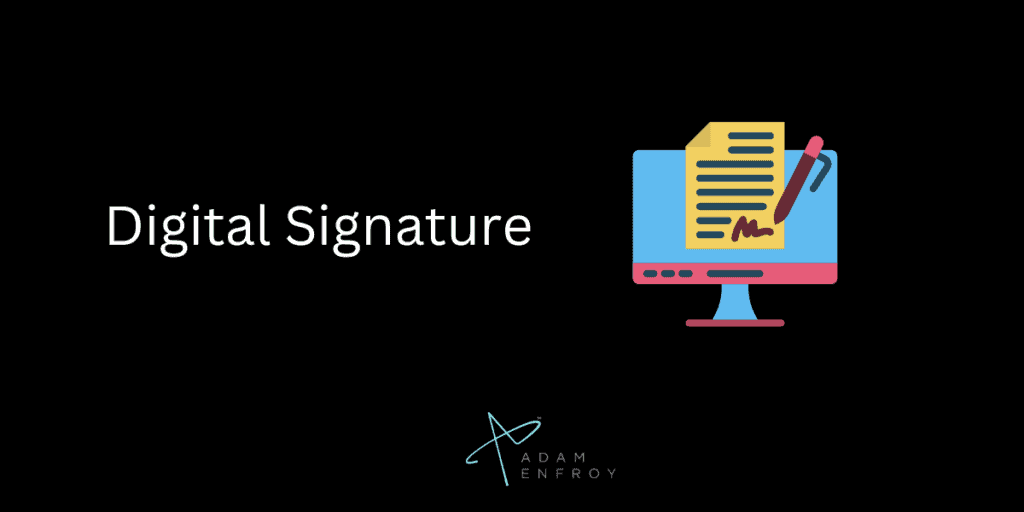 Collaboration – It should offer extensive cooperation among team members to manage comments.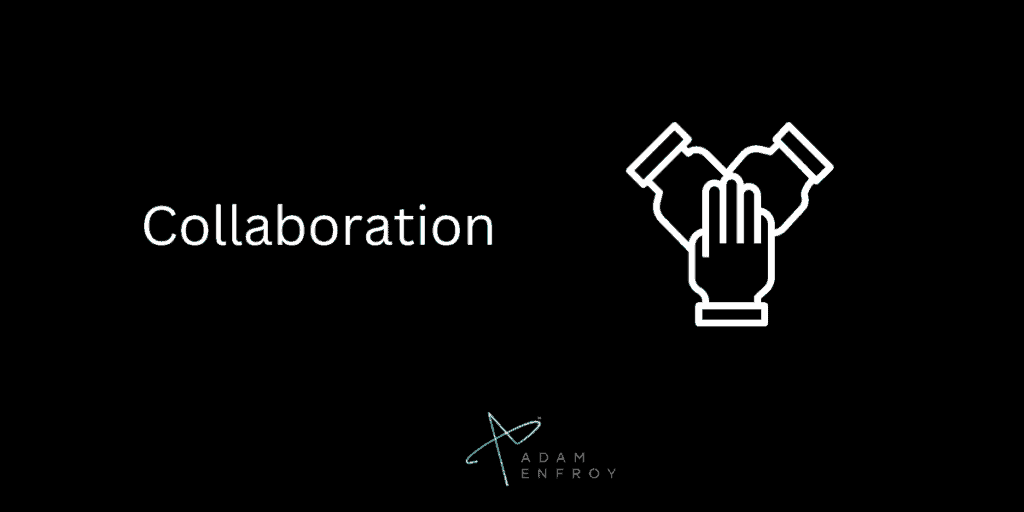 Top Use Cases Of OCR Software
OCR (Optical Character Recognition) software is valuable for businesses, organizations, and individuals in various industries.
OCR software reads text from physical documents, images, or other sources and converts them into digital formats.
This technology makes it possible to quickly and accurately access the data contained within documents for use in digital applications.
The most common use case for OCR software is digitizing hard-copy paper documents, such as contracts, forms, invoices, emails, receipts, and handwritten notes.
Companies can move their processes online, making storing and retrieving data easier.
Additionally, OCR can process bulk mailings like bills or statements requiring manual sorting and processing, saving time and resources and enhancing accuracy.
Another widespread use case of OCR technology involves scanning printed materials — books, magazines, or newspapers — into digital formats such as PDFs or eBooks.
Automating the conversion process using OCR software helps publishers quickly produce updated versions of their content without manual data entry.
Moreover, advanced features offered by modern OCR tools allow users to recognize text in multiple languages without manual intervention.
In the medical industry, OCR technology can scan patient records into electronic health record (EHR) systems faster than ever.
Automated document processing significantly reduces the time needed for transcription services while improving accuracy with fewer manual errors.
Additionally, hospitals can leverage the data collected from these EHRs for more efficient patient care management through analytics solutions that generate meaningful insights from health data points captured in these databases.
In education, OCR software is becoming increasingly popular due to its ability to provide accurate results in a fraction of the time needed compared to manual inputting techniques used previously.
The technology is being seen more often in student test assessment programs where it is used for fast grading tests with multiple choice answers scanned by computers instead of manually marked by teachers or professors.
In addition to quicker results times, this eliminates potential errors associated with manually entering bad grades on tests, which may impact students' final scores or grades inaccurately.
Finally, modern OCR tools are also used in financial services organizations when dealing with tax papers or bank statements.
Accuracy and quick turnaround times are essential due to competitive market conditions and client needs.
By automating such processes, financial institutions can ensure all required information is provided accurately, thus avoiding potential monetary losses associated with inaccurate inputs that can take place when done manually by humans involved in these tasks.
Executive Summary.
You might need to digitize printed or hand-written documents, whether you're running a business or are engaged in any online work. Luckily, you can get this task done quickly with these OCR tools.
If you're looking for simple OCR software with standard features, I'd suggest Google Docs, Tesseract, and SimpleOCR. And for sole scanning of business documents like invoices, you might want to try Rossum.
For my top pick, I suggest you go with Adobe Acrobat Pro DC since it emerges as the best overall OCR software for complete PDF solutions and includes features like:
Extracting text and converting scanned documents into editable PDF files.
Editing features like text recognition, adding comments, page reorders, combining files, etc.
Compressing PDF Files without losing their quality.
Converting PDFs into multiple formats.
Adding and requesting signatures on PDF documents.
Try out these OCR tools firsthand and see how they work for you. Luckily, many of them come with free trial periods or freemium plans.
Which one of these OCR tools are you planning to use, and why? Let me know in the comments below.
Editorial Process:
Our reviews are made by a team of experts before being written and come from real-world experience. Read our editorial process here.
Some of the links in this article may be affiliate links, which can provide compensation to us at no cost to you if you decide to purchase a paid plan. These are products we've personally used and stand behind. This site is not intended to provide financial advice. You can read our affiliate disclosure in our privacy policy.