The Best Shopify Affiliate Programs To Promote (2023)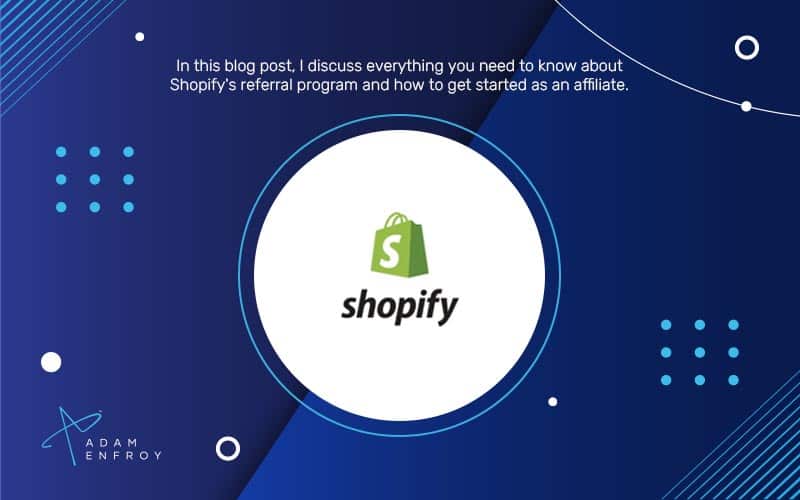 Many of us know Shopify as the darling of the eCommerce world – it's the platform that powers over 4.12 million businesses in over 175 countries, after all.
But did you know it's also a golden goose, steadily laying eggs in the form of an affiliate program?
Oh yes, hidden behind the glamorous storefronts is an ecosystem thriving with untapped opportunities for income that could have you swapping your office chair for a hammock in no time.
In this blog post, I'll discuss everything about Shopify's referral program and how to get started as an affiliate.
What Is The Shopify Affiliate Program?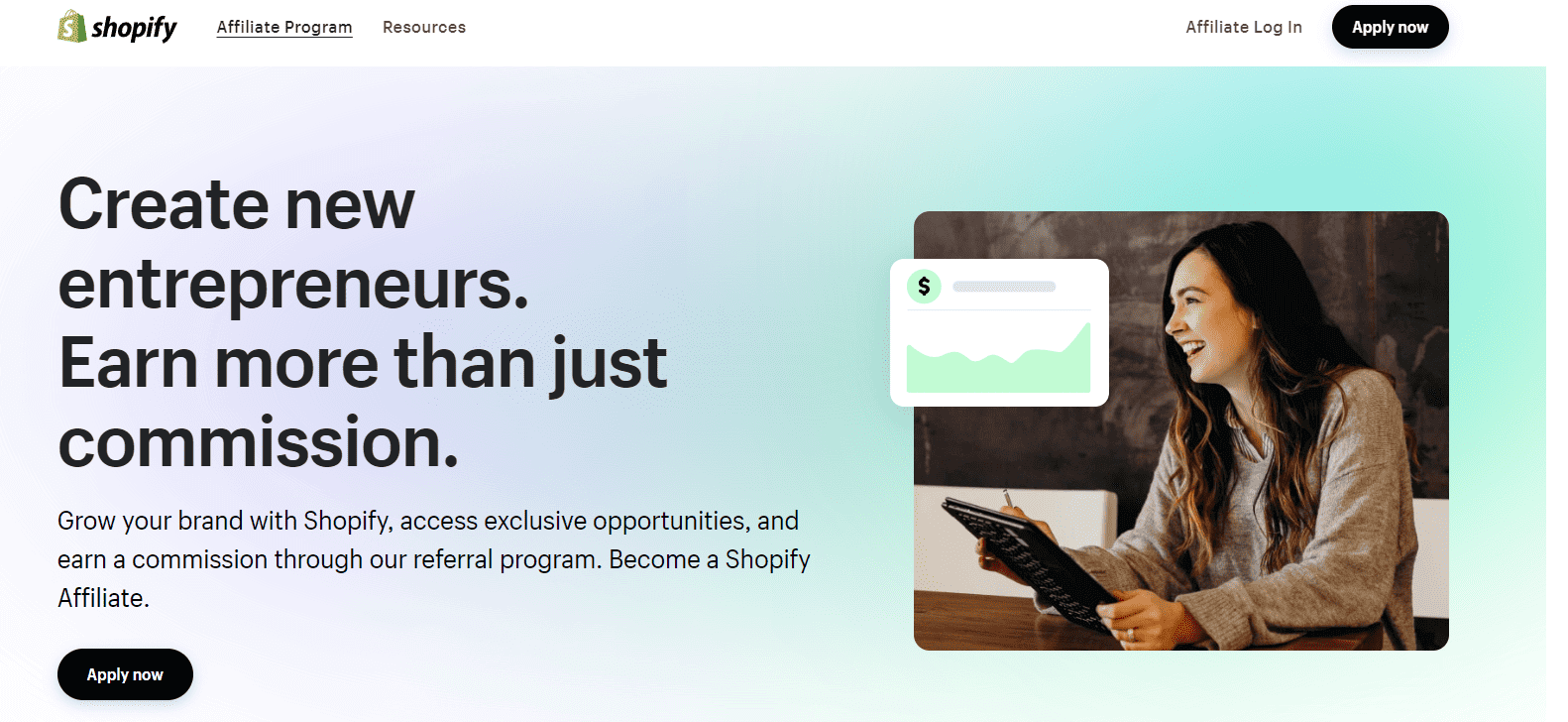 The Shopify referral program rewards affiliates for referring new customers to Shopify.
Affiliates get a unique referral link that they can share with their audience.
The affiliate earns a commission when someone clicks the link and signs up for a Shopify plan.
Shopify has a generous commission structure.
Depending on the plan, affiliates can earn up to $2,000 per referral.
Shopify offers a 20% recurring commission for each referral, which means you'll earn a commission every time your referral renews their subscription.
The Shopify referral program is open to everyone.
You can join the program whether you're an individual, small business owner, or large enterprise.
If you have an audience interested in e-commerce or starting a business, you can earn money by becoming a Shopify affiliate.
Becoming a Shopify affiliate is easy.
You'll need to sign up for Shopify's affiliate program, and once they approve you, you'll have access to your unique referral link.
You can promote your link through your website, blog, social media, or email list.
How To Become A Shopify Affiliate
Here's how to become a Shopify affiliate and unlock opportunities to make more money.
Register And Get Approved As Shopify Partner
You must first become a Shopify partner to earn as a Shopify affiliate.
It enables you to access the affiliate program through the Panel and affiliate tools.
Registration is free, fast, and accessible.
Just fill out the online form and wait for the approval email, which should arrive within a few days.
The requirements are simple: you must be a business owner, marketing expert, or content creator with an online presence willing to promote Shopify to your audience.
Choose The Shopify Affiliate Program That Fits Your Needs
Once Shopify approves you as their partner, you can choose the affiliate program that best fits your needs and goals.
Shopify offers two main affiliate programs: the Shopify Affiliate Program and the Shopify Plus Affiliate Program.
The first is for individuals and small businesses, while the second is for enterprise-level companies that sell high-volume stores.
Both programs come with competitive commissions, bonuses, exclusive promotional materials, and support.
Use The Dashboard To Run Effective Affiliate Campaigns
To maximize your earnings as a Shopify affiliate, you must run effective affiliate campaigns that resonate with your audience and drive traffic to Shopify.
The good news is that Shopify provides a comprehensive dashboard with all the information and reports you need to analyze your campaigns and improve your ROI.
You can track your clicks, conversions, revenue, and payouts in real time and use the data to optimize your marketing efforts and target the right customers at the right time.
Unlock Extra Opportunities By Becoming A Shopify Expert
As an existing Shopify partner, you can unlock even more opportunities to earn additional income by becoming a Shopify expert.
A Shopify expert is a prestigious status that recognizes your expertise in e-commerce, design, development, or marketing and offers you exposure to a broader audience, premium resources, and higher payouts.
Shopify experts can offer their services to other merchants, receive ecommerce platform referrals, and get featured in Shopify's directories and networks.
Plus, they get access to exclusive events, webinars, and workshops.
Start Earning Big With Shopify Affiliate Program Today!
If you are ready to join the ranks of successful Shopify affiliates and start earning big, it's time to sign up.
With Shopify's referral program for affiliates, you can make $2,000 per signup, build your reputation as an e-commerce expert, and help other businesses grow and thrive.
All you need to do is to register as a Shopify partner, choose the affiliate program that fits your needs, use the dashboard to run effective campaigns, and unlock extra opportunities by becoming a Shopify expert.
Sign up today and start earning!
Various Types Of Shopify Affiliate Programs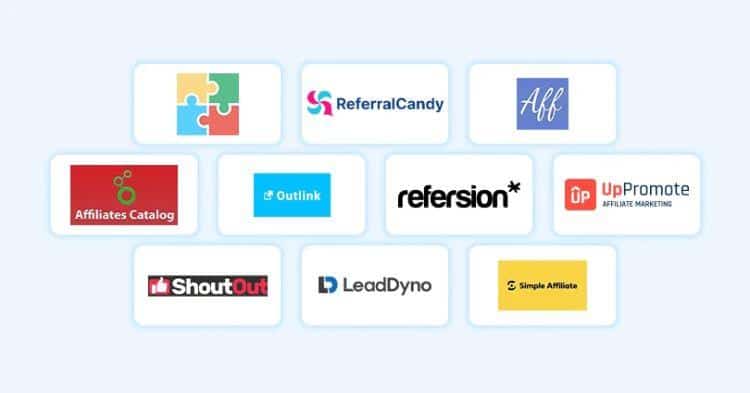 Image credit: https://www.clickpost.ai
The great news is that Shopify offers a variety of affiliate program options, so there's something to fit almost any experience level and target audience.
Here are some of the most popular Shopify affiliate programs to consider.
Themes
Debutify: Debutify is a free Shopify theme that offers conversion-optimized success for businesses. With a phenomenal conversion rate and impressive website elements, it is no wonder why Debutify has become a popular choice for Shopify store owners. Affiliates can enjoy a massive 30% monthly commission on customer plans by promoting Debutify.
Themeforest: Themeforest offers endless HTML templates and Shopify themes for entrepreneurs. By partnering with Themeforest, you can earn a 30% commission on your referrals' first purchases. Moreover, they offer a robust suite of marketing tools to help affiliates succeed in their campaigns with ease.
Template Monster: Template Monster has led the industry since 2004 and offers a massive collection of premium themes. With their generous 30% commission on first purchases and 10% on future ones through referral links, affiliates can earn big with Template Monster. Additionally, their marketing tools offer customized banners and links to help affiliates in their campaigns.
Commerce
If you're a Shopify ecommerce store owner or affiliate marketer, you know that having great web pages is the foundation for a successful business.
With programs like PageFly and BSS Commerce, you can revolutionize how you design and promote your Shopify store.
First up, let's talk about PageFly.
One of the reasons why this page builder is so popular is its user-friendly drag-and-drop system.
You don't need any prior coding or design knowledge to get started.
With just a few clicks, you can create stunning pages optimized for conversions.
Furthermore, PageFly integrates seamlessly with your Shopify store, allowing for a streamlined and efficient design process.
It doesn't matter if you're using a paid or free Shopify theme, as PageFly is compatible with all of them.
With a 4.9-star rating on the Shopify App Store, PageFly is a surefire way to boost your store's conversion rates.
But that's not all – if you become a PageFly affiliate, you can earn some serious cash.
You'll receive a whopping 50% revenue share for your first month.
After that, you'll earn a 30% commission for life.
The PageFly affiliate program makes it easy to start with referral links and a personalized dashboard to track your progress.
If you're serious about earning money as a Shopify affiliate marketer, PageFly is a must-try.
Now, let's look at BSS Commerce's Shopify affiliate program.
This program is perfect for expanding their client network and using free training resources.
As a BSS Commerce affiliate, you'll have access to various co-marketing initiatives, meaning you can work with other Shopify affiliates to promote each other's products.
It is a great way to build relationships and increase your exposure in the Shopify community.
Additionally, BSS Commerce offers competitive commission rates and a 60-day cookie duration, ensuring you get the most out of every sale.
Digital Commerce Agencies
Having a Shopify store is just the first step toward success.
To make the most out of Shopify, you could also partner with a digital commerce agency that specializes in Shopify.
DCKAP is a full-service digital commerce agency that covers everything from design and development to marketing and integration.
They have a team of experienced professionals who can help your Shopify ecommerce business reach the next level and have a proven track record of delivering high-quality work for their clients.
DCKAP also understands the unique challenges that Shopify businesses face and can help you overcome them.
If you're looking for a partner that can help your Shopify business succeed, look no further than DCKAP.
By becoming a partner, you can tap into their expertise and resources while growing your business.
While they don't publicly mention their commission rates, they strive to make the ecosystem more accessible, healthier, and prosperous.
If you're a Shopify business owner needing help with small tasks, Hey Carson is another choice.
Hey Carson offers affordable task catalog services with an average price of just $99.
They cover various services, from theme customization to product categorization.
They use Refersion as their affiliate solution, making it easier for you to track and manage your affiliate program.
Hey Carson also has an affiliate program that offers commission rates varying by task or plan.
The rates range from $15 per order for a single task to $45 for the quarterly plan.
However, it's important to note that their high churn and refund rate may impact conversion rates, and payments may take up to a month for their monthly and quarterly plans.
If you want to join their affiliate program, sign up on their website.
Applications
Once you have decided to implement an affiliate program, you must choose the right app to help you manage it.
Many options are available in the Shopify app store, but Social Snowball is one of the top-rated apps.
This app makes it easy to create and track unique affiliate links and codes, pay affiliates effortlessly, and track performance all from your dashboard.
It automatically converts customers into affiliates, making starting and scaling your program easy.
Using SEO To Promote The Shopify Affiliate Program
In today's age of digital marketing, affiliate marketing has become an essential part of any marketing strategy.
As more and more businesses realize this, they are launching their affiliate programs to tap into this lucrative marketing channel.
The Shopify Affiliate Program is one such program that has become a go-to choice for many affiliate marketers looking to boost their affiliate sales using different marketing techniques.
One of the most effective ways to enhance your Shopify affiliate marketing strategy is by utilizing search engine optimization (SEO) techniques.
SEO involves:
Identifying effective keywords for your affiliate campaigns.
Utilizing SEO tools to boost your Shopify affiliate success.
Tracking SEO performance to make necessary adjustments.
By incorporating SEO techniques into your Shopify affiliate marketing strategy, you can tap into the best affiliate apps and boost your affiliate sales through your Shopify website.
So if you're an affiliate marketer looking to make the Shopify affiliate program work for you, understanding the role of SEO is critical.
Promoting Your Shopify Affiliate Marketing Program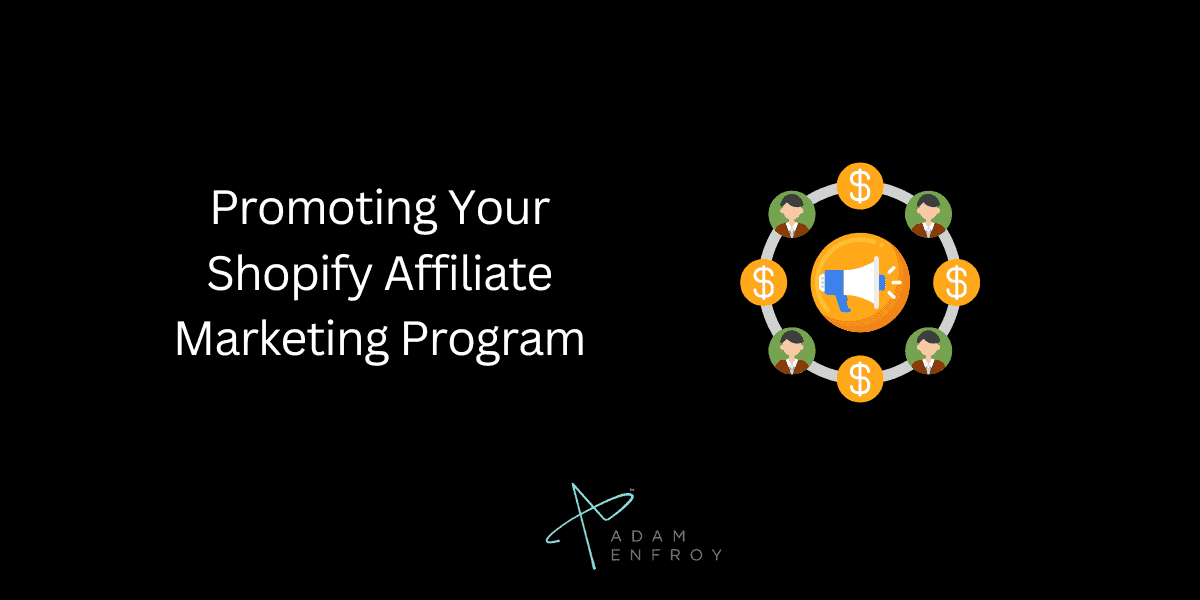 You can improve your promotion Strategies for Your Shopify affiliate program through various marketing campaigns using different tools and platforms.
Leveraging social media platforms is a great way to reach a wider audience, and utilizing influencer marketing can improve your promotion strategies.
Using email marketing can also be beneficial in reaching potential customers.
Content marketing is a powerful tool in the world of e-commerce and can help attract more visitors to your e-commerce website.
Paid advertising can also be beneficial for quicker results.
By utilizing affiliate marketing apps, retailers can tap into the power of affiliate marketing and promote their e-commerce brands.
Implementing an affiliate commission and offering gift cards can incentivize affiliate partners and attract more traffic to your online store.
Shopify affiliate partner functionality is a great way to build relationships with other e-commerce websites.
While there may be upfront costs associated with this paid plan, the long-term benefits of having affiliate partners can significantly improve your online sales.
As you strategize on promoting your Shopify affiliate program, understanding the pros and cons of affiliate marketing compared to other models like dropshipping can be beneficial.
Analyzing Your Shopify Affiliate Program Performance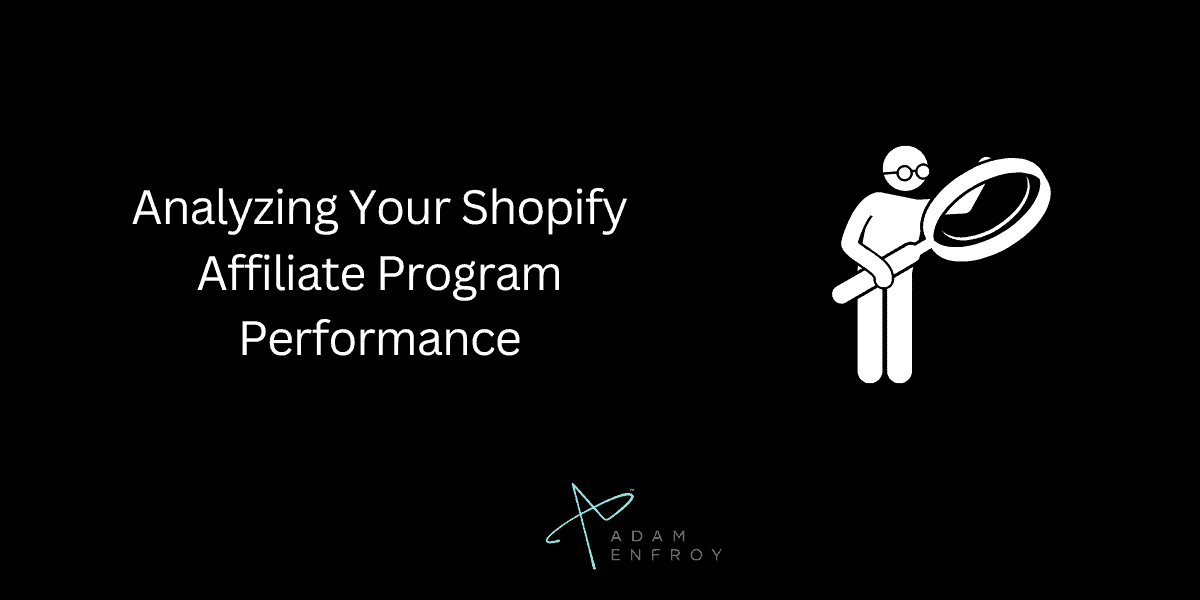 Analyzing your Shopify affiliate program performance begins with setting up key performance indicators (KPIs).
As a participant in the Shopify Partner Program Agreement, you can benefit from having a dedicated Affiliate Manager to help guide you through affiliate management.
That is, understanding conversion rates and earnings per click and utilizing tools like Leaddyno and PayPal to track your progress.
As dropshipping suppliers become increasingly popular, it's essential to have a strong affiliate network that can help drive traffic and sales to your site.
Providing exceptional customer support can also help boost your own affiliate program performance.
One approach that can be incredibly effective is offering coupon codes as a part of your affiliate marketing strategy to incentivize buyers and earn more revenue.
Utilizing these strategies and optimizing your KPIs can increase your earnings and take your affiliate program to the next level.
Legal Aspects In Shopify Affiliate Marketing
The Shopify affiliate program is a beneficial way for entrepreneurs to earn income by promoting the platform's products and services.
However, entrepreneurs should abide with all legal aspects and ethical practices when participating in affiliate marketing is crucial.
Such ethical practices involve understanding the Federal Trade Commission (FTC) guidelines for affiliate marketing, which require disclosure of any affiliations or partnerships.
You must also uphold ethical considerations like transparency and honesty to maintain customers' trust and avoid misleading actions.
Another important aspect is setting the right expectations with your affiliate partners, ensuring they understand the terms of your partnership, responsibilities, and compensation.
Finally, it is essential to adhere to Shopify's Affiliate Program Policies and Guidelines, which outline the terms and conditions for becoming a Shopify affiliate partner.
It is necessary to read and understand the Shopify Partner Program Agreement to ensure compliance with all policies and guidelines.
Keeping these factors in mind and utilizing affiliate marketing apps allows entrepreneurs to use the Shopify affiliate program to benefit their businesses.
Tips For Success With The Shopify Affiliate Program
Let's flip the script for a second and talk about what it takes to be successful when using affiliates to promote your Shopify store, product, or services.
Build Strong Relationships With Your Partners And Communicate Regularly
The success of your program relies heavily on the relationships you form with your partners.
As you onboard new affiliates, take some time to build trust and communication channels for ongoing feedback.
Use regular emails or calls to check in and ask about their experiences and any questions they may have.
Provide Your Partners With Valuable Content And Resources
Your partners are working hard to promote your business, so you must provide them with valuable materials such as images, videos, blog posts, and more to make their job easier.
Also, consider offering rewards for top-performing affiliates by providing special access to exclusive products or services through your store.
Continuously Analyze And Optimize Your Program
To maximize your program's performance, you must monitor its progress and actively make changes when necessary.
Measure critical metrics such as conversion rate, average order value, and customer satisfaction to identify areas for improvement.
Offer Incentives For Top Performers
Providing incentives is a great way to reward your partners for their hard work and dedication.
Consider offering higher commissions or special access to exclusive products or services that will help them generate more sales.
Don't Be Afraid To Experiment With Different Commission Structures And Recruitment Tactics
Every affiliate program is unique, so feel free to experiment with different commission structures or recruitment tactics to find the one that works best for you.
Try out different promotions or campaigns and experiment with various forms of marketing to see what works best.
Lastly, be sure to keep an open dialogue with your affiliates so that you can make any changes as necessary.
Setting Competitive Commission Rates
One of the easiest ways to understand what commission rates to offer is to look at what your competitors provide.
However, it's essential to consider your unique value proposition before copying their rates.
Take some time to assess what sets your business apart and consider how your commission rates can reflect that.
For example, if you offer exceptional customer service or a unique product line, you can offer slightly higher commissions to your sales team.
Calculate commission rates as a percentage of the sale or as a fixed amount per sale.
While percentage-based commissions are more common, fixed commissions can be helpful in specific industries where sales may vary widely in price.
For example, if you sell luxury items that range from $10,000 to $100,000, it may be difficult to calculate a percentage-based commission that rewards your sales team fairly for all sales.
One of the best ways to motivate your team and build trust is to be transparent about your commission rates.
Make sure your sales team knows what they can expect to earn on each sale, and consider providing a commission schedule or calculator to help them track their progress.
Knowing any quotas or targets one must meet to earn a commission is also essential.
You should not set commission rates in stone – you should regularly evaluate and adjust them to stay competitive and reflect changes in your business.
Keep an eye on your sales team's performance and adjust rates as needed to motivate them to keep performing at their best.
It's also a good idea to re-evaluate your rates periodically to make sure they are still competitive with what other businesses in your industry are offering.
Wrap Up.
Making the most of the Shopify affiliate program – and other affiliate programs like it – requires carefully examining the process you follow and the commission rates you can make as an affiliate.
Calculating and setting competitive commission rates can motivate your team to perform at their best while also creating a feeling of transparency and trust.
With the right approach, you can ensure that you and your sales team come ahead.
Ensuring your commission rates remain competitive in your industry is critical to keeping up with the market shifts and driving quality customers through your Shopify store.
Regularly evaluating and adjusting your commission rates can be challenging, but doing so is one of the best ways to ensure everyone benefits from the program – including you.
Further reading on AdamEnfroy.com: Want to set up your own ecommerce store and want to compare Shopify versus its competitors?
Here are some posts to help you out:
Editorial Process:
Our reviews are made by a team of experts before being written and come from real-world experience. Read our editorial process here.
Some of the links in this article may be affiliate links, which can provide compensation to us at no cost to you if you decide to purchase a paid plan. These are products we've personally used and stand behind. This site is not intended to provide financial advice. You can read our affiliate disclosure in our privacy policy.