Shopify Reviews: Is It the Best Platform to Sell Online in 2023?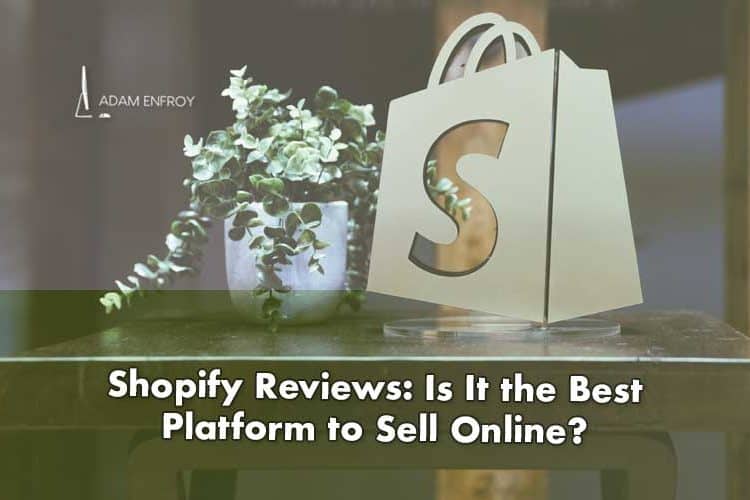 When you think of ecommerce and selling products online, you can't ignore Shopify.
Although Amazon dominates the ecommerce space, the nearly 1.3 million ecommerce businesses are trying to keep up with their own online storefronts.
And with tons of options for ecommerce platforms, where do brands go when they want to create their own ecommerce website?
Enter Shopify.
With over 1 million merchants using their platform, they are the most dominant ecommerce platform on the market today. But are they the best?
This Shopify reviews article will cover all aspects of their platform, including features, pricing, functionality, integrations, revenue potential, and more so that you can decide if starting a Shopify store is right for you.
Let's get started.
Disclaimer: I receive affiliate compensation for some of the links below at no cost to you. However, the software listed here is most effective for small businesses to launch and run an online store. You can read our full affiliate disclosure in our privacy policy.
What is Shopify?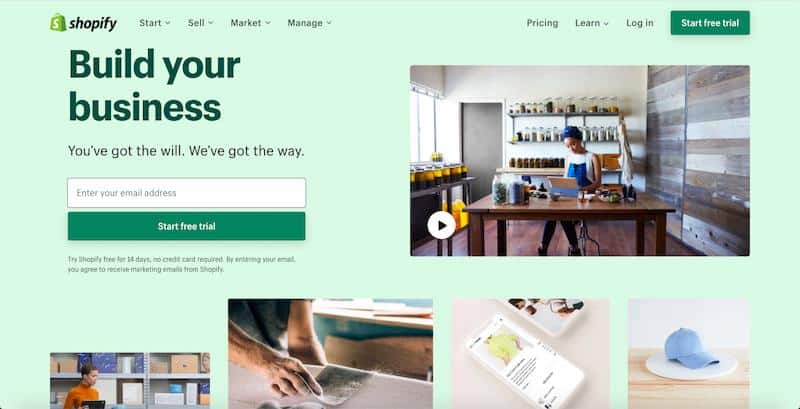 Shopify is the most popular ecommerce platform on the market and is used in over 175 countries worldwide. Founded in 2004, it helps merchants from all over the world host and create a website, upload products, collect payments, and make money online.
Check out these recent Shopify statistics:
They power more than 1.2 million merchants globally
Revenue in 2018 was $1.073 billion, a 59% increase from the previous year
Market share of 20%, the third-highest in the world
One of the main reasons Shopify is so popular is that it took complex ecommerce operations and simplified them with an easy user interface.
This fully-hosted online platform runs right from your web browser and brought ecommerce store ownership to the masses.
It also features a ton of extra features like accepting credit card payments, collecting taxes, and running seasonal promotions.
As the shopping cart of the future, Shopify wants to streamline online selling for a low cost, while pushing most extra features with integrations.
With the Shopify App Store, you can connect your online store with all kinds of other tools. For example, if you need email marketing software, you can connect Shopify to Constant Contact. If you're a growing business and need a 3PL company or order fulfillment service, you can connect to ShipBob. The list is endless.
How Many People Use Shopify?
Shopify powers more than 1.2 million merchants globally.
Statistics suggest that over the years, more than 1 billion orders have been processed on Shopify with total sales worth over $55 billion. With a market cap of more than $10 billion, it's almost as big as Twitter and other major tech giants. That's a testament to how much customers and merchants alike trust Shopify with their purchases.
And it shows no signs of slowing down.
With the market goodwill they've generated over the years and a loyal customer base, the future for Shopify looks brighter than ever.
Who Can Use Shopify?
Pretty much everyone can use Shopify. You don't need any technical knowledge to create your ecommerce business because of its user-friendly dashboard.
Shopify is most suitable for small and medium-sized businesses. Large enterprise-level ecommerce brands are better off using a more advanced platform like BigCommerce or Magento.
There are a ton of great Shopify store examples to check out. And some of its most prominent customers are GitHub, GE, and Amnesty International, to name a few.
So what exactly can you sell on Shopify? Anything you want, actually.
Here is a list of the things that you can sell on Shopify:
Physical products like books and bags
Digital products like e-books
Services & consultations like architectural services
Memberships like Netflix accounts
Ticketed experiences like visits to Universal Studios
Classes like online tutorials
Rentals like a car or bike rentals
This guide will give you a detailed overview of Shopify and why it is one of the most popular ecommerce platforms today. Then you can decide if it's right for you with a 14-day free trial.
Let's get started.
Shopify Reviews: 21 Factors to Consider When Building Your Online Store.
1. Shopify Features and Ease Of Use.
For a beginner, the task of building a website can seem daunting. There's web design, adding products, collecting payments, taxes, shipping, and more.
That's why you need a platform that's super easy to use, intuitive and automates the majority of things for you. Shopify ticks all the right boxes when it comes to usability, even for novices.
When you visit their website, they get straight to the point and help you start your business right away, using a few quick steps.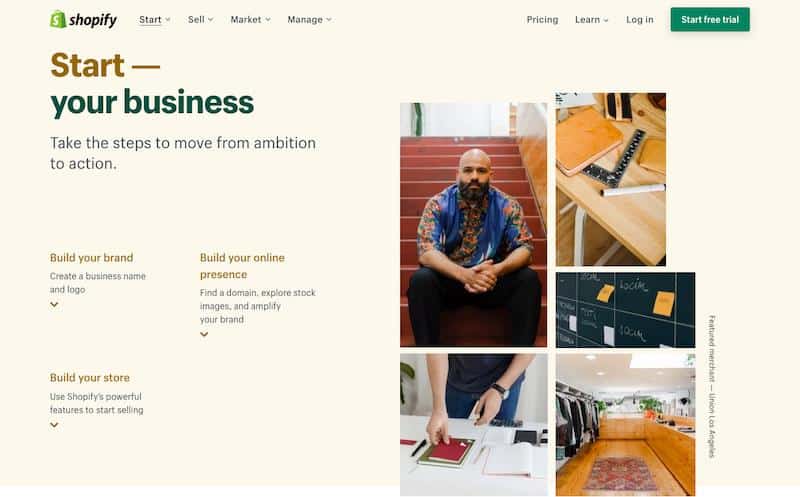 You can find plenty of positive reviews online, talking about how easy it is to use Shopify, extensive templates they offer, their world-class customer support, and more.
The overwhelmingly positive reviews that you can find littered all across the digital space is a testament to its overall appeal.
Shopify provides straightforward and simple onboarding tools with ten steps to launch your store. You just have to complete simple tasks like choosing a theme, adding your logo, adding your product images and descriptions, setting up payments, and a few other simple items.
Here's a list of some other features that make Shopify easy to use:
You can converse with existing customers or open up new conversation threads via Messenger. It adds a personalized touch to your customer service.
If you're running more than one website, Shopify has got you covered. You can now add specialized 'Buy buttons' on any web page or blog you want, and further, enhance customer experience by letting them make purchases from multiple places.
You can also list your products directly on eBay and Amazon.
You can import and export your products with CSV files.
Viewing analytics is easy with their built-in traffic and sales dashboards.
You get to leverage the power of Facebook to sell your product. You can simply add a button on your Facebook page that lets interested users scroll and checkout stuff while on Facebook itself. This way, people don't have to take time out to visit your store and can just buy things on-the-go from social media.
All in all, it's pretty easy to create and maintain an online store with Shopify.
While Shopify is very intuitive and can help you sell online quickly, there are a few snags that you need to look into:
Images.
Unfortunately, Shopify doesn't modify product images that you upload to fit the display box perfectly. Neither does it crop images with varying aspect ratios. That's something you have to take care of yourself manually, or by using photo editing software.
While it's easy if you have a small product portfolio, it can be problematic as your number of products increases.
Selling on Facebook Marketplace.
When you shop online, you usually end up buying more than one product. That's also the trend across platforms like eBay and Amazon. Unfortunately, in case of the Facebook channel that Shopify offers, you can only buy one product at a time. As of now, the 'Add to cart' option is missing.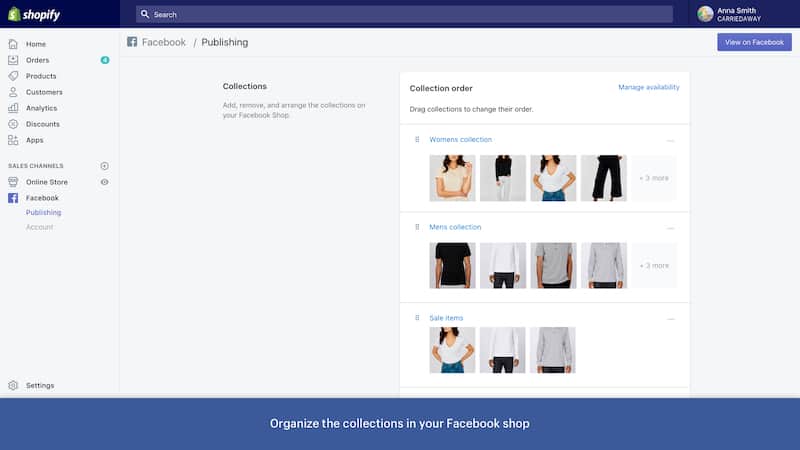 While it isn't a problem for buyers looking to buy single products, it can get very tiresome for those wanting to make bulk purchases. A far better alternative is adding a button that immediately redirects users to your online store.
Point-of-Sale (POS System) and Payment Gateway.
The POS feature is really a lifesaver when you want to operate multiple stores, pop-up shops, and temporary market shops. Usually, it becomes challenging to keep track of inventory. Additionally, inventory management can be a nightmare since you have to redo calculations again and again.
But, with all the plans except 'Lite' and 'Basic,' you can use things like:
Multiple selling points
Shift registration
Extensive hardware customer support
Support for PayPal and Amazon payments
Second, they are pushing users to use their Shopify Payments app which has zero transaction fees. However, if you want to use a third-party payment gateway like Stripe or Authorize.net, you'll have to pay transaction fees, unlike other platforms like BigCommerce.
2. Shopify Pricing Plans.
All of Shopify's plans offer great value and come with a wide array of features.
You also get a 14-day free trial that allows you to try things out before making a final decision.
Their three pricing plans include 'Basic Shopify,' 'Shopify,' and 'Advanced Shopify,' starting from $29 per month and ranging up to $299 per month, paid monthly.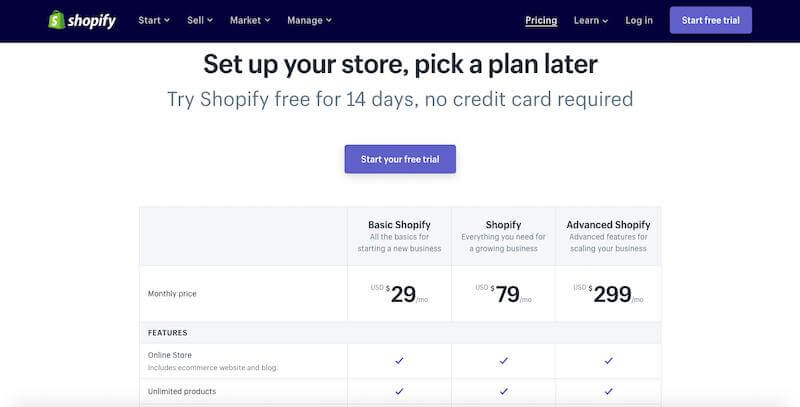 When paid annually, you get a 10% discount.
The first plan, Basic Shopify, offers features like:
Online store
Unlimited products
24/7 customer support
Manual order creation
Discount codes
Free SSL certificate
The second 'Shopify' plan provides all of this and more, like gift cards and professional reports.
Finally, the third 'Advanced Shopify' plan offers advanced report builder and third-party calculated shipping rates as well.
Through a well-organized supply chain, users also stand a chance to gain highly competitive shipping discounts from logistics providers like USPS, UPS, and DHL Express.
The platform also offers a plan called Shopify Lite that allows you to start your dream business for $9 per month, or as they say, less than the price of two lattes.
It allows businesses to convert their existing website into an online store, with basic navigation capabilities and buy buttons.
Shopify Lite is tailor-made for small businesses that have limited sales and don't want to spend money on extra features. With this plan, you can also open up social media selling channels like Facebook and increase your outreach.
Shopify's enterprise offering, 'Shopify Plus,' is a more custom solution for large businesses that need more features and white glove Shopify support.
It provides all of the features of other plans along with more advanced features, including:
Extensive API support
Server uptime
Military-grade data security features
Dedicated SSL address
Holistic white glove service
Most of the Shopify plans are comparable with those of its peers, like Wix, WooCommerce, BigCommerce, Volusion, and more. However, the 'Shopify Lite' concept is a unique add-on concept.
Overall, Shopify plans are affordable and competitive in the ecommerce marketplace.
Ready to get started with Shopify? Get your 14-day free trial.
3. Shopify Themes.
When it comes to choosing the perfect theme, Shopify has you covered. With 8 free themes and 64 paid themes, it has something for every type of business. Most of the themes fall between the price range of $140 to $180.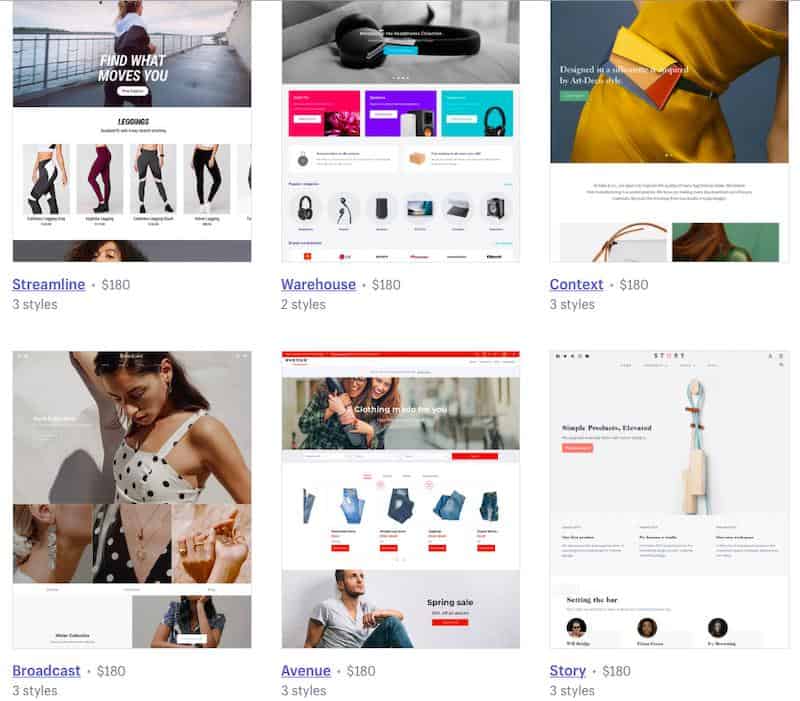 They are all mobile-friendly and responsive so that no matter what device you use – whether a phone, tablet, or laptop – the themes resize themselves automatically to optimally fit your screen.
According to statistics, customers that have a negative experience with the mobile compatibility on your website are 62% less likely to purchase from you.
Overall, the well-rounded variety of Shopify themes allows you to make your decision based on several design factors.
For instance, if you choose a theme based on the layout style, you get the following options:
Wide
Grid
Collage
Editorial
Row
Apart from this, you can also choose your theme based on your industry, how you plan to market it, how you want the navigation of your website to look, and how you want to design the homepage.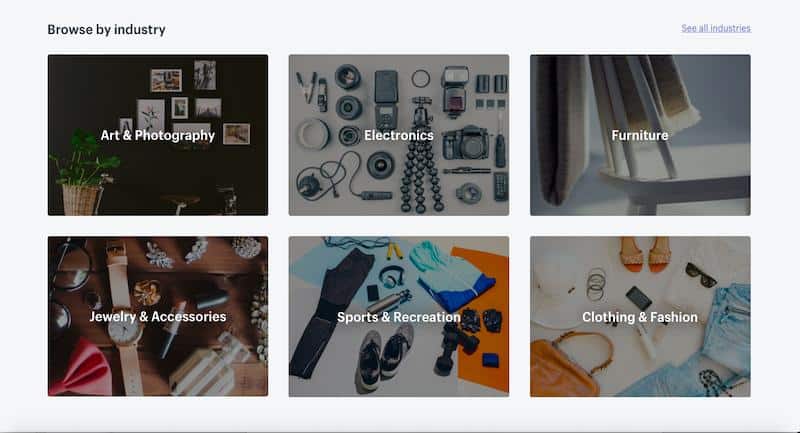 The main advantage of the themes offered by Shopify is that there's one for every mood. However you want to present yourself, you'll find no shortage of options in the theme store.
Regardless of your theme choice, you'll find standard features like:
Extensive customizability
Search engine optimization
Free updates, sometimes automatic
Mobile compatibility
Color palettes
Some themes also come with options to use languages other than English, which comes in handy when catering to a global audience.
Their store builder is very intuitive and uses a WYSIWYG editor so that changing colors, fonts, and layouts is simple.
Disclaimer: I receive affiliate compensation for some of the links below at no cost to you. However, the software listed here are most effective for launching and running an online store. You can read our full affiliate disclosure in our privacy policy.
4. Marketing Tools.
Even if you build the best ecommerce store, that's only half the battle.
If you want to scale up your store and generate revenue, you need visibility.
The first thing that you need is excellent search engine optimization for your website.
With millions of websites vying for the top spot in search engines, you have to fine-tune your SEO and content marketing strategies to increase your search engine rankings.
Next, you need other tools like marketing automation, paid advertising, email marketing, and analytics, which is where marketing your ecommerce business on Shopify comes into play.
With Shopify, you should take advantage of the abundance of marketing tools at your disposal. One of the highlights is the ability it provides to share your workload with a built-in virtual assistant called Kit.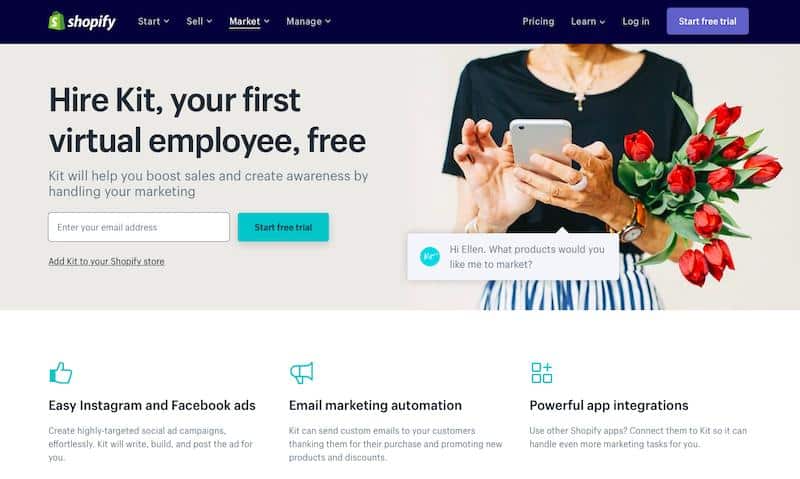 As you can see, it takes care of a lot of marketing tasks by automating them, freeing you up to devote your time to running your business.
Email marketing software is another area where using Shopify makes a real difference. You can simply log on to their app store and download an email app like Constant Contact to automate your email marketing process.
Furthermore, Shopify is the right choice for you if you're trying to break the language barrier and enter into new markets. In such cases, you'll need help in bilingual proficiency, and they offer integrations with a translation app like Weglot.
Not only can you make your website multilingual in seconds, but you can also maintain all translations effortlessly as well and amp up your search visibility.
Overall, to understand how to market your business with Shopify, check out their Kit tool and the app marketplace.
5. Shopify Customer Support.
When it comes to selecting any ecommerce solution, one of the biggest considerations is customer support.
When running your online business, the last thing you need is to face a problem you can't solve and then wait days to get it resolved.
Most companies of today incorporate business process continuity, which ensures business goes on uninterrupted even in the face of unforeseen disruptions and circumstances. After all, you need a robust and powerful customer support system in place to facilitate your online business objectives.
Thankfully, with Shopify, you'll have one of the best customer support systems in place with the Shopify Help Center.
Shopify provides customer support through a variety of channels like:
Social media
24/7 phone and live chat support
An extensive and responsive community forum
Extensive video tutorials
Help center
Specialist support (if needed)
Email support
For simple issues, you can find answers in their online knowledgebase and FAQ. For larger problems you can't solve on your own, you can always contact the Shopify Help Center.
Shopify provides 24/7 customer support even on their cheapest plan.
6. Data Security.
Data security is another primary consideration while choosing an ecommerce platform. The exponential rise of cyber-attacks over the last few years that have breached databases of even powerful corporations like Yahoo! implies that every online business is vulnerable.
Shopify comes with some of the most stringent precautions against the data breaches.
Additionally, it's extremely capable of running regular website scans and automatically updates its software. It is also 100% compliant with all regulatory requirements.
Here are some of Shopify's security features:
Every Shopify plan incorporates SSL certificates
PCI compliant (Payment Card Industry data security standard)
Protects cardholder data
Implements strong access control measures
However, one can never be too sure. It's always a great idea to get a backup of your files for safeguarding.
There are plenty of backup apps available at the Shopify app store that can help backup your files automatically, for example, Rewind. With the proper security precautions in place, you can concentrate entirely on your business.
Ready to get started with Shopify? Get your 14-day free trial.
7. Shopify Alternatives and Competitors.
Aside from Shopify, there are many other players in the ecommerce platform market. Let's take a look at some of them:
BigCommerce is one of Shopify's main competitors and offers an all-in-one enterprise-grade ecommerce platform.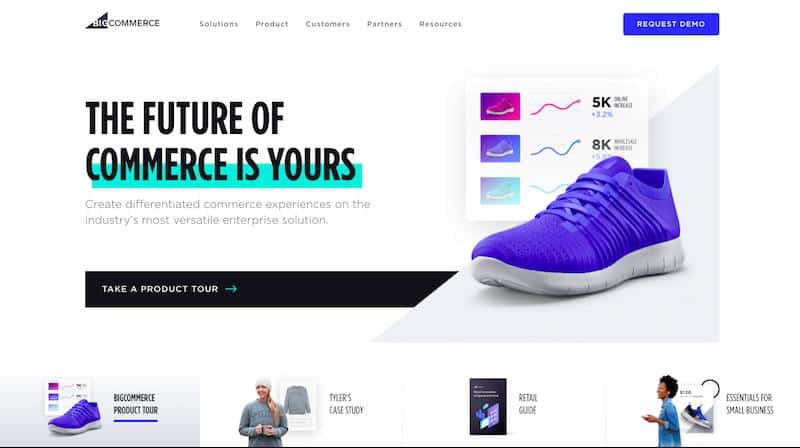 Some of its most prominent features are:
Robust SEO features
Over 600 product variants
Zero transaction fees
Sell on marketplaces and sales channels like eBay, Amazon, Pinterest, Facebook, and Instagram
Abandoned cart recovery
PCI compliance and SSL certificates
Personalized discounts and coupon codes
Extensive range of integrated payment gateways and payment processors
However, with more built-in functionality comes slightly less ease of use. BigCommerce is best for medium and large businesses doing $500k or more in revenue per year.
WooCommerce powers 28.19% of all ecommerce websites and 22% of the top 1 million ecommerce sites.
Some of its key features are:
More than 1,000 WooCommerce themes
Nearly 1,000 add-ons available
Extensive payment gateway integrations
Open-source and highly customizable
This tool is so popular because it is the free ecommerce option for WordPress users. However, the plugin is quite slow and requires a lot of custom coding to make the shopping cart design usable.
And although it's free, you may end up paying for necessary add-ons that quickly increase your monthly cost.
Wix is more of a website builder that is more suitable for small and medium businesses.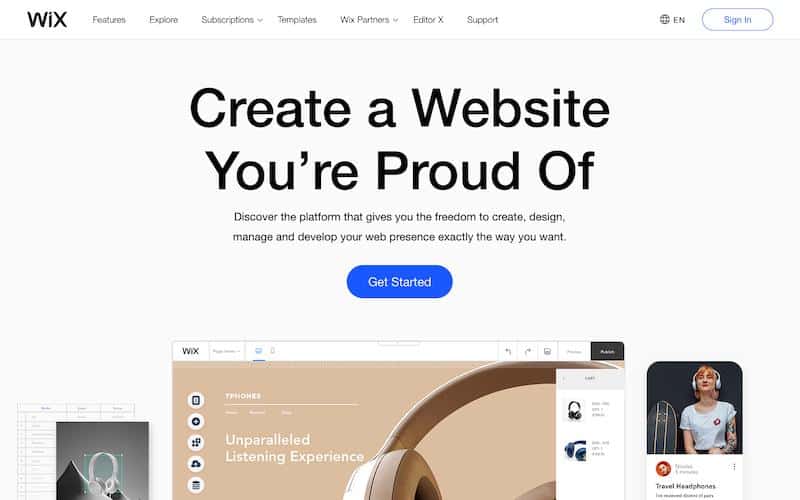 Some of its primary features are:
Extensive range of designs
Abandoned cart recovery feature
Offers multilingual service increases reach
Drag-and-drop editors and high customizability
Holistic customer support
While Wix does offer ecommerce websites, it's not a dedicated ecommerce platform and is best for small businesses.
You can read my full review of Wix vs. Shopify for more details.
Squarespace provides an all-in-one solution for users to create a perfect business website.
Some of its most prominent features are:
Drag-and-drop editor
Extensive range of templates to choose from
Mobile compatibility
Easy template switching
Offers a useful free plan
While Shopify is a more expensive platform that provides better ecommerce tools, Squarespace is a cheap option if you're looking for a website builder.
8. Shopify Store Product Import & Export.
The process of product import and export is relatively easy. Shopify allows you to import and export in CSV format.
It's essential to consider this feature before you migrate or start a new site, especially if you're making a switch from another platform to Shopify.
You can visit this link for a more detailed explanation of the import/export process.
The good news is that if you are a 'Shopify Plus' user, you have access to plenty of tools to simplify the process, such as the Transporter app.
Apart from this, importing text-based data is also very simple and achievable with the copy-paste function. You also have options like using a third-party app or taking advantage of the Shopify API.
The process of exporting data to CSV files is just as simple. It becomes complex when you try to export from pages or blogs. In such cases, you need sufficient proficiency to tweak the Shopify API and get the job done. If you're using a third-party app, it could save you a lot of trouble. However, such apps may be available only after payment.
If you need to import a small or medium-sized product catalog, Shopify makes it a relatively pain-free process.
9. Product Options and Variants.
When you're looking at product variants and options, you need to understand how Shopify works. You can have up to 100 variants of your product. But you can only have up to 3 product options.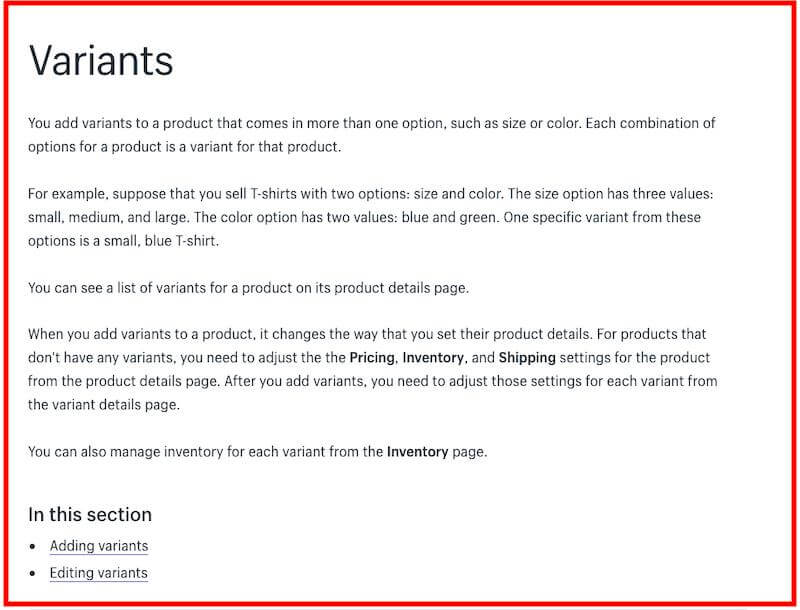 Let me illustrate this with a simple example.
Let's say you sell t-shirts. Product variants can add up quickly based on color, material, and size. You may sell a small red cotton t-shirt, a large blue polyester t-shirt, or any number of different options.
Or let's say you sell furniture. There could be any number of combinations that include material-type, color, and size.
For most store owners, 100 product variants are enough. But if you sell some of these highly-customizable product-types, you may want to opt for a platform like BigCommerce, which allows for 600 product option SKUs.
There are some apps that you can use to avoid this problem and gain access to a higher level of customization. However, most of them are paid apps.
This is a certain drawback coming from a market leader like Shopify. It's also one area where a competitor like BigCommerce scores more points than Shopify.
Disclaimer: I receive affiliate compensation for some of the links below at no cost to you. However, the software listed here are most effective for launching and running an online store. You can read our full affiliate disclosure in our privacy policy.
10. Multiple Currencies.
Shopify is one of the few ecommerce platforms compatible with multiple international currencies. It helps sellers who want to promote their products in different countries and make it easy for buyers to pay with their local currency.
In any Shopify plan, you can collect payments in multiple currencies if you use Shopify Payments. This works either by adding a currency selector to your theme or automatically based on the buyer's IP address.
Customers can pay in their local currency and prices are automatically converted based on the foreign exchange rate and rounding rules. You can also disable these rounding rules if you want.
Here's a list of the currencies supported by Shopify:
11. Payment Gateways And Transaction Fees.
Shopify provides a lot of ways to make payments. You can opt for the built-in Shopify Pay that doesn't charge you any transaction fees.
However, to use that you must be based in specific countries like the US, Canada, Australia, New Zealand, the UK, Spain, Singapore, and Japan, among others. This free payment gateway doesn't work in other countries.
So if you're a store owner that doesn't want to be forced to use Shopify's payment gateway, you'll have to pay transaction fees to use other payment gateways like Square or Authorize.net.
Fees can be anywhere from 1.6% in the UK to around 3% in the US per transaction. Sometimes, there's also an extra 30 cents for each country. However, the fees decrease as you migrate to higher-tier plans.
To make your final decision, you'll need to do some math and compare other platforms. If you want to use Shopify Pay, then you'll be all set. However, if you've been using another payment gateway, you may be better off using a platform like BigCommerce with zero transaction fees across the board.
12. Abandoned Cart Recovery.
This feature allows merchants to send abandoned cart emails and pop-ups to users who have products in their cart but leave the site. These helpful reminders increase both new sales and customer retention, as those who took the act of adding a product to their cart are quality prospects to send marketing messages to.
You can find this feature in every Shopify plan. That makes it a great alternative to platforms like BigCommerce that only offers this once you reach their Pro Plan at $79/month.
You can also automate the entire process so that whenever a user abandons their cart, emails are sent to the respective customers by Shopify.
Merchants can decide how long to wait before sending these reminder emails. As you can see from the example below, you can wait for an hour, 6 hours, 10 hours, or even a day before sending the mails.
Based on your customer base, niche, and Google Analytics data, you need to decide which frequency works best for you.
Ready to sell products online ? Get your 14-day free trial at Shopify.com.
13. SEO Features.
Shopify offers some solid SEO features, but it's not the best on the market.
It allows you to edit many different items, including:
Modification of page titles
Modification of meta descriptions
301 redirects
Shopify lets you easily add 301 redirects to update the URLs for any pages that have changed.
The URLs are customizable, but one downside is that Shopify also keeps URL prefixes on each webpage, which isn't very useful since Google prefers simple URLs.
For example, if you sell camping supplies, one category might be tents.
The best URL for SEO would be www.website.com/tents.
But Shopify forces you to keep the category prefix, so your URL instead is www.website.com/collections/tents. This isn't the end of the world, but can hamper efforts as your business grows.
Shopify sites also feature SSL certificates and HTTPS so that your website and payments are secure.
All in all, Shopify is quite a secure and robust tool that can help you make your website SEO-friendly, but it's not quite as good as BigCommerce in this regard.
Disclaimer: I receive affiliate compensation for some of the links below at no cost to you. However, the software listed here are most effective for launching and running an online store. You can read our full affiliate disclosure in our privacy policy.
14. The App Store.
Shopify offers quite an extensive collection of apps in its app store. You can access both free and paid apps.
The store boasts over 3,000 apps which is far more than other platforms on the market.
Here are some type of apps you might want to use:
Email marketing solutions
Payment gateways
Marketing tools
Data visualization and real-time analytics
Shipping and third-party logistics
Taxes
Finance and accounting software
Store design
Orders and shipping
With an endless supply of apps at your disposal, you don't need to look far to extend the functionality of your website.
However, some other platforms like BigCommerce argue that they have a lot of these Shopify features built into their software and don't require third-party apps. While a ton of apps is great, you need to check out the app store to see how many paid apps you need as the monthly fees can add up quickly.
Compare these apps you need to the built-in functionality of other ecommerce platforms so that you can save the most money.
15. Dropshipping.
Many merchants are now using the dropshipping model to simplify their fulfillment operations.
Dropshipping is an ecommerce business model where merchants store their products in third-party warehouses and don't have to handle the inventory and shipping processes.
The merchant receives a customer's order and automatically relays the information to the dropshipping supplier, or manufacturer. The manufacturer is then responsible for packing, transporting, and delivering the product to the customer.
Shopify is the best dropshipping-friendly ecommerce platform that has a lot of apps for dropshippers to take advantage of.
With tools like Spocket and Oberlo, ecommerce business owners can automatically sync inventory levels between their website and manufacturer warehouse, find new products to sell, and export them directly to their storefront.
If you're interested in getting started with dropshipping, Shopify is your clear #1 choice.
16. VAT Mini One Stop Shop (VAT MOSS).
VAT MOSS (VAT Mini One Stop Shop) gives Shopify merchants the ability to sell to the EU and collect VAT taxes.
Every product that you sell online in any EU country comes with an individual tax. Wherever the seller may be located, any resident of a country of the EU must pay taxes as applicable in their location or country.
Most of the big ecommerce platforms don't have a dedicated functionality to calculate the tax added in these scenarios, which leads to complicated manual calculations. But not with Shopify.
With their VAT MOSS feature, they automatically calculate the total price per product, taking into account the respective countries so that you can relax and continue selling without any hiccups.
17. Reporting.
When you use a powerful tool like Shopify, be sure to take advantage of the many different reporting options it provides.
Some of the reports you can view are:
Sales
Customer
Marketing
Search data
Data analytics
Finance
Taxes
Abandoned cart reports
Although basic reporting and dashboards are available on every Shopify plan, the quality and detail of the reports get progressively better as you up-level your plans.
The low-end plans are excellent for visualizing the data from the outside and getting basic statistics. However, the top-tier plans allow you to dive super deep into the analytics and export more types of files.
Ready to get started with Shopify? Get your 14-day free trial.
18. Blogging.
Shopify is one of the few platforms that have an in-built blogging tool. It allows you to curate all your blog posts easily to ensure maximum visibility.
However, the only hassle is that Shopify blogs only allow the use of tags – there aren't any other categories available. You also won't find any content versioning. These are some very pointed disadvantages, and one where competitors like WordPress/WooCommerce dominate.
This blogging functionality helps you drive traffic to your website, but the lack of essential features can hamper that a little bit.
You can make use of tools like Disqus that can supplement the export of Shopify blog posts, but you'll still have to modify the Shopify API to get the best out of Shopify – or get a third-party app.
19. Shopify Mobile Device Management.
With Shopify, managing your accounts through mobile is extremely easy. Shopify provides two apps – 'Shopify' and 'Shopify POS.'
The 'Shopify' app lets you:
Add/ delete orders
Modify/ update orders
Adhere to delivery timelines
The 'Shopify POS' app has more commercial use – it focuses on facilitating card payments, inventory tracking, customer receipts, and more.
You can also use the 'Ping' app that allows you to chat with customers personally, answer queries, share items, make sales, and create stronger relationships. One drawback is that the app isn't available for Android.
There are plenty of other apps like logo making apps, design apps, business card apps, and more.
20. AMP in Shopify.
The majority of us face issues when it comes to website loading times on mobile devices. AMP is Google's answer to the problem, which can improve load times by making your backend code leaner.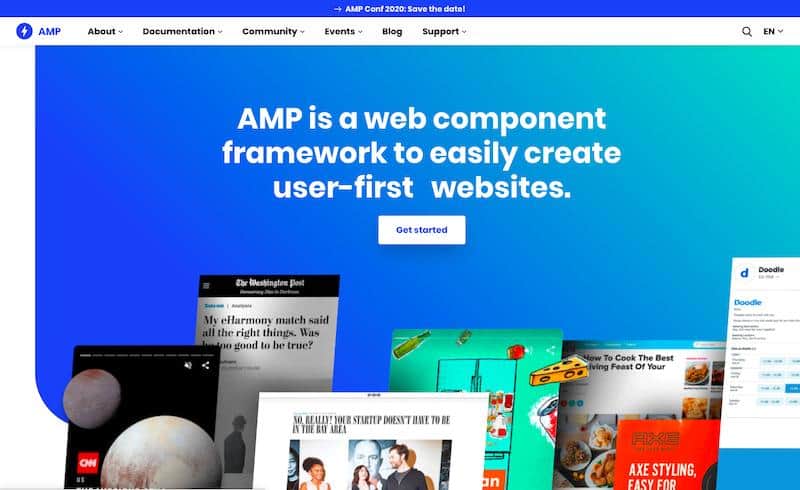 Most internet users abandon a website for slow loading times and don't come back. Google AMP is a great solution to make mobile websites faster. As a result, users can expect improved SEO as well.
Most other platforms utilize AMP for their blogging functionalities only, but Shopify uses it for product pages too, which gives it a competitive edge over other tools in the market. Even if your internet connection is slow, you'll see products load quickly.
BigCommerce has this feature natively built-in on both product and category pages, so that gives them a slight edge in this case.
To use the functionality for product pages, you'll need a paid app from the store. However, the business potential of AMP is excellent, which makes up for the cost.
Ready to get started with Shopify? Get your 14-day free trial.
21. GDPR-Compliance.
If you want to ensure continued adherence to standards of data security of European citizens, then GDPR compliance is a necessity. The penalties for non-conformity are financially very steep. Even if you've got a solitary customer based out of the EU visiting you, your compliance is implicit.
To that end, here are some of the parameters you have to satisfy:
Privacy/cookie notices
Secure data storage
Explicit consent from prospective leads for newsletter receipt
Option to cancel consent
While you can meet most of the requirements pretty easily, you may have to spend some time and effort creating notices and data capture forms making sure they align with GDPR requirements.
The proper method of compliance with the requirements would be:
Allowing the choice of cookies to run
Consent logs
Allowing consent revocation
You can either manually take care of these requirements or get an app from Shopify's app store to do it automatically.
Shopify Reviews: Pros And Cons.
Shopify Pros:
Here are some of the pros of Shopify:
Intuitive & user-friendly
Zero transaction fees when using Shopify Payments
You can get the Shopify Lite plan for $9
Holistic abandoned cart saver feature
Provides eight paid and 64 free website themes
Multi-currency compatibility
Mobile device compatibility and management
100% GDPR-compliant
In-built blogging functionality
14-day free trial period
Allows you to choose from an extensive range of third-party apps (more than 3000)
VAT MOSS automatic application
AMP versions of product pages available
Comes with excellent dropshipping features
'Buy button' option enabler to sell from any website
Allows up to 100 variants of a particular product
Highly customizable API
Offers numerous video tutorials to help you get started
Provides social media integration with platforms like Instagram, Facebook, and more
Gives store owners their own web hosting
Can get a custom domain name for $11
Provides free SSL certificate
Military-grade data security and end-to-end encryption
Shopify Cons:
Doesn't offer any freemium plan
No integration with MailChimp
Hefty transaction fees when using third-party payment options
Phone support available for specific countries
Aspect ratio modification of images is manual
Extensive reporting is available only for costly plans
Blogs exports are a bit challenging
Ping app is not available for Android
No ethical ratings for suppliers
Offers URL prefixes that may hamper SEO
No on-site deployment
POS functionality and card readers available only for higher-priced plans
Third-party payment apps are mandatory for transactions in some countries
Disclaimer: I receive affiliate compensation for some of the links below at no cost to you. However, the software listed here are most effective for launching and running an online store. You can read our full affiliate disclosure in our privacy policy.
Shopify Reviews: Executive Summary.
Shopify is the best ecommerce platform for small businesses on the market right now. As a market leader at the intersection of ecommerce and retail experiences, they set their merchants up for success.
After their founding in 2004, they spread like wildfire due to their ability to make ecommerce websites accessible and easy to use for anyone.
With more than 1 million merchants worldwide, it has a huge user base and a lot of market goodwill, which isn't likely to die out anytime soon (just look at their stock price).
However, if you are a medium or large business that needs advanced functionality like more product variants or custom web design, you may be better off going with Magento or BigCommerce.
If you'd like to test-drive Shopify, try a 14-day free trial and test their product before making a decision.
All in all, with a wide range of themes, marketing and sales tools, and integrations to choose from, Shopify is a great option for small businesses and new ecommerce merchants.
Get started with a 14-day free trial of Shopify.
Recommended Resources on AdamEnfroy.com: If you'd like to research further, check out my guide on the best ecommerce platforms and best website builders to use this year.
Editorial Process:
Our reviews are made by a team of experts before being written and come from real-world experience. Read our editorial process here.
Some of the links in this article may be affiliate links, which can provide compensation to us at no cost to you if you decide to purchase a paid plan. These are products we've personally used and stand behind. This site is not intended to provide financial advice. You can read our affiliate disclosure in our privacy policy.
---
Last Updated on December 8, 2022 by Adam Enfroy