8 Ecommerce Marketing Strategies to Grow Your Business
Marketing your new ecommerce business takes determination. Ecommerce marketing includes testing and tweaking ad campaigns, optimizing your pages for conversions, perfecting your content and SEO strategy, putting the right budget into the right tactics, and maintaining a strong return on investment.
If you run an online store, the good news is that recent ecommerce statistics are in your favor:
Ecommerce sales are projected to hit $4.5 trillion by 2021 and are growing 23% year-over-year.
And 4 in 10 purchases are made only using an online channel for searching and buying.
Those are some strong numbers.
However, with increasing consumer expectations led by Amazon, there are new challenges, including an expectation of two-day shipping, abandoned carts, and rising digital marketing costs.
Online shoppers are increasingly demanding, so not only do your marketing tactics need to be top-notch, but your conversion funnel and checkout process need to be a well-oiled machine too.
When it comes to ecommerce marketing, you can't perform every tactic perfectly, but by understanding the individual tactic's place in the funnel, creating a strong performance baseline, and maintaining consistency across platforms, you'll set yourself up for the biggest revenue gains.
For example, if you're planning your holiday ecommerce promotion strategies, ask yourself:
Do my Facebook ads match my email campaigns and affiliate banners?
Do my Google Shopping Ads include the correct promotions that match my PPC ads and homepage sliders?
If your answer is no (or unsure), you may want to read some of the tips below.
With this ecommerce marketing guide, I'll highlight the most effective marketing strategies for your online store, how each tactic plays a role in your marketing funnel, and tips to be successful this year.
What is Ecommerce Marketing?
Ecommerce marketing is the process of promoting your online store via inbound advertising, organic SEO, and other marketing tactics to increase website traffic, brand visibility, and sales. This includes driving awareness with social media, search engines, email, and digital assets, as well as driving website actions with conversion rate optimization.
Ecommerce marketing uses many digital marketing strategies to convert visitors into customers.
To give you an understanding of what an effective ecommerce marketing strategy entails, here are some common marketing channels to generate more sales for your online store.
Source: net-a-porter.com
What are the Top Ecommerce Marketing Strategies?
Ecommerce marketing requires an omnichannel approach, with some channels performing better than others. For example, conversion rates vary widely by both traffic source and device type:
Average ecommerce conversion rate by device: desktop: 3.8%; tablet: 3.3%; smartphone: 1.3%
Median conversion rate by traffic source: Direct: 2.2%; Email: 5.3%; Organic: 2.1%; Facebook: 0.9%; Paid Search (AdWords): 1.4%; Referral: 5.4%; Social: 0.7%
1. Search Engine Optimization (SEO).
Search engine optimization (SEO) is a long term strategy to get more traffic to your ecommerce site by increasing your organic, or unpaid rankings on search engines.
For ecommerce sites, this includes optimizing your technical SEO and content strategy to be successful. Technical SEO includes on-site tactics like mobile optimization, URL structure, keyword tags, internal linking, site speed, and more.
In addition to technical SEO, quality content is a driving factor for generating organic ecommerce traffic. You should have high-quality content on product and category pages, and a regularly updated, SEO-optimized blog.
2. Pay Per Click (PPC) Advertising.
In addition to the organic traffic strategies above, pay per click (PPC) advertising includes using tools like Google AdWords and Bing Ads to pay for placement on search engines.
Running an effective PPC campaign includes bidding on search terms related to your business to get more traffic and sales. These ads appear above and below the organic results on search engines and are a great way to quickly boost site traffic.
3. Email Marketing.
Using email marketing software is one of the best ways to engage with potential customers and up-sell to current customers.
When it comes to ecommerce email marketing, there are a lot of strategies. You can use automated emails like a welcome email series when a user opts-in on your site, as well as abandoned cart emails, to remind users they have an item in their cart.
In addition to automated emails, marketing emails and newsletters can tell subscribers about upcoming promotions, product news, and provide purchase incentives.
4. Affiliate Marketing.
Affiliate marketing is the act of using an affiliate network to connect with other websites to promote your products.
These other website owners, or affiliates, promote your product with text links and banners, and an ecommerce retailer pays them a commission of the sale price once a purchase has been completed.
The beauty of affiliate marketing is that it's a highly scalable, ROI-positive form of performance marketing, as ecommerce advertisers set their own commission rates and are guaranteed a certain return on investment.
You can check out my guide to the top 105+ affiliate programs for more information.
5. Social Media Marketing.
Everyone is on Facebook, Instagram, and Twitter every day, and your ecommerce brand should be too.
By levering social media marketing, you can increase your following, engage with current customers, manage your reputation, and customize ads to users based on their interests.
Organic social media includes creating posts and updates on your brand's social media page so that users can connect with your brand in their news feeds.
Paid social media includes creating custom image or video ads, and paying to promote them to a specific audience based on their interests, demographics, and shopping behavior. It's a customer-centric form of ecommerce marketing built on providing an excellent customer experience.
Organic and paid social media tools should be used in tandem to see the most impact on your online business. It's a great way to increase brand awareness and showcase your brand's personality.
6. Display Advertising.
Using the Google Display Network (GDN), ecommerce business owners can easily create banner ads and serve them to people browsing the web.
This powerful network reaches more than 2 million websites and 90% of Internet users. With all types of different ad sizes and formats, the GDN is a great way to reach people with targeted banner ads based on their interests and online behaviors.
7. Retargeting.
Retargeting is the process of showing text, banner, and social ads to web users who have visited your website or interacted with your products.
When users visit your ecommerce site, Google or Facebook can place a pixel on their browsers and show them ads as they browse the web, reminding them of your business.
These ads are typically paid for on a cost-per-impression basis and are a great tactic for targeted digital marketing, as you know the users have already interacted with your website.
8. Influencer Marketing.
When making online purchases, users are very reliant on the opinions of others to inform their purchase decisions.
They look for online reviews, and recommendations from peers and influencers to tell them what to buy and which brands to interact with.
By joining an influencer marketing network, you can connect with micro-influencers in your niche to promote you.
An ecommerce store will typically pay an influencer an upfront fee (more followers = higher fee) and they will promote their products on their blogs, Instagram accounts, Facebook, or YouTube channels.
How Can I Master the Ecommerce Conversion Funnel?
Before you can optimize each marketing tactic above, you need to understand your business goals, marketing budget, and how these channels work together.
Getting a user to purchase a product is a long term task – it can take 7-13 touches to deliver a qualified sale. A user will have to see your brand and products multiple times before their first purchase. Because of this, your approach needs to include multiple tactics in unison to hits buyers at different stages in their journey.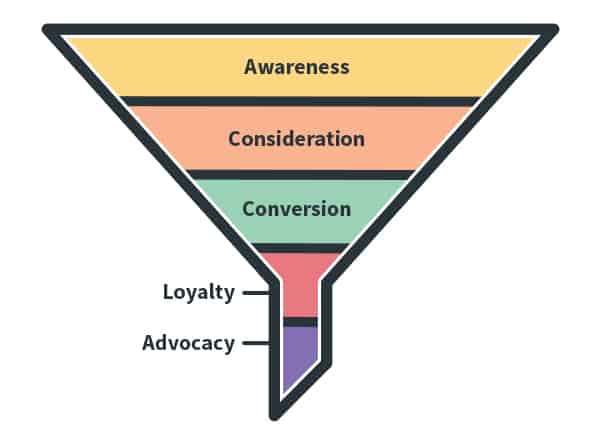 Source: code95.com
1. Top-of-Funnel Marketing
Your top-of-funnel, (or brand awareness) marketing efforts reach users who have never seen your products before.
They probably won't buy right away. Sales prospecting tactics include paid and organic social media posts and display advertising, with end goals like impressions, email sign-ups, web traffic, and social followers.
For example, you need to master your ecommerce SEO strategy and get traffic for terms related to your product offerings. If you sell camping supplies, you could write a long-form blog post on the Top Ten Camping Destinations in the United States, bringing in readers to build brand awareness and then retarget them with ads. There are a ton of ecommerce SEO agencies out there that can help you with your search engine strategies.
A user may view one of your Facebook image ads, visit your website, but not be ready to purchase yet. These web visitors help build your email list, become your social followers, and are perfect for retargeting campaigns.
Now every time a top-of-funnel user visits a product page but isn't ready to convert into a customer, they can still be added to their email list as a warm lead.
A good return on investment (ROI) for top-of-funnel marketing tactics is 2-2.5:1
2. Bottom-of-Funnel Marketing
Once users warm up to your brand, they're more likely to make a purchase, so you can implement bottom-of-funnel marketing strategies.
This includes brand pay per click advertising (PPC), retargeting campaigns, and abandoned cart emails. These bottom-of-funnel tactics are for users who are searching for your brand on Google, or who have already visited your site or added a product to their cart.
The end goal here is to generate sales.
For example, check out how Zoma Sleep uses both eye-catching animations and customer reviews to increase conversion rates on their mattress product page.
To get users to your product and category pages, brand pay per click (PPC) advertising plays an important role. These Google ads target users searching for your brand name – they already know you and want to visit your site, which is great for potential sales.
Brand keywords will always have a stronger ROI, as the searcher knows enough about you to search for your specific brand name. You should own these brand terms and maintain position 1.0-1.5 on search engine marketing (SEM) tools.
Non-brand terms will always have a lower ROI, as these users are still searching for your products, may have never heard or your brand, or are shopping around and viewing competitors.
It's important to bid on some of these terms if you're looking to be competitive in the market, but maintaining a position of 2.5-4.0 can be a better strategy.
Make sure to perform retargeting efforts on both Google and Facebook. Facebook retargeting can include Dynamic Product Ads (DPAs) which advertise the exact products that users viewed on your site in a scrolling carousel format, based on their browsing history.
Additionally, by implementing different duration windows you can target visitors who viewed your products 3, 7, 14, 30, or even 180 days after viewing them. With this strategy, you can bid higher on your 3-day audience than your 30-day audience and improve your campaign's ROI.
Using the Facebook Power Editor, bid higher on shorter duration windows and less on longer duration windows – a retargeted user who added a product to their cart three days ago is much more likely to purchase than a user who visited your home page 90 days ago.
The same holds true with Google. Separate your retargeting audiences by duration window to improve your bidding strategies and return on ad spend (ROAS).
Additionally, by implementing A/B testing and offering a discount for certain retargeting audiences, you can see if discount messaging gives you a stronger return on investment.
A good return on investment (ROI) for the bottom of the funnel campaigns include 3:1 for Google brand keywords and 5+:1 for Facebook retargeting.
3. Ecommerce Upselling, Cross-Selling, and Repeat Purchasers
Do you know your repeat purchase rate (RPR)? A repeat purchase rate measures the percentage of customers who come back and make another purchase. This is calculated by taking your repeat customers, dividing by your total customers, and multiplying by 100.
You also need to pay attention to silent conversion rate killers like a lack of discounts, hidden shipping charges, and limited payment options.
Second, how do you market to your current customer base? It costs 5x more to attract a new customer than to keep an existing one. The main marketing strategies to target your customer base include retargeting, email, and social media campaigns that only target past purchasers.
With Facebook Ads and email marketing options tied to your ecommerce platform, you can create specific campaigns just for users who have already purchased from you.
These can be promotional in nature, offer VIP discounts, and make them feel special (because they are).
Ecommerce Marketing Summary
There are more opportunities to make money with an online store than ever before. However, your marketing tactics and conversion funnel need to be top of mind and fit the needs of the evolving and demanding consumer. Marketing your online store doesn't have to be shrouded in mystery.
By implementing some of the ecommerce marketing tactics above and getting each one to an ROI baseline, you can afford to scale, get your products in front of more people, and generate more revenue this year.
Disclosure: I may receive affiliate compensation for some of the links below at no cost to you if you decide to purchase a paid plan. You can read our affiliate disclosure in our privacy policy. This site is not intending to provide financial advice. This is for entertainment only.