7+ Best LLC Services to Form Your New Business in 2022 (Ranked)
Choosing the right LLC service is crucial if you want to ensure that your business remains in good standing with the state. From business formation to tax planning, the best LLC service can help you meet your goals. In this guide, I ranked and reviewed the 7+ best LLC services, so that you can pick the best one for you.
---
We're reader-supported. When you buy through links on our site, we may earn an affiliate commission.
Thinking about starting your own business? You're not alone! It's interesting to know that just in June 2021, more than 440 thousand small businesses were started.
While starting your own business is definitely a step in the right direction, it's definitely important to know what type of business you're going for before startup.
A limited liability company, also known as an LLC, is a type of business that is relatively easy to set up.
With this in mind, I went ahead and reviewed the best LLC services to help you form your business right now.
These LLC services are some of the best in the business services industry, making it easier for business owners to get started, without having to worry too much about the registration process itself.
Whether you are starting with a completely new small business idea or considering using a marketplace to buy and sell online businesses as a potential idea source, it's important to know what you're getting yourself into.
Let's dive deep into this topic.
What Are The Best LLC Services?
The following are some of the best online LLC formation services to consider.
Best Overall.
Adam's Take
Northwest Registered Agent provide a great experience when setting up an LLC because they have years of experience. They are also very affordable when one considers all the costs. Their team can help you with everything from company registration to tax filing.
Northwest Registered Agent provides the right expertise for all your LLC needs. This includes the company registration process, tax filing, annual reports, and also member meetings.
They have Corporate Guides® that can help you answer any questions you have in relation to the forming of your new LLC and can also help with its ongoing management.
With custom-built backend software, Northwest Registered Agent can provide you with the best customer experience that is tailored towards your needs.
Key Features:
State compliance notification means that you will receive an email when your LLC is due to file taxes or public notices, giving you time to prepare your documents accordingly.
Access to every state form is available. This also comes with settings that have been prefilled, making your part of the process quick and easy.
A secure online account is provided, allowing you to upload legal documents and share with them as needed.
A business address is included when you form your LLC with Northwest Registered Agent.
Get started with Northwest Registered Agent.
Best for turning an idea into a fully-fledged business.
Adam's Take
ZenBusiness is another excellent resource for small business owners. It offers a wide range of services to help you get your business up and running while ensuring you stay compliant with all the necessary regulations.
ZenBusiness offers business support in the various stages of business formation, from getting it off the ground, to making sure that it is successful.
You will be able to benefit from their business experts' support, allowing you to feel confident in your decisions.
With the ability to choose the filing options that best suit your needs, ZenBusiness can make the LLC formation process quick and easy.
Ongoing compliance services are also available, meaning that you will never have to worry about staying on top of things.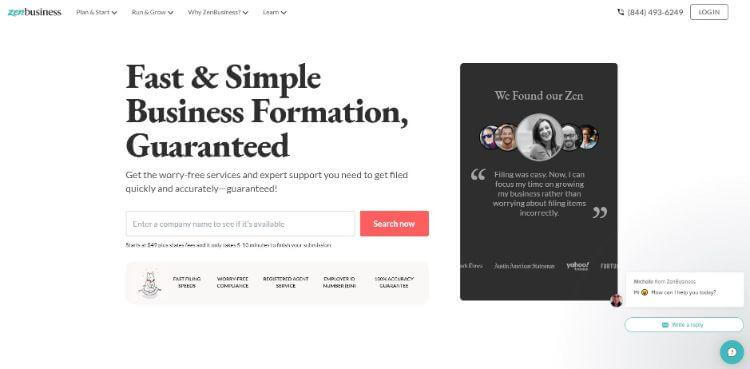 Key Features:
Their pricing starts at $49 which means that you can have your own legal business set up without breaking the bank or going over your budget.
Their secure website makes it easy for you to upload your documents and share them with Zenbusiness as needed – also making the process fast.
Submission of a new business takes up to 10 minutes, so you'll be up and running in no time.
Simplifying the red tape processes is one of their main goals, making the LLC formation process as easy as possible for you.
Get started with ZenBusiness.
Best for having years of experience to help set up an LLC faster.
Adam's Take
Incfile has been around for over 15 years and has helped thousands of entrepreneurs get their businesses going. If you're looking for a comprehensive LLC service that can help you with everything from filing your Articles of Incorporation to getting an EIN, Incfile is an excellent option.
Incfile has helped more than half a million businesses launch since its inception in 2004.
With this amount of experience when it comes to the LLC formation process, there is no problem that Incfile hasn't seen before, and in return, isn't able to solve.
Whether you are starting a new company, need help to restructure a current one, or even need help when it comes to managing your state compliance, Incfile can help with all your needs.
Their LLC experts will be able to guide you through the registration process, making it quick and easy for you to get things done.
Knowing that they have a positive track record when it comes to filing annual reports and paying state taxes, you can feel safe in the knowledge that they can help you at every step of the way.
Key Features:
No hidden fees mean that the price you see is what you'll pay.
Set up your business in just 4 easy steps, making the process less daunting than ever before.
Vast knowledge and expertise in LLC formations, meaning that you will be in safe hands each time you need help.
With banking and bookkeeping services also available, Incfile can help with all your business needs.
Get started with IncFile.
Best Overall LLC Services
Adam's Take
Tailor Brands is my number one recommendation when setting up an LLC. With helpful resources that can get you the majority of the way there and an AI-powered logo design tool to top it all off, it's hard to beat what Tailor Brands has to offer when setting up your business.
Tailor Brands is one of the best LLC formation services as they take care of the majority of the work for you.
Ranging from a logo creator, a website builder, business mailbox, digital business card, and more, their resources are incredibly helpful for those wanting to set up an LLC quickly and easily.
This doesn't even include their LLC formation services, which allow you to form your business in any state with ease.
They also take care of your business listings, so that customers can find you online with ease. Overall, it's hard to beat what Tailor Brands has to offer when setting up your business.
Key Features:
Search Engine Optimization features help you to be easily found online
Business listings make it so customers can find your business online without any hassle
Business cards from Tailor Brands look great and help leave a lasting impression
Tailor Brands also offers branded merchandise with your new logo, such as t-shirts and mugs
Their digital business card is a great way to share your contact information
Lastly, their AI logo design tool is perfect for those who need help creating a professional-looking logo.
Get started with Tailor Brands.
5. LegalZoom.
Best for helping with LLC creation as well as trademark registration.

Adam's Take
LegalZoom can help with anything LLC-related, from filing the Articles of Organization to preparing Operating Agreements. They also have experience with trademark registration, so they can help you protect your business name and logo.
LegalZoom provides a wide range of legal services for entrepreneurs, including LLC registration, trademark registration, and more.
Whatever your legal requirements, LegalZoom can help you.
Their support staff has been thoroughly trained to understand your needs, making the process of LLC registration that much easier for you.
The major benefit of using LegalZoom is that in addition to LLC registration services, LegalZoom provides trademark and copyright registration services as well as patent application assistance, which is a fantastic all-round experience.
Key Features:
Costs to form an LLC start at $79 with LegalZoom – however, this only happens after you've been given the right advice about what will work for your specific business needs.
They have a vast range of services to choose from, meaning that you can find everything you need in one place.
A 60-day money-back guarantee is offered if you are not satisfied with the service, further showing their commitment to customer satisfaction.
Their newsletter offers you the latest in business law and more, so you can keep up to date with all the changes.
6. Rocket Lawyer.
Best for making a traditionally complex process as simple as possible.
Rocket Lawyer explains in plain English the options you have when starting a business.
From LLCs to corporations, they can help you form the right business structure for you and provide the ongoing support you need to make sure your business is successful.
With their 'ask a lawyer' service, you can get your questions answered quickly and easily, allowing you to make the right decisions, fast.
They also have a legal app that anyone can use to get help on the go.
Key Features:
Specialists are on hand to answer any questions or concerns you may have, so you can be sure that your business is well cared for.
They offer a free 'ask a lawyer' service via their online website, meaning that when you need legal support, it is only a click away.
Their legal app allows you to get legal advice on the go, wherever you are.
They offer reliable help even after you start your own company, ensuring that you are always compliant with the law.
7. BizFilings.
Best for providing additional benefits when incorporating.
BizFilings is a service that can be summarized as being confident in its capacity to exceed client expectations.
They offer great tools and resources such as an incorporation wizard, a business license wizard, and a business type comparison chart.
These resources serve to further simplify the incorporation process for you, as the business owner.
The majority of their clients complete transactions without delays and are very satisfied with the results. BizFilings take pleasure in offering the most professional service in the market.
Each order is analyzed to detect any mistakes or omissions and is reviewed by a trained professional to ensure accuracy before proceeding.
Key Features:
They provide interactive tools and resources to help you decide on the best business structure for you.
With their vast experience, they help you understand the difference between the best types of incorporation needed. These include LLC, C Corporation, S Corporation, non-profit and more.
BizFilings guarantees that your order will be reviewed by a trained professional for accuracy before submission.
8. MyCompanyWorks.
Best for offering upsells that can help with the LLC formation process.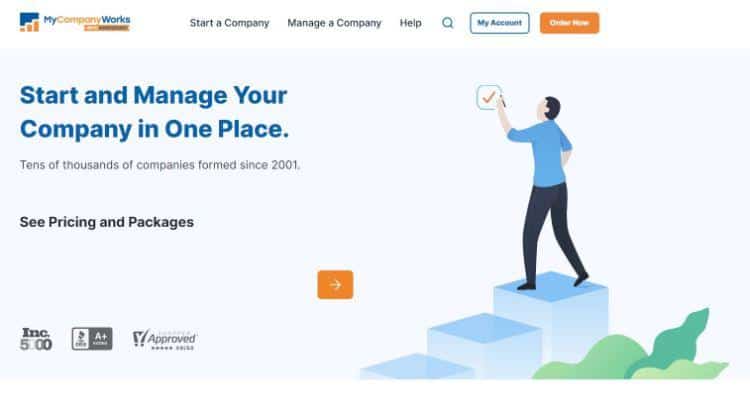 MyCompanyWorks provides incorporations that start from just $59 (plus the state filing fees) which makes them a very affordable option.
They offer your money back if you are not 100% satisfied at any stage, and this is provided on a no-questions-asked basis.
This serves as an incentive for them to ensure they're making the best decisions for your business along the way while keeping you informed about what's happening.
In addition, you can also get a lifetime business form and tax guide assistance, making sure that your business is always playing according to the law books.
With a free business tax consultation included (this comes with all the packages – from the basic package to the most advanced one), you can be sure that your business is always in good hands.
There are various upsells that you can take advantage of, upsells that might make your business life easier depending on your specific needs.
Key Features:
Choosing the speed at which your company is incorporated is one of the many options you have with MyCompanyWorks.
They offer a 100% satisfaction guarantee or your money back, no questions asked.
Access to a My Account Dashboard means that you can keep track of all the documentation and correspondence.
A free logo is being given if you choose to incorporate it with them – this is definitely a nice touch when starting your business.
Other LLC services not mentioned in this article include MyCorporation, Inc Authority, and Swyft Filings.
What are LLC Services?
An LLC, or limited liability company, is a relatively new business structure that came into being in 1977.
It was made to give entrepreneurs who have just started their businesses a legal framework to help them stay compliant with the law and to protect their personal assets from any financial threats.
LLC services can help you make the most of the LLC structure. These services include:
Help with business formation including LLC certification and filing
Tax, legal, and compliance advice on the incorporation process to help you choose the right structure for your company
Legal support in case you get into any trouble later down the line when running your business
Also, some LLC service providers offer additional services that can assist you with the business license application process.
This means that you will not have to worry about taking care of this tedious task yourself which is a big bonus if you are already busy running your own business.
What does an LLC formation do?
An LLC formation can help to protect your personal assets in the event that your business is sued.
It can also help to make it easier to raise money for your business and to manage your taxes.
If you are thinking of starting a business, it is important to consult with an attorney to discuss the best way to form an LLC.
In addition, an LLC can provide its members with limited liability protection. This means that the members are not personally liable for the debts and obligations of the LLC.
This is a big advantage over a sole proprietorship, in which the business owner is personally liable for any debts and obligations of the business.
There are a few things to keep in mind when forming an LLC. First, the company must have an operating agreement.
This document lays out the rules and procedures for running the company. It is important to make sure that all members of the LLC agree to the terms of the operating agreement.
Another thing to keep in mind is that LLCs are not automatically recognized in every state. You may need to file paperwork with your state to get your LLC recognized.
Make sure to check with your state's requirements before you form your LLC.
Finally, it is important to choose a name for your LLC that is not already in use by another company.
You will also need to register your LLC with the state and obtain a registered agent.
Once you have done all of this, you will be ready to start doing business as an LLC.
Considerations When Choosing An LLC Formation Services
The following are the factors to consider when choosing the right LLC formation service for your business needs.
The price of the services.
Looking at the price of the services is always a good place to start when you're looking for the right LLC formation service.
Some companies offer very low prices, but the quality of their services may not be as good as those that charge more.
Make sure you look at what's included in the price and whether or not there are any hidden costs that you need to be aware of.
In addition, ensure that no hidden prices are added to your bill which is something that some companies try to sneak in.
Ensuring you have a clear idea of the price you're ultimately going to be paying is always a good idea.
The quality of the services.
The quality of the services is another important factor to consider when choosing an LLC formation service.
You want to make sure that you're dealing with a company that has a lot of experience in this area and that knows what they're doing.
If a company has served thousands of clients and has a lot of positive customer reviews, then you can be sure that they're going to provide a high-quality service.
On the other hand, if a company doesn't have any positive reviews or is new to the market, then you may want to consider looking elsewhere.
The best-registered agent services will be those that have been around for a while and that know how to handle all types of businesses.
Also, checking out review sites, such as Trustpilot, can give you a good indication of how good a company is.
The level of customer support offered.
Customer support is another important factor that you need to consider when choosing an LLC formation service.
The best companies offer 24/7 customer support, so if you ever need any help, you can get it immediately.
In addition, look at what other benefits are being offered with your package as this will also affect which company you choose from those available in the market now.
The majority of business owners would benefit greatly from talking with a company specialist so that they can get all their questions answered.
It will also serve as a good test to ensure that their support team is knowledgeable and knows what they're talking about.
The incorporation process turnaround time.
Another important factor to consider is the incorporation process and how long it will take for your company to be registered.
The best companies have a very streamlined process that takes just a few business days, but some companies can take weeks or even months.
Make sure you know how long the entire process will take so that you're not left waiting around for too long.
In addition, find out what type of customer support is offered once your company has been registered as you may need some extra help at this stage.
The best companies offer a wide range of support services that can help you with anything you need.
How experienced the company is in providing LLC formation services.
When choosing an LLC formation service, you want to make sure that you're dealing with a company that has a lot of experience and expertise in this area.
The best companies have been serving clients for many years and know how to provide great results every time they serve someone new.
Such companies will always be very open about their experience and qualifications so that you can learn more about them before making your decision.
Specific products the company specializes in
The best LLC service is the one that fits your needs.
A registered agent service should be able to help you form an LLC in addition to helping you with any other legal services that you may need.
Make sure the service offers a variety of products that can meet all of your needs in one place.
Types of LLCs to consider
There are a lot of pros and cons to choosing a specific type of LLC over another.
Knowing what your selection means and what you're getting into is important from day one.
With that in mind, let's review the most common types of LLCs you can go for:
Sole Proprietorship LLC: This is the most basic type of LLC and is ideal for businesses that are just starting. It's easy to set up and relatively doesn't require as much paperwork as other types of LLCs, since only one person will be the business proprietor.
Partnership LLC: This type of LLC is ideal for businesses with multiple owners. It offers more liability protection than a Sole Proprietorship LLC which means that it can be more complicated to set up.
Corporation LLC: This type of LLC is ideal for larger businesses and offers the most liability protection. It's more complex to set up and manage than other types of LLCs, but it can be a great option for businesses that want to protect their assets.
Limited Liability Company: This is the most common type of basic LLC and offers the best of both worlds – limited liability protection and ease of management. It's a good option for businesses of all sizes.
Professional Corporation: This type of LLC is ideal for businesses that provide professional services, such as lawyers or accountants.
Limited Liability Partnership: This type of LLC is ideal for businesses with multiple owners who want more liability protection.
C-Corp: This type of corporation where the owners and/or shareholders in the business pay separate tax from the business entity.
When choosing an LLC, be sure to consider factors such as the type of business you have and the level of liability protection you need.
Other factors to consider in incorporation services
Let's finally consider the services offered by most LLC filing services.
Knowing what services are available, and being able to differentiate between those that are needed and those that aren't,is key.
In addition to the services that come with a basic plan, a premium package might also include:
An EIN (Employer Identification Number)
A custom logo
A customized website with a premium domain name
Lifetime assistance
Tax filing is done on a yearly basis
In addition to the above, the best LLC formation services ensure that your business license and other necessary documents are in order, which can save you from unnecessary hassle in the first year (or more) of running your business.
Also, consider the banking resolution document – this which authorizes the company to open and manage business bank accounts.
This is highly recommended for every LLC starting its business and is something that a premium LLC agency can help you with.
Many companies have services ranging from a silver package to a platinum package.
These types of packages might be useful to delve into and really understand how to make the most out of, especially as your business starts operating and scaling.
What's Included In An LLC Formation Package?
An incorporation service typically includes the following:
Name availability search
Preparation and filing of Articles of Incorporation
Preparation and filing of LLC Operating Agreement
EIN (Employer Identification Number) application
Registered Agent service
Corporate kit or binder
Customized corporate seals
Stock or membership certificates
Documentation of corporate minutes
Initial resolutions
Filing instructions
An LLC formation package may also include:
Business licenses and permits
Zoning approvals
Site selection assistance
Lease negotiation assistance
Business plan development assistance
The cost of an LLC formation package varies depending on the services included.
Typically, the more services that are included, the higher the cost.
However, it is important to shop around and compare prices before choosing an incorporation service.
Also, an online LLC service may be less expensive than a traditional law firm. Be sure to read the reviews before choosing an online service.
Best LLC Services – FAQ
What's an online LLC formation service?
An online LLC formation service is a company that helps you form a limited liability company online.
They usually offer a variety of products and services to future small business owners, including registered agent services, small business insurance, legal advice, and document filing.
What should I look for in an LLC service?
When looking for an LLC formation service, be sure to consider the following factors:
The company's experience and reputation
The types of LLCs they offer
The price of services offered
The level of customer support they offer
The products and services they offer
When considering these factors, be sure to find a company that fits all of your specific needs.
Does the state an LLC is operating in effect the application process?
Yes, an LLC formed in Delaware, California, Texas, or Wyoming will all have different requirements when doing business filing.
There are requirements that you'll need to meet before you can begin working.
Make sure that whatever company you choose understands these requirements and can guide you through the process.
Can you trust LLC services online?
An online business formation service is just as trustworthy as a traditional business formation service.
There are plenty of great options available if you do your research and shop around for the best company for your needs.
Using solid business plan software and a quality online LLC formation service can help you get your business off the ground quickly and easily.
In addition to business filing, the right online LLC formation service can also be trusted to help with name availability, ensuring that the business name you want is still available when you're ready to file.
What is an LLC operating agreement?
An LLC operating agreement is a contract that determines how your business will function going forward.
It includes information such as how the business operates, a list of members and managers, rules for making changes to the LLC, and information about withdrawing from or transferring memberships in the LLC.
It might be a good idea to consult online legal services when it comes to your operating agreement, though some LLC services offer this feature as well.
What is needed to form an LLC?
The following are some of the formation documents and information you will need to form an LLC:
Federal Tax ID number / EIN
Business name / Company name
Member or manager names and addresses
LLC operating agreement
Registered agent information
Certificate of formation
Articles of organization
Operating agreement template
How much does it cost to form an LLC?
The answer is that it depends. The cheapest LLC service starts at around $50, while the most expensive package can cost upwards of $1000.
It's important to research all of your options and compare pricing before you make a decision.
Some companies have an a la carte menu where you can pick and choose the services you need, while others offer all-inclusive service packages.
Some companies also offer various upsells that, depending on your situation, might be worth the extra money.
Company formation services can be a great investment for your business and can help you avoid common legal mistakes when the right choices are made.
What's the difference between an LLC and a corporation?
The main difference between these two is that a corporation is mainly owned by the shareholders.
On the other hand, an LLC is owned by a single or multiple individuals.
Is an LLC right for me?
This is another question where the answer is that it depends.
Currently, there are over 30 different types of business entities that you can use to start your company.
It's important to decide which type of business entity is right for you before you begin looking into forming your own company or hiring someone else to do it for you.
Some types of entities also make it easier to open an online business bank account than others, which might be another important consideration for you.
Are free LLC business formation services good?
No good business formation service is free, and you should always be wary of any company that offers a free LLC formation service.
While a free LLC formation through a free registered agent service might seem like a good idea in the beginning, there are various risks involved with this.
If such services break any laws or your business gets sued without having all your bases covered, it might be more trouble than it's worth.
The up-front cost of forming your LLC is relatively not a big investment considering that you're opening a business, and it's definitely worth it in the long run. As the saying goes, you get what you pay for.
Wrap Up.
Online LLC services can provide you with a great way to form your business.
There are a wide variety of services available in the market, but finding one with a great reputation is key when it comes to having the best experience possible.
The best ones are definitely those that listen to customer feedback and improve as needed.
In addition, all of the companies come with different types of LLC formation packages, so make sure that you read into what each offers before making any decisions.
Next, find out if there are any add-ons or extra fees for their packages as this can affect which service you choose from those available.
When it comes to forming your own LLC, knowing everything about each company is important before making your choice.
To recap, the Best LLC services to form your business are:
Keep these top LLC services in mind as you take the leap and become a business owner.
Have you ever formed an LLC?
Is there an LLC service provider that should be included in this list?
Let me know in the comments below.
Further reading on AdamEnfroy.com: Not sure which type of business you want to start? Check out my post on how to start an eCommerce business as well as my post on how to start a dropshipping business for detailed information about these two potential business models for you.
Also, consider who your registered agent will be when you form your LLC.
If you don't have anyone in mind (or no one satisfied the necessary conditions), the right company can help you with that as well.
Disclosure: I may receive affiliate compensation for some of the links below at no cost to you if you decide to purchase a paid plan. You can read our affiliate disclosure in our privacy policy. This site is not intending to provide financial advice. This is for entertainment only.