How to Buy an Online Business for Sale: The Ultimate Guide
You want to become a full-time business owner, but you don't have the time or patience to start from scratch. Perhaps you don't have a lightbulb idea of your own, or you simply prefer to work on marketing than startup tasks like product development.
Buying an already-successful business could be the perfect route to become a full-time business owner.
The problem is: the process of buying an online business is complicated. First you need to choose a business, then value it, do your due diligence, and transfer assets to take control over the company.
I spoke to people who've been on either side of the business acquisition process. This guide shares the benefits of buying an online business, where to find companies for sale, and the step-by-step process of taking over an existing brand.
The benefits of buying an online business
Starting a business from scratch is all-consuming.
But when you buy an existing company and take over from where the original owner left off, these are the benefits up for grabs.
Skip the brand-building. When you buy an existing online business, you inherit its brand—including its logo, online presence, and social media profiles. You don't have to build these from scratch. It's a huge bonus if this brand already has some recognition amongst people in the industry.
On-demand customer base. When you buy a company, you'll get access to customer order data and email addresses you can use to squeeze more money out of people who've already purchased from the brand. (These repeat customers are much easier to convert—and also likely to spend more money.)
Proven revenue. An existing business has a track record of making money. You'll get financial predictability and reduce the uncertainty that comes with starting a new business. Simply double-down on what's already proven to work.
Existing infrastructure. You don't have to worry about setting up the technical infrastructure—including an ecommerce website or payment processor—when buying an online business. The company is already operational. Focus on growth, rather than building from the ground up.
Reduced risk. With an existing business, you have historical data and performance metrics to-hand, making it easier to evaluate risks and rewards. When you're starting from scratch, on the other hand, you're essentially going in blind.
How to find an internet businesses for sale
Ready to buy your first online business? Here's how to find companies for sale.
Online marketplaces
Online marketplaces act as matchmakers for entrepreneurs and people who are selling their business. Anyone can list their online businesses for sale, giving you a huge range of options when searching for a company to buy.
Popular business marketplaces include:
The advantage of business marketplaces is that most handle the entire purchase process—from due diligence to the actual transaction. They also provide escrow services to make sure you're financially protected and get the assets you're buying, and you can see new listings as soon as they go live.
That said, marketplaces take a cut of any sales they process. You might pay a little extra money for the peace of mind you get when buying an online business through a marketplace.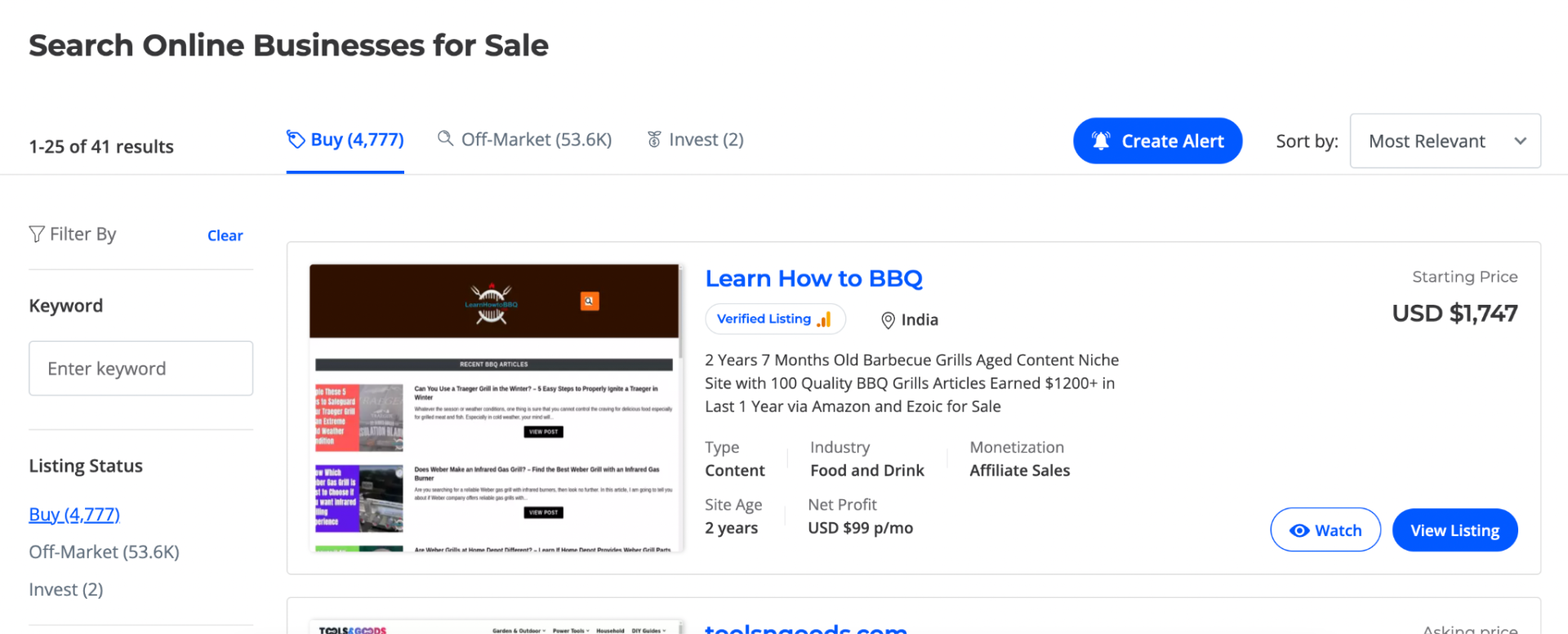 Business brokers
Similar to marketplaces, business brokers connect buyers and sellers. But instead of remaining neutral throughout the purchase process, a brokerage works with entrepreneurs. They'll help you find a business, value it, and handle negotiations.
It's a good idea to work with a business broker if you need more hand-holding throughout the process. You can lean on their experience of buying and selling businesses.
Just bear in mind that you pay for this extra assistance in terms of brokerage fees and commission (around 10-15% of the business sale price).
The key is to find a business broker who has experience in your industry, a solid track record, and good communication skills. All three of these things can help you find and negotiate the best deal.
Social media and online forums
Business owners don't always like to publicly show that their company is for sale. There's sometimes a risk of spooking their existing customer base—especially if they're supporting the business primarily because they like the founder.
For that reason, some entrepreneurs advertise that their business is for sale using online forums or social media networks like:
The biggest upside to this method is that you can find hidden gems; businesses you wouldn't otherwise know were up for sale. Competition is also typically lower because fewer people see the listing.
However, scammers have exploited the fact that people buy businesses through private conversations. Never pay money for something you haven't seen or verified. Instead, do your due diligence and nudge the seller to open a joint escrow account. This gives you an added layer of protection when buying an online business from someone you don't know.
8 steps to buy an online business
You've found an online business that you want to buy.
Before you jump in with an offer, follow these steps to make sure you're buying a company that's worth investing in—and that there are no skeletons hiding in the closet.
1. Evaluate the business
Once you've found a business that you want to acquire, spend some time researching the company and make sure it fits your vision of what you want your role to look like, the skills you'll use, and the challenges you'll have to solve.
We can do this by looking at the business model:
Ecommerce business with its own inventory. An ecommerce brand sources products from a manufacturer and sells them directly to customers through an online store. You'll have to maintain relationships with suppliers, manage and store inventory, fulfill orders, and handle customer service. It's a good option for those who want to be involved in the product development process and manufacture unique products.
Amazon FBA business. An Amazon FBA (Fulfillment by Amazon) business works similarly to an ecommerce store, but the logistical process is outsourced to Amazon. The marketplace handles inventory storage, order fulfillment, returns, and customer service. Consider this if you want to run an ecommerce business without being responsible for the supply chain.
Dropshipping business. A dropshipping business sells physical products online without holding physical inventory. When a customer makes a purchase, their order goes directly to a dropshipping supplier who manufactures the product and ships it directly to the customer. It's best suited to creatives who want to design new products without committing to large amounts of inventory.
Service business. From coaching to writing, a service business sells time for money, hence why service businesses tend to have higher net profit margins. To acquire this type of business, you'll likely need extensive experience in the skill they're selling. If you're buying a marketing agency, for example, you'll need some marketing knowledge.
Content business. A content business, such as a blog or niche affiliate site, makes money through sponsored content, ads, and affiliate marketing. It's a superb option if you don't want to interact with people, run a home-based business, and have the ability to write high-quality content.
Software-as-a-service (SaaS) business. A SaaS business sells software with a monthly subscription. They tend to be more expensive than other types of business because of the monthly recurring revenue, but they're a good type of company to buy if you have technical, coding, or marketing experience.
Aside from the business model, other important things to consider when buying an internet business include:
Industry: What industry is the online business in? Some industries are more profitable than others, and some industries are more competitive than others. Also consider whether you have knowledge or experience in that niche or if you need to spend some more time learning about it.
Revenue and profit potential: How much revenue and profit does the online business generate? What is the potential for future growth? Is there anything that the company is currently missing (e.g. an email list or SEO strategy) that you could add to increase revenue?
Reason for sale: Why is the owner selling the online business? If it's up for sale because the owner is struggling to find reliable suppliers, it could be a red flag. But if the owner runs multiple businesses and no longer has time to commit to the company, it's not too much of an issue—especially if you plan to work on the business full-time.
2. Submit a letter of intent
A letter of intent (LOI) the fancy name for a document that tells the seller you're seriously interested in buying their company.
A LOI should include:
The proposed purchase price
The ideal payment structure
Assets and liabilities included in the sale
Confidentiality clause to keep the data confidential
Whether you have exclusive rights to buy the business
How long you want to do due diligence
Any contingencies that the sale hangs on (e.g. you'll buy a business if the revenue data they've shared can be verified by a third-party)
While it might sound like an unnecessary step, you'll likely reference this LOI throughout the acquisition process. It's like a framework of what you expect and the terms in which you'd be interested in.
3. Conduct due diligence
Due diligence is the most important part of any business acquisition. It's the time in which you make sure what the seller has said is true, and that there are no hidden surprises that will come back to bite you once the business legally becomes yours.
Here's a quick checklist of things to check during the due diligence process:
Cash flow using profit and loss statements
Monthly revenue and expenses
Profit margins across all revenue streams and/or products
Audited tax returns
Accuracy of financial projections
Outstanding loans, debts, or payments that you'll be liable for when you're the owner
Lease agreements if you're buying a retail business or a company with an office
Insurance coverage
Compliance with industry regulations
Legal ownership of trademarks or patents
Outstanding liabilities, contracts, or commitments—including employees
Costs to source inventory, acquire customers, and ship products
Marketing strategy, including how they acquire traffic
Don't feel pressured to rush your due diligence. Sellers sometimes put buyers on a time limit if they've got something to hide. Take your time and be as thorough as possible to avoid making a bad investment.
"My due diligence included a thorough analysis of financial records, traffic sources, customer base, supplier contracts, and the scalability of the business model." —Grace Young, founder of House Fragrance
4. Negotiate the business sale price
Sellers will have a guide price they want to sell their business for.
Sometimes it's worth going back-and-forth with the seller to bring down the asking price a little more—and reduce the amount you'd have to make to get your money back.
This is especially true if you're buying a business that's been on the market for a while. You'll have more bargaining power, and the seller might be tired of waiting for an offer.
Arm yourself with facts and figures to persuade the seller into taking your deal. That could be:
Grace Young adds: "During negotiations, I focused on the value I could bring and the growth potential I could exploit, which helped me settle on a fair price that reflected both the existing value and the investment needed to grow.
"But the price of online businesses has been slowly rising in recent times, with current estimates in the range of 35X-40X monthly incomes."
5. Secure financing to buy the business
Once you've negotiated the sale price with the business' current owner, the next step is to get your finances in order.
Don't have cash to spend upfront? Explore financing options like:
Arrange a seller financing deal. Depending on the seller, they might agree to a financing deal whereby you spread the total purchase price into monthly repayments (similar to a buy now, pay later scheme like Klarna). Bear in mind that the seller may add interest for this flexibility.
Get a business loan. A business loan—as opposed to a personal loan—is attached to a company. If you're acquiring another business to incorporate into your existing one and have a good business credit score, you might be eligible for a loan to cover the purchase price. Just make sure you can afford the repayments with interest.
Find an investor or co-owner. If you don't want to be responsible for the whole business and you're happy to share ownership, consider finding an investor or co-owner. Both typically want equity in exchange for putting in their own money.
6. Get contracts drawn up
A contract protects both parties and makes sure you get what you're paying for. It clearly spells out who's buying what, for how much, and under what conditions.
A business acquisition contract should include:
The buyer and seller's information
The business purchase price, including any deposits
Assets included—such as the website, domain name, inventory, and customer list
Details about existing employment and supplier contracts
Ongoing obligations from the seller (e.g. support for two weeks after the sale is complete—more on this later!)
The governing law and jurisdiction in case of any dispute
Handover date
It might be tempting to botch together a contract based on templates you've found online, but lawyers are worth the investment. The last thing you want is to forget an important detail and run into legal issues once the business becomes yours.
7. Transfer business assets
Once you've got the contracts drawn up and the contract is signed, it's time to move onto the fun part: getting access to the tools that power the business.
James Sowers, managing director of The Good Ventures, has purchased businesses from "someone who I either already knew or had spoken to on Zoom on multiple occasions. There was a great deal of trust there, and the dollar amounts were pretty manageable."
Because of this existing trust, James' transactions were processed via wire transfer—but he says: "We didn't put the money into escrow or use a mediator, though I would strongly recommend that for any acquisitions that don't meet the criteria above (E.g. established trust and low financial risk)."
Throughout the transfer process, James says: "We asked the founder to create an asset inventory for the transfer, which is usually a spreadsheet or kanban board that includes things like Asset Name, Current Owner, Current Status, and Notes."
(You can do something similar using a project management tool like Trello or Asana.)
As for the actual process of getting log-ins, James adds: "I've found that the best approach is to ask the founder to just transfer everything to a central Gmail account.
"They usually have something like hello@domainname.com or team@domainname.com already set up, so I just ask them to make that email the administrator of all accounts. That allows them to manage all of the password resets and two factor authentication pieces themselves, without needing to work around my schedule.
"When the assets are all transferred, they just transfer ownership of that hello@ account to us and we reset the master password," James says. "After that, we generally have whatever we need to move things around to suit our own needs."
Here's James' handy checklist to make sure you've got everything you need:
Web/app hosting assets (E.g. Kinsta, Heroku)
Website assets (E.g. WordPress, Webflow)
Software assets (E.g. ConvertKit, Helpscout)
Analytics assets (E.g. Google Analytics, Heap)
Project management assets (E.g. Google Drive, Trello)
Marketing assets (E.g. social media profiles and ad accounts)
Brand assets (E.g. logo, style guide, domains/URLs)
Financial assets (E.g. Billing platforms, Stripe, Quickbooks)
Documentation assets (E.g. Notion, Airtable, Google Docs/Sheets)
Human resource assets (E.g. freelancers, vendors, partners, contractors)
8. Make use of ongoing support from the old owner
By this point, the handover is complete. You should have all the log-in credentials, passwords, and contacts you need to take over the business.
Things are bound to crop up when you're just getting to grips with a new business. If you have access to the founder included as part of the contract, they're still obliged to help you with any teething problems.
"I lucked into a great seller who was generous with his time and knowledge after the sale," says George Stern, owner of Overland Junction. "But I wish I had contracted for that explicitly in case I hadn't been so lucky.
"There are so many minor questions that can be answered by hours of digging through old emails or a quick text to the old owner. I prefer the latter!"
Buy your first profitable online business
If you're just starting your journey into entrepreneurship or you want to start another company, buying an established business is a great way to speed up the journey.
You can skip past the startup stage and go straight into growth mode.
And, the best part: you could be the full-time owner of a successful and profitable business within a matter of weeks (as opposed to years when starting from scratch).
As George Stern summarizes: "I had a few weeks' due diligence process where I had full Shopify access, reviewed 12 months of bank statements, and reviewed supplier contracts/relationships. It was about a month from first contact to final transfer. A week or so of questions and Google meets. Two weeks of due diligence after an LOI, and a week or so of transferring all assets."
How to buy online business FAQs
How do you buy an online store?
The simplest way to buy an online store is to search on a marketplace like Flippa or Empire Flippers. Filter the results by ecommerce business, evaluate whether it's a good fit for you, and negotiate the asking price.
Is it a good idea to buy a blog?
Buying a blog is a great business opportunity if you want to work on a niche or affiliate website, but don't have time or energy to start one from scratch. You can buy a site with existing organic traffic, content, and email subscribers for a small multiple of the site's revenue.
Can you acquire a business with no money?
While it's uncommon to acquire a business for free, you can reduce the cost by arranging a seller financing deal. This happens when the seller agrees to give away the business in exchange for monthly payments (rather than a lump sum upfront).
How do I get enough money to buy a business?
Arrange a seller financing deal
Sell an existing business
Try crowdfunding
Get a business loan
Find a co-owner to split the cost
Secure an investor
Get a loan from family and friends
Editorial Process:
Our reviews are made by a team of experts before being written and come from real-world experience. Read our editorial process here.
Some of the links in this article may be affiliate links, which can provide compensation to us at no cost to you if you decide to purchase a paid plan. These are products we've personally used and stand behind. This site is not intended to provide financial advice. You can read our affiliate disclosure in our privacy policy.