Blog Income Report: How I Made $812,718 in 2020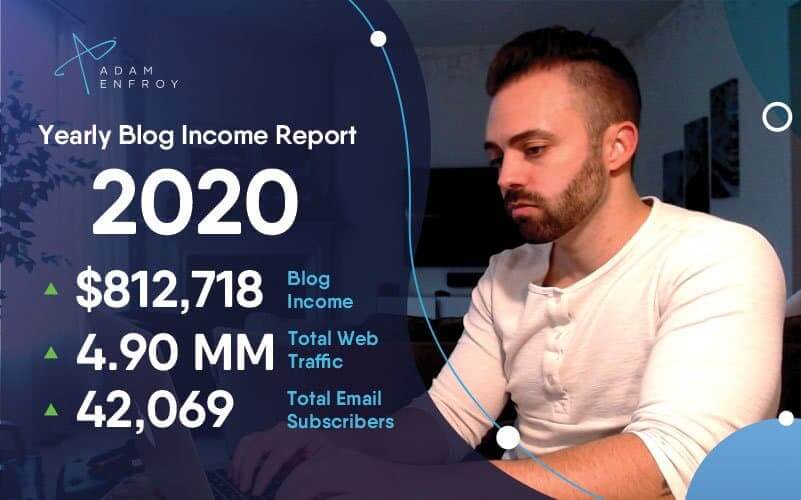 In my blog's first year (2019), it brought in $203k. So for 2020, I set my sights on a goal of $400k.
Well, that goal was surpassed by July and I ended up making $812,718 in 2020.
In under two years, this blog made a million dollars.
This is pretty hard to believe – I started my digital marketing career six years ago making $42,000 a year. Today, I make that in about two weeks.
Bottom Line: If you want to escape the corporate rat race, 40 hour work weeks, and the standard five-to-low-six-figure salaries, you need to go into business for yourself.
And it's not too late.
With the rise of the economy of the individual, there is no better time to build your personal brand online.
My blog started as a simple digital resume – something attached to my name that I could use to show I understood digital marketing and blogging.
I didn't know it would take off as fast as it did.
I didn't know my strategies would work so well.
I sure as hell didn't think it would make me a million dollars.
But in the last two years, I took what I learned in the startup world, scaled my authority, and cemented my blog as one of the fastest-growing marketing websites ever built.
The numbers speak for themselves:
In 2020, I made $812,718 from this blog.
I spent $0 on advertising.
I scaled to over 500,000 monthly visitors.
I obtained 90% of my traffic for free from Google.
I saw profit margins of 88%.
I grew my Domain Rating to 78.
I got 93k backlinks from 3,200 referring domains.
I increased my Alexa Rank to 8,237.
The system works.
And it is just that – a system.
While you can read about a ton of fancy "hacks" and shiny new tools, there are fundamental principles that have not changed when it comes to SEO and blogging.
Content and links.
Content and links.
Content and links.
This has remained unchanged for the last 10+ years. The system that I created strategically scaled these two disciplines with new tactics.
To help you do the same, I'm currently building a premium blogging course that will be released in early 2021. I recently announced it in our Blogpreneurs Facebook Group and am currently doing a live version of the course with a small beta group.
It will cover every single detail about how to start a blogging business: niche selection, web hosting and WordPress, keyword research, guest blogging and link building, outsourcing and scaling authority, affiliate monetization, etc.
I hired a course creation expert and want it to be the best blogging course in existence.
In addition to helping new bloggers, this course will also bring another revenue stream to my business.
As of right now, I make money mainly from affiliate marketing and ad revenue.
So in this Special 2020 Blog Income Report, I'll cover how I'm monetizing my blog today.
First, if you're looking to launch a blog and follow my strategies, you can check out my full guide on how to start a blog and launch your blog with Bluehost for just $2.95/month.
Get started with Bluehost.
Disclaimer: The two Bluehost links above are affiliate links which provide a small commission to me at no cost to you. These links track your purchase and credit it to this website. Affiliate links are a primary way that I make money from this blog and Bluehost is the best web hosting option for new bloggers. You can read full affiliate disclosure in my privacy policy.
Let's dive into my blog income report.
1. Blog Income in 2020: $812,718
In 2020, my blog brought in $812,718.
In January and February, my monthly blog income was in the $35-45k range.
By November and December, it consistently hovered in the $80k per month range.
There were steady monthly gains throughout the course of the year. This is also a solid jump from last year (2019), when January's income was just $3,000 and December's was $28,374.
In 2020, $601,698 was strictly from 100% passive affiliate revenue.
Website traffic also increased by 454% in 2020, with 4,896,161 sessions compared to 883,203 in 2019.
Overall, it was a year of growth, with my focus continuing to be on expanding my blog's content and affiliate marketing revenue.
Let's move on to my blog's income streams.
Affiliate Marketing Programs:
In 2020, I brought in $601,698 from 124 different affiliate programs.
This is a year-over-year increase of 526.2%, as affiliate revenue was $96,081 in 2019.
Advertising Revenue
I joined the Mediavine ad network on July 23, 2020, and made $69,318 with them in 2020.
This came in at a $26.81 RPM (revenue per 1,000 sessions) and equated to an extra $430 of blog income per day for no extra work.

As I discussed in November 2020's income report, ad revenue is the last resort of blog monetization. It's what you add to your blog when there are no other ways to make money from an article.
However, ads are a fantastic way to monetize your informational articles that aren't directly transactional.
My Other Revenue Sources:
Digital Product Sales: $24,514
SEO Consulting for 12 B2B Clients: $115,788
I currently sell two low-cost digital products for bloggers. And to this day, I perform SEO consulting and link building for a select few SaaS brands, which still runs as a small six-figure agency.
Total revenue in 2020: $812,718
Now that we've covered revenue let's move on to my expenses.
2. Expenses in 2020: $97,537
My 2020 expenses fell into three main categories: software expenses, administrative, and freelancers.
Software expenses include things like web hosting, SEO tools, email marketing software, video conferencing tools, Adobe CC, Google Workspace, etc.
Administrative expenses include my accountants and business liability insurance.
Freelancer expenses include hiring people to help with link building, writing, guest posts, course creation, etc.
Here were my main software expenses in 2020:
Adobe CC + Stock
Ahrefs
BigCommerce
Bluehost
BrandStrong
Buffer
Buzzsumo
Calendly
Cloudflare
ConvertKit
Elementor
Fiverr
GoDaddy
Google Workspace
Grammarly
HARO
Hunter
LinkedIn Premium
Loom
OptinMonster
Outbrain
QuickBooks
Shortpixel
ThirstyAffiliates Pro
WP Engine
WP Rocket
Zoom
Freelancer Costs:
1 outreach and guest blogging freelancer.
2 writers for my blog content.
2 writers for my guest post content.
1 course creation expert.
Projects: In 2020, I did a full blog redesign. A developer friend of mine created a custom theme for me and my blog looks a lot better than it did last year.
I also started using a company called BrandStrong for my graphic design projects and they have been great. They designed my logo, blog post featured images, lead magnets, etc.
The Tools New Bloggers Need: There are a lot of random software tools on this list. If you're just starting out, you don't need all of these tools.
Come to think of it, there are always shiny new blogging tools that you can buy. With the number of different ways to create a blog, this paradox of choice holds bloggers back from actually launching and running successful blogs.
Anything that takes time away from creating content and building links should be avoided.
A blog is just a collection of text and interlinking websites – it doesn't have to be a perfectly-designed website. Don't get held up perfecting the little details.
Your motto should be, "Good enough, move on."
Blogs can adapt and change over time. The truth is, all that you really need to get started is web hosting and some free WordPress plugins.
I did a lot of research on this and in my blogging course, I cover the exact tech stack that you need to run a successful blog. And the good news is that it's basically free. You only need to pay a few dollars a month for web hosting.
One final note on expenses: Make sure to pay your taxes. As a single business owner with no dependents and high earnings, I pay a lot of taxes.
When you're just starting out, keep it simple and consider yourself a sole proprietorship. Once you start making money, I highly suggest that you:
Create a business entity like an LLC or S Corp.
Open a business checking account and move all business expenses to it.
Track everything with a tool like QuickBooks.
Profit in 2020: $715,181 (88% Gross Profit Margin)
Now, since it's the end of the year, let's check out some quarterly breakdowns.
3. Quarterly Breakdowns
Q1:
Revenue: $138,833
Expenses: $12,067
Profit: $126,766
Profit Margin: 91%
Q2:
Revenue: $212,901
Expenses: $20,879
Profit: $192,022
Profit Margin: 90%
Q3:
Revenue: $221,403
Expenses: $25,782
Profit: $195,621
Profit Margin: 88%
Q4:
Revenue: $239,581
Expenses: $38,809
Profit: $200,772
Profit Margin: 84%
While revenue and profits increased steadily in 2020, so did expenses. This is primarily money I am putting into creating my premium online course that will be released in early 2021.
When it comes to scaling into new revenue streams, it can take money to make money. So I'm paying a little more now to build my online course to help more bloggers and make more in the future.
In blogging, there's an extremely low barrier to entry. Again, when you first start out, your only expense could be paying a few dollars a month for web hosting.
Compare that to a local brick-and-mortar business paying thousands of dollars a month for rent and employees and it starts to look like a no-brainer.
4. Monthly Breakdowns
Next, let's take a look at each month's affiliate and ad earnings per 1,000 visitors (CPM) to see if there are any trends. To get this CPM number, I just took affiliate and ad earnings divided by traffic times 1,000.
Over time, I want to see this CPM number increase, regardless of traffic levels. As I've said before, traffic does not equal revenue.
When I witnessed big traffic gains (like in March, April, August, and September), it was mainly from high-volume informational keywords, not revenue-generating transactional keywords.
A positive trend that I'm seeing is that revenue remains somewhat steady even when traffic drops.
For example, although traffic declined in December by almost 100,000 sessions due to seasonality and the core algorithm update, my CPM was higher and revenue increased by 4.65%.
Overall, this steadiness comes from:
A diversified mix of affiliate programs in many different verticals.
Monthly recurring affiliate commissions.
Ad revenue as a safety net.
Let's break it down by month.
January:
Traffic: 248,910
Revenue Per 1,000 Visitors: $95.79
Month-Over-Month Revenue Δ: +35.96%
February:
Traffic: 231,524
Revenue Per 1,000 Visitors: $110.23
Month-Over-Month Revenue Δ: +4.93%
March:
Traffic: 303,960
Revenue Per 1,000 Visitors: $141.21
Month-Over-Month Revenue Δ: +65.01%
April:
Traffic: 414,389
Revenue Per 1,000 Visitors: $141.63
Month-Over-Month Revenue Δ: +37.59%
May:
Traffic: 444,461
Revenue Per 1,000 Visitors: $138.45
Month-Over-Month Revenue Δ: +9.22%
June:
Traffic: 383,863
Revenue Per 1,000 Visitors: $135.51
Month-Over-Month Revenue Δ: -17.74%
July:
Traffic: 412,848
Revenue Per 1,000 Visitors: $147.21
Month-Over-Month Revenue Δ: +14.11%
August:
Traffic: 484,246
Revenue Per 1,000 Visitors: $123.27
Month-Over-Month Revenue Δ: -1.14%
September:
Traffic: 531,587
Revenue Per 1,000 Visitors: $129.32
Month-Over-Month Revenue Δ: +21.42%
October:
Traffic: 524,808
Revenue Per 1,000 Visitors: $125.09
Month-Over-Month Revenue Δ: -10.34%
November:
Traffic: 505,621
Revenue Per 1,000 Visitors: $147.23
Month-Over-Month Revenue: +13.22%
December:
Traffic: 409,944
Revenue Per 1,000 Visitors: $188.18
Month-Over-Month Revenue Δ: +4.65%
5. Traffic for 2020: 4.8 million visitors (+454.36%)
In 2020, my blog received 4,896,161 sessions compared to 883,203 in 2019 for a 454.36% year-over-year increase.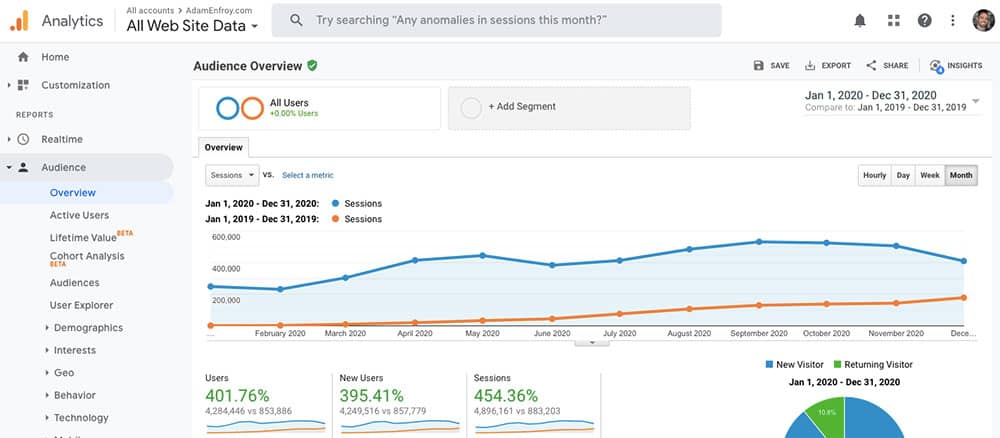 Here's a monthly breakdown by sessions:
2019
January: 1,147
February: 2,055
March: 7,672
April: 16,920
May: 34,261
June: 46,355
July: 76,926
August: 105,056
September: 133,391
October: 141,348
November: 143,705
December: 178,021
2020
January: 248,910
February: 231,524
March: 303,960
April: 414,389
May: 444,461
June: 383,863
July: 412,848
August: 484,246
September: 531,587
October: 524,808
November: 505,621
December: 409,944
Overall, traffic in December 2020 was up 130.28% year-over-year, but down 18.92% month-over-month.
This is due to two main factors: seasonality (less overall search volume in December) and the recent Google core algorithm update.
I saw the same thing happen after the May 2020 core algorithm update. Traffic dipped 13.7% right after the update, then jumped 7.5% and 17.2% in the next few months to overcome the initial drop. I'm already seeing a huge rebound so far in January.
It's very difficult to gauge exactly what to do during major algorithm updates, but I continue to focus on building high-quality links and expertise, authoritativeness, and trust (E-A-T).
Again, your blog is a business, and I want you to remember that traffic does not always equal money.
In fact, because of my blog's diversified mix of affiliate programs, even though traffic dipped 18.92% in December, affiliate income actually increased by 7.3%, from $59.8k to $64.2k.
6. Total Email Subscribers At the End of 2020: 42,069
As of December 31, 2020, I have over 42k subscribers in my email list. I currently use Convertkit for email marketing, which I find a great option for bloggers.
Our Blogpreneurs Facebook Group is also growing quite fast, with 5.9k members as of today. There are a lot of awesome discussions going on and some really cool bloggers helping each other out. Please join us if you haven't already!
7. Tasks Completed in 2020:
Published 87 new articles on my blog.
Published over 70 guest posts on other popular websites.
Was featured in Forbes, Entrepreneur, and Business Insider.
Did a full blog redesign.
Started my live blogging beta group and began building an online course for bloggers – to be released in early 2021.
Started the new Michigan State University Scholarship for Digital Entrepreneurship.
Surpassed 2020's blog income goal of $400k at $812,718.
Our Blogpreneurs Facebook Group grew to 5.9k members.
SEO metrics:

3,200 new referring domains.
93k new backlinks.
DR increased to 78.
That's it for my Blog Income Report for 2020.
Thank you so much for reading – I'm very grateful you found your way here.
The purpose of these blog income reports is to showcase that with the right strategies, it doesn't take years to make a substantial income.
If you're looking to launch a blog and use my tactics, you can check out my full guide on how to start a blog and launch your blog with Bluehost for just $2.95/month.
Get started with Bluehost.
Disclaimer: The two Bluehost links above are affiliate links that provide a small commission to me at no cost to you. These links track your purchase and credit it to this website. Affiliate links are a primary way that I make money from this blog and Bluehost is the best web hosting option for new bloggers. You can read full affiliate disclosure in my privacy policy.
Feel free to follow me on Facebook, Twitter, and Instagram so we can connect.
Editorial Process:
Our reviews are made by a team of experts before being written and come from real-world experience. Read our editorial process here.
Some of the links in this article may be affiliate links, which can provide compensation to us at no cost to you if you decide to purchase a paid plan. These are products we've personally used and stand behind. This site is not intended to provide financial advice. You can read our affiliate disclosure in our privacy policy.