How to Make Money On TikTok in 2023 (7 Simple Ways)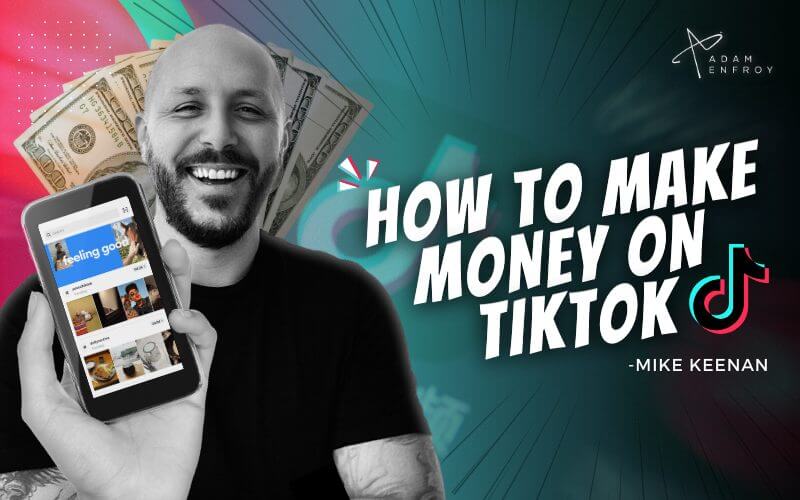 TikTok boasts over 1 and a half billion monthly users, making it one of the best social media platforms for growing an audience. More than that, its Creator Fund and other monetization features provide a number of options for generating an income straight through your TikTok account.
In fact, some of the platform's top users rake in millions of dollars in income thanks to their TikTok presence.
Throughout this article, we're going to cover 12 different ways you can start making money online—right through TikTok. From sponsorships and selling your own products to referring a friend and creating premium content, learn how to make money on TikTok today.
How to make money on TikTok: 12 ways
Let's discuss the top ways of making money on TikTok. Keep in mind that how much money you will make depends on a variety of factors (which I'll cover below).
1. Join TikTok's Creator Fund
The TikTok Creator Fund is TikTok's way of supporting and rewarding innovative creators on their platform. Launched in 2020, this program was a smart move by the app to make it a go-to platform for user-generated content.
The TikTok Creator Fund doesn't depend on ads like other platforms. Instead, your fund amount grows along with your channel and content. It also depends on factors like views from real accounts, the region of your viewers, and more.
And since content engagement on TikTok is dynamic and changes day to day, your funds will also change daily.
You need to meet some requirements to join the program, including:
You should be 18 years or older
Have a minimum of 10K authentic followers
Gain at least 100K authentic video views in the last 30 days
Based in the U.S., UK, Germany, Italy, France, and Spain
You need to post original content that aligns with TikTok's community guidelines
Need a Pro or Creator account
You also need a personal/creator account to apply for the Creator Fund program—business accounts aren't eligible.
You can apply for the program by tapping the hamburger menu in the top right corner of your TikTok profile, then heading to Creator tools. You'll find the Creator Fund and your Creator Fund dashboard under the section labeled Creator Next.
If you earned a payout, it would show up in your Creator Fund Dashboard roughly three days after your video views accrue, and you can transfer your funds ($10 minimum) to PayPal or Zelle 30 days after the month ends.
TikTok Creator Fund earnings vary. Some creators, like @theajbaron, claims to be making good money.
However, for all the brouhaha around the program, some TikTokers feel different. For instance, Anika, a TikTok creator with over six million views and a million likes, was only able to garner about $200 in five months or so.
The TikTok Creator Fund may help you make enough money to splurge on Christmas gifts —similar to money making apps—but it's hardly going to be enough to make a dent in your college debt.
That's not to say you can't make big money through TikTok. You most definitely can. You can partner with sponsors, promote brands, receive virtual gifts, and more. This takes us to our next point.
2. Receive donations for your live streams
One of the many ways to make money on TikTok is by receiving donations from your followers/viewers. It works similarly to Twitch, where your fans donate cash to show they appreciate your live stream.
As a creator, you can turn on Live Gifting while live streaming on TikTok, get awarded in real-time, and cash out your rewards through PayPal.
There's a slight twist here, however.
Instead of cash, TikTok has several in-app coins that viewers have to purchase before gifting them to their favorite influencers.
They can purchase the coins in their Settings >> Balance >> Recharge tab and then exchange these coins for virtual rewards.
Each reward comes in a bunch of exciting options. They also have different values and require a different number of coins. Note that only users aged 18 (or the age of majority in your jurisdiction) or older can send or receive these rewards.
Viewers can also send stickers directly during the live stream without purchasing the coins.
Now, if your viewers like your content, they can start sending you gifts during your LIVE broadcast. The gifts will pop up on your screen for everyone to see.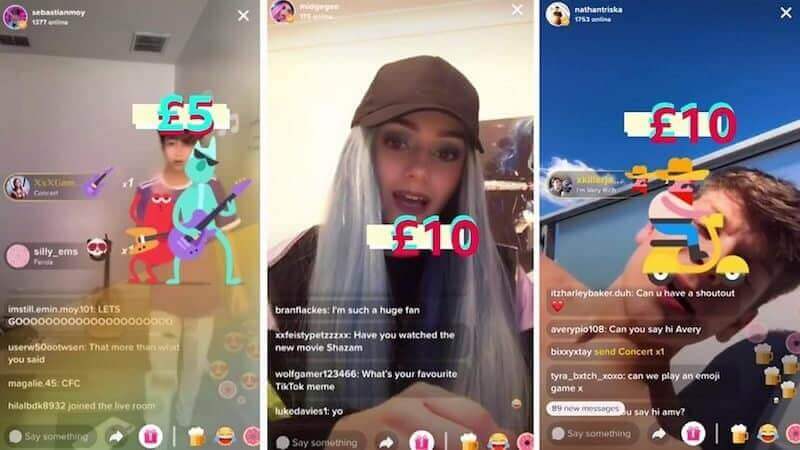 Image Credit: Hottiktok2020
No matter how small the gift may appear, it feels nice to have someone sending you a message to recognize your work.
Don't forget to give a shout-out every time you receive a gift to connect with your audiences. If your fans feel appreciated for their gesture, they're likely to spread the word around, helping you boost your popularity.
Even a simple, heartfelt, "Thank you!" is good enough.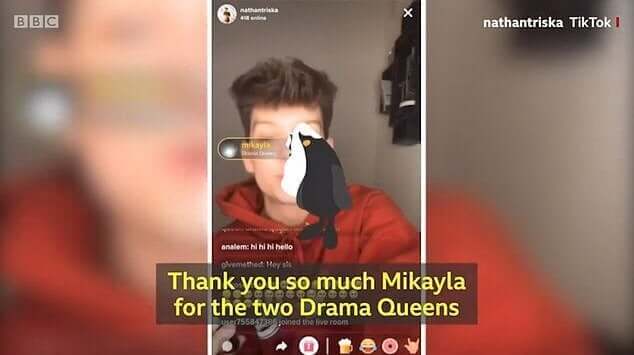 Image Credit: Hottiktok2020
At the end of your stream, you'll be able to see the total number of gifts you received. You can easily see your balance in the "Balance" tab from your account settings area.
You will get awarded with "Diamonds" (virtual credit) in exchange for the gifts based on your popularity. They'll also take the number and type of gifts into account. Usually, a diamond amounts to 50% of one coin.
Finally, you, as a creator, can exchange those Diamonds for real currency. It may not seem like a lot of money at first. But the more donors you have, the more gifts you receive.
3. Partner with sponsors and brands
Because of its popularity, brands and advertisers are willing to pay big bucks to creators to promote their products on TikTok.
Most brands contact creators through their agents, especially if the creator is already viral on TikTok.
But there's one way that creators can also earn money directly from advertisers—through TikTok Creator Marketplace.
TikTok is the only social network to offer a built-in program for content creators.
The Creator Marketplace is an official collaboration platform for brands and creators on TikTok. It makes it possible for innovative content creators to partner with brands for paid campaigns.
You drive awareness and attract customers for the brand by mentioning them or using the product in your video. And then you get paid in exchange for posting sponsored content.
The Creator Marketplace allows brands to search for creators and see your profile, follower count, audience demographic, essential engagement metrics, and more.
Unfortunately, there's no way for creators to search for partnerships. Brands can only find your account on the marketplace.
But before collaborating with brands, you have to meet specific eligibility criteria (based on age, video content, follower count, and engagement). You also have to switch to a Creator account first.
Once you meet all of these requirements, you'll get invited by TikTok to either join or apply.
After joining the Creator Marketplace, head to your settings, click on "Creator Tools," and then "TikTok Creator Marketplace." This is where you can manage your creator profile. Make sure to edit your profile and set your rate for sponsored videos to get noticed by brands.
Once you get famous, you can rake in quite a lot for your content.
It's difficult to predict the potential earnings, but famous creators earn around $500 to $20,000 per video.
However, keep in mind that TikTok doesn't allow you to take payments from brands through its platform. You have to arrange for payments directly from the brands.
Once you reach a certain level, it's not the only platform where you'll earn money. Some particularly famous TikTok stars are all over the internet and growing their Instagram with brands and deals as well.
4. Manage influencers
TikTok is one of the biggest rising platforms for influencers. And there are a lot of influencers out there who are willing to create good content about brands.
But not everyone wants to be viral on the internet. You may be camera-shy or simply wary of the scrutiny that's part of being famous. If that's you, you can earn money by managing influencer campaigns.
One of the best ways to do this is by becoming a middleman between the brands and influencers. Your job will be to manage the relationships between brands and influencers, just like brokers or agents do.
You will be in charge of all agreements, activities, dealings, negotiations, and payouts. Additionally, you'll have to make sure everyone follows through with their part of the contract.
Your job is to be able to handle all of these tasks without any hiccups. In the end, receive a service fee from the deals you create between creators and brands.
Beyond that, you can start your own TikTok agency, where you can also help creators shape their careers. As an agency, you will also handle your performers' public profile and persona and manage their reputation.
Here's how you can get started with your own influencer agency:
Plan and build your website
Begin by making a business plan and building your website to establish yourself in the field. Your website should be professional, yet trendy. After all, the entire influencer marketing business is nothing if not trendy.
It should also specify the type of influencers you work with and what you have in store for both creators and brands.
And most importantly, get the official rights to create your agency to protect your privacy and legal rights.
Scout influencers in different niches
After you're done legalizing your agency, it's time to scout influencers in different niches. The reason why you need creators in various industries is to cater to different brands. Most brands are naturally going to prefer creators in their key demographics.
For instance, if a sports brand reaches out to you, they'll prefer to work with an influencer in the fitness or sports niche.
Luckily, you can scout influencers from different niches using TikTok influencer search tools.
Take InfluenceGrid, for instance. The tool helps you discover different performers by their country, topic, niche, engagement rate, follower count, average video views, etc.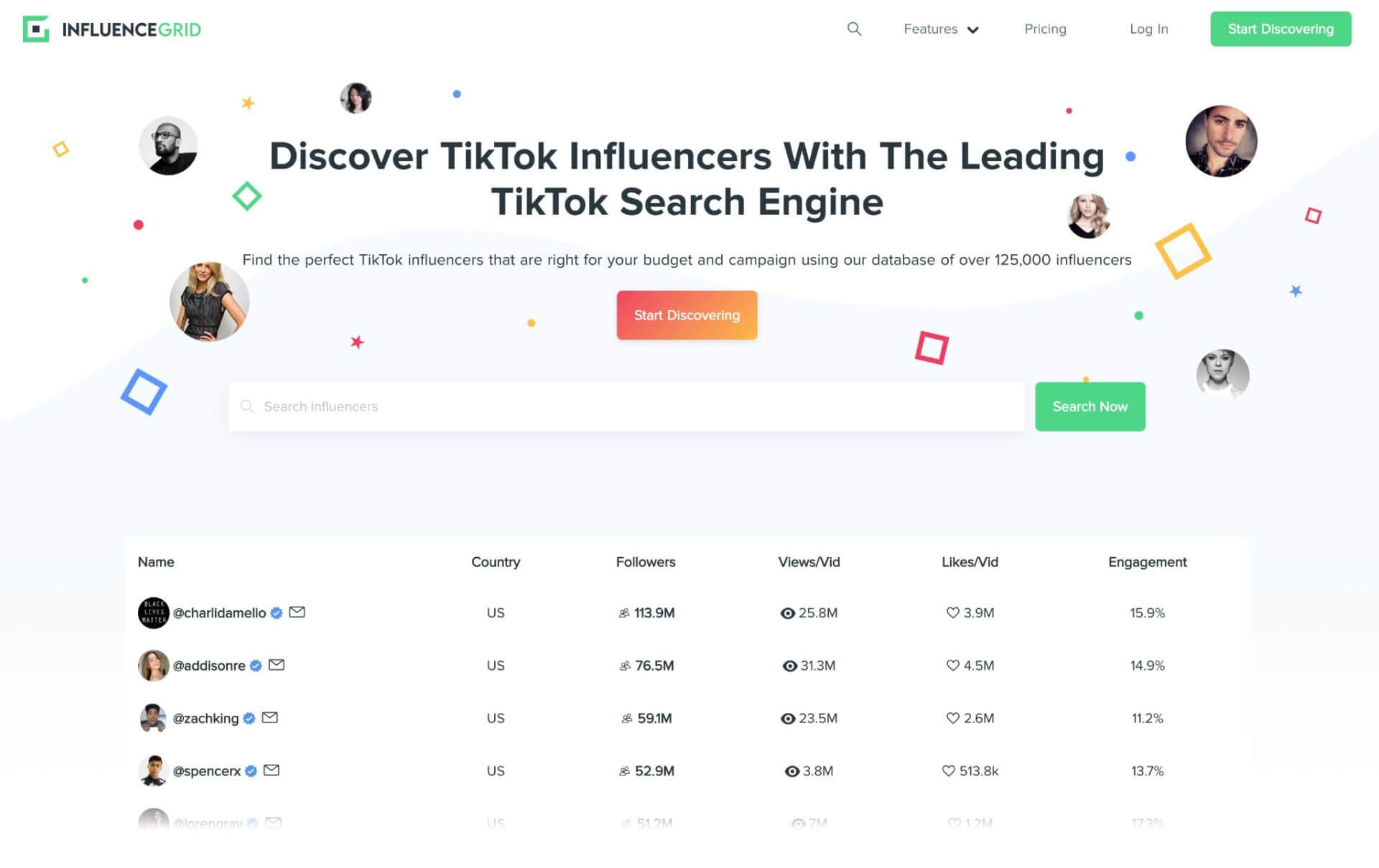 TikTok's in-app tool TikTok Creator Marketplace is also a great place to search for relevant creators. Finally, you might want to make a list of influencers specifying their niche on your website.
Here's an example from an influencer website: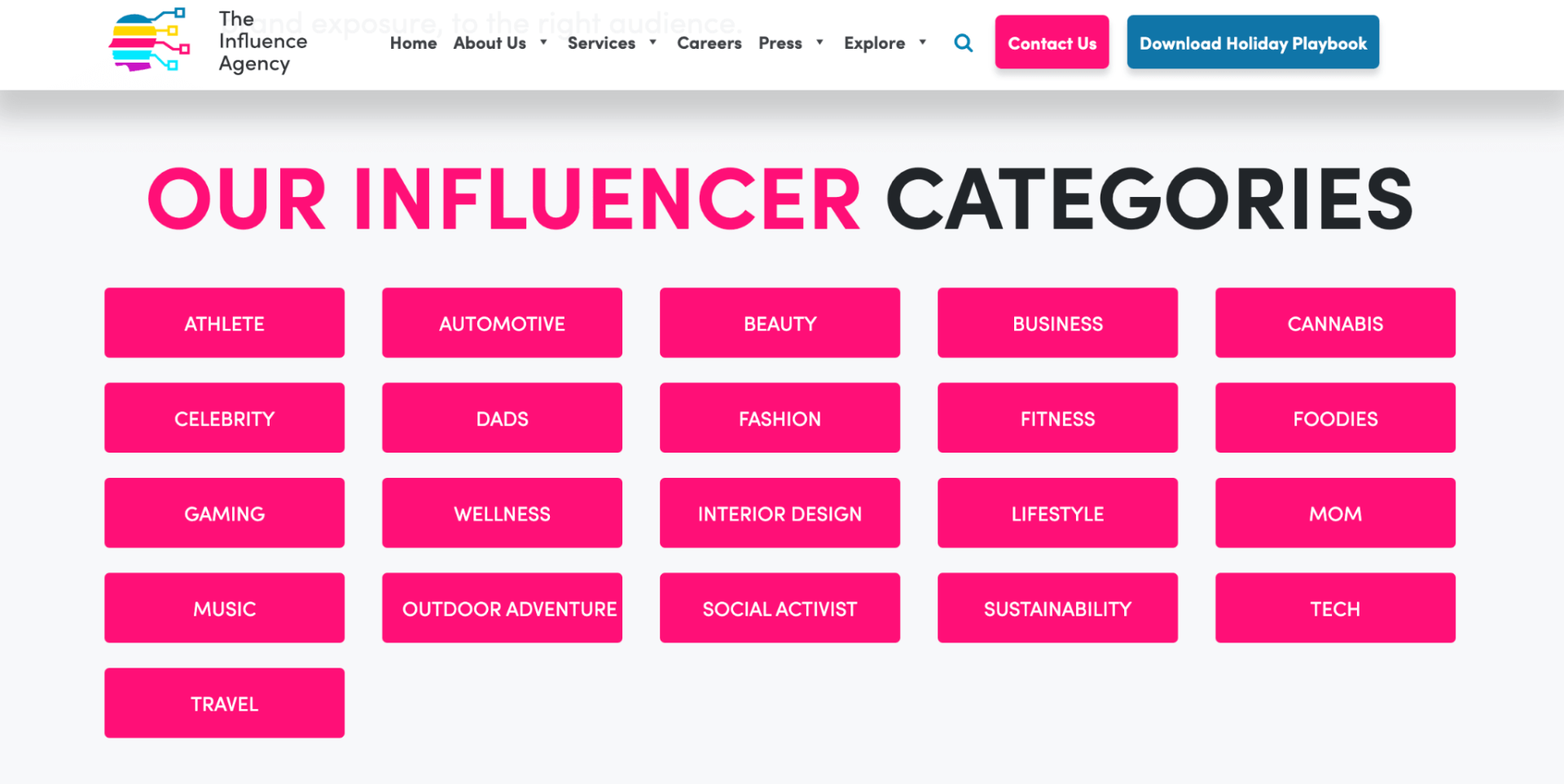 You might not be able to scout celebrities and A-list influencers initially. So, start by collaborating with micro-influencers and work on building their career and helping them get viral on TikTok.
Once you get more experience and build a portfolio, you can add more creators to your network and improve your reach.
5. Sell your own products
You can generate revenue from your TikTok channel by selling your products directly on the platform. Through TikTok Shop, you can tag your products in both your feed videos and your live streams in order to drive sales.
Promote your e-commerce products directly through TikTok to start generating even more income through your business and your TikTok profile. Create TikTok videos that share the perks of your products. This can also be a great way to sell merch to your followers.
You can create a TikTok Shop with both a creator and business account, making this an option for all TikTok users. Again, head to your Creator tools to get this set up. List all of your products so visitors to your profile can easily view them from the Shop link in your bio. Plus, you can then link to any products you mention in your videos to make it easy for your viewers to make a purchase.
Here's an example of what your TikTok Shop could look like: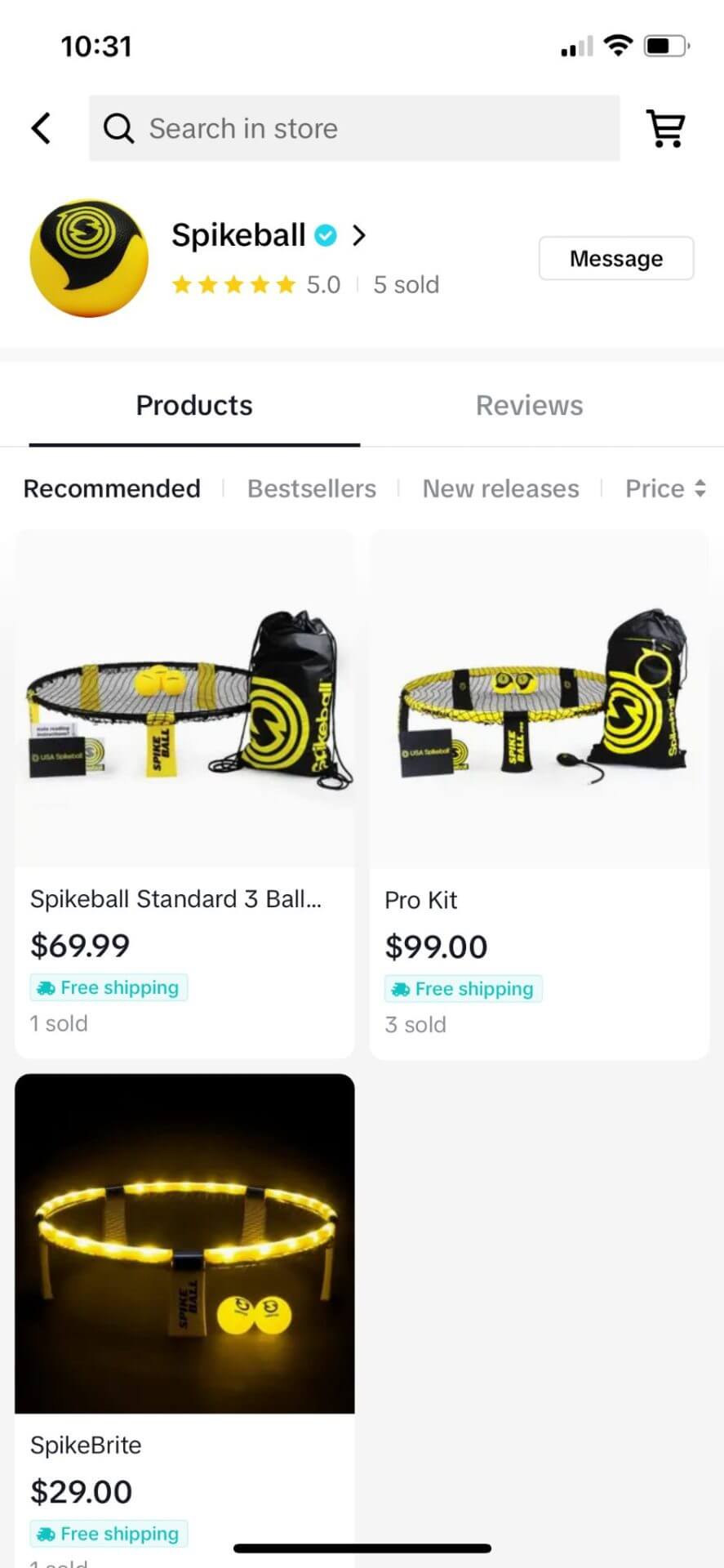 6. Grow and sell TikTok accounts
Flipping social media accounts isn't a new way to make money.
Many people already do that on social media sites like YouTube, Instagram, Twitter, and Snapchat.
You'll first have to grow a TikTok account by gaining TikTok followers and encouraging ongoing engagement. And once you reach a specific number, you can reach out to brands and individuals who might require a profile in that niche.
I suggest building your account around a specific theme, as they are easier to sell. This way, brands that are unwilling to grow their profile from scratch can take over your account easily. And their viewers might not even notice the takeover.
For instance, if you build a fashion-based profile, any fashion-related brand might buy it from you. As an added perk, advertising for niche profiles is also easier than for generic profiles with simply dances and skits.
Brands or individuals seeking niche profiles will naturally search for specific terms, which might lead them to your page.
You can also build a website to advertise your profiles and get in touch with interested buyers, or you can sell them on third-party marketplaces like Fameswap.
Here are some of the TikTok profiles on sale: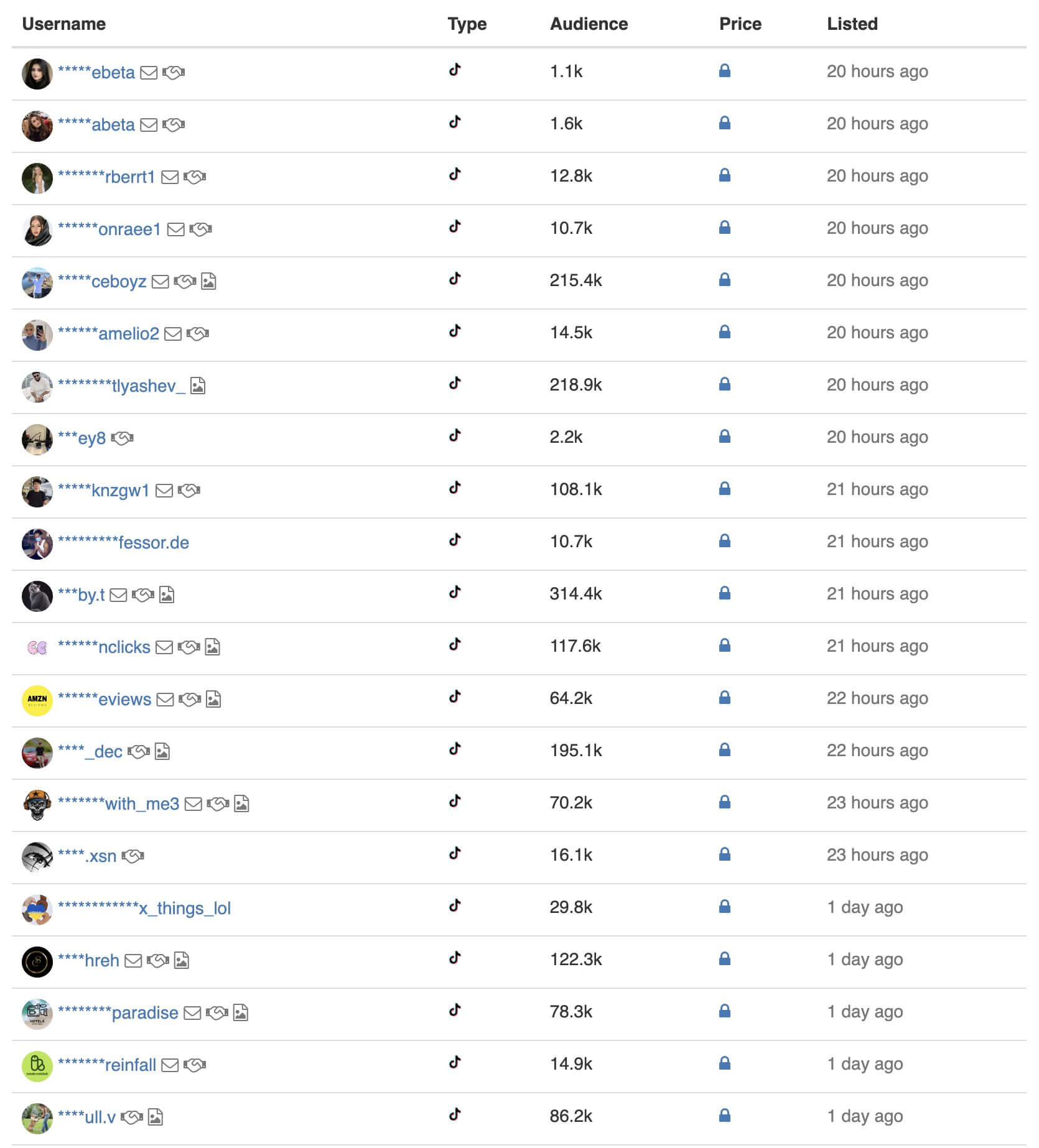 After a little research, you'll be able to deduce the approximate selling price based on the number of followers. Naturally, the higher your following, the more you can make.
Keep in mind though that there are several variables that affect the price other than the follower count.
While there's no official information on this, here's what you can make flipping TikTok profiles:
1-13k followers = ~ $100
13-50k followers = ~ $100-$500
50-100k = ~ $500-$1000
100-500k = ~ $1k-5k
500k-1M+ = ~ $1k-30k
7. Launch your own music or artist career
If you want to showcase your talent and catch the eye of a credible talent agency, TikTok is the place to be.
Social media can be a stepping stone to immense international fame and recognition.
Think Addison Rae.
She has done well on every other platform—even better than on TikTok—and is now a household name in the US. The influencer was also invited by the well-known talk show host Jimmy Fallon and even recently bagged her own Netflix show.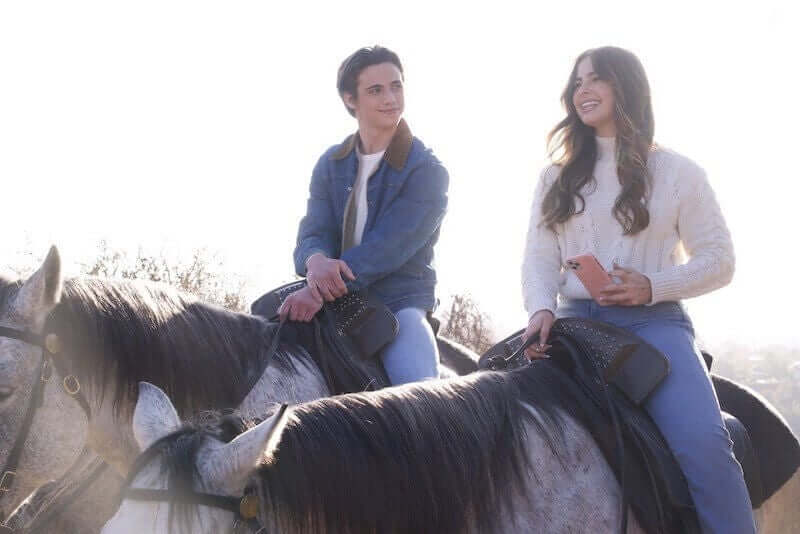 Image credit: Deadline.com
And not just that, her recently launched song earned #10 on the latest editions of New Music Friday and Pop Rising on Spotify. And if this Forbes report is anything to go by, she makes around $5 million a year.
And she's not alone.
TikTok can take credit for more than a few teen success stories like Addison's.
The growth trajectory one can achieve from social media platforms like TikTok is nothing short of incredible, and you can launch any career you want through TikTok—cooking or baking, singing, acting, comedy, and more.
With TikTok, your content could be seen by a producer, or someone equally important, who may help you land a life-changing gig.
And while getting noticed by someone prominent is great, it isn't necessary to see success on TikTok. You can get famous and start earning all on your own.
Begin by going viral on TikTok and then plan your transition to other platforms like YouTube and Instagram. You can then start posting your content on various outlets, thereby growing your audience base and revenue sources even more.
With that, you'll have three essential things you need to become a famous artist—a relevant audience base, digital publishing outlets, and a regular revenue stream.
8. Earn money through affiliate programs
Affiliate marketing is a strategy that involves promoting products and services for brands in exchange for a commission of sorts if someone signs up or makes a purchase. Most of the time, the commission is in monetary form, coming as a percentage of the cost. Other times, it may be money off your next purchase or a free month off your subscription.
Start with businesses you already love to make promoting their products easy. Look at the footer of their website or check out our list of over 150 affiliate programs to find companies you want to work with. Sign up for their affiliate program to get a unique link.
See how @rachel_meaders promotes Amazon Associate products within her posts. She mentions her link in her bio and links out to specific hashtag feeds to further promote the post.
You can then create TikTok content promoting their products and/or services and include your affiliate link as your bio link. You can use a link-in-bio tool like Linktree to create a landing page of sorts to promote multiple affiliate links at once.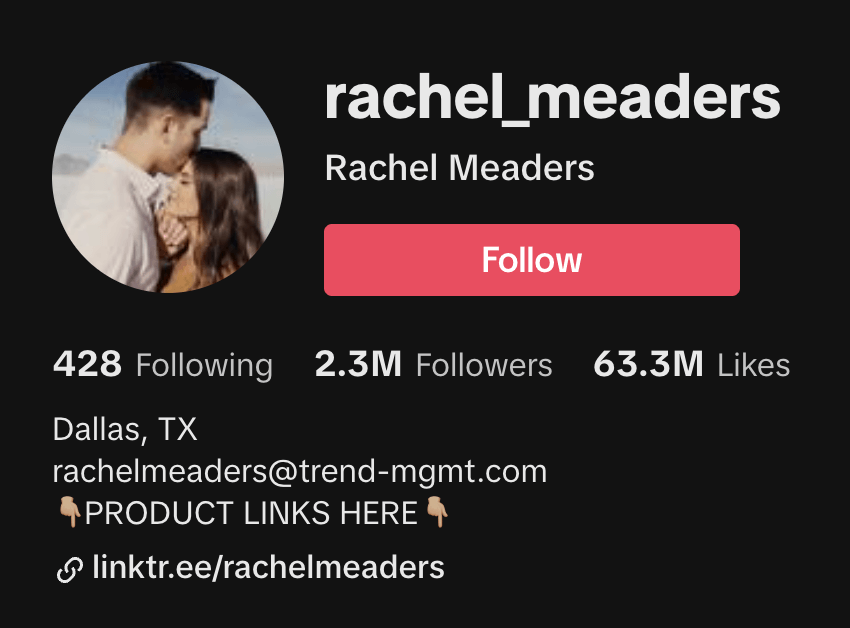 Every time someone makes a purchase, you'll receive a commission. Commissions can be anywhere from 10-20%+ for every purchase. The more viewers your videos get, the more income you can generate through affiliate marketing.
9. Become a TikTok consultant
If you've seen success in building up a TikTok presence, why not take that experience and pass it on? For a cost, of course. Create your own TikTok consultancy, offering strategic advice and insights on how brands and other creators can put together engaging content that helps them both build an audience and generate income.
Create a website with information about your consulting services to make it easy for interested brands and creators to get in touch with you. Then promote your services and your results via videos on your own TikTok account.
Services you can offer include:
Strategy building
Coaching
Video creation
Video/profile optimization
Video ideation
The world is your oyster, really. Anything that you have experience with can be used as a service offering to help bring in even more income through TikTok consulting.
10. Offer exclusive content
TikTok released a new feature in June 2023 called TikTok Series, which is a way to create premium content behind a paywall. Your series cost can range from $0.99 to $189.99 and can be up to 80 videos long, with video lengths of up to 20 minutes apiece.
Use your premium series to share educational content (i.e., your coaching content could potentially live here) or entertaining content, almost like a TV series.
You can also create multiple Series, giving you additional revenue streams through premium content. Set your price point based on what you think the content is realistically worth and start promoting.
11. Refer your friends
TikTok also offers a referral bonus for recruiting friends to create new accounts on the app. It's almost like a TikTok affiliate program, where you'll get a unique link to send to friends that they can use to sign up.
Keep in mind that in order to qualify for the bonus, any users you refer must never have downloaded the TikTok app or created an account in the past. Users from certain countries can only invite up to 100 new users per day, but other countries have no limit.
12. Collect tips
Last, but certainly not least, turn on the ability to collect tips. Access this under Creator tools > Creator Next. Tap the option for Tips to turn on the ability to collect tips from your followers. Keep in mind that you must have at least 100,000 followers to be eligible for this feature.
Once you turn it on, a "Tips" link will be added to your profile. Users can tap it to see your past tips as well as to leave their own tips. If you build a loyal and engaged audience, you're much more likely to receive tips. You can also put a call-to-action asking your viewers to leave tips if they liked your content.
The importance of being authentic
Even though TikTok offers many monetization opportunities, it makes sense to be authentic and engage with your audience for the long haul. You can't use TikTok to make money without having a loyal audience who connects with you.
This means engaging with your audience by commenting on their videos, sending hearts, following them back, and being active on TikTok every day.
Authenticity is not merely essential for becoming a top TikTok creator. It is also another way to make money on the platform as big brands and advertisers prefer sponsoring creators with high engagement (likes, comments) on their videos.
As a result, your content needs to be something that people will actually want to watch—whether it's a tutorial video, a lip-sync video, or a dance video, you need to have an organic connection with the audience if you want them to engage more often.
Being authentic not only makes you stand out from other active users but also helps influencers create more personal relationships with their audiences. And of course, brands love working with such influencers because they can relate better with consumers. In the end, it all goes back to the importance of engagement. Just like you make money blogging through authentic content, influencer marketing can create some great opportunities for both parties.
Earn money through your TikTok account today
TikTok is the hottest social media site right now, and everyone who wants to be famous is uploading there. The app for short-form video sharing is a roaring success among millennials and allows you to share your skills with the world.
The success stories coming out of the platform are abundant, and yours could be the next one.
All you have to do is follow the right steps and you too can tap into all of that moolah.
Make money on TikTok FAQ
How much does TikTok pay per 1,000 views?
The general consensus is that TikTok's Creator Fund pays 2-4 cents per 1,000 views. So if your video got 1,000,000 views, you could bring in $20-40. However, the Creator Fund doesn't have to be your only monetization outlet, so don't rely solely on video monetization. Collect tips, sell your own products, become an affiliate, and more.
How much money do TikTok influencers make?
This question is tricky to answer. There are many different levels of influencers, and the amount of money each level can bring in varies greatly.
According to Influencer Marketing Hub, potential breakdowns can look like:
Nano-influencers (1,000–10,000 followers): $5-25/post
Micro-influencers (10,000–50,000 followers): $25-125/post
Mid-tier influencers (50,000–500,000 followers): $125-1,250/post
Macro-influencers (500,000–1,000,000 followers): $1,250-2,500/post
Mega-influencers (1,000,000+ followers): $2,500+/post
How many followers do I need on TikTok to go live?
You need at least 1,000 followers in order to go live on TikTok. Start creating content and engaging with users so you can hit that thousand-follower threshold and make money through your live videos.
Editorial Process:
Our reviews are made by a team of experts before being written and come from real-world experience. Read our editorial process here.
Some of the links in this article may be affiliate links, which can provide compensation to us at no cost to you if you decide to purchase a paid plan. These are products we've personally used and stand behind. This site is not intended to provide financial advice. You can read our affiliate disclosure in our privacy policy.