13 Best Linktree Alternatives of 2023 (Ranked and Reviewed)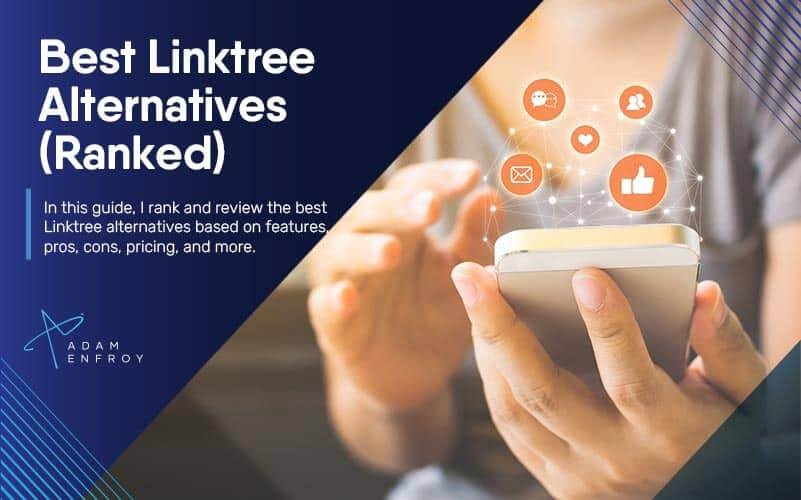 Want to jump straight to the best Linktree alternatives? My top choices are Taplink, ContactInBio and Shorby.
If we're being totally honest Instagram single handedly built this product category.
The main use case for all of these types of products are because Instagram only allows:
One link in your profile bio
You can not link from individual posts.
Using one link in the bio with a link shortener will only get you so far. Especially if you want to treat your Instagram like a business.
This is where Linktree comes into play.
But like every other SaaS category, once a product gains traction competition follows.
That is why Linktree alternatives have sprouted up left and right all over the place.
Before we dive in to the actual Linktree alternatives, let's first take a look at Linktree itself.
Linktree Overview.
Being restricted to just one link in your social media bio can be limiting.
Linktree is the first link-in-bio tool that emerged in 2016 to allow users to add more than one hyperlink to their social media profiles.
You can display several types of websites in a clean and straightforward format (lyrics, news, images, books, videos, webcasts, educational lecture slides).
Alex Zaccaria, Anthony Zaccaria, and Nick Humphreys created the site and were able to gain over 3000 users overnight. Fast forward to 2021, and now Linktree has over 8 million users.
Linktree is even the go-to tool for many A-list celebrities like Selena Gomez, Alicia Keys, Gary Vaynerchuk, and more.
Here's the Linktree link in Selena Gomez's Instagram bio:

Once you click on this link, you'll find yourself on a web page containing links to several other sources.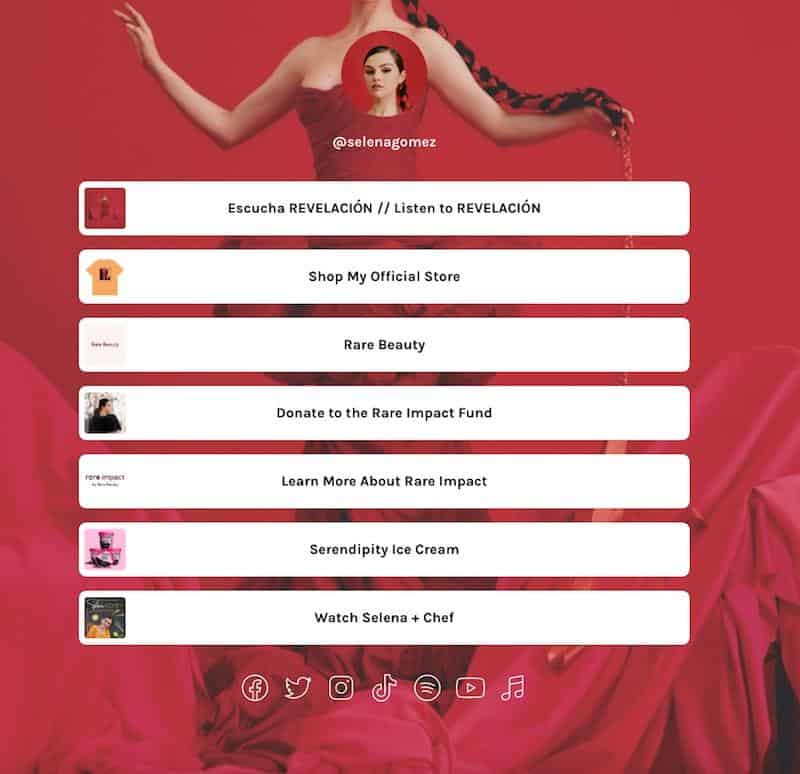 And not just Instagram; you can add your Linktree link to Twitter, Facebook, Github, your YouTube channel, TikTok, etc.
But no tool is one-size-fits-all.
For instance, you might want more customization options than Linktree offers.
Maybe you want to embed your social media content. Or you may want to add pictures and rich content to engage users.
Since Linktree doesn't let you do any of that, there's a good chance that you're looking for an alternative.
There can be many other countless reasons why you'd want to look for a Linktree alternative.
What are the Best Linktree Alternatives?
Here is my vetted list of the best Linktree alternatives.
Best for starting time-specific contests and offers on Instagram (Free – $54/month).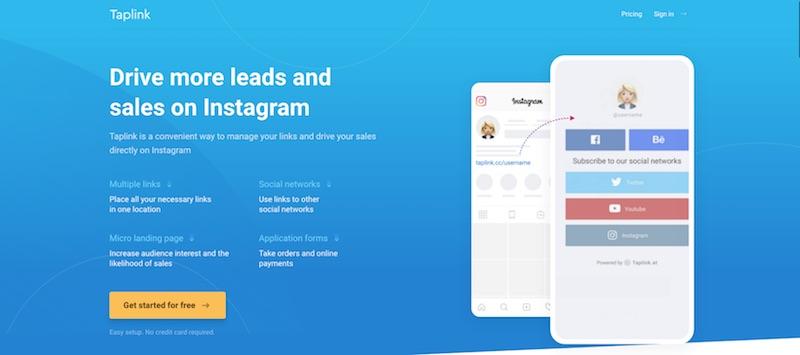 Taplink is a multi-link tool that helps you drive leads and sales on Instagram. It allows you to place links to other social profiles, blog posts, take orders, online payments, and more – all on a single page.
You can also add links to instant messengers, embed a sign-up form to gather email addresses, and even display special offers.
You'll get different block types where you can add types of content. For example, there are separate blocks to add image carousels, videos, regular links, custom HTML code, Messengers, etc.
Plus, you can use customization features like countdown timers, high-converting text, engaging videos and images, and more. They'll help you nudge your potential customers and leads to click on the CTA button or take a specific action.
Key Features:
Time-Limited Offer – Run a time-limited campaign or offer with countdown timers on Taplink's micro landing page.
Embed Frequently Asked Questions – Use the answer block to provide answers to FAQs.
Order Management System – Taplink has its own order management system that notifies you every time someone places an order request. You can also use it in tandem with your external CRM.
Pricing:
Taplink provides two paid pricing plans:
Pro – $3/month (paid annually)
Business – $6/month (paid annually)
Get started with Taplink.
Best overall link-in-bio tool and Linktree alternative (Free – $177.45/one-time payment).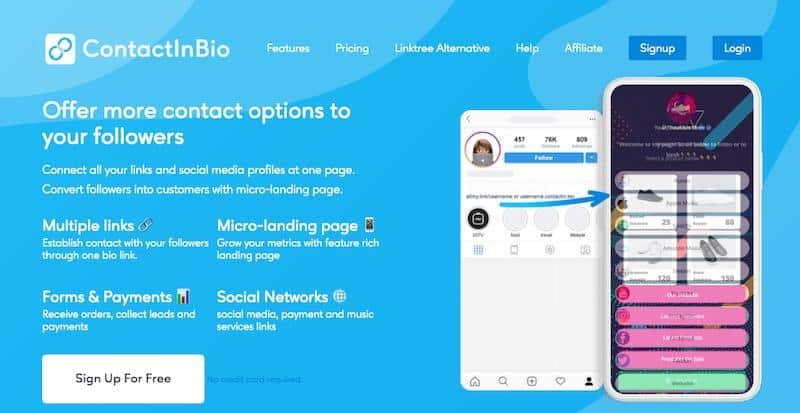 ContactInBio is one of the best Linktree alternatives that help you create a landing page to store all your links in one place. Along with unlimited links, they allow you to embed payment forms, music services, social media posts, etc.
And unlike Linktree, they let you choose from four domain names: yourusername.ctcin.bio, yourusername.contactin.bio, yourusername.contactinbio.com or allmy.link/yourusername.
You also get near-unlimited customization options.
You can tweak the size, width, color, font size, and background of your links and landing page. You'll also get options to change your page's background to a gradient color, image, or even a video.
ContactInBio is also one of the few platforms on this list that let you embed your online store and products on your landing page.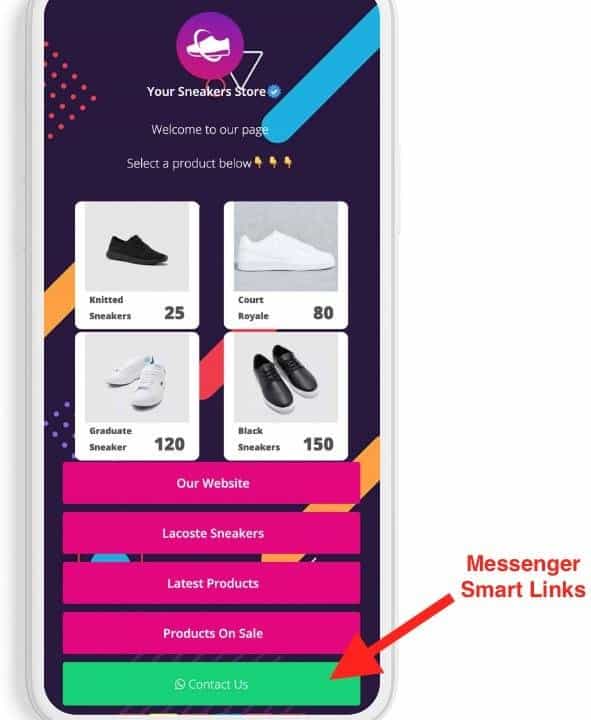 Potential leads can now shop and even pay directly via PayPal, Stripe, etc. Or connect with you with the click of a button via messenger "smart links."
Additionally, you get the ability to add:
Image carousel.
A video background.
Your YouTube or Vimeo videos.
Email sign-up form.
Links to music streaming services like Soundcloud, Spotify, iTunes, etc.
Payment links to Stripe, Paypal, and other gateways.
However, the first four options are only available with the paid premium plan.
In addition, they also plan to introduce advanced features like an embeddable email sign-up form, Instagram shoppable feed, and a custom form soon.
Key Features:
Messenger Smart Links – Create direct links to messaging platforms like Facebook messenger, Telegram, WhatsApp, Viber, and Skype.
Contact Form – ContactInBio is one of the only link-in-bio tools that lets you embed a contact form on their landing page. This eliminates extra steps and helps your potential customers to contact you right away.
Native Integration with Google Analytics – Integration with Google Analytics and Facebook Pixel help you track your visitor demographics and run retargeting ads on Facebook.
Pricing:
ContactInBio offers five pricing plans:
Starter – Free
Yearly – $2.6/month paid yearly
Agency – $13.65/month paid yearly
Lifetime – $59.15 one time payment
Lifetime Agency – $177.45 one time payment
Get started with ContactInBio.
Best for agencies and large teams ($12/month – $82/month).
Shorby is a social media tool that simplifies the process of sharing multiple links with your audience on social platforms.
You can cram unlimited links in a landing page, along with other core functionalities like unlimited clicks, your personalized URL, Facebook pixel integration, etc. But the starter plan that costs $9/month does have a limit of 3,000 tracked links. There's no free version either.
Other features include the ability to change the background image, adding direct messenger buttons, native integration with Google Analytics, and more. However, some of these features are only available with specific plans.
Coming to the setup and themes, they offer different themes and custom controls. But there's nothing that you can't get with ContactInBio's $2.6/month or even the free plan.
Other than that, it's easy to use, has a drag-and-drop interface, and lets you add thumbnails even above your links.
Key Features:
Messengers – You can link to WhatsApp, Facebook Messenger, Telegram, Viber, email, or even your phone number. This feature is convenient for ecommerce businesses.
Dynamic Feed – Add Shopify categories, Etsy products, YouTube videos, Apple podcasts, WordPress posts, and more to your landing page.
Team Collaboration – Their priciest plan allows you to invite up to 10 team members to collaborate on up to three projects.
Pricing:
Shorby offers three paid plans:
Rocket ($12/month) – Five landing pages, no dynamic feeds, ten links with images, unlimited links per page.
Pro ($24/month) – 50 pages, five dynamic feeds, 50 links with images, unlimited links per page.
Agency ($82/month) – 250 pages, five dynamic feeds, 500 links with images, unlimited links per page.
They also offer a 5-day free trial.
Get started with Shorby.
Best for creating a visual landing page (Free – $24.99/one-time payment).
Lnk.bio is a bio link tool that offers numerous choices to your audiences when they click on your bio link. It's suitable for all social platforms like YouTube, Instagram, TikTok, and more.
The landing page you built will have your standard image at the top, a welcome message, and then your links. Or you can follow Lonely Planet's approach and embed images in your landing page to direct your audience to different pages.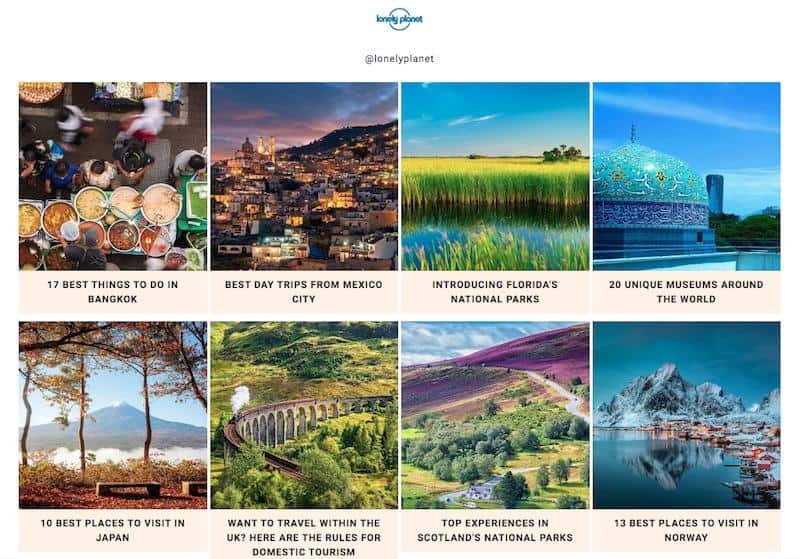 Lnk.bio also offers a couple of different layouts that you can use, along with over 90 social, music, and contact icons.
Additionally, you can display a link to the new campaign at the top of your Lnk.Bio landing page. You can even temporarily disable other links on the page till you run the current campaign.
Key Features:
Secure – You don't have to create a separate password to register, as they use the official Instagram API.
Link Social Profiles – It lets you cross-link all your social profiles and create landing pages for different platforms.
Pricing:
Lnk.Bio offers four plans, including one free plan and two one-time payment plans.
Free – Random URL, unlimited links, no extra cost.
Monthly ($0.99/month/account) – Custom URL, unlimited links, schedule links, Instagram sync, link tracking and stats, external analytics pixels.
Mini One-Time ($9.99) – Everything in the monthly plan.
Unique One-Time ($24.99) – Everything in the monthly plan + no Lnk.Bio logo in profile, the ability to change colors and background image, Instagram post scheduler.
5. Tap Bio.
Best for small businesses and influencers on Instagram (Free).
Tap Bio is an Instagram bio tool that works like a mini-website that lets you curate all your content in one place. Your audience can tap on the "Tap Bio" link in your bio and then get directed to that "mini-website."
The tool allows you to add cards and has the options to choose from numerous card types, including an image gallery, YouTube videos, Twitter posts, Instagram posts, etc.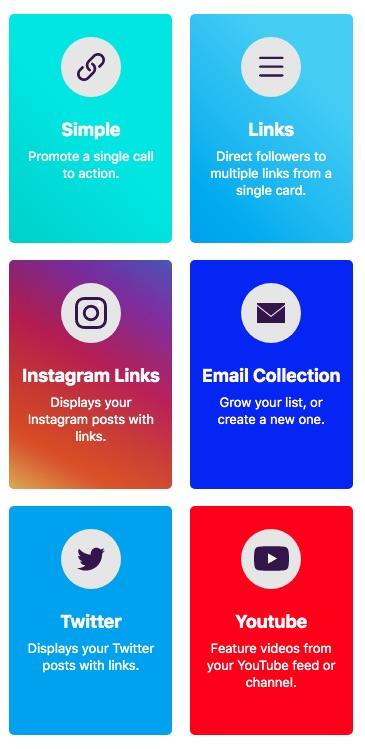 There's a single card for each scenario and call-to-action you want to place.
Here are the examples of a link card and a YouTube card created by Yes Theory, a digital media company.
You can even add links so that people can call or email you directly.
That said, the "Instagram Links" card's interface is too similar to Instagram. Some viewers might not like the idea of getting directed to another Instagram-like screen.
On the other hand, some may like this visual approach more than text-based links.
Finally, view your statistics on each card and see how they're performing and which card brings more revenue.
Key Features:
Retarget Ads – Tap Bio allows you to retarget your followers via Google AdSense, Instagram, and Facebook advertising.
Stats and Analytics – Integration with Google Analytics and Facebook Tracking Pixel helps with advanced analysis.
Pricing:
Tap Bio offers four pricing plans:
Basic (Free plan) – Lets you create only one profile card.
Silver ($3/month) – Up to three cards and view stats.
Gold ($8/month) – Unlimited cards, view stats, Facebook Pixel Tracking, and Google Analytics integration.
Platinum (Quote-based) – Same as Gold plan + custom branding.
6. Campsite.bio.
Easy to use Instagram bio tool (Free – $7/month).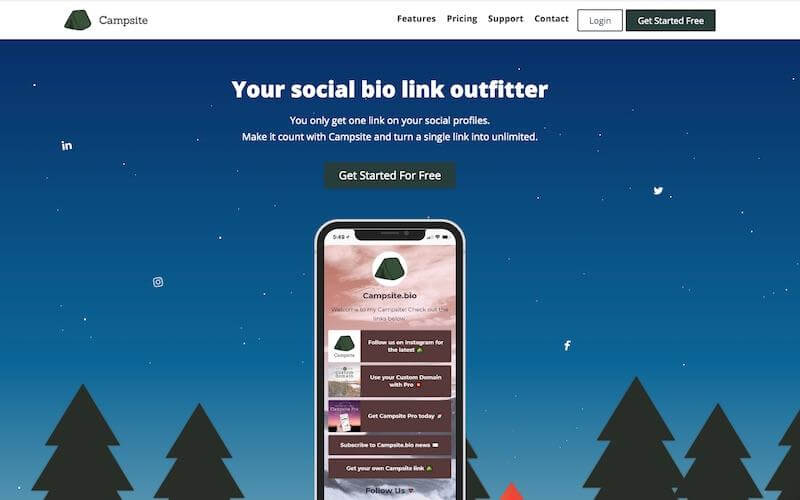 Campsite.bio is another tool on this list that lets you feature unlimited links on a single landing page and link it to your Instagram bio. You can share your Twitter, Instagram, Facebook, or even email links on the page.
The tool is almost similar to Linktree – with the addition of images/thumbnails alongside regular links.
There's a catch here, however. You can only add thumbnails from your Instagram posts; there's no way to upload your own images.
Here's an example of a landing page created using Campsite.bio:
You can get the ability to change your theme colors and track where your viewers are clicking the most.
There are tools on this list that offer far more customization options and let you create more visual pages.
However, Campsite's simplicity contributes to its ease of use too in a way. All you have to do is copy-paste your links, add a brief description, customize the look and feel, and hit the publish button.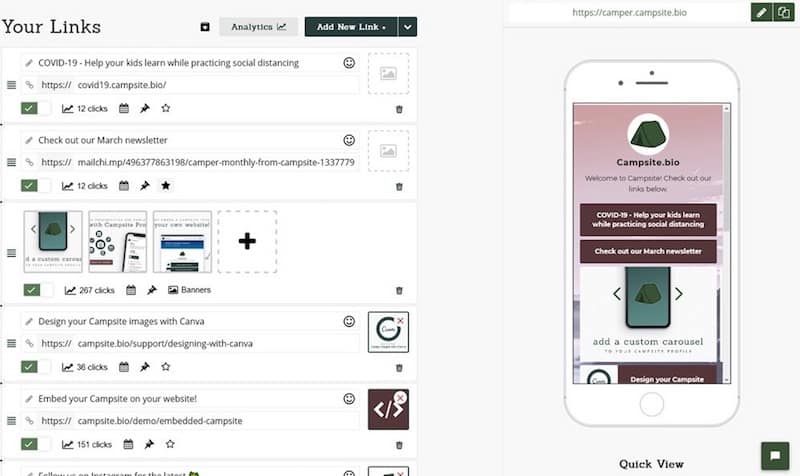 Additionally, you can embed your Campsite profile on your website.
Campsite's extensive native integrations are also worthy to note. It integrates with Facebook Pixel, Google Analytics, Google AdSense integration, Google Sheets, Canva, and even an email marketing tool like MailChimp. These integrations are only available with the paid plan.
Key Features:
Schedule Links – Schedule links to publish them right before launching a new Instagram campaign or contest.
Carousels – Embed multiple carousels with as many banners as you want.
Link Animation – Add animation to your links to highlight them.
Pricing:
Campsite only has two plans:
Free – Unlimited links, complete control of your branding, track clicks, add images from Instagram, archive and restore links, etc.
Pro ($7/month) – All of the features in the free plan + additional integrations, daily breakdown of your link clicks, custom subdomain, animated link, etc.
You can even try out the Pro plans with their 10-day free trial.
7. Bio.fm.
Best for featuring your music content via Spotify (Free – $10/month).
Bio.fm is a digital media aggregator that lets you curate your content from YouTube, Instagram, Facebook, Twitter, Spotify, and Medium. You can even add an opt-in form to collect emails, GIFs, question polls, links, and more.
Aside from standard links, you can add multiple visual blocks to add your content. Further, adjust your profile by quickly moving the blocks up and down.
After importing your content from a social network of your liking, you can display it in several different ways. There are multiple layout types for posts from various social media platforms.
They also allow you to feature up to five social media profiles at a time using icons or cards.
You can also add multiple website links, an about me section, your LinkedIn profile, and more.
Key Features:
Create a Custom Theme – You can also choose from four themes or create your own with different colors and typography.
GIFs and Question Polls – Bio.fm lets you add interactive GIFs and question polls to your bio page.
Pricing:
There are three plans available:
Free – Forever free plan that lets you create one Instagram bio link.
Semi-Pro ($5/month) – Three extra blocks, custom URL, customization options, remove bio.fm logo, schedule in advance.
Pro ($10/month) – Same as the Semi-Pro plan + monitor how many users viewed and clicked on your content and Facebook Pixel integration.
8. Linkin.bio by Later.
Best for recreating and tagging links to Instagram posts (Free – $33.33/month).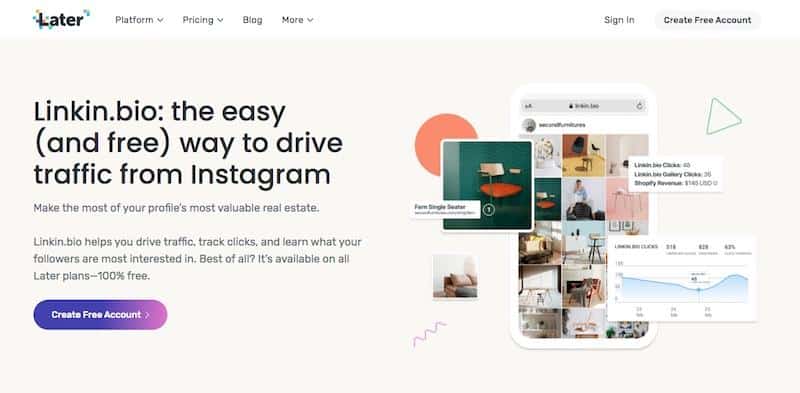 Linkin.bio by Later is a link-sharing platform that lets you create and share short links of your favorite content.
It lets you recreate your Instagram feed on a custom landing page and let you tag links to specific Instagram posts. You can set them up as a custom link or add multiple links to third-party resources, blog posts, or other web pages.
You can even turn these posts into shoppable links.
Here's an example of a landing page built by Linkin.bio for an ecommerce brand:
Clicking on a post containing a specific product will direct you to the product page.
Or you can use the tool to drive followers from Instagram to any other source.
And it doesn't take more than a few minutes to create a custom landing page of your own.
Just select your posts from the backend, enter the title, then add the link you want to direct your audience to, and hit the "Add to Linkin.bio" button. You can even add multiple links to a single post.
Another way to add shoppable posts is by integrating Linkinbio with Shopify; the tool provides native integration with Shopify.
Shopify stores can even check revenue from Instagram right from the editor. With Later's built-in analytics, you can track your traffic and sales made from your Linkin.bio page.
Linkin.bio is most suitable for brands that want to sell products right from their Instagram feeds.
Key Features:
Shopify Products – Tag your Shopify products in your Instagram posts and turn them into shoppable links.
Google Analytics – Enable Google Analytics UTM Tracking to monitor advanced sales and conversion analytics.
Multiple Links Per Post – Add up to five links to each Instagram post.
Pricing:
Lite Plan (Free – $12.50/month) – One link per post, has the Later banner on the landing page, no Shopify integration, analytics, Google Analytics UTM tracking.
Standard ($20.93/mo – $33.33/mo) – Everything the Lite plan has + multiple links per post, no Later banner, Shopify integration.
9. Link in Profile.
Best for Instagram-based businesses and influencers ($9.99/month).
Link in Profile is another Instagram marketing platform similar to Linkin.bio that helps you tag links to your Instagram posts.
After clicking on your Link in Profile link from your Instagram bio, the viewers will get redirected to the "Link in Profile" landing page. On the page, you'll have access to all of the posts you added links to, along with their titles and descriptions.
Once your followers are here, they can click on a post to further get redirected to your content. This enables you to draw traffic from Instagram to your third-party sites.
Here's everything you get with Link in Profile:
Branded page with Instagram profile picture and username.
Infinite scroll of media.
Zero-effort management.
Commerce links redirecting to your Shopify store, Etsy store, affiliate links, or personal website page.
Key Features:
Shopify Integration – It integrates with Shopify so that you can point your followers to your Shopify store or import products from Shopify. Other integrations include Amazon, Etsy, WordPress, and Squarespace.
Monitor Return on Investment – You can measure your conversion rates, check traffic sources, and monitor the overall Instagram performance.
Pricing:
Link in Profile has a fixed paid plan that costs $9.99 per month. There's also a 30-day free trial available.
10. EverLinks.
Best for redirecting your viewers to several social networks (Free – $17/month).
EverLinks is a link and social media management tool that gives you a link that gets branched out to other links, videos, text, and even embeddable custom code. You can also add links to your favorite music, calendar, shops, social accounts, and more.
Embedding videos is straightforward. You just have to paste in a YouTube or Vimeo video link to the editor, and EverLinks will embed the video automatically.
The tool comes with a full-featured WYSIWYG (What You See Is What You Get) editor that makes adding content easier.
The editor lets you:
Hide or show your page title.
Hide the logo.
Display your social icons on top.
Select from multiple themes.
You can also add social links to redirect your audiences to different social accounts for cross-channel promotion. Aside from standard Facebook, Twitter, Instagram, YouTube, WhatsApp, Pinterest, you can also link to your Patreon, Twitch, and Soundcloud.
Other core features include the ability to monitor page statistics, third-party integrations, and Facebook open graph.
They also claim to introduce the custom domain option that will allow you to connect your own domain to the EverLinks account.
Key Features:
Link Scheduling – Start campaigns by making specific links appear and disappear at certain times.
Link Animation – Add animated "Power Links" to make some of your essential links stand out.
Manage Team – Invite a team member to collaborate on a page your partner is also using.
Pricing:
EverLinks provide three pricing plans:
Free – One page, unlimited links, social links, animated power links, custom logo, link stats, multiple themes, theme customizer.
Pro ($7 per month) – Everything in the Free plan + up to five pages, video module, WYSIWYG editor, Google Analytics integration, Facebook Pixel integration, Facebook Open Graph.
Agency ($17 per month) – Everything in the Pro plan + unlimited pages, unlimited client/team sharing, custom domain (coming soon).
11. ShortStack.
Best for running social media contests and giveaways (Free – $399/month).
ShortStack is a customizable contesting platform that lets you create landing pages and run social media contests. You can use it to run different types of contests, including video contests, photo contests, quizzes, refer-a-friend, user-generated contests, and more.
You'll get tons of templates to run your contests along with multiple customization options.
In addition, each contest type comes with its own suite of features.
For example, ShortStack lets you create customizable forms to allow participants to enter your user-generated content contest. They can upload their Instagram posts to the form.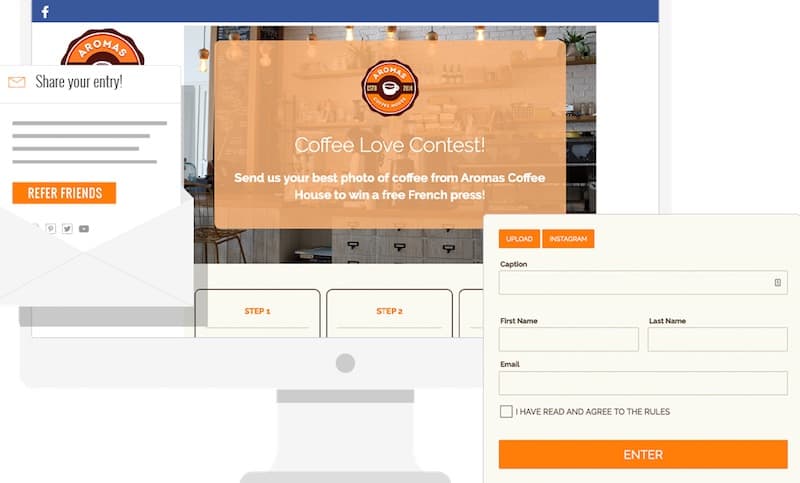 You can further encourage participants to spread the word around using ShortStack's refer-a-friend and notifying viewers using scheduled emails. You can also send autoresponders with coupon codes to your email subscribers.
Aside from your social network bios, you can also embed the contest-bearing landing pages on your personal or business websites.
Key Features:
Action-Gating – Collect relevant customer data in exchange for a giveaway, a coupon code, and more using ShortStack's action-gating.
Style Panel – Use an extensive set of styling options to modify text and font styling, add widget layouts, and more.
Manage your Team – Provide your team members and clients with their own logins to keep them in the loop. You can also assign different roles and manage control access.
Pricing:
ShortStack offers four pricing plans:
Business ($79/month) – Social media comment to enter contests, refer-a-friend, and instant win contests.
Agency ($159/month) – Same as Business plan + video upload contests, hashtag contests, retweet contests.
Brand – ($399/month) – Same as Agency plan + five team member seats, unlimited hashtag and retweet contests, dedicated account manager.
Enterprise (Custom plan) – Same as Brand plan + custom templates, custom integrations, custom settings.
There's also a free plan that provides all of the features included in the Business plan, 20 entries, and 100 views per 30 days.
12. Milkshake.
Best for creating mini Instagram websites (Free).
Milkshake markets itself as a tool that can turn your bio into an "Instagram website." It turns that single link in your Instagram bio into a mini-website where you can add images, videos, multiple links, online store, social networks, etc.
Initially, you'll get prompted to pick a template (or cards, as they call them) from a variety of options provided by Milkshake.
Cards are like website pages of your mini Instagram websites. You can swipe through these cards like Instagram stories.
You can add your content in the form of text, GIFs, blog posts, YouTube videos, multiple links, podcasts, and more. They let you further customize the look and feel of your pages with your brand colors, logo, font styling, images, etc.
If you are an influencer, you can choose a single page with multiple links. These can be affiliate links, brand campaigns, and more.
You can also plug multiple pages together to create a multi-page website.
Key Features:
Detailed Insights – Measure advanced metrics like what content has the best conversion rate, daily and monthly breakdowns of card views and link clicks, and more.
Multiple Websites – Create multiple mini-websites for different Instagram accounts from a single account and easily switch between them.
Pricing:
Milkshake app is a free Linktree alternative available on Google Play and Apple Store.
13. Leadpages.
Best for building mobile-friendly landing pages ($27/month – $239/month).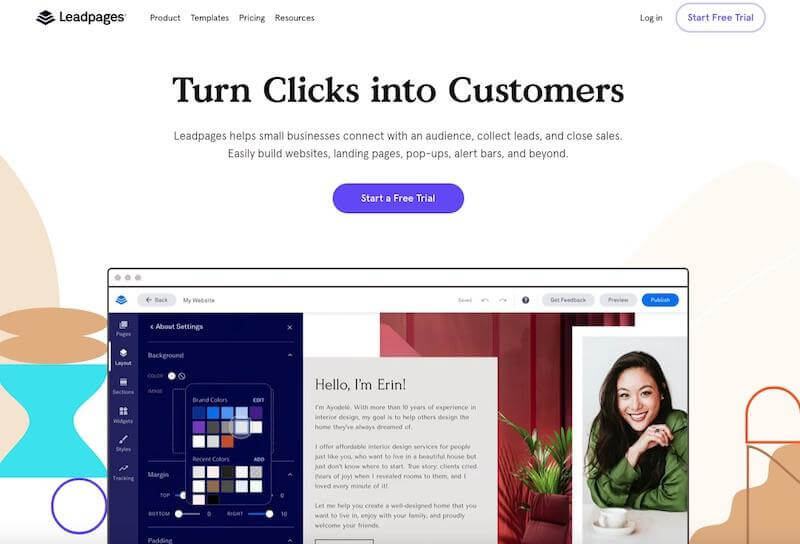 Leadpages is a landing page builder that lets you create and host landing pages. You can create your page with Leadpages, shorten the URL using link shortening tools like Rebrandly, and add it to your social network bio.
Since it's primarily a landing page builder, you'll get a significant number of templates and customization options. You can even pick the templates based on your industry, your goal, style, and color.
You can further customize these templates by changing their color, element placement, font, style, and more.
Other features include:
Real-time analytics.
Free hosting.
Mobile-responsive and SEO-friendly templates.
Tracking with Google Analytics and your Facebook Pixel.
They also allow device-specific preview and custom social media preview so that you know how the final page will appear.
You can also take advantage of integration with CRM software and email marketing tools. This means you can embed an opt-in form and direct leads to business tools you use currently.
Key Features:
A/B Testing – Split test landing pages with different element styles and placement to determine what attracts your audience the most.
Built-in Conversion Guidance – Their in-app technology predicts your page's performance and specifies what to tweak for a higher conversion rate.
Conversion Tools – Utilize advanced conversion tools like email trigger links, opt-in text campaigns, built-in payment options, and more.
Pricing:
Leadpages offers three paid plans:
Standard ($26/mo) – Free custom domain, mobile-responsive templates, unlimited leads, lead notifications, email support, 40+ integrations.
Pro ($59/mo) – Same as Standard + online sales and payment, A/B testing, email trigger links, ten opt-in text campaigns.
Advanced ($239/mo) – Same as Pro + five sub accounts, 50 extra opt-in text campaigns, etc.
There's a 14-day free trial available with each paid plan.
What to Look for in a Linktree Alternative?
Before you pick an alternative to Linktree, let's see some of the essential features to consider.
Easy-to-use Page Builder – You should be able to create an engaging landing page and drag and drop elements onto your page with the builder. It should be easy to use, fast to learn, and still allow you to design a killer site.
Pre-designed Templates – Your link-in-bio tool should provide predefined templates, helping you create any layout within minutes. And if you need a specific template that's not included, the tool should let you create a custom template.
The Ability to Add Different Social Networks – Adding multiple social networks should be a standard for every bio tool. It should allow you to add as many Social Networks as possible, including Instagram, Patreon, Twitch, Discord (here is how to stream on Discord), Telegram, etc.
In-depth Analytics – You should be able to monitor click rates, conversion rates, monthly revenue, and more to identify what content is performing the best.
Visuals – Your bio tool should let you add visuals like GIFs, embed YouTube videos, upload images from your system, etc., to engage your audiences.
In addition, look out for features like an email sign-up form, messenger links, integration with Google Analytics, and more.
Why you should not use Linktree?
You shouldn't use Linktree if you want to have more customization over the design. Linktree is simple and easy to use but if you want more control, consider using one of the Linktree alternatives listed in this post.
Is Linktree banned on Instagram?
No Linktree is not banned on Instagram. But if you would like to look at other options I have compiled a list of the best Linktree alternatives that might be a better fit for you.
Executive Summary.
Social network bio tools or micro websites are becoming more and more popular these days. Both brands and customers are on separate social media channels. It makes sense why marketers and creators want to feature different links in one place.
The problem is that most of the social media platforms only allow one link in their bio.
Linktree emerged as a solution to this problem.
But it's not the only player in the game anymore. There are multiple link-in-bio tools available that let you do more than just curating links.
To create an engaging and visually appealing landing page with multiple links, try out these platforms:
Taplink: Best for starting time-specific campaigns on Instagram.
ContactInBio: Best all-in-one social media bio tool.
Shorby: Best for agencies with a significant budget.
Alternatively, you can build your own website, add whatever you want to that website, and then place your site's link in your bio.
Which one of these Linktree alternatives are you planning to use? Let me know by commenting below.
Editorial Process:
Our reviews are made by a team of experts before being written and come from real-world experience. Read our editorial process here.
Some of the links in this article may be affiliate links, which can provide compensation to us at no cost to you if you decide to purchase a paid plan. These are products we've personally used and stand behind. This site is not intended to provide financial advice. You can read our affiliate disclosure in our privacy policy.