The Best Golf Affiliate Programs To Swing Your Profits High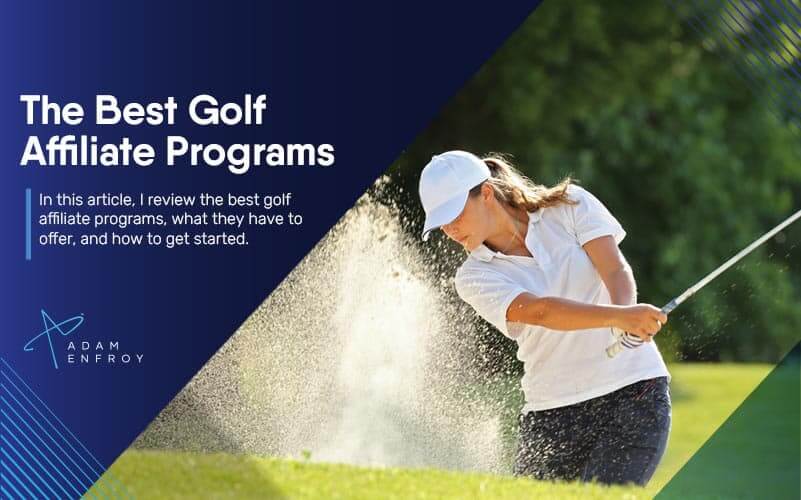 Did you know that golf is no longer just a pastime for the rich and the retirees?
It's evolved into a multi-billion-dollar industry with a global fan base stretching from the manicured greens of Pebble Beach to the rolling fairways of St. Andrews.
Yet, amidst all the swings and putts, many golf enthusiasts are completely oblivious to a golden opportunity lying right beneath their noses – or, should I say, right beneath their golf clubs.
Golf affiliate programs provide an incredibly lucrative way for people to make money while playing the game they love.
In this article, I'll review the best golf affiliate programs, what they have to offer, and how to get started as a golf affiliate marketer.
The Best Golf Affiliate Programs
The following are some of the best golf affiliate programs available.
The Golf Warehouse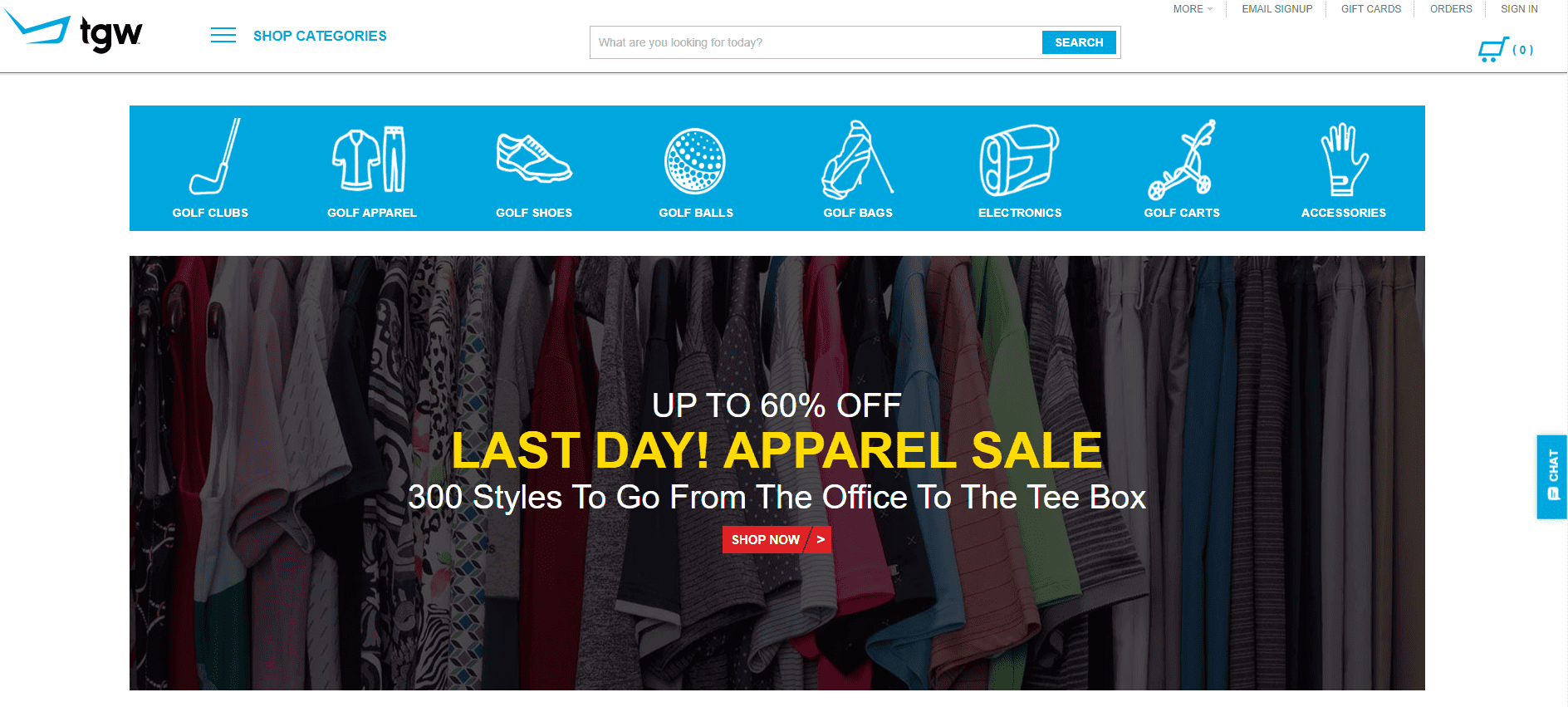 The Golf Warehouse offers over 40,000 products across various categories, including golf apparel balls, rackets, and other equipment.
Their extensive collection of golf products will cater to your diverse needs, ranging from gloves, shoes, and clothing to golf clubs for all skill levels.
You can rest assured that you'll find the perfect golf gear to match your budget and style preferences.
Their affiliate program offers a commission rate of 6.5% per sale and a 30-day cookie duration.
You can promote their products on your website, blog, or social media platforms while earning extra cash.
The platform makes all payments through the PayPal payment system.
Joining their affiliate program is easy and free; you can earn commissions immediately.
Their ecommerce platform allows for easy commission tracking and payouts for promoting golf accessories and apparel.
These products include top brands such as Nike, Titleist, and Callaway.
Additionally, The Golf Warehouse provides an extensive selection of golf accessories, from clubs to training aids, ensuring affiliates have ample options for promotion.
Trendy Golf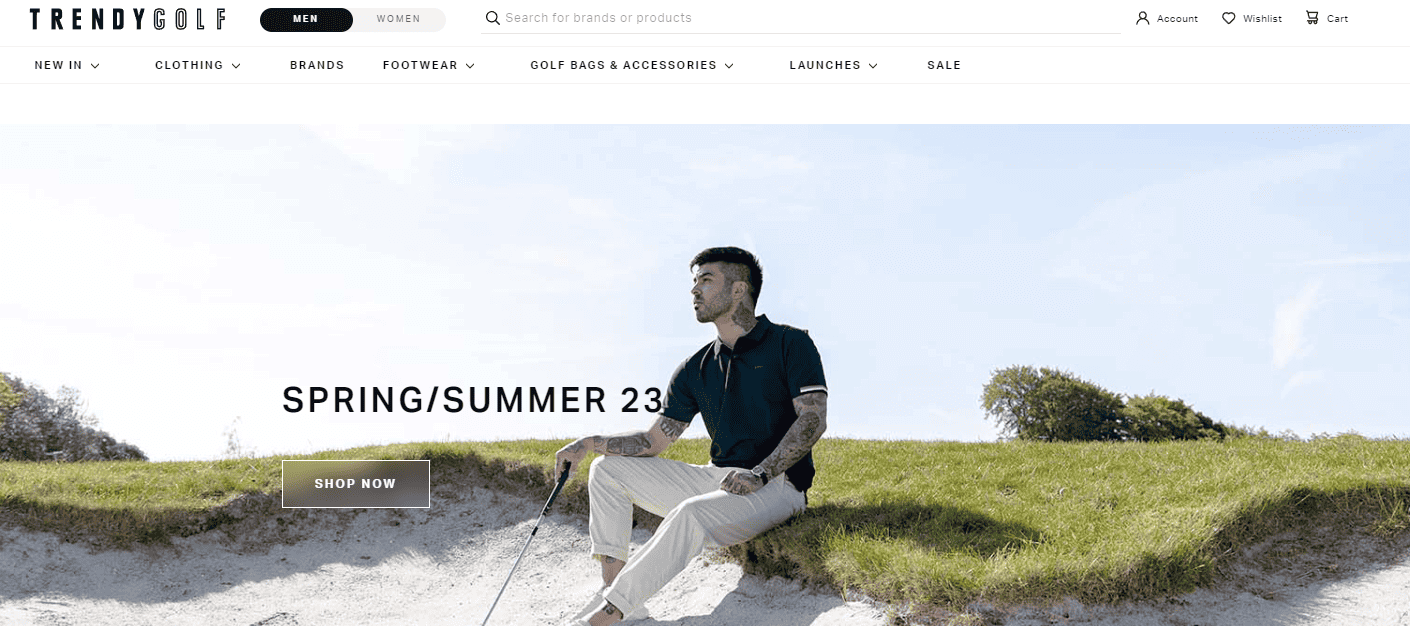 Trendy Golf is a renowned and leading golf company offering a wide range of golf clothing and accessories with style and comfort to play golf.
Their golf website is aesthetically pleasing and informative, featuring a well-curated golf blog with the latest news and trends in the golf industry.
And, if you are an avid golfer or want to start playing golf, Trendy Golf has got you covered with their top-notch products and expert advice.
Joining the Trendy Golf affiliate program is easy and offers excellent benefits.
Affiliates can earn a 6% commission on every sale referred, with a 30-day cookie duration.
Plus, Trendy Golf regularly offers promotions and deals, making it easier to entice your audience to purchase.
Not only can you earn a commission, but you can also help change the face of golf by promoting a more diverse and inclusive image.
Trendy Golf offers various high-quality, fashionable golf shoes and apparel for both men and women.
From classic styles to modern designs, there's something for everyone at Trendy Golf.
Their selection of apparel includes polo shirts, pants, shorts, skirts, and outerwear for cooler weather.
Their shoe selection includes a variety of brands, such as Nike, FootJoy, and Adidas.
And to top it off, Trendy Golf has stylish accessories, such as hats, belts, and bags.
American Golf

American Golf is Europe's largest golf retailer, with 95 stores throughout the UK and Ireland and an extensive online store.
American Golf offers a comprehensive range of products from all the top brands, including Callaway, TaylorMade, and Nike.
Their inventory includes golf balls, clubs, clothing, shoes, accessories, and more.
American Golf also offers various high-quality golf bags from different golf brands.
In addition to golf bags, they also offer premium golf clubs from top brands like Titleist and Callaway.
And those who want to improve their putting skills have a range of indoor putting greens to choose from.
American Golf's affiliate program is a lucrative opportunity for golf affiliates to earn sales commissions.
Affiliates can earn a commission rate of 6% per sale, with a 30-day cookie duration.
They also provide up-to-date product feeds, creative banners, and regular deals to help you drive sales and maximize your earnings.
And with shipping available to most EU countries, Australia, and New Zealand, your earning potential is unlimited.
Callaway Golf

Callaway Golf not only do they offer a diverse range of products for golf enthusiasts, but they also have a strong presence in the professional golfing world.
Callaway Golf has a comprehensive range of golfing products, including world-class clubs, balls, bags, and apparel.
They also offer premium women's golf equipment for the female golfer.
Their clubs have advanced technology to optimize swing speed and accuracy, making them a valuable option for golfers of all skill levels.
Affiliating with them can provide increased opportunities for selling golf equipment.
Callaway Golf offers affiliate commission rates between 6% and 9% for products sold through your referral link.
The 45-day cookie duration ensures you'll receive credit for the sale even if the customer doesn't buy immediately.
Plus, with various payment methods (direct deposit, cheque, or Payoneer), it's simple to receive your payment.
Austad's Golf

Austad's Golf is a premier retailer of golf equipment and accessories, well-known in the golf world for its exceptional customer service and expertise.
Among their wide selection of products, Austad's Golf is particularly popular for their top-quality putters, designed to improve accuracy and enhance performance on the green.
One of the many benefits of partnering with Austad's Golf as an affiliate is the flexibility in payment options.
With payment options ranging from wire transfer to PayPal, they make it easy for you to receive your commissions on time and in a way that's convenient for you.
Additionally, great commission rates mean you can earn big on every sale.
With an average order value of $145 and a first-party cookie duration of 60 days, the opportunities for a high return on investment are endless.
Rain Or Shine Golf

No matter the weather, golfers looking to get a game can stay comfortable and dry while playing at Rain or Shine Golf.
Not only do they offer a wide variety of golf clubs and equipment, but they also have a range of equipment that will keep you prepared for any conditions.
A fantastic commission rate of 5% rewards affiliates for their efforts in promoting the company's high-quality indoor golf equipment.
The 5% rate provides a good incentive for partners to join the affiliate program.
Additionally, the extended cookie duration of 30 days gives affiliates more time to earn commissions on sales from customers who click through their referral link.
Affiliates can be sure they are promoting quality products since they can access an impressive range of indoor golf equipment.
From golf mats to putting greens, their collection caters to the needs of all indoor golfers, no matter what level of play they're at.
Affiliates can then offer customers items that meet or exceed their expectations.
Moreover, payment options are also important when considering any affiliate program; Rain or Shine Golf understands this and only accepts payments via PayPal.
However, they are dedicated to paying out affiliates on the 1st day of every month.
Plus, with a minimum payout threshold of $20, even newer partners in the program can benefit from their promotional efforts.
Swing Man Golf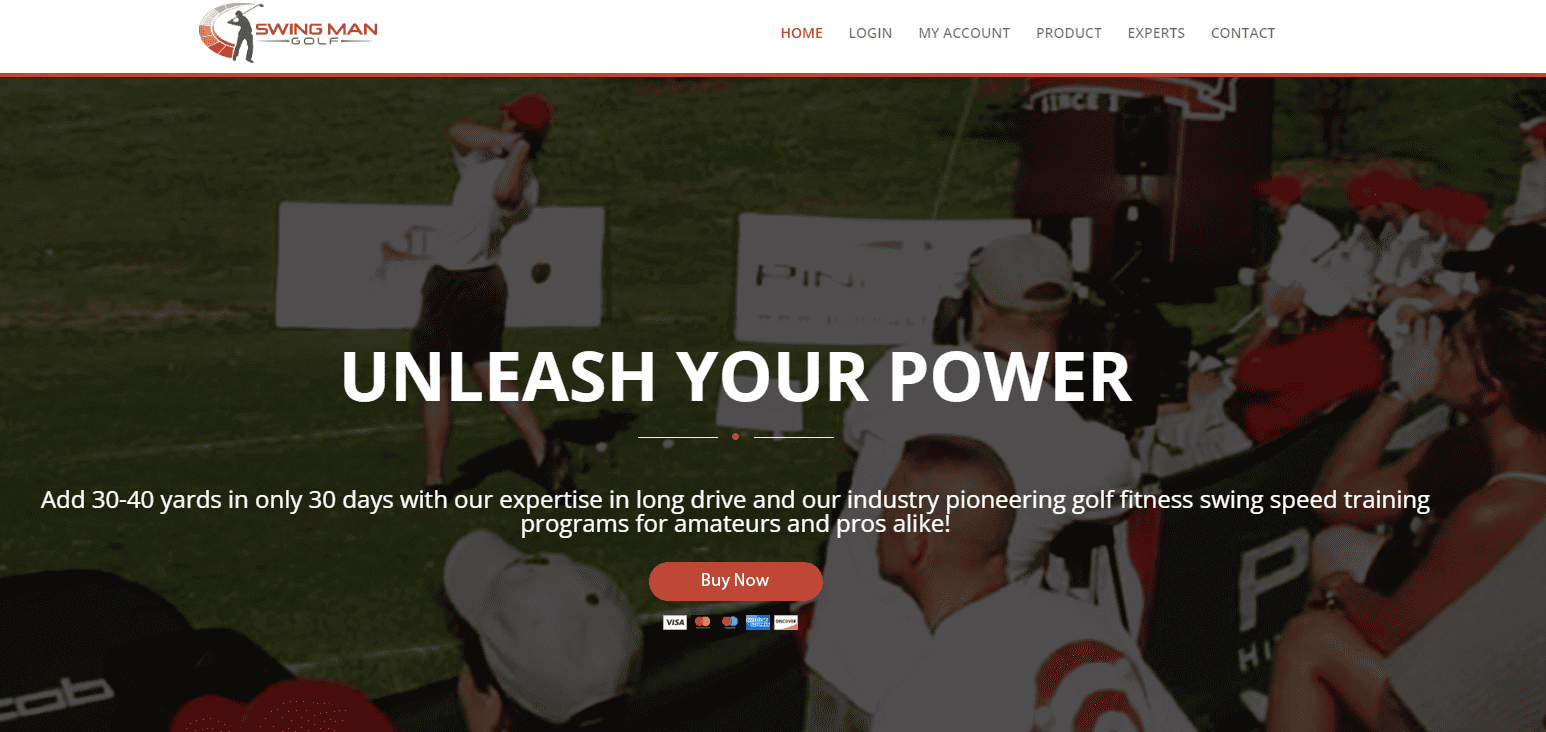 Swing Man Golf is an online platform with the latest golf-related products, simulators, hitting bays, mats, and accessories.
It is an established platform that has been around since 2007.
The platform isn't just for golfers looking to improve their game but for affiliates looking to earn commissions through their affiliate program.
The most prominent feature of Swing Man Golf is its online lessons.
Swing Man Golf provides online golf lessons catering to golfers of all levels and ages.
The lessons range from golf swing basics to advanced techniques, so there is much to choose from.
The lessons are tailored to the individual golfer's needs and are available in video and text format, so you can choose what works best.
Swing Man Golf's product list is another feature that sets it apart.
From launch monitors to resistance bands, they have everything a golfer needs to achieve their full potential.
As an affiliate marketer, you can promote these products to your audience and earn commissions.
The commissions range from 10-50%, depending on the product, and the affiliate program uses a unique referral link for easy access.
Another exciting feature of Swing Man Golf is its golf simulators and hitting bays.
Whether you're a seasoned golfer or just starting, a simulator allows you to practice your swing, perfect your form, and challenge your skills.
Additionally, with Swing Man Golf's hitting bays, you can perfect your swing in your own space without the need to head down to the golf course.
Golf Outlets USA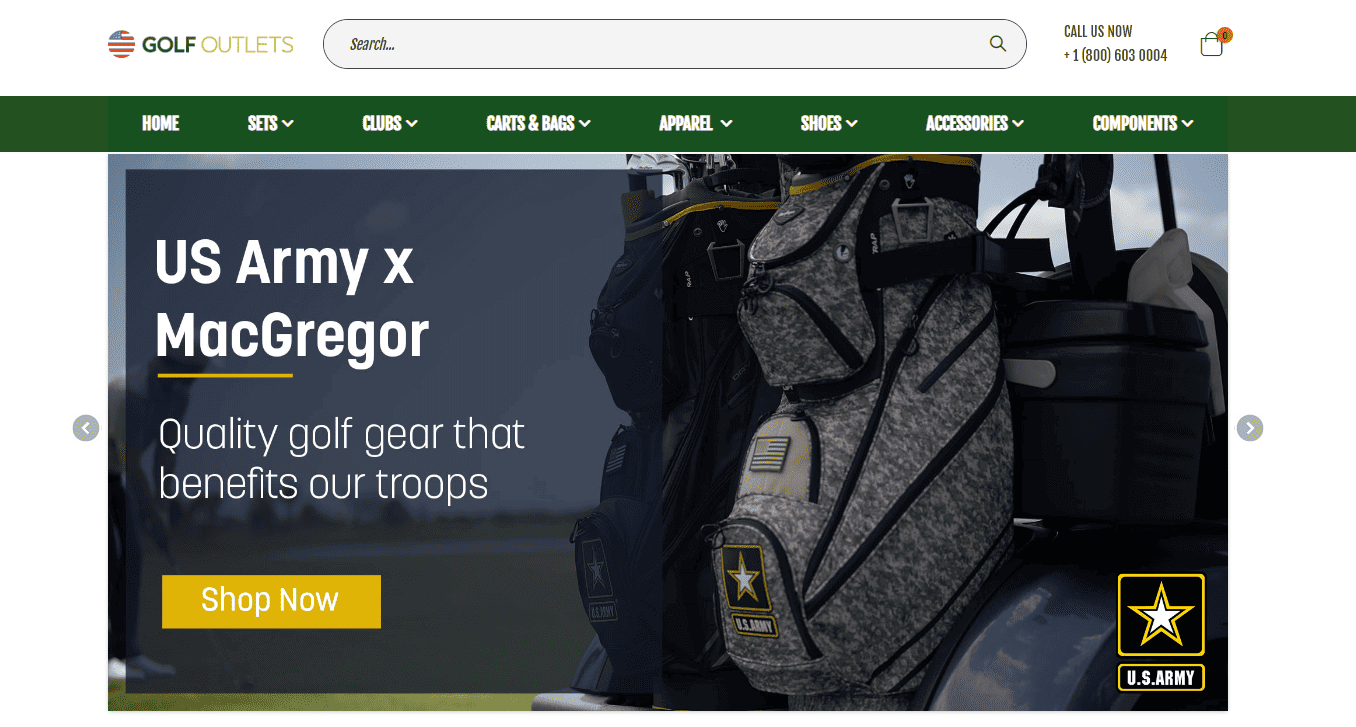 Golf Outlets USA is famous for offering premium golf equipment and accessories at unbeatable prices.
And now, they've launched their affiliate program through CJ Affiliate, allowing golf enthusiasts to earn while promoting their products.
Golf Outlets USA represents quality, affordability, and trust.
They offer one of the world's largest golf equipment and accessories selections, catering to golfers of all levels – from beginners to professionals.
As an affiliate, you'll have access to a vast range of products to promote, from name-brand accessories to golf clubs and bags, ensuring there's something for every golf enthusiast.
Their competitive pricing and top-notch customer service make a compelling offer worth promoting.
Golf Outlets USA affiliate program offers a flat 5% commission on all sales, making it one of the most generous affiliate programs in the golf industry.
Furthermore, their cookie window lasts 45 days, giving you a comfortable period to refer potential customers and earn commissions.
As a golf affiliate, you can expect to earn handsome commissions by referring customers to Golf Outlets USA.
Golf Outlets USA provides its affiliates with various tools and support services.
They provide a dashboard that makes it easy to track your Earnings and Conversion Rate and view click-through rates and impressions.
Their affiliate program team is always available to provide support and advice to ensure you succeed in promoting the products.
They also offer regular promotions and incentives to help motivate and inspire their affiliates.
TeeOff

TeeOff is the ultimate destination for golfers seeking to book tee times at thousands of courses worldwide.
With over 9,000 courses and 500,000 daily time slots available worldwide, TeeOff covers all your golfing needs.
Whether you live in a bustling city or quiet countryside, TeeOff has a course to meet your needs.
From luxury courses to budget-friendly options, TeeOff offers various courses suitable to every golfer's budget.
With TeeOff, booking a tee time has never been easier.
Visit their website or user-friendly app, search for your desired course and time slot, and voilà, you're ready!
TeeOff's affiliate program is also the perfect opportunity for golf enthusiasts.
The program offers a 6% commission for every booking referral, making it a lucrative opportunity for anyone who enjoys sharing their love of golf with friends and family.
With TeeOff's extensive course selection, the affiliate program also enables affiliates to offer a wide range of courses within their network, making it easy to find the perfect class for any interested golfer.
Other Golf Affiliate Programs
While the above list features some of the most popular golf affiliate programs, many other options are available to affiliates looking to earn from promoting golf products.
For example, Fairway Golf offers a lucrative affiliate program for golf enthusiasts.
Another popular platform is the Global Golf affiliate program, which provides a wide range of products to promote.
Golf Launch Monitors offers an affiliate program with high commission rates for those interested in technology-driven golf equipment.
Popular golf brands like Nike Golf and Titleist also have affiliate programs, offering a diverse range of products for promotion.
Golf enthusiasts can also join the PGA affiliate program, which allows for valuable networking opportunities and access to exclusive events.
Lastly, the Shine Golf Affiliate Program is a relatively new player, offering high commissions and a growing selection of golf products.
The Lucrative World Of Golf Affiliate Marketing
Golf is no longer just a sport for the wealthy.
It has evolved over the years to become an activity for people of all ages and backgrounds.
With millennials joining the golf community rapidly, this has opened up many opportunities for affiliate marketers.
So how do you profit from this as a golf affiliate marketer?
Firstly, you need to understand what affiliate marketing is all about.
In essence, you drive traffic to a particular website or product, and if someone makes a purchase, you earn a commission.
There are various niches in golf that you can focus on, depending on your interests and level of expertise.
These niches include golf tourism, equipment, memberships, and many more.
The beauty of affiliate marketing is that there is no need for you to have your products; you can monetize any product at various price points.
Secondly, you must identify the golf affiliate programs that work for you.
Research the available programs, how they pay their commissions, and the conversion rates.
A high conversion rate indicates a program is successful; watch for those.
Some popular golf affiliate programs include Callaway, GolfNow, Golfballs.com, and TaylorMade.
Thirdly, you need to build a digital platform to drive traffic to the products you're promoting.
Use your website, blog, or social media pages.
Ensure that your content is high quality and speaks to your target audience.
Use SEO strategies and social media campaigns to increase traffic to your sites.
You can also utilize paid traffic through Google and social media ads.
Fourthly, be familiar with the latest trends, technologies, and products.
Stay connected to the golfing community and follow the latest developments in golf.
Keep track of what your competitors are doing and identify gaps in the market.
You must provide unique and valuable content to stay ahead of your competition.
Finally, be patient and consistent.
Affiliate marketing takes time to yield results, and you must be patient in building your traffic and audience.
Consistency is also crucial; ensure that you continue to provide regular content updates and stay active on social media platforms.
High-End Golf Products To Promote
As an affiliate marketer, you can take advantage of this by promoting high-end products and services with high commissions.
The golf industry offers high-end products and services, such as premium-quality golf clubs, bags, accessories, clothes, and shoes, that attract a massive audience.
In addition, there are other golf-related services like membership plans, golf courses, and travel for those seeking a complete experience.
You can promote all these products and services as an affiliate marketer and earn a substantial commission from each referral.
Online courses are a popular way to learn and improve golf skills.
Many online courses in golf come with a hefty price tag, and it's where you can earn your share of high commissions.
Golf affiliate programs offer between 20% and 50% commissions to those who bring in new customers for online courses.
If you have a decent audience interested in golf, it's an excellent opportunity to promote online courses and earn big.
Golf courses often offer referral commissions to those who bring in new members.
It's another way for affiliate marketers to earn commissions.
You can approach golf courses in your area or look for affiliate programs that partner with golf courses and promote their memberships.
Not only will you receive a large commission, but you will also help golf courses bring in new members.
Besides, many luxury affiliate programs deal with high-end golf products and services.
These programs offer substantial commissions ranging from 15% to 50% on each sale.
Some popular luxury affiliate programs are Amazon Associates, Callaway Golf, and Taylormade Golf.
Choosing a program you're most comfortable promoting and whose products align with your audience's interests is advisable.
Wrap Up.
Golf affiliate marketing is a great way to make money by promoting golf-related products and services.
With the right strategy and approach, you can boost your profits significantly.
To get started with golf affiliate marketing, choose an appropriate program, build a digital platform to drive traffic to your site, and stay up-to-date with the latest trends, technologies, and products.
Further reading on AdamEnfroy.com: Still wondering if affiliate marketing is for you?
Check out the latest affiliate marketing statistics for more information on this ever-growing industry.
Disclosure: I may receive affiliate compensation for some of the links below at no cost to you if you decide to purchase a paid plan. You can read our affiliate disclosure in our privacy policy. This site is not intending to provide financial advice. This is for entertainment only.