The Top Supplement Affiliate Programs To Promote (2023)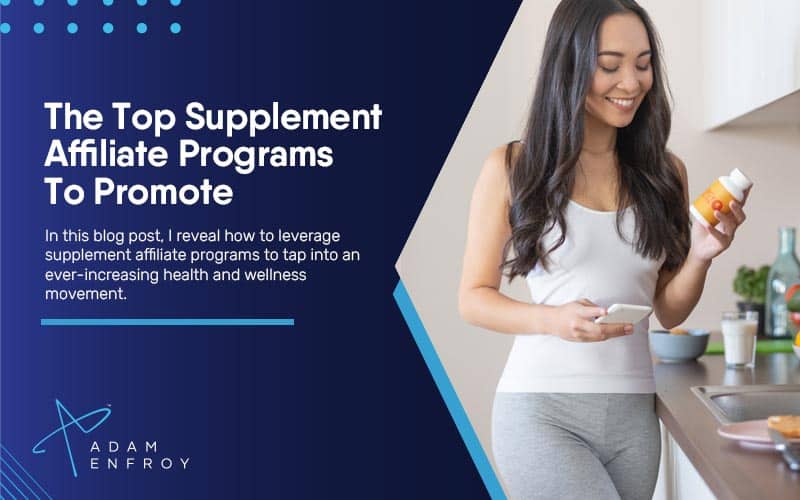 Our bodies are like intricate machines, thirsting for top-grade fuel.
While many manage to quench this thirst with balanced diets, others need a little helping hand.
A spark to ignite their health engine – supplements.
The great news is that people's commitment to health can now become your opportunity for growth.
Now imagine that with the right affiliate program selection, your bank account gets a healthy boost with every product they purchase.
Not only that, but you also get the satisfaction of promoting good health.
In this blog post, I will reveal how to leverage supplement affiliate programs to tap into this ever-increasing health and wellness movement.
What Are The Best Supplement Affiliate Programs?
Forming part of larger fitness affiliate programs, here are some of the best supplement programs to consider.
1. FanFuel.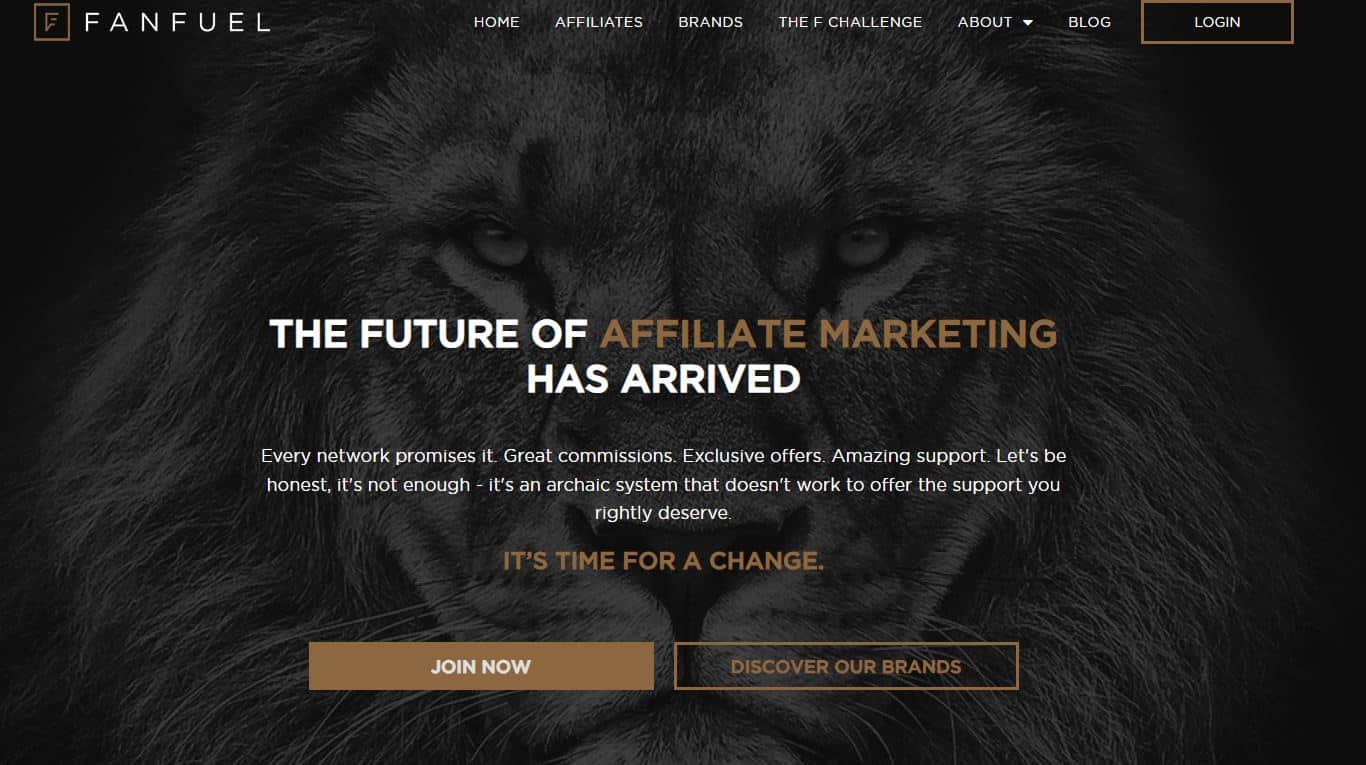 Are you looking for a profitable affiliate program that can help you earn big rewards while promoting top-quality supplements?
Look no further than FanFuel!
One of the significant advantages of joining FanFuel is that it offers top affiliate commissions and exclusive offers to its affiliates.
You can earn up to 50% commission on each sale, one of the highest percentages in the supplement niche.
Moreover, FanFuel has exclusive offers to its affiliates, which means you can access promotions and discounts unavailable to regular customers.
These offers can help you incentivize your audience and drive more sales.
FanFuel not only offers commissions on new sales but also on repeat orders.
You can earn for the lifetime of your referrals for each order they place.
This feature makes FanFuel a lucrative affiliate program for those looking for long-term profits.
The repeat order system ensures you earn passive income and reduces the effort required to promote different products.
FanFuel rewards its affiliates for referring other affiliates to its network.
When your referred affiliate signs up for FanFuel, you receive a bonus on the commission they earn.
This feature creates a win-win situation for you and your referral.
They get access to a profitable affiliate network, and you earn a referral bonus without extra effort.
You can refer as many affiliates as you like and earn bonuses on their earnings for a lifetime.
FanFuel makes it easy to get paid for your hard work by offering weekly payouts.
Its seamless integration with Affilimate's reliable tracking tools ensures they track your earnings accurately and you receive your payout without any delay.
Depending on your preference, you can receive your payment via PayPal or wire transfer.
FanFuel offers a low minimum payout threshold, meaning you can get paid even if you generate low sales.
2. New Vitality.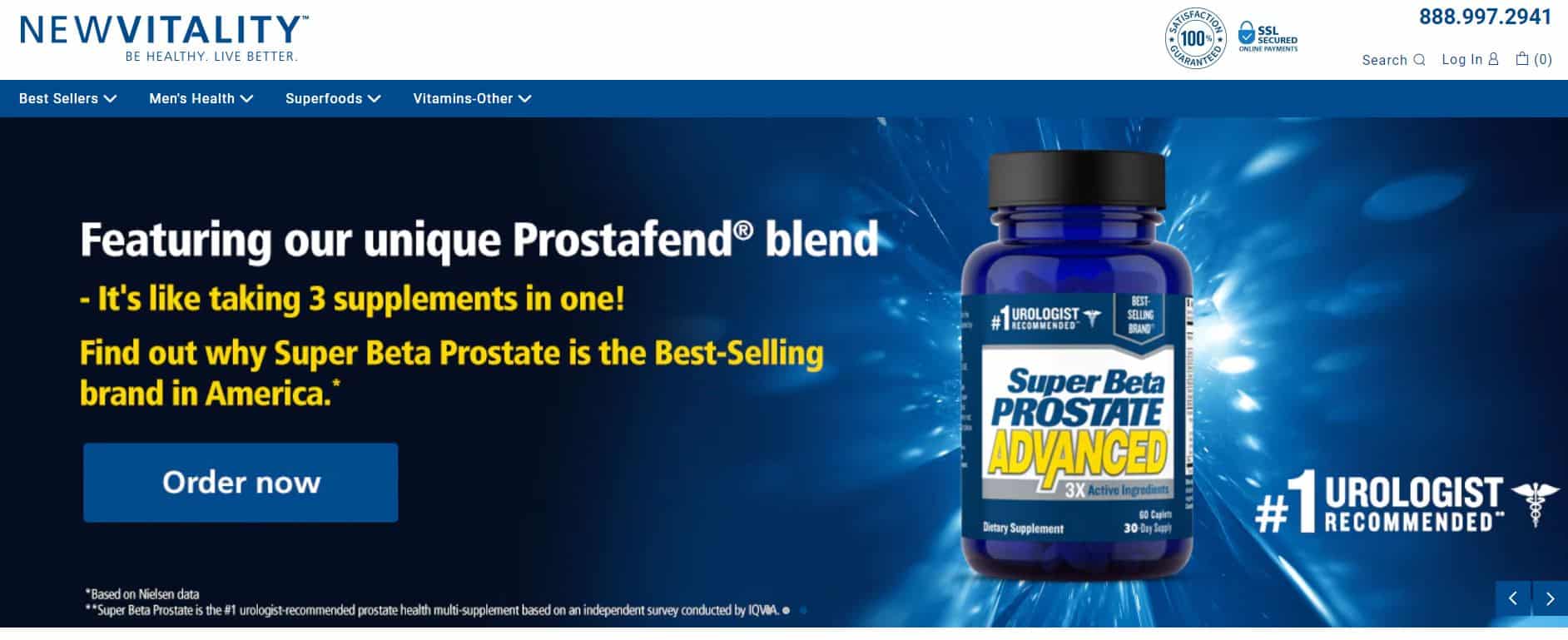 Who doesn't want to look and feel their best?
We all strive to live longer and look younger, and with New Vitality's expertly crafted health supplements, achieving that goal has become more accessible and achievable.
New Vitality's products are true to their motto of "live longer and look younger."
Their range of products, from prostate health to weight loss supplements, provides natural and organic options that deliver positive and long-lasting outcomes.
They use superior quality ingredients such as vitamins, minerals, and natural extracts to boost the immune system, enhance mental and physical wellness, and help to maintain a youthful appearance.
New Vitality's affiliate program is an excellent opportunity to earn extra income while helping others improve their health.
Join the program, market their products, and earn commissions when a customer purchases.
The commission rate of 10% and cookie duration of 15 days is attractive for any influencer or content creator looking to monetize their blog or platform.
Affiliates can take advantage of the bulk sales option, which offers attractive discounts for those interested in purchasing products in large quantities, opening up more revenue streams for its affiliates.
New Vitality tailors its supplements towards men's health as the primary focus, recognizing men's susceptibility to acquiring age-related illnesses such as prostate cancer, heart diseases, and cognitive decline.
However, they also provide options for general and women's health, making their offerings accessible.
They have options for bone, joint health, healthy blood pressure, and weight management, providing personalized options that cater to different needs.
3. Life Extension.

Life Extension has a 40-year track record of producing high-quality supplements; this brand has earned the trust and loyalty of 98% of its customers.
But what makes Life Extension stand out from the crowd?
Its commitment to science-backed research.
The company bases all its products on the latest scientific findings, ensuring optimal potency and quality.
Life Extension's affiliate program earns you commissions by promoting its top-of-the-line supplements.
With a 6% commission rate and an average order value of $132, you can earn serious money while promoting products you believe in.
But that's not all – Life Extension also rewards stellar performance.
If you can generate sales of over $10,000, you'll earn up to 12% commission.
Plus, you'll benefit from a 30-day cookie duration that lets you earn even more from returning customers.
Choose Life Extension whether you want immune support, heart health, joint health, cognitive function, or other health benefits.
Its vast supplements include everything from probiotics and omega-3s to collagen and melatonin.
Moreover, the company offers customized supplement plans based on individual needs and goals.
With so many options, you can find the perfect product for your health and lifestyle.
4. Bulk Supplements.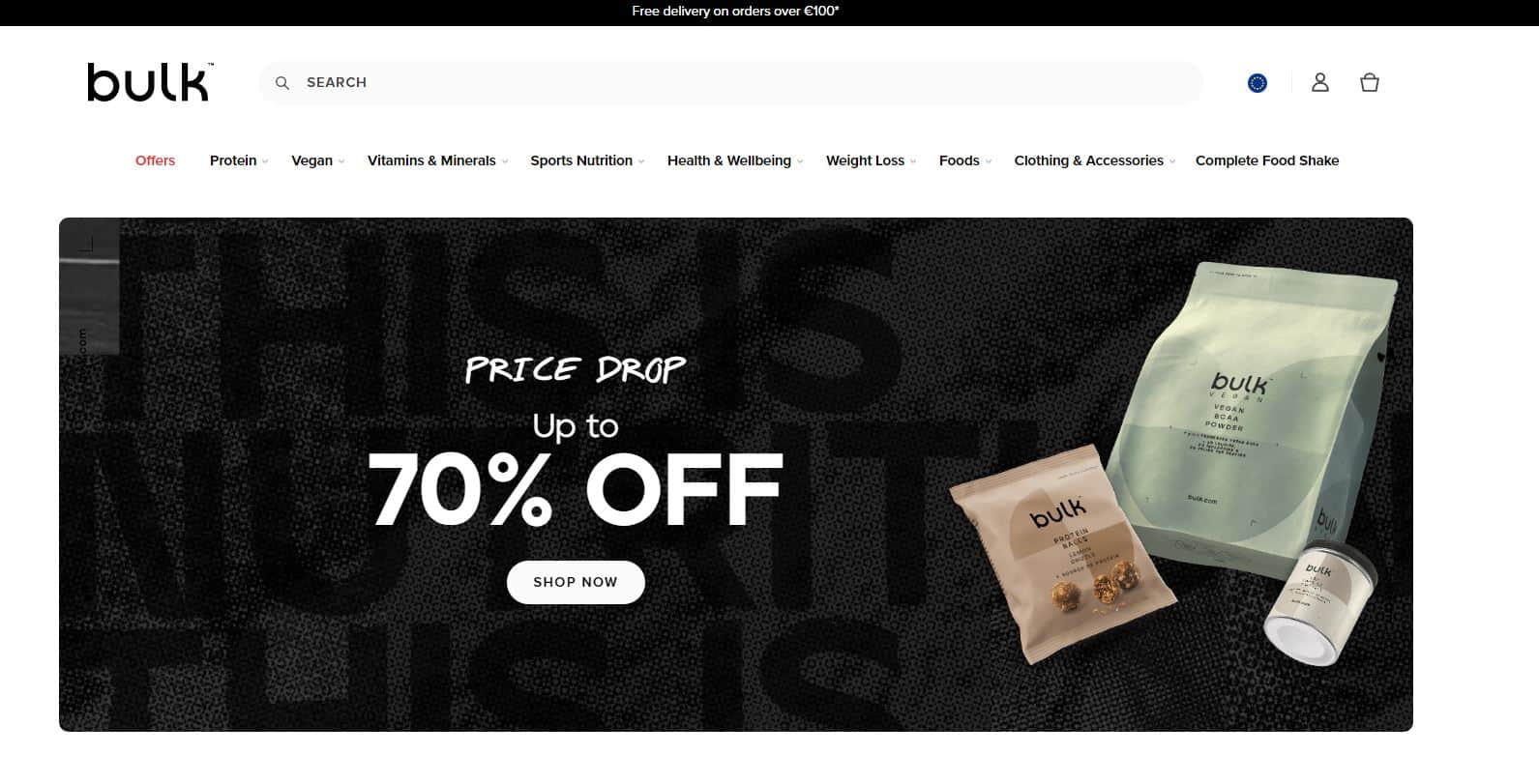 Bulk Supplements boasts an extensive catalog of supplements, making it a one-stop shop for all dietary supplement needs.
The supplements offered range from fitness supplements, like protein powders, amino acids, and pre-workout supplements, to herbal supplements, such as Ashwagandha, Elderberry, and Green Tea Extract.
All supplements are made with high-quality ingredients and undergo rigorous testing to ensure purity and efficacy.
Bulk Supplements has over 100,000 positive reviews online, which is a testament to the quality of its products and services.
The retailer has achieved the Power Rank Merchant status, indicating that they rank among the top-performing merchants of the year.
This recognition results from customer feedback, shipping processes, and response times.
Besides its excellent products and services, Bulk Supplements also provides an affiliate program that pays a 15% base commission with performance-based incentives.
The affiliate program is an excellent opportunity for individuals and businesses looking to earn extra income, and the retailer offers marketing materials and discounts for top performers.
The cookie duration is 90 days longer than most retailers, giving affiliates more time to earn commissions.
Bulk Supplements boast an average order value of over $120, which makes it a lucrative opportunity for affiliate marketers.
Customers tend to order in bulk to save money, which results in higher affiliate commissions.
5. The Vitamin Shoppe.
At The Vitamin Shoppe, you'll find an extensive range of supplements tailored to suit the unique needs of athletes, women, and children.
Whether you're looking for pre-workout and post-workout supplements, vitamins, minerals, probiotics, digestive enzymes, or weight loss aids, you can find what you need.
One thing that sets The Vitamin Shoppe apart from other supplement retailers is that they go to great lengths to ensure the quality and purity of their products.
They carefully vet each supplier and have a rigorous testing process to ensure that what is on the label is what is in the bottle.
You can have peace of mind knowing that any supplement you purchase from The Vitamin Shoppe is of the highest quality.
The Vitamin Shoppe doesn't just sell supplements.
They also offer free health consultations and workshops on specific health topics such as weight loss, women's health, and improving athletic performance.
Their expert team of health enthusiasts will help you understand how to optimize your health and wellness through proper supplement usage and lifestyle changes.
In addition to these fantastic services, The Vitamin Shoppe has an affiliate program that allows you to earn commissions by promoting their products.
With a generous commission rate and a 7-day cookie duration, it's an excellent opportunity for health enthusiasts and bloggers to share their passion with others and earn money while doing it.
6. Orgain.

Orgain makes their nutritional supplements from high-quality organic and non-GMO ingredients.
Its products provide the necessary nutrients for different fitness goals.
Whether you want to lose weight, build muscle, or improve your overall health, Orgain has something for everyone.
Its protein powders, for instance, come in different flavors, including chocolate, vanilla, and peanut butter.
Its MCT oil is also perfect for those who want to boost their metabolism and enjoy the improved cognitive function.
Orgain's Affiliate Program is an excellent opportunity for anyone who wants to earn extra income.
Promoting Orgain's products through your website or social media can earn a 6% to 16% commission with a 30 to 45-day cookie period.
Orgain's Affiliate Program is easy to integrate into your website as it is available through Refersion, FlexOffers, CJ Affiliate, and Sovrn.
While currently limited to the US market, Orgain's Affiliate Program is a great way to grow your online business while promoting a healthy lifestyle.
By partnering with Orgain, you can achieve your fitness goals through its products and Affiliate Program benefits.
Whether you want to lose weight, build muscle, or improve your overall health, Orgain has something for everyone.
The brand makes Its products from high-quality, natural ingredients, so you can be sure your body gets all the nutrients it needs.
Plus, its Affiliate Program allows you to earn extra income while promoting a healthy lifestyle.
7. Rootine.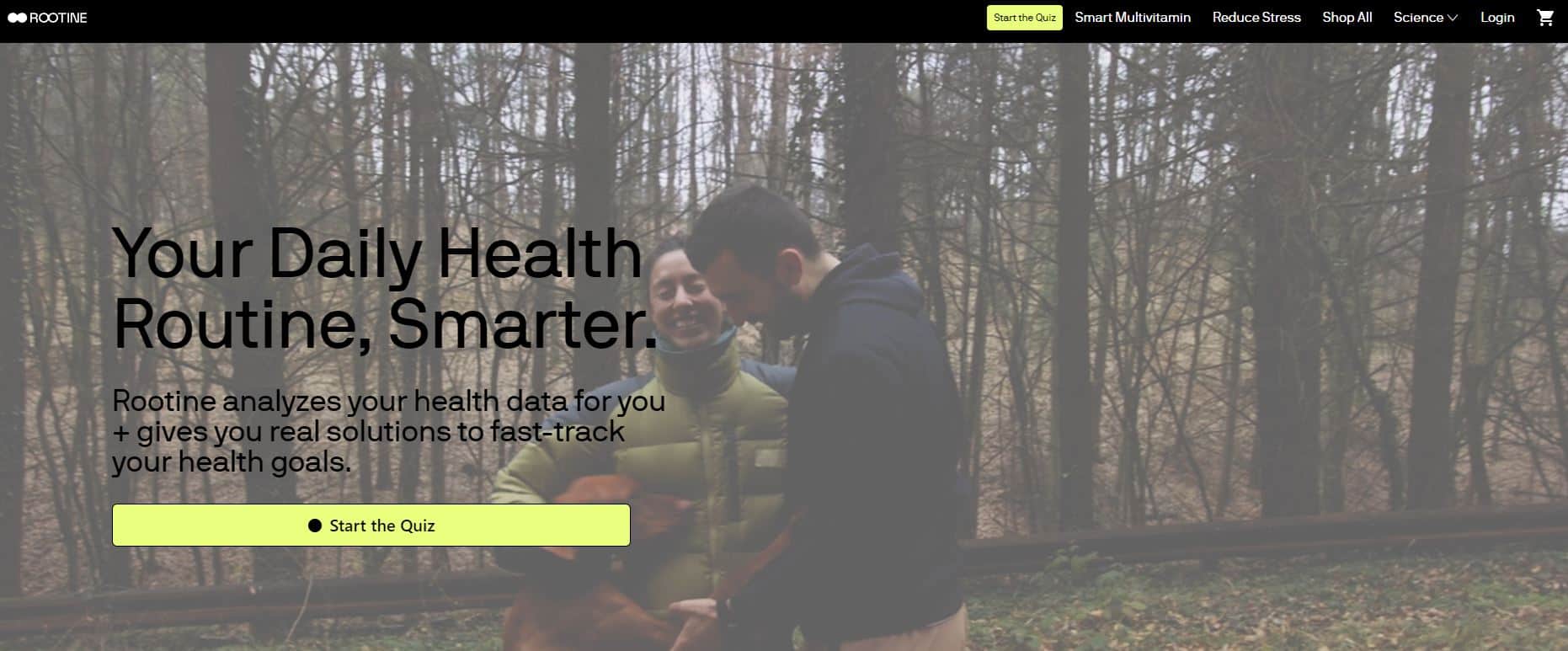 When you sign up with Rootine, they first require you to take a quiz, provide a DNA test, and get blood samples.
With this data, they create a personalized formula unique to your nutritional needs.
They use a 5-step process to deliver the perfect vitamins and minerals your body needs.
One of the ways to benefit from Rootine is by joining their affiliate program.
As an affiliate, you earn a flat commission of $75 per sale and a 60-day cookie duration.
That means you make money online even after someone uses your link to buy Rootine supplements and waits two months.
The affiliate program also has bonuses for achieving specific sales targets.
When you sell five Rootine supplements, you earn $200.
When you sell ten, you earn $450.
And when you sell 25, you earn a whopping $1,000 bonus!
And wait, there's more.
Sell 50 supplements, and you'll get a $2,500 bonus; if you reach 100 sales, you'll get $4,000!
Drive referrals easily with marketing materials like banner ads and text links available to all affiliates.
You also get your dashboard to track clicks, earnings, and sales trends.
What Are Supplement Affiliate Programs?
A supplement affiliate program is an agreement between a supplement brand and an affiliate marketer.
The marketer will use a unique affiliate link to promote the brand's products on their website, social media, or other online channels.
When a visitor clicks on that link and makes a purchase, the marketer earns a commission from the sale.
It's a win-win situation for both parties, as the brand gains exposure and customers while the marketer earns money for their promotion efforts.
Why Joining Supplement Affiliate Programs Can Be A Lucrative Opportunity For Marketers
In the fitness and wellness world, people constantly look for ways to improve their health and well-being.
With the growing demand for supplements to support fitness goals, joining a supplement affiliate program can be lucrative for marketers.
Not only can marketers earn commissions on sales, but they can also provide valuable information to customers looking for quality supplements.
Here are some of the benefits of joining a supplement affiliate program.
Lucrative Commission Rates
Supplement affiliate programs offer high commission rates, usually 5% to 30% per sale.
Marketers can earn a significant income by promoting and selling high-quality supplements.
By partnering with reputable supplement brands, marketers can ensure they offer customers effective, safe, and reliable products.
Access To A Broad Range Of Products
Supplement affiliate programs offer various products, including vitamins and minerals, performance supplements, and weight loss aids.
As a marketer, you can offer customers various products that cater to their needs.
It improves your chances of selling and helps build customer trust and loyalty.
Flexibility And Convenience
Joining a supplement affiliate program is a flexible and convenient way to earn an income.
Marketers can work from home or anywhere they have an internet connection, making it ideal for those who want to supplement their income or work from home.
Unlike traditional jobs with set schedules, affiliate marketing allows you to work as much or as little as you want, giving you more freedom and control over your time.
Opportunities For Growth
Supplement affiliate programs offer endless opportunities for growth and expansion.
As you gain more knowledge and expertise in the industry, you can increase your income by promoting high-ticket items, creating niche sites, or expanding your reach through social media and other marketing channels.
With the right strategy and approach, supplement affiliate marketing can be a thriving source of income for marketers.
Understanding Different Types Of Dietary Supplements
Understanding different types of dietary supplements is crucial for those looking to enhance their overall health and well-being.
A vitamin and supplement company may offer a wide range of dietary supplements, such as vitamin packs, immune support supplements, wellness supplements, sports nutrition supplements, bodybuilding supplements, and more.
Choosing quality products from reputable sources is vital to maximizing these health products' benefits.
Vitamins and minerals play a critical role in maintaining optimal health and Vitality.
You can find these essential nutrients in various dietary supplements, including vitamin packs which contain a comprehensive blend of vitamins and minerals to support overall health.
On the other hand, sports nutrition supplements and bodybuilding supplements gear toward athletes and fitness enthusiasts who require additional nutrients to support their active lifestyles.
Proteins and amino acids are also crucial nutrients that you can find in dietary supplements.
Athletes and bodybuilders often use protein supplements to support muscle growth and recovery, while older adults may benefit from amino acid supplements to support healthy aging.
Fatty acids and oils are essential for a healthy heart, brain, and nervous system.
Omega-3 supplements, for example, can improve heart health and reduce inflammation.
Probiotics and prebiotics are also gaining popularity as more people become aware of the importance of gut health and its impact on overall wellness.
Premium nutritional supplements can provide various health benefits, but it is essential to understand the different types of dietary supplements and their unique benefits.
Whether you are:
An athlete looking to improve your sports nutrition
An older adult wanting to support healthy aging
Or just someone that wants long-term health
investing in quality products from a reputable vitamin and supplement company can help you achieve your wellness goals.
Tips For Choosing The Right Supplement Affiliate Program
When diving into the supplement affiliate niche, take the time to select the right supplement affiliate program carefully.
With the supplement industry rapidly growing, there are various supplement companies to choose from.
Being well-informed and paying attention to specific details will help you make the right decision.
One of the most critical factors is researching the company's reputation.
Make sure to read reviews and gather as much information as possible before committing to a program.
Understanding the commission structure and how you can earn as an affiliate is also crucial.
Look at the program's products and determine if they align with your values and interests.
For example, you might be interested in the bulk supplements affiliate program because of its many products.
Other supplement affiliate programs, like those offered by ShareASale and Amazon, may also be worth exploring.
Finally, it's essential to consider the support and resources available to you, as these can be crucial to your success as an affiliate marketer.
With these tips in mind, you'll be well on your way to a successful referral and a thriving supplement affiliate business.
Effective Strategies For Marketing Supplements
Effective marketing strategies are essential for promoting the best supplement affiliate programs.
Companies can utilize social media platforms to reach new customers by creating engaging content and targeting relevant audiences.
By implementing SEO practices, businesses can optimize their website and increase their online visibility, making it easier for potential customers to find them.
Engaging with influencers in the fitness and wellness space can also be a powerful marketing tool, as these individuals can help promote supplements and generate buzz among their followers.
Furthermore, gyms and health stores like GNC and Bodybuilding.com can act as key innovators in the supplement industry by introducing customers to new products and trends in fitness and skin care.
With the right approach, combining these tactics can be highly effective in driving sales and growing a supplement's business.
Legal And Ethical Considerations In Supplement Affiliate Marketing
It's important to remain transparent and comply with legal and ethical considerations, such as truthful product claims and potential liabilities with the FDA and FTC.
Knowing the laws in your state and any applicable rules, regulations, or guidelines for supplement marketing is paramount.
Additionally, some companies require that affiliates remain within certain parameters, such as age restrictions or specific claims.
Always adhere to these guidelines while being mindful of consumer privacy laws like GDPR.
Wrap Up.
Supplement affiliate programs can be lucrative for marketers looking to increase their income and grow their business.
Such programs offer high commission rates, access to a wide range of products, valuable insights and information, flexibility, convenience, and opportunities for growth.
By partnering with reputable supplement brands and providing exceptional customer service, marketers can build customer trust and loyalty and increase their chances of long-term success.
Further reading on AdamEnfroy.com: Starting an affiliate marketing side hustle doesn't have to be hard with the right resources.
Whether you're going for affiliate marketing courses or reading the right books to boost your earnings, the above posts will help you start your affiliate journey.
Editorial Process:
Our reviews are made by a team of experts before being written and come from real-world experience. Read our editorial process here.
Some of the links in this article may be affiliate links, which can provide compensation to us at no cost to you if you decide to purchase a paid plan. These are products we've personally used and stand behind. This site is not intended to provide financial advice. You can read our affiliate disclosure in our privacy policy.