How To Monetize A Blog (Proven Methods In 2023)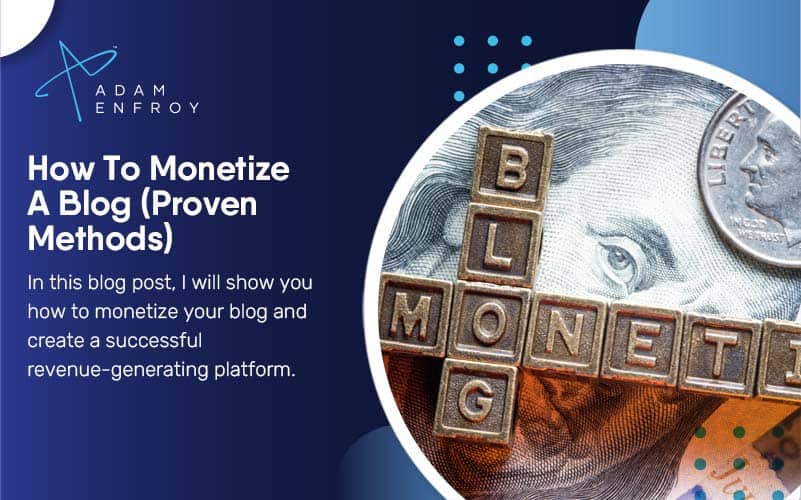 Starting a blog and monetizing it is more than a desire – it's a need, an essential part of the blogger's journey that separates the successful from the hobbyists.
And, unless you fancy eating ramen noodles for the foreseeable future while living in your parent's basement (no judgment here – it's a rite of passage for many entrepreneurs!), it's a topic that demands your full attention.
In this blog post, I will show you how to monetize your blog and create a successful revenue-generating platform.
Critical Steps To Monetizing A Blog
Here are the key steps you need to take to start a blogging business and monetize it.
Pick A Hot Niche
The first step in building a successful blog is to find a niche you're passionate about with a sizable audience.
A niche is a specific category or topic your blog will focus on.
It could be anything from fashion, food, travel, or personal finance.
By narrowing down your topic, you're more likely to attract an audience that shares your interest and wants to read your content.
A hot niche has high demand and low competition.
You can use tools like Google Trends to identify niches that are on the rise and tap into them before they become saturated.
Know Your Audience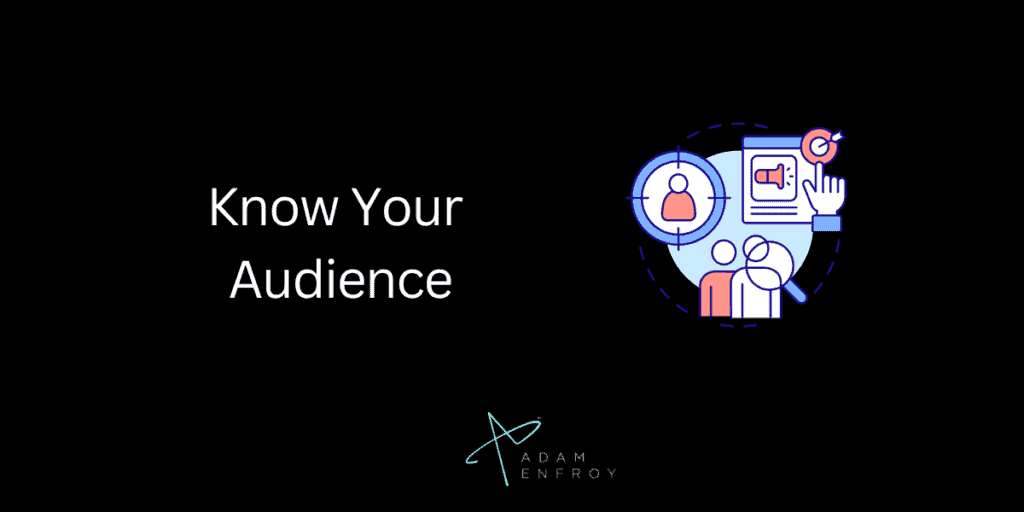 Once you've identified your niche, the next step is to get to know your audience.
You must understand their pain points, aspirations, motivations, and interests.
This way, you can create content that resonates with them and meets their needs.
You can use social media or surveys to gather information about your audience.
Once you better understand your audience, you can tailor your content to their tastes and preferences.
Build Trust
Your audience is more likely to buy from you if they trust you.
Build trust over time through consistently delivering quality content, engaging with your audience, and being transparent.
You should also disclose any affiliations or sponsorships in your posts to maintain transparency.
The more your audience trusts you, the more likely they will engage with your brand and recommend it to others.
Crush Your SEO
Search engine optimization (SEO) is critical to driving a good amount of traffic to your blog and, in turn, revenue.
SEO involves:
Optimizing your blog for search engines like Google by incorporating relevant keywords in your content.
Creating quality backlinks.
Optimizing your meta tags.
Keyword research is identifying the most relevant and profitable keywords for your blog.
You can use SEO tools like Google Keyword Planner to find keywords with high search volume and low competition.
Monetize Your Blog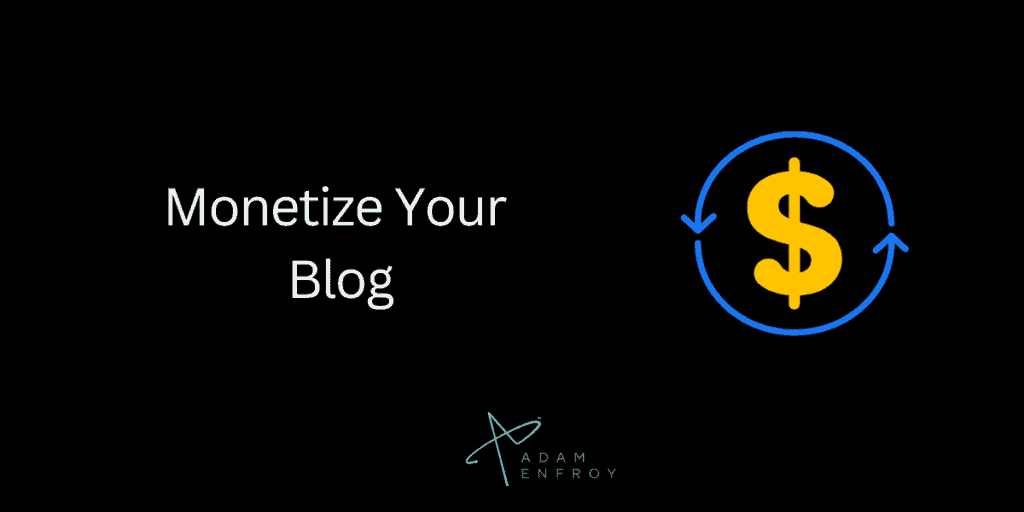 Once you've built a loyal audience, you can monetize your blog.
Some ways to monetize your blog include affiliate marketing, sponsored content, advertising, and selling your products or services.
Affiliate marketing works by promoting other people's products and receiving a commission for every successful sale through your unique affiliate link.
Advertising involves selling ad space on your blog, and selling products or services is an excellent way to make money directly from your audience.
Monetizing Your Blog Through A Membership Site
Membership sites are online platforms that offer exclusive content, services or products to members who subscribe to them.
They can take many forms, such as an online course, ebooks, webinars, podcasts, forums, and more.
What makes membership sites powerful is their ability to create a win-win situation for both the creator and the consumer.
Creating a membership site may sound daunting, but it doesn't have to be.
With the right tools and guidance, you can quickly set up a membership site that meets your needs and goals.
Here are the basic steps:
Choose a niche and a target audience: Identify what content or services you want to offer and who would be interested in them.
Create valuable content: Develop your content strategy, create high-quality content, and package it in a compelling way that resonates with your audience.
Choose a membership plugin: Use a plugin such as MemberPress, which offers an all-in-one solution for managing memberships, content protection, payments, and more.
Set up your site: Install and customize your membership plugin, create your membership levels, set up your payment gateway, and launch your site.
Earn Passive Income From Your Blog With An eBook
By writing an eBook based on your blog content, you can offer your audience a valuable resource while generating extra income for yourself.
But how do you start creating an eBook?
The first step is choosing a topic your readers will find interesting and valuable.
The key is to focus on a specific issue or problem that your audience wants to solve, such as:
"10 Tips for Starting a Successful Online Business," or "The Ultimate Guide to Healthy Eating on a Budget.
" One strategy is to look at your existing blog content and identify your most popular posts.
These will likely have the most potential for expansion into a longer eBook that offers more in-depth information.
Once you've identified your eBook topic, start creating quality content.
You can even hire freelance writers to help with this.
Freelance writing allows you to create content quickly and at an affordable rate.
While you may be able to repurpose some of your existing blog content, remember that your eBook should offer more than just a collection of blog posts.
After creating your eBook content, design and format it for publication.
While you can undoubtedly create an eBook using a word processing program like Microsoft Word, many software options are explicitly for creating eBooks.
These tools offer a range of design options and formatting templates, making it easy to create a professional-looking eBook that is informative and visually appealing.
The final step in creating your eBook is to sell it to your audience.
There are many options for selling eBooks, including online marketplaces like Amazon, Barnes & Noble, and iBooks.
These platforms offer a broad audience reach and a hassle-free way to distribute your eBook.
Another strategy is to sell your eBook directly from your blog using an e-commerce platform like Shopify.
It allows you to keep all the profits from your eBook sales and build your brand by offering exclusive resources to your audience.
Make Money Selling Digital Products On Your Blog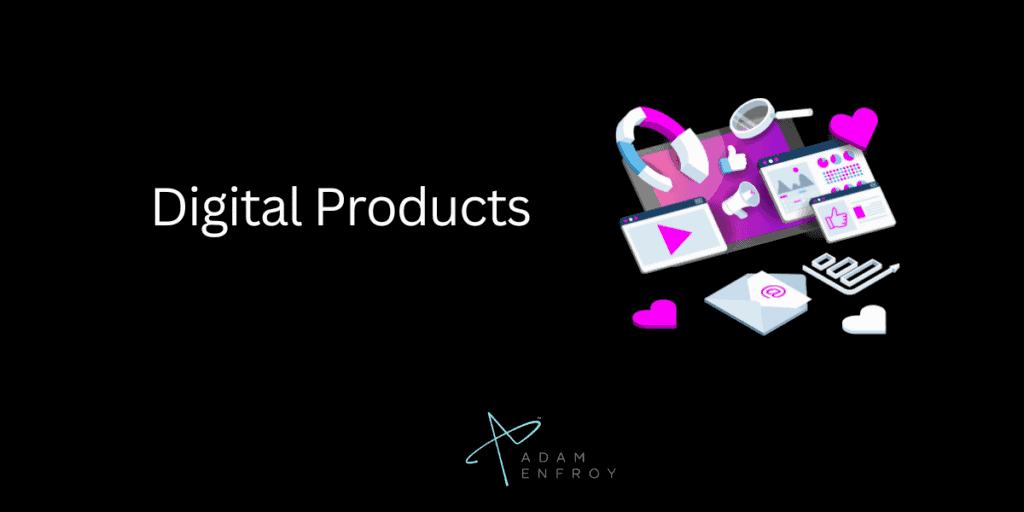 One of the ways to monetize your blog is by selling digital products.
Here are some examples of digital products you can sell on your blog
Templates
Templates are a great digital product to sell on your blog.
They can help your audience save time and effort in creating documents or designs.
For instance, you can sell resume templates if you have a blog about resume writing.
Similarly, if your blog is about graphic design, you can sell Photoshop or Illustrator templates.
You can make your templates easy to customize and use.
For instance, you can offer different file formats that users can edit on different software platforms.
You can promote your templates on your blog and social media.
Some websites that can help you sell your templates are Template Monster, Creative Market, and Theme Forest.
Themes
You can sell themes or templates if you have a blog about web design or development.
They can help your audience build websites or online stores.
You can make your themes responsive and customizable.
For instance, you can offer different layouts, fonts, and colors.
You can showcase your themes on your blog and online marketplaces.
Some websites that can help you sell your themes are WooCommerce, Shopify, and Squarespace.
Tutorials
You can create and sell tutorials on your blog if you are a subject matter expert.
They can help your audience learn new skills and techniques.
For instance, if you have a blog about digital marketing, you can sell social media or email marketing courses.
Similarly, you can sell recipes or ingredient tutorials if your blog is about cooking or baking.
You can make your tutorials comprehensive and easy to follow.
For instance, you can use videos, slideshows, or interactive quizzes and promote your tutorials by offering free samples and testimonials.
Some websites that can help you sell your tutorials are Udemy, Coursera, and Skillshare.
Recordings
If you have a blog about music or podcasting, you can sell albums or episodes.
They can help your audience listen to your work and support your art.
For instance, if you have a blog about indie music, you can sell your self-produced songs or covers.
Similarly, you can sell investigative journalism or interviews if your blog is about true crime.
You can make your recordings professional and high-quality.
For instance, you can use studio equipment, soundproofing, or licensed music.
You can promote your recordings by collaborating with other artists and influencers.
Some websites that can help you sell your recordings are Bandcamp, Soundcloud, and Patreon.
The Power Of Paid Reviews
A paid review is a sponsored post where you receive a fee for writing a product or service review.
The idea is to provide an honest and unbiased opinion about the product, so your readers can make an informed decision.
This type of review is also an excellent way to showcase your writing and analytical skills while making extra money for your blog.
To get started with paid reviews, you must first identify the right products that match your blog's niche and audience.
It helps ensure that your reviews resonate with your readers, who will be more likely to trust your opinion.
For instance, if your blog focuses on health and wellness, you can look for opportunities to review skincare products or supplements.
Research and get to know the product or brand before you start the review to ensure that it aligns with your blog's values.
Once you have identified a product to review, you can explore partnership opportunities with brands by reaching out directly or signing up with third-party platforms, such as PayPerPost.
These platforms connect bloggers with businesses searching for product reviews.
Some businesses will offer a flat fee for their product review, while others will offer a commission or ongoing relationship.
Leveraging Email Marketing To Monetize Your Blog
To make money blogging, many bloggers rely on content marketing to increase blog traffic and generate page views.
However, even with great content, it can be difficult for new bloggers with only a few readers to monetize their blogs.
That's where email marketing comes in as a critical marketing strategy for successful bloggers.
By building an email subscriber list, bloggers can promote affiliate products and services through ecommerce and sell online courses to their audience.
Creating engaging email content is essential to keeping subscribers interested, and promoting products via email is an effective way to leverage blog niche and WordPress blog platform.
One step-by-step approach to affiliate marketing is through Amazon Associates, which provides an affiliate program for bloggers to earn commission on products they promote through their blogs and email list.
With the right marketing strategy, bloggers can use email marketing to monetize their blogs and turn their passion into a profitable online business.
Exploiting Podcasting As A Revenue Stream
Exploiting podcasting as a revenue stream is one of the popular ways to monetize a successful blog.
Creating podcast content related to your blog's niche can help increase your revenue stream.
Adding monetization methods such as sponsorships and selling exclusive podcast episodes can help you earn money from your podcast.
The traffic your podcast receives will determine the amount of money you can make.
A good podcast/blog monetization strategy includes using an ad network to display ads.
Profiting From Webinars And Workshops
Profiting from webinars and workshops is one of the most popular ways to implement a revenue stream through a blog monetization strategy.
Designing informative and engaging webinars, charging for exclusive workshops, and promoting your blog and products in webinars could also help diversify your blog monetization strategy.
Remember that maximizing profit and producing relevant content that provides value to your readers should be your priority.
Various webinar software can help you combine your blog business and webinars and take both to the next level.
Exploring Crowdfunding And Donations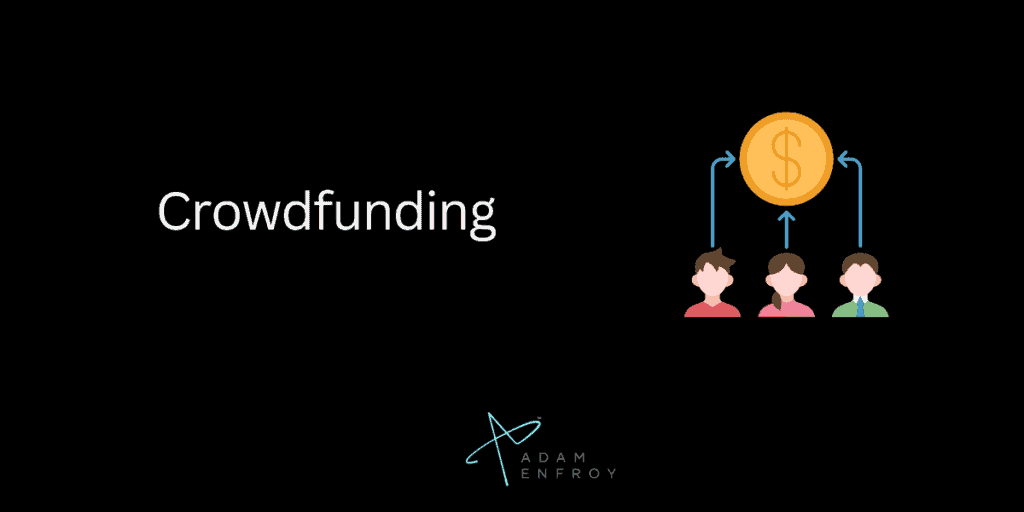 If you're starting a new blog with a few readers, a blog monetization strategy is critical to earning money from your own blog.
Crowdfunding and donations are popular ways to create a revenue stream for many bloggers, including successful and new bloggers.
Setting up a Patreon account for your WordPress blog is an excellent way to receive ongoing support from your followers.
Some readers may donate directly through platforms such as PayPal or Ko-fi, which offer a convenient way to accept payments.
Offering special perks to your supporters is another approach that can successfully convert occasional readers into dedicated patrons.
In addition to crowdfunding and donations, affiliate programs can be another way to make money blogging.
For instance, you can sell online courses or physical products by partnering with affiliate products and programs.
While pop-up ads and ecommerce can generate revenue, they may also decrease user experience.
Therefore, balancing monetization and user satisfaction is essential when creating a monetization strategy for a new blog startup.
Other Monetization Ideas For Your Blog
Let's explore a few more ideas for monetizing your blog.
Direct Advertising
Direct advertising involves selling ad space on your blog to businesses and brands.
You can directly reach out to the brands in your niche and offer them space on your blog.
This method can be lucrative, especially if you have a substantial following and a niche-specific audience.
The downside to direct advertising is that it can be time-consuming and requires a lot of effort to cultivate relationships with brands.
It's also essential to ensure that your blog aligns with the values and principles of the brands you work with, as this may affect your readership.
Working with affiliate networks can provide the best of both worlds when making money online if you drive traffic to your site.
Google AdSense
Google AdSense is an advertising network that allows you to display relevant online ads to your blog audience.
You earn money every time a user clicks on an ad or views it.
AdSense is ideal for beginner bloggers as it's easy to set up and has significant revenue potential.
The downside is that you have little control over the ads displayed on your blog, and readers may find them invasive.
It's also essential to ensure that the ads do not detract from the user experience on your blog.
Sponsored Posts
Sponsored posts involve writing content that promotes a specific brand or product.
Brands pay you to create this type of content, and it's an effective way of promoting their products or services.
Sponsored content should be transparent and clearly labeled as such to avoid misleading your readers.
The downside is that it may affect your credibility if you promote products that do not align with the values of your blog or your readers.
Wrap Up.
Making money from blogging requires creativity and a lot of hard work.
It's essential to consider the pros and cons of each monetization strategy before investing your time and energy into it.
Consider what works best for you, your blog, and its readership before monetizing it.
You can create a successful and sustainable blog that generates income with the right approach.
Further reading on AdamEnfroy.com: Here are some of the most important lessons I wish I knew before starting my blog and monetizing it.
Moreover, here's a post where I show you how to write a blog post that attracts readers.
Doing so is critical to engaging readers that come to your blog.
Editorial Process:
Our reviews are made by a team of experts before being written and come from real-world experience. Read our editorial process here.
Some of the links in this article may be affiliate links, which can provide compensation to us at no cost to you if you decide to purchase a paid plan. These are products we've personally used and stand behind. This site is not intended to provide financial advice. You can read our affiliate disclosure in our privacy policy.