How To Start A Writers Blog: A Step-by-Step Guide for Authors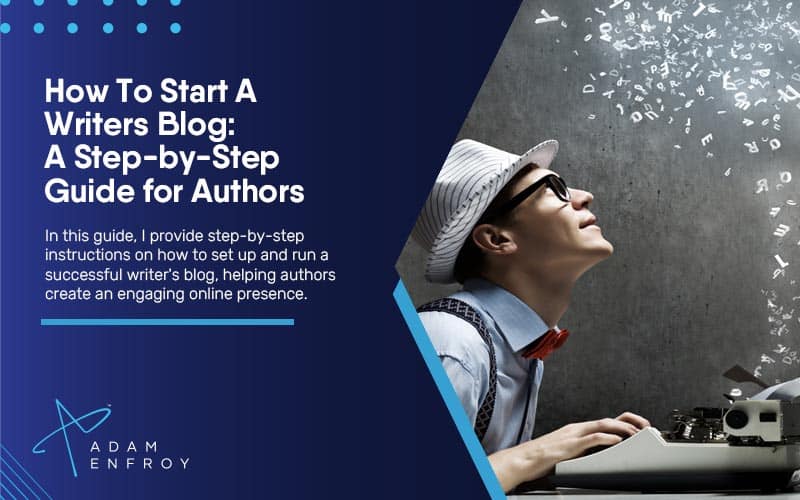 Do you consider yourself a writer wanting to share your thoughts with others?
Many authors want to start a blog but simply don't know where to begin.
Having your own writer's blog on the internet offers plenty of opportunities for self-expression and creativity.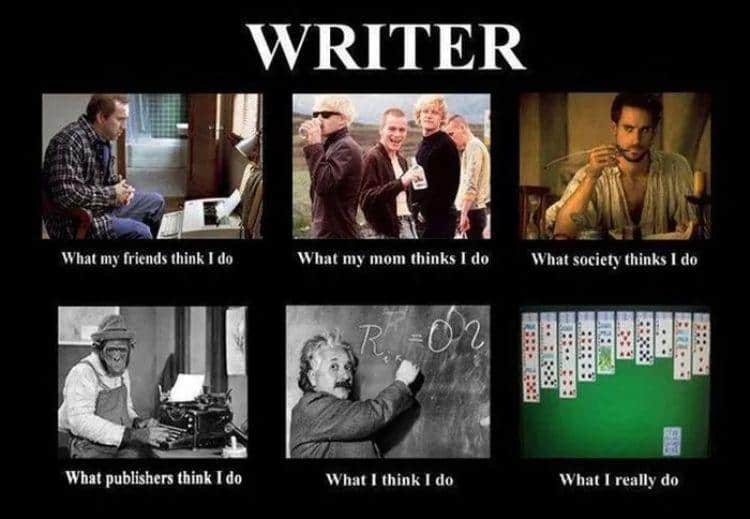 Image credit: https://linguagreca.com/
In this guide, I will provide step-by-step instructions on how to set up and run a successful writer's blog.
How To Start A Writer's Blog: Step By Step
Here are the steps you need to take to get your writer's blog up and running.
Choose A Blogging Platform
A blogging platform allows users to create and manage an online space easily.
My top recommendation would be a self-hosted WordPress blog.
This platform provides the best features and tools to help you create the perfect blog.
While Squarespace, Wix, and other platforms have user-friendly tools that make creating a blog relatively straightforward, these platforms also limit your control over the blog's design and functionality.
WordPress is generally easy to use and gives you more customization freedom.
Decide On A Blog Domain Name And Hosting Provider
Your blog name is how people will identify your brand online, so choosing something that reflects who you are is essential.
A high-quality domain name will make your blog look more professional and help with SEO (Search Engine Optimization).
However, choosing the perfect name for your blog can take time and effort.
Depending on the type of blog you want to start as a writer, you may find a name generator helpful.
In terms of web hosting providers, Bluehost, InMotion, and GoDaddy are some of the most popular hosting options for WordPress blogs.
It's essential to research each one carefully before deciding which service is best for your needs.
Set Up Your Blog With The Chosen Hosting Provider
The next step to starting a blog as a writer is setting up your blog with the selected host provider.
Your hosting provider's control panel (also known as CPanel) will allow you to install WordPress and any other software or plugins needed to run your blog.
Design Your Blog's Look And Feel
Your blog theme will influence how a site visitor perceives your work, so choosing something that reflects your writing style and brand is essential.
Plenty of free and paid WordPress themes are available online, so you should be able to find one that suits your needs.
Whether you want to appear professional and polished or fashionable and quirky, there's a theme for everyone.
Create Relevant Content Categories
The proper WordPress blog categories help you keep your own blog organized and ensure that readers can easily find the blog topics that interest them.
When brainstorming blog post ideas, try to identify which category they would fit into (e.g., fiction writing, freelance writing, etc.).
The more topical authority you have around a specific topic, the more likely readers will be to visit and engage with your content.
In addition, when setting up blog categories, a quick Google search can also help you ensure an established audience for the topics covered in your blog.
Create A Link Bait Post
A successful blog starts with a first post that makes it easy for people to link to you.
A link-bait post accomplishes this.
For example, if your blog provides tips on becoming successful as a writer, consider writing a "welcome" post that covers the top 50 ways to get started with a writing career.
This link bait post helps draw people to your blog and makes it easy for others to link to it.
Using the right AI writing tool can significantly help when creating this type of post.
In addition, remember to create a contact form where you list the various ways readers and potential clients can get in touch with you.
Ensure you link to this contact page from your homepage.
Develop An Editorial Calendar With Topics, Deadlines, And Goals
One of the best blogging tools in your arsenal is an editorial calendar.
This document helps keep all your ideas organized and ensures you publish your posts on time.
Knowing when the first blog post (and every new post after that) will go live keeps content creation streamlined and consistent.
Consider setting specific publishing dates (i.e., weekly, biweekly, etc.) when creating your content calendar.
Add Plugins Or Extensions To Enhance The Functionality Of Your Blog
From grammar plugins that help ensure your posts are error-free to extensions that make it easier for readers to share your content on social media, the right plugins provide that each piece of content gets maximum visibility and engagement.
Seeing what plugins other bloggers in your niche are using can be a great way to get inspiration for the type of plugins you should have on your blog.
For example, suppose you're looking to optimize your search engine optimization.
In that case, a plugin like Yoast SEO will help you ensure that each post has the proper metadata, blog post title, and description to increase its chances of appearing in the SERPs.
If you wanted to embed videos in your posts, the right plugin could provide the tools to insert content from YouTube or Vimeo easily.
Set Up An Email List For Subscribers
Having a blog online means using effective marketing strategies to reach potential readers.
One of these marketing strategies is to use email marketing software to set up a newsletter on your WordPress blog.
With a suitable WordPress theme, you could create pop-up forms that offer readers exclusive content when they subscribe, such as discounts or free reports.
Promote Your Blog Through Social Media Platforms
Getting blog traffic from social media platforms means utilizing social media platforms like Facebook, Twitter, Instagram, and Pinterest to promote your content and attract new readers.
Your target audience is likely already present on these sites, so it's essential to focus on writing articles that will grab their attention and compel them to visit your blog.
Whether it's sharing snippets from each post you write and linking to the full article on your blog or posting relevant images associated with each post, engaging content is a must when promoting your blog through social media platforms.
Utilize Other Channels To Increase Your Reach
A good blog uses multiple channels to reach a wider audience.
Two of these channels are guest blogging and podcasting.
Guest blogging allows writers to expand their readership by writing articles on other blogs and linking to their sites.
Podcasting effectively increases engagement with your target audience by producing audio content related to topics discussed in your blog posts.
These channels provide an excellent way for writers to gain exposure and establish themselves as experts in the field of writing.
Monitor Feedback From Readers And Continuously Improve The Content
No matter how well-written each post may be, it's essential for authors to monitor reader feedback and use that information to improve their content.
Tracking comments, likes, shares, and other forms of engagement can provide valuable insight into what readers find interesting and how you can improve the content.
By evaluating reader feedback, authors can focus on creating more relevant and engaging posts for their target audience, further developing their blog's reach.
Optimize Posts For Search Engine Rankings
Search engines are constantly changing their algorithms to deliver better user results.
Keeping track of these changes and optimizing each post is vital for any writer looking to increase visibility in the SERPs.
Also, ensure that each post has the right blog title and metadata to increase its chances of appearing in the SERPs.
Track Analytics To Measure Your Blog's Progress
Whether you use Google Analytics to measure the performance of your blog or any other platform you find more useful, tracking analytics is essential for any writer looking to improve their blog's performance.
Analytics allow you to monitor pageviews, visitors, bounce rates, and other essential metrics showing how well each post performs and where you can improve.
Top Reasons To Start Your Writer Blog
Here are some top reasons to consider starting your blog as a writer.
Establish Yourself As An Expert In The Field Of Writing
If you want to stand out from all the other writers and establish yourself as an authority in your chosen field, then having your blog is essential.
Focus on what you're good at and write great content showcasing your expertise.
As a result, you can build trust with readers and incentivize them to keep coming back for more.
Share Your Experiences, Tips, Advice, And Stories With Others
Whether you write a step-by-step guide on writing the perfect blog post or share intimate stories from your writing journey, having a blog is the ideal way to connect with others with similar interests and experiences.
Doing this can also help you connect with other writers in your niche who may be interested in collaborating on projects or sharing ideas.
Increase Visibility For Your Writings, Books, Or Services
Creating a blog is an excellent way to promote yourself and your work.
Having a platform that showcases your writing can help you reach new readers and potential customers who may be interested in what you have to offer.
Gain Valuable Feedback And Critique From Readers & Followers
One of the great things about having a blog is the ability to receive feedback directly from your readers.
By reviewing the comments you receive, you can get an insight into what your audience likes (or doesn't), which can help you shape future posts and even your writing.
Generate Additional Income
Writing a blog is rewarding in terms of creating content, but it can also be a great way to make money.
Over time, affiliate links, sponsored posts, and other monetization methods can help you generate a passive income from your blog.
Blogging Tips To Improve Your Writing Blog
Consider the following tips for creating a successful blog.
Write Regularly To Keep Your Blog Fresh And Engaging
Updating a blog once every few months isn't enough – you must actively write new content.
Whether it's weekly, bi-weekly or monthly updates, having a consistent schedule will help keep readers coming back for more.
Research Topics Related To Writing And Incorporate Them Into Your Posts
Stay up-to-date with the latest writing trends and topics related to your niche by regularly researching these subjects.
For example, if you're a book author, regularly search for new books, read reviews and interviews with authors, and write content discussing the topics.
Moreover, awareness of what your competitors are doing, the headings and subheadings they use, and the type of links they're building on their site can help you create content with a greater chance of being seen.
A tool like SurferSEO enables you to stay on top of the competition, helps with keyword research, and allows you to create SEO-friendly content.
Avoid Wordy, Overly Complex Sentences Or Paragraphs
No one wants to read a blog post that doesn't get to the point quickly.
Keep your writing concise and straightforward, ensuring each sentence adds value to the overall post by being informative or entertaining.
Whether you are creating posts for your blogs or guest posting on other sites (to increase website traffic), avoid long-winded sentences at all times.
Incorporate Visuals Such As Images And Videos To Break Up Text
As a blog author, you should have a set template that helps you create posts.
Such a template should make it easy to incorporate visuals into your posts.
Visuals could be anything from pictures of relevant topics to infographics that explain complex data sets.
Videos are also a massive part of blog content – adding a short video clip can help keep readers engaged and interested in what you have to say.
Utilize The Power Of Storytelling To Capture Readers' Attention
Storytelling can be a helpful tool for posting stuff that people will find interesting.
If you incorporate storytelling into your blog posts, you'll have a greater chance of getting noticed.
From adding stories when writing tutorials or simply infusing your experience into your content, storytelling gives readers a clearer idea of your purpose, message, and personality.
AI story generators can also help create exciting stories that capture readers' attention and make them more likely to share your post.
Leverage Digital Marketing Techniques To Increase Traffic And Engagement
In addition to creating great content, it's important to remember that blogging is also a form of digital marketing.
With the correct type of promotion, you'll get more people reading and engaging with your content.
Look at ways to leverage social media, email marketing, and other strategies to increase traffic and engagement levels on your blog.
Copywriting vs. Content Writing
As you write more blogs, you may wonder what the difference between copywriting and content writing is and how to utilize both styles best.
Copywriting, also known as persuasive writing, creates promotional materials for a product or service.
This type of writing focuses on getting the reader to take a specific action, such as making a purchase, signing up for a newsletter, or visiting an online store.
Copywriters consider the psychology and emotions behind customers' decisions when crafting their copy to create more impactful messages that can increase conversions.
Content writing, on the other hand, is all about providing helpful information to readers to keep them interested in your website or blog.
Content writing aims to add value and engage readers rather than promote a specific product or service.
Content writers focus on topics relevant to your business and target audience – anything from how-to guides and tutorials to informative articles and blog posts.
Amazon is an excellent example of how powerful copywriting can be.
Sellers write Amazon's product descriptions in an engaging and captivating way that entices customers to purchase.
Amazon also utilizes clever calls to action to encourage customers to buy now and take advantage of free shipping offers, discounts, and other promotions.
On the other hand, content writing is more focused on providing valuable and educational information to readers to keep them engaged with the brand.
As someone running a writer's blog, you might create in-depth articles and tutorials to help other writers hone their craft.
This type of content writing does not focus on promoting a specific product or service but instead exists to educate, entertain, and provide value for your readers.
Then, use copywriting to engage readers and motivate them to take action.
For example, you may use calls to action in the form of "subscribe now" buttons or links to your newsletter sign-up blog page at the end of each post.
This way, you can capture readers' email addresses so that they can keep up with your blog and get updates on each new blog post.
The Importance Of Consistency
Consistency is vital when it comes to having a successful writer's blog.
Such consistency helps build trust with readers and search engines alike.
When people know that you regularly provide quality, up-to-date content, readers will be more likely to return for more.
Search engines will start to recognize your authority on a particular topic and reward your blog with higher rankings in search engine results.
How To Start A Writer's Blog – FAQ
Should Beginners Start With A Blog Or Website?
It depends on what your goal is. To establish an online presence and build a following, starting with a blog may be the best route.
Blogging allows you to interact with your readers by regularly responding to comments and publishing content.
On the other hand, a website may be the better choice if you are looking to showcase your portfolio or provide an e-commerce platform to sell products.
How Can You Promote Your Writer's Blog?
Using networks like Linkedin, Twitter, and Facebook can help spread the word about your blog and build an audience.
Additionally, forums about your subject matter are a great place to engage with people who may be interested in your words.
What Should Your Blog Sidebar Include?
Your blog's sidebar should include elements that make it easy for readers to navigate your content.
This could consist of categories, archives, and search functionality that can help readers find what they're looking for more quickly.
Is A Premium Theme Worth Investing In?
To start, a free theme can be an excellent choice.
Once you are ready to commit, investing in a premium theme can give you more control over the look and feel of your site.
Wrap Up.
Starting a writer's blog today is an excellent way to showcase your writing skills and establish yourself as an expert in the industry.
By following these tips, you'll be well on your way to creating a successful personal blog with high traffic and engagement levels.
Further reading on AdamEnfroy.com: Knowing how to make money blogging comes down to understanding how to write effectively, utilizing SEO and digital marketing tactics, and consistently creating great content.
Mastering these skills will help you create a successful blogging business that can bring in additional income and make your writing shine.
When using specific tools, check out this Jasper AI review for more information about one of the best AI generation tools.
Disclosure: I may receive affiliate compensation for some of the links below at no cost to you if you decide to purchase a paid plan. You can read our affiliate disclosure in our privacy policy. This site is not intending to provide financial advice. This is for entertainment only.