What is a Podcast: How They Work & How to Get Started (2023)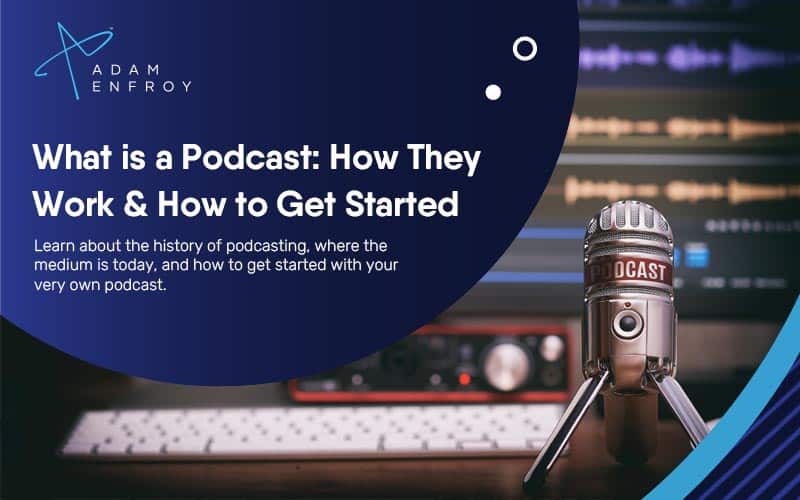 Initially, podcasts started as a small way for creators to grow a listenership.
Today, anyone can create a free podcast with just a few mouse clicks.
"Let's start a podcast" is becoming the "let's start a band" of the 2020s.
Podcasts can also help their creators reach fame.
The Joe Rogan Experience is more significant than almost any mainstream media show or late-night talk show.
Podcats humanize conversation and are considered an emerging form of ambient entertainment.
In this guide to podcasting, we'll cover what it is, how it works, the history of podcasting, and how you can start creating your monetized podcast.
What is a Podcast?
A podcast is audio broadcasting delivered on various online platforms via an RSS feed.
Simply put, a podcast is an audio recording on any specific topic consumed in an episodic format.
A typical podcast consists of one or more hosts engaged in an animated discussion about a particular niche, event, or topic.
The podcast's debate and/or discussion can be spontaneous or scripted.
Now, podcasts have elaborate production, background music, sponsors, and more.
You can use several digital media player applications like Spotify and iTunes (which hosts over 700,000 podcasts) to host and stream your own podcast through their website and mobile app.
They also provide features like transcripts, guest biographies, commentary, community forums, and more. You can even host your podcasts on radio stations.
What is the Purpose of a Podcast?
Podcasts are practical and an easy and intimate way to deliver and generate content.
They also come in handy when building ongoing relationships with your audience.
And since podcasts are such a hit, they can help you reach a broad audience, build a reputation, and become an authority in your niche.
According to statistics, more than one-third of Americans now listen to podcasts regularly, up considerably from 2019.
Other stats suggest that podcast advertising revenue will likely surpass $1 billion by 2021.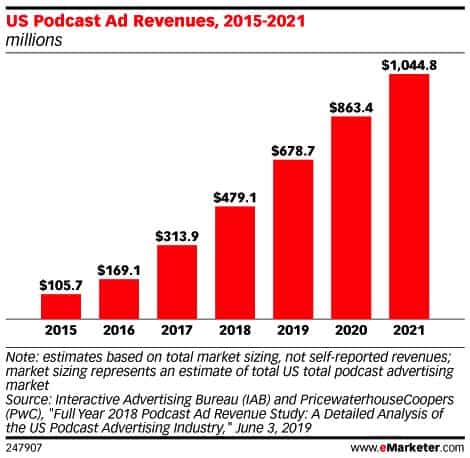 Besides, you can also add backlinks in podcast directories to direct traffic to your social media or encourage them to visit your site at the episode's end.
Let's dig into the purpose of a podcast in detail:
1. Convenient and Easy Way to Deliver Information.
Like a radio show, you can listen to podcasts anywhere and anytime.
Thus, podcasts serve as a convenient way to deliver information.
Once your audience discovers your podcast, they can easily download your podcast episodes and tune in at any convenient time.
As it happens, 64% of listeners in the US listen to podcasts in a truck or a car. (It's not like a live webinar where you need a video feed!)
And they can even download or transfer podcasts to any portable device like an iPhone and listen to them on the go.
65% of podcast listeners in the US use portable devices to listen to their favorite podcasts.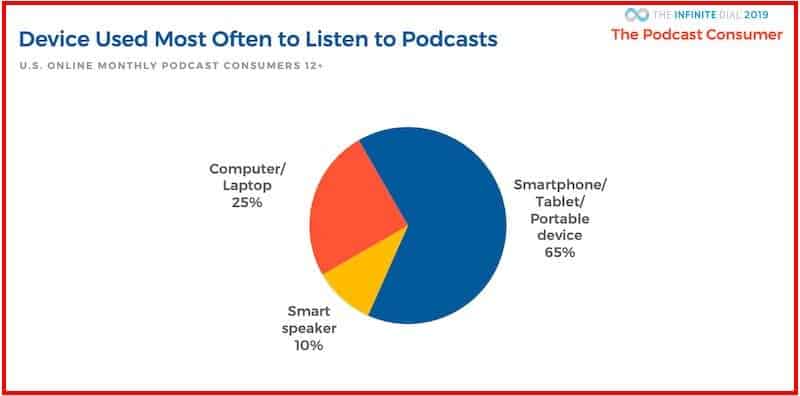 2. Deliver Personal Information.
Since podcasts help you deliver content verbally to your audience and in a somewhat informal setting, the information becomes more intimate than reading it from a blog or an email.
It makes sense to use podcasts for content like stand-up comedy or political commentary than using other less personal means.
Podcasts are ideal for creating funny or thought-provoking content.
It also comes in handy to record a light conversation with another content creator, a thought leader, or a famous personality.
3. Build Relationships.
Whether you're starting a podcast with no audience or already have a base of people you influence, podcasting is one of the quickest ways to connect with others while building trust and loyalty.
The Edison Research/Triton Digital survey found that more than half of podcast listeners are likely to consider a brand after hearing about it on a podcast.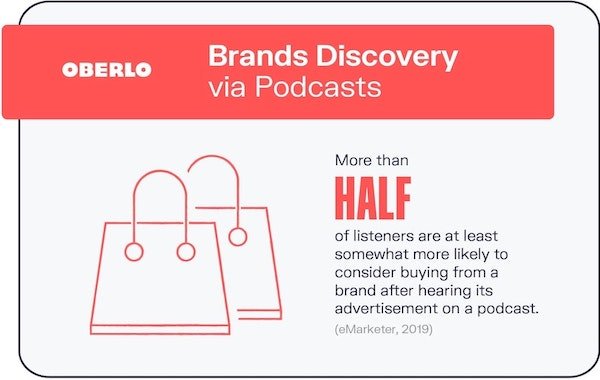 Launching a podcast and advertising brands is not enough.
You must create relatable content, promote your podcast, and build connections with your listeners.
That's why it's also great to keep your podcasts unscripted and let your personality shine through.
Moreover, avoid using words like "ladies and gentlemen," "listeners," or any third-person preposition.
Imagine saying, "I've got a segment that my listeners will love."
Or, "I've got an awesome podcast episode you'll all love."
The latter helps you address your audience directly and make them feel personally connected to your segments.
Besides this, podcasting is an excellent way to network and makes reaching out to thought leaders and influencers in your industry easy.
Podcasting guests might even become your collaborators, affiliate partners, and high-paying clients.
And they might even invite you back to speak at their conferences or to be a guest on their audio podcasts.
The great idea is to add some buffer time when you conduct interviews to have some time to connect with your guest off the air.
4. Generate Recurring Income.
The right podcast host makes generating recurring revenue easier.
You can record a podcast segment and use it to promote offers or a brand and fetch regular income month after month.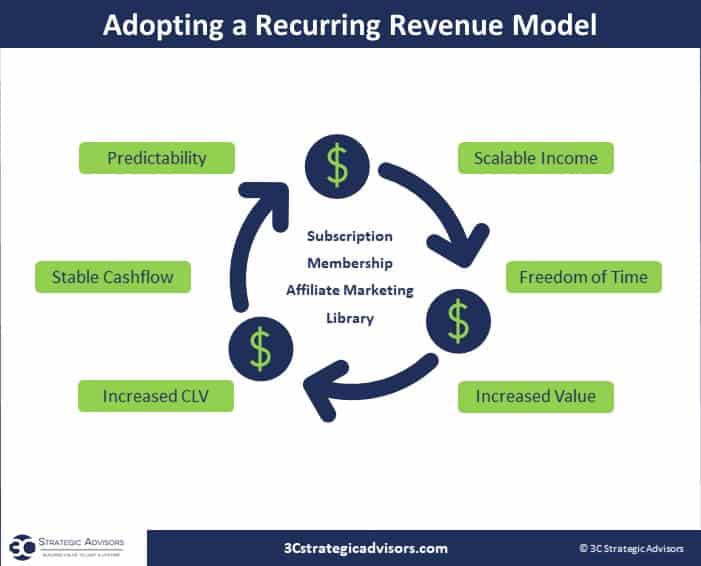 You can promote your services, a subscription-based or affiliate product, to your audience.
Here are some of the ways you can use your podcasts to earn money:
Crowdfunding
Affiliate Income
Coaching via podcasting
Promoting your product
Podcast advertising & sponsorships
You don't have to have millions of followers, a small albeit loyal following is sufficient to help you earn passive income with your podcasts.
However, remember that your product or service should align with your podcast brand and resolve an issue. It will benefit everyone involved – your audience learns about something beneficial they can use, and you earn some passive income.
5. Have Your Own Media Platform.
Podcasting is your media platform to present your views to your target audience and showcase your skills.
This visibility also helps you stand out if you promote a brand or pitch a podcast.
You never know when a thought leader likes your podcasts and gives you an opportunity of a lifetime.
Jaclyn Mellone, the host of Go-To Gal, a famous podcast for female entrepreneurs, mentioned how her podcast helped her grab amazing deals.
Here's an excerpt from her conversation with Stephanie Burns of Forbes: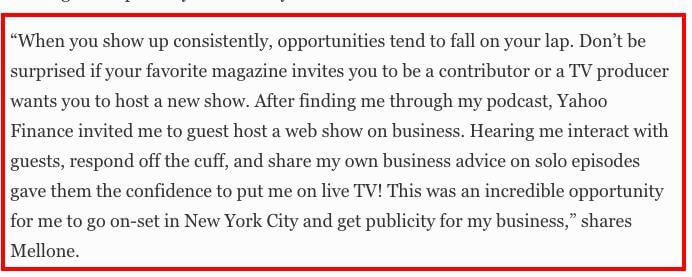 6. Podcasts Can Enhance Your SEO.
Every business with a website wants to rank higher on search engines. And adding a podcast will enable search engines to discover your business.
In 2019, even Google started indexing and ranking individual podcast episodes.
Podcast episodes are likely to appear in the search results when someone searches for a topic.
For example, if you search for 'Tim Ferris,' you'll see all the new episodes for 'The Tim Ferris Show.'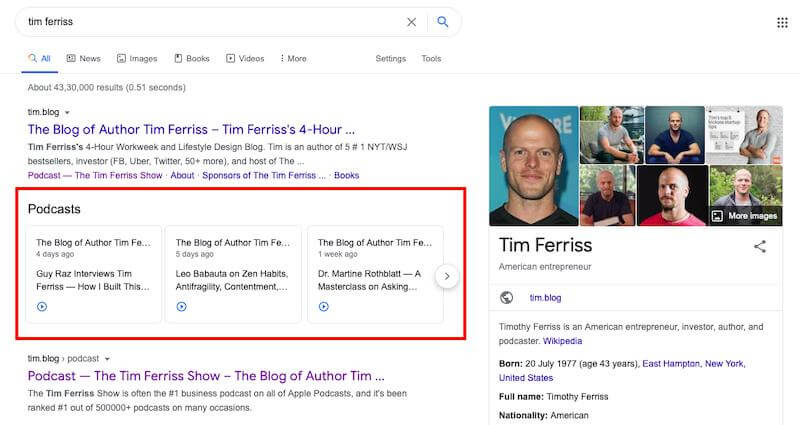 Also, podcasts linked to your business name will serve as an authority signal for Google, and the search engine will rank you higher.
7. Gain Traffic to Your Site.
If you are trying to sell products via your website, a podcast can significantly help.
Once you become a voice of authority in your domain, your listeners will naturally get intrigued enough to check out your website and make a quick Google search.
The other way is by linking your website to your podcast directory or on the site you're hosting your podcast.
However, the main goal of your podcast should not be sales.
It's more about building genuine relationships and helping your audience by raising awareness.
What Are the Different Types of Podcasts?
There are various types of podcasting formats.
Some podcasters repurpose their blog posts, while some create original, unscripted podcasts.
And while most podcasts comprise a digital audio file, you can still find plenty of video podcasts.
Before you start your own podcast, you should know precisely how many different podcasting formats you can choose from.
Here are all the different types of podcasts:
1. The Interview Podcasts/Panel Discussions.
Panel discussions or interview podcasts are not only one of the most popular forms of podcasts, but they're also easier.
Having a co-host or an interviewee is easier and more effective than recording a monologue alone. It's also more natural and conversational, making it engaging for the audience.
Such podcasts can have one guest or several guests throughout the show.
The Joe Rogan Experience is probably the most popular interview-based podcast, receiving millions of views and downloads per episode.

Interview podcasts are especially ideal when you're trying to offer different viewpoints to the listeners. These podcasts are most popular with political commentators and celebrity interviewers.
2. Co-Hosted Podcasts.
As the name suggests, these types of podcasts include two or more podcast hosts.
The hosts either discuss a topic with each other, invite a guest, or mix both.
Even though both the hosts act as one dynamic entity, they still bring different viewpoints and insights.
Besides, it helps you avoid pressure and shoulder the responsibility of engaging the listeners with your co-host.
Each host plays a specific role in the conversation.
For example, one might start the podcast and initiate the conversation, while the other can pick up from there and start the commentary.
The Sisterhood Podcast by Allyson Reynolds and Tiffany Sowby is an excellent example of a co-hosted podcast.
3. Solo Podcasts.
Monologues or solo podcasts are started by an individual – without any co-host or a guest.
The content for a solo podcast can include stand-up comedy, Q&A sessions, opinion-based, or anything delivered by a single commentator.
You can also tell stories and make them informative, entertaining, or a mix of both.
Also, the onus of making your podcast episodes engaging lies solely on you.
Make sure to compensate for the lack of guests with persuasive content and sound engineering.
Some of the famous examples of solo podcast formats include:
A simple Google search shows how many comedians like Bill Burr and Marc Maron use solo podcasts to reach a vast online audience.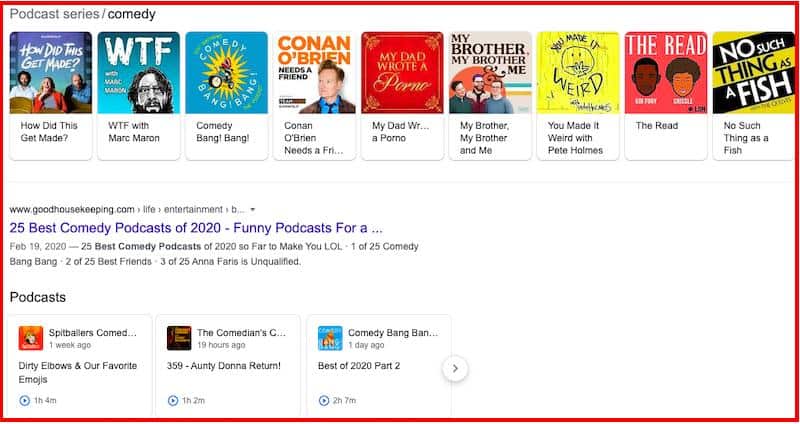 4. Nonfiction Narrative Storytelling Podcasts.
Nonfiction narrative storytelling is another popular podcasting format, although it's challenging to master.
These podcasts entail retelling stories using audio clips from the interviewee and editing them to make them more intriguing.
Or you can build an engaging narrative around your subject and present it in storytelling.
Take Red Hat's Command Line Heroes, for instance.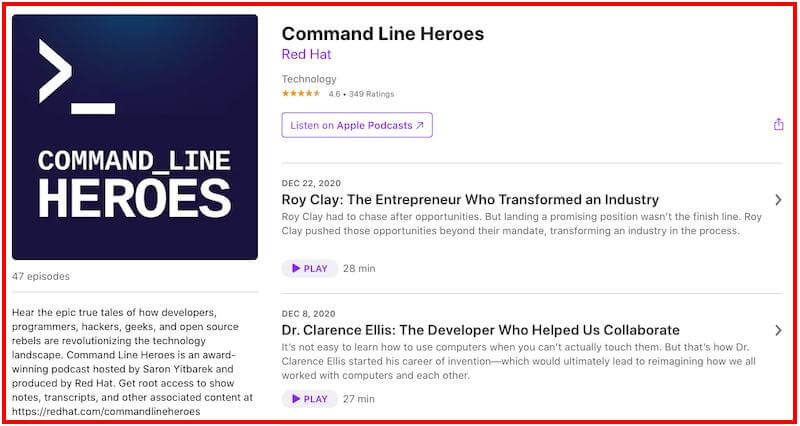 Command Line Heroes is a narrative-style podcast about open-source technology, making a profound and seemingly boring topic entertaining.
They're on their 6th season currently and have a 90% average episode completion rate.
Nonfiction narrative storytelling usually aims to entertain and captivate the audience.
And since they allow room for creativity, they can be highly engaging.
This podcast format suits journalists since they have better connections to get detailed and insightful information.
5. Hybrid Podcast.
The hybrid podcast format is a mix of all types of podcasts. For example, you can have a single host in your podcast and later decide to invite a co-host or a guest.
The Gist with Mike Pesca by Slate Magazine and BBC podcasts are great hybrid podcasts.
Initially, this show starts with a monologue by a solo host, and then they gradually transition to an interview format or panel discussion.
6. Repurposed Content Podcast.
Repurposing content is a great way to assemble your podcast.
You can repurpose your blog posts, seminars, workshops, or interviews into podcasts to summarize everything briefly and personally for your audience.
If you're creating a podcast blog, this can enhance the experience of the listeners.
Some examples of repurposed content podcasts include:
Identify your goal before choosing the proper podcast format.
Do you want to inform something to your audience merely, or do you plan to entertain them as well?
The format will depend on your target audience, podcast topic, and final goal.
What Are the Best Podcast Tools?
The number of podcast listeners continues to rise exponentially, with 383.7 million globally as of June 2022.
Podcasting can be lucrative for your business and as a platform to build your authority.
However, recording podcast episodes isn't nearly enough.
You have to promote them, find a hosting platform for your podcast, and track your metrics.
Luckily, plenty of podcast tools help you with the entire process.
Here are the leading podcast hosting platforms to help you create, host, distribute, and market your podcasts.
Best overall podcast tool (Free – $24 per month).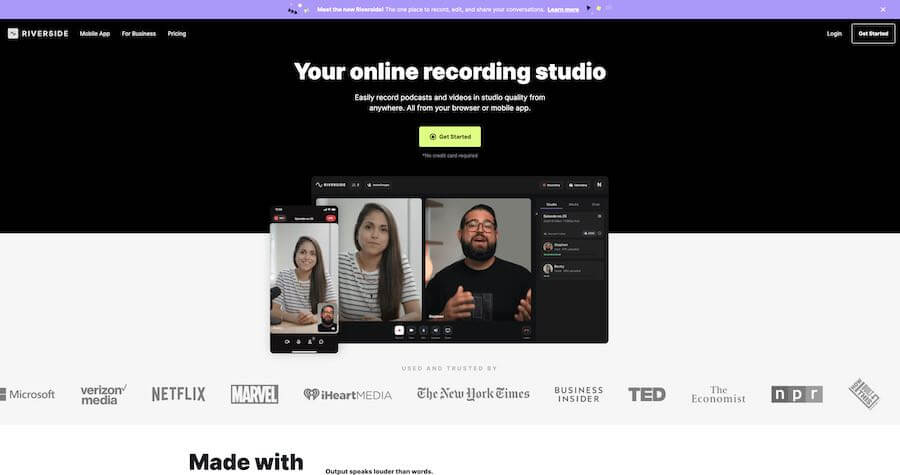 Riverside is one of the best podcast hosting platforms and provides one of the easiest ways to get started.
It's an all-in-one solution that gives you everything you need to create, host, and market your show.
Using your browser (without downloading software), you can record and edit your episodes, create a website for your show, and even submit it to major podcast directories.
With studio-quality recording and editing tools, Riverside makes it easy to create professional-sounding episodes.
To record videos, record up to 4K local video resolution on the Riverside platform.
There will be no video quality degradation when you upload it.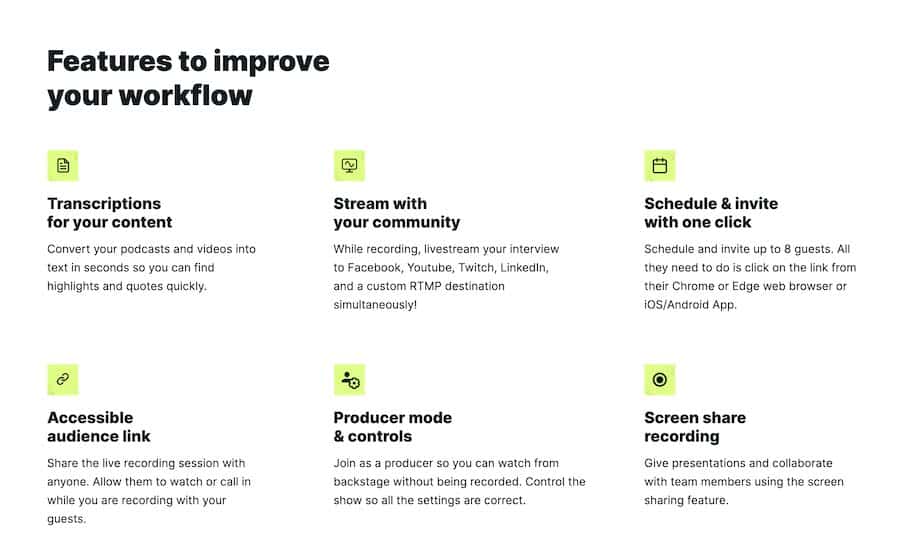 Some of Riverside's key features include:
Transcriptions for your content so you can make your podcast available to a broader audience.
Stream with your community so they can listen to your show live and interact with you.
Schedule & invite with one click to coordinate recording times with guests easily.
Accessible audience link to share live recording sessions and have anyone watch or call in.
Producer mode & controls so you can have more control over the recording process.
Screen share recording so you can record yourself and/or your screen while talking.
Pricing: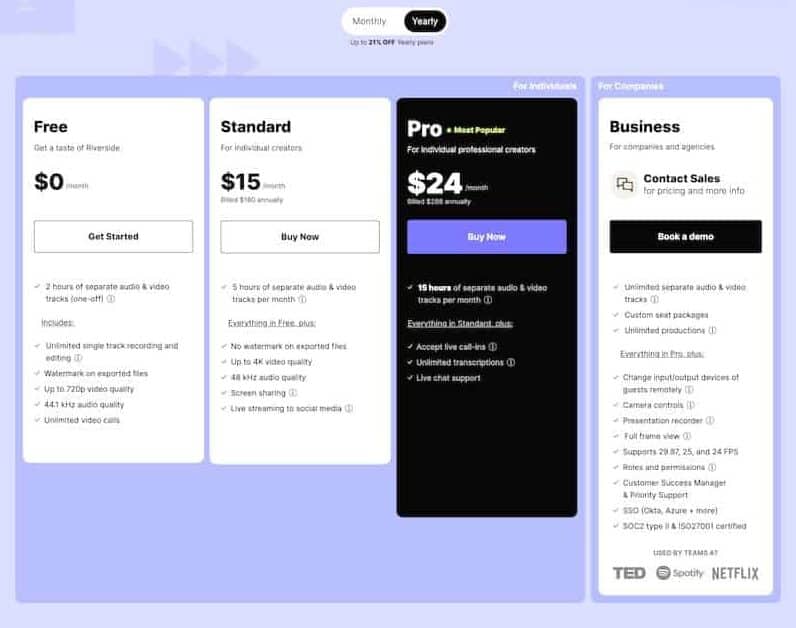 Riverside offers four pricing plans:
Free: $0 per month
Standard: $15 per month
Pro: $24 per month
Enterprise: Book a meeting for a custom quote
You can save up to 21% for an annual plan.
Best podcast tool for beginners ($12 per month).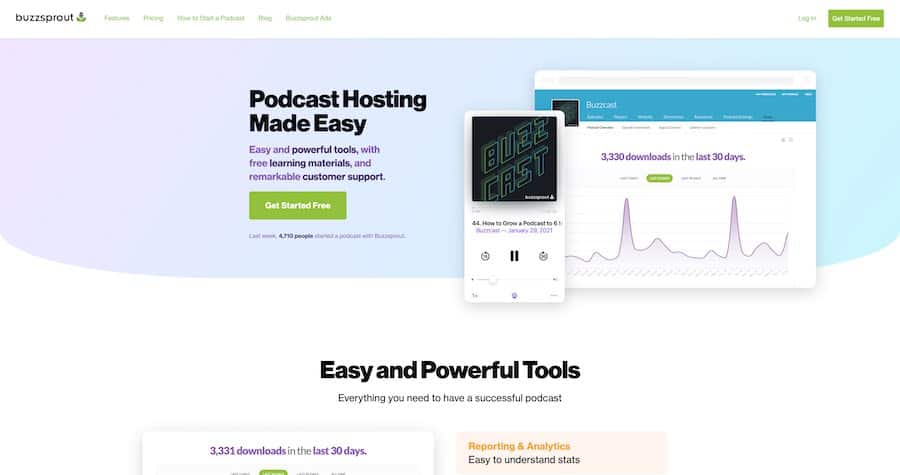 BuzzSprout is a podcast platform that helps you host, track, and promote podcasts.
It's compatible with all leading podcast directories like Spotify, Apple, Stitcher, Google, Alexa, Overcast, and more.
You can start your podcast with free hosting for up to 90 days.
Plus, the podcasting tool lets you publish your new podcasts immediately or schedule them for a later date and time.
BuzzSprout also lets you track metrics like total downloads over time and apps & directories used to listen to your podcasts.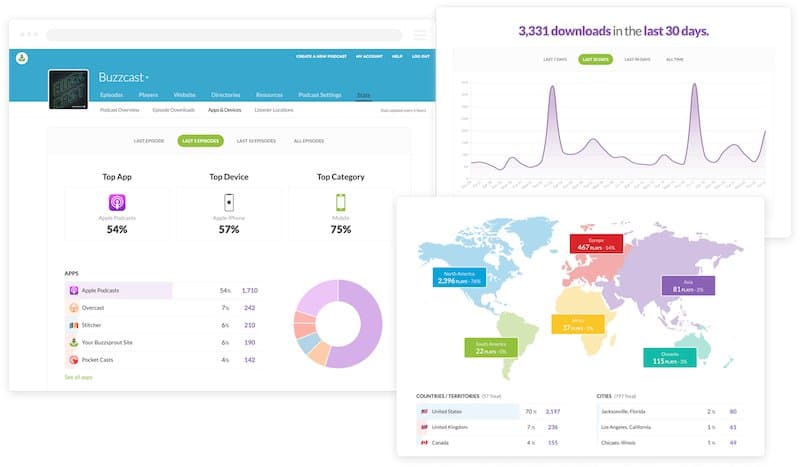 Some of its key features include:
Filters to enhance the podcast audio content quality of your podcasts.
Optimize the podcasts automatically for different audio files, ID3 tags, and bit rates.
Transcribe your episodes to improve SEO and make them more accessible.
Customize the podcast player to meet your branding needs.
The podcast player lets you skip backward, forward, and binge podcasts at 2X playback speed.
Besides, you can create chapters for easy navigation, which comes in handy if you have multiple podcasts for a subject.
It also allows you to add multiple team members to the dashboard and let them manage your podcast simultaneously.
BuzzSprout also partners with various leading brands to help you earn extra money through affiliate marketing.
Pricing: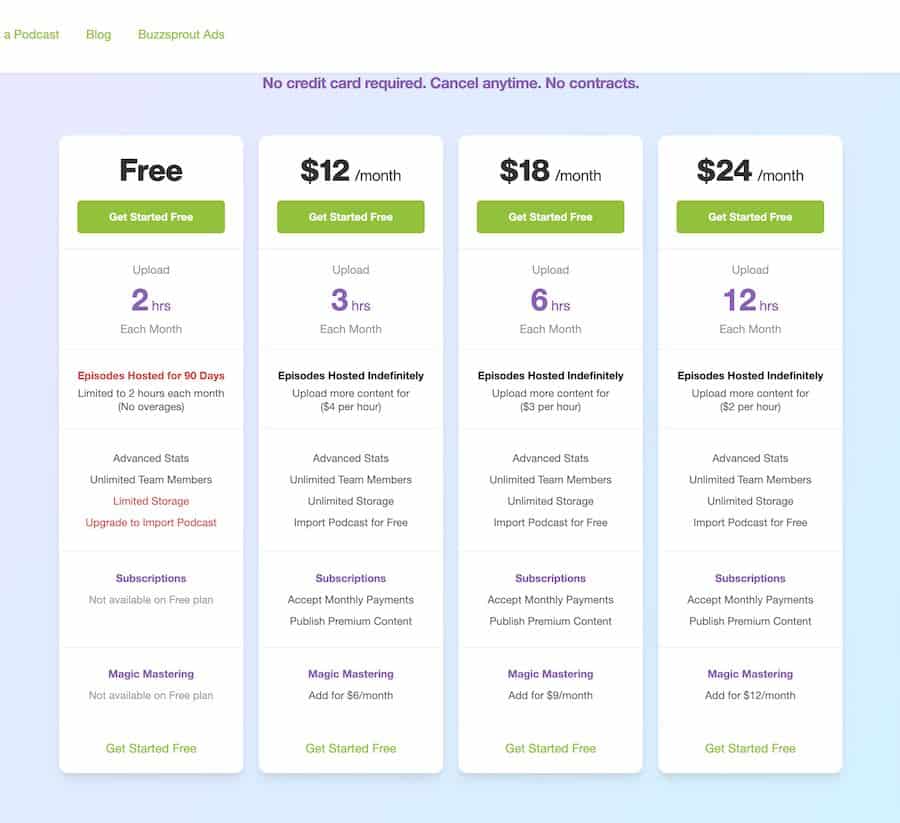 BuzzSprout offers three pricing plans:
Upload 2 hrs Each Month: Free for 90 days
Upload 3 hrs Each Month: $12 per month
Upload 6 hrs Each Month: $18 per month
Upload 12 hrs Each Month: $24 per month
You can read my full BuzzSprout review for more detailed information.
You also get free podcast hosting for up to 90 days and a free Amazon gift card when you sign up.
Best for podcast monetization and advertising ($6/mo billed yearly).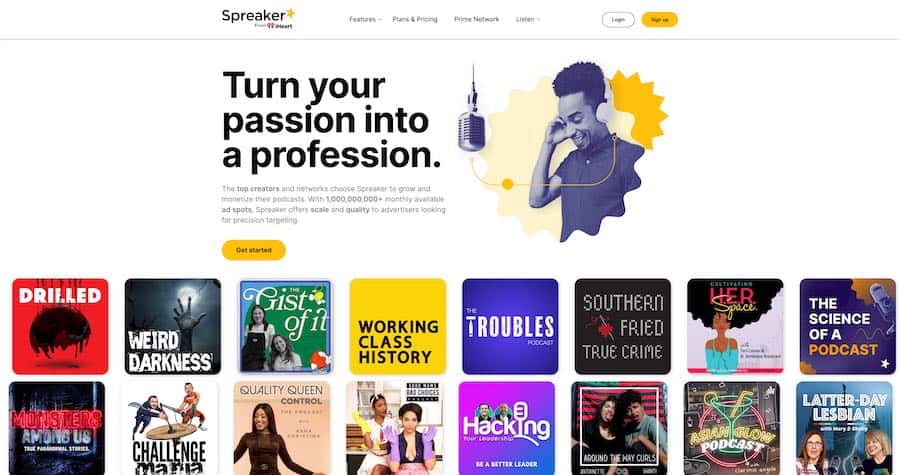 Spreaker is an all-in-one platform for podcast hosting, creation, distribution, and monetization. It comes bundled with a podcast recording app and helps you record, publish, and analyze your podcasts.
Its audio studio feature helps you record every word clearly through auto-ducking and multiple mic controls. You can also execute live podcast recordings and chat with listeners in real-time during the podcast.
Not only that, Spreaker Studio provides integration with Skype, so you can interview someone and record their audio via Skype.
You can leverage its podcast editing software to crop and trim the audio or migrate old content into the audio.
The platform offers real-time access to audience statistics, even on its mobile app.
Spreaker is big on podcast advertising and offers two advertising options, including:
Dynamic Advertising Insertion – This advertising solution helps you deliver relevant ads and garner more engagement.
Programmatic Advertising – automatically buys and sells adverts on your behalf to help you earn passive income.
You can also distribute podcasts on multiple platforms, including Google, Spotify, Apple, Podchaser, iHeartRadio, etc., through a single tap.
Pricing: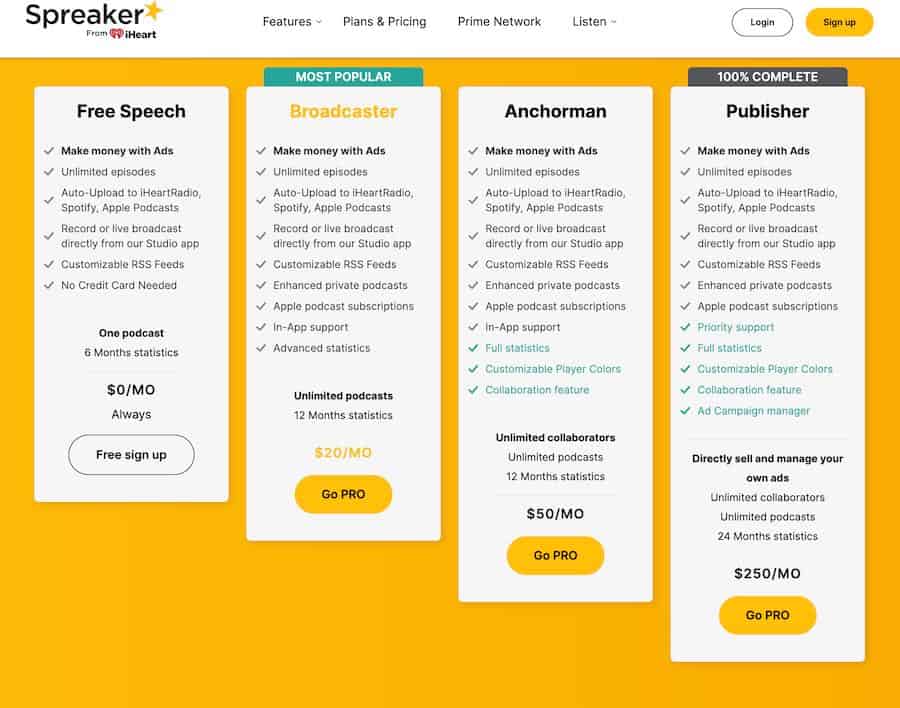 Spreaker offers four pricing plans, including:
Free Speech: $0
Broadcaster: $20/mo billed yearly
Anchorman: $50/mo billed yearly
Publisher: $250/mo billed yearly
Best for measuring podcast analytics ($19 per month).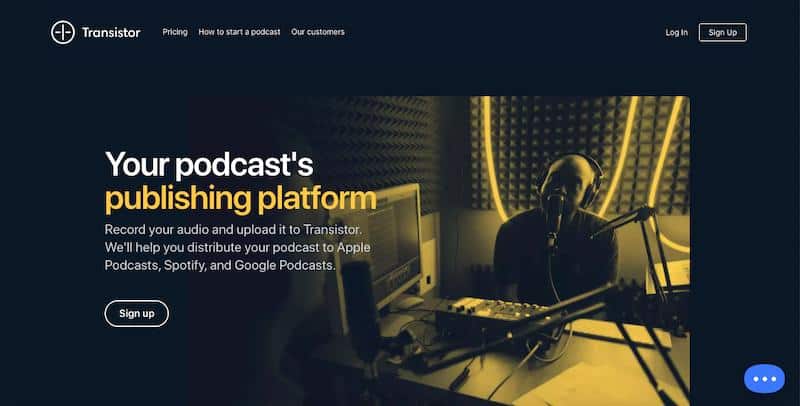 Transistor is another popular podcast tool that helps you record and distribute podcasts to Spotify, Apple Podcasts, Pocket Casts, etc.
It lets you create unlimited podcasts through its single pricing plan.
You can create podcasts in multiple formats without any extra cost.
You can embed its podcast player, including a multi-episode player, on your website through a simple embed code.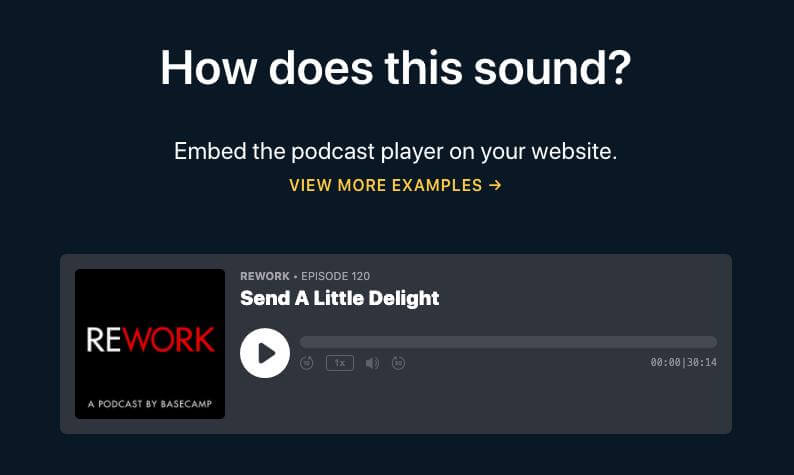 Plus, it lets you identify podcast apps used to view your episodes, average download per episode, number of new listeners subscribing to your podcast, etc.
Pricing: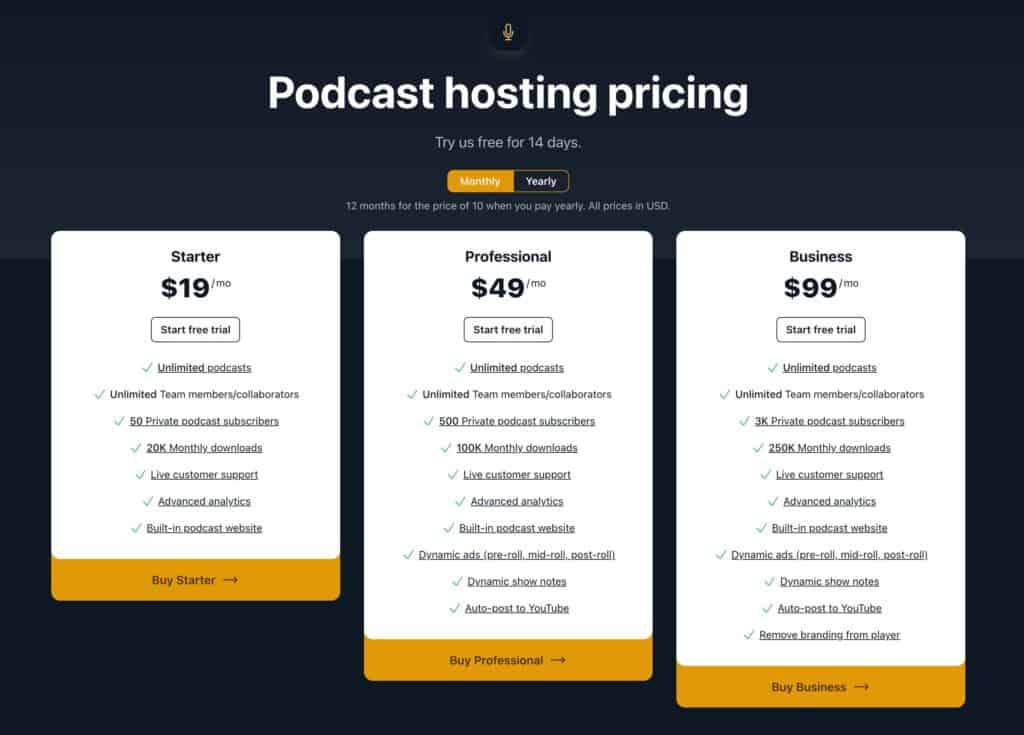 Transistor offers three pricing plans:
Starter: $19 per month
Professional: $49 per month
Business: $99 per month
You also get a 14-day free trial.
Best for monetizing a podcast.
RSS.com offers unlimited storage that one can use to host and monetize a podcast.
They also provide an easy-to-use interface that simplifies managing your podcast and tracking your listener statistics.
They offer a free website setup that enables you to get started immediately, and they have a wide range of features to help you grow your podcast.
RSS.com is also an excellent option for those who need help getting started with their podcast, with various support options.
You can leverage their partnership opportunities to help you monetize your podcast by finding sponsors to help with various aspects of your podcasting business.
With the ability to get cross-platform analytics, RSS.com can serve podcasters looking to get all the data points to help them make money from their podcast.
Pricing: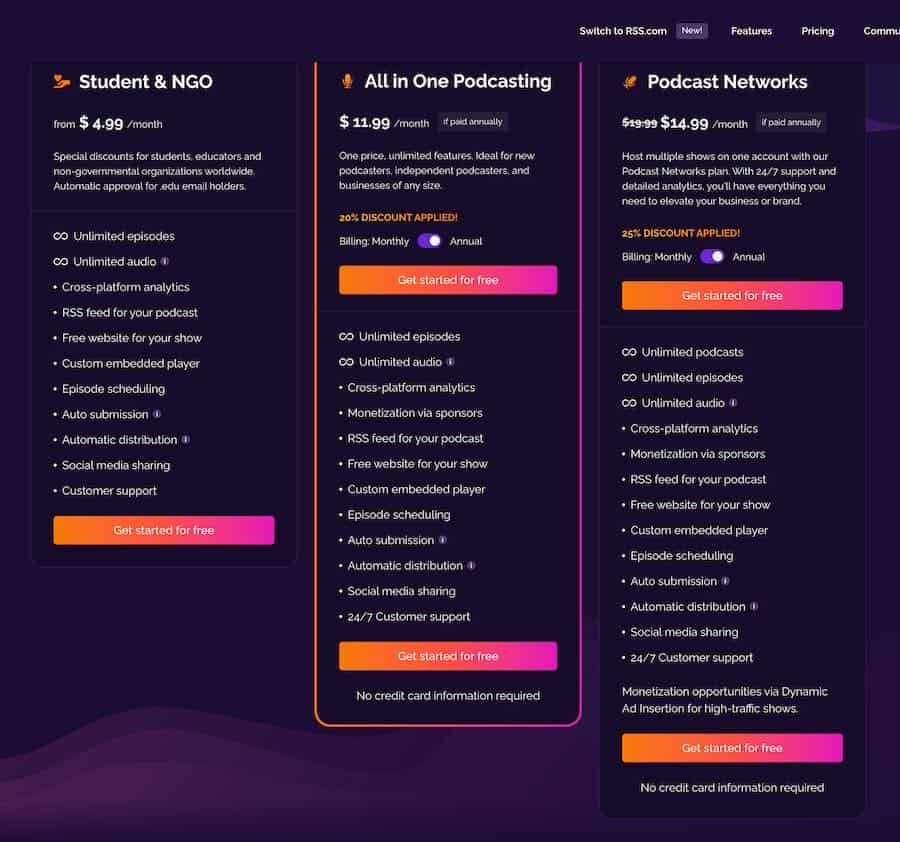 There are three pricing plans on RSS.com:
Student & NGO: pricing starts from $4.99 /month
All in One Podcasting: $11.99/month (paid annually)
Podcast Networks: $14.99/month (paid annually)
How Do I Get Started With Podcasts?
Podcasts have rapidly gained popularity over the years, providing a fantastic source of entertainment, education, and a platform for positive discussions.
With the increasing number of people listening to podcasts, you might wonder how to create or listen to this highly engaging and informative audio content.
The first step in delving into the world of podcasts is to understand what they are.
A podcast is simply an on-demand audio series distributed through the Internet.
They can cover a wide range of topics, including but not limited to politics, business, education, health, technology, or entertainment.
The beauty of podcasts lies in their originality and the diversity of perspectives and ideas they present.
The next step to starting your podcast journey is choosing your preferred tool or listening platform.
There are numerous options, including Apple Podcasts, Spotify, Google Podcasts, SoundCloud, and many more.
Each platform has unique features designed to make it easy to subscribe, download, and listen to your favorite podcasts at any time, regardless of location.
If you aim to be a podcaster, the first step is to identify your niche or topic of interest and then plan and create the content.
You can use free or paid podcast hosting services to distribute your content, build your audience, and track your performance.
The right podcast hosting service lets you start the journey with the right tools and guidance.
Once you are up and running with your podcast, the next step is to promote it and grow your audience.
Sharing your podcast on social media and other online platforms can help boost your visibility and increase listenership.
As you continue to create and publish relevant and engaging content, your audience will grow, and you will soon realize the full potential of your podcast.
To summarize, podcasts are an increasingly popular entertainment, education, and information dissemination.
Through podcasting, individuals and businesses can leverage the power of the Internet to create and distribute highly engaging and informative content to audiences worldwide.
History of Podcasts.
Back in the 1980s, podcasts were also called audio-blogging.
However, it got popular only in the early 2000s after the evolution of broadband internet and the launch of portable audio devices like MP3 players and iPods.
In September 2000, I2Go launched the first podcast system that facilitated the automatic downloading, selection, and storage of podcast episodes on mobile devices and computers.
It launched a digital entertainment and audio news service called MyAudio2Go.com.
It allowed its users to download episodic entertainment, sports, news, music, and weather in the audio format. But the service lasted for a year only.
The Boom After 2005.
With the boom in access to high-speed internet and smartphones, more than 115,000 English-language podcasts are now available online.
With iTunes 4.9 update in 2005, Apple offered native support for podcasts on its audio streaming platform.
It was also the same year George W. Bush became the first president to deliver his weekly address through a podcast.
In a 2006 keynote speech, Steve Jobs demonstrated the making of podcasts through GarageBand software.
Fast forward to 2020, there are over 30 million podcast episodes all over the globe.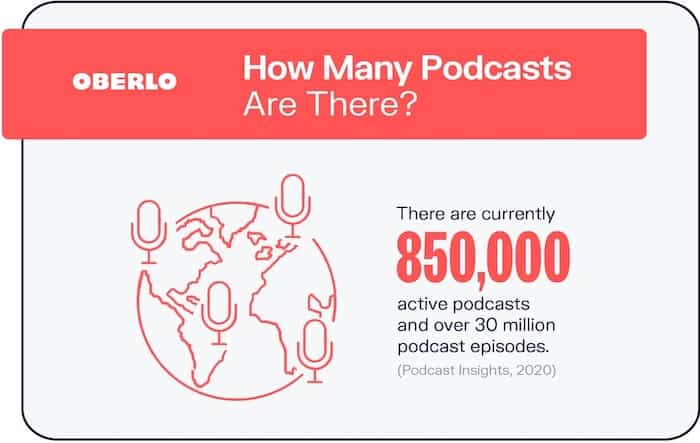 Podcasting Timeline (2004-2019).
Here's a quick podcasting timeline along with historical milestones:
2004: Adam Curry and Dave Winer are officially credited as the founders of podcasting.
2005: Apple iTunes 4.9 got released to support the podcast feature.
2005: George Bush became the first President of the USA to deliver his weekly speech as a podcast.
2005: The New Oxford American Dictionary declared "Podcast" the "Word of The Year."
2006: Steve Jobs explained how to record a podcast through GarageBand in his keynote speech.
2007: Ricky Gervais created the world record for the most significant number of podcast downloads.
2009 – 2011: Andrew Carolla's podcast got the highest downloads, 59,574,843.
2013: Apple announced 1 billion global podcast subscribers.
2019: 165 million users have access to podcasts, which includes 90 million American users.
Executive Summary.
Podcasting has quickly become immensely sought-after and a lucrative way to promote your brand and broadcast your content.
The good thing is that your audience can consume your content anywhere they want.
With podcasting, you can also reach a new audience and try your hand at a new form of content publishing.
You must engage, pull in your audience, and select a podcast format.
Recording yourself or interviewing someone is also pretty cheap and straightforward.
And now that even Google indexes podcast, you can use them to boost SEO.
Further reading on AdamEnfroy.com: To get started with your show, check out my detailed guide on How to Start a Podcast.
Furthermore, if you're already a seasoned podcaster, why not consider Audible as another channel to make money?
Making money on Audible can become a great way to supplement your income and reach an even wider audience.
Editorial Process:
Our reviews are made by a team of experts before being written and come from real-world experience. Read our editorial process here.
Some of the links in this article may be affiliate links, which can provide compensation to us at no cost to you if you decide to purchase a paid plan. These are products we've personally used and stand behind. This site is not intended to provide financial advice. You can read our affiliate disclosure in our privacy policy.
---
Last Updated on September 11, 2023 by Adam Enfroy