Best Joe Rogan Podcasts Episodes to Listen to (2023)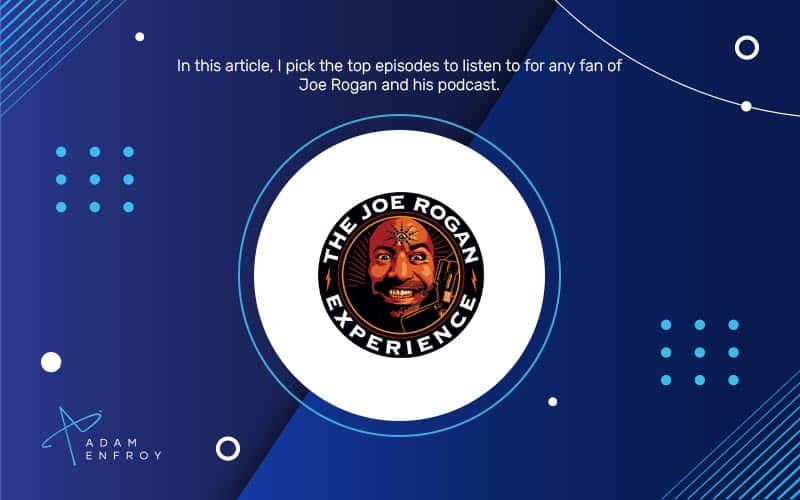 Joe Rogan has been a leading voice in podcasting for many years.
His show, The Joe Rogan Experience, is one of the most popular online and has featured some incredible guests.
With over two thousand episodes, picking out exceptional ones can be challenging.
In this article, I pick the top episodes for any fan of Joe Rogan and his podcast.
Best Joe Rogan Episodes
Here are some of the best Joe Rogan episodes to consider.
JRE #1315 – Bob Lazar & Jeremy Corbell
This Joe Rogan podcast featured an intriguing dual interview between Bob Lazar and Jeremy Corbell.
They discussed a particularly mysterious topic – Lazar's claims to have reverse-engineered an alien spacecraft.
Joe Rogan is well-known for his curiosity about extraterrestrial activities, making this podcast especially interesting.
The podcast has struck the perfect balance between scientific debate and captivating storytelling that will draw the listener into many questions about the broader universe beyond our planet.
If you go into this openly, this discussion should not be missed, regardless of what one believes about Lazar's account.
JRE #1109 – Matthew Walker
Joe Rogan had an in-depth conversation with Matthew Walker, founder, and director of the Center for Human Sleep Science, on the Joe Rogan Experience podcast.
Joe Rogan's interview gave listeners vital information on the importance of profound sleep, which people often take for granted.
Over the years, The Joe Rogan Experience built up a reputation for tips on how to live better, and this conversation was no different.
It took things further than most episodes by having the guest detail how certain behaviors affect sleep.
Joe Rogan and Matthew Walker left listeners feeling more educated about the power of sleep and inspired to improve their sleeping habits.
JRE #1283 – Russell Brand
JRE #1283, featuring stand-up comedian Russell Brand is a must-listen for any fan of this podcast.
Brand and Rogan got into an insightful discussion on various topics, from the power of psychedelics and why we should respect nature to personal growth and how one can make meaningful changes in their life.
They also discussed hormone replacement, jiu-jitsu, and other types of martial arts.
Of all the Joe Rogan podcast episodes, this one is undoubtedly one of the most thought-provoking, and it will leave listeners with plenty to reflect on.
On the show, Joe Rogan and Russell Brand have a strong chemistry that allows them to engage in conversations easily.
It also helps Russell Brand isn't afraid to address more meaningful topics.
Not many other podcasts of Joe Rogan's caliber can juggle humor and meaningfulness while maintaining their audience.
JRE #1531 – Miley Cyrus
Joe Rogan's #1531 episode featuring Miley Cyrus is one of his best JRE episodes.
Joe Rogan has had some fantastic guests on his podcast over the years, and his conversation with Miley Cyrus is up there.
Miley Cyrus discusses various topics, including growing up in the public eye.
She discussed her journey of recovery, both good and bad times, and how she has been able to juggle her various responsibilities while still finding ways to stay healthy and balance her life.
This podcast is worth listening to if you want to learn more about Miley's struggles and how she overcomes them.
JRE #1675 – Quentin Tarantino
Joe Rogan's interview with legendary director Quentin Tarantino is a must-listen for movie buffs.
Moreover, Joe Rogan's interview with Quentin Tarantino stands out due to the detailed discussions beyond his life story.
Joe Rogan analyzes specific aspects of Tarantino's movies, creating an engaging and informative podcast episode.
Considering Tarantino is more than willing to talk in-depth about his work, viewers get an unmatched insight into his classic films.
Joe Rogan and Quentin Tarantino's discussion makes it one of the most memorable Joe Rogan Experience episodes.
JRE #1169 – Elon Musk
For many, one of Joe Rogan's best episodes is his interview with entrepreneur, engineer, and co-founder of Tesla, Elon Musk.
Elon Musk is a leader of innovation who is widely known for being the CEO of SpaceX and Tesla.
From the big questions concerning people's lives today to the most significant future ideas, this episode of the Joe Rogan experience is jam-packed with quality conversation.
Going over the topic of artificial intelligence, he outlines his vision for the future of humanity and how one can achieve this through the development of technology.
This conversation reveals Elon Musk's complex knowledge, innovative ideas, and a more substantial understanding of our society's direction.
Musk also goes over his business motivations, successes, and ideas about the future.
The exciting discussion gave fans and followers an inside look at Musk's thoughts about various aspects of modern life.
JRE #962 – Jocko Willink
Jocko Willink is a household name in the leadership and military communities.
His role as a New York Times Best Selling author and podcast host further solidified that reputation.
He is best known for being a retired US Navy Seal Commander who led the most highly decorated unit during the Iraq War.
However, people will remember him for pioneering new approaches to leadership – emphasizing willpower and personal discipline over freedom.
In doing so, he's been able to bring freedom to many more people than via traditional methods of military command.
Through his discussion on the Joe Rogan podcast (along with his own Jocko Podcast series), Willink has spread his insights on discipline and crisis management to many eager listeners.
On the podcast, the pair speak about addictions, working out, today's generations, and many more topics that impact mental health.
JRE #865 – Wim Hof
Wim Hof, also known as "The Iceman", is an extreme athlete and adventurer who has set world records for his incredible abilities to withstand intense cold temperatures.
Wim Hof believes anyone can learn to do what he does and has developed a training method to help others achieve these remarkable feats.
He has released multiple instructional videos, books, and podcast episodes explaining the science behind his "Wim Hof Method" and how anyone can improve their health, well-being, and resilience.
Joe Rogan discussed this technique on his own podcast to shed some light on this method and its potential applications.
He spoke with Wim Hof about his experiences, challenges, and successes in implementing the "Wim Hof Method" and how anyone can use it to improve their lives.
They talked about the science behind it and how it has been able to help people of all ages and backgrounds increase their mental and physical performance, boost their immune system, reduce stress levels, and much more.
JRE #543 – Sam Harris
Sam Harris is a well-known philosopher, author, and podcast host.
He is frequently interviewed on Joe Rogan's podcast to discuss his fascinating views on various topics– from philosophy and psychedelics to meditation and politics.
Harris approaches each topic with sound logic and the scientific method, which makes for an incredibly intellectually stimulating environment that anyone would benefit from listening to.
His thought-provoking discussions cover ideas many wouldn't have imagined possible before they tuned into the podcast, making it worth paying attention to.
JRE #Various – Jordan Peterson
Joe Rogan's podcast with Jordan Peterson has provided insight into psychology and philosophy extensively.
Furthermore, many have experienced Peterson's advice as extremely helpful in reaching their goals.
His conversations with Rogan bring about a refreshing appreciation for the intricacies of life and how to tackle them intellectually and systematically.
Jordan Peterson's appearances on Joe Rogan's podcast are engaging, informative, filled a rant here and there, and thought-provoking.
From discussing religion to politics to self-improvement, the topics that Peterson and Rogan touch on are always enthralling.
JRE #901 – Dr. Rhonda Patrick
Joe Rogan's 901st podcast episode was memorable for those interested in the human brain.
On this show, Joe welcomed Dr. Rhonda, an biomedical science and nutritional health expert.
They discussed the topic of depression, its impacts on brain function, and methods for attaining happiness.
Joe and Dr. Rhonda set out to explain the complex subject of depression with clarity, providing plenty of research-backed information about possible contributing factors to unhappiness.
Whether you suffer from the condition or know someone affected, this episode of Joe Rogan's podcast might be beneficial.
JRE #737 – Lance Armstrong
Joe Rogan has a knack for bringing out the unvarnished truth in his guests, and Episode #737 with Armstrong is no different.
Rogan delves deep into various theories with cycling legend Lance Armstrong in this incredibly thought-provoking interview.
We all know the doping scandal that Lance faced and the struggle he went through while trying to keep his career alive.
Famous for winning the Tour de France 7 times and then admitting to taking performance-enhancing drugs, Armstrong provides an insight into one of the sport's greatest scandals.
Joe Rogan succeeds in drawing out the details of this extraordinary story and presents an in-depth exploration of Lance's cycling accomplishments and scandal, providing an overview from both sides of the controversy.
Joe Rogan headlines a fascinating conversation about what it means to come back from the brink when all hope seems lost, making the episode an absolute must-listen.
JRE #1916 – Jon Bernthal
Joe Rogan has seen many fantastic guests on his podcast, but one of the best was Hollywood filmmaker and actor Jon Bernthal.
Bernthal joins Joe to discuss his various roles as he is known for his Netflix show The Punisher, his role in the Walk Dead, and many other shows.
He also talks about how playing such iconic characters has personally affected his life.
Jon Bernthal is an exceptionally reliable performer and has played numerous acclaimed movie roles.
Recently, he had a long and informative conversation with Joe Rogan on his podcast, where Bernthal openly discussed his spine-chilling experience of almost getting killed in Russia.
JRE #1554 – Kanye West
Over the years, Kanye West's behavior has sparked intense debates about his public persona.
On Joe's show, he addressed many controversial topics surrounding him by providing an engaging three-hour conversation.
During the discussion, Kanye delved into personal matters regarding the rumors about having bipolar disorder while expanding on relevant modern topics.
Fans were also given a unique glimpse into West's interpretation of life and why he may have decided to run for President.
JRE #1493 – Steve Schirripa and Michael Imperioli
Joe Rogan recently hosted an engaging podcast with two stars from the all-time classic TV show The Sopranos.
Joe questioned these legends of the small screen on their experiences from when The Sopranos first aired and came to be widely cited for initiating the 'golden age of television.'
This smash hit show rose to unimaginable success seemingly overnight, with its magical story arcs and brilliant music connecting it deeply to nationwide audiences.
Joe's podcast offered a unique insight into this phenomenon by having both seasoned experts give voice to the show's influence in understanding how quickly it became popular.
While Joe Rogan's podcast always provides fascinating guests and stories, this unique take on The Sopranos will live on for long.
JRE #1900 – Steve-O
Although Jackass was a popular show for years, it underwent a critical reassessment before its sequel Jackass Forever, went live in 2022.
This reassessment has made the show more popular than ever, and Steve-O—one of its lead members—is thriving after his wild career.
Despite the critique that Jackass sometimes gets, one cannot deny its impact on popular culture.
With Steve-O appearing on Joe Rogan's podcast to talk about it, he also discusses why he became sober, various life lessons, and how his show helped influence many of today's comedic TV shows.
JRE #1439 – Michael Osterholm
Joe Rogan's episode #1439 is a must-listen due to the Coronavirus pandemic discussion.
The episode with whistleblower Michael Osterholm was highly informative and sparked a meaningful discussion about the COVID-19 pandemic.
Michael Osterholm is an American epidemiologist and director of one of the most infectious disease research centers.
Joe Rogan invited him to provide in-depth knowledge and insight.
His fluency on the topic already exceeded many Americans' understanding at the time of Joe Rogan's podcast.
JRE #1278 – Kevin Hart
Kevin Hart's 2019 Joe Rogan Experience podcast episode #1278 is one of the best podcast options.
It's a roller coaster of wit, fun, and candid conversation.
It was genuinely riveting to witness why Hart chose comedy as his profession and to understand the values he loves to uphold in his work.
Throughout this episode, it is clear that Kevin believes success comes from hard work and unyielding determination.
Undoubtedly, this episode allows viewers to sink into a pool of fun and gain insight into the comedian's ideas and core belief systems.
JRE #857 – Dan Bilzerian
Dan Bilzerian is a unique individual whose life story is invigorating.
Bilzerian has many facets, from his start as the son of a Wall Street corporate raider to becoming a professional poker player.
His personality and wealth have created an exciting life in the public spotlight, including developing a CBD product company.
Appearing on Joe Rogan's podcast episode #857, he discusses his relationships with women over his lifetime and having multiple heart attacks due to drug use.
JRE #1227 – Mike Tyson
Mike Tyson, the legendary former heavyweight boxing champion, has recently been a popular guest on Joe Rogan's YouTube podcast.
The episode revealed remarkable stories of his career with memorable events such as Tyson's infamous ear-biting incident and ownership of tigers.
Moreover, Tyson was allowed to open up about his experiences with drugs, including acid, marijuana, and mushrooms, and his ongoing efforts to develop his marijuana strain at his ranch.
JRE #1512 – Ben Shapiro
Ben Shapiro's episode of the Joe Rogan Experience (#1512) was a highly informative and thought-provoking discussion.
The two discussed the nature of truth, logic, and morality.
Ben Shapiro offered his perspective on conservatism, abortion, gun control, and other hot topics in modern politics.
His thoughtful answers and candid insight made this one of the most memorable Joe Rogan podcasts.
Moreover, it was among the few times that such a large audience heard Shapiro's opinion on modern politics and culture.
This episode opened up an avenue for discourse between people from both sides of the political spectrum, making it a highly successful conversation.
JRE #1212 – David Goggins
Another of the most popular podcasts from the Joe Rogan Experience was that of David Goggins (#1212).
The episode was one of the most inspirational yet.
Goggins spoke about his incredible journey from struggling to graduate high school to becoming an ultra-marathoner, Navy SEAL, and endurance athlete.
He talked about his struggles with depression and how he could push through and overcome obstacles to achieve his dreams.
It was an incredible story of resilience and dedication that inspired many listeners worldwide.
JRE #138 – Anthony Bourdain
Celebrity chef Anthony Bourdain was a guest on Joe Rogan's podcast episode #138.
During the discussion, Bourdain talked about his life as a chef and his worldly perspective on food and culture.
He also discussed some of his favorite places to travel and how he has seen himself evolve through these travels.
Bourdain was an articulate speaker full of passion that captivated the audience.
He was able to convey his knowledge and experiences in a way that was both interesting and inspirational.
JRE #1945 – Eric Weinstein
JRE podcast #1945 talks about UFOs and other conspiracy theories.
Eric Weinstein is a mathematician, economist, and managing director of Thiel Capital.
He is also the brother of controversial activist Bret Weinstein.
Eric joined Joe Rogan to discuss his ideas on conspiracies, UFOs, aliens, and government cover-ups.
He explains some of the strange occurrences happening today that simple explanations cannot explain.
This captivating episode was full of fascinating facts and theories on what could happen in our world today.
Eric also offers his opinion on why governments want to cover up such things and what it means for our future.
Who Is Joe Rogan?
Joe Rogan is a comedian, podcast host, and martial arts enthusiast who has gained a massive following in recent years.
As of 2021, Joe Rogan's net worth was estimated at around $120 million.
Joe Rogan has become a household name since he started his podcast, The Joe Rogan Experience (JRE), which he began in 2009 as an online channel on YouTube.
With such a diverse range of guests, it can be difficult to single out some episodes as the best of Joe Rogan's show.
Recently, he signed an exclusive deal with Spotify and is estimated to earn more than $200 million through the agreement.
That said, you can also listen to his show on Amazon.
Famously known for his UFC commentating and hosting duties (which don't apply to international events), his show is tuned into by millions worldwide.
Known for his love of MMA, Rogan has interviewed many stars that have a background in the sport.
However, he's also had other guests on the show unrelated to MMA, such as world-renowned scientists, conspiracy theorists (such as Alex Jones), social media personalities, astrophysicists (such as Neil deGrasse Tyson), NSA employees, comedians, authors, politicians, and many more.
His show is tuned into by millions of people worldwide, and he has gained a large following due to his unique interviewing style and comedic delivery.
He is also famous for snubbing people from coming on the show.
For example, Joe Rogan claims he refused to let Donald Trump come on the show.
Wrap Up.
Joe Rogan's journey to success is a story of resilience and dedication that has inspired many listeners worldwide.
With such a wealth of knowledge due to the varied guests that he has had on the show, it's no wonder why Joe Rogan has become one of the most popular podcast hosts today.
From discussing conspiracy theories to in-depth interviews with guests from all walks of life, The Joe Rogan Experience offers a unique and entertaining experience.
Thanks to his diverse content and captivating interviews, listeners will walk away with a wealth of knowledge after tuning into The Joe Rogan Experience.
Further reading on AdamEnfroy.com: Want to learn how to start your podcast?
Here are the best podcast hosting sites to consider.
In addition, here's how to write a podcast script that engages your audience, pitch your podcast to others to help boost it, and finally, market it successfully.
Editorial Process:
Our reviews are made by a team of experts before being written and come from real-world experience. Read our editorial process here.
Some of the links in this article may be affiliate links, which can provide compensation to us at no cost to you if you decide to purchase a paid plan. These are products we've personally used and stand behind. This site is not intended to provide financial advice. You can read our affiliate disclosure in our privacy policy.