Blogging For Dummies: Starting A Blog In 2023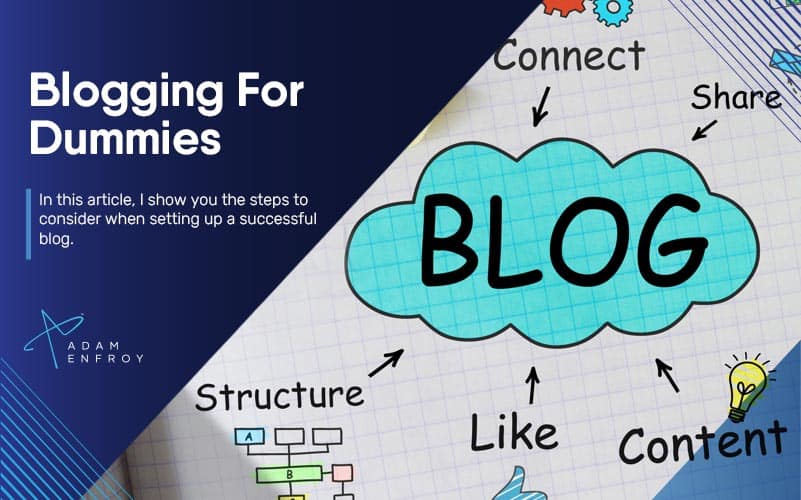 Blogging can be fulfilling and exciting, but starting your site might be challenging for many people.
The good news is that having a blog is easier than ever, especially for people with limited technical knowledge.
In this comprehensive guide, I'll show you how to start your blog and avoid common mistakes so you can increase your chances of blogging success.
How Should I Start Blogging As A Dummy?
While the term "dummy" may sound intimidating, we've all been dummies at one point or another when starting a new skill.
Starting a blog is no different.
The good news is that anyone can do it with proper guidance.
Choose The Right Topic
The first and most crucial step in starting a blog is choosing the right niche or topic.
When choosing a topic, pick one you're passionate about that aligns with your goals.
It could be anything from gardening, cooking, fashion, or personal finance.
Once you've decided on your topic, think about your target audience.
Your blog should provide value to your target audience and pique their interest enough to keep them coming back.
Next, select a niche and develop an engaging and valuable content strategy for your target audience.
While it may take some time to get the hang of blogging, start by considering what topics your readers will find most interesting and helpful.
Select A Blogging Platform
Next, choose a blogging platform that suits your needs and skill level.
I recommend major blogging platforms like WordPress, Blogger, Wix, and Squarespace.
Each platform has strengths and weaknesses, but WordPress is the most popular and user-friendly platform.
It offers various customizable templates, plugins, and themes, making it easy for beginners to start.
Plus, it's free to use and comes with excellent customer support.
Whichever platform you choose, learn how to use it to manage your own blog.
Come Up With High-Quality Content
The key to building a successful blog is creating high-quality and engaging content.
Content your readers find useful (which also solves their problems) can help you build your blog business through a loyal readership.
Writing blog posts isn't the only form of content you can create.
You can also create videos, podcasts, infographics, and other visual elements that help you stand out from the competition.
When creating content, focus on quality over quantity, and always strive to improve your writing and creative skills.
Creating a consistent posting schedule is also crucial for building a successful blog.
Tell Others About Your Blog
You can have the best site in the world.
However, if no one knows about it, what's the point?
Marketing your blog is vital.
The use of social media is a great way to get people to visit.
Share your posts on Facebook, Twitter, LinkedIn, Instagram, and other relevant platforms to attract the attention of your target market.
You can also engage with other bloggers and influencers to build relationships and get more exposure for your blog.
Remember to focus on SEO to increase its visibility on search engines like Google.
Promoting your blog through social media and other online channels while engaging with your readers can help you grow your blog quickly.
Being open to refining your approach based on their feedback and analytics data can further increase your chances of success.
Monetize Your Blog
If you want to earn money from your blog, there are several ways to monetize it.
Some popular methods include advertising, sponsored posts, affiliate marketing, and selling products or services.
However, keep in mind that it takes time and effort to make money from a blog.
You need to build an audience and establish yourself as an authority in your niche before you can start earning a significant income.
But you can turn your blog into a profitable small business with hard work and persistence.
Enhancing Your WordPress Blog With Plugins
WordPress is one of the most popular website platforms for bloggers because it's easy to use, customizable, and feature-rich.
Even though it's a blogging all-in-one platform, you can make it even better by installing WordPress plugins.
Thousands of free and paid plugins are available.
They can help you add valuable features to your site without coding knowledge.
Whether you want to improve your blog's security, performance, or web design, a plugin is perfect for your needs.
Protect Your Blog
One of the most critical things you need to do as a blogger is to protect your blog from spam and security threats.
For new bloggers, protecting their online business blog is crucial as it can be vulnerable to hacking and malware attacks.
Therefore, having great content is insufficient if there is no security to safeguard the blog from potential harm.
Hackers are always looking for loopholes to exploit, so installing essential free plugins like Akismet, Vault Press, WordFence, and iThemes Security is critical.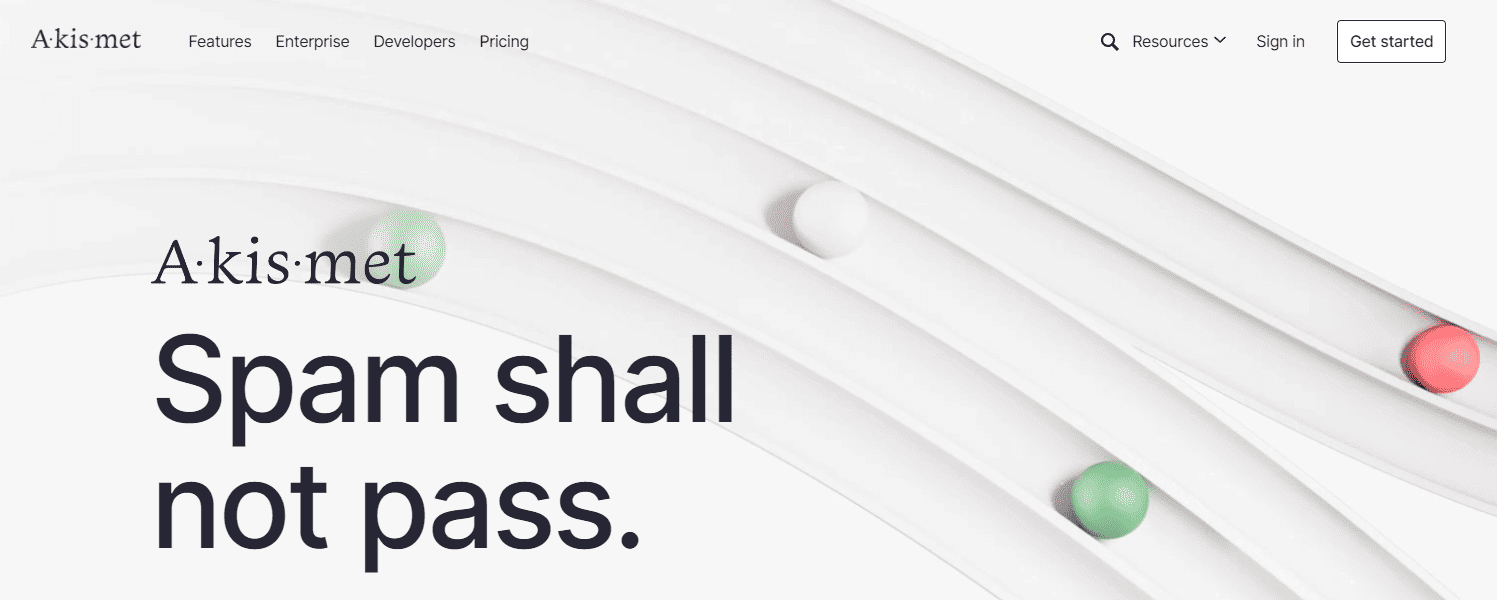 This covers your blogging basics and helps prevent malicious attacks.
Enhance Your Blog
It's essential to have a well-designed layout that enhances the user experience to optimize your blog's functionality.
A good blog caters to its audience's interests, providing valuable information and engaging them in conversation.
Your blog's loading speed is crucial for user experience and search engine optimization (SEO).
People tend to leave websites that take too long to load.
Similarly, Google may lower your website's ranking if it takes too long to load.
Boost Your Blog's SEO
Optimizing your blog content with targeted keywords and meta descriptions can significantly improve your SEO.
Regularly updating your blog with relevant information can help increase traffic and engage readers.
Next, promoting your blog on social media platforms can also improve SEO by driving traffic to your site.
Also, building quality backlinks to your blog can further enhance your search engine ranking and authority.
Add More Engaging Elements
Blogs with engaging elements like infographics and videos get more shares and engagement.
Additionally, these elements help break up long blocks of text, making the blog post more visually appealing.
For example, your sidebar is an excellent place for an infographic or video to help draw readers' attention and keep them engaged.
You can also include sponsorships or collaborations to help promote your blog.
Adding social media sharing buttons can encourage readers to share the post with their followers.
Choosing The Best Hosted Blogging Software
Setting up and managing a blog can be daunting, especially if you are new to online publishing.
The first and the most crucial decision you must make is which blogging platform to use.
With so many options available, it can be overwhelming to choose the right one.
What Is Hosted Blogging Software?
Hosted blogging software is a solution where the software company provides web hosting services, meaning the servers host your blog.
In contrast, self-hosted software requires technical knowledge to set up your blog on a web server.
Hosted blogging software is an excellent option for beginners as it eliminates the need for technical knowledge, making it easier to set up your blog.
Choosing The Right Hosted Blogging Software
Choosing the right software depends on your blogging needs, preferences, and budget.

Image credit: wordpress.com
The right blogging software can also make having an RSS feed a part of your blog easier.
It is essential to syndicate content and allow others to subscribe to your posts.
If RSS feed compatibility is high on your wishlist, WordPress.org offers an excellent option for bloggers looking for easy integration of RSS feeds.
However, it requires technical know-how to set up and manage your blog through WordPress.org's self-hosted platform.
Hosted Blogging Software Features
When choosing the right hosted blogging software, consider the features that they offer.
For instance, look for software with a customizable domain name, easy-to-use templates, and themes that suit your brand image.
Also, consider features like social media sharing buttons, privacy settings, and the ability to monetize your blog.
As blogging continues to grow in popularity, more writers find that having an editorial calendar helps them plan and schedule their posts ahead of time.
Having software with an inbuilt calendar can help you stay organized, so this is something to look for when deciding on the right software.
Customer Support And Ease Of Use
Your hosted blogging software should have reliable customer support and user-friendly interfaces.
Beginner bloggers may need more technical expertise to troubleshoot problems, and having prompt, helpful customer support can make all the difference.
Likewise, ease of use is essential to ensure you spend more time creating content than struggling with the software.
Finding Your Niche
Before you make your first post, finding your niche, expertise, and interest is critical to creating a successful blog.
When your readers visit your blog, they should know what to expect, whether culinary tips, fashion advice, or career guidance.
Finding the right niche for your blog can be a challenge, but there are some simple steps you can take to help you decide.
Here are the key steps to choosing a blogging style.
Identify Your Passion and Expertise: Knowing what you're passionate about and your expertise can help you narrow down possible topics for your blog. Ask yourself, "What do I enjoy talking about?" or "What am I knowledgeable about?".
Brainstorm Ideas: Once you've identified your passion and expertise, it's time to brainstorm ideas. Think of topics within your niche that could generate engaging content and conversations with readers. Consider the type of people interested in the topic, their age and interests, and what will make them return to read more.
Research Your Market: After developing blog topic ideas, research the market by looking at similar blogs in your space. It gives you a better idea of how to present your blog and what content you should create.
Test Your Ideas: Before committing to a specific topic, test some ideas with friends or family. Ask them for their honest opinion and take the time to refine your ideas before launching the blog.
Find Your Voice: Once you've settled on a niche, the next step is to find your voice as a blogger. Finding your voice involves being authentic and genuine and writing with personality so that readers can engagingly connect with you. It's also important to stay consistent in style and format from post to post so that people can recognize your content immediately.
Top Niches To Consider
While there are multiple topics to choose from, here are some of the most popular genres that bloggers typically focus on:
Parenting: It's a great area to dive into if you have children. Whether you're a stay-at-home parent, work from home, are new to fatherhood, or enjoy spending time with your kids, there is endless content on this topic. Share your experiences and give advice and tips for raising children.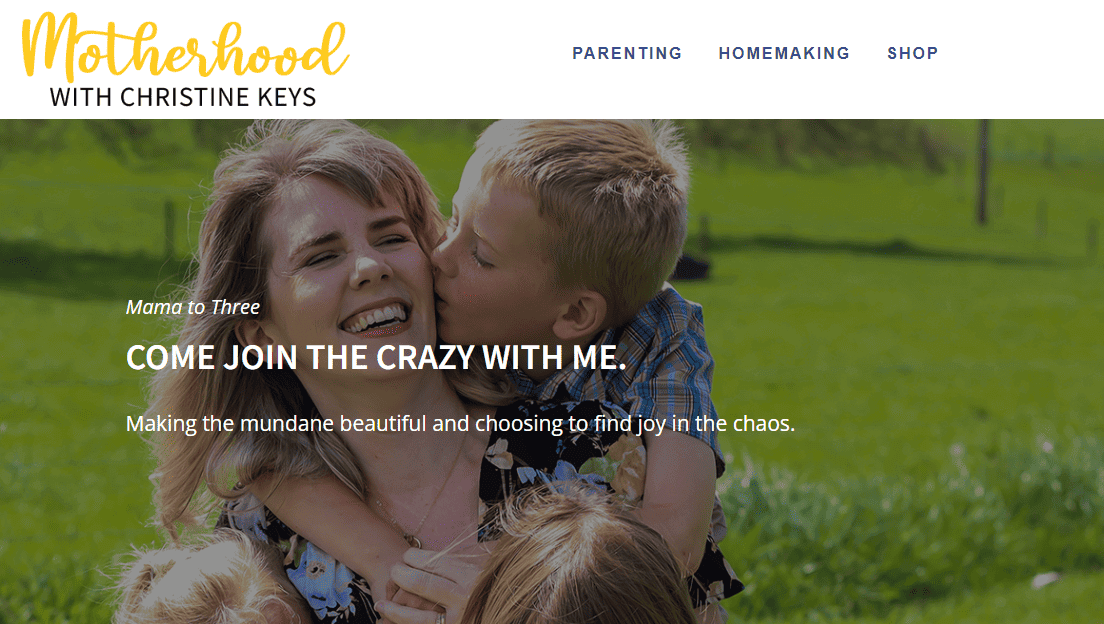 Image credit: https://www.christinekeys.net/
Hobbies: Do you have a specific interest or passion? Blogging about it can connect you with a community of like-minded people. Whether it's cooking, gardening, writing, or something even more niche, you can share your experiences, tips, and tricks with others passionate about the same things.
Technology: Stay on top of the latest tech news and share your insights with your readers. Whether breaking news from Apple or a review of the newest smartphone, technology fans are always hungry for more information.
Politics: For those who love to discuss political topics, this can be a great area to find your blogging niche. Engage your readers in lively debates and help them stay informed on the latest political news.
News: Put your spin on exciting news stories. A unique perspective can create a loyal following, whether local news, national news, or something in between.
Journaling: Use your blog to share your thoughts and reflections on specific life topics such as personal growth, mental health, or spirituality. By sharing your personal experiences, you can create a deeper connection with your audience.
Deals and Frugal Living: Helping readers save money with tips and tricks is always in demand. Share your knowledge of coupons, cost-cutting measures, and other frugal living strategies.
Lifestyle: A lifestyle blog can be a great way to share tips and tricks on making the most out of life. It can be a great way to talk about travel, food, and fashion while helping people live more meaningfully.
DIY and Design: From crafts to home renovation, showcase your creative skills and teach others how to do the same. If you love creating and designing, this niche can be a great way to share your passion.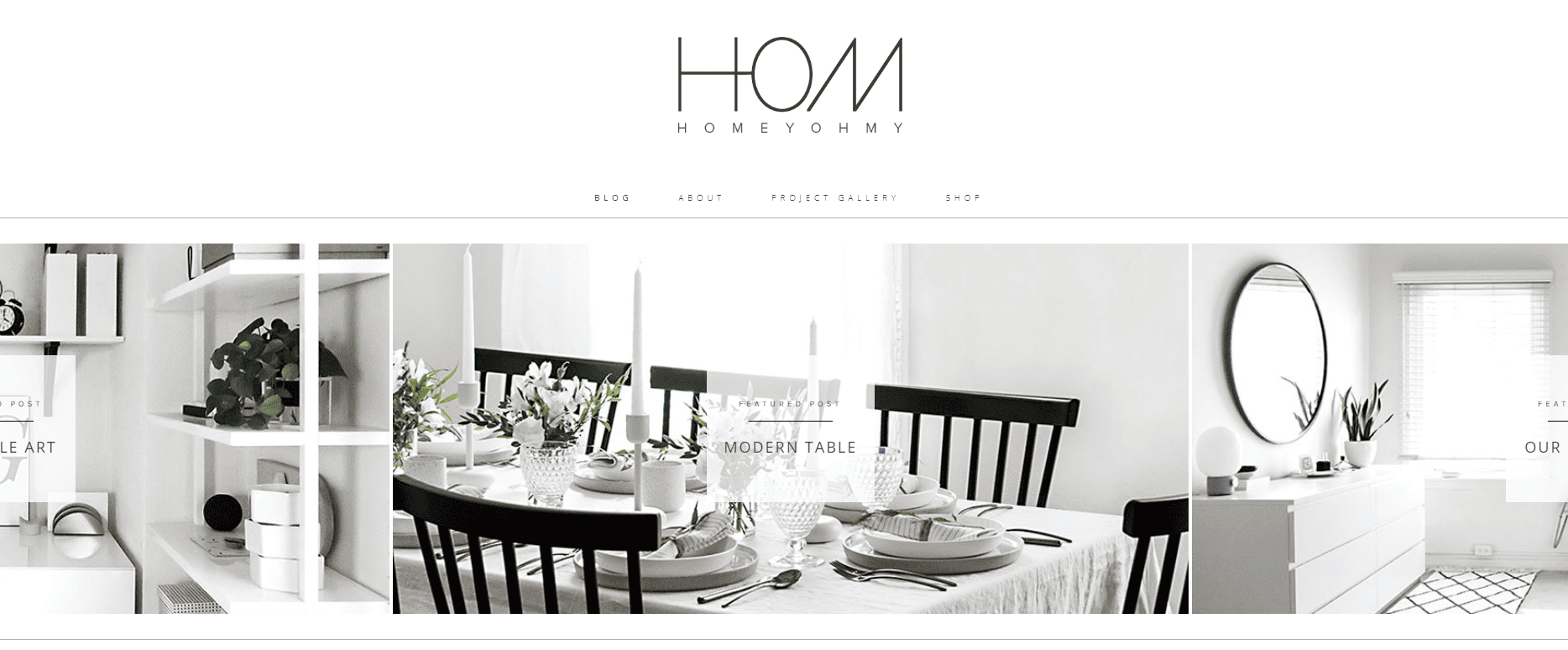 Image credit: https://www.homeyohmy.com/
Captivating Readers Through Blogging
Blogging has become a popular medium for authors to stay connected with their audience, share their writing techniques, and promote their books.
By creating engaging content and using the right keywords, authors can drive more readers to their blogs and thus increase their book sales.
Here are some tips to keep your blog captivating.
Create High-Quality Content
High-quality content that draws readers in can also serve as a powerful social media marketing tool, as your audience is more likely to share and engage with content that they find valuable.
Creating successful sponsored content can be a lucrative way to monetize your blog and provide additional value to your audience.
Leverage Social Media Platforms
Creating a new blog is just the first step, as you'll want to publish blog posts that attract and engage readers.
Leveraging social media platforms like Twitter can increase your blog's visibility and help you connect with potential sponsors.
Becoming involved in a Twitter party can further boost your online presence and allow you to network with other bloggers and influencers.
Highlight Your Expertise
As a writer, your expertise is your unique selling proposition.
Highlight your writing skills, passions, and experiences through your blog and social media channels.
Share your knowledge by writing blog posts on writing techniques, book reviews, and industry news.
If you know how to build backlinks, create SEO-friendly content, or use other marketing tactics, don't be afraid to share these tips with your followers and readers.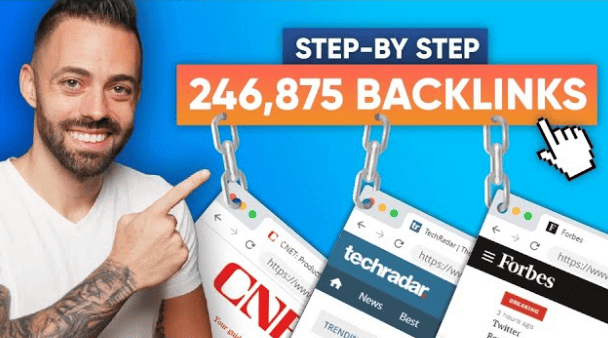 Image credit: https://www.youtube.com
Offer tips, advice, and insights that your readers can learn from.
Doing so will help you build your authority and attract readers interested in your niche.
Once you have highlighted your expertise through consistent and quality content creation, you can focus on blog monetization through various methods such as affiliate marketing, sponsored content, and advertising.
Engage With Your Audience
Having a two-way conversation is essential.
Engaging with your audience and building relationships is easy with many different social media channels.
Share content your readers will find exciting and valuable, and ask questions to spark conversation.
Consider creating a Facebook (or any other social network) group or an email list where readers can discuss your latest work, ask questions, and share their thoughts.
Facebook groups and email lists help you build a community around your personal brand and help you nurture your audience.
Overall, bloggers engage with their audience by creating content in simple English that resonates with their readers.
Refrain from complicating your blog posts with too much jargon or industry-specific terms.
Offer Exclusive Promotions
In the online world, many businesses use popular blogging platforms to promote their products or services.
To establish a professional blogging presence, offer exclusive promotions that attract readers to your site.
The Evolution Of Blogging: From Diaries To Creative Outlets
Before I conclude, it's interesting to know where blogging comes from to understand where it might go.
The world of blogging has come a long way since its inception.
What once started as online diaries and journals have become powerful tools for individuals and businesses.
With more than 31.7 million bloggers in the United States alone, it's evident that the world has taken notice of the power of blogging.
In the early 1990s, people began to document their lives online in the form of online diaries or journals.
They used platforms like Open Diary, Xanga, and LiveJournal to share their daily lives.
However, the introduction of Blogger and WordPress in the late 1990s took blogging to a new level.
These platforms made it easier for people to start their blogs and share their thoughts with a larger audience.
As blogging evolved, so did its features.
Ad monetization became popular for bloggers to earn money by running ads on their sites.
It allowed them to earn money by doing what they love, making it more accessible to those who wanted to turn their passion into a source of income.
Micro-blogging platforms like Twitter also emerged, which allowed people to share their thoughts in short snippets.
Video blogging, or vlogging, also became popular with the rise of YouTube.
Today, blogging has gone beyond just sharing one's thoughts and has become a powerful tool for individuals and businesses.
Many people use blogging to market their businesses and services online.
With the rise of influencers, blogging has become a platform for people to share their expertise and passions with the world.
It's now possible to make a full-time living through blogging, with some of the most prominent bloggers earning millions of dollars a year.
Wrap Up.
Starting a blog can be a rewarding and challenging experience.
A step-by-step approach to the blogosphere starts with finding your niche, researching the market, testing ideas, and developing your voice.
Once you set up your blog, share it with friends and family to build an audience.
With hard work and dedication, you can create blogs readers love visiting repeatedly.
Further reading on AdamEnfroy.com: Want to learn more about how to monetize your blog?
Check out my best tips on making your first $10k with your blog.
You can also investigate the top blogging courses to help you hit your goals.
Disclosure: I may receive affiliate compensation for some of the links below at no cost to you if you decide to purchase a paid plan. You can read our affiliate disclosure in our privacy policy. This site is not intending to provide financial advice. This is for entertainment only.