20 Online Jobs for College Students in 2023 (Ultimate Guide)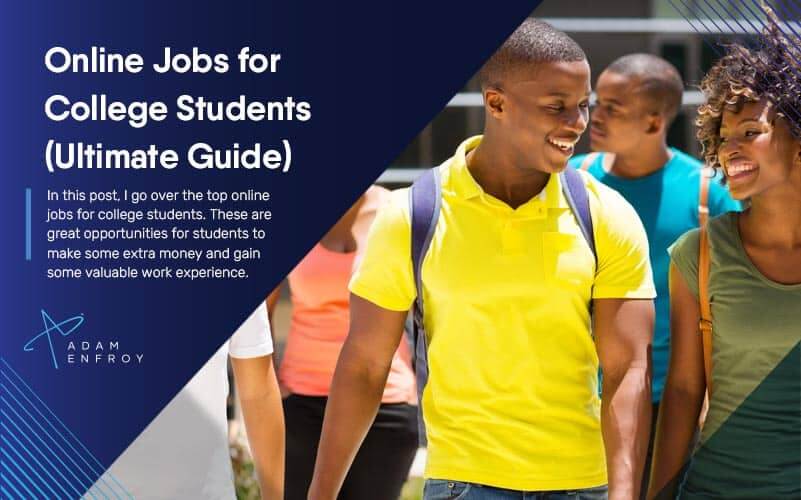 Ah, college.
A time of new experiences, learning who you are, drinking like Wade Boggs, and (if I remember correctly) being pretty broke.
It's a strange time to be a college student.
More colleges are moving to online learning, but not dropping tuition rates. And with business closures and restrictions, it's tougher to find a job.
However, it's a great time to find an online job or start an online business.
It can be challenging to focus on your classes and an online job at the same time.
But in the new gig economy, there are plenty of simple ways to start earning extra cash on your own schedule.
Most of the options in this article are work from home jobs and businesses only requiring a laptop and an internet connection.
This article covers the 17 best online jobs for college students to help you make money while working remotely.
But before you choose which job or business idea is right for you, let's answer a few quick questions.
What Should College Students Look For in Online Jobs?
1. Can You Actually Work From Your Dorm?
If you're living in a dorm, make sure you have a strong internet connection and a decent laptop. Try to find times you can focus on work without roommate distractions.
If you can't make the dorm office work, go find a place like a coffee shop or library where you can work productively.
Becoming a student entrepreneur means more flexibility in your hours, but it doesn't mean less work.
You still need to be productive, consistent and use some brainpower.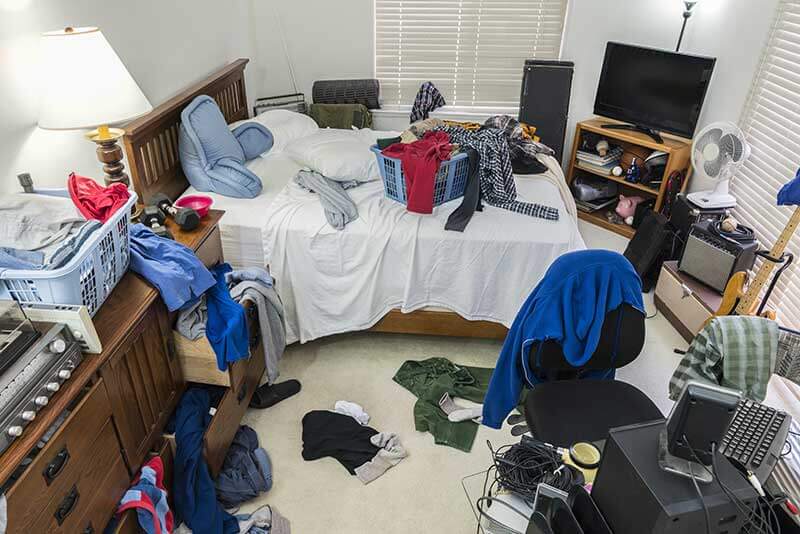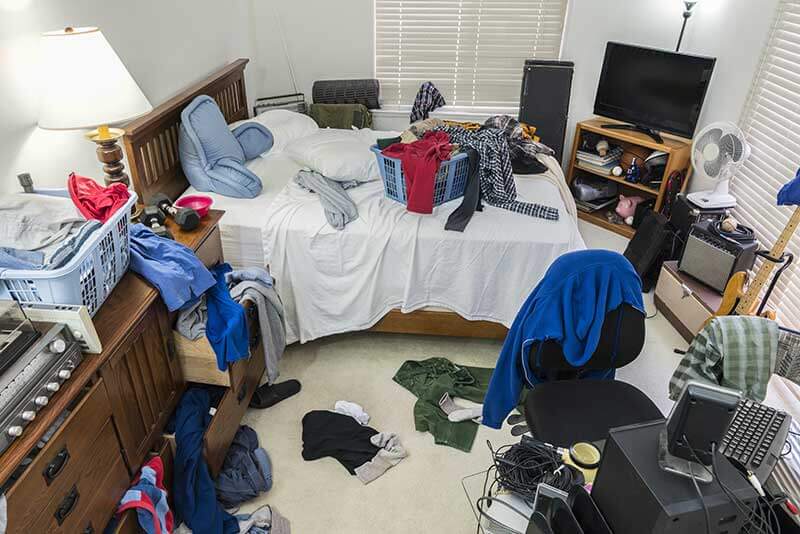 Be honest with yourself about your capabilities to stay self-motivated.
2. How Much Money Do You Need?
Whether you're paying for college yourself, or just looking for some extra beer (or White Claw) money, you should set a goal for weekly earnings.
Some online opportunities pay better than others, so set a weekly net income goal before planning your online job.
3. What's Your Schedule Like?
Back when I was attending Michigan State about 10 years ago (feeling old), I had a lot of free time.
Even with 15 credit hours, I made sure to have all weeknights and Fridays off.
Your amount of time outside of school will dictate your work schedule.
The good thing is many online jobs allow for flexible schedules.
A loose schedule is one of the biggest draws of working online.
Just like your net income goals, set a goal of how much time you will spend on your online job each week.
This will help you understand how much you want to make per hour.
4. What Are You Good at?
If you have artistic or digital talent, online jobs are great as a side-hustle.
They're also a perfect way to get your foot in the door to a career that you can pursue after college.
If you're already doing something that you're passionate about, think if you can make money from it.
Maybe you're great at graphic design – start freelancing on Fiverr.
Or you could be a skilled writer – join a freelance site with writing jobs like Upwork.
6. How Much Does it Cost to Start an Online Business?
This guide covers both online jobs and online business ideas.
Online jobs: You should never pay a dime to start an hourly job.
If you apply to a job and they want you to buy products upfront or attend a meeting, that's not a job – it's a pyramid scheme.
Online businesses: The best ideas in this guide are online business ideas that are both extremely lucrative and come at a low cost.
For examples,
Let's get started.
What Are the Best Online Jobs for College Students?
1. Start a Blog.
Most-Profitable Online Business Idea (+ How I Make $80k/Month)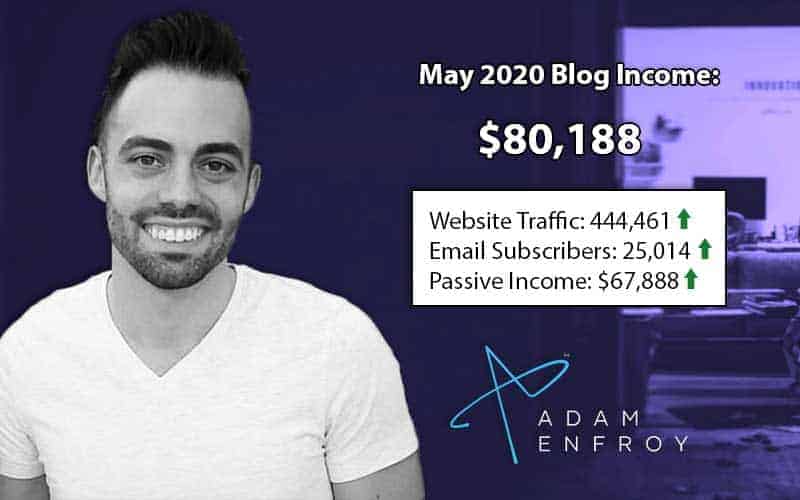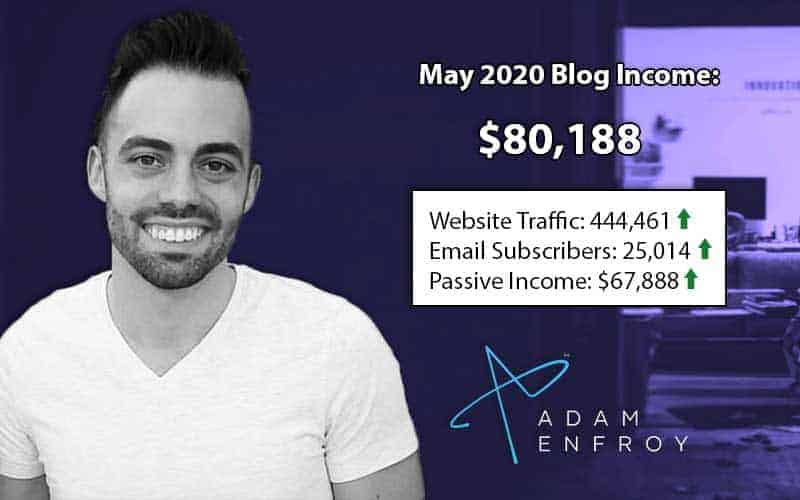 This one is my favorite because it's very profitable and a long term investment in your future.
I started this blog in 2019 at 30 years old – I wish I had the foresight to start one when I was back in college – as I ended up wasting too much time on partying and Call of Duty marathons.
However, you can see how I earn over $80,000/month from this blog I recently launched if you check out my Blog Income Reports.
This is mostly passive income from affiliate programs that goes into my bank account each month.
As a blogger, you choose a niche, launch a blog, and establish yourself as an expert.
You then monetize your blog with affiliate programs, ads, digital products, and online courses.
With affiliate marketing, you promote another company's products on your blog and make a commission on every sale.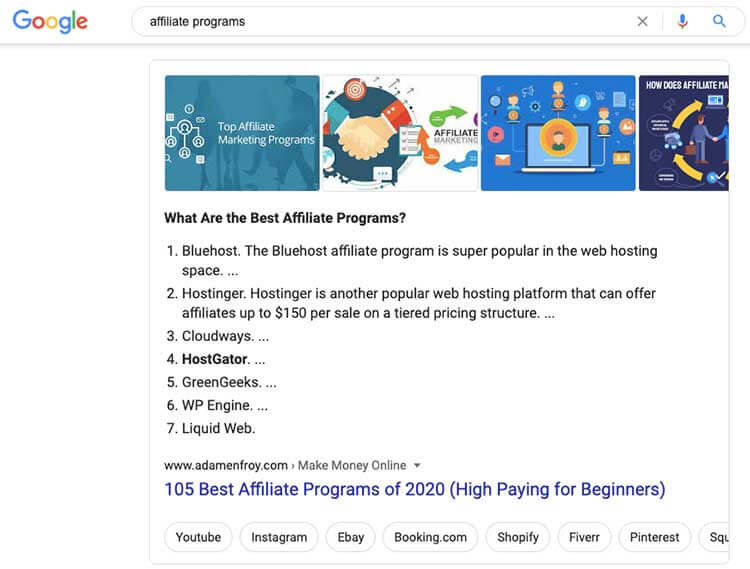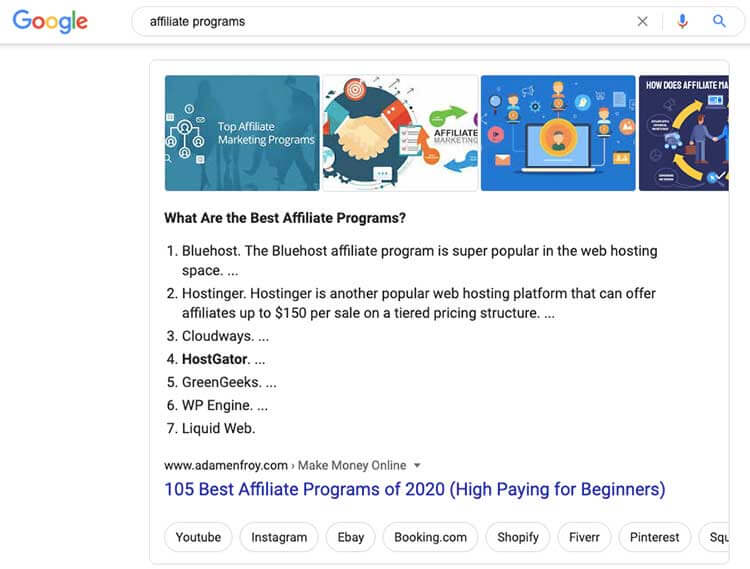 If you're interested in diving deeper, you can also read my huge guide to learn how to start a blog this year.
Once you've launched your blog, check out my guide on how to make money blogging to develop your monetization plan.
Cost: You can create a blog with a free domain name for just $2.95/month with Bluehost.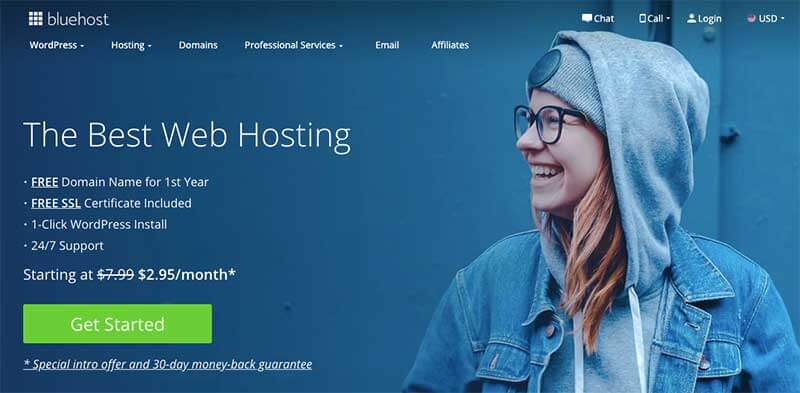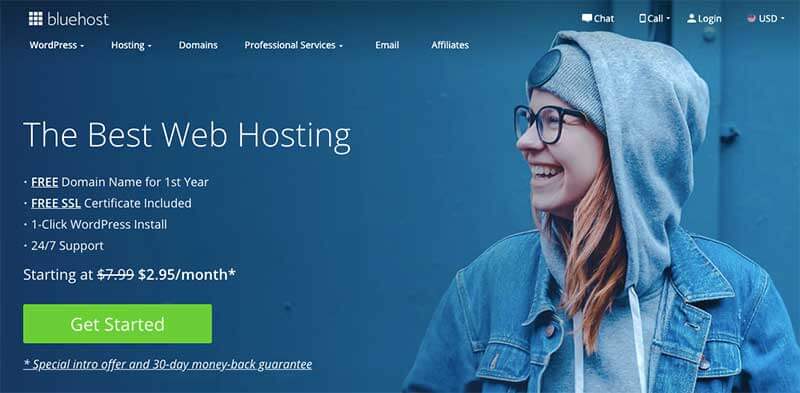 They are one of the best web hosting companies for creating WordPress websites.
If you're looking for the easiest way to create a blog, you should use a website builder like Wix.
Wix also is the best website builder if you're looking to create any type of website.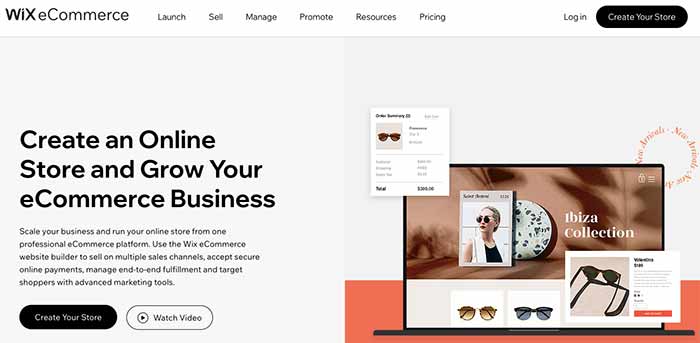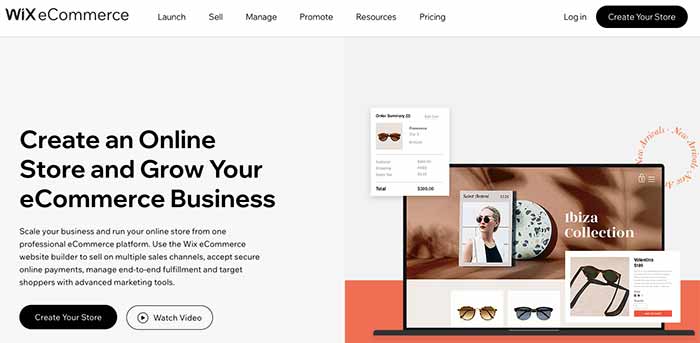 Wix lets you create a website in under an hour with their simple drag-and-drop page builder.
Here's why I think everyone should have their own Wix website:
Portfolio websites can help your resume and improve your job prospects.
If you're 18-25, you have so much time to grow your website traffic and monetize it. I didn't start this blog until I was 30 years old. I could have had a 10-year head start if I started in college.
While you might have social media followers, you need your own website platform that you own. For example, if you're making money on Instagram, what happens when Instagram loses popularity due to the next big thing? A website with your domain name is yours.
You can use Wix as an ecommerce platform and sell products online.
Website builders are cheap and easy to use.
Think about it – business owners used to have to rent expensive retail space and hire employees to sell products.
Today, you can create a profitable business running from a single website for less than $1 a day.
Get started with Wix and build your profitable blog.
2. Online Surveys and Reward Programs.
Easiest Online Job (+ Get a $10 Bonus For Signing Up).
Survey sites let you earn points and make money when you browse the web.
Swagbucks is my top choice.
They pay you for doing simple things like shopping online, watching videos, answering surveys, and searching the web.
Plus, Swagbucks gives you a free $10 just for signing up for their free platform.
You build up points over time and then redeem them for either PayPal cash payouts or gift cards from one of 1,500+ retailers like Amazon.
While you won't make life-changing money from sites like Swagbucks, it can be an easy way to build up some savings or spending money every month.
Check them out and start earning for simple online tasks.
3. Freelance Writer.
In an age where content is king, everyone is looking for a great whitepaper, blog article, or marketing copy.
If you've got a way with words and can pass a grammar test, there are plenty of business owners that need freelance editors and article writers.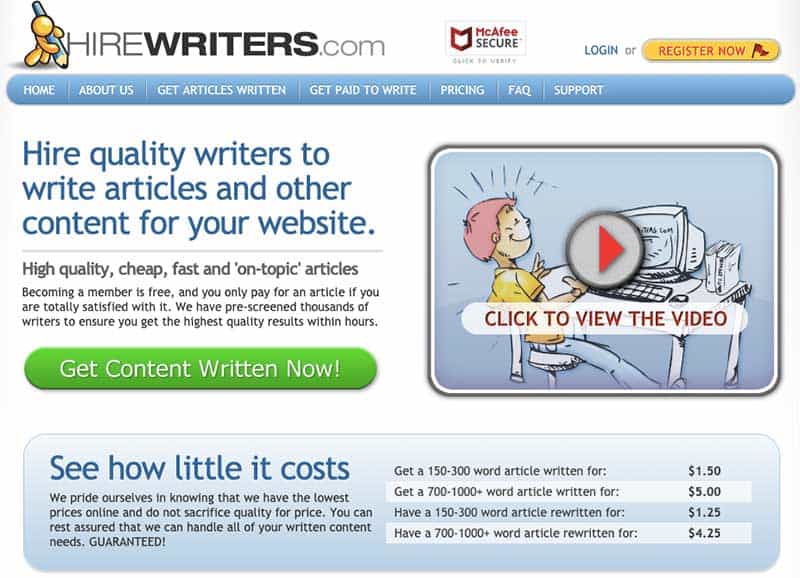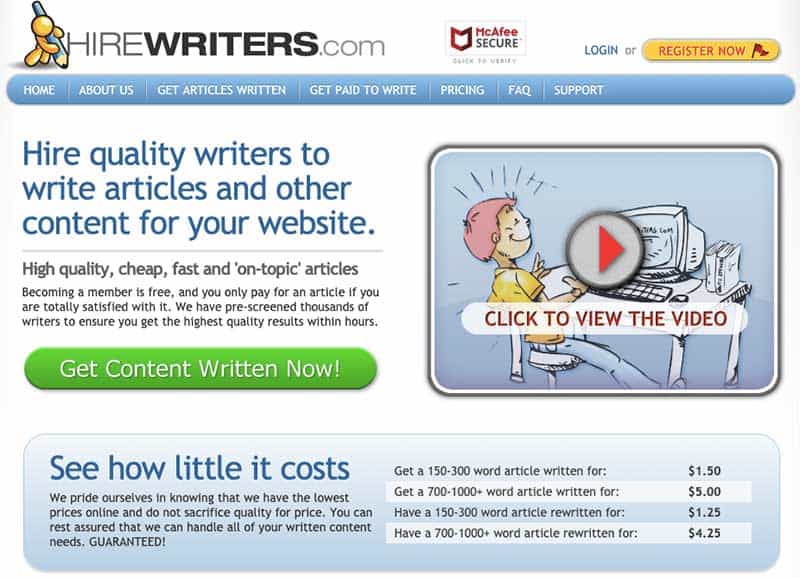 Depending on your skill level, reputation, and the sites you're using, writing jobs can earn you serious money with just a few hours of writing a week.
Many writing platforms don't require more than a grammar test and writing samples to sign up, and it's a great way to build a writing portfolio to grow a career, even after college.
One great platform to get freelance writing gigs is FlexJobs.
They are a freelance job community where you can get all kinds of remote jobs in areas like freelance writing, freelance graphic designer jobs, coding, and more.
Joining their platform requires a small monthly fee, but they use this to vet every single employer on their platform so that every job is high-quality and flexible.
I recommend you check out FlexJobs to see what ideal online jobs you can land.
4. Search Engine Evaluator.
Search engines are constantly updating their algorithms. But even the big ones, like Google, Yahoo and Bing still require a human touch.
You can sign up at search engine evaluation sites like Appen, and if you are fluent in English and able to work at least ten hours a week, you could be earning $12 to $15 an hour.
With this part-time job, you get to use your technical savvy and communication skills to make money.
5. Teaching ESL.
If you speak a second language, it's easy to find a website that can help you earn money by part-time online tutoring.
One of the most in-demand foreign languages in the world is English. ESL companies supply tutors to fill this demand.
Some ESL companies don't even require their tutors to have teaching licenses, have formal training nor speak English as their primary language to be able to teach.
You can earn $12-$25 an hour teaching for a company or teaching freelance.
All you need is Skype or other video options and a quiet space to be able to teach English. You can even teach on the go, thanks to your smartphone.
Sites like Tutor.com, Fiverr, and Upwork are a good place to start.
6. Transcriptionist.
Like freelance writing and teaching English as a second language, being a transcriptionist starts with low pay that gets higher as you build a reputation within job sites.
Transcribing requires no previous experience, and you can start anywhere, anytime.
Some sites even offer free online classes so you can learn the skills you need, and move ahead quicker.
For example, Transcribe allows transcriptionists to join their team after taking their assessment and start paying right away via PayPal.
You can earn around $15-25 a job as a general transcription expert.
You can specialize in highly technical fields, like law and medicine, and earn even more.
It's a great way to pay off those med school tuition fees.
You could also join a site like Lionbridge which specializes in marketing translation and digital marketing or a site like VIPKid to teach English online.
To get started and work from home, you just need some solid typing skills and an internet connection.
7. Amazon MTurk.
MTurk is Amazon's crowdsourcing program.
Once you've applied, and been accepted, you'll have the online job opportunity list in front of you – including taking on small data mining, data entry, and transcription jobs. MTurk calls these HITS.
It's true that many are low, low paying jobs (like cents at a time).
But there are a few tips and tricks to get the best jobs.
Check back often, since high paying HITS go fast.
Always check the acceptance ratings of each requester.
Some jobs go anywhere from $15 to as much as $50.


It's not a consistent income, but it's definitely worth it if you're looking for a way to make some extra cash.
8. eBay Store.
When you're living in a dorm room, there's not a whole lot of space.
To make more room, you might need to clear out some of your stuff.
You can get rid of your stuff and make money by selling them online.
Running a successful online business is easier than you might think.
Simply open a store account, and start selling your things online for quick bucks.
9. Etsy Store.
If you're crafty, or artistic, you might choose to open an Etsy store.
It's a great way for beginner artists to get started, as well as build an online brand, before or after graduation.
If you're worried about the cost of supplies, you can opt for thrift store flipping, by updating cheap second-hand clothes.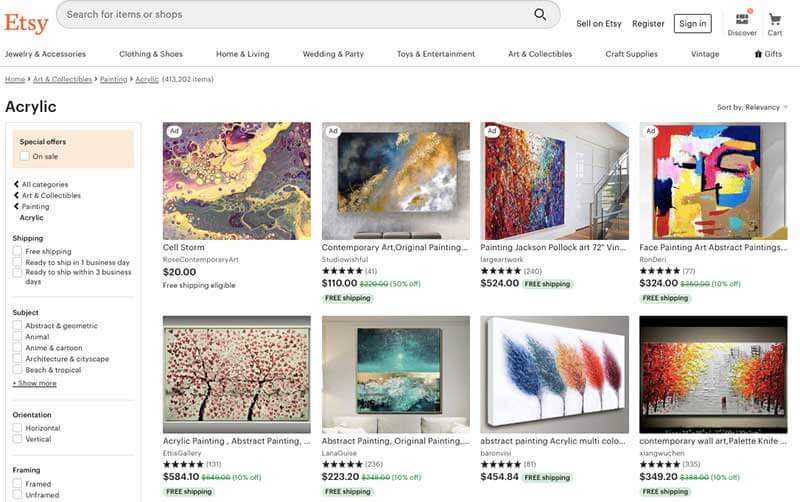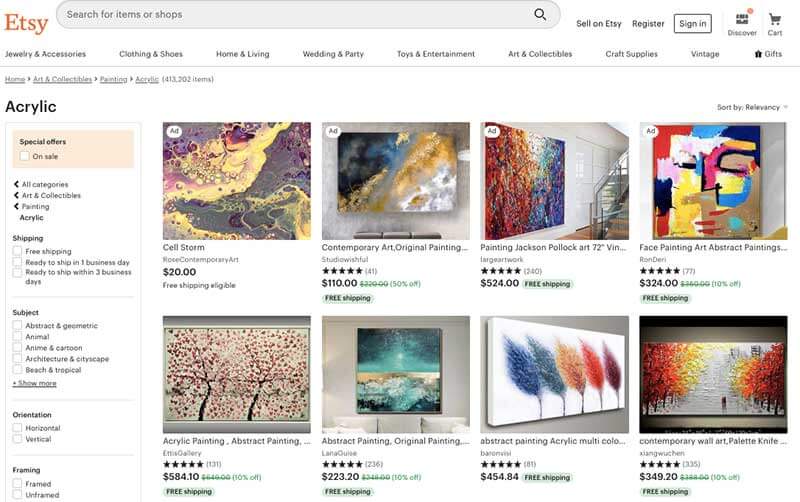 If you're handy with a sewing machine, it's a fun way to make extra money while you build up your artistic skill.
Finally, it can be a way to alleviate some of that study stress.
And if you don't want to build your own site and sell products, you can sign up for a site like UserTesting to visit websites and complete simple tasks to provide feedback and improve customer experience.
10. Voice Over Work.
Have you ever been told you've got a great voice for radio?
If you love reading out loud, and you have a knack for impressions, you might be perfect for voiceover work.
It's a lot easier to get started than you think.
Demand for narration for instructional videos and podcast work is high.
If you've got a high-quality mic and some audio editing equipment (you can find cheap or free software online) it's easy to build a reputation and take jobs that can net you $25 per gig.
If you're talented enough, you can earn even more.
If you're looking for a way to practice (and hone) your skill, try free options like Librivox, which don't pay, but do offer reviews on your voiceover work.
11. Stock Photographer.
Like written content, there's a huge market for stock photos for sites like Shutterstock and Pexels.
If you're handy with a camera, or even a decent videographer, you can create a great business model with just you, and your smartphone.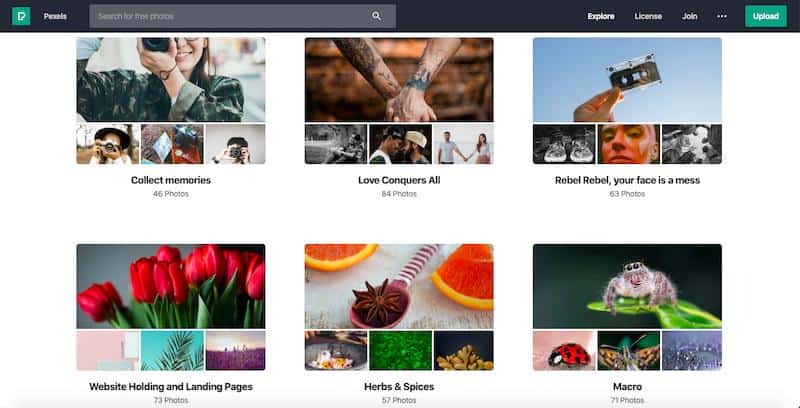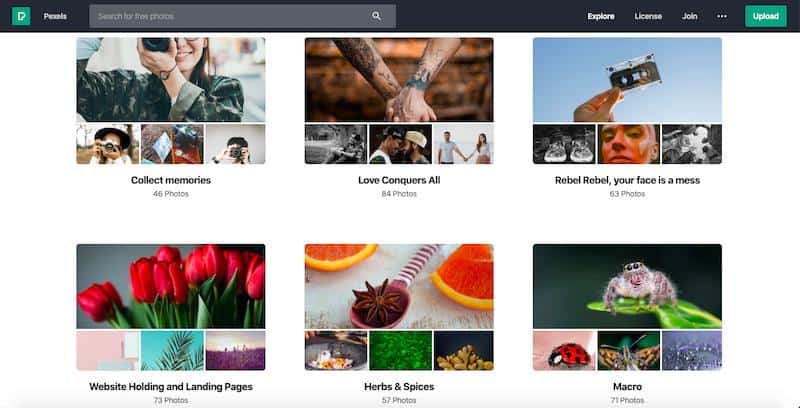 These days, professional-grade cameras are inexpensive and easily available, and free beginner photography courses are available online.
This makes it a lot easier to get into the stock photography business.
If you have an artistic eye and you're enjoying the work, you can take your business offline.
Set yourself up as a freelance photographer for events, parties, and even social media influencers.
In either case, an online portfolio will really help you stand out from the crowd.
12. Social Media Marketing.
Social media is integral to any business marketing plan in the 21st century.
But the digital market is constantly changing, and most business owners aren't exactly social media mavens or even digital natives.
If you're comfortable with social media platforms, and you have some digital design or marketing experience, you can earn as much as $30 an hour running social media marketing campaigns for local companies and organizations (like your school).
Social media marketing is a bankable skill that you can take with you as you enter a variety of industries.
If you have any interest in working in the digital world, this is a great way to start out.
Most of these jobs can be done by a freelancer remotely – and for much cheaper than hiring an in-house, full-time social media management team.
Social media management platforms like Hootsuite even offer free classes for beginners to get you started.
Graphic design skills are also a plus when applying for freelance side gigs. Graphic designers that leverage their skills can easily learn how to make money with social media.
13. Virtual Assistant.
If you're someone who always has color-coded notes, labels your fridge items, and has a perfectly-organized closet, you've already got most of the skills needed to be a virtual assistant.
Even Facebook Groups like the Virtual Assistant Tribe Job Board provide the latest VA jobs.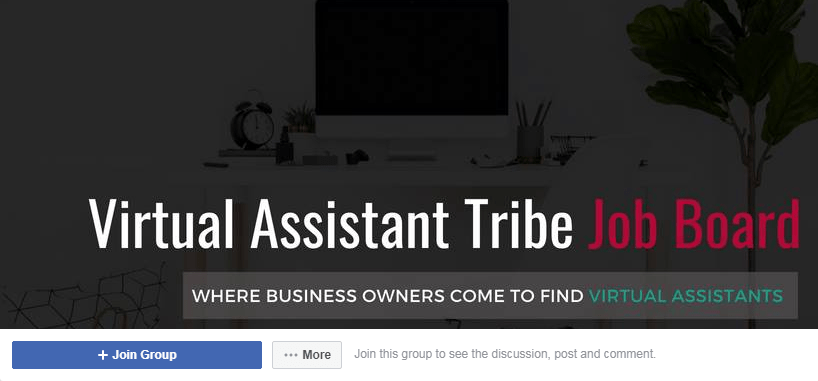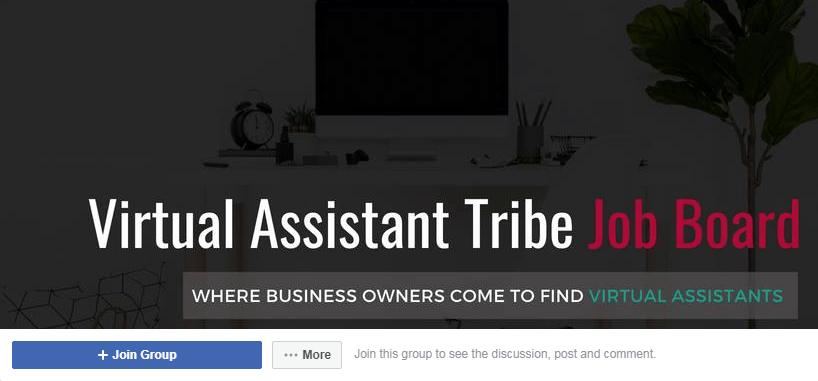 The gigs vary in terms of salary, hours, and the work you're actually doing.
You can work as a VA doing everything – from data entry, answering phone calls to building spreadsheets.
Like other forms of marketing, many major companies are moving away from hiring in-house, and are instead focusing on freelancing sites to outsource and offload administrative work.
Set yourself up at a site that offers Virtual Assistant jobs, and you could be earning $10-20 an hour.
14. Data Entry.
Much like a VA, data entry jobs are plentiful in the online workplace.
Data entry payout is a little less than a VA's or social media marketer's, but the work is pretty simple and requires little to no real experience.
You may need to take a typing speed test to prove you're qualified typist, but other than that, you can get started immediately.
The work is a bit monotonous, but it pays well at anywhere from $15-25 an hour.
15. Remote Call Center Worker.
This job requires a bit more in the way of setup fees.
You will need a working headset, and a VoIP service, to block out other calls while you're working.
Most remote call center workers are required to work at least 20 hours a week, but you're allowed to set your own hours and work as little as four hours a shift.
You can make $15-30 an hour working for major companies like the Shopping Channel, and your favorite delivery services.
Companies even offer free training so you can update your customer service skills as you earn, making it a great resume builder.
16. Rideshare Driver.
This one's a little less online than our other offers, but working as a rideshare driver for Uber, Lyft, or other rideshare programs can easily net you more than $1,000 a month.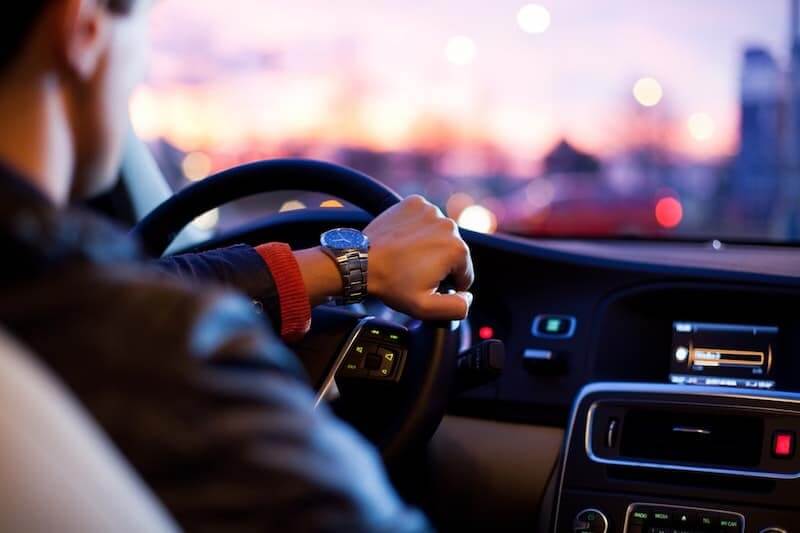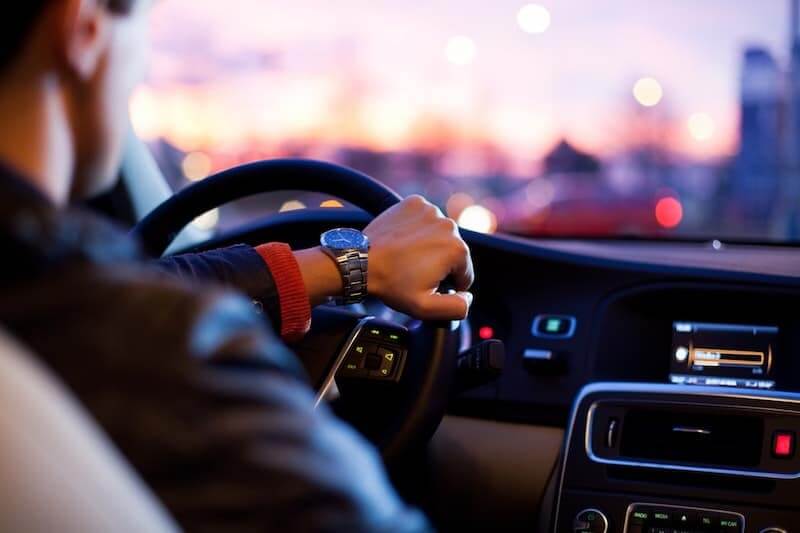 You do need a driver's license and car for this one, so you might want to spring for campus parking. Otherwise, it's just a matter of signing up and downloading the app.
If you know the area well, and you're comfortable letting strangers into your car, this is a great way to make money fast when you need to.
17. Selling Your College Notes.
If you're a good student, you know that selling term papers would be wrong. But selling lecture notes is completely legal.
Being able to write good notes is a skill – it can take time and effort to learn.
Make it easier for your fellow students to know about your business by selling your previous terms notes on campus bulletins and online markets.
You can upload study notes on a weekly basis, and get paid via a website on a term-by-term basis.
Alternatively, you can go freelance, and sell your notes by setting your own prices.
Be aware if you want to advertise your note-taking services on campus, you may want to speak to a student union.
It's not illegal, but there are definitely ways you can get in trouble sharing your notes, so avoid accusations of plagiarism by talking to advisors first.
In a similar vein, you can get paid to work as an online tutor or work proofreading and editing papers.
18. Online researcher
Some companies hire online researchers to help them with market research or to gather data for a specific project.
As an online researcher, you may be asked to do things like search for specific information online, participate in focus groups, or even conduct surveys.
If you can find a topic that you're interested in, online research can be a great way to make some extra money online while also learning more about a particular subject.
19. Email marketing specialist
if you are a creative person and know how to reach out to people, this online job is perfect for you.
Email marketing specialists are in charge of creating and executing email marketing campaigns for their organization.
This involves working with a team of designers, writers, and analysts to create engaging content that will persuade the receiver to take action.
Hitting on major pain points that people have and providing solutions to customers via email can be a very lucrative online job for college students.
You'll also be building up your skill of working with a team, as most marketing jobs require teamwork.
In addition, you'll usually get paid per email that you write.
Using software such as Constant Contact or Mailchimp can help you automate some of the processes of email marketing.
20. Search Engine Optimization
When it comes to online jobs, college students can also find opportunities in the field of search engine optimization (SEO).
SEO specialists are responsible for optimizing websites to rank higher in search engine results pages (SERPs).
This can involve anything from conducting keyword research to optimizing website content and code.
If you're interested in a career in SEO, working as an SEO specialist is a great way to get started using some of the best SEO tools.
Best College Jobs – Summary.
The tradition of the broke college student is a tired cliché.
Who wants to be broke when you're in a new town, with new people, and new opportunities everywhere you look?
College life is expensive, but it doesn't have to mean living on ramen noodles.
Thanks to e-commerce and new digital opportunities, there are plenty of options for enterprising college students to earn money right from their dorms.
Whether you're looking to earn extra spending money, or you want to make an early start on eliminating those student loans, you can begin your empire from the comfort of even the most cramped dorm room.
Further Reading on AdamEnfroy.com: If you're interested in more job advice, check out my guide to getting a digital marketing job and the best ways to make money online.
*** Guest Author: Above anything else, Elise loves playing with words. She spends her working hours guiding writers to run a successful freelance business, while occasionally blogging over at HireWriters. When no one is looking, she bakes a mean Tarte Tatin and stuffs her face with soup-filled dumplings.
Disclosure: I may receive affiliate compensation for some of the links below at no cost to you if you decide to purchase a paid plan. You can read our affiliate disclosure in our privacy policy. This site is not intending to provide financial advice. This is for entertainment only.