How To Pitch A Podcast Like A Pro (Tips and Tricks)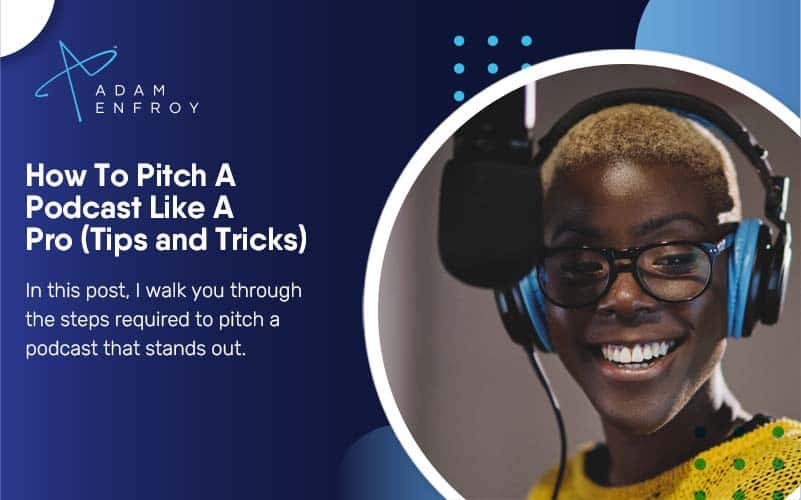 The podcast industry has been around since 2004 and has become a staple of education and entertainment.
In an industry with over 48 million active podcasts and hundreds of podcast hosting sites, standing out when starting your show is essential.
Pitching your podcast correctly is a great way to do so.
It helps you attract the attention of listeners, sponsorships, and even your next potential podcast guest.
At the same time, pitching is like building a bridge – you need to start on the right foot and make sure it's solid before you cross over.
In this post, I'll walk you through the steps required to pitch a podcast that stands out and helps you reach your business goals.
How To Craft a Winning Podcast Pitch
Here are the steps to crafting a winning podcast pitch.
Research Potential Topics
The first step in finding the right podcast for your niche audience is researching potential topics.
To start, listening to other podcasts and gaining insight from their hosts is essential.
You need to understand the content and topics that interest them (and their audiences), so you can craft a winning email pitch.
Doing this research will give you valuable information that you can use in your outreach message and might include referencing topics brought up in recent episodes.
Moreover, ensure the topic is something that would interest your target market and something they are actively searching for.
You can also go down the keyword research tool to brainstorm ideas.
Using keyword research tools such as Google Ads Keyword Planner or Ahrefs Keywords Explorer can go a long way.
These tools will help you understand what people are searching for, giving you a better understanding of the type of content to produce.
Identifying Potential Fits
If this is your first time pitching, searching for shows relevant to your niche on popular streaming services is the next step.
Go to platforms like Apple Podcasts and Spotify and enter your topic.
You can also go to Google and use phrases like "your industry + podcasts."
As you do such research, remember that podcast hosts need to understand why having you on their show would be beneficial.
Some find it helpful to keep a notepad next to them and list down why their podcast will benefit their audience as they are doing their research.
After all, you never know when the right idea will strike!
Listen To The Podcast
Before crafting an effective email pitch, listening to previous podcast episodes and getting a feel for the podcast producer is essential.
Moreover, exploring their website or streaming service pages can give you an insight into what they are most passionate about.
You'll also uncover valuable material you could use in your outreach message (e.g., referencing their hobbies or something unique about them).
As you listen to previous podcast episodes, consider the type of shows they usually host.
Do they generally have a one-on-one question-and-answer podcast interview style or an in-depth discussion of an issue?
You'll gain an understanding of their tastes and interests, and it will also help you find the right person to feature on your show.
This research will also give you an idea of what topics to bring up during the podcast and any potential questions you could ask.
Crafting A Compelling Introduction
Let's get to the actual pitch email.
The email subject line and introduction are critical components in a successful cast pitch.
Crafting the perfect guest pitch starts with an introduction that is short, sweet, and to the point.
Your subject line should capture the attention of the podcast host and make them want to read more.
Then, start by introducing yourself or your channel and thanking them for their time.
Make sure you know who your own podcast audience is so you can tailor the intro accordingly.
Whether it's one specific person or several people at once, make sure they feel valued and appreciated.
Your previous research will come in handy at this stage.
Be sure also to include a brief description of what content you plan to cover in the episode.
Explain why your podcast is unique and how it will benefit the guests and their target audience.
Make sure to highlight what topics you plan on discussing in the episode and any potential questions you could ask.
Personalize Your Pitch
A pitch email that doesn't get ignored means tailoring it to the specific podcast and its host.
Everyone loves it when people show genuine interest in their work.
And podcast hosts are no exception.
After doing your research, add something personal to your pitch, like a comment on one of the host's recent episodes or topics they covered.
Doing this shows that you understand their interests and that you're not just sending generic emails to random people.
Moreover, when writing your email, keep it concise and clear.
Highlight why you would make a good interviewee, along with suggestions of topics of discussion that might be interesting for the show.
If possible, provide availability details too.
You'll demonstrate your professionalism and give the hosts an idea of when they could schedule you.
Avoid copy-pasted messages or overly formal language favoring something more personal and engaging.
Your goal is to make them feel like your message was written just for them by someone who understands their interests and values their time and effort.
You can also show that your podcast has a dedicated fan base eager to hear from the podcast's guests.
Doing so will increase your chances of landing a successful interview.
Double Check Your Email Before Sending
Using the proper grammar checker to double-check your email is essential.
You don't want to come off as unprofessional, so make sure you read through the message for any typos or grammatical errors.
Remember that many podcast hosts receive a lot of podcast pitches, and it's essential to make yours stand out from the rest.
After you've gone through your message and made sure it's perfect, hit send.
Following Up And Building Connections
One of the most critical steps in getting your podcast guest pitch accepted is being bold and following up.
While it takes time for podcast hosts to review the applications they receive, never be afraid to send follow-up messages.
Reach out on social media, send emails, or find contact forms for target podcasts and influencers and make sure to include relevant links so they can quickly review your work.
In the meantime, don't assume that further research into other relevant podcasts isn't needed.
Success with your first podcast guest might not happen, so keep adding potential podcast hosts to your list and keep that outreach going.
Discussing Topics & Cross-Promotion
As part of your pitch, having discussion topics ready is essential.
Make sure your ideas are fresh, original, and tailored for the host's audience and your own.
Doing so will prove you've done your research and taken the time to think about what would be interesting for them.
It is also helpful to offer up some potential cross-promotional opportunities – such as sharing each other's content or mentioning one another on social media posts.
Such opportunities could benefit both parties involved.
Also, as a podcast host, pitching your podcast idea to sponsors allows you to monetize your podcast and make a bit of side income.
Alongside podcast research, reach out to media outlets, brands, and other organizations that could be potential sponsors.
Then, follow the above strategies to craft a compelling pitch and get them to consider sponsoring your show.
Closing Your Pitch
In any interaction with potential podcast hosts or sponsors, remember to thank them for their time and end the email with a polite closing statement.
Include a link to your website or any additional resources they may find helpful.
When closing your pitch, a summary of talking points and a reminder of what you offer can also go a long way.
Even if someone declines your pitch, keep in touch with them and never burn bridges.
You never know when these connections may come in handy and help you find the perfect guest or sponsor down the line.
Finally, having a podcast pitch template you rely on as a foundation can make crafting a great pitch much more manageable.
The Benefits Of Podcasting For Business Growth
Creating a good podcast pitch doesn't just help you land new guests.
It can also be a powerful tool for business growth.
Here's why you should consider podcasting if you're looking to grow your business.
Reach New Audiences
Podcasting gives businesses access to a new customer demographic that may not have been accessible before.
Being a podcast guest allows hosts to create an in-depth introduction to their company, product, or service and increases the brand's visibility.
By researching episodes with themes relevant to your company story, you can understand how they operate and craft an engaging narrative that will keep your listenership hooked.
Build Relationships & Network
Traditionally, it was helpful to craft press releases and traditional media relations.
Nowadays, podcasting is becoming a popular public relations tactic.
In addition, regular social media marketing that ties in with each episode draws more podcast listeners, increases engagement, and creates a podcast network for building relationships with peers in the podcast space.
Many traditional media outlets are also now turning to podcasts to reach new audiences and build relationships with their readers.
Establish Expertise & Authority in Your Field
When appearing on podcasts, use the opportunity to discuss topics related to your expertise and establish yourself as an authority figure within your field.
Doing so will help build trust between yourself and potential customers, increasing the likelihood of them choosing your product or service over others in the market.
Establishing this also means knowing your niche audience and their concerns, pain points, and interests.
This knowledge helps you create content tailored to your audience's needs and make them more likely to engage with your podcast.
Using Social Media to Establish Connections
As startup podcast creators, the question that's often on everyone's mind is finding the right guests for their shows.
Cold emailing can be a great way to reach potential podcast guests and gain exposure for your show.
However, the key to success through cold emailing is developing connections with people in your target market before you ever send that first message.
Reaching out to influencers on social media sites like LinkedIn and Twitter is a great way to build relationships and establish credibility.
Refer Back When You Reach Out
When writing any message, especially when you ask something of someone else, it is essential to refer back to any previous interactions.
Demonstrating that you already know who they are by referencing messages or posts from social media lets them know that you already researched them.
It also shows you were paying attention when interacting with them online.
With each reach-out, you may also update or tailor the podcasts you've been on since your last message.
That way, you can demonstrate your value and show potential guests why they should choose you as their podcast host.
On top of genuine enthusiasm for the podcast, you might also want to include any (or all) of the following in your reach outs:
Your contact information
A brief introduction to your podcast
Potential episode topics and formats
Any other necessary information.
Tips To Help You Stand Out
Let's look at how you can stand out when pitching a podcast.
Using Search Modifiers To Find Episode Gaps
One strategy to find an episode gap is to search modifiers like "site:targetsite.com topic" on Google.
You'll be able to speed up the process of finding sites that discuss topics related to your area of expertise.
This strategy works best when you have a specific person or show in mind that you want to appear as a guest.
Researching what they've already talked about, then finding a relevant gap in their content will give you an edge over other potential guests looking for the same slot.
Not only does proposing exciting ideas increase your chances of being accepted as a guest.
It also shows that you're taking the initiative and considering what content will be most valuable for their listeners.
Utilize Your Professional Network
You can also ask around within your professional network on social media networks for advice or leads regarding podcast ideas related to your area of expertise.
Chances are someone in your circle has already appeared on a podcast before.
They could offer insight into how they got their foot in the door or even provide suggestions for topics.
You can explore these topics further based on conversations they've had while appearing as a guest speaker.
Adding Value To Your Pitch
In addition to simply asking to be invited as a guest on someone's show, there are other ways you can add value by making the right offers that provide value in your pitch.
A straightforward way is offering promotional support for their episode when it goes live.
If you have a large following on social media, sharing the podcast on your channels might do the trick.
You could even write a blog post about the show's topics.
Another option could be proposing yourself as a guest for their podcast and having them appear on yours later.
Having this agreement could mean a win-win situation for both parties.
Fill Any Podcast Episode Gaps
When you pitch podcasts, It's also essential to fill any "episode gaps" other guests haven't touched upon when crafting your email.
For example, there has been a lot of discussion about SEO tactics, but no one has discussed how SEO affects user experience.
Providing fresh insights into topics already being discussed on the podcast shows that you know the subject matter.
Avoiding Common Pitfalls
Some common pitfalls can prevent you from being successful when pitching yourself as a guest on someone else's podcast.
Here are some of the most important ones:
Not doing your research: Make sure you have a good understanding of the podcast and its audience before reaching out.
Not providing enough detail in your pitch: Provide as much information as possible, including details about yourself and why you'd make an ideal guest for their show.
Not providing a call to action: What do you want to happen after your pitch? Are you looking to be featured as a guest on their show, or are you just curious about what they think of your idea?
Forgetting to follow-up: Remember to follow up with the host after sending your initial pitch. A gentle reminder can go a long way.
By avoiding these common mistakes, you'll be well on securing an invitation as a guest on someone else's podcast.
Third Party Tools That Can Help
Whether you're just starting in the podcasting world or are an experienced veteran, some essential tools can help you reach new heights.
From free podcast directories to AI-driven writing assistants and powerful media databases, the right tools can help you go a long way.
Some tools to consider are those that explore emerging and exciting podcasts, help you write better copy, and track tracking outreach activity for maximum effect.
Jasper

If you're struggling with writing compelling pitches or need help getting started on a script, then Jasper is here to help.
This AI-driven writing assistant provides 52+ templates in 20+ languages so you can quickly get up-to-speed on crafting professional copy.
Plus, their Bootcamp feature can help beginners through the basics of writing compelling copy for various topics.
PodSearch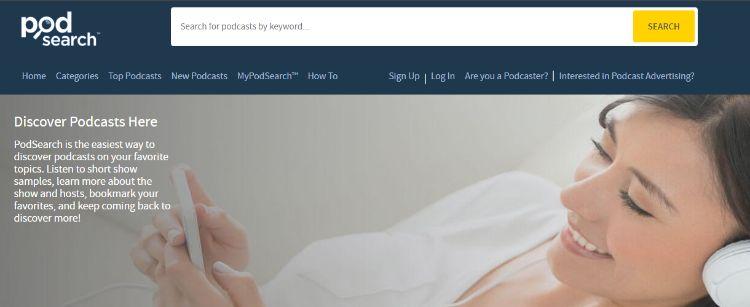 PodSearch is a free podcast directory that allows you to explore thousands of podcasts worldwide.
With hundreds of categories and subcategories, PodSearch makes it easy to find the right podcast for any audience or topic.
You can also search by location and language and create custom lists of favorite podcasts.
It's perfect for finding new shows or discovering forgotten favorites.
Muck Rack

Muck Rack is a media database tool that offers powerful insight into media contacts and publications around the globe.
With customizable subject lines based on information from its robust database, Muck Rack is a must-have for any podcast looking to reach a wider audience.
It can also track outreach activity, ensuring maximum success in securing coverage.
Wrap Up.
Podcast pitching is a great way to reach a new audience and build relationships with potential hosts.
Pitching correctly will drastically increase your chances of being chosen as a guest on someone else's podcast.
Doing so lets you spread your message and provides an opportunity to gain valuable exposure.
You'll also be able to build relationships with potential partners or customers.
Finally, it also opens up new opportunities and possibilities for yourself and your business.
Further reading on AdamEnfroy.com: Recording your podcast doesn't have to be complicated.
Following a few key steps, you can create a fantastic podcast that your audience will love to listen to.
Then, the right podcast software can help you edit and publish your podcast without breaking the bank.
Read my guide to the best podcast software and tools for more information.
Finally, here are various ways to monetize a podcast, ensuring you can get paid for your hard work.
Editorial Process:
Our reviews are made by a team of experts before being written and come from real-world experience. Read our editorial process here.
Some of the links in this article may be affiliate links, which can provide compensation to us at no cost to you if you decide to purchase a paid plan. These are products we've personally used and stand behind. This site is not intended to provide financial advice. You can read our affiliate disclosure in our privacy policy.